This Was the Average Cost of a Wedding in 2020
Minimonies and downsized COVID celebrations impacted the number. It will rise in 2021.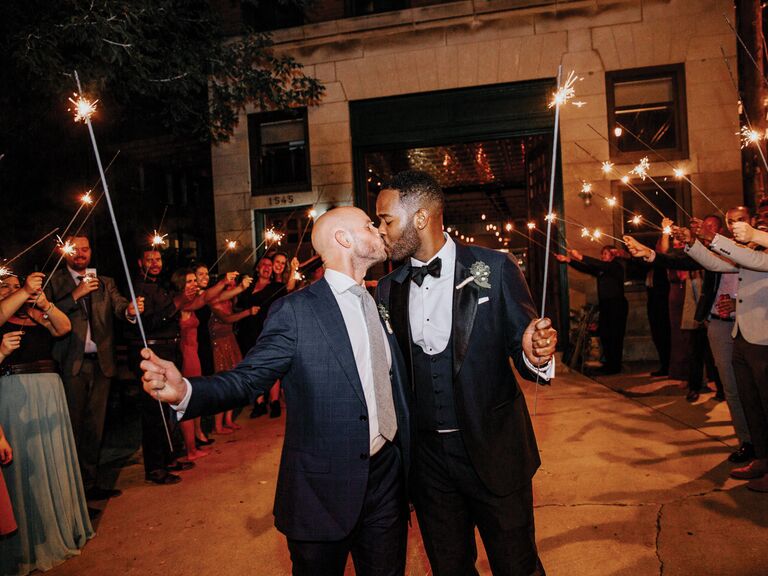 John David Weddings
Every year, The Knot Real Weddings Study reveals the average wedding cost and more official data per state. About 7,600 couples across the country, who originally set a wedding date between January 1 and December 31, 2020, participated in the study. In 2020, COVID impacted just about everything across the wedding industry, including the average wedding cost and more prewedding related event costs.
Nevertheless, the data still indicates a broader, industry-wide impact of the pandemic on the average wedding cost in America. Based on our respondents' answers involving spend on ceremony and reception, we were able to determine the 2020 national average cost of a wedding is $19,000, a drop from 2019's average wedding cost of $28,000. This number again accounts for the ceremony and the reception, and COVID, of course, has impacted both. The average wedding cost is typically influenced mostly by the guest count, the venue and the format of events, which have all been upended by the pandemic. Therefore, the average cost of a wedding in 2020 was heavily skewed.
The approximate average for couples' 2021 receptions is roughly $22,500, right on par with past spend on wedding receptions. In 2019, the average cost of a wedding reception per couple was $23,000.
As with every year, keep in mind that the average wedding cost is just that: an average dollar amount, which has been calculated by combining the total cost of tens of thousands of weddings, then dividing that sum by the number of couples surveyed. For reference as 2020 has been a nontraditional inflection point in weddings, we also share complete 2019 Real Weddings Study data below.
Average Cost of a Wedding In The U.S. By State
The average wedding cost by state from The Knot 2019 Real Weddings Study is likely a good cross-reference point for couples who are moving forward with both their ceremony and reception in 2021. As with previous years, keep in mind too that these couples come from all over the U.S. and have entirely different wedding budgets, locations, number of guests and styles.
What they end up spending naturally varies—a lot. Throwing a wedding in a densely populated, expensive destination (a big city like New York or Chicago, for example) costs more than it does in a smaller or less populated location (such as Idaho, West Virginia or Wyoming). See the average cost of a wedding in the U.S. by state (excluding Alaska), below:
Alabama: $25,500
Arkansas: $21,800
Arizona: $29,400
California: $39,000
Colorado: $30,000
Connecticut: $41,000
Delaware: $34,900
DC: $40,600
Florida: $30,600
Georgia: $30,900
Hawaii: $32,900
Idaho: $19,800
Iowa: $22,600
Illinois: $39,700
Indiana: $22,800
Kentucky: $23,900
Kansas: $22,400
Louisiana: $33,900
Maine: $33,500
Maryland: $33,800
Massachusetts: $43,600
Michigan: $29,700
Minnesota: $28,800
Mississippi: $23,800
Missouri: $26,600
Montana: $23,000
Nebraska: $23,300
Nevada: $22,500
New Hampshire: $32,100
New Jersey: $53,400
New Mexico: $25,600
New York: $48,600
North Carolina: $29,500
North Dakota & South Dakota: $29,200
Ohio: $29,300
Oklahoma: $21,200
Oregon: $22,400
Pennsylvania: $35,900
Rhode Island: $49,800
South Carolina: $30,600
Tennessee: $26,900
Texas: $30,200
Utah: $19,700
Vermont: $38,300
Virginia: $33,300
Washington: $25,600
West Virginia: $26,500
Wisconsin: $27,800
Wyoming: $19,800
Our respondents are also tapping professionals to help them pull it all off, as our study shows that nearly a third of couples hired some form of a wedding planner (whether it be a day-of coordinator or a full-service planner). Many wholeheartedly embrace or blend their cultural customs, while others intentionally turn tradition on its head by paying homage to pop culture (Harry Potter stilettos, anyone?), nixing old-school activities (like the garter toss) or reinventing big moments to suit their individual style (think: tequila shot unity ceremonies). Today's couples want their wedding to be a true expression of their unique love story and for guests to leave saying, "That was so them."
Speaking of guests, couples go to great lengths to make sure their loved ones have an absolute blast. The average couple hosts 131 guests, and 72 percent of those surveyed said their top priority was ensuring their guests were taken care of and had a good time. Besides the expected food, drink and music, nearly half of all couples hire or provide above-and-beyond guest entertainment. We're talking photo booths, cigar-rolling stations and craft margarita bars, to name a few.
And, of course, no wedding can happen without an entire team of incredible vendors. To-be-weds continue to lean on best-in-class local pros to make their day unforgettable, whether it's a macramé artist for bespoke bohemian wall décor or the perfect planner to bring their Jewish-Chinese fusion celebration to life.
Average Cost of Wedding Vendors
Of course, how much wedding pros charge varies—a lot. It's always best to research wedding vendors in your area and ask them about their specific rates (and what those rates include). An internal study found out exactly what couples spend on different wedding vendors last year on average. See the average cost of wedding vendors in 2019, below:
See how the average wedding cost in 2020 and 2019 compare to previous years' price tags. Keep in mind the averages from previous years include engagement ring cost, whereas the 2020 and 2019 averages only encompass the cost of the ceremony and the reception. The average cost of a wedding in 2018 was $33,931. Interestingly enough, the average cost of a wedding in 2017 was $33,391, which is down from 2016, when the average spend on weddings reached an all-time high of $35,309. In 2015, couples spent about $3,000 less, averaging $32,641 for their weddings. The average cost of weddings in 2014 was just under $30,000—coming out to $29,858, while the average wedding cost in 2013 was $28,427.
Looking for some help with your wedding spend? Check out The Knot Wedding Budget Planner.