35 Funny and Classy Bachelorette Party Gifts for the Bride
Some are naughty, most are nice.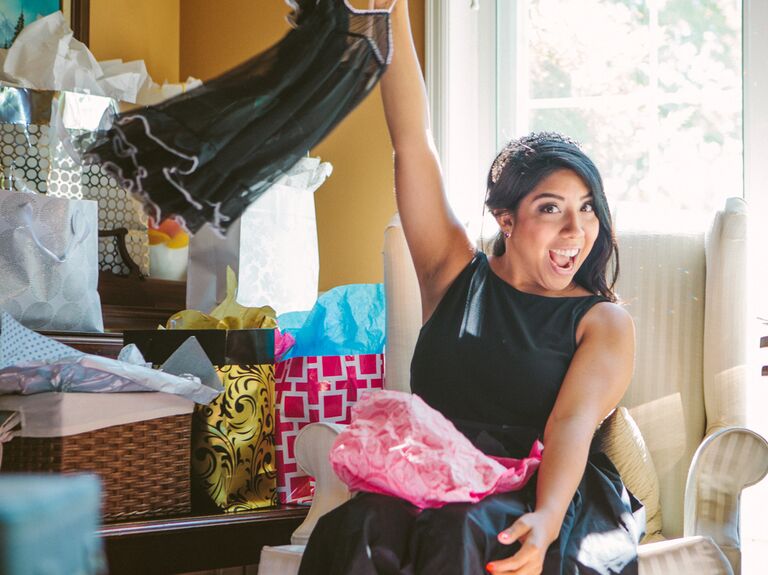 Melissa J. Soule Photography
We have included third party products to help you navigate and enjoy life's biggest moments. Purchases made through links on this page may earn us a commission.
At a bachelorette party, gifts for the bride aren't required—but they're welcome! You might want to get the bride cute gear to wear at the party, something sexy for the honeymoon, or simply something meaningful that's indicative of your friendship. Sometimes, partygoers go in together to buy a gift from the group, but what you do is totally up to your crew. While you're mulling it over, check out our list of unique and funny bachelorette party gifts for the bride-to-be—from personalized keepsakes to silly gag gifts. Whether you're looking for something classy or naughty, remember: It's the thought that counts, so have fun with it.
1. Monthly Lingerie Subscription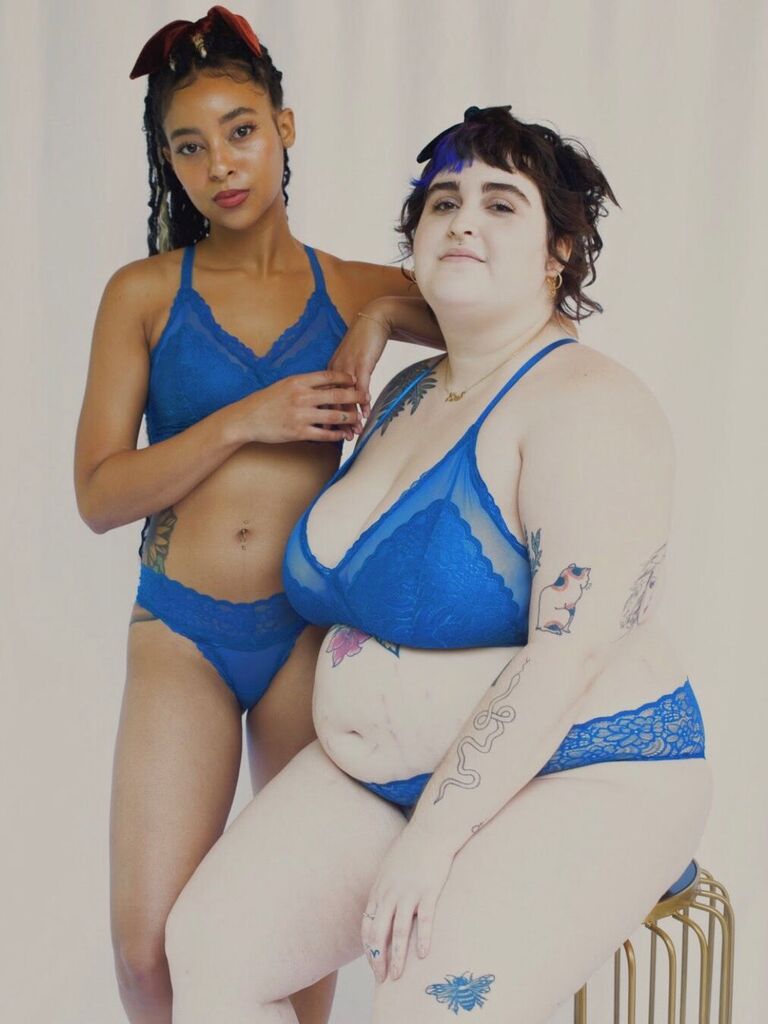 If you're wondering what to get the bride for the bachelorette party, lingerie is a popular choice. Underclub's luxury lingerie subscription takes that idea to the next level. This creative service delivers designer underwear curated to the recipient's taste. Once you give your gift (a three-month, six-month or year-long subscription), your bestie can complete their very own Style Questionnaire for a personalized experience. Who says bachelorette party gifts can't be classy and sassy?
2. Lace Bridal Robe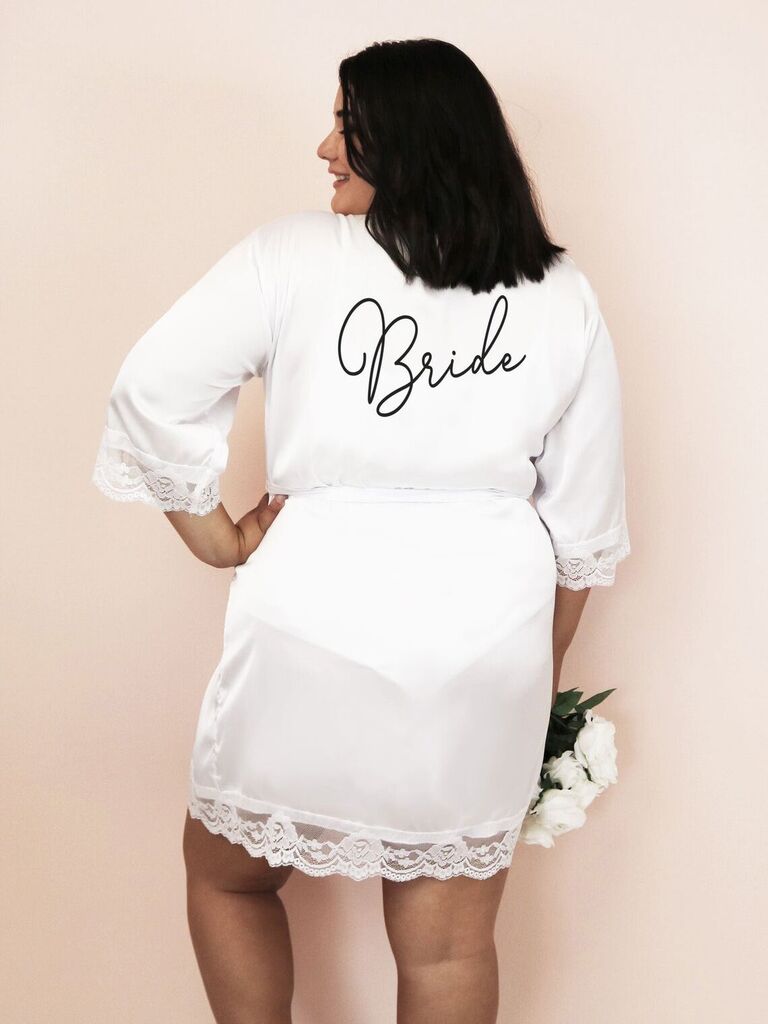 They'll feel glamorous in this lace-trimmed bridal robe, which works for getting ready, the wedding night or the honeymoon. You can choose the color of the robe and the color of the "bride" text on the back. It's a useful gift that'll double as a treasured wedding keepsake.
3. Monogrammed Bracelet Flask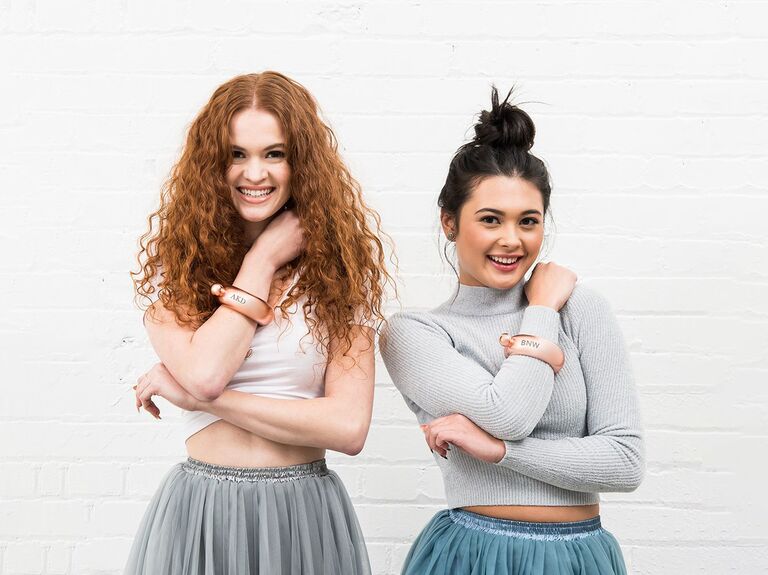 What about impressing them with a unique gift they would never think of? This rose-gold bangle bracelet is actually a flask meant to wear around the wrist for sneaky sipping. Have it engraved with the bride-to-be's initials for a personalized touch.
4. Elegant White Pajamas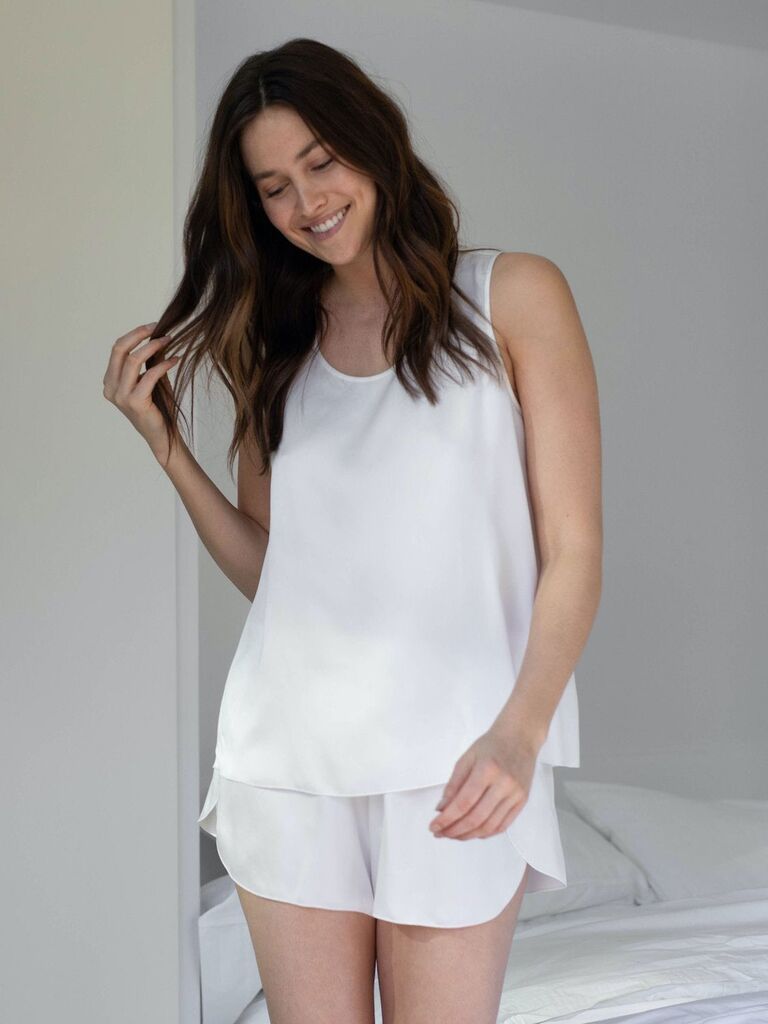 Pamper the bride with these super-soft, best-selling silk pajamas. The luxurious set comes with a sleeveless top and airy PJ shorts. This special bridal sleepwear is guaranteed to take their prewedding R&R to the next level.
5. Personalized Pendant Necklace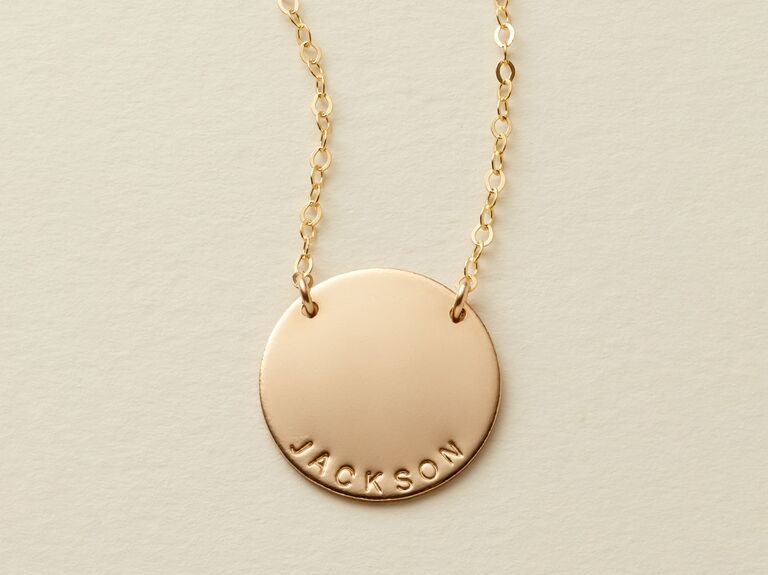 If you love personalized jewelry, you'll love Made By Mary—and the bride will too! This brand specializes in cute, custom accessories that our readers adore. Is your bestie taking a new last name? Stamp their future surname on this adorable disc necklace. It's a meaningful bachelorette party gift for the super-excited soonlywed.
6. Bride Sun Hat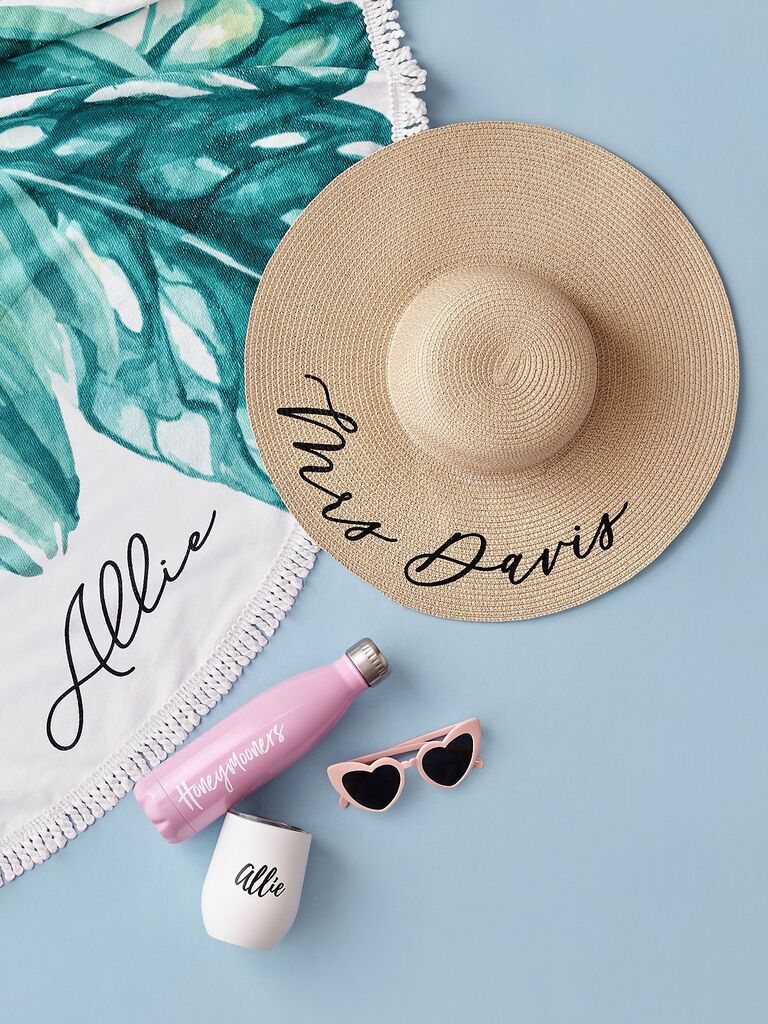 Whether the bach party is a beach bash or the bride is going somewhere tropical for the honeymoon, a personalized sun hat is a practical and unique bachelorette party gift idea. This hat comes in white, blush or tan, so pick the color that best suits their style (or bride swimsuit). They'll be lounging in this baby in no time!
7. Funny Party Game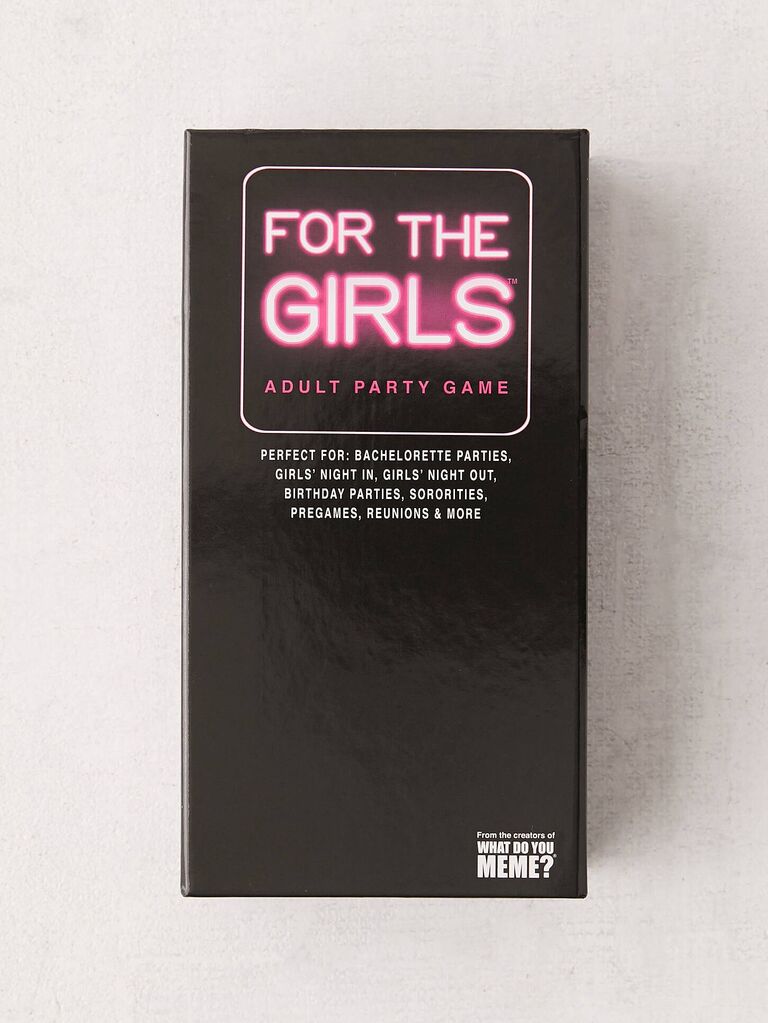 This bachelorette party gift to the bride is really a gift to the whole crew. The editor-approved game is a quick way to get the group laughing. The game has 500 cards broken out into mini-games like "Truth or Dare" and "If You've Ever…" So basically, it'll make a fun bachelorette weekend even more memorable!
8. Custom Friendship Bracelet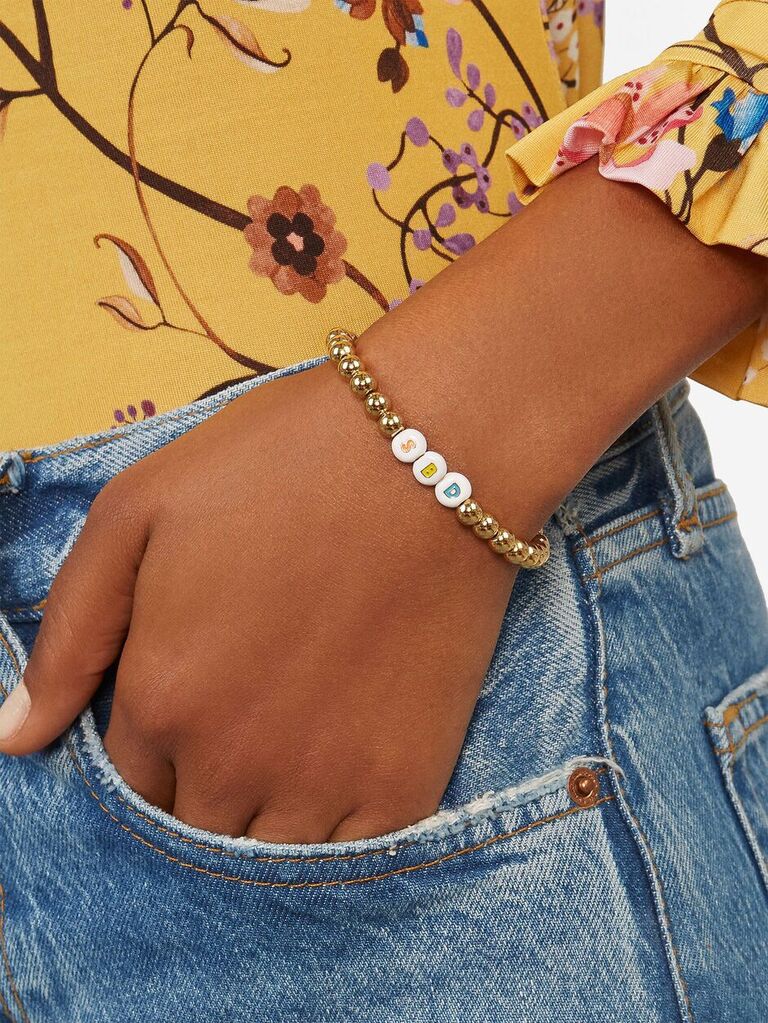 We call this personalized gift a grown-up version of a friendship bracelet. You can pick a meaningful name, phrase or place to be displayed in colorful rainbow letters on the gold beaded bracelet. Don't be surprised if it becomes their go-to arm candy.
9. Sexy Adventure Challenge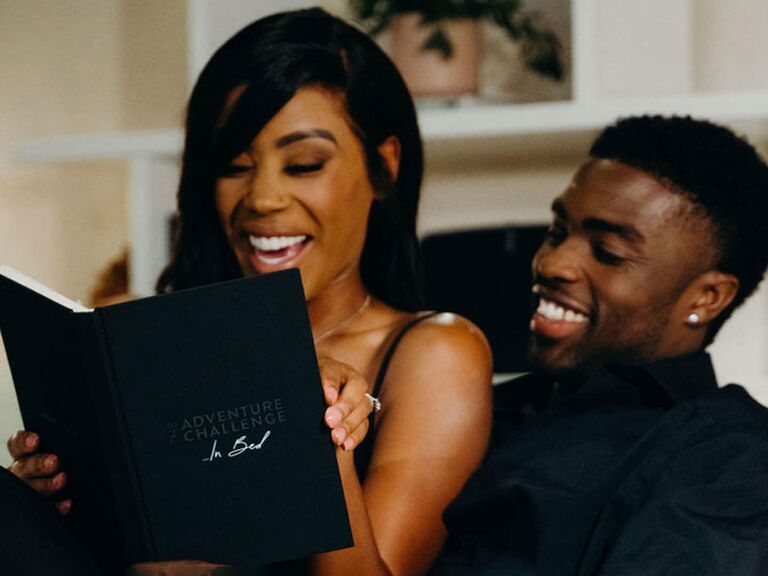 Our couples are huge fans of experiential gifts, which is this brand's specialty. We're all for spicing things up in the bedroom, and this In Bed challenge book will surely do the trick. The pages contain 50 scratch-off adventures for couples to connect on a deeper level and have a better sex life. The best part? You can get 10% off the entire site with our code THEKNOT10.
10. Cocktail Recipe Book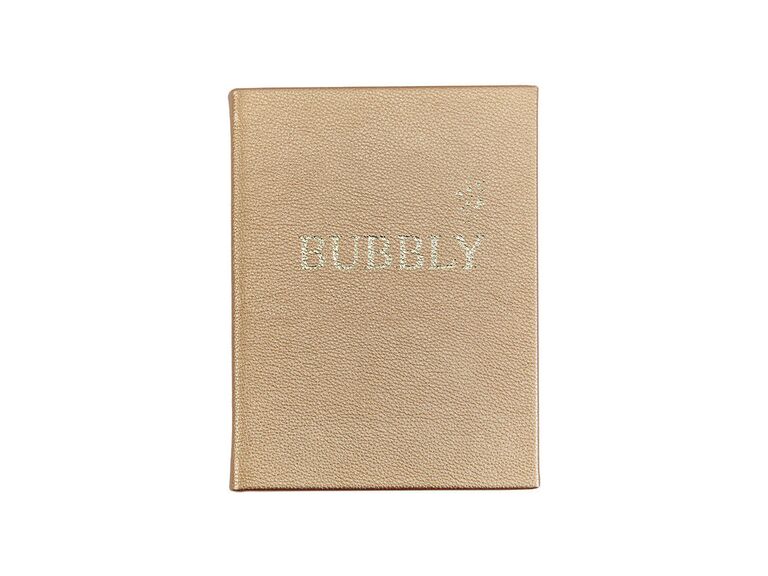 For the bubbly bachelorette, this champagne recipe book can help them take their cocktail-making game to new heights. Bubbly includes 60 cocktail recipes with seasonal flavors, tricks and tips and an entire section fully devoted to brunch cocktails. Plus, the book's aesthetic gold cover is cute enough to display alongside the couple's favorite cookbooks.
11. Massage and Bath Oil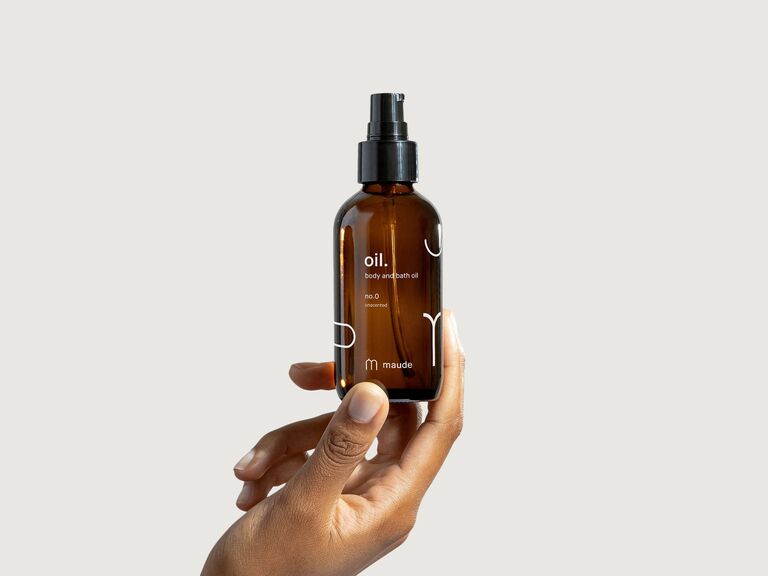 How about some sensuous massage oil to use with their future spouse? This hydrating blend of coconut, argan, jojoba and castor oil will calm their senses and leave them feeling ultra-relaxed. Also, how beautiful is that packaging? It's so chic, they'll want to put it on their vanity.
12. Sexy Lace Nightie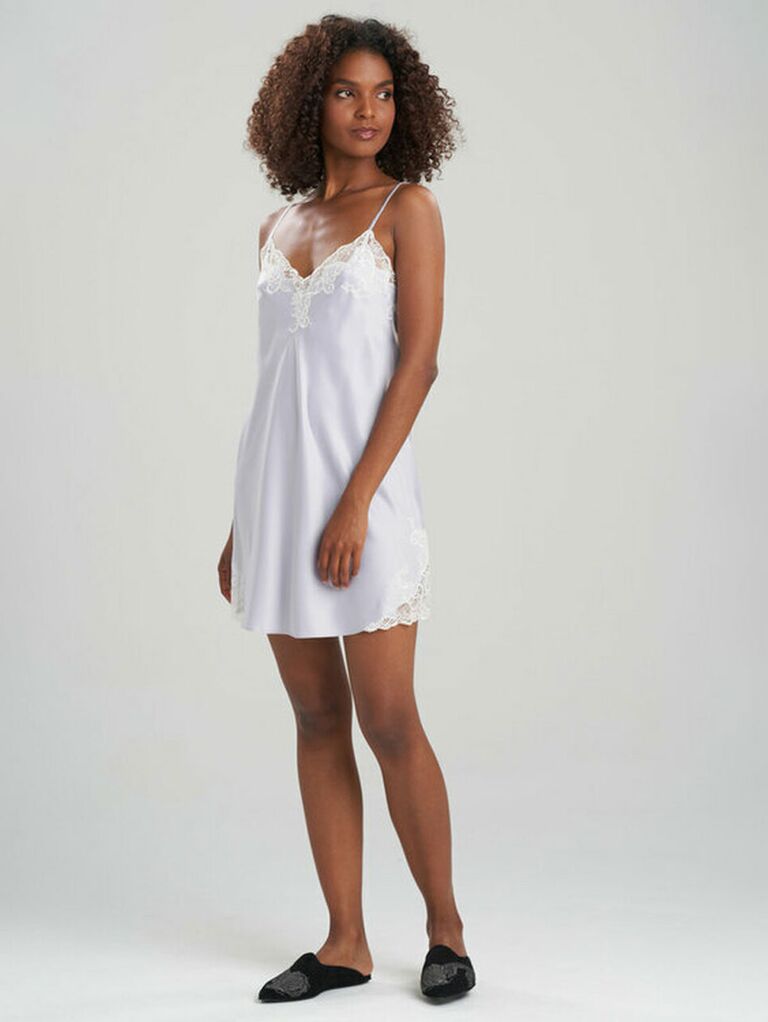 Sexy lingerie is a classic bachelorette party gift idea, and this silver chemise is utterly gorgeous. It has romantic lace details on the neckline and bottom hem, plus the color is so luxurious. Trust us: They'll love having this piece packed away for their wedding night or honeymoon.
13. Spa Gift Card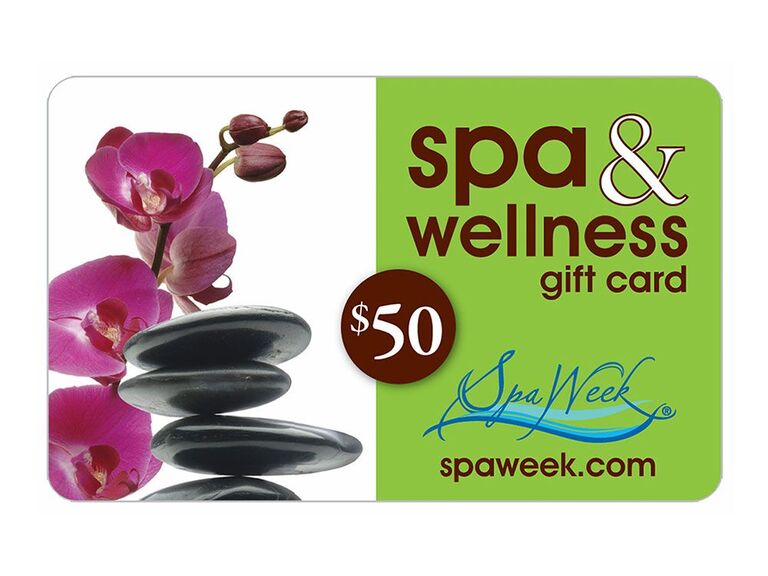 All that wedding planning can cause decision fatigue, so the bride-to-be will appreciate time set aside for self-care and wellness. Give the bachelorette a spa gift card they can use for a massage, a mani/pedi, a facial or another treatment. Spa Week gift cards are valid in more than 9,000 locations throughout the US, so the bride has lots of options.
14. Trendy Fanny Pack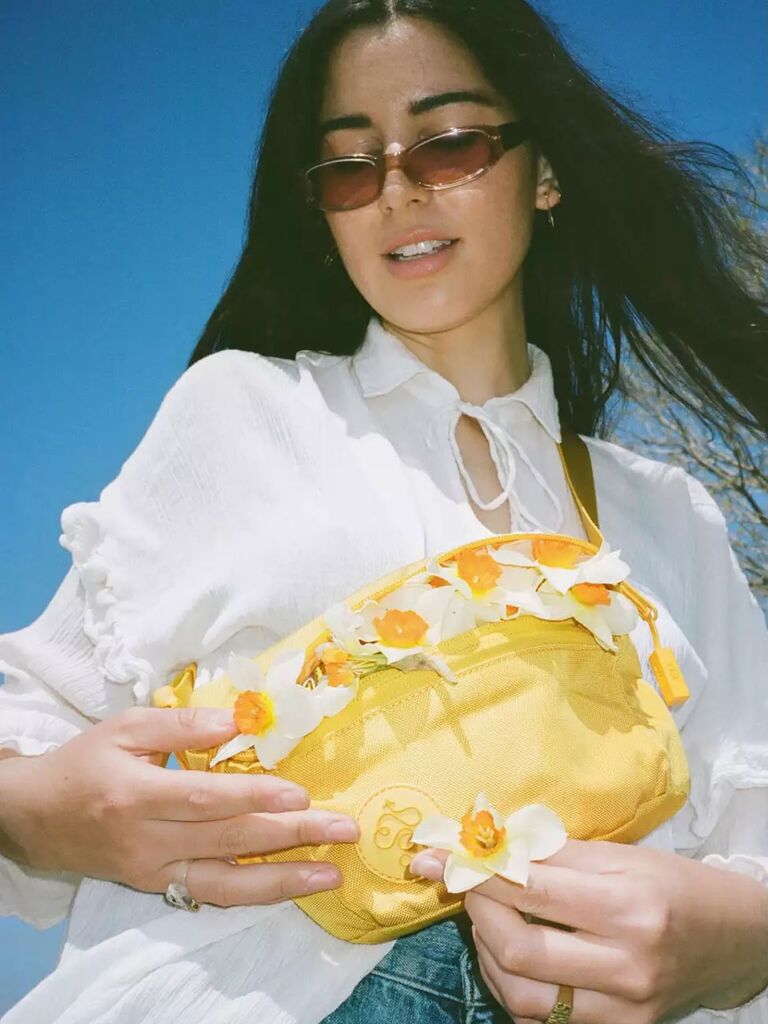 Fanny packs are obviously the best accessories for on-the-go bachelorette parties; they can hold your phone, your lip blam and all your other necessities. This practical pack has a durable shell with a water-repellent coating (because we know things can get a bit messy with the champagne). It also comes in four vibrant colors: bright yellow, blue, purple and navy. How fun!
15. Celebrity Video Message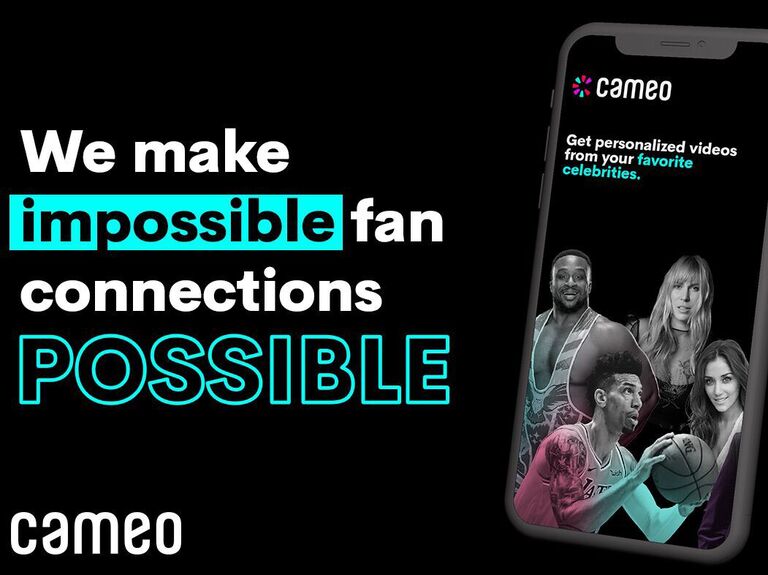 Shopping for someone who loves pop culture? Then this is a foolproof bachelorette party gift for the bride-to-be. With Cameo, you can request a personalized video from their favorite celebrity, whether that's a Real Housewife or a professional athlete. For the best reaction, surprise them with the video while they're surrounded by all their besties (who will be really, really jealous).
16. Bachelorette Photo Album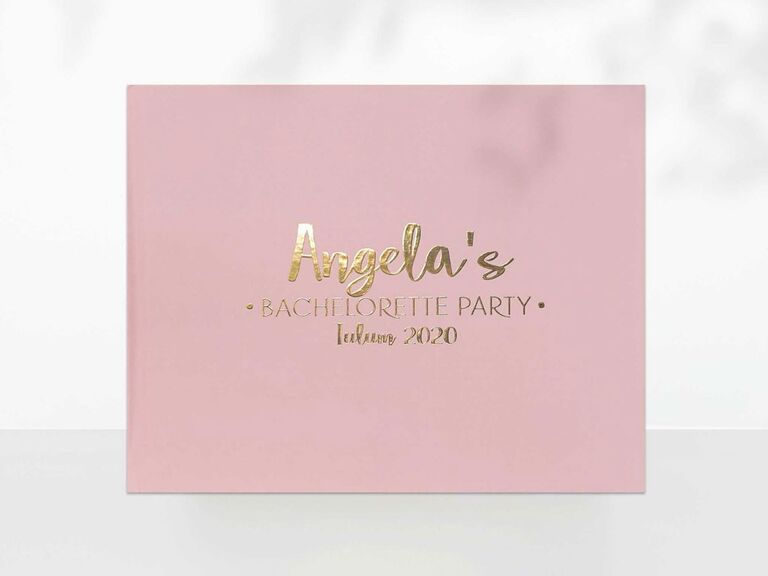 They'll tear up when they open this keepsake album. The hardcover book can be personalized with their name, the party location and the year for a meaningful bachelorette gift to the bride. Add instant photos, sweet notes from the wedding party, and other special mementos that the bride can cherish forever.
17. Assorted Chocolate Truffles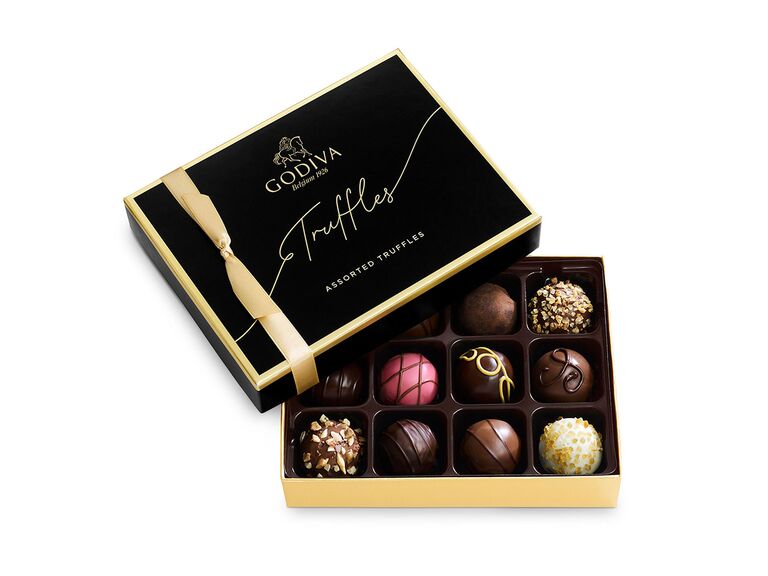 This decadent truffle assortment is the ideal gift for any avid chocolate lover. The box is filled with sweet, spicy and savory flavors for the adventurous palate. Select from 12, 24 or 34 pieces for a tasty bachelorette gift idea.
18. Personalized Bride Panties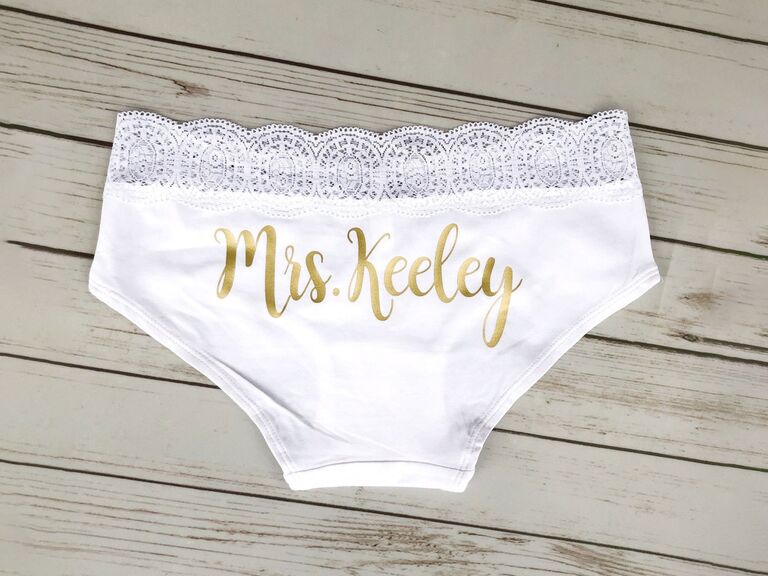 Just imagine their reaction to this cheeky, personalized pair of underwear. You can even choose from gold, silver, baby blue or rose gold script. It's a fun and slightly silly gift to unwrap at the bachelorette party, making it one of the best bachelorette gifts for the bride!
19. Champagne Gift Set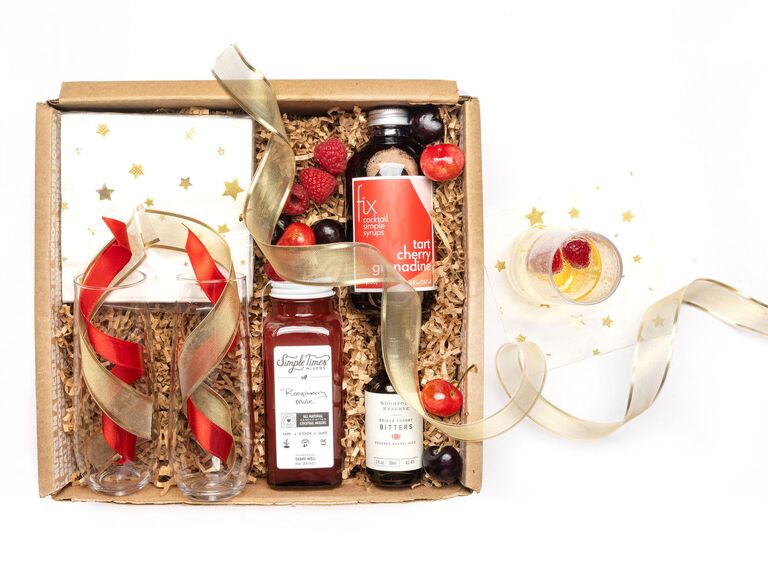 For a last-minute bachelorette gift you can deliver to their door, what about this Just Add Champagne gift box? The cocktail kit includes artisanal mixers and garnishes that can be used to make flavor-packed cocktails. Better yet, it also comes with two unbreakable flutes.
20. Potterhead Bride-to-Be Sash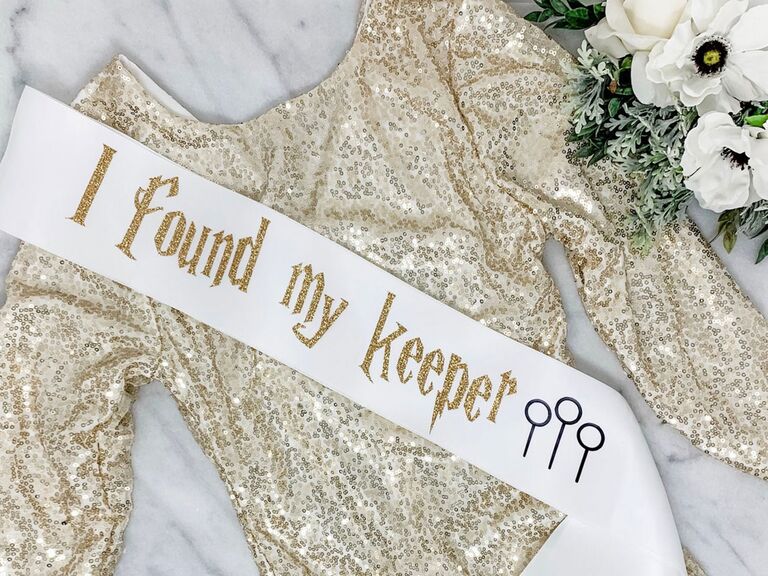 For a Harry Potter-themed bachelorette party, honor the magical series with an "I found my keeper" bridal sash. (Or you can add a different punny saying if you want to get creative.) The muggles won't get it, but your Potterhead bride-to-be will beam with excitement.
21. Kinky Truth or Dare Game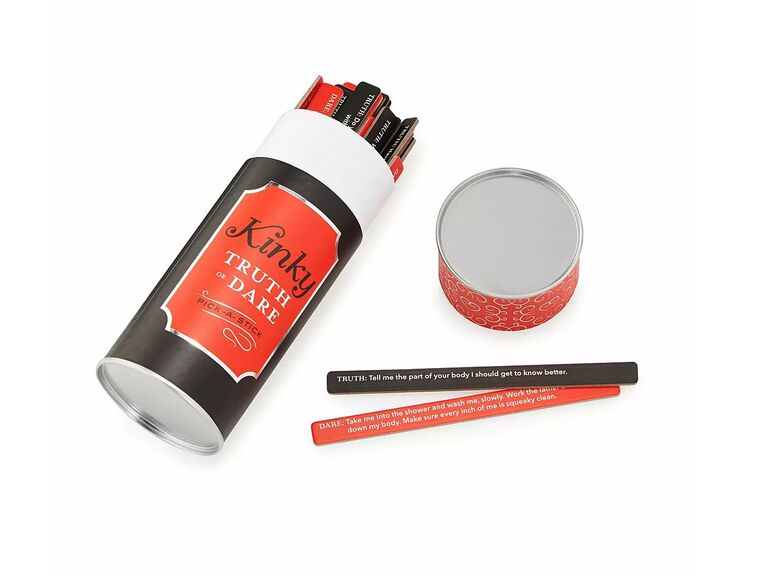 Good bachelorette gifts can be hard to find, but this adult version of truth or dare will more than likely find its way into the bride's honeymoon suitcase. The game comes with 50 double-sided pick-up sticks printed with 100 risqué prompts for a steamy date night.
22. Cactus Shot Glass Set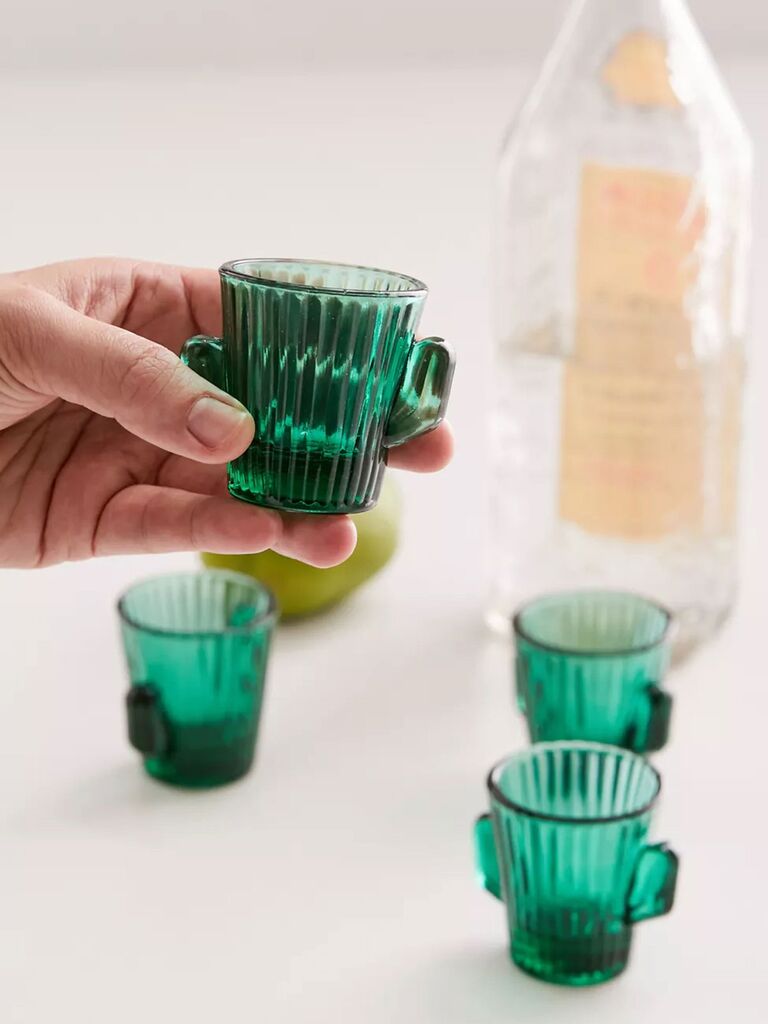 Bottoms up! Get the party started with these festive cactus-shaped shot glasses for the bride. Whether they're throwing a western bachelorette party or just love succulent-shaped things, they'll have fun with these tiny green sculptures. We have a feeling these shot glasses will become a future entertaining staple.
23. Chic Passport Case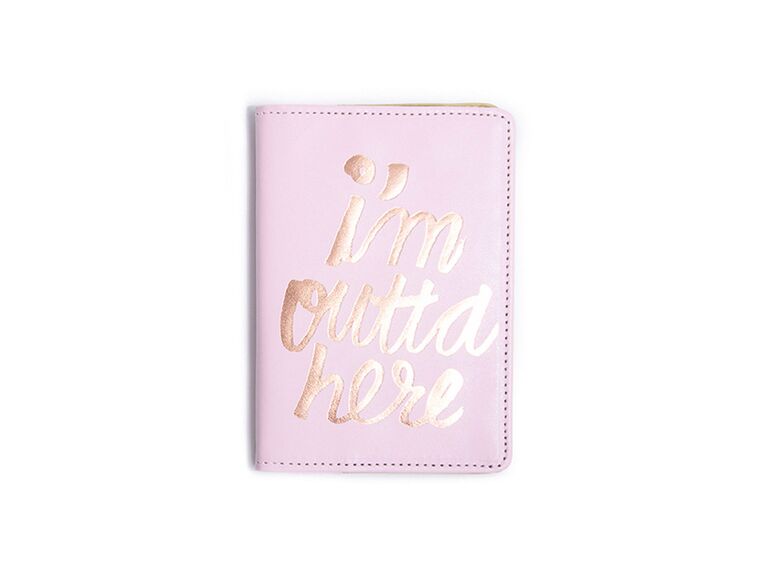 Send the bride-to-be on their honeymoon in style with this chic passport holder. We love the sassy "I'm outta here" design, and apparently, so does Mindy Chen—the passport cover made a special appearance in Season 2 of Emily in Paris! If you're going in on a group gift, you can also snag a matching luggage tag and throw in a coordinating clutch.
24. Love Stud Earrings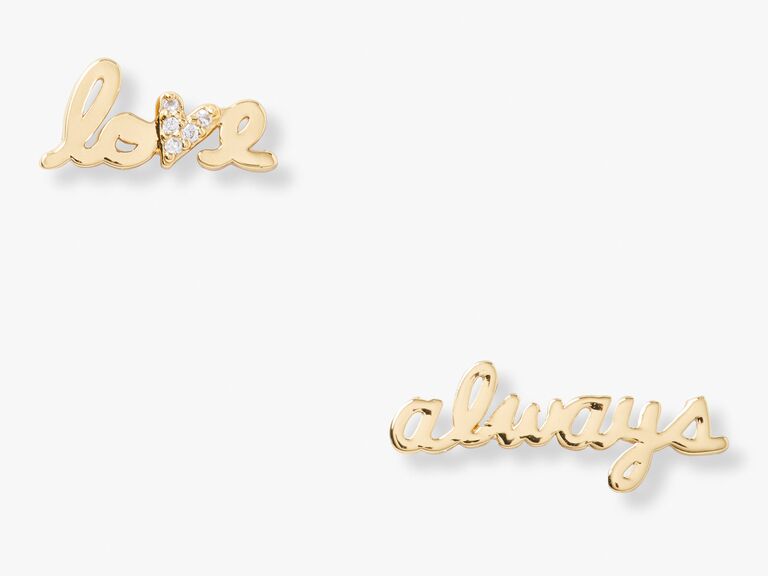 The Kate Spade-loving bride-to-be will be instantly charmed by these adorable earrings. The sparkly gold studs say "love" on one ear and "always" on the other. What better way to set the mood for an upcoming wedding?
25. Cute Instant Camera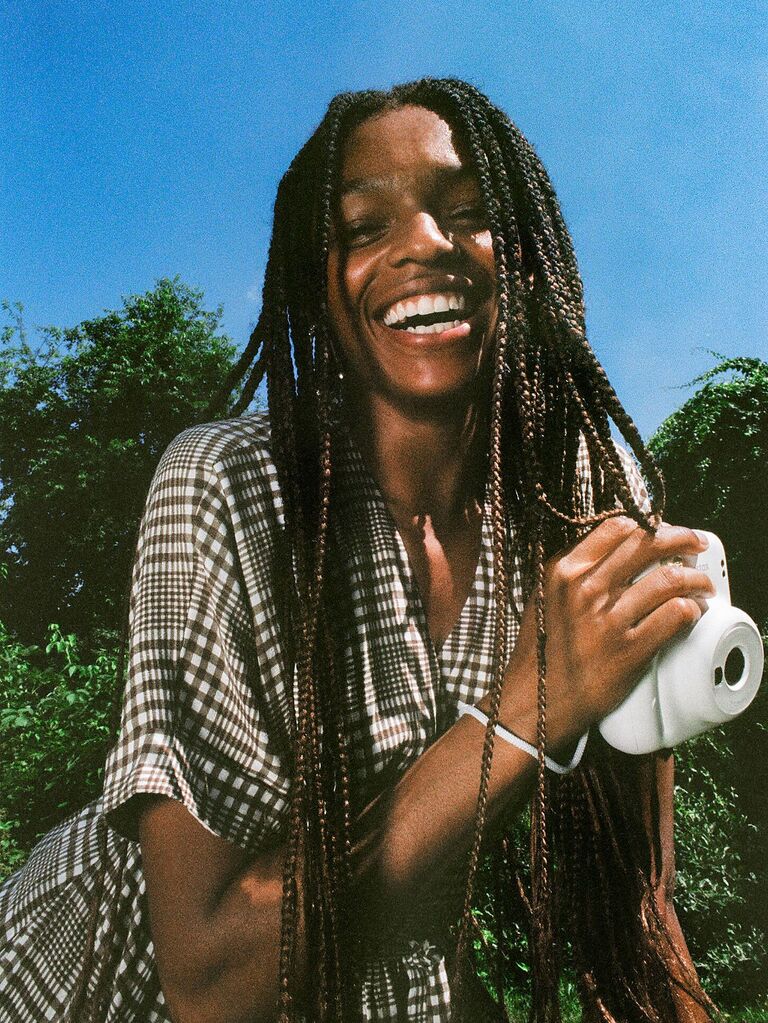 Grab an instant camera for the bride to use at the bachelorette party. We love this one because it's easily portable and comes in a range of pretty colors, from white to lavender. Everyone will enjoy the cool features, including selfie mode and automatic exposure for high-quality photos.
26. Cozy Custom Socks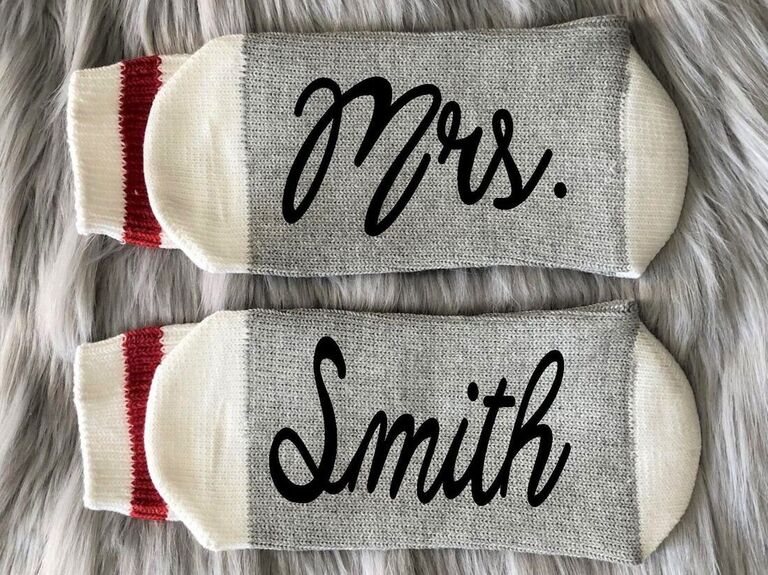 They'll love wearing these "Mrs." socks on cozy nights after the wedding. The soles come personalized with their married name for a cute surprise. Choose from light or dark gray and pink or red trim—then they're ready for snuggling!
27. Stylish Monogram Coasters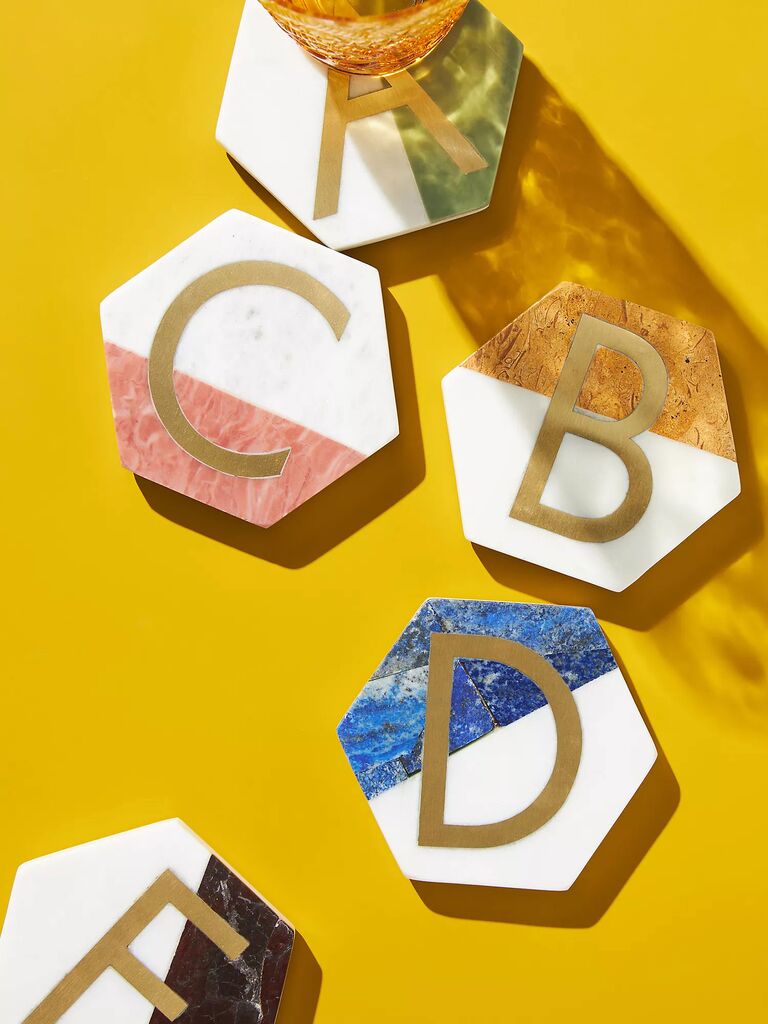 These colorful monogram coasters are a practical gift that'll protect all the new furniture on the couple's wedding registry. Each coaster is sold individually, so you can grab one with the bride's first initial and another with her future spouse's. The colorblock design will stand out beautifully on their coffee table.
28. Preserved Rose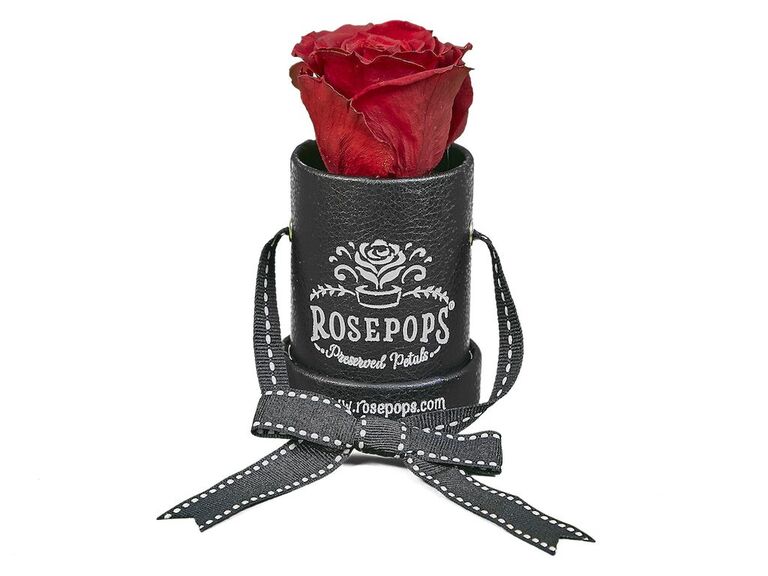 Here's a bachelorette gift that's sure to leave a lasting impression: a real, preserved rose. The white or red rose, which comes stored in a sleek box, pops out once it's opened. Bonus: You can personalize the box to display a special message for the bride-to-be. This pretty, fragrant flower stays fresh for up to a year, so your gift will be on display all the way to the wedding. (Psst, take 15% off with our code THEKNOT15.)
29. Ring Finger Tank Top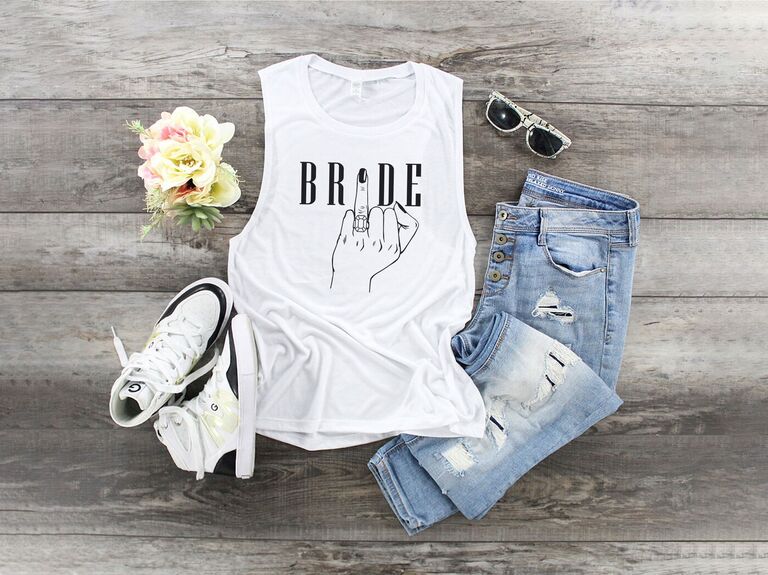 Looking for bachelorette gift ideas for a funny bride? They'll love this shirt that highlights their engaged status in the boldest way—by giving the (ring) finger. Whether the bachelorette party is a night on the town or a weekend getaway, they'll wear this fierce muscle tank proudly.
30. Personalized Tote Bag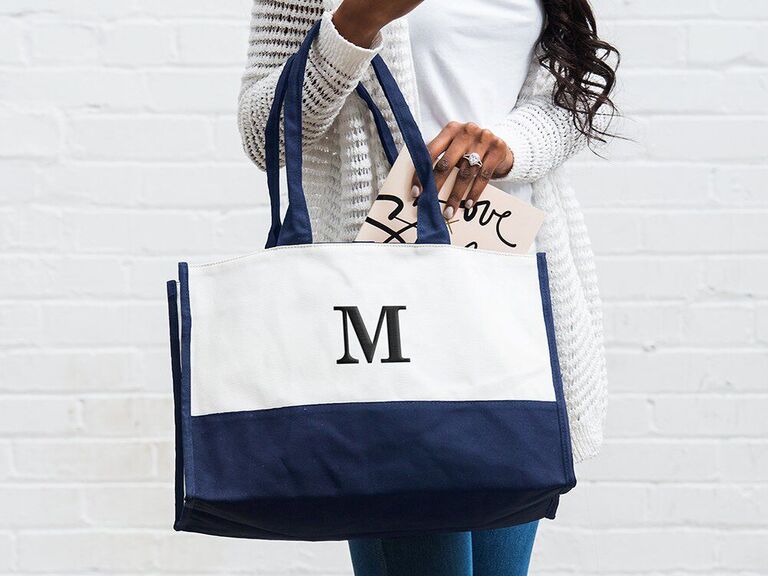 We're not done sharing our bachelorette party gift ideas just yet. This ultra-useful monogram tote is perfect for bachelorette essentials and even honeymoon souvenirs. Choose from either black or navy colorblocking (both colors are chic options for the bride-to-be), then add their first initial for a personalized present. Oh, and this cute tassel charm is a great add-on for a little something extra.
31. Funny Wedding Candle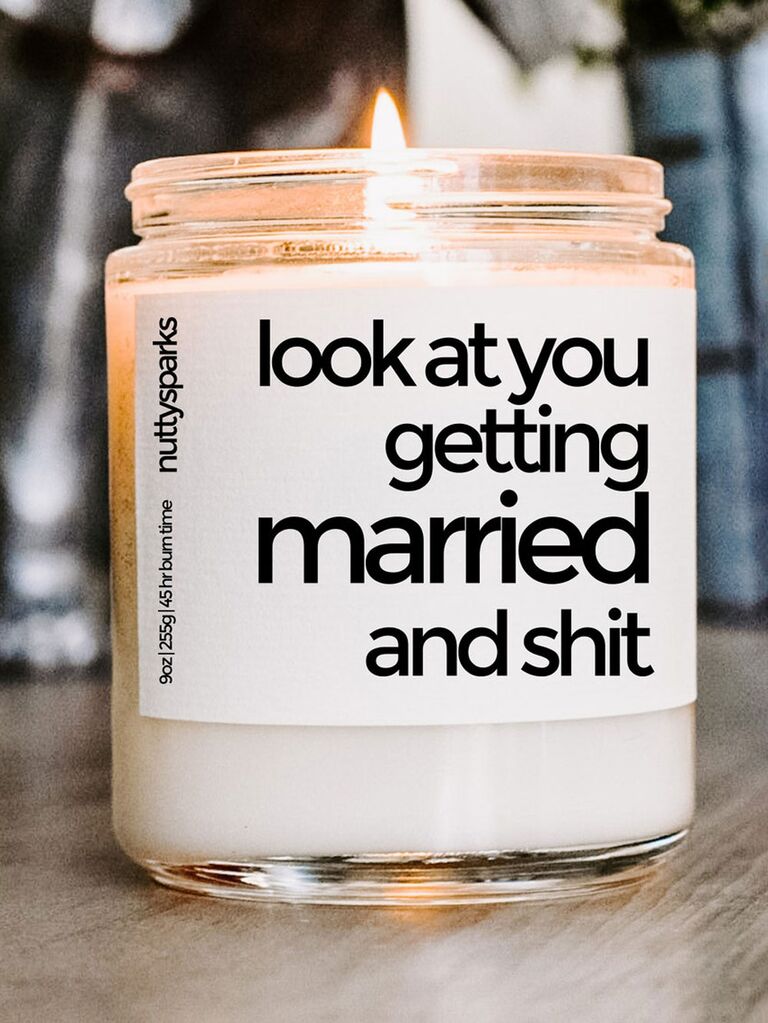 If they love candles and have a sense of humor, they'll get a kick out of this bachelorette gag gift. The soy candle sits in a jar that reads, "look at you getting married and sh*t." Choose from nine unique scents, including Martini, Brunch & Gossip and Sex in Bora Bora (which are all perfectly on theme for a cheeky bachelorette party). If you add a short custom note to the order, this Etsy shop will handwrite the message for you.
32. LGBTQ+ Bride Sweatshirt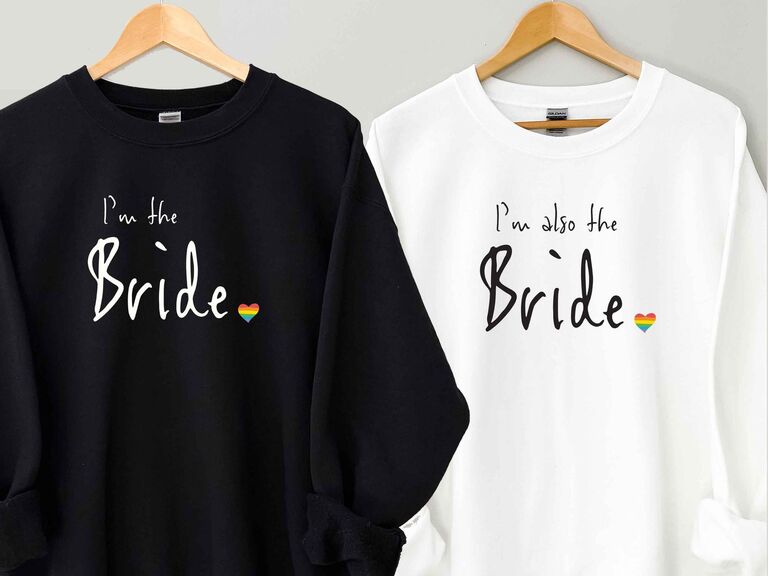 We absolutely love these inclusive "I'm the Bride" and "I'm also the Bride" sweatshirts. They're the perfect way to celebrate a pair of brides-to-be. The couple will look forward to lounging together in this cozy bachelorette present for two.
33. Fuzzy Slippers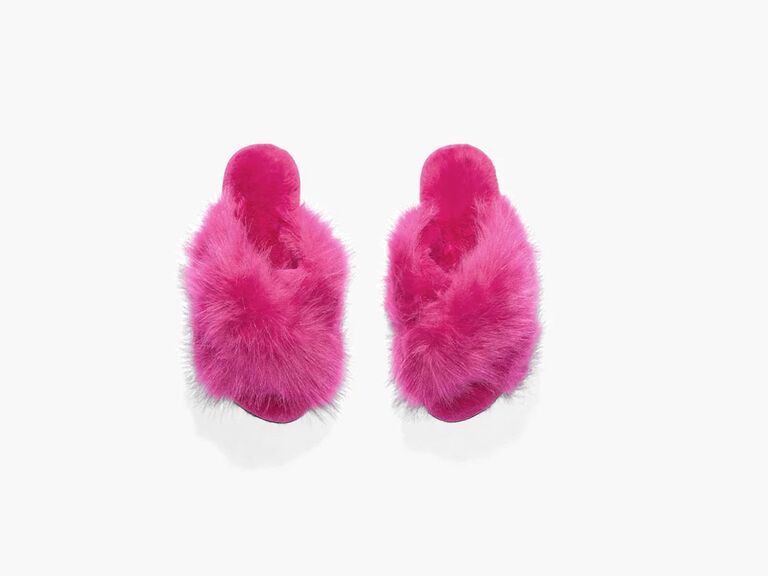 Elevate their bridal loungewear with these cozy slippers made for chilling. The faux-fur design has an open toe and crossover straps for ultimate comfort. And how incredible is that hot pink color? The bride could pair them with some bridal PJs for a chic wedding getting-ready outfit.
34. Premade Craft Cocktails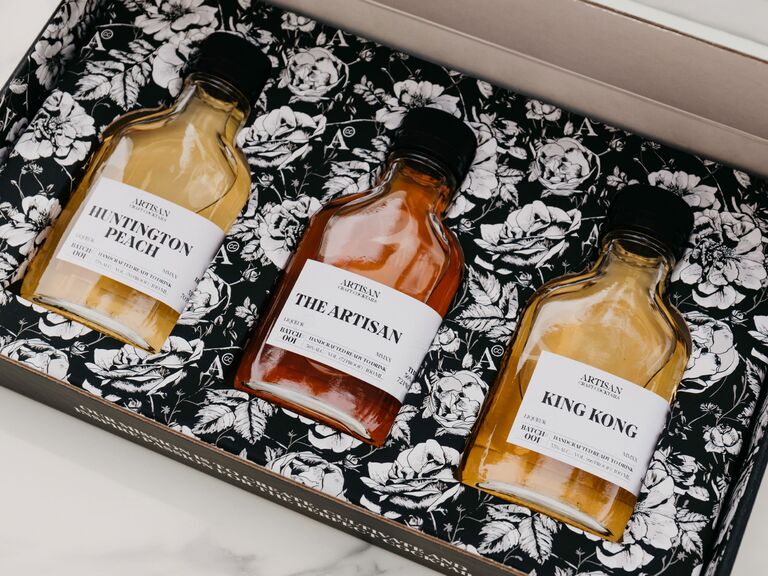 This deluxe gift box contains a trio of cocktails that the bride-to-be can enjoy with their besties or their future spouse. It comes with three delicious flavors—The Artisan, King Kong and Huntington Peach—so they'll have fun trying each one. All they have to do is pour the premixed drinks over ice, then voilà—premium cocktails with little to no effort.
35. Travel Coffee Mug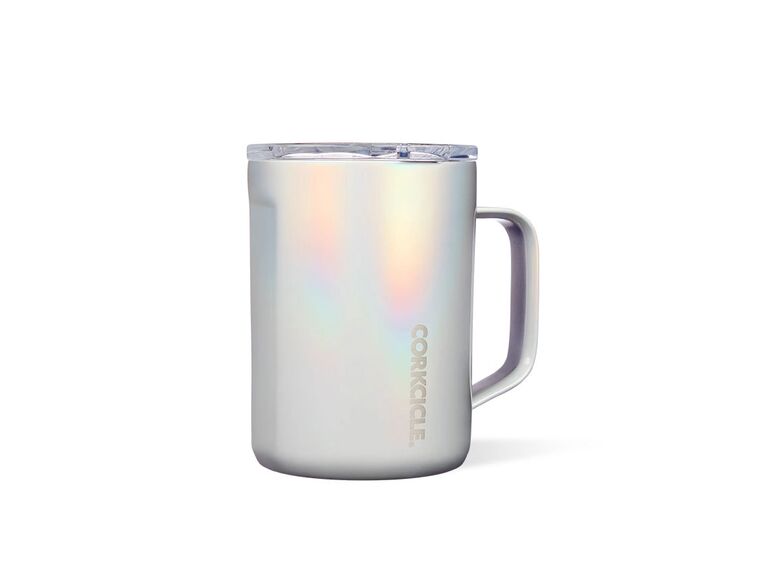 We saved one of the best bachelorette gifts for last: a travel coffee mug for all their future wedding-planning appointments. The triple-insulated stainless steel design keeps beverages hot for over three hours, and the easy-grip handle will prevent any spillage. We're also big fans of that beautiful iridescent color for the bride.