30 Bachelorette Party Gifts Any Bride-to-Be Will Love
Some are naughty, most are nice and a few are a little ridiculous—but all are in good fun.
by Elena Mauer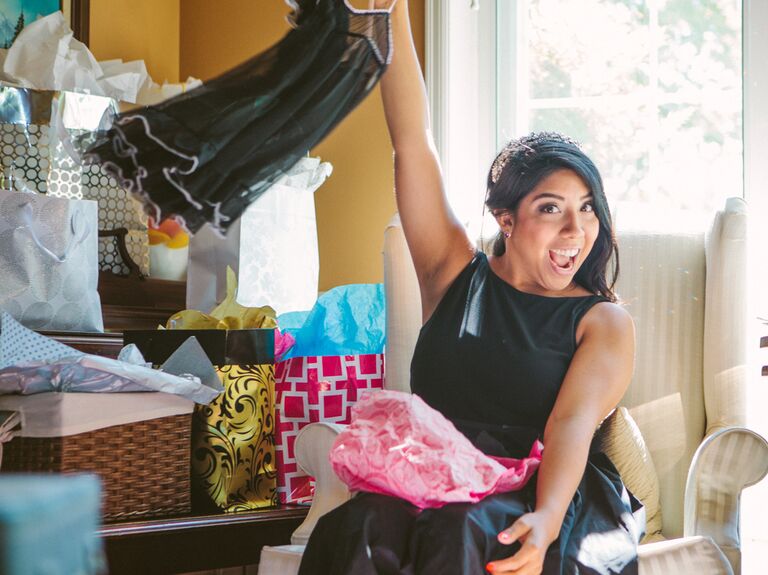 Melissa J. Soule Photography
At a bachelorette party, gifts for the bride aren't required—but of course, they'll be welcome! You might want to get the bride paraphernalia she can use at the party, something sexy for the honeymoon, or just a pretty or meaningful trinket indicative of your friendship. Sometimes, partygoers go in together to buy a gift from the group, but what to do is totally up to you. While you're mulling it over, check out our favorite bachelorette party gift ideas for inspiration.
1. Bangle Bracelet Flask

This bangle bracelet is actually a flask she can wear around her wrist for sneaky sipping. Have it engraved with her initials. 
The Knot Shop personalized bracelet flask, $23, WeddingShop.TheKnot.com
2. Sexy Lingerie

Lingerie is a classic bachelorette party gift idea, and this bodysuit is utterly gorgeous.
Hanky Panky Ophelia bodysuit, $118, Journelle.com
3. Stylish Coasters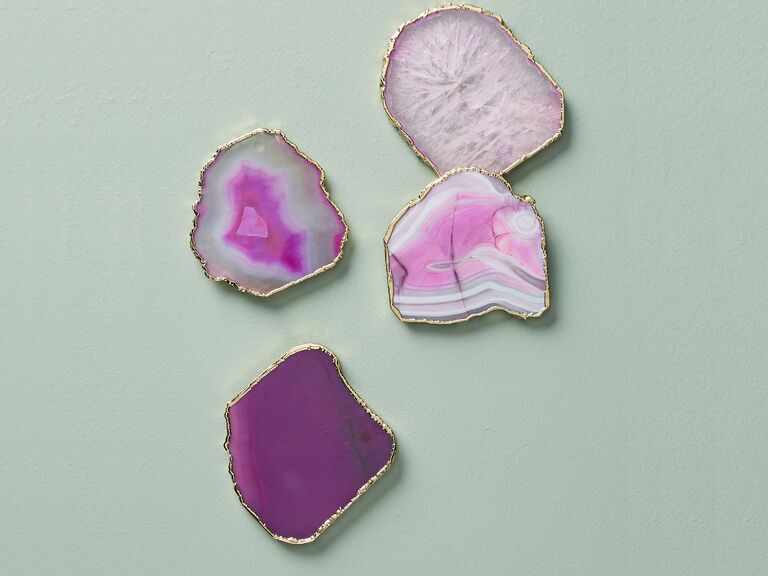 Unique agate coasters feel as precious as jewelry, but give off a party vibe.
Anthropologie agate coaster, $14 each, Anthropologie.com
4. Sun Hat

Whether this is a beach bash or she's going somewhere tropical on her honeymoon, a hat that says "Happily Ever After" is both a useful and unique bachelorette party gift idea.
David's Bridal happily ever after sun hat, $30, DavidsBridal.com
5. Lace Robe

A white lace robe will have her feeling like a beautiful bride all throughout the honeymoon.
The Knot Shop lace bridal robe, $55, WeddingShop.TheKnot.com
6. Bachelorette Party Kit
As a bachelorette party gift to the bride, a group can chip in and get some cool extras to make the bash even more fun. This kit comes with an instant camera, a "chambong," What Do You Meme? board game and confetti poppers.
Brideside champagne campaign group gift, $200, Brideside.com
7. Cocktail Recipe Book

For the bachelorette who's all rosé all day, a recipe book can help her take her cocktail mixing game to the next level.
Julia Charles rosé cocktails, $13, US.ASOS.com
8. Wishing Bracelet

Call this a grown-up version of a friendship bracelet. She might love this bachelorette gift enough to wear it as her wedding day "something blue."
SweetheartsDarlings A little wish for the bride bracelet, $4, Etsy.com
9. Spa Treatment

You really can't go wrong gifting the bachelorette a spa gift card she can use for a massage, a mani/pedi, a facial or another treatment.
Spa Week gift card, amount of your choice from $10 to $50, SpaWeek.com
10. Bride Tribe Shadow Box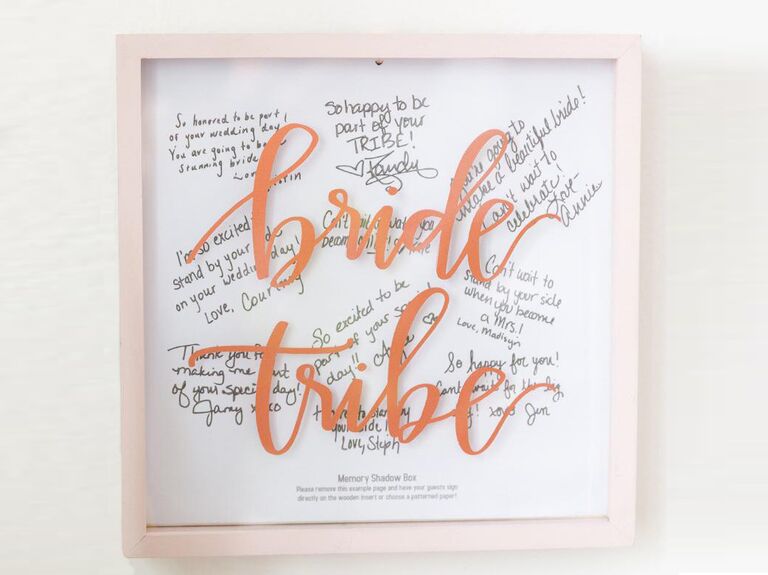 Have the whole tribe write well-wishes for the bride that she can hang in her home.
Francesca's bride tribe shadow box, $30, Francescas.com
11. Chocolate Truffles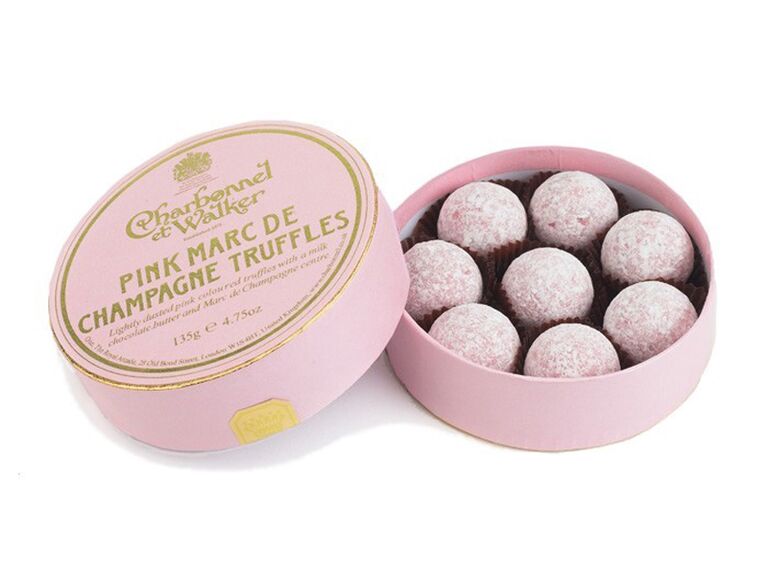 Truffles flavored with Marc de Champagne and strawberries as a bachelorette gift idea for the bride? We'll toast to that.
Charbonnel et Walker pink marc de champagne truffles, $24, SaksFifthAvenue.com
12. Bridal Panties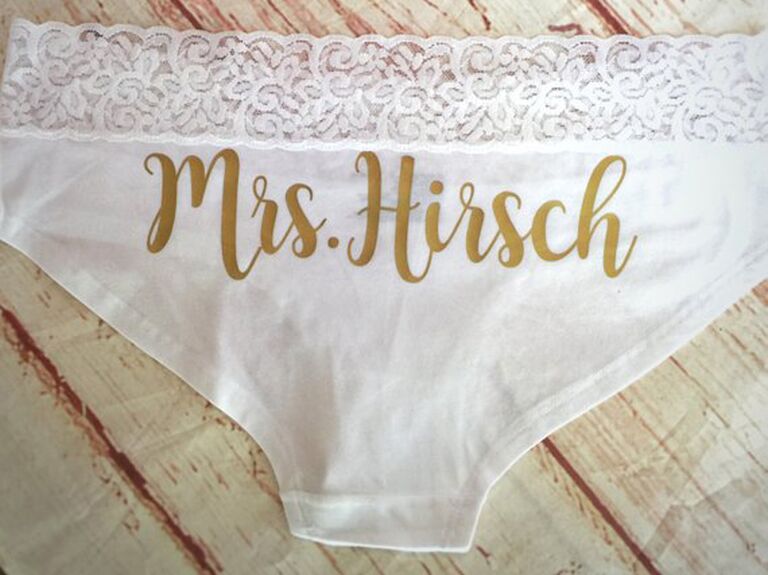 Just imagine her reaction when she opens up a box to find this personalized pair of underwear.
LuckTen personalized bride panties, $17, Etsy.com
13. Sleep Mask and Wrap
Wedding planning can be stressful. This luxe silk eye mask and neck wrap (filled with flaxseed and lavender) can help her relax, unwind and get a good night's sleep.
Mark & Graham silk eye mask and wrap set, $80, MarkandGraham.com
14. Monogrammed Cocktail Shaker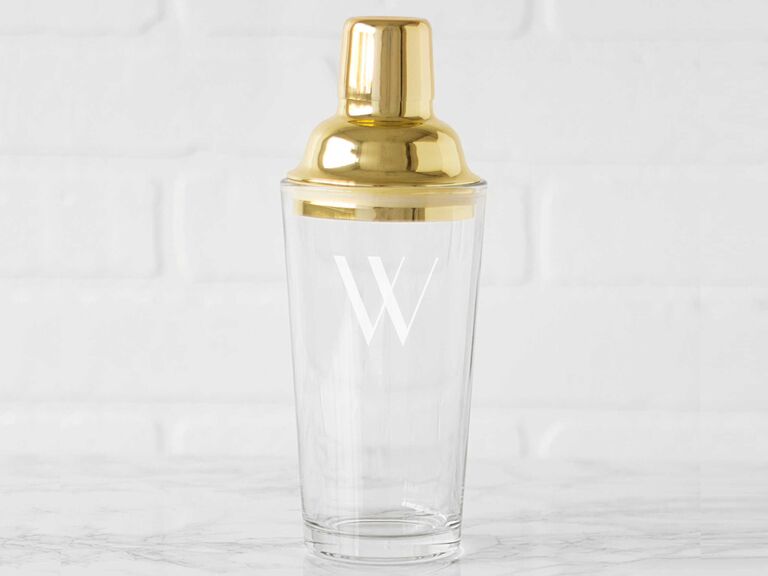 Whether she's a mixologist at heart or just loves a good martini, give her a cocktail shaker with her initial on it.
Cathy's Concepts cocktail shaker, $39, BedBathandBeyond.com
15. Bride-to-Be Sash

What bachelorette party bar crawl is complete without the obligatory bridal sash?
Ginger Ray white and gold foiled sash, $8, Target.com
16. Sexy Game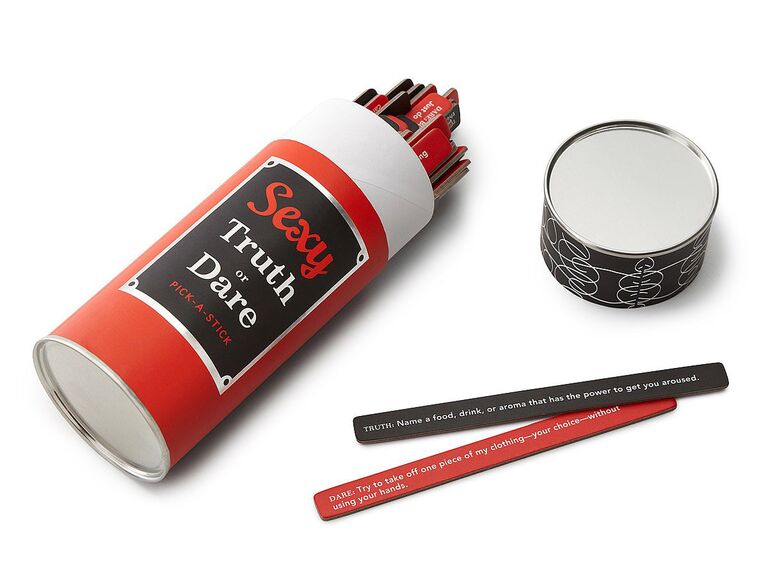 The adult version of truth-or-dare will more than likely find its way into the bride's honeymoon suitcase.
UncommonGoods sexy truth or dare, $15, UncommonGoods.com
17. Bride Swimsuit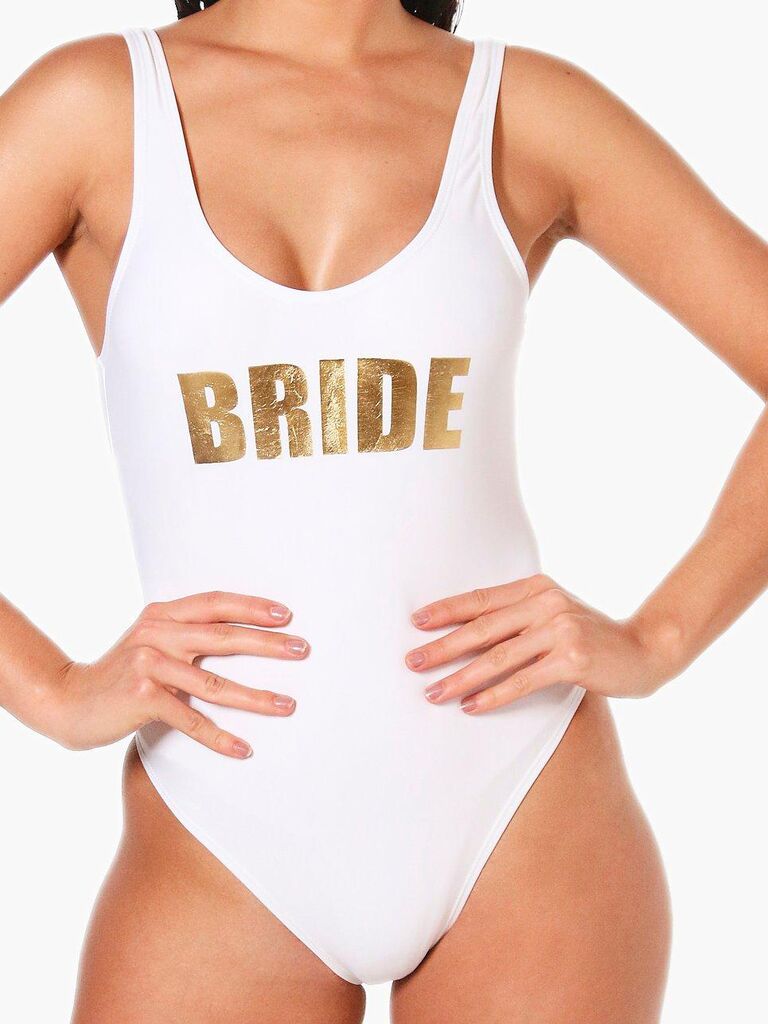 For a beachy bachelorette weekend, a "bride" swimsuit makes a splash.
Boohoo benidorm bride slogan scoop swimsuit, $28, US.Boohoo.com
18. Shot Glass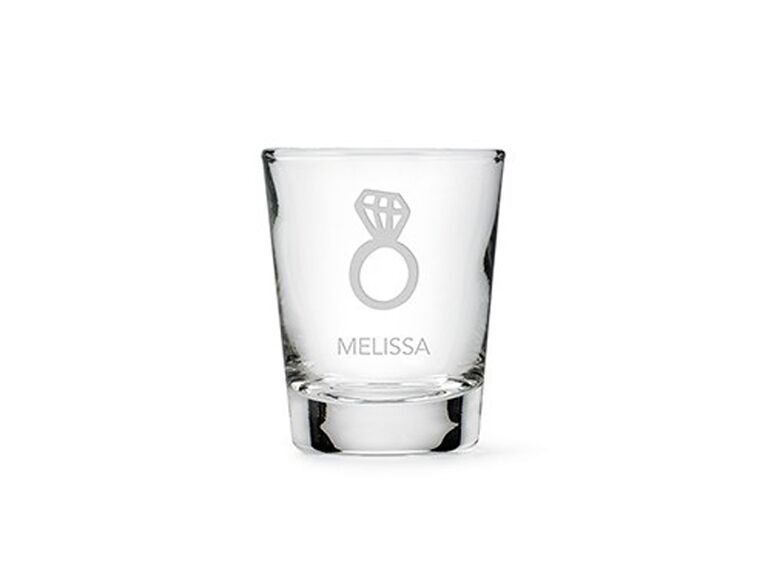 Bottoms up! This bachelorette gift shot glass literally has her name on it—and a cute engagement ring too.
The Knot Shop personalized shot glass, $6, WeddingShop.TheKnot.com
19. Passport Case and Luggage Tag
Send her off on her honeymoon in style with a glittery passport holder and luggage tag.
David's Bridal honeymoon passport case and luggage tag set, $17, DavidsBridal.com
20. Bride Bangle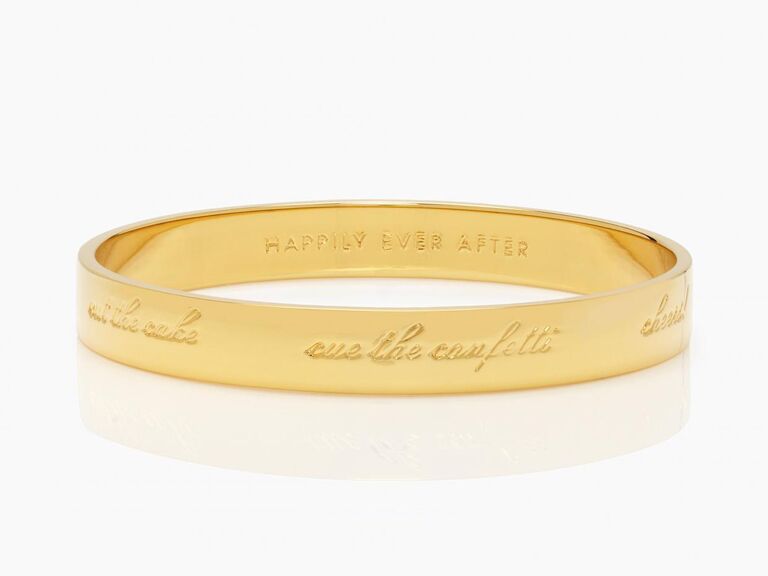 Jewelry is often a no-fail gift, and this chic piece is inscribed with different celebratory phrases that refer to the bachelorette's upcoming nuptials.
Kate Spade New York bride idiom bangle, $58, KateSpade.com
21. Polaroid Projector
With this nifty gadget, she can project favorite photos and videos—innocent or not—onto any blank wall.
Polaroid projector, $32, US.ASOS.com
22. Cat Can Cooler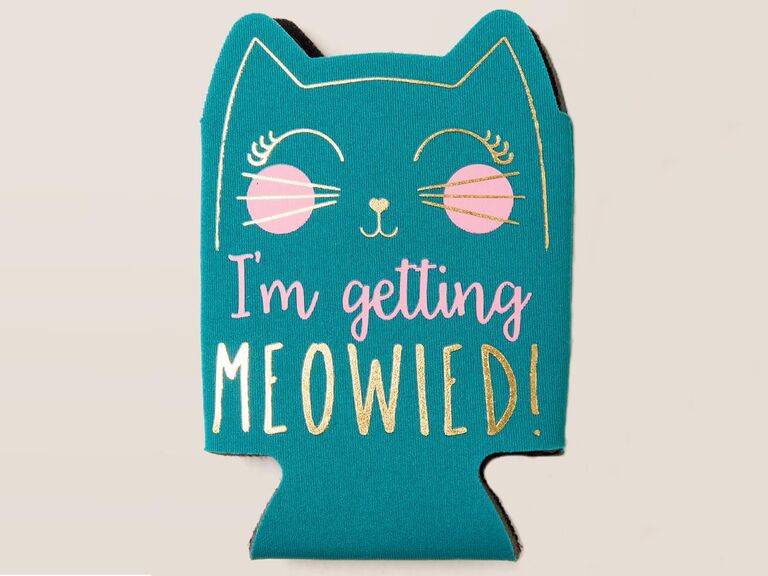 Whether she uses it to keep a beer or a can of seltzer cool, the cat coozie is a winner for a cat-loving bride.
Francesca's I'm getting meowied coozie, $8, Francescas.com
23. Cozy Socks

On cozy nights at home with her future spouse, she's bound to slip on some thick and comfy socks.
IfTheSockFitz bride socks, $14, Etsy.com
24. Wedding Keepsake Library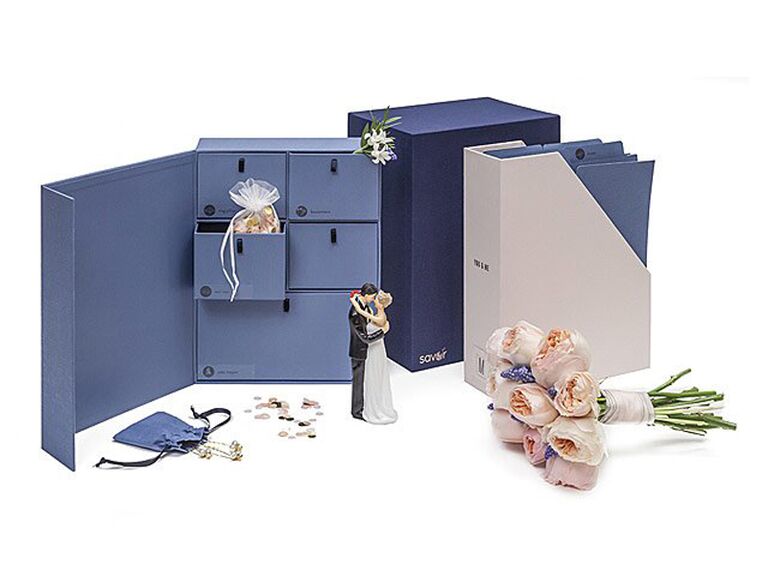 The bride is probably putting a lot of time and energy into wedding planning, so she could use a place to stash all her favorite mementos after the wedding day.
UncommonGoods weddingkeepsake library, $100, UncommonGoods.com
25. Bloody Mary Kit

With a cocktail kit, the bride can mix up a little hair of the dog on the plane ride home.
The Carry On bloody mary kit, $24, ShopTerrain.com
26. Massage Oil

How about some sensuous massage oil to use with her future spouse?
The Body Shop spa of the world tahitian orchid massage oil, $28, TheBodyShop.com
27. Tank Top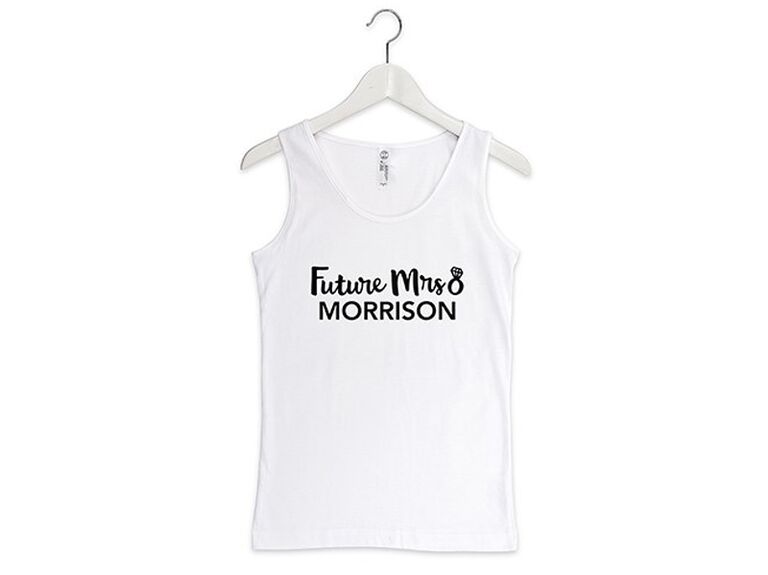 Whether the bachelorette party is a night on the town or a weekend getaway, she'll wear her soon-to-be-bride status proudly.
The Knot Shop personalized bride tank top, $20, WeddingShop.TheKnot.com
28. Memory Book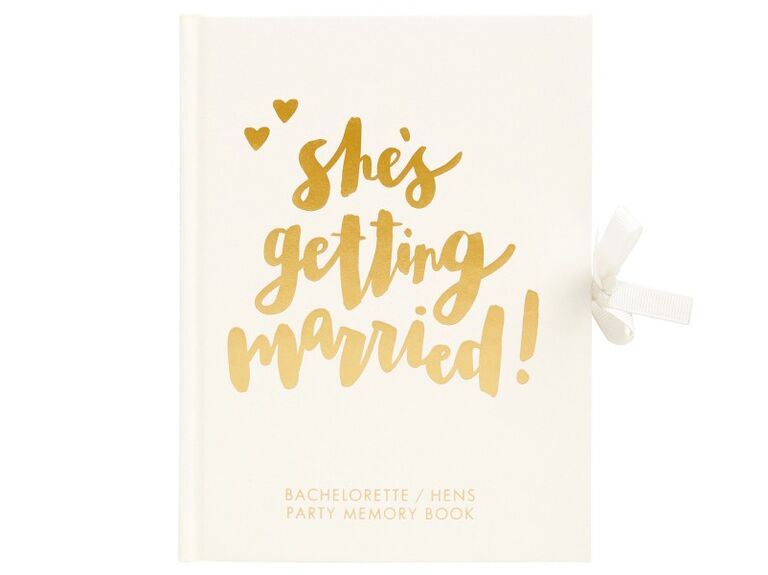 To create a meaningful bachelorette party gift for the bride, give each guest a turn to add memories, thoughts and photos to a memory book. The end result is a touching tribute.
Kikki.K bachelorette memory book, $20, Kikki-K.com
29. Wine Tote

Celebratory champagne or wine is a gift itself, but when presented in a pretty tote, it's bachelorette party perfection.
Kate Spade New York miss to mrs. wine tote, $20, KateSpade.com
30. Tote Bag

A tote is an ultra-useful bachelorette gift idea. In white, this one is subtly bridal, but its colorful pom-poms give it extra personality.
Design Lab Lord & Taylor reversible multicolored tote, $50, LordandTaylor.com
Disclosure: This post contains affiliate links, some of which may be sponsored by paying vendors.