Naughty Bachelorette Party Gifts & Gags
Let us entertain you -- from naughty to nice, here are great ideas for gifts and gags to give the bachelorette.
by Laura Gilbert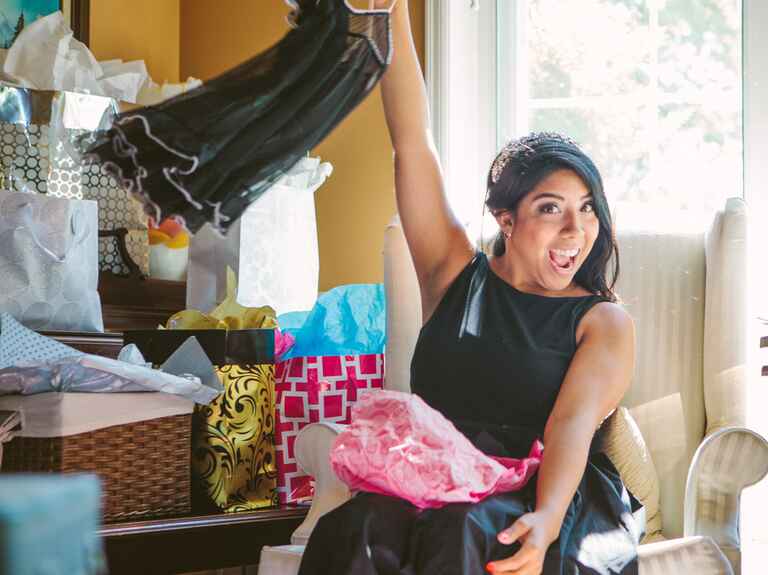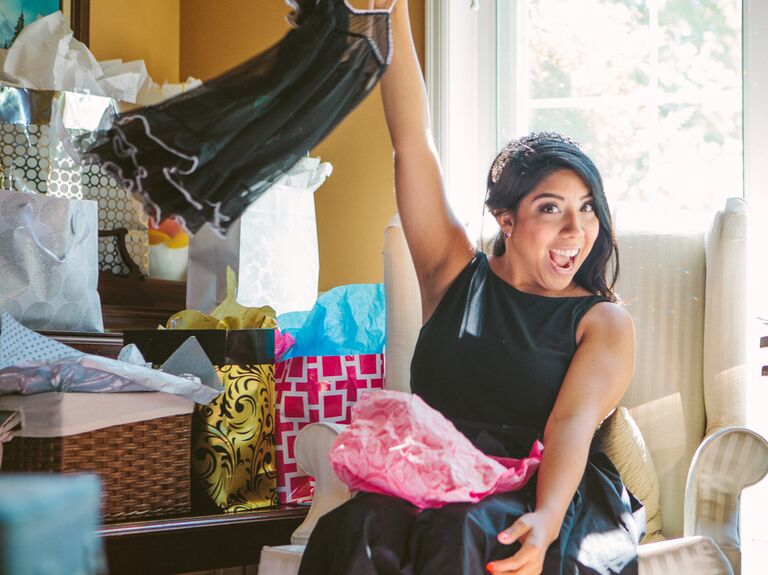 photo by
Melissa J. Soule Photography
The bachelorette party is prime time to make the bride cackle with a tasteless trinket -- or sex her up with suggestive style. Choose gifts that celebrate her checkered past, not to mention her bad habits and deliciously dirty mind. Here, our shopping list for six types of friends.
For the Vamp
Basic booty: For a wild night out, start with a sexy red velvet or patent leather makeup bag that will give her an easy way to contain all her bad behavior. Inspire her by packing the bag with hot red lipstick, clear gloss, black nailpolish, and fake lashes.
Fun gift: Make it a head-to-toe treat with some shiny stiletto high-highs or clear Lucite platforms. Her stumbles are sure to become your lasting memories!
Fantasy gift: Give her the ultimate accessory with a designer sex toy she can wear out, like JimmyJane's satin bondage sash or Agent Provacateur's Swarovski-crystal studded riding crop.
For the Traditionalist
Basic booty: If your bride is a classic bachelorette party kind of pal, you'll have to track down the perfect assortment of penis paraphernalia. May we suggest: penis mints, penis pasta, a penis ice-cube tray, penis cake pan, penis straws, and penis candles.
Fun gift: She wants a classic bachelorette party, so you'll have to play by the rules -- of any one of the dozens of board games you can buy that give you raucous dares and hilarious scavenger hunts to go on.
Fantasy gift: Why settle for a stage version of a beefcake show when for a few extra clams, a hunk will hand-deliver his goods to your home at the pre-party?
For the Masseuse
Basic booty: Is your friend the type who would squirm (and not in the I'm-secretly-loving-it-way) if you gifted her with anything involving naughty bits or buzzing parts? Arm the touchy-feely bachelorette with a gift designed for hands-on fun that's still sexy but not embarrassing. Scented, sensual massage oils are perfect for a night of scandalous seduction. The best part? They're infused with hocus-pocus properties that will render her lover loopy with desire.
Fun gift: Invest in a gift set—books or DVDs on sensual massage teach her the ins and outs of various touches. You can also hook her up with satin sheets, a relaxing CD, a low-light lamp, or even a face cradle so she can fully set the mood in her own boudoir.
Fantasy gift: Why let her beau be the recipient of all the good stuff? Book a spa day for the whole lot of you and get professional massages en masse.
For the Sweettooth
Basic booty: You might have to dig around to find a bakery willing to get explicit, but once you do, ask them to whip up an erotic masterpiece for her oral pleasure. (If you come up empty-handed, you can always ask the domestic diva with a dirty streak in your group to do the baking for the evening.) Some X-rated bakeries (like New York City's MasturBakers) are famous for their confections in male genitalia shapes -- complete with flesh-toned buttercream frosting (pink, tan, or dark brown) -- and they'll also custom-make whatever your dirty mind can dream up.
Fun gift: In addition to the party snacks, get some treats that she and her hubby-to-be can enjoy together, like edible panties, chocolate-flavored body paint, or savory flavored lubricants.
Fantasy gift: Rent a fountain that pours melted chocolate and indulge in an evening of strawberries, marshmallows, pretzels and body parts all dipped in chocolate -- so Wonka!
For the Party Girl
Basic booty: Tease the bachelorette with a tireless penchant for vodka shots with a homemade hangover kit. Package it up in a metal bucket filled with hangover-healing, remedies: milk bath, cooling shampoo/conditioner, cold pack, hangover prevention pills, band-aids, headache medicine, a stomach-calming scented candle, and a gallon of Gatorade. Your boozy bachelorette will appreciate your foresight, especially if a night of drunken debauchery is in the cards.
Fun gift: Encourage her downfall and warm her new home with a top-shelf version of her poison--Tezon if she's a tequilahound, Johnnie Walker Blue if she's all about Scotch -- plus all the mixers and garnish she'll need for a dozen rounds of her favorite cocktail.
Fantasy gift: Indulge her with a high-end hangover accessory like a satin-and-aromatherapy hot-and-cold eye mask and a cloud-soft cashmere blankie that feel so luxe, she'll almost forget she's splayed out on the bathroom floor.
For the Glamour Puss
Basic booty: Your girl may withstand a little ribald teasing, but she's also all-femme, so you're not going to get her out the door in anything that's more than 49% trampy. Fishnet stockings -- on hookers, on Hollywood starlets, and especially on bachelorettes -- have always been the ultimate turn-on accessory, so give her a pair of this trashy-but-tasteful hosiery to wear (in white for the bride-to-be, natch).
Fun gift: A veil-less tiara is the ultimate girlie-girl accessory that she'll actually be bummed to take off at the end of the night.
Fantasy gift: Take her shopping at a lingerie boutique to pick out a merrywidow, bustier, or other naughty underthing that can double as a superchic top on your night out together.