Every Outfit You'll Need Once You're Engaged
Once you've said "yes," your wedding day ensemble isn't the only outfit you'll need to plan for. Events before and after your wedding will also call for some stylish attire options.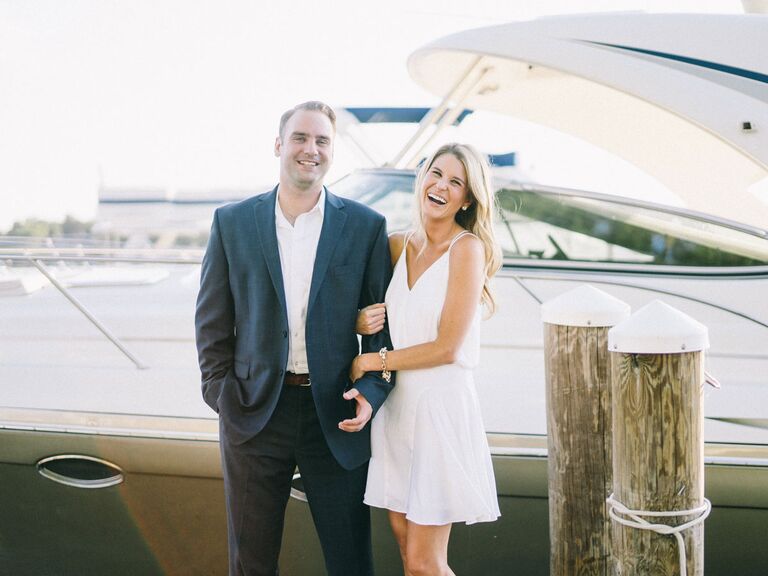 Jaimee Morse Photography
While what you're wearing for your wedding day is probably top of mind, don't forget that you have a bevy of other important wedding-related events you'll need to dress for. There's the engagement party and rehearsal dinner that you'll both attend, but there's also the individual (or joint) bachelor and bachelorette parties. Read on for our tips for brides and grooms on dressing for every wedding event.
Bride: Typically, an engagement party involves a cocktail hour, so a nice engagement party dress or pants and a cute blouse work perfectly no matter the location. Everyone will be looking at your engagement ring so use a less-is-more approach to accessorizing and have a bit more fun with your beauty look. (And don't forget a mani!)
Groom: For your engagement party, dress pants, a button-up and a blazer are appropriate. This event is more informal so a tie isn't necessary.
Bride: A shower with friends and family calls for a look that's casual but polished—think modern jumpsuits and midi dresses. Of course, you can wear white, but don't rule out a pretty pastel hue or floral pattern for this fun get-together.
Bride: Prepping for your bachelorette festivities depends completely on where you're going and what you'll be doing once you get there. If you're celebrating beachside, have stylish swimsuits, sandals and cover-ups on hand. For a weekend in Vegas, party dresses and stand-out accessories are a must.
Groom: Same as the bride, your location and itinerary will dictate your outfit. For a more casual setting, you can never go wrong with jeans and a nice T-shirt or polo, but if you're planning a more formal celebration, switch the tee for a collared shirt.
Bride: Traditionally, the bride-to-be wears white to the rehearsal dinner. It can be a fun nod to the dress you'll be wearing the next day, or you can don something with a bit more personality. A chic white cocktail dress will make you stand out among your guests. Add in fun accessories like embellished heels or rock a bold lip for a pop of color.
Groom: Leave your tuxedo for the wedding and pull out your best suit. Go for a dark navy, blue or gray suit for a classic look, and have fun with your shirt, tie and pocket square combo—it's a celebration, after all!
Postwedding Brunch
Bride: A postwedding brunch is the perfect way to unwind and continue the celebration. Slip into something comfortable and cute, like a maxi dress or slip dress, and ditch your heels for flats.
Groom: Keep it casual with jeans and a polo or sweater, or khakis, a tee and a hat. You can be comfortable, but still try a little—you are the guest of honor, after all.