Your Biggest Rehearsal Dinner Questions, Answered
It's more than just a rehearsal. From invites to toasts, here's everything you need to know about this prewedding soirée.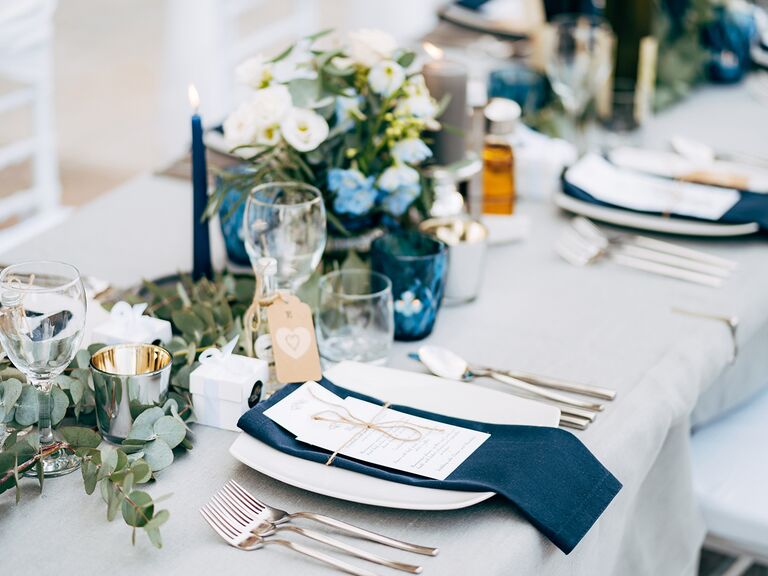 Nadtochiy/Getty Images
There's an undeniable excitement that comes with wedding planning. But these days, couples get more than a single day — they get a whole weekend! As tradition recommends, it's customary to host a rehearsal dinner the night before the wedding to honor your most VIP guests. From who to invite to special touches that make a kind impression, here, we provide the ultimate guide to hosting a memorable rehearsal dinner. Consider this everything you need to know about this tradition.
1. What is a rehearsal dinner?
As Tara Melvin of Perfect Planning Events in McLean, Virginia defines it, the American tradition of a rehearsal dinner is a way to merge families on the eve of the wedding. You can consider it the ultimate kick off for the fun times ahead!
In most cases, the dinner follows the rehearsal, or the final run-through, at a house of worship or the wedding venue. "It provides couples a time to host a private celebration in honor of their wedding party, parents and other immediate family members, and friends," Melvin continues. "It allows them to unite, reflect, and celebrate right before emerging into an ocean of individuals that they may or may not have the opportunity to engage in conversation on the big day."
2. What's the history of the rehearsal dinner?
Truth be told, it's tough to find an 'official' history of when the rehearsal dinner became part of the iconic wedding experience. However, there is one assumption we can likely make: they started gaining popularity when weddings went from a casual affair at churches or BBQ backyards and instead became a production, says Thomas Waters, the owner and event coordinator for The Renaissance in Richmond, VA. This started happening in the 1950s, and the wedding market as we know it today has continued to grow.
As weddings became more lavish and ornate, the need to have a ceremony rehearsal and gather essential friends and family memes became more critical. "With this wedding explosion, there was no choice but to get everyone together to rehearse the ceremony, so it goes smoothly," he explains. "Throw in the fact that photographers and videographers are now a very normal thing, and it increases the importance of everyone being in the right place at the right time."
3. Who attends the rehearsal dinner?
While today, each couple decides who they want to invite to all parts of the wedding, there are traditions centered around the rehearsal dinner guest list. Or in other words: not every wedding guest should be at this wedding-eve supper.
As wedding planner Janice Carnevale of Bellwether Events in Falls Church, Virginia explains, typically, when the couple is heterosexual, the rehearsal dinner is hosted by the groom's family, and attendees were limited to the wedding party (bridesmaids and groomsmen) and other participants in the ceremony. This includes key people like ushers, readers, and parents and grandparents. You can probably skip the officiant, unless you are close to him or her.
In the last 20 years, however, she says the guest list has sometimes expanded to include out-of-town family members and sometimes even out-of-town friends who have already arrived in the wedding city. "The host of the rehearsal dinner is more flexible than it has been in the past," she continues. "Often couples are hosting these events or helping with the costs, especially if this dinner is larger than just the wedding party."
4. Who pays for the rehearsal dinner?
Traditionally, Melvin says the rehearsal dinner is a part of the wedding weekend hosted and paid for by the groom's parents. However, as we have moved forward with the times, it is either one side of the couple's parents or jointly by the parents. "Modern couples who are assuming the investment of their wedding usually take on the rehearsal dinner," she adds.
5. Where is the rehearsal dinner held?
When it comes to finding a rehearsal dinner venue, your opinions depend on the size of your event. If you're having a smaller event, a restaurant's private room or small banquet room at a hotel might fit the bill. For larger events, you may want to look at more traditional wedding venues that can accommodate all of your loved ones.
6. Should you send rehearsal dinner invitations?
Since you're likely already spending a pretty penny on the wedding invitations, you may opt out of sending official stationery for the wedding rehearsal dinner. And that's okay! As wedding planner Keith Willard of Keith Willard Events in Fort Lauderdale, Florida says, he typically advises against mass invites for this event. Instead, a phone call or e-vite can be more meaningful to the selected guest list. "The rehearsal dinner is meant to be a more casual event, and a personal invitation goes a long way in connecting families and friends. If there is an invitation, it could be confused with a welcome reception which is different from rehearsal dinner," he adds.
However, suppose you're a fan of good old-fashioned stationery and paper goods. In that case, you could also take the opportunity to show a little more inventiveness and personalization with the rehearsal dinner invitations, Waters says. "These invitations don't need to be the formal invitations that go out for the actual wedding ceremony and reception. Have some fun with these," he continues. "Regardless of how you handle them or their look, the invitations are still going to give the couple and their families the information they need in regards to headcount and food choice, if applicable." Don't forget to provide guests with information on how and when to RSVP on your rehearsal dinner invitations.
7. Is there a rehearsal dinner schedule?
Though you don't need to be nitty-gritty about the minute-to-minute rehearsal dinner schedule, Melvin says you should make time for everything you want to cover. Typically speaking, the evening includes several activities, including speeches, presenting gifts to members of the wedding party and parents, a video or photo slideshow of the couple, and so on. "A semi-structured evening with a host of activities and a limited time frame usually of about three hours needs to have a timeline framework," she adds.
Expert-Approved Rehearsal Dinner Ideas
Now that you understand the basics, it's time to get creative! Since this is a more intimate evening with your nearest and dearest, it's the perfect opportunity to throw in some unique and thoughtful touches. Here, wedding planners share their favorite rehearsal dinner ideas:
Make It Personal
Waters says a couple can weave in some of their favorite hobbies, foods or nods to their love story at the rehearsal dinner with a condensed guest list. As an example, you could name a drink after your pet or have fun table names of places you have visited. "You'd be surprised at how little things like that will be the most memorable things that the guests will take away with them," he continues. "Don't think too much about it, and let this be a bit more organic."
Make It Comfortable
As Willard puts it, the rehearsal dinner is an excellent time for family and close friends to gather before the pressure-cooker of a wedding day. To ensure everyone is at ease and enjoying themselves, he says you want to create an environment that allows for easy conversation between people that have not met before. "This will go a long way the next day, letting family and friends go directly to each other versus going through the couple to be then introduced to the other person," he adds.
Keep It Short
Since the next day — aka your wedding! — will be a busy day; the rehearsal dinner isn't the time to have an all-night rager. Willard suggests beginning at a reasonable hour and, more importantly, end at a reasonable time. "For most rehearsal dinners, I allocate two hours at maximum," he says. "This will give your guests a marker for when it is OK to leave and reduces that opportunity to overindulge in both food and drink."
Share a Moment
During the rehearsal dinner, Waters encourages couples to make an effort to approach every guest to share a moment with them. "Since your wedding party will be familiar with everything going on at this point, you may want to share a few extra minutes with your out-of-town guests," he continues. "Let them know how happy you are they could make it and how excited you are to see them, especially if you haven't shared space with them in a while."
As he puts it, a little hug, eye contact, and 'thank you' will go a long way with those guests. "If they have traveled far, they are obviously super-excited to be there, and knowing it's appreciated will increase your stock with them by leaps and bounds," he adds.