Everything You Need to Know About Your Wedding Dress Contract
Before you swipe your credit card, you'll have to sign a wedding dress contract (yes, it's actually a thing—and a really important one too).
by Jennie Ma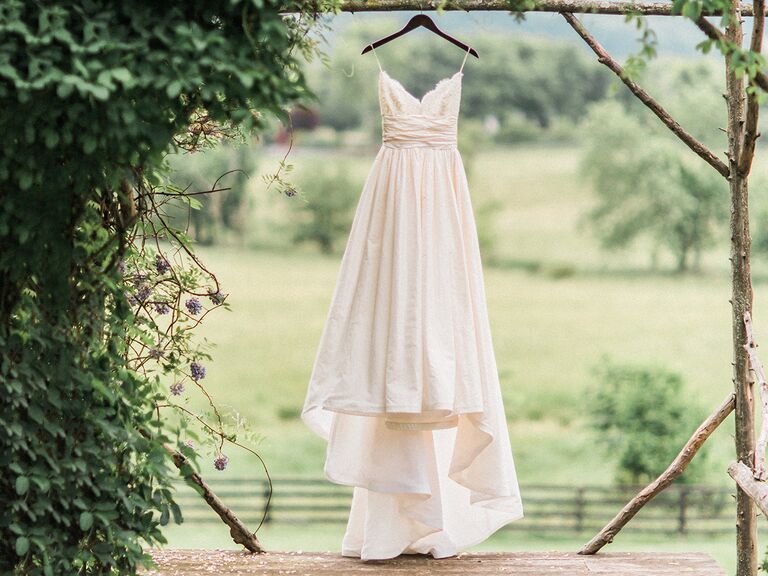 photo by
Hay Alexandra Photography
There will be no shortage of decisions you have to make when planning your wedding day, from the design of your invitations to the flavor of your cake, but one of the biggest will be your wedding dress. And whether your dress is off the rack or made especially for you, every gown is essentially custom—it's altered, hemmed or taken in to get you that perfect fit and make sure you look stunning. Once you find the one, and your measurements are taken and the dress is ordered, you'll be required to sign a wedding dress contract. This piece of paper will have everything you need to know about the dress, including the designer, the size and when it will arrive. Like with any other legal document, make sure to read your wedding dress contract carefully and thoroughly, and double-check that all the information is correct. If it contains incorrect info and you sign it, unfortunately the fault is yours, and you could end up getting the wrong wedding dress (or the incorrect size or color). You'll also want to make sure any extras, like alterations to the original design, are clearly listed and included in the final amount you'll be paying.  
You'll need to leave a deposit once you sign the contract as well. While the actual amount can vary from salon to salon, you should expect to put down around 50 to 60 percent. The remainder of the balance will be due once the dress arrives from the designer.  
Check out our list of every important detail you should find on your wedding dress contract so you'll know exactly what to look for before you sign:
Bridal salon name

Bridal salon's address, phone number and email address

Name(s) of the consultant(s) who assisted you

Date and time of purchase
Total amount
Any extra charges
Amount of deposit and how it was paid (ensure this amount is marked clearly on the bridal salon contract)
Amount still owed
Date the remainder of the balance is to be paid
How many fittings are included in the price (if any)
Cost of each additional fitting
Means of payment
Alterations
Designer name
Style number or name
Exact color
Size/measurements sent to manufacturer
Ready to start your wedding dress search? Check out our dress gallery here.
Find bridal salons in your area here.