Real Talk: What the Heck is a Wedding Dress Bustle and How Does it Work?
We've got the answers, plus expert tips on how to get the job done.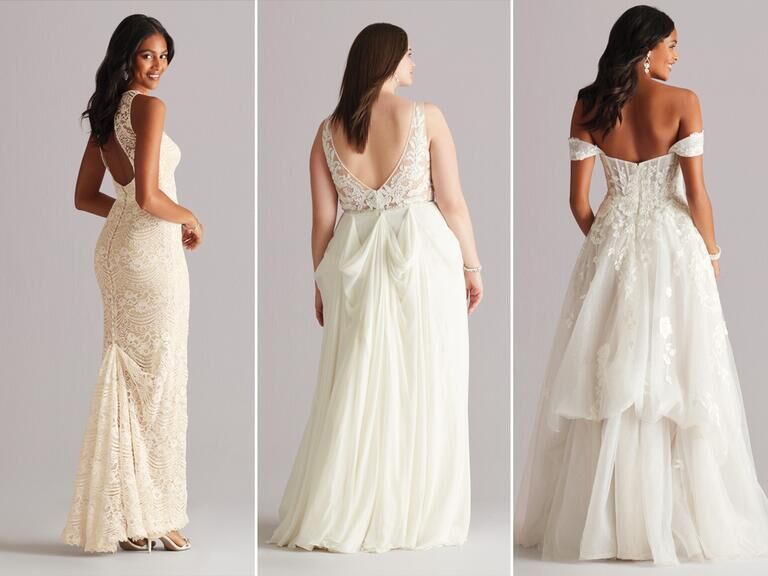 Photos: David's Bridal
We have included third party products to help you navigate and enjoy life's biggest moments. Purchases made through links on this page may earn us a commission.
If you've landed on this page, chances are you've recently found yourself asking one of two questions: how do I perfect a wedding dress bustle or what the heck even is a wedding dress bustle. Not to worry—as your go-to source for all things wedding fashion, we've got the answers to both and we're breaking them down here.
Whether you're a bride yourself or an earnest bridesmaid who wants to help things run as smoothly as possible on the wedding day, understanding wedding dress bustles is key to avoiding a wardrobe malfunction. Keep reading to discover our top tips for bustling a wedding dress, along with the five most popular types of bustles.
In this article:
What Is a Bustle?
A wedding dress bustle seamlessly secures the train, or any extra fabric, off of the ground and into the back of the dress to keep it from dragging across the floor all night. Despite what some might think, bustles aren't just for ball gowns or dresses with major train drama. There are many types of bustles and nearly all full-length gowns have hooks, ties, or buttons sewn into the wedding dress train to create a uniformed hemline after the ceremony.
Before going into your fitting, it's helpful to know that one bustle doesn't fit all and there are many to choose from -- which is why there are a variety of ways a seamstress can tailor your gown's train depending on your preference. Once you land a bustle style you love, the next decision to tackle is which bridesmaid gets tasked with learning how to do it. It's helpful to have this lucky loved one attend your last fitting to learn directly from your seamstress (aka the bustle pro) so there's no stress when it comes time to officially bustle the train come wedding day. Tip: There's no harm in taking notes, or better yet, a quick video of the pro in action in case you get stuck on the wedding day.
How to Bustle a Wedding Dress
Trust, delegate and plan. These are bridal stylist, Hope Lavine's top tips for successfully bustling a wedding dress.
"First, trust the seamstress to recommend the best type of bustle for the silhouette of the gown, amount of fabric, and how you plan to wear your dress," she explains. Then, the task of bustling should be delegated to a trusted individual—usually a bridesmaid or family member. The 'designated bustler' should attend your final alterations appointment with you to get hands-on practice before the big day. Lastly, you'll want to set a plan and ensure you've given yourself enough time in between the ceremony and reception to bustle your dress.
"Whether it's before cocktail hour or after photos, make sure you know when and where you'll do it, and that the friends you've enlisted to bustle the dress will be there when needed," Hope advises.
Alright designated bustlers: listen up! You probably didn't think your role in the wedding party would come with homework, but to ensure everything goes smoothly on the big day, you'll likely want to study up. Check out this handy video below to see how you can achieve each of the main types of wedding dress bustles.
Behind the Different Types of Bustles
Ready to give it a go? Keep reading to familiarize yourself with five of the most common bustles and how to achieve each of them. Remember: While certain types of bustles are more popular than others, your bridal stylist or seamstress should help you decide which is the best choice for your particular silhouette.
American Bustle (A.K.A. Over-Bustle)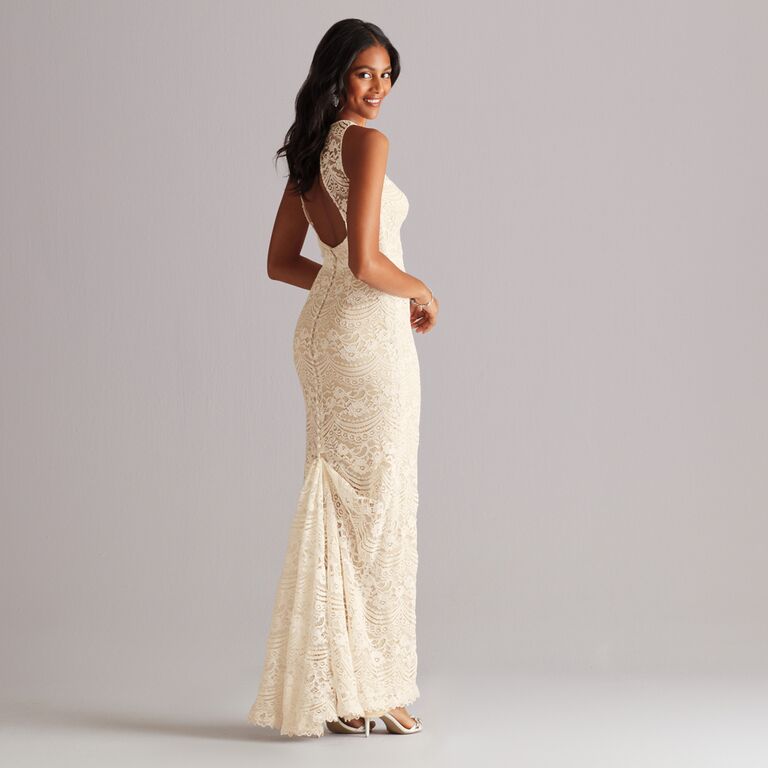 A popular way to pick up the train is with the American bustle. Also known as an over-bustle, this look is made when the outside of the train is lifted and secured over the back of the gown to the wedding dress's waistline. It's a simple bustle for the seamstress to create and easy to attach on wedding day. This bustle adds drama to the back by creating a cascading feel as the fabric folds flow over the rest of the skirt. Brides also have some flexibility with this bustle to decide if they want one statement pickup or to add multiple pickup points for extra flair depending on what they think complements the style of their gown best.
A traditional bustle is very similar to the American bustle—these styles may be used interchangeably. Like the American bustle, the fabric folds over instead of under but the difference is in the pickup placements. For this wedding dress bustle, loops or hooks are added along the waistline and when the train is fastened across the multiple points, it creates the look of elegant pleats for the waist.
Difficulty Level: Easy
Ballroom Bustle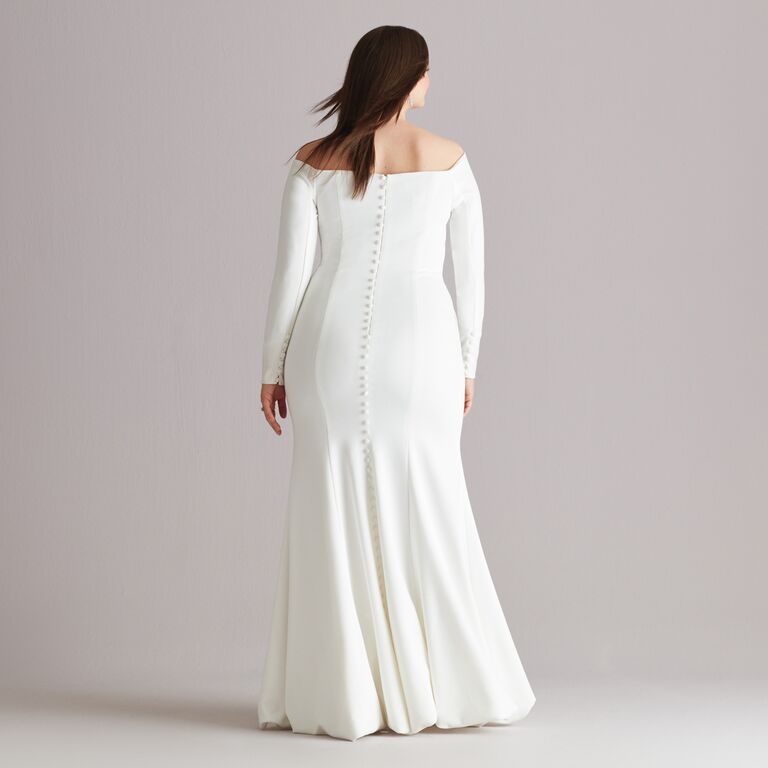 Don't let the name fool you, this style bustle isn't exclusive to sweeping gowns. Instead the ballroom style is one of the most flattering wedding dress bustle types on most silhouettes because it completely hides the train without changing the look of the dress. In order to create this seamless illusion, several points are added under the dress for the train to attach to. This results in the look of an untouched, floor-length gown.
Difficulty Level: Intermediate
Bow Bustle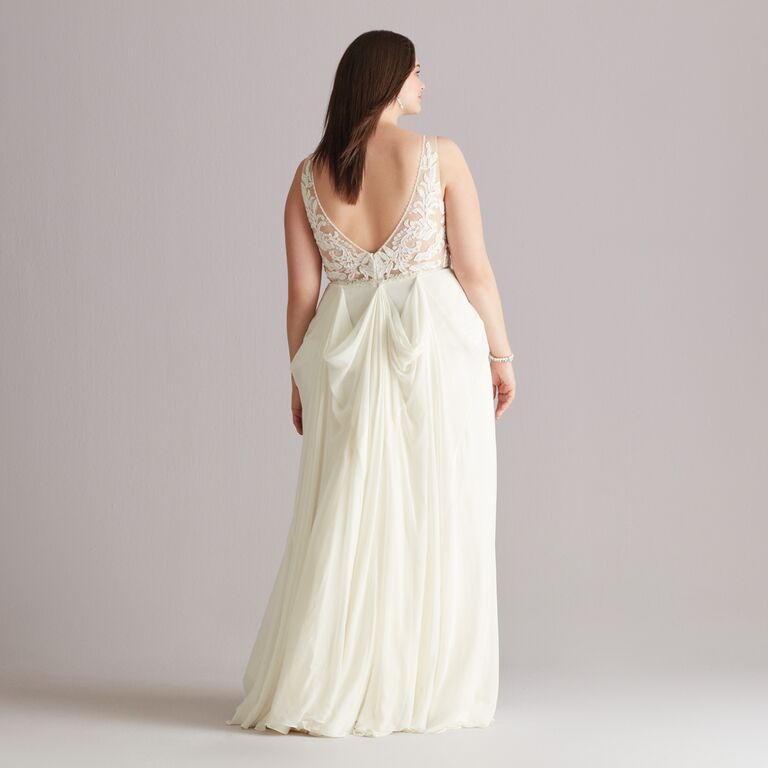 This type of wedding dress bustle is easy to envision and is perfect for gowns that have a statement bow or sash in the back. With a bow bustle, the fabric is folded above the gown and is secured with ties hidden under the bow. This allows the fabric to pick up and symmetrically flow from the elegant visual point of the bow.
Difficulty Level: Easy
French Bustle (A.K.A. Under Bustle)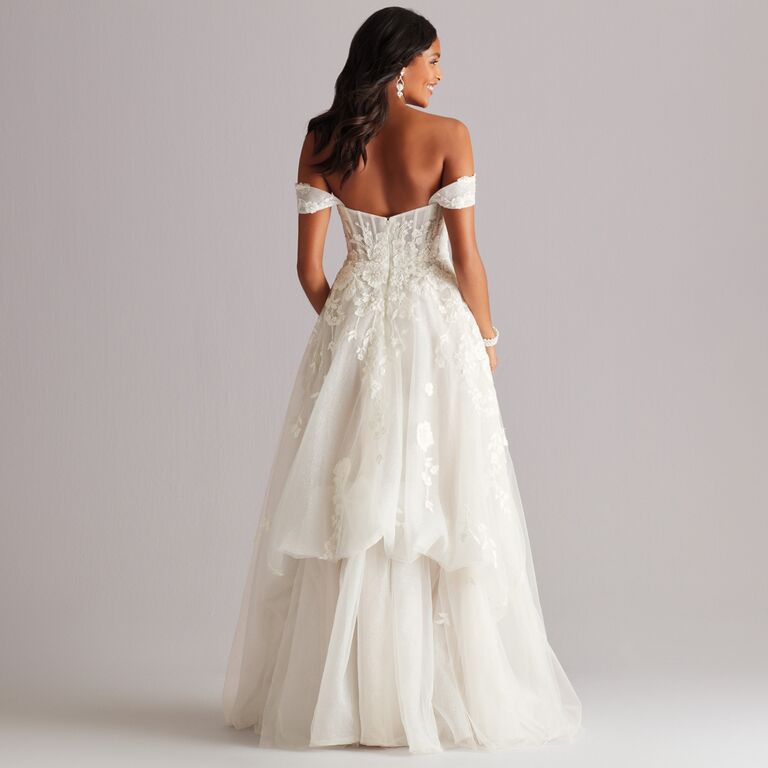 Although this type of bustle can make some bridesmaids sweat, a French bustle is a stunning option and isn't overly complicated thanks to a handy trick from the seamstress. Also known as the under-bustle, this technique is the opposite of the American style as it has the train fold under itself instead of over. The end look is an understated, two layer hem that creates design in the back. With this type of bustle, the seamstress adds color-coordinated ribbons or numbers underneath the gown. Then when it's time to be bustled, the train tucks up and under as each hook is easily matched with its pair, creating a streamline fold.
Difficulty Level: Advanced
Royal Bustle (A.K.A. Victorian Bustle)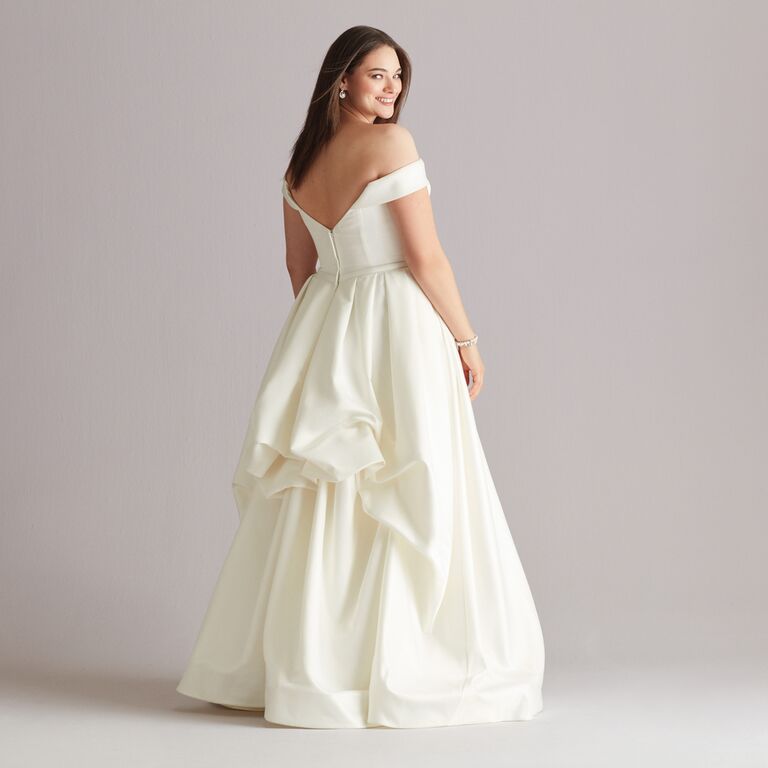 This type of bustle can be simple or elaborate depending on the desired look. If the bride wants a singular pickup point, it only requires one hook and eyelet to lift the train. But for more detail, multiple pickup points can be added down and across the back. This style is known as the royal or Victorian bustle because it ups the drama as the folds add more dimension to the silhouette.
Difficulty Level: Advanced
Mistakes to Avoid When Bustling a Wedding Dress
"People often wait too long to bustle their dress, they're in too big of a hurry to bustle it, or they forget how to bustle it entirely," Hope explains. In these instances, brides may resort to the train hook on the dress, which isn't a bad backup plan, but it's also not the best for protecting your gown.
Some brides even decide to cut their train off when the bustling situation doesn't end up going according to plan. The good news is that trust, delegation and planning (along with a whole lot of practice) can help you avoid these common wedding dress bustle mistakes on your big day.