Home

Maxie B's Bakery & Dessert Cafe
About this Vendor
Made from Scratch Cakes!
We make all of our cakes from scratch using the highest quality ingredients -- organic milk, pure vanilla, and local, free-range eggs. We truly realize what an emotional connection we all have with food....especially cake! Feel free to get in touch and see what everyone is talking about.
Details
Cake Delivery + Setup, Cake Tastings, Cakes + Desserts
Contact Info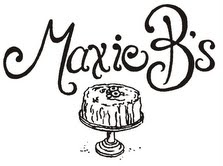 2403 Battleground Ave, Greensboro, NC
Awesome Cake!
Reviewed on

5/11/2014
Jaime R
I had never visited Maxie B's before I decided to choose them for my wedding. I was not disappointed. Maxie B's met all my expectations with my vision, flavor, and delivery. I enjoyed working with Maxie B's and would definitely recommend them to other brides-to-be. Thanks again for making my day very special!
---
AMAZING CAKE
Reviewed on

4/28/2014
Jamie S
Our cake was perfection! The bakery worked with us to give us exactly what we wanted. We did our cake tasting and they gave us whole pieces of cake to try...then sent us home with everything we couldn't finish! It was amazing! My husband is an officer in the Marine Corps and they did his grooms cake for free because of his military service. This bakery is professional and their work is impeccable! Not only did our cake taste amazing but it looked stunning! Loved working with Maxie B's every step of the way!!
---
Maxie B's -- The BEST OF THE BEST
Reviewed on

11/10/2013
Ashley A
Honestly, I don't know where to start. Maxie B's is the best of the best. (period) We had heard wonderful things about Maxie B's FOREVER! Being an avid lover of cake and desert, my (now) husband and I were over the moon when we learned we had WON the wedding cake of our dreams from the esteemed Maxie B's Bakery. Winning a wedding cake is a blessing, to say the least but we were truly honored to work with the incredible staff who immediately took us in as if we had been bakery locals for years. I can't shout their names from the rooftops loud enough. The staff made us feel like family, which is so endearing and important when you are a stressed out bride and the flavor(s) of your wedding cake seem among the most important decision(s) you could ever make in your life. We tried almost ALL the flavor options they have to offer (and there are TONS). We received guidance on the best flavor options for our wedding (i.e. cake shape and availability of freshly available ingredients for our November wedding). We settled on 4 flavors (we had a HUGE cake) and Shannon, the B's wedding coordinator checked back with us several times to make sure that we were happy with our decision. Their correspondence and happiness to work with us really set them apart from other bakeries I have worked with in the past. On the day of the wedding my heart skipped a beat when I saw the most beautiful cake in the whole world displayed for all to see. Not to mention, the most delicious! Our guests were raving about the tastiness of the buttercream icing and fresh strawberries, apples, etc that were beautifully baked into the "artwork" that sat upon the cake display. I am not writing this review because I won a wedding cake from Maxie B's. I am writing this review because my family will continue to be a part of their family for years to come. I take my parents there for coffee and pastries when they are in town, my husband's next birthday cake will be Maxie B baked and iced. Maxie B's is more than a bakery, it is a beautiful and delicious nook of Greensboro pride. We feel as if we are part of the team and would recommend them for ANY event, big or small. Thank you Maxie B's... we LOVE you! Ashley & Matthew Washam
---
Reviewed on

7/23/2015
Aphton K
I had a specific vision for my wedding cake, and Maxie B's designed a cake EXACTLY how I had described. They really take the time to ask questions to understand exactly what you want. There were 350 guests at our wedding, and every guest I talked to said it was the best wedding cake they ever had. I will get every single cake from Maxie B's because I really had an excellent experience.
---
Reviewed on

6/26/2015
Jennifer H
We used Maxie B's for our wedding cupcakes and small personal cake to cut! They are very professional to work with not to mention their cakes are amazing!! We order a red velvet personal cake which is our favorite flavor. We chose 6 different cupcake flavors because we couldn't narrow the flavors down because they are all so good! You need to try the Carmel Pecan cake....to die for!
---
Great Cupcakes had by All!
Reviewed on

1/10/2015
I was referred to Maxie B's by my maid of honor and we could not have had a better experience. They were thorough and clear about all options and plans. They have choices for every budget and the tasting was amazing! We did cupcakes and cookies for 175 people at a VERY reasonable cost. Highly recommended for anyone needing desserts for an event!
---
12/13/14 Wedding
Reviewed on

12/20/2014
When we were looking for a bakery to do our cake we had no idea where to turn. My then fiance found Maxie B's on the internet. He went there and got a couple different slices of cake and cupcakes to try at home. We were both hooked!!! They were way better than anything we had ever had. We were having a small ceremony and didn't want to spend a fortune but still wanted elegant and nice. So we booked a consultation and boy were we surprised. They give you 6 whole slices of cake to try and then bring home if you can't finish it. They were all delicious but we had narrowed it down. We decided to go with a two tier cake and 24 cupcakes done four different ways. We rented the stands from Maxie B's. They even gave us a few days after to return the stands which was so helpful. We still had family in town and it was a 45 minute drive. Everything was perfect and the guests including my 10 year old niece said it was the best cake she has ever had. We had a tiny bit left over so I'm good for a little bit. But I will definitely be going there as a my bakery! Thank you so much Maxie B's!!!
---
Amazing Wedding Cake and Cupcakes
Reviewed on

10/17/2014
Kelly M
We worked with Shannon at Maxie B's for our wedding this fall. We had heard good things and they went above our expectations. The cake is utterly delicious and Shannon was so patient and accommodating during our tasting. We tasted about 15 cake flavors and were able to go home with all samples that were leftover. We ended up doing 150 cupcakes along with a 6 inch cutting cake for us and only cost us $550. This include cake stands for our cupcakes, delivery and tax. Wide variety of flavors too. The carrot cake and Guinness Stout Cupcakes are our favorites. Shannon was also wonderful to coordinate with us the week leading up and had all information in plenty of time. Highly recommend and you will not be disappointed. We stop by every time we are near Greensboro to grab a cupcake now.
---
Perfect!
Reviewed on

10/08/2014
I love Maxie B's, so when I got engaged I knew I wanted them to make my wedding cake. I definitely don't regret using them. My cake looked perfect, and tasted even better! All of my guests were thrilled with it! I would absolutely recommend them to anyone in the Greensboro area.
---
Best Wedding Cake Ever
Reviewed on

9/26/2014
Sarah B
Maxie B's goes beyond the average cake and deliveries the best tasting and looking wedding cakes ever. We ordered 5 average everyday cakes from them for our farm house cake table. Hummingbird, pineapple coconut, German chocolate, chocolate with cream cheese icing, and strawberry butter cream. We ordered them plain icing, as if we just walked in and asked for a cake. They were beautiful on our table and tasted so good. Our guest loved the variety and took slices home since we ordered more than needed. My husband and I ate cake for a week after our wedding! Maxie B's goes beyond cakes and the love and quality shine bright with them. I highly recommend Maxie B's for any budget and type of cake needed
---
Delicious Cakes
Reviewed on

9/14/2014
Amanda T
I worked with Shannon at Maxie B's. She was great to work with and was quick to respond to my emails. Maxie B's has the most incredible cakes. They are moist and rich in flavor. Shannon has great ideas for how to make your wedding cake look beautiful and still stay within your budget. I was so pleased with how my cake turned out. My guests loved it and we had very little cake left at the end of the night.
---
Amazing Vendor!
Reviewed on

8/23/2014
Tammy G
I had never been to Maxie B's until I started wedding planning. Maxie B's is a preferred vendor for my venue so that's what introduced me to this lovey establishment. Working with Shannon was amazing. I was an out of state bride so Shannon worked mostly with my sister in the beginning. She took my pinterest board and really came up with her own design and look and feel for our wedding cake and cupcakes. I came in at the end to confirm everything and I loved absolutely everything. The cakes at Maxie B's are amazing. I found my favorite southern flavors upon my first visit and I incorporated them into our southern rustic wedding theme! If you're looking for great-tasting, beautifully designed cakes... you'll get it at Maxie B's!
---
Classic Customized Wedding Cake & Groom's Cake
Reviewed on

8/19/2014
Shelby W
Maxie B's did a 4 tier white cake for our wedding with pug dog cake toppers that we found to personalize it. They had several photos for us to look through to get ideas from for the patterned tiers. It came together perfectly, not to mention the cake tastes amazing! We did 3 flavors, apple, strawberry and a lemon pound cake. It was perfect for our summer wedding. I also got a groom's cake for the rehearsal dinner. They took my idea of Maryland blue crabs and brought them to life. It couldn't have been any cuter! The Oreo flavored cake was excellent, too!
---
Beautiful and Delicious
Reviewed on

7/09/2014
Jenny
Maxie B's delivers the best of both worlds!! My cake was both beautiful and delicious. Shannon was incredibly helpful. We enjoyed going into the bakery (which is decorated beautifully) and trying out the cake. Shannon helped us create the cake that could capture the essence of the wedding and stay within our budget. Two of our recently engaged friends decided to use Maxie B's for their wedding cake after having it at ours (which makes me happy because I'll get to have more of their delicious cake in the near future!)
---
Perfect
Reviewed on

7/09/2014
Lenee S
Maxie B's and Shannon were wonderful to work with. The cake was beautiful and we received many compliments on how great it tasted!
---
Honest review!
Reviewed on

7/07/2014
Alyson G
I had previously used Maxie B's for 3 different family birthday cakes so I was already impressed with their work. However, when I met with Shannon for the first time, I knew I was in for a treat (no pun intended!). I already had design ideas in mind, but she added details that made my design truly amazing! Not only was the cake absolutely delicious and was complimented by many, many guests, but the customer service at Maxie B's was also fantastic. A week before my wedding I was contacted saying the bride from the previous weekend had broken the cake stand I was going to use. I had a mini freak-out, but was rest assured that I would receive my cake stand fee as a refund. They also gave me another stand on my day that was perfect for our wedding details. I will definitely continue using Maxie B's for all my special events!
---
Above and Beyond!
Reviewed on

7/07/2014
Morgan S
Maxie B's went above and beyond my expectations! Both the wedding cake and the grooms cake were spectacular!!! They took the images I gave them and not only made them a reality, but made them even prettier!!! They tasted just as amazing as they looked : ) Everyone was raving that it was the best cake they had ever had!! Thank you guys soooo much!!!
---
My Wedding Cake
Reviewed on

7/03/2014
Loren B
We chose to go with a small cake and a bunch of cupcakes. This option saved us a lot of time serving and more people had more options of cake. We had a fabulous cake tasting. They were very patient and helpful in making this decision. We were able to taste many different pieces of cake. I thought we were going to have little tasting squares, but they gave us whole slices of cake. We tried about 15 different kinds of cake. They even gave us to go boxes for the leftovers. I have been eating at this bakery for over 5 years now and their cake is always amazing. We decided to have our cake one flavor and then the cupcakes to different flavors. Our guest really enjoyed the options and the accessibility of the serving style. I would definitely recommend the bakery to anyone. They were very thorough and follow-uped many times. I believe we got a good deal as well. $500 for about 150 servings.
---
Tasty Wedding Cake and Cupcakes
Reviewed on

6/26/2014
Shapera K
It was a pleasure working with Maxie B's for our wedding cake. From the initial cake consultation, to putting the final touches on our vision for the perfect wedding cake, the customer service was wonderful. It was more than just purchasing a wedding a cake, it was an experience. I had a vision and Maxie B's made it a true reality. Special thanks to Shannon for always responding promptly to any concerns we had and just being so helpful. The cake and cupcakes are amazing with that homemade feel and flavor and a variety to choose from. We look forward to making more memories and visiting the bakery on our one year anniversary to receive our anniversary cake!! We highly recommend Maxie B's for weddings, birthdays or even on a date night :-). Thanks Maxie B's
---
Best Cake EVER!!!
Reviewed on

6/25/2014
Sharon W
We had Maxie B's do our wedding cake and I had them do our groomscake. Each cake was a work of art! Not only a work of art but absolutely the most delicious cake ever! Shannon was our wedding cake coordinator and was on top of everything. The cake tasting was the most enjoyable experience. The shop has a beautiful atmosphere and the staff are great. They did a great job of helping plan the wedding cake and keeping the groomscake a secret from my husband. I really think the groomscake was more fun to plan than the wedding cake! Everyone at Maxie B's had a great attitude and looked like they had fun at work. They handled everything with the caterer/venue coordinator and florist. I would absolutely recommend MaxieB's to anyone wanting a cake for any reason; wedding, birthday, anniversary. They also sell cake by the slice; so I recommend just stopping by for a snack!
---
Simply Amazing & Delicious
Reviewed on

6/10/2014
Lauren E
I could not have been happier with how both the wedding cakes and groom's cake came out. As a baker, I really wanted to have delicious cake that people remembered for the flavor, not just how it looked on the outside and it was perfect. People raved about the taste and even went back for seconds, so they could try on of the other flavors. It didn't only taste good though, but both the wedding cakes and groom's cake looked exactly the way I had drawn them. I would highly recommend Maxie B's for any special occasion. From start (cake tasting) to finish they were wonderful to work with!
---
Green
Reviewed on

6/09/2014
My daughter knew what cake she wanted before her groom proposed and it was the 7-Up cake from Maxie B's. They did it in three elegant tiers; they delivered it perfectly from 60 miles away; it was totally delicious, and, as an extra bonus, it was a light spring green, which was deeply and amusingly appropriate for a wedding on a farm. Altogether a complete success.
---
Delicious but not what I asked for.
Reviewed on

4/08/2014
Elizabeth M
Let me start off with saying that the cupcakes and cake were delicious, don't get me wrong - I think I gained a few pounds eating some leftovers. With that being said the cake was not the design we agreed on - not by a long shot. We spoke a lot on the design, I even got a mock up of a gorgeous, simple painted twisty tree with a few fondant leaves on it. That's really all I wanted. I received something that was closer to a finger painting with lots of yellows. Now if I wanted something abstract, it would have been gorgeous, but I didn't, I wanted thin lines, dark browns, and that is not what I got. I didn't make a fuss because my wedding was beautiful and I married my best friend so I was happy overall... but the cake make me very sad - so sad in fact we only saved a small slice so I didn't have to see the image again in a year.
---
Delicious Cake
Reviewed on

11/02/2013
Carolyn L
We chose to pick a small two tiered cake with cupcakes for our wedding. We loved that we were able to choose different flavors for the cupcakes for more variety for our guests. We loved the simple grape design to go along with our vineyard wedding. All the guests loved the cake and it was super moist. Love Maxie B's!
---
Best Cake Known To Man
Reviewed on

10/27/2013
Tarra R
I chose Maxie Bs because I absolutely love their cake. They serve the most rich indulgent cake I've ever had. Shannon the wedding consultant there was extremely sweet, professional and helpful; she made the experience easy and fast. My cake was simple and beautiful just like I wanted. I visit the shop maybe once a week for my sugar fix.
---
Send Message