Home

Van Hove Limousine and Party Bus
About this Vendor
Get there in Luxury.
We specialize in Limousine Buses and can accommodate wedding parties of up to 30 passengers. We also provide discount rates for booking your wedding and or bachelor / bachelorette parties with us.
Details
Limousine + Sedan, Shuttle Service, Transportation
Contact Info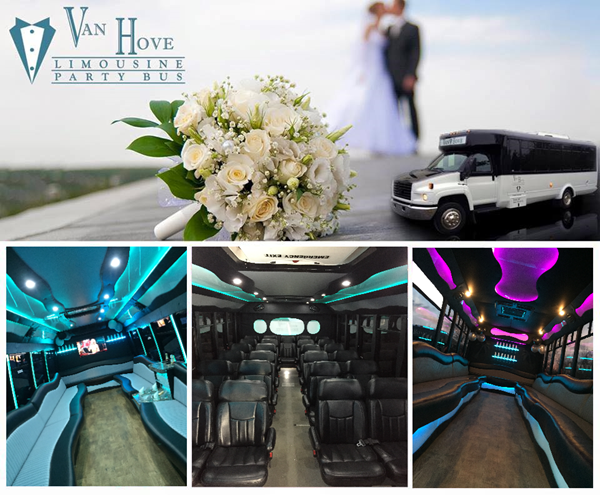 Reviewed on

1/02/2017
Melissa S
We used Van Hove Limousine and Party Busses all throughout our wedding and were super happy with them. We used the party buses for my bachelorette party and our wedding party the day of, and we also used their shuttle bus to transport our guests to and from our reception from... Read More the hotel. Every thing went super smooth, which is so nice for a stressed out bride. The staff is super helpful and easy to work with, the drivers were all great and had a good time with us, and the busses were very clean and decked out! We had an overall great experience with Van Hove Limos and definitely plan to use them again for future festivities.
---
Reviewed on

12/15/2017
Samantha B
Couldn't have had better service on our wedding day! We never had to wait for the driver at each location we stopped at while taking pictures in Detroit! Even with it snowing, we were able to make it to every stop we wanted! Very professional and helpful! They made sure to have... Read More the lunch for our bridal party ready to go and on the bus for after our ceremony. Everything was great and we couldn't have asked for a better experience!
---
Reviewed on

11/21/2017
Kaitlin B
Great limo company! We hired the 27 passenger shuttle bus from Van Hove Limousine to use as a shuttle for our wedding guests who stayed at the hotel, since the hotel did not provide a shuttle. As the bride, I did not see or use the shuttle myself so this review is based off what... Read More my family has told me. The bus arrived on time and followed our instructions throughout the night. The driver was easy to get ahold of if we wanted him to come back for a pickup. We even made it through some weather issues...my wedding was in a barn and at around 10pm, a tornado warning was issued for our area. Luckily the hotel wasn't too far from our venue. The bus driver drove in the dark through a torrential downpour and safely delivered a bus load of people back to the hotel. I would definitely use Van Hove Limousine services again in the future!
---
Reviewed on

10/16/2017
Meschia C
Exceptional service and beautiful bus!
---
Reviewed on

7/17/2017
Erika L
Had a great experience with our party bus driver, Jeff as well as everyone we worked with to set up our transportation for our wedding day. Beautiful vehicle and knew how to avoid traffic during our commute.
---
Reviewed on

3/30/2017
Bob S
We used them for my bachelor party and had a great time. The bus had a great sound system and plenty of room for our coolers. It showed up on time and the event went as planned
---
Reviewed on

1/31/2017
Jeremiah L
We used them for our wedding day and my wifes bachelorette party. They had the best price we could find for the style of buses that they had. They showed up a little early and everything went as planned.
---
Reviewed on

1/17/2017
Sandy H
Best limo company I have ever dealt with. From parties concerts to my wedding day ... they have done it all, and everything was perfect! Since I started using this limo company I haven't booked with any others! Busses are by far the nicest (and cleanest!) and the drivers are... Read More always professional! Very affordable prices!
---
Reviewed on

1/09/2017
Andrew W
One less thing to worry about on our wedding day! with all the craziness of a wedding, you just want everything to go smooth. Van Hove limos were very professional and flexible as not every part of our wedding day went according to plan (what wedding does? lol) We had a great... Read More experience and will refer our friends for sure.
---
Reviewed on

12/29/2016
Audrey W
I used Van Hove limousine for my wedding, and bachelorette party. I had outstanding service for both events! The drivers were very friendly, and accommodating. And arrived on time! I'll definitely use them again!
---
Reviewed on

10/26/2016
Keli R
The prices were good and the bus was nice, but the driver didn't care much that were were trying to drink on the bus. Lots of hard stops. At one light I ended up sliding three spaces down! We were careful not to spill anything on me, but there were many close calls that I feel... Read More could have been avoided if the driver had been paying attention to lights.
---
Reviewed on

10/11/2016
Kristin L
Both my Husband and I were very pleased with Van Hove's Party Bus services. The driver was extremely prompt and professional. They had the best price with amazing prices, especially for the couples planning a wedding on a budget. I will be contacting Van Hove for services in the... Read More future and would highly recommending them to all family and friends in the future.
---
Great service
Reviewed on

10/23/2015
Brandy H
We thought Van Hove did an excellent job. Our driver was on time and very professional.
---
Mrs. Scott
Reviewed on

7/07/2015
Rachel R
I did not like that our driver told someone to come in the church and tell us that we had 15mins and he was going to start charging us overtime when we had 45 mins to go and they had been paid in full for months. Then when we arrived at the venue he made the comment they... Read More won't let you in 5mins early. What is he commenting for i paid for the bus and if i didn't want to get off until 6pm i shouldn't had to seeing i paid to have it until 6pm. Bad business folks.
---