Celebrity Chef Anne Burrell Reveals Her Wedding Album
The Food Network star met her husband, Stuart Claxton, on Bumble.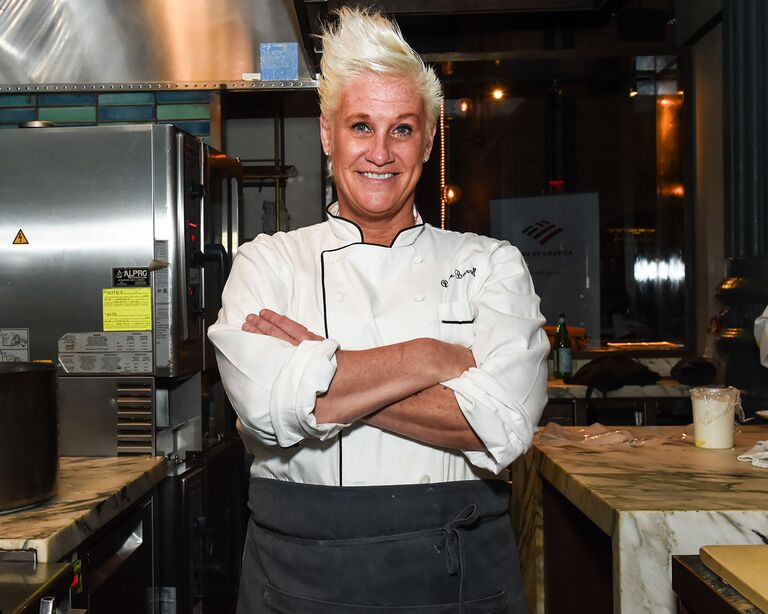 Daniel Zuchnik/Getty Images for NYCWFF
How's this for a delicious update? Celebrity chef Anne Burrell of the Food Network and Stuart Claxton are officially married, and the first set of wedding photos are out.
The couple married on Saturday, October 16, in a meaningful location: they chose the bride's hometown and their engagement city of Cazenovia, New York. Specifically, the couple exchanged vows in a rustic and outdoor setting at Windridge Estates Redbarn 20. "I can't believe it's really here. It's kind of surreal," Burrell told People. "We feel so much love and support from everyone who's coming."
The bride arrived in a horse-drawn carriage, where she was then joined by her four bridesmaids (including fellow celebrity chef Rachael Ray). The groom's best man was his 16-year-old son, Javier, whom he shares with his ex-wife. "What a TRULY dreamy and magical wedding weekend!!" she wrote days after her nuptials. "It was a fairytale!!! There are just SO many people to thank- it TRULY takes a village!!"
The couple hired a wedding planner, MLH Events, to orchestrate the day, while KerriLynn Photography documented the wedding. Burrell's close pal and fellow TV star Buddy Valastro of The Cake Boss was tasked with the wedding confection.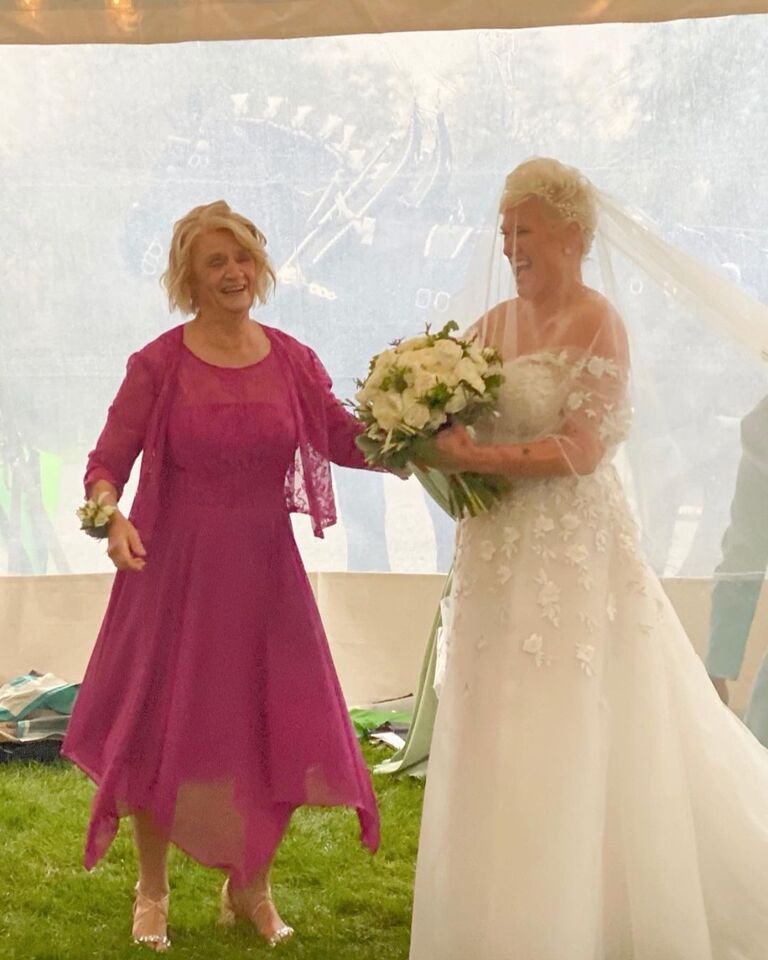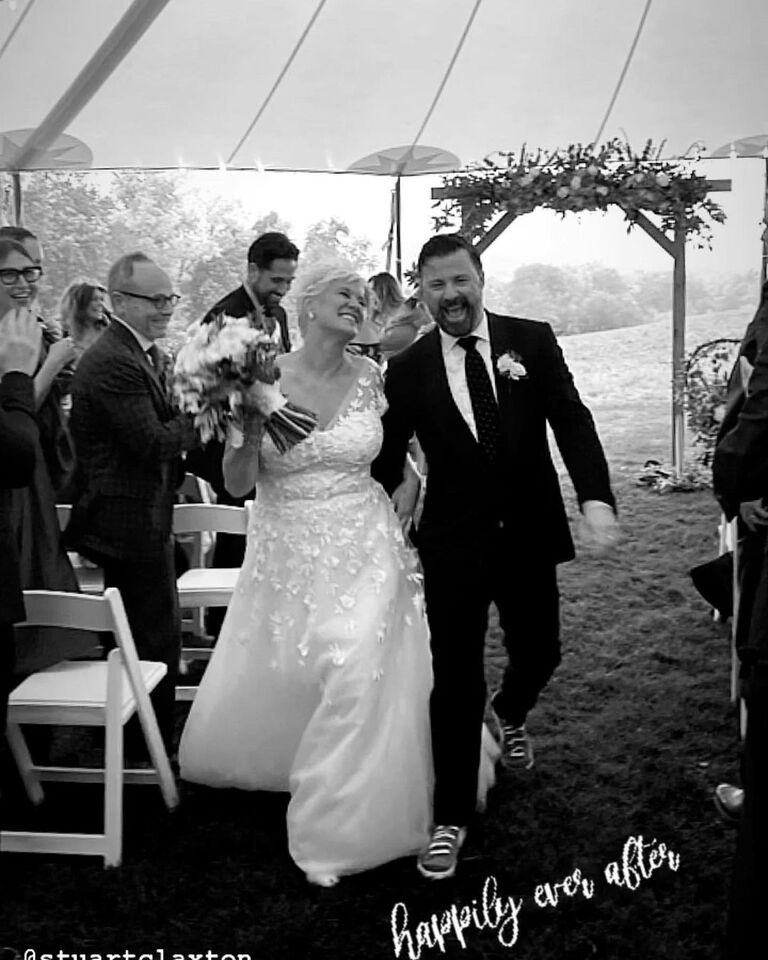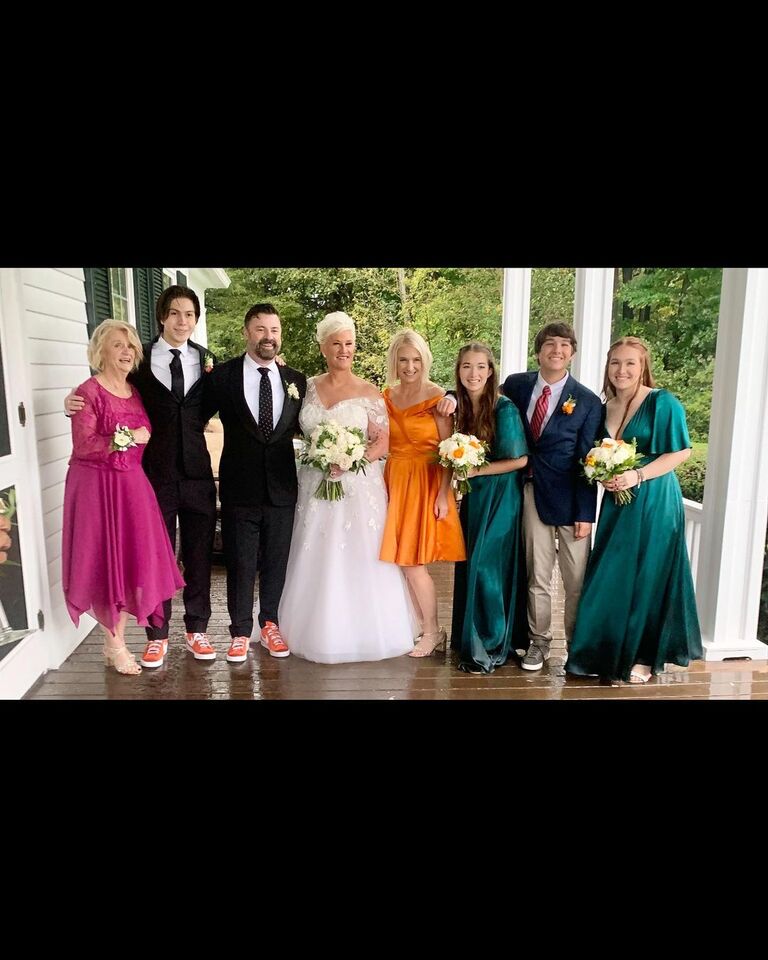 "Just a few more highlights from our magical, fairytale wedding day!!" she wrote on Instagram. "And a few more peeps to thank!! The amazing @jwopro @makeoversbymark for making everyone lol beautiful!! The florist @whistlestop_florist for the beautiful flowers and tablescapes!! @carolinaherrera for my beautiful dress!! @ralphlauren for @stuartclaxton 's very handsome suit!! And to all the family and friends that came to celebrate with us!! It was SUCH a special day!! So much joy and love in the air!!"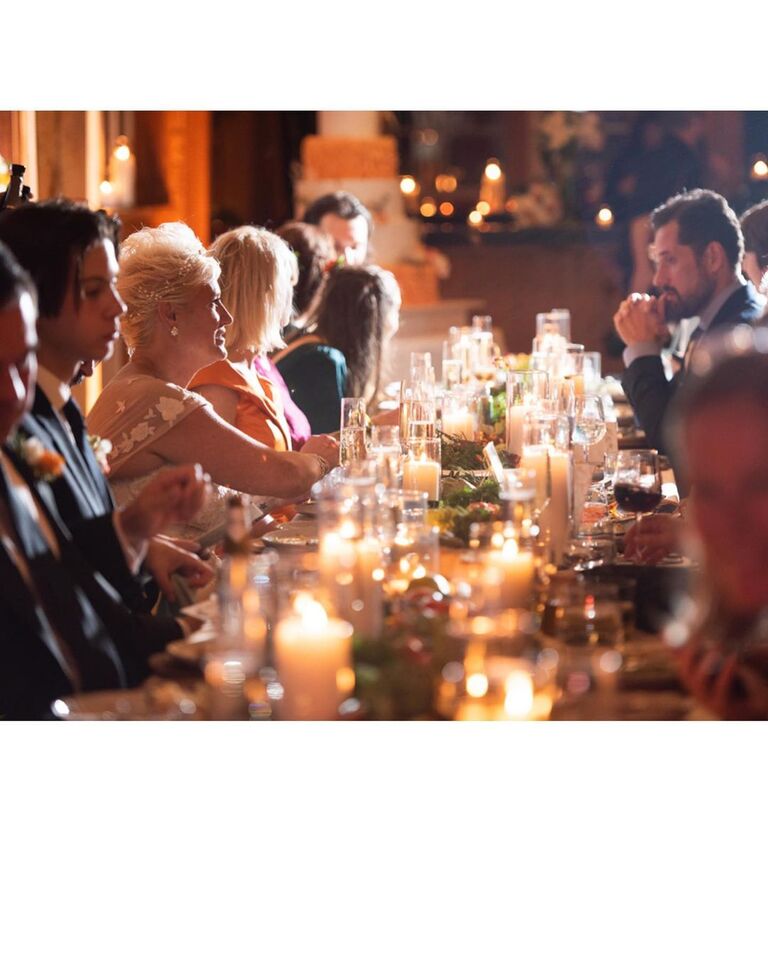 This is the first marriage for Burrell, who revealed her engagement in April 2020. Read up on their relationship below.

Anne Burrell's Engagement to Stuart Claxton
The couple announced their proposal amid quarantine measures due to COVID. "A tiny bit of good news in these crazy times.... We are engaged!!!" Anne Burrell wrote alongside a photo with her boyfriend. "@stuartclaxton I am a VERY #luckygirl !!!! #ilovewhatido #shelteringwithmyfamily."
The to-be-weds shared the joyous life update with People alongside the first photo of Burrell's ring and the full proposal story. "My mom and Stuart got together and made a plan where he and I were going to have a date night," Burrell said to the mag. "She set up a beautiful table in her apartment and we just planned a dinner for the two of us."
Unexpectedly, Claxton then brought up plans for their future nuptials. "We were having a nice time, and Stuart then starts saying, 'Oh, this is a good song to put on a playlist for our wedding reception,'" she recalled. "And I'm like, 'OK, sure. But why are we talking about that now?'"
It was then Claxton, 48, pulled out the ring: it appears to be a vintage-inspired diamond flanked by two tapered smaller stones. "We started talking about family and just how nice it was to be here with everyone, so I sort of started getting weepy already," Anne Burrell said of her future husband. "Then Stuart pulls a ring out of his pants pocket and I was like, 'Oh my gosh, I can't believe this is even happening.'"
The couple first met through Bumble in 2018, falling right in line with one in four engaged couples who now meet via dating apps, according to The Knot 2019 Jewelry & Engagement Study.
Burrell was engaged previously to Koren Grieveson. With the proposal, the TV personality also discussed how unexpected it was to get engaged at age 51. "Once you get to be a woman of 50 years old, you don't really think that marriage is going to be on the plate for you," she told People. "I was always really focused on my career and marriage was never a huge thing in my life that I was looking for. Then when I met Stuart, my opinion about all that changed."
The couple socially distanced together with Burrell's family members in Cazenovia. Claxton is a sales marketing employee at Univision. Wedding planning was briefly on hiatus during that time. "Everything is so up in the air right now, so we haven't even really thought about it," she said. "We're just basking in the joy of this because that's all we can do for the foreseeable future."