23 Kitchen Registry Items That Are Musts, According to These Food Network Stars and Famous Chefs
You might be surprised by what Marcus Samuelsson, Daphne Oz and other famous food experts think you should have on your kitchen registry.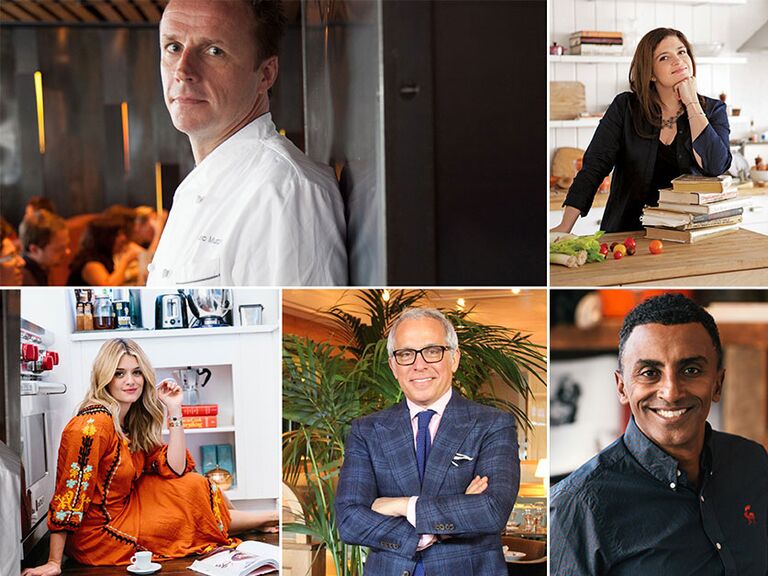 Confused about the must-have registry items for your kitchen? You're not alone—which is why we asked these famous chefs and food industry pros from across the country what their top registry picks for the kitchen are. But don't be intimidated—these items are affordable, practical, classic and will stand the test of time. See picks from Geoffrey Zakarian, Marc Murphy and more below, and add them to your registry here.
Marc Murphy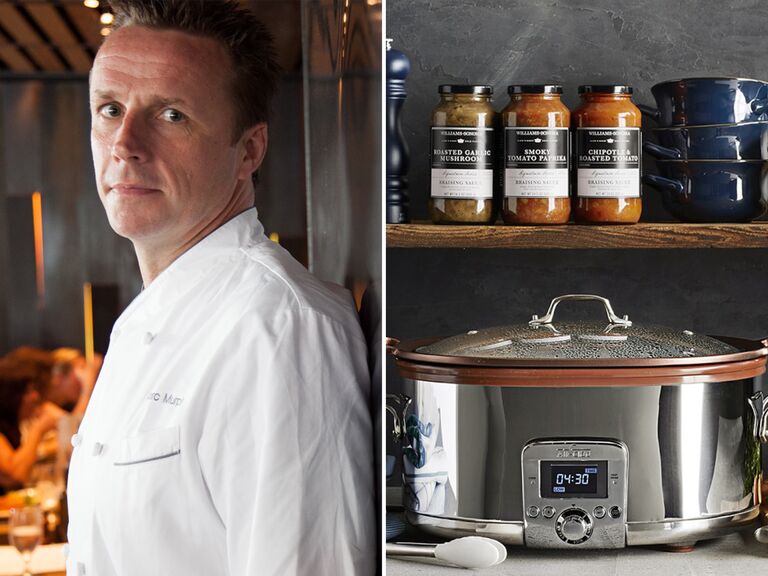 Judge on Food Network's Chopped; chef and owner of Benchmarc Restaurants (Landmarc Tribeca, Landmarc at Time Warner Center, Ditch Plains); author of Season With Authority
"A great product for wedding registries is a slow cooker. You can make delicious one-pot dishes that are easy and save time in the kitchen, which allows extra time with your significant other. I really like All Clad's all-in-one slow cooker because it can also steam, brown and sauté, and it looks really nice with its stainless steel finish."
All-Clad gourmet slow cooker, $300, Williams-Sonoma.com

Start your Williams-Sonoma registry, or add it to your existing registry.

Alex Guarnaschelli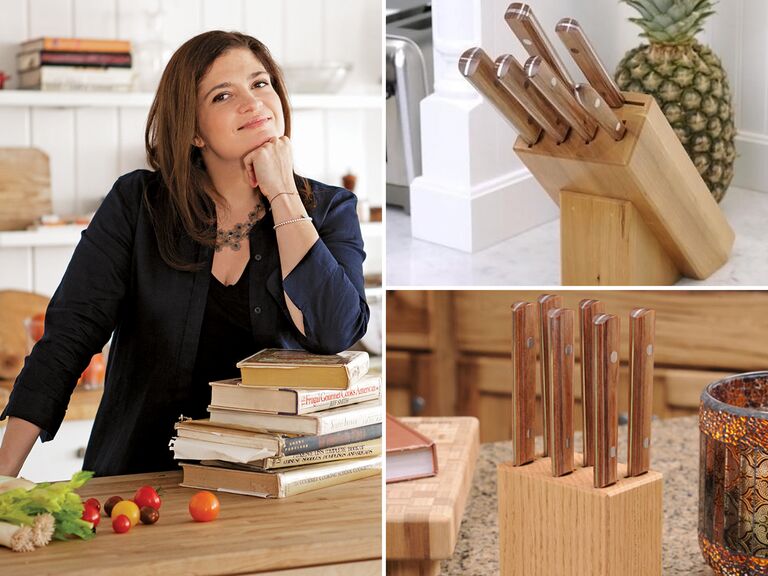 Judge on Food Network's Chopped; chef and partner of Butter; author of Old-School Comfort Food
"I love a good set of American-made knives for a new couple! I'm really keen on Warther Cutlery and would recommend the Classic block set for a good starter set of basic knives for a couple's new kitchen. There are five knives in this set and that's largely enough to do it all. They're beautiful, lightweight and very useful. Want to splurge further? Throw in a set of 5-inch steak knives in a counter block."

Warther Cutlery Classic block, $389 for set of 6, WartherCutlery.com
Warther Cutlery steak knives block, $259 for set of 6, WartherCutlery.com
Marcus Samuelsson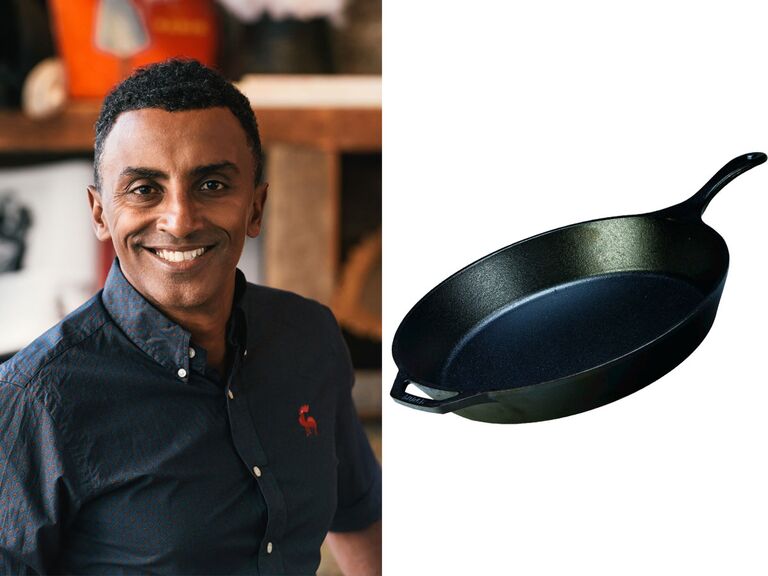 Award-winning chef; restaurateur (Red Rooster Harlem, Streetbird Rotisserie); author; TV personality
"A cast-iron skillet is my top recommendation and perfect for a wedding registry. It's affordable and something you'll use all the time. It's one of my favorite kitchen products."
Lodge cast-iron 15-inch skillet, $50, Target.com

Start your Target registry, or add it to your existing registry.

Daphne Oz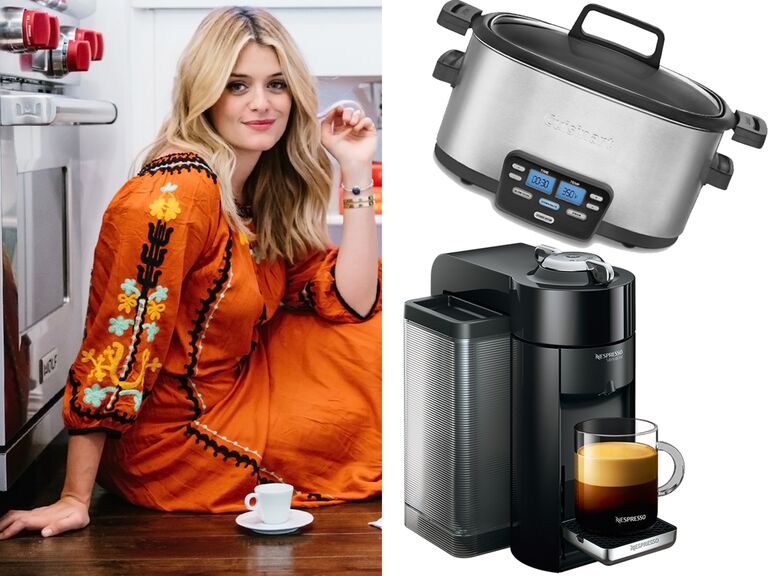 Natural foods chef; cohost of ABC's The Chew; author of The Dorm Room Diet and Relish: An Adventure in Food, Style, and Everyday Fun
"I love the everyday luxury of Nespresso coffee, and the fact that I can make it with my eyes shut. Plus, it's a ritual few minutes I get to share with my husband—stealing (and soaking up) little moments together is the secret to relationship bliss. Also, invest in minimal equipment—the less cluttered your kitchen is, the happier you'll be. But this is one piece that does so much, it's worth having. Slow cooker meals will save you hours of time and they keep it easy, which makes cooking at home feel like a luxury again. Get one that also lets you brown and sauté so you don't have to get another pan dirty to achieve maximum flavor in your food. Less stress getting a meal on the table means more time sitting and enjoying each other's company—and wine!"
Nespresso VertuoLine, from $200, Nespresso.com

Cuisinart 3-in-1 Cook Central 6-qt. multi-cooker, $116, Amazon.com
Start your Amazon registry, or add it to your existing registry.

Geoffrey Zakarian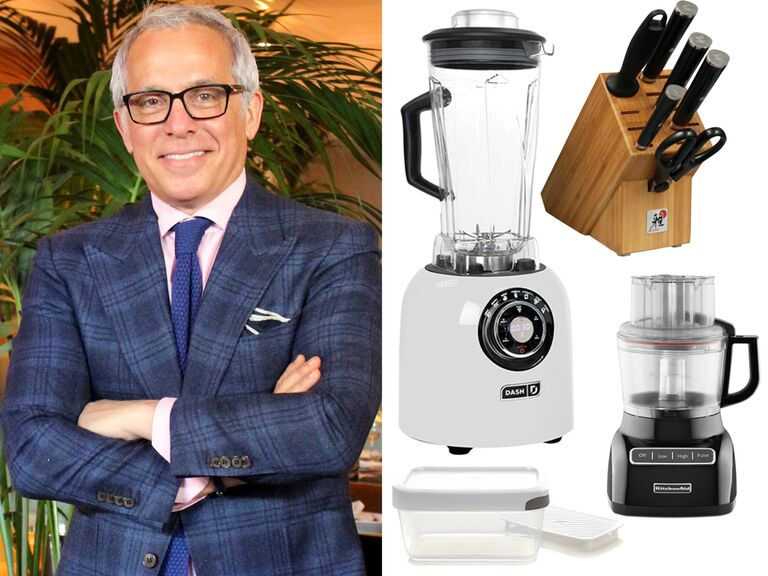 Judge on Food Network's Chopped, The Kitchen and Cooks vs. Cons; author of My Perfect Pantry; restaurateur behind The Lambs Club, The National, Georgie, The Garden Bar, Diplomat and Counter Point
"Anything KitchenAid—it will last a lifetime. Zwilling J.A. Henckels knives are essential, and Dash makes fun and well-engineered electric goods for the kitchen. And of course, no registry or kitchen is complete without my Pro For Home food storage containers."
KitchenAid 9-cup food processor, $200, KitchenAid.com

Zwilling J.A. Henckels Miyabi Kaizen knife block, $845 for set of 7, ZwillingOnline.com
Dash Chef Series digital blender, $230, Storebound.com
Zakarian Pro for Home storage canisters, $50 for set of 16, HSN.com
Maria Loi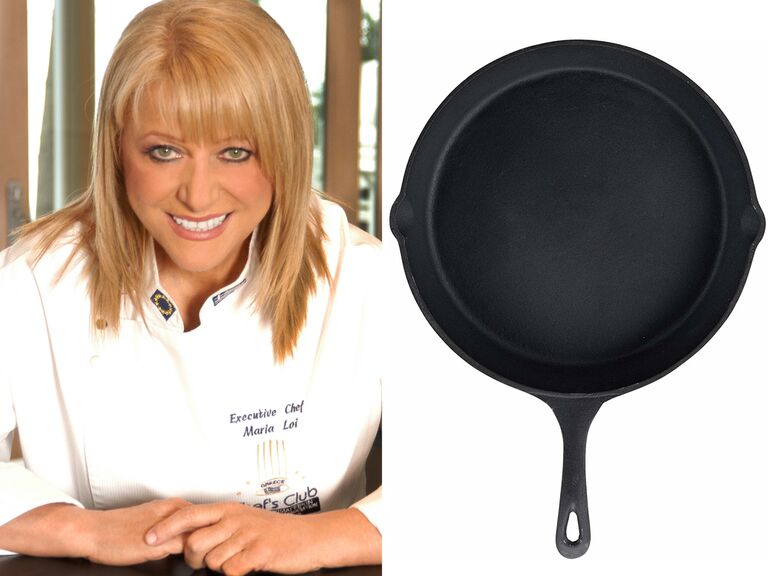 Chef and owner of Loi Estiatorio; author of The Greek Diet
"I would strongly recommend a good cast-iron skillet—they last forever, and you can cook anything in them, from your grandmother's favorite recipe to one you just saw on TV. I suggest a 12-inch traditional cast-iron skillet, and one with higher edges will give more flexibility to the dishes and volume prepared. There are so many on the market today—the only choice you need to make is what you'll cook first!"

Winco 12-inch cast-iron skillet, $28, WincoUS.com
Daniel Holzman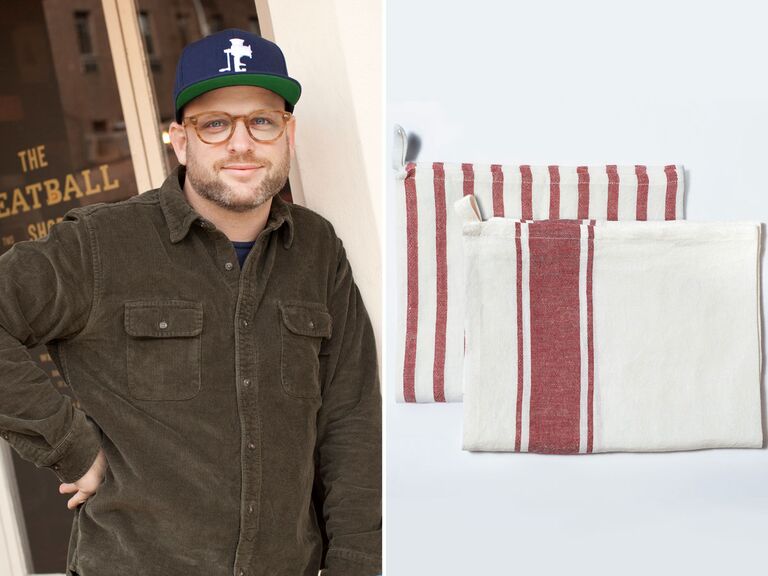 Chef and owner of The Meatball Shop; author of The Meatball Shop Cookbook
"Proper chef towels are something no kitchen should be without. Professional chefs never use pot holders—we use our chef towels for safety, dexterity and convenience. The Snowe kitchen towels are perfectly designed, simple, washable, durable and the right size."
Snowe chef's towels, $32 for set of 2, SnoweHome.com

Claudia Sidoti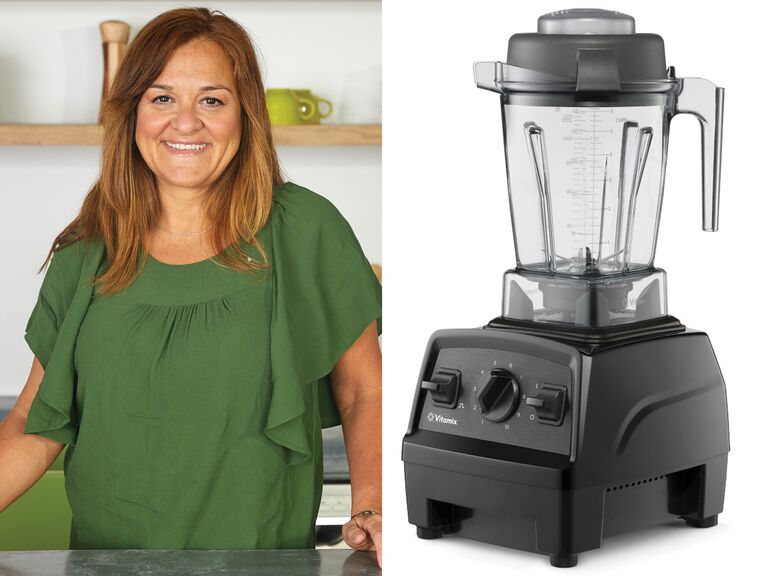 Head chef and head of recipe development at HelloFresh
"A blender is a must-have on the registry list—I love a Vitamix. This small appliance comes in handy for everything from pureeing soups and sauces, to making smoothies, pesto and salsas. Also, a solid wood cutting board is great to have on the counter at all times so you can prep fruit and veggies quickly (add in a few plastic ones for meat and fish too)."
Vitamix E310 Explorian blender, $300, Williams-Sonoma.com
Boos edge-grain rectangular cherry wood cutting board, from $87, Williams-Sonoma.com
Start your Williams-Sonoma registry, or add it to your existing registry.
Bobbie Lloyd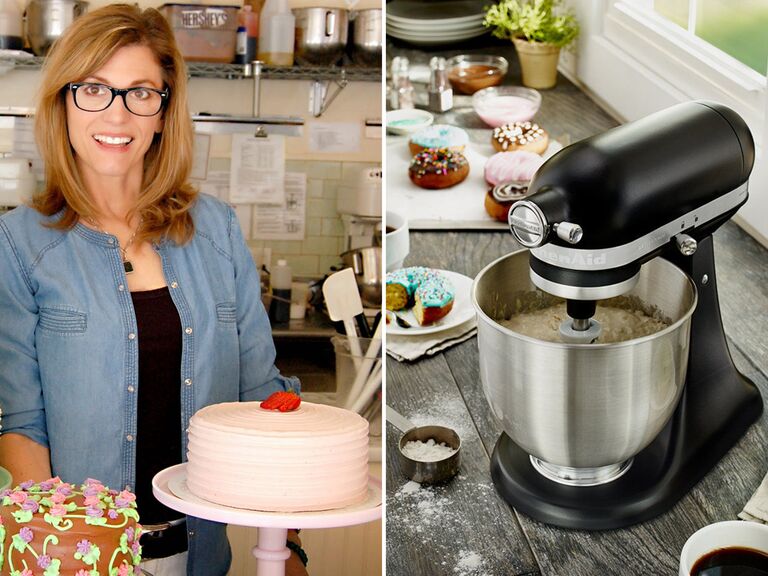 Chief baking officer of Magnolia Bakery
"I would highly recommend a stand mixer, preferably a KitchenAid. Whether you bake now or not, most people will in the future. A stand mixer gives you so much freedom. Besides baking, with attachments you can make your own bread, sausage and pasta."
KitchenAid Artisan mini 3.5-qt. tilt-head stand mixer, $400, KitchenAid.com
Hugh Acheson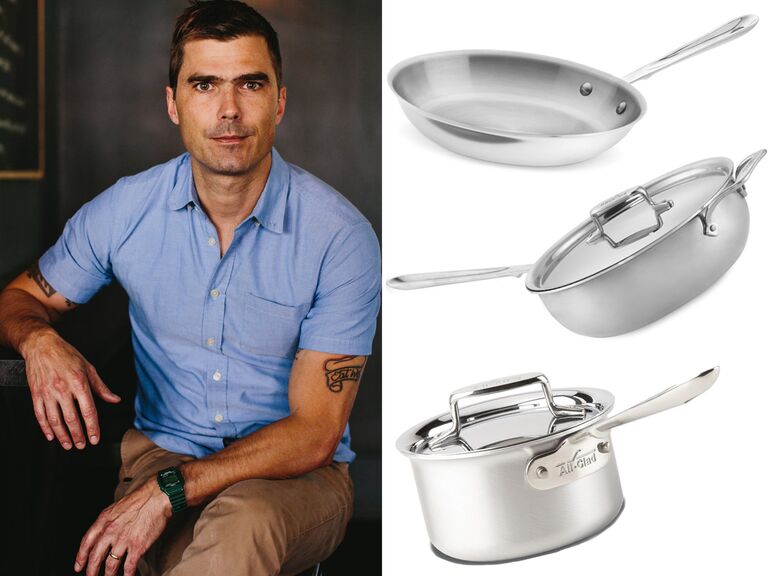 James Beard Award winner; chef and partner of 5&10, The National, Empire State South, Spiller Park Coffee and The Florence; judge on Bravo's Top Chef; author of A New Turn in the South, Pick a Pickle and The Broad Fork
"There are three All-Clad products that everyone needs as foundational, essential equipment in their kitchens: the D5 Stainless 10-inch fry, the D5 four-quart Essential pan and the stainless four-quart saucepan. Simply put, they're the versatile, tried-and-true workhorses of the kitchen and they'll last a lifetime."
All-Clad D5 stainless steel fry pan, from $110, Williams-Sonoma.com
All-Clad D5 stainless steel essential pan, from $150, Williams-Sonoma.com
All-Clad D5 stainless steel saucepan, from $140,Williams-Sonoma.com
Start your Williams-Sonoma registry, or add it to your existing registry.

Belinda Chang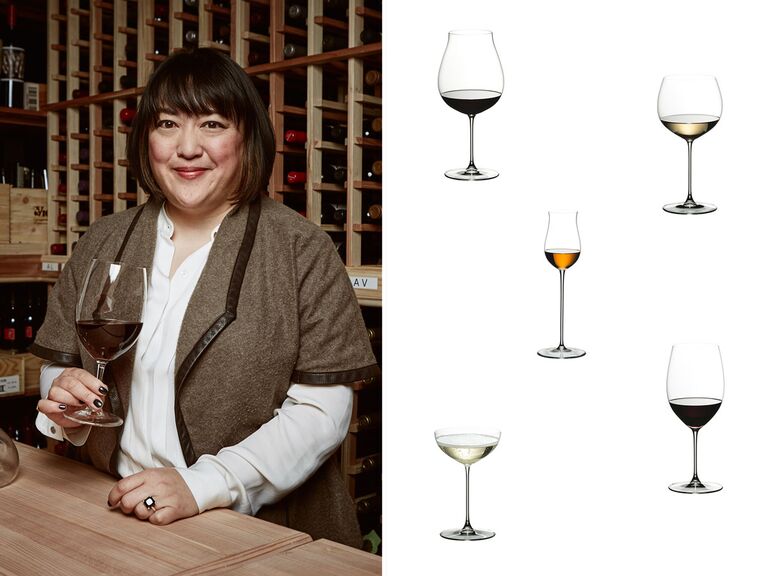 James Beard Award winner; director of wine and service at Maple & Ash
"For a quiet night at home or for the newlywed couple's first dinner party, a set of Riedel wine glasses is de rigeur. Riedel has been a part of my wine drinking life since I was drinking black bottles of cava from Spain out of their stemless glasses from Target (now the Vivant series) as a student to now, when I stock my current apartment with the beautiful Riedel Veritas series."
Riedel Veritas riesling/zinfandel single pack, $35, RiedelUSA.net
Matthew Rudofker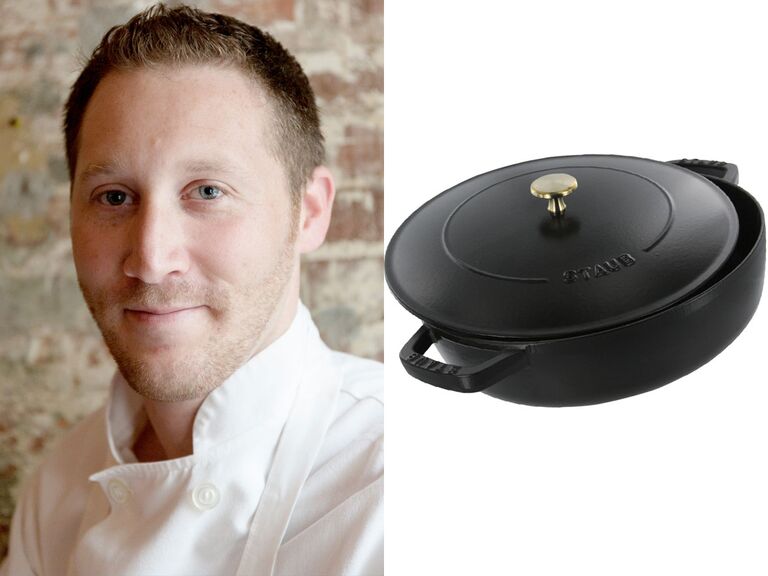 Executive chef of Momofuku Ssäm Bar and Má Pêche
"Dinner for two should be all about the one-pot meal. A cast-iron four-quart braiser can do almost any cooking task from roasting a chicken to roasting a slow braise."
Zwilling J.A. Henckels Staub cast-iron 4-qt. braiser, $260, ZwillingOnline.com
​​
Melissa J. Rodriguez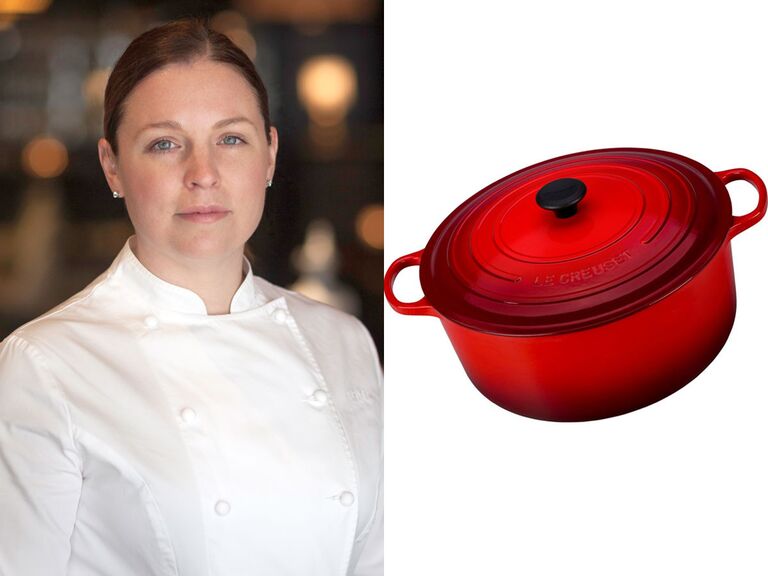 Executive chef of Del Posto
"I love a big Le Creuset Dutch oven. Mine was given to me for my wedding by Jean-François Bruel, my executive chef from Daniel, and it wasn't even on my registry. I like to make one-pot things when I cook at home and I use the Dutch oven all the time. I'll even roast a chicken in there. It's a must have, and you can do so much with it."
Le Creuset round Dutch oven, $130, LeCreuset.com
Oliver Lange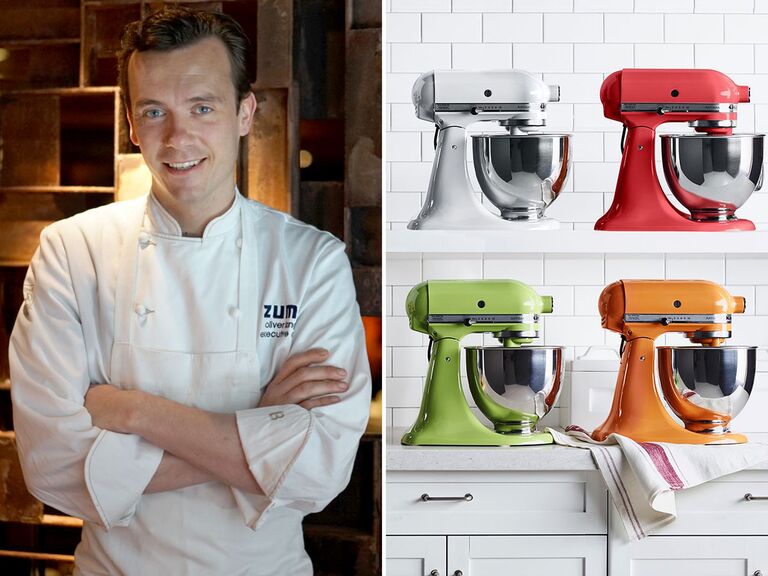 Executive chef of Zuma New York
"I love coming home to cook with my wife—she's a great baker, so we use our KitchenAid mixer and work together to tackle baking projects in our off time. We also love to make pasta with the machine—it's one tool that can do almost everything."
KitchenAid Artisan stand mixer, $350, Williams-Sonoma.com

Start your Williams-Sonoma registry, or add it to your existing registry.

Jessica Weiss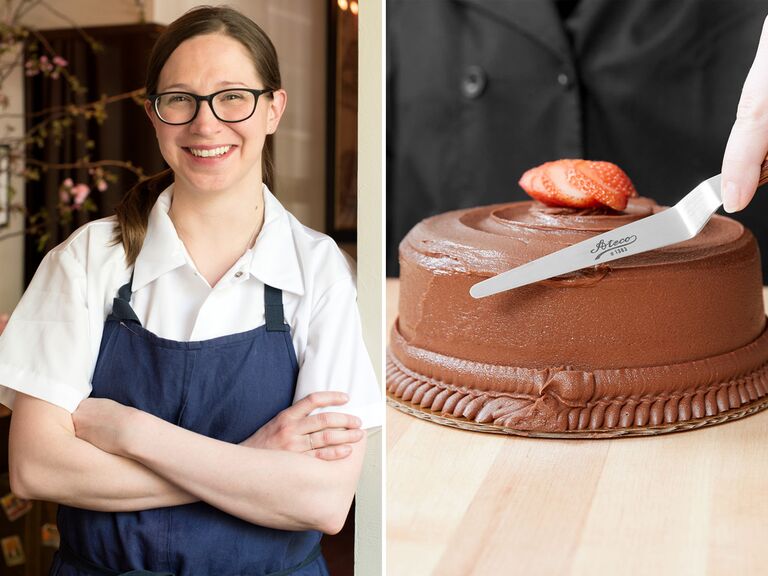 Executive pastry chef of Marta and Maialino

"One of my favorite items in the kitchen is a mini offset palette knife. Aside from the fact that it's my most favorite tool in the kitchen, it's great for picking up raw dough cutouts or removing baked cookies from a tray."
Ateco palette knife, $10, Amazon.com
Start your Amazon registry, or add it to your existing registry.

Looking for the perfect wedding gift for a foodie or want to start your own wedding registry? Click here to find a couple or click here to create your All-in-One Registry with The Knot.