Dating Apps Are Officially the Most Popular Way to Meet a Spouse
One in every four couples meets this way.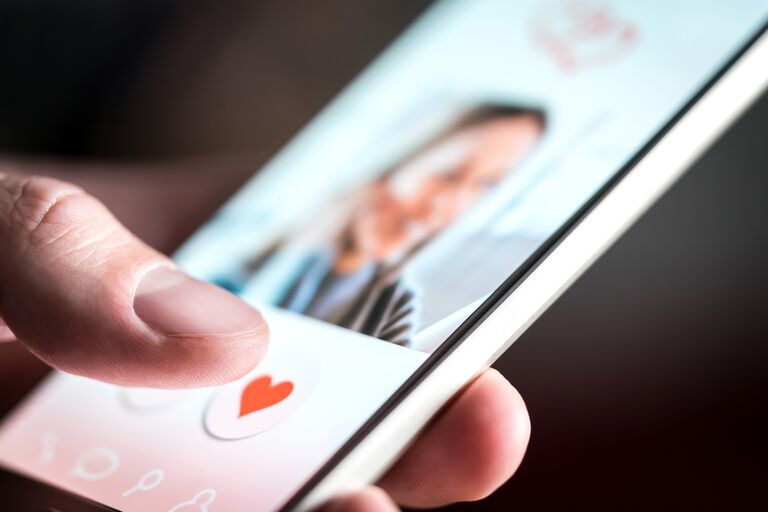 Shutterstock
If you swiped right on your future spouse, you're in the majority. Online dating statistics reveal the most popular way to meet a spouse is now officially through dating apps.
According to The Knot 2019 Jewelry and Engagement Study, a whopping 22 percent of spouses are now meeting online (after utilizing tools like Tinder, Hinge and Bumble). The latest online dating statistics support how this behavior has been on a steady incline since 2015, with close to one in every four couples now getting engaged after meeting online. Our study surveyed over 10,000 recently-married or currently-betrothed couples across the country, and even found the most popular dating apps that resulted in a proposal. Read through the comprehensive overview below.
The Top Dating Apps for Couples
If you're wondering how to meet someone—or better yet, how to meet someone online—swipe right on Tinder. The behemoth online dating app accounted for 30 percent of all couples who met on apps and eventually got engaged. Fourteen percent of couples, meanwhile, found success with OkCupid, one of the oldest online dating sites around since 2004. Rounding out the top three apps for engaged couples was Bumble with 13 percent of to-be-weds finding a partner through the female-founded, entrepreneurial brand.
For urban dwellers, dating apps contingent upon algorithmic science like Hinge (3 percent of all engaged couples) were slightly more favorable given the ability to customize options based on proximity and preferences. Coffee Meets Bagel, which encourages in-depth conversations leading up to a date, was also equally distributed with 3 percent of the pool, according to online dating statistics. Across America, additional popular dating apps included Match (12 percent), Plenty of Fish (9 percent), eHarmony (3 percent), and finally, Facebook (2 percent).
One in Five Met Through Mutual Friends
While dating apps reign supreme, many couples found their future life partner through their personal network. Closely trailing online dating was the narrative of to-be-weds finding each other with the help of mutual friends. About 19 percent of couples met via this commonality, whether an introduction was facilitated through a direct friend or friend of a friend. If you're in this pool, you're one in five.
If you're looking to meet someone without online dating, tapping your inner circle is a great alternative. Just ask Prince Harry and Meghan Markle, whose courtship was supposedly facilitated by their friend Misha Nonoo.
One in Nearly Three Met in School or at Work
About 30 percent of all couples surveyed found their future partners while going about their day-to-day lives. Seventeen percent of respondents said they met at school with most citing college or grad school. Another 13 percent of couples said they met through work—whether they were colleagues or met a work-related function or event. These numbers are right in line with our last survey from 2017, where about 15 percent of respondents said they met in school and 12 percent cited work as their meeting ground. (Quite literally.)
Is It Possible to Meet Someone in a Bar?
The short answer is yes. Of those surveyed, 11 percent of engaged couples said they first met in a social setting like a bar, a concert or a party. Should we even dare say… a wedding. Another six percent selected the "other" option, meaning these participants could have met their future spouses through a chance encounter (think, at the gym or in transit). Whether it was in a spin class or on the subway, couples have a range of first-met tales, making each love story unique and special.
Love You Long Time
There's a novelty in knowing your S.O. for decades, even before you marry. If Love, Rosie is any indication, our study aligns and reveals that close to one in 10 couples have known their spouses since at least their teenage years. About eight percent of engaged couples said they were high school sweethearts, while another four percent had known each other since childhood.
Love at First Swipe… and Beyond
Among the nearly 11,000 couples surveyed, 71 percent said they dated for more than two years before getting engaged. Specifically, half of all respondents said they dated anywhere from two to five years before getting engaged. And sometimes, when you know, you know. About 30 percent of to-be-weds dated for less than two years before getting engaged.