Inside Austin Butler and Kaia Gerber's Complete Relationship Timeline
Find out why Hollywood's latest it-couple recently sparked proposal rumors.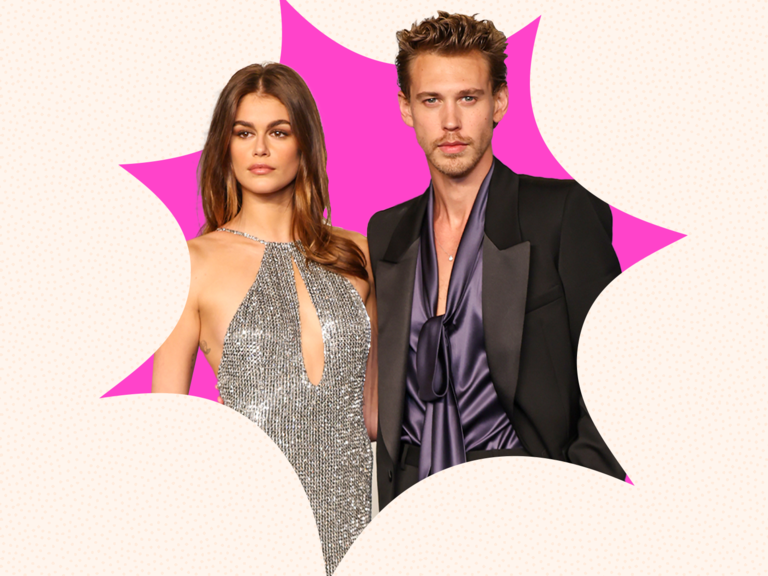 Photo: Getty Images,Design: Tiana Crispino
Are Austin Butler and Kaia Gerber engaged? It's the latest rumor taking Hollywood by storm. While we haven't received confirmation that this famous it-couple will be heading to the altar quite yet, swirling reports that they've moved in together indicate the seriousness of their relationship. Austin Butler and Kaia Gerber began dating in early 2021, embarking on a whirlwind romance full of jet-setting adventures, movie premieres, and red carpets around the world. Here, we take a deep dive into Kaia Gerber and Austin Butler's relationship timeline, breaking down exactly when the actor and model began dating and where they stand today. Relive their romance here, along with our top predictions for what we think their wedding may look like if they ever tie the knot.
Austin Butler and Kaia Gerber began dating in December 2021. They were first spotted holding hands and spending time together in LA.
After keeping a low profile at the beginning of their relationship, Austin Butler and Kaia Gerber confirmed their romance at W Magazine's Best Performances party in March 2022. They later made their red carpet debut at the Met Gala in May 2022.
Although we don't know for sure if Austin Butler and Kaia Gerber are engaged just yet, some publications reported that they moved in together in May 2023.
December 2021: Austin Butler and Kaia Gerber Ignite Romance Speculations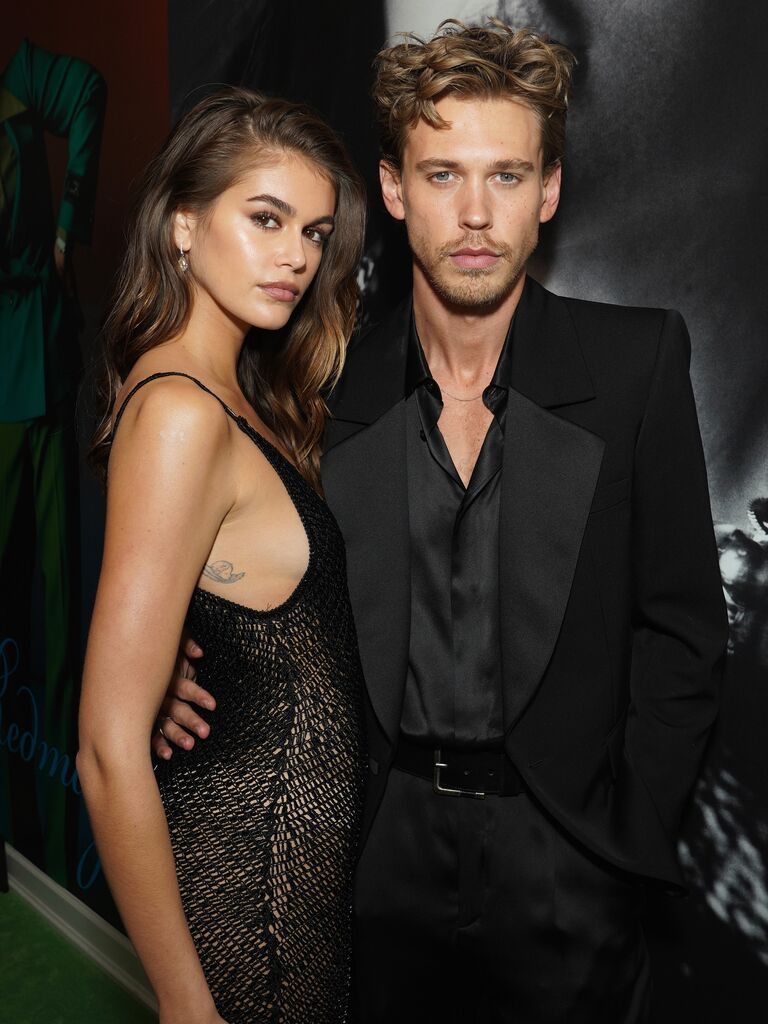 So, how did Austin Butler and Kaia Gerber meet? It's unclear exactly when these two initially crossed paths, but we do know they were first photographed together taking a yoga class in Los Angeles in December 2021. This sighting came one month after Kaia Gerber and Euphoria star Jacob Elordi broke off their year-long romance. (You might also wonder about the status of Austin Butler and Vanessa Hudgens at this time. The couple, who previously dated for nine years, officially called it quits in January 2020.)
Through the end of the year, Austin Butler and Kaia Gerber continued to spend time together. A source told People that the model "seems really happy. All of her friends think he's really cute."
January 2022: Austin Butler and Kaia Gerber are Photographed Hand-in-Hand in LA
Amid the turn of the new year, Kaia Gerber and her boyfriend Austin Butler were photographed holding hands at the popular LA grocery store chain Erewhon while Gerber walked her dog.
January 2022: Kaia Gerber Speaks About Her Personal Life
While attending the L.A. Art Show Opening Night Gala benefitting St. Jude Hospital, Kaia Gerber spoke to People about how the pandemic made her re-evaluate her personal life—and although she didn't explicitly open up about her relationship with Butler, her comments seemingly indicated that things were going strong. "I think, it's so important people are realizing how important their happiness is outside of work when you don't have all these outside resources to gain happiness from, where that internal happiness comes from," she said.
February 2022: Kaia Gerber and Austin Butler Celebrate Valentine's Together
Marking their first Valentine's Day together, Austin Butler and Kaia Gerber celebrated the romantic holiday in London. The couple was photographed holding hands, grabbing coffee and walking around the neighborhood with Gerber's dog. The following month, Austin and Kaia were seen together in Paris (aka the City of Love) following Paris Fashion Week.
March 2022: Austin Butler and Kaia Gerber Confirm Their Relationship
After months of being photographed by paparazzi, Austin Butler and Kaia Gerber confirmed their relationship by attending W Magazine's annual Best Performances party together. The publication later shared a photo of Austin kissing Kaia on the cheek inside the pre-Oscars celebration.
May 2022: Austin Butler and Kaia Gerber Make Their Red Carpet Debut at the Met Gala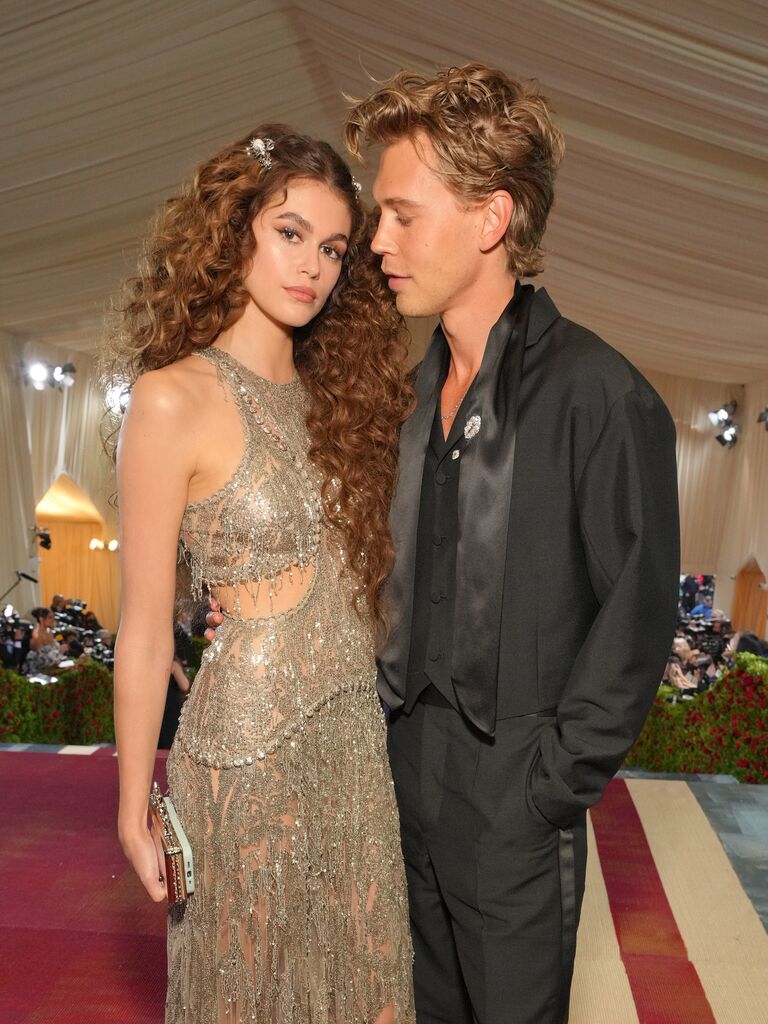 Then, the Met Gala. Austin Butler and Kaia Gerber put their budding romance on display when they attended the biggest event in the fashion industry together on May 2, 2022. After walking the red carpet separately, they came together at the top of the Met steps for a kiss.
May 2022: Kaia Gerber Attends the Cannes Film Festival with Austin Butler
Austin Butler's acting career soared to new heights amid the release of the highly-anticipated biographical drama Elvis, in which he starred as the titular character. Kaia Gerber supported her boyfriend when the film premiered at the Cannes Film Festival in May 2022 by walking the red carpet with him.
June 2022: Kaia Gerber Supports Austin Butler Amid Elvis Release
When Elvis officially released in theaters that June, Austin and Kaia held hands as they attend a screening in New York City. In an interview with GQ that month, Butler was asked about his relationship with Gerber, a topic the actor quickly gracefully avoided. "I don't think there's anything I want to share about that," he said, "but thank you for providing the space."
July 2022: Kaia Gerber Appears in a Photo Shoot with Austin Butler
Austin Butler and Kaia Gerber's romance continued to heat up through the summer. When the actor posed in a photo shoot for men's fashion magazine VMAN, he was joined by his girlfriend for a few sultry snaps. In the images, taken from behind, a pair of arms can be seen draped around Butler's neck—and eagle-eyed fans were quick to point out they were Kaia's thanks to the tattoo on the left wrist.
December 2022: Kaia Gerber Attends Austin Butler's SNL Debut
Before the end of the year, Austin Butler had the opportunity to host Saturday Night Live amid the wildly-popular success of Elvis. Although photos from the weekend were sparse, it was reported that Kaia Gerber watched the show from the audience with her parents, supermodel Cindy Crawford and businessman Rande Gerber.
Early 2023: Austin and Kaia Enjoy Awards Season Together
It was a busy 2023 awards season for Austin Butler and Kaia Gerber. The couple kicked off the year by attending the Golden Globes in January, where Butler won the award for Best Actor in a Drama Motion Picture. The following month, they attended W Magazine's Best Performances party for the second year in a row in matching black outfits.
The fun continued at the Oscar Awards in March, where Butler was nominated for Best Actor. Although he didn't take home the trophy, he and Gerber were all smiles at the Vanity Fair Oscars afterparty. Following this busy stretch of events, Austin Butler and his girlfriend enjoyed some R&R on vacation in Mexico at the end of the month.
April 2023: Austin and Kaia Attend the Time100 Gala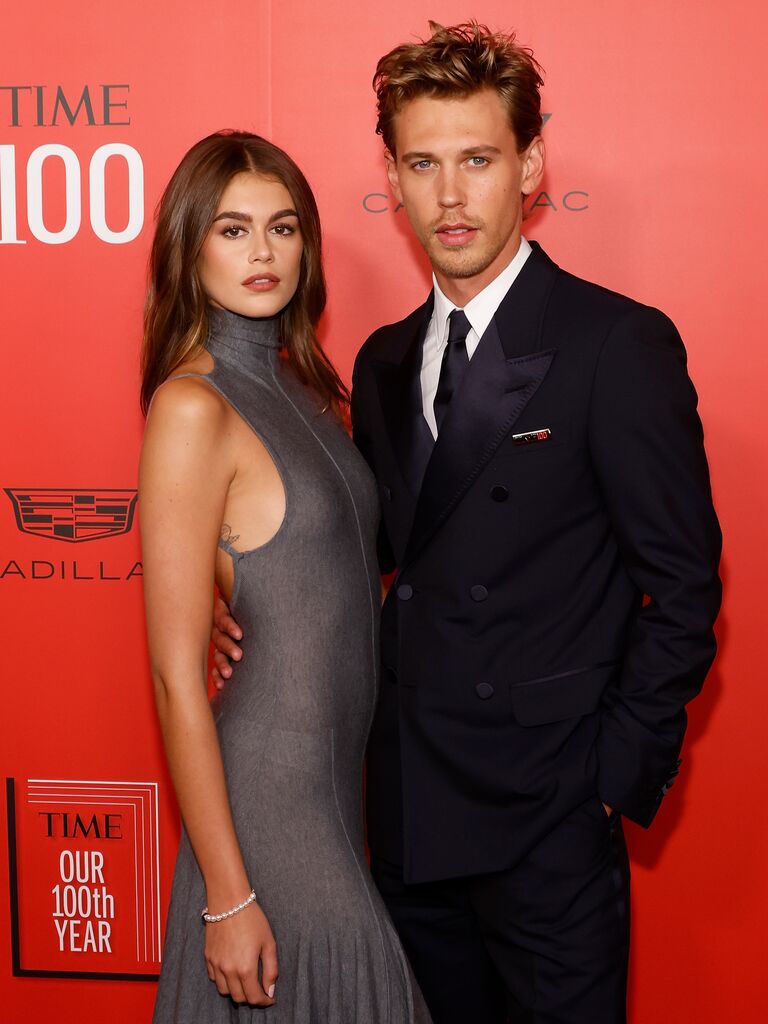 The accolades kept coming for Butler, who was named one of Time Magazine's most influential figures of the year. He attended the prestigious event in New York City with Gerber on April 26.
May 2023: Austin and Kaia Double Date With Her Parents
The parents approve! On May 25, Austin Bulter and Kaia Gerber were spotted getting dinner with her parents at Roberta's, a popular pizzeria in Culver City, California.
Are Kaia Gerber and Austin Butler Engaged?
In April and May 2023, rumors began swirling that Austin Butler and Kaia Gerber were engaged and moving in together. As of now, we have yet to receive official confirmation of either claim—but we wouldn't be surprised if the couple advances their relationship in the near future.
Kaia Gerber and Austin Butler's Wedding Predictions
While they're happily dating right now, we can't help but imagine what Austin Butler and Kaia Gerber's wedding might look like one day. Given their private nature, these two would likely get engaged in secret, and only share the proposal news a few weeks (or even months) after the fact.
When it comes to the wedding day, we predict they might follow in the footsteps of Kaia Gerber's parents. Cindy Crawford and Rande Gerber got married at an ultra-casual destination wedding celebration in the Bahamas in 1998, swapping vows in front of just 90 guests. A stark contrast to her glamorous runway style, the laid-back bride opted for a relaxed wedding look, wearing an off-the-rack white lace John Galliano mini dress (with no shoes!). In her 2015 memoir Becoming, she reminisced on the big day, writing, "Rather than have my dad walk me down the aisle and give me away, Rande and I chose to walk each other down the stairs that led to the beach and the ceremony." We wouldn't be surprised if Austin and Kaia also choose to revamp tradition in their own way should they decide to get married in the future.