25 Red Carpet Dresses from 2023 and Beyond to Inspire Your Wedding Wardrobe
The ceremony aisle is basically your red carpet, after all.
Photos: Axelle/Bauer-Griffin | Getty, ABC | Getty, Marc Piasecki | Getty,Design: Tiana Crispino
We can't help but get excited every time awards season rolls around, and for good reason. As much as we love scouting fashion trends and seeing what our favorite celebs wear to each show, we also keep an eye out for bridal inspiration—because the red carpet can be a fun place to pull ideas for your own wedding wardrobe. Stars often hit the scene in bridal-worthy red carpet dresses, making it easy for you to curate a vision board for all of your wedding outfits. From the Grammys to the Golden Globes, we've narrowed down the very best red carpet looks from 2023 and beyond that double as wedding inspo. Relive our favorite looks here, and screenshot your faves to have for the next time you go wedding outfit shopping.
In this article:
Golden Globes Red Carpet Looks
Awards season kicks off every year with the Golden Globes in January, honoring the best works in film and television. This program dates all the way back to 1944, which means we've seen plenty of incredible Golden Globes red carpet dresses—but these five are particularly fitting for wedding inspo.
Michelle Williams in Louis Vuitton, 2023
Welcome to Michelle Williams' crash course on how to rock ruffles. The actress looked like a vision on the Golden Globes red carpet in 2023, and her voluminous frock is one of our all-time faves. Take this as a sign to sport a statement trend on your big day if you're feeling bold.
Salma Hayek in Gucci, 2023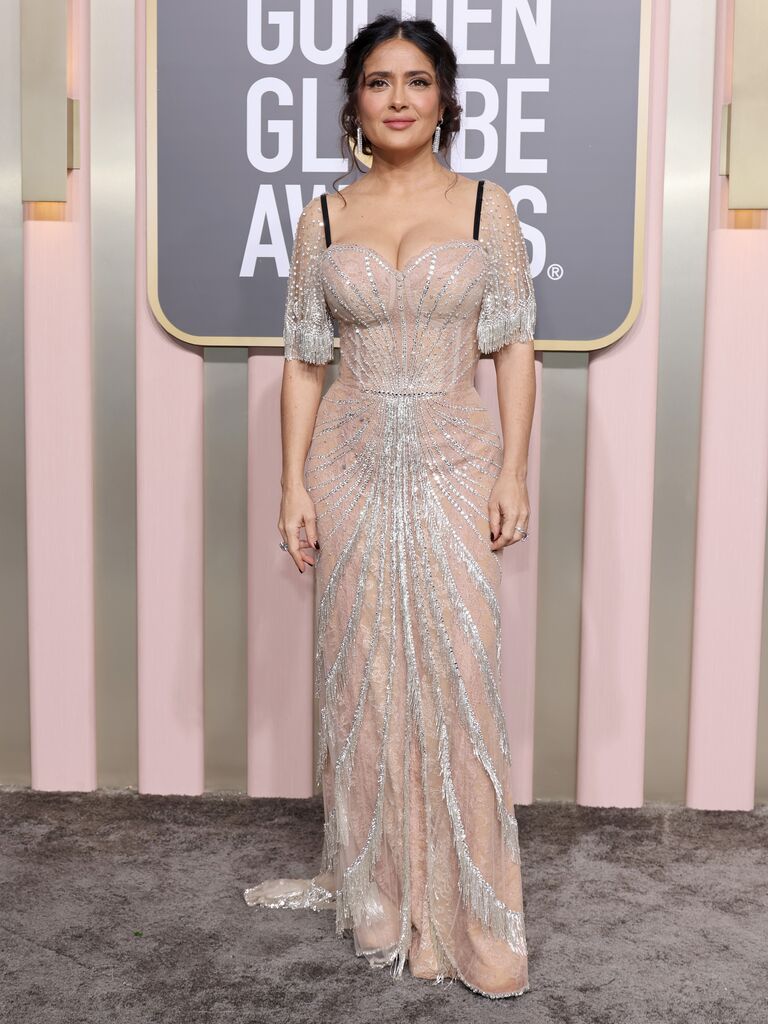 Who says brides have to wear white? We love the idea of donning a metallic 'fit for your wedding reception, and something like Salma Hayek's glittery fringe Gucci dress would be perfect on a dance floor.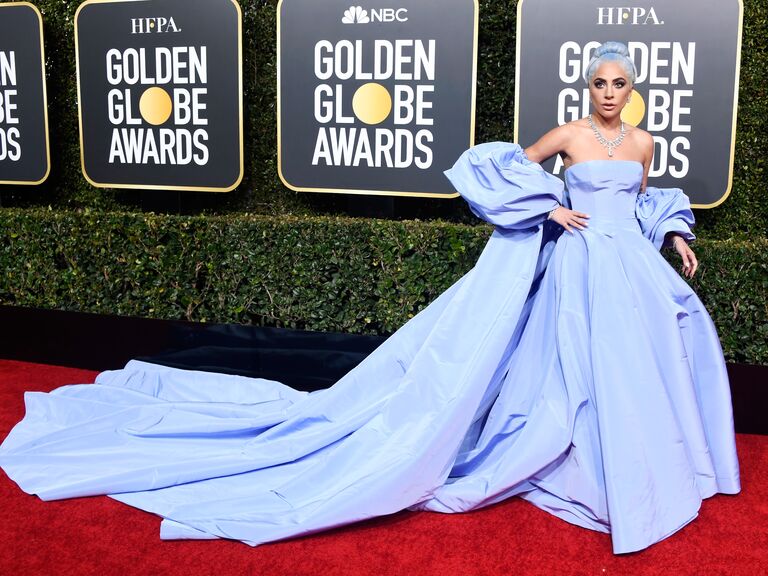 Something blue? Lady Gaga did that. We can't stop thinking about the singer's 2019 Golden Globes red carpet dress because, well, how can we? She looked as gorgeous as ever in this voluminous ball gown with puff sleeve accents, which is a fabulous silhouette for those wanting to look (and feel!) like a princess on their big day.
Angelina Jolie in Atelier Versace, 2012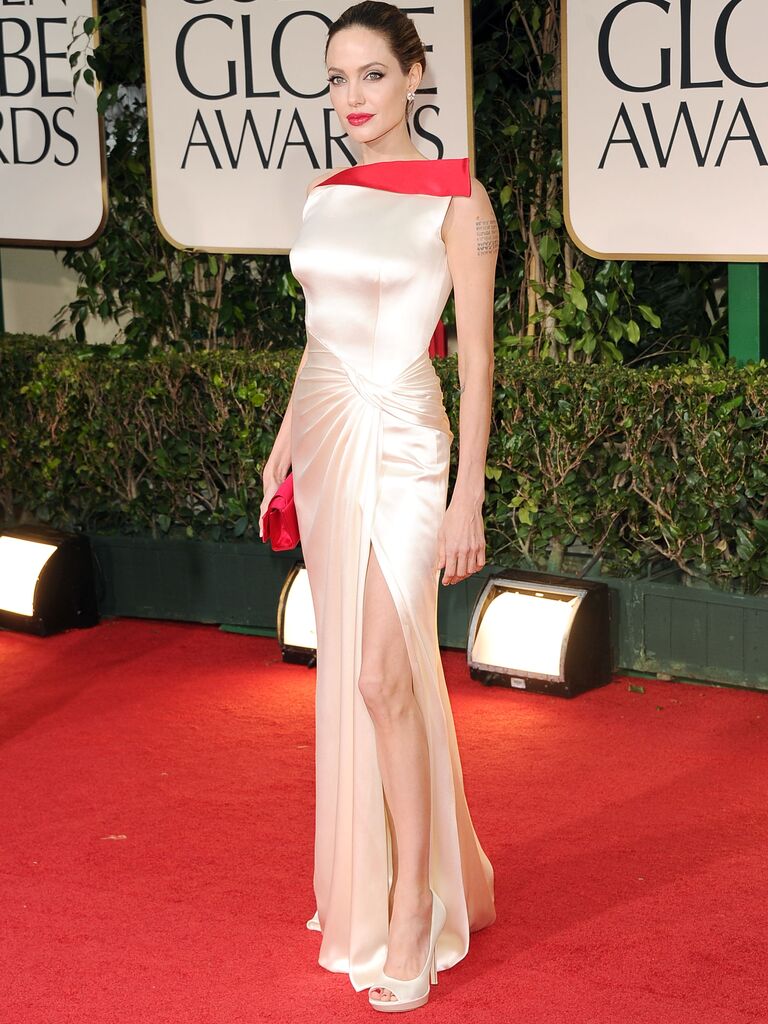 Angelina Jolie looked ravishing in red in this 2012 Golden Globes red carpet look, and you can too. While you might not think of red as a hue to wear while swapping vows, we love the pop of color against her slinky satin gown by Atelier Versace. Add this to your vision board if you're planning an ultra-glam soirée or a swanky rehearsal dinner.
Sarah Jessica Parker in Richard Tyler, 2000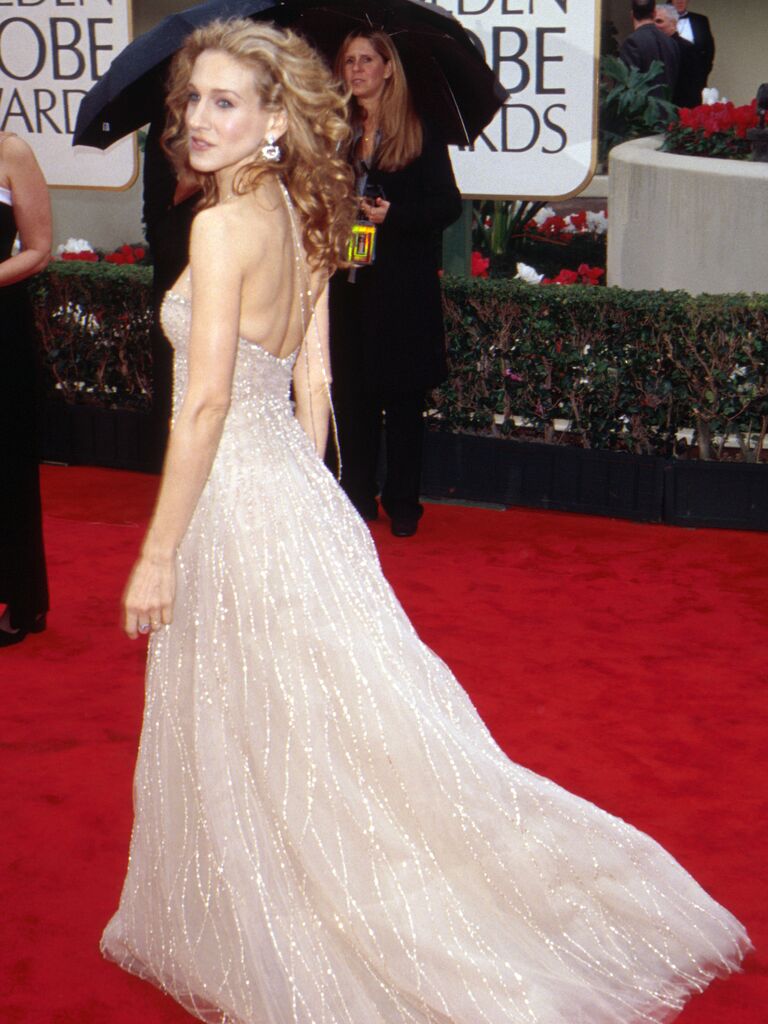 As we sat here reminiscing on the best wedding-worthy looks from the Golden Globes red carpet, we couldn't help but wonder: Where was Sarah Jessica Parker? Luckily, the style icon delivered a stunning bridal look back in 2000. She arrived on the carpet wearing a shimmering strapless A-line gown dripping in sparkly embellishments, giving us a gorgeous dose of whimsical bridal inspiration.
Grammy Red Carpet Looks
Music's biggest night can inspire your biggest night too. Often taking place at the beginning of the year, the Grammy Awards highlight achievements within the music industry, which means our favorite singers and performers flock to the red carpet in style. Here are five incredible Grammy red carpet dresses to inspire your wedding attire.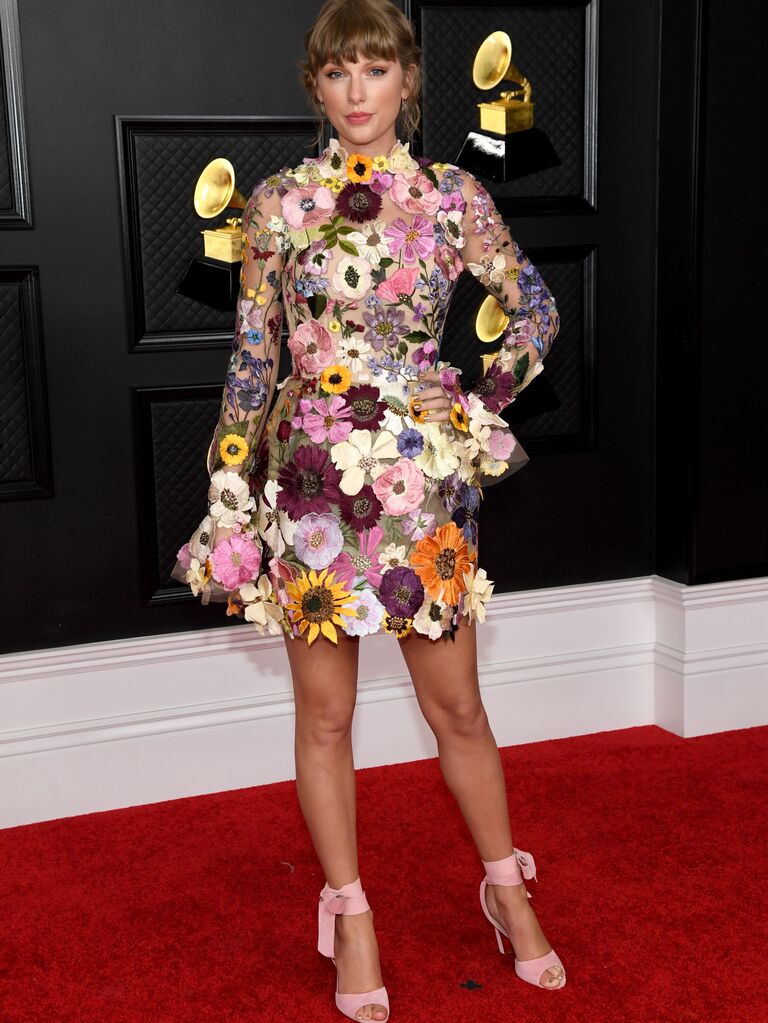 Hi, bridal shower inspiration. We're still swooning over Taylor Swift's dreamy floral mini dress she wore the 2021 Grammy Awards (where she took home the award for Album of the Year for folklore, obvi). While you might not think to wear this sort of look down the aisle, a vibrant floral frock is incredibly apropos for a couples' shower or brunch with your bridesmaids.
Lizzo in Versace, 2020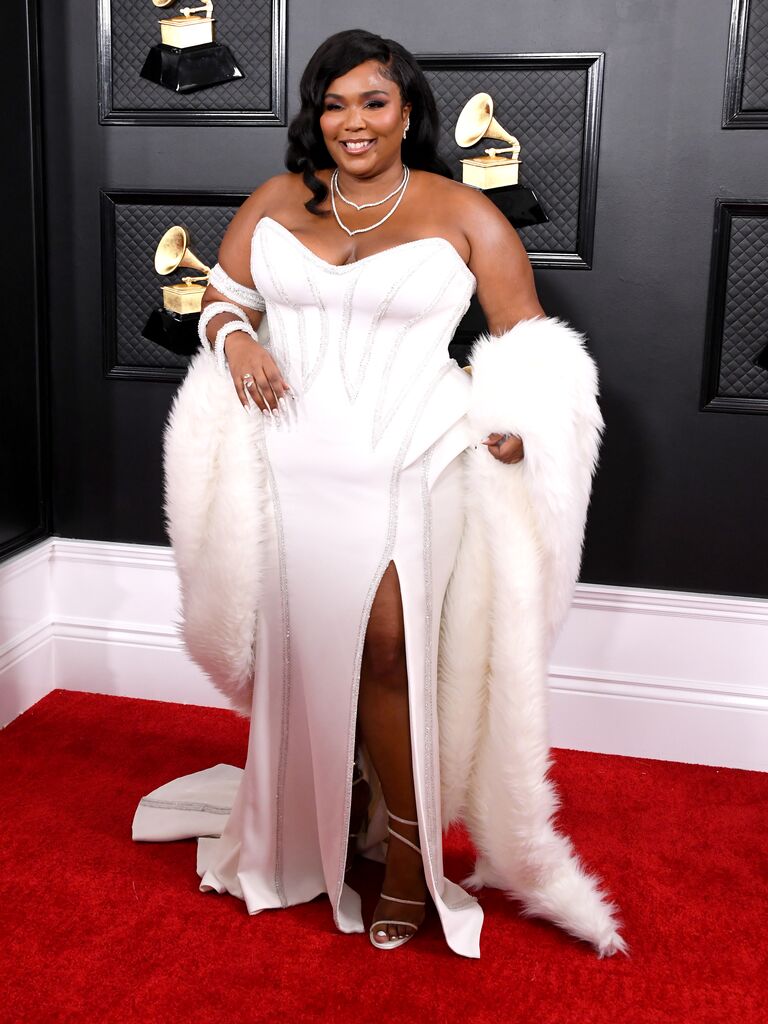 There's no denying this Grammys red carpet look is good as hell. Singer Lizzo looked as luxe as can be at the 2020 awards in her all-white Versace dress, which had delicate glitter embroidery in abstract shapes on the bodice. If you're planning a winter wedding, take note: You might want to replicate her cozy white stole to stay warm during your celebration.
Ariana Grande in Giambattista Valli Haute Couture, 2020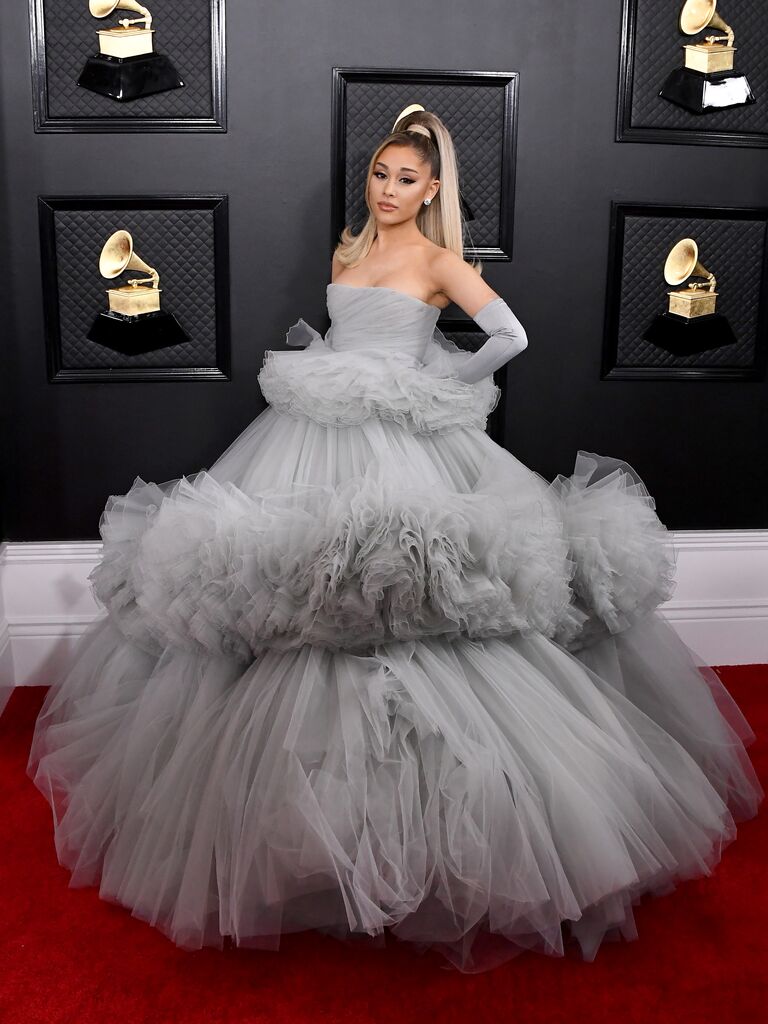 There's no day like your wedding day to wear a massive, billowing ball gown—unless, of course, you're Ariana Grande and you're invited to the Grammys. Until that day comes, let her 2020 red carpet dress inspire your wedding wardrobe. Layers upon layers of tulle and ruffle create the ideal silhouette for a bride who wants to pull out all the stops for their ceremony look.
SZA in Atelier Versace, 2018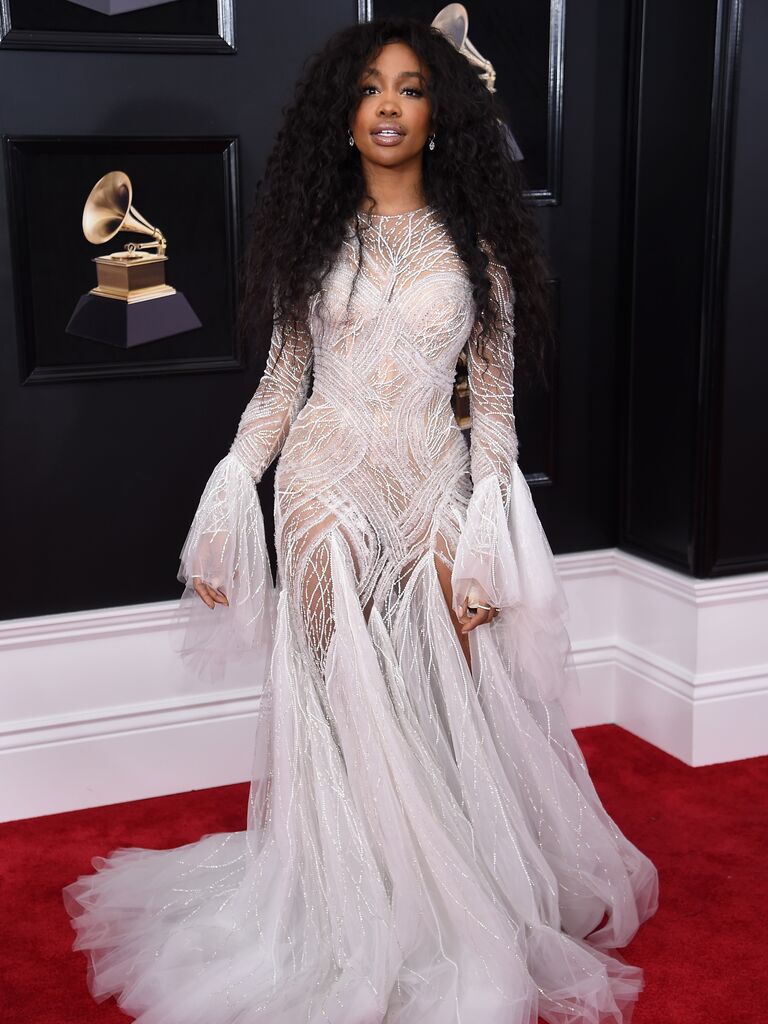 Intricate woven beading, gauzy draped fabric and a sky-high slit made SZA's Grammy Awards red carpet dress stand out for all the right reasons. We're obsessed with the idea of wearing a sultry dress like this to an ultra-luxe beach wedding.
Britney Spears in Randolph Duke, 2000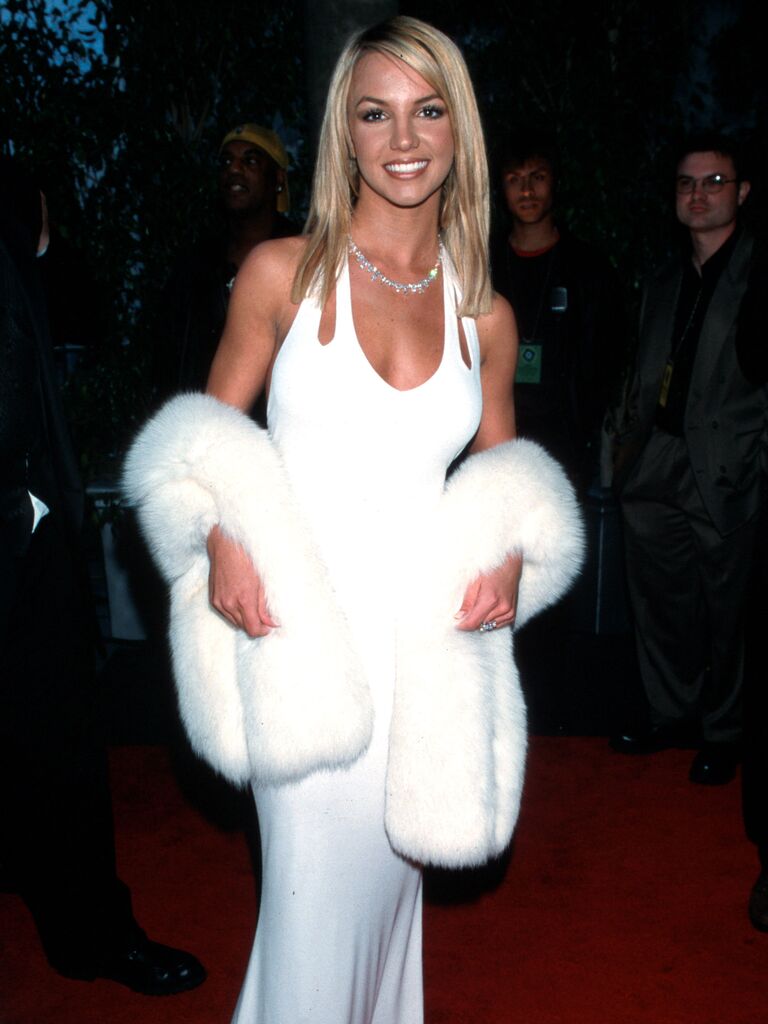 In a look that may have inspired Lizzo's Grammy red carpet dress in 2020, Britney Spears looked oh-so-bridal at the 2000 awards ceremony. We could easily picture her white column gown with a scoop halter neckline and fuzzy shawl at a wedding in Vale or Aspen.
Oscar Red Carpet Looks
Also known as the Academy Awards, the Oscars honor exceptional work in the film industry—and, unsurprisingly, the red carpet has been responsible for some of the most iconic bridal looks of all time.
Michelle Yeoh in Dior Haute Couture, 2023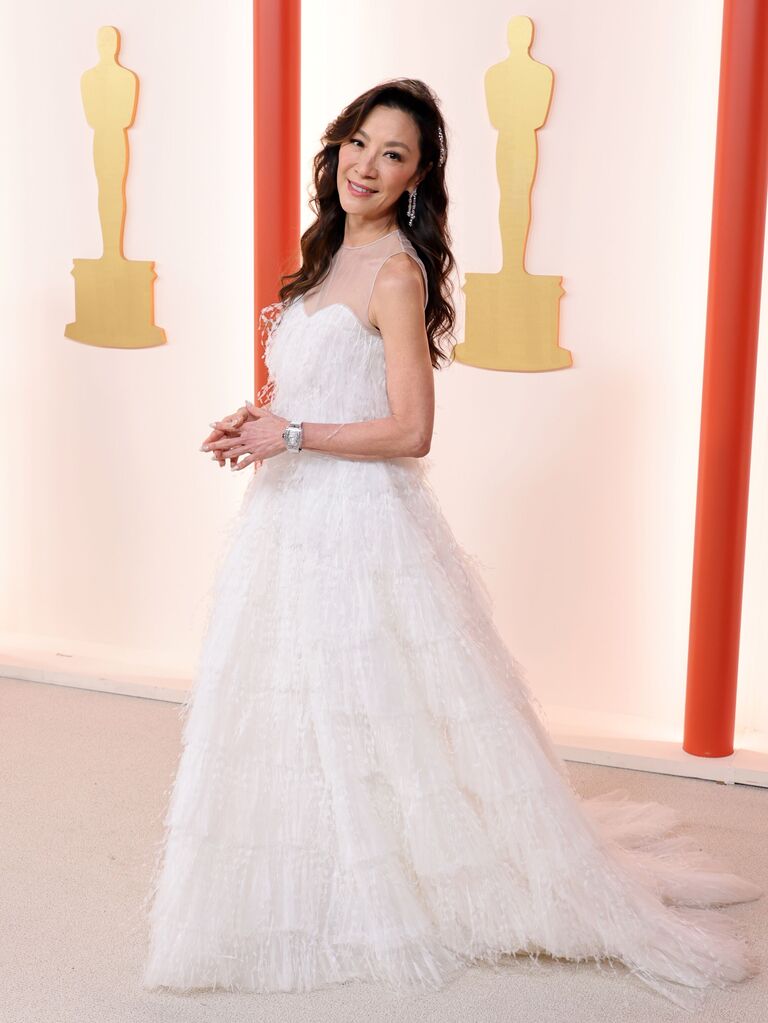 Michelle Yeoh was a shining star throughout the 2023 awards season, especially at the Oscars. She made history as the first Asian woman to win the Oscar for lead actress in her film Everything, Everywhere All at Once—and while we were dabbing our eyes during her emotional acceptance speech, we couldn't help but note that her dress was incredibly wedding worthy. She looked ethereal in this white feathered Dior number, which had a sweetheart neckline with a sheer overlay. If you were looking for a reason to rock feathers on your wedding day, this your sign to go for it.
Zendaya in Valentino Haute Couture, 2022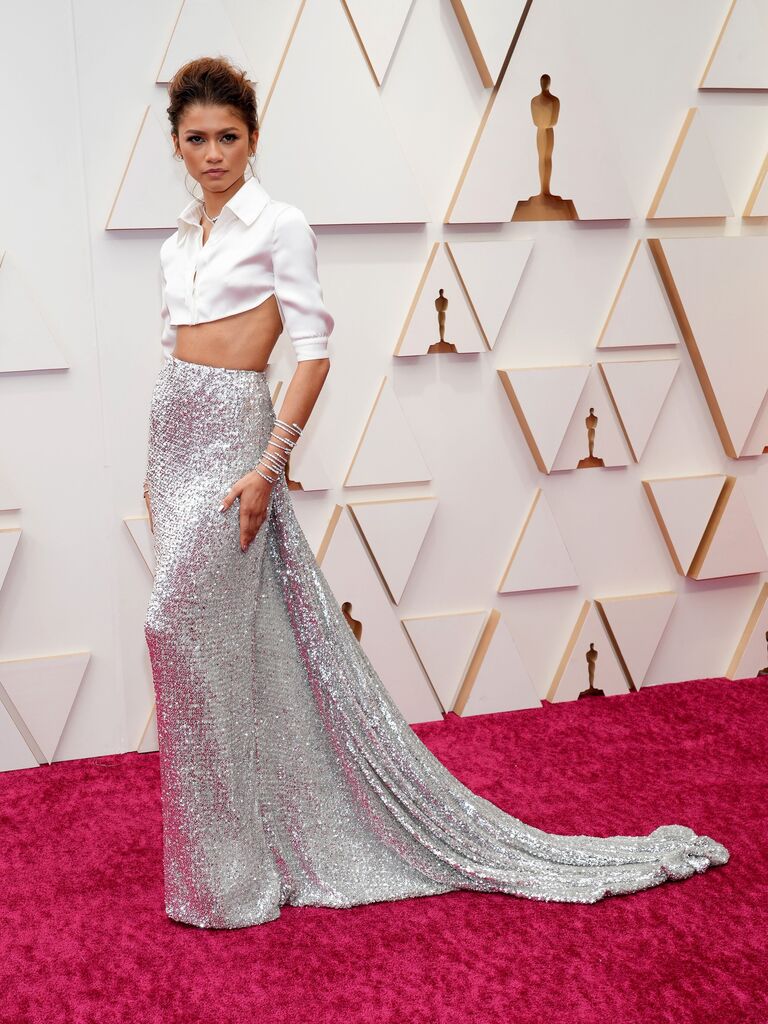 Ultimate Gen Z cool-girl Zendaya is here to inspire your prewedding event wardrobe. The actress looked as trendy as can be on the 2022 Oscars red carpet in a sleek two-piece 'fit, which is something you can easily replicate on your bach party—all you need is a cropped white button-up top and a sparkly mini skirt.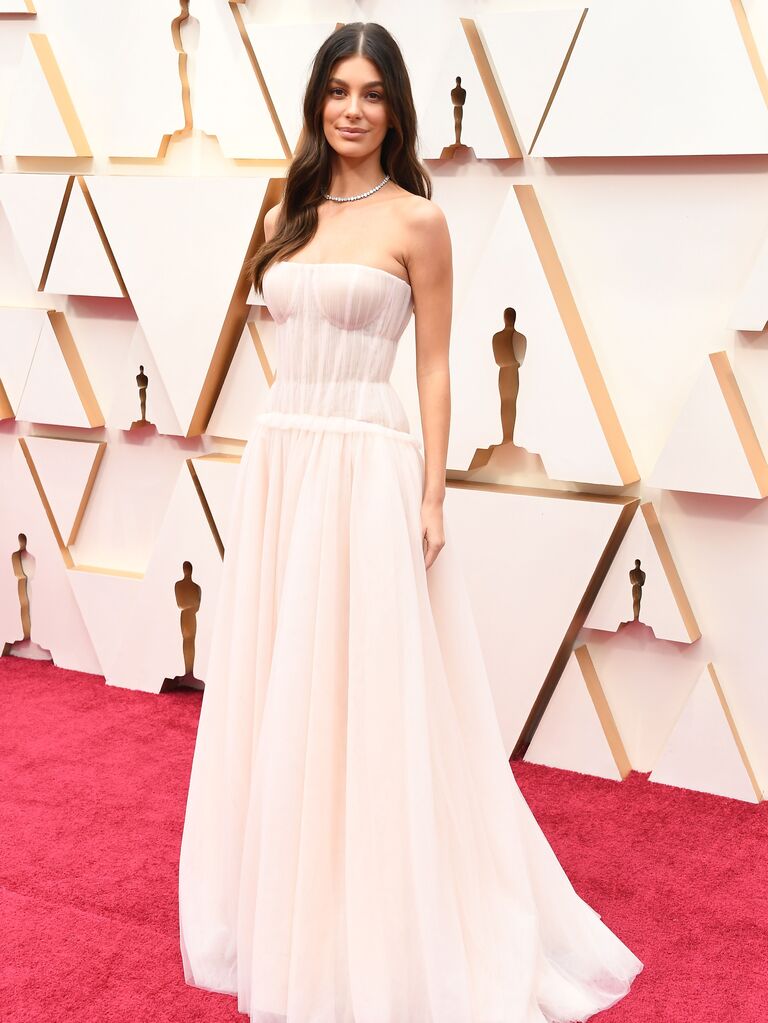 It's rare that we see actual wedding dresses on the red carpet, but such was the case when Camila Morrone arrived at the 2020 Oscars. The Daisy Jones and the Six star made her debut at the event wearing a restructured strapless Carolina Herrera wedding dress, which she had customized in a pale pink shade. It doesn't get much more bridal than that.
Lupita Nyong'o in Calvin Klein, 2015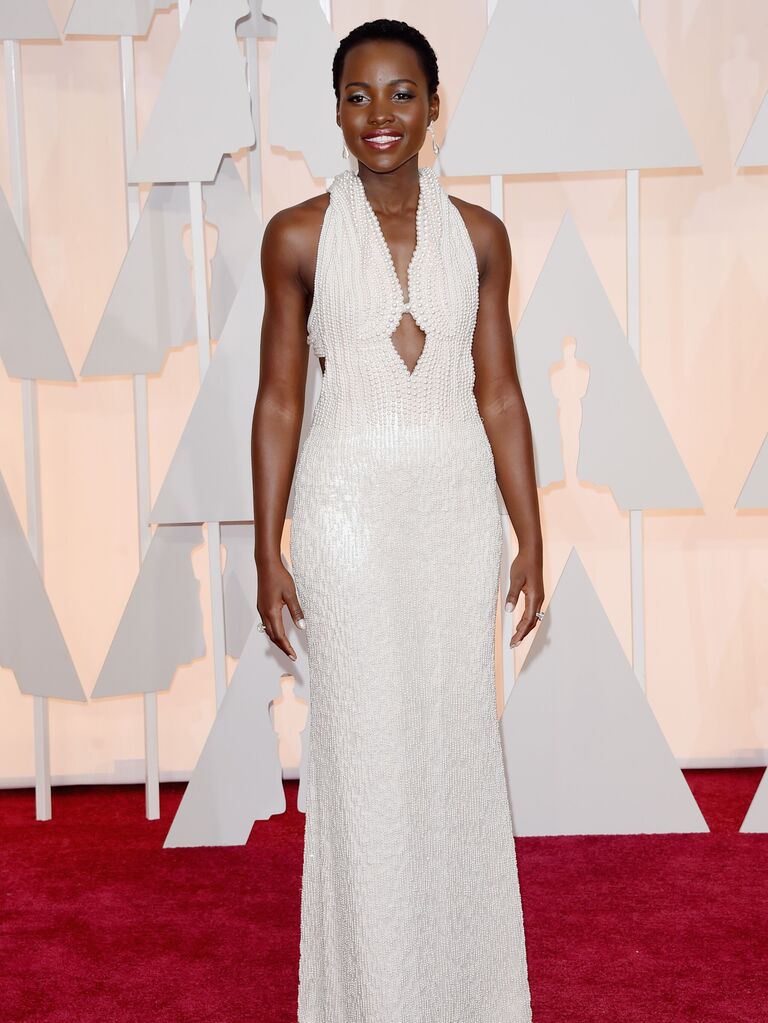 This is how you nail the pearlcore trend. Lupita Nyong'o's red carpet looks never fail to dazzle, and her 2015 Oscars dress was no exception. The actress' Calvin Klein halter neck dress was a true work of art, as it was covered in over 6,000 pearls. Use this as inspiration next time you go bridal shower dress shopping.
Jennifer Lawrence in Dior Haute Couture, 2013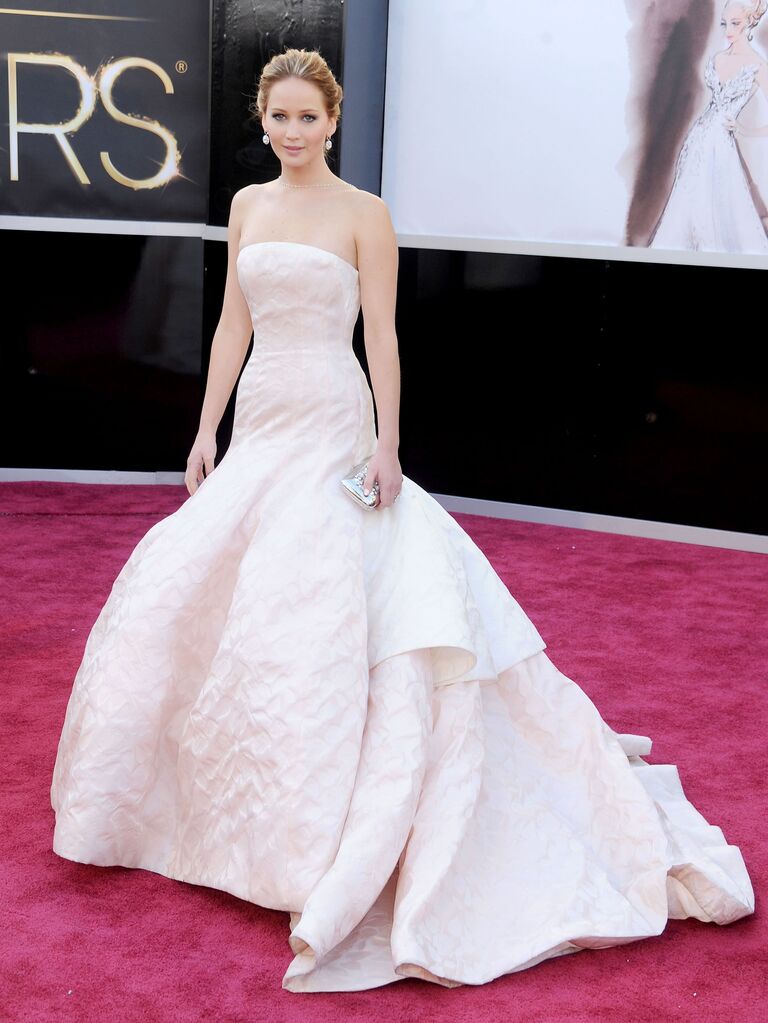 How's this for wedding inspiration? Jennifer Lawrence looked as bridal as can be at the 2013 Oscar Awards in a strapless dropped waist Dior Haute Couture gown. The elegant design was covered in a textured floral brocade, which is a lovely detail to consider if you aren't feeling a true lace wedding dress.
For more inspiration, check out the best wedding-worthy Oscar gowns of all time.
Met Gala Red Carpet Looks
Often referred to as the biggest night in fashion, the Met Gala commences on the first Monday in May every year the Metropolitan Museum of Art in New York City. Co-hosted by Vogue's editor-in-chief Anna Wintour, the event serves as a fundraiser for the museum's Costume Institute. We've seen plenty of memorable Met Gala themes in the event's history, and many have skewed bridal.
Penelope Cruz in Chanel Couture, 2023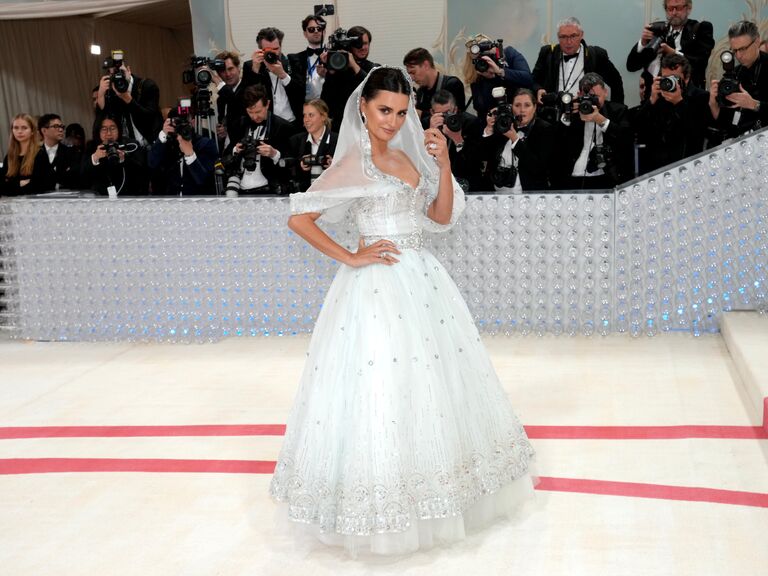 Although Penelope Cruz was waltzing up the Met steps, we could totally see this outfit going down the aisle too. The actress wore a vintage Chanel Couture Spring/Summer 1988 ball gown complete with a sheer, veil-inspired hood on the 2023 Met Gala red carpet. The dress, which was an homage to the theme's inspiration, Karl Lagerfeld, featured dainty sparkles and glittering Chanel "C" logos all over.
Alia Bhatt in Prabal Gurung, 2023
More pearls? Yes, please! We're still in love with Alia Bhatt's dreamy peal-embellished ball gown, which easily gives off all the wedding vibes. Can't you just picture yourself swapping vows in a delicate scoop neck ball gown like this?
Hailey Bieber in Saint Laurent, 2022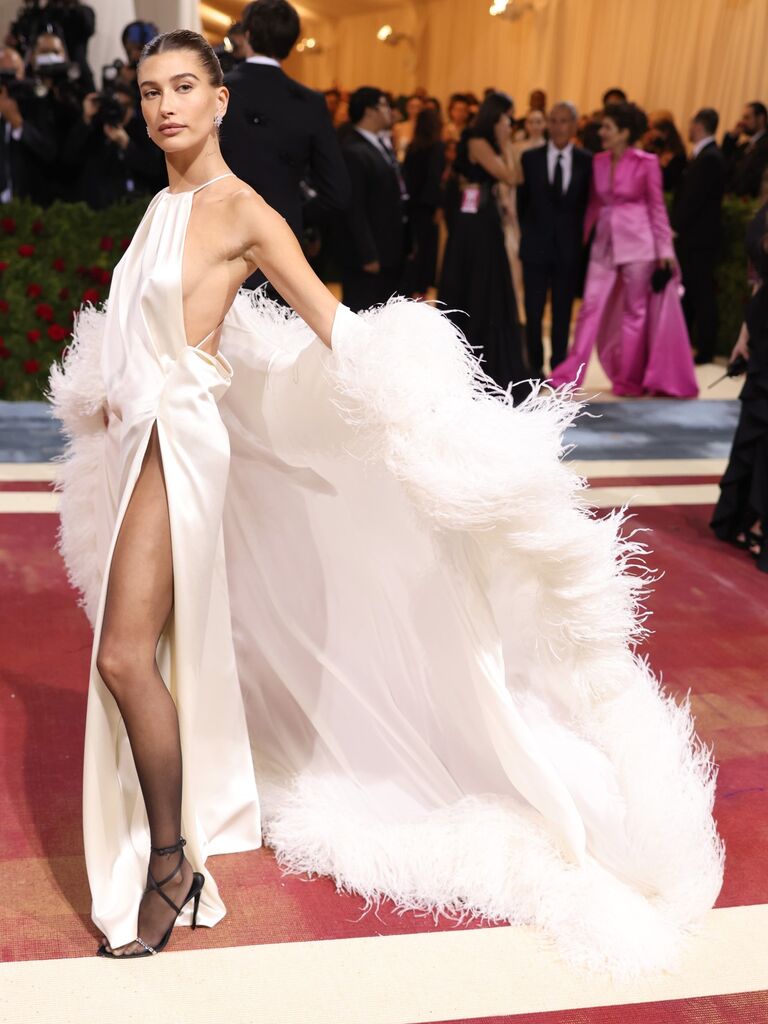 Yep, we're still getting wedding inspiration from Hailey Bieber all these years after her 2019 nuptials. The model and skincare entrepreneur arrived at the 2022 Met Gala red carpet in a dress so bridal, we couldn't help but swoon. She ascended the steps in a silky white slit dress with a high neckline and open back, which she paired with a feathered coat, black tights and black heels. This night was also when she debuted her viral glazed donut manicure, a look that's also fitting for weddings.
Emma Stone in Louis Vuitton, 2022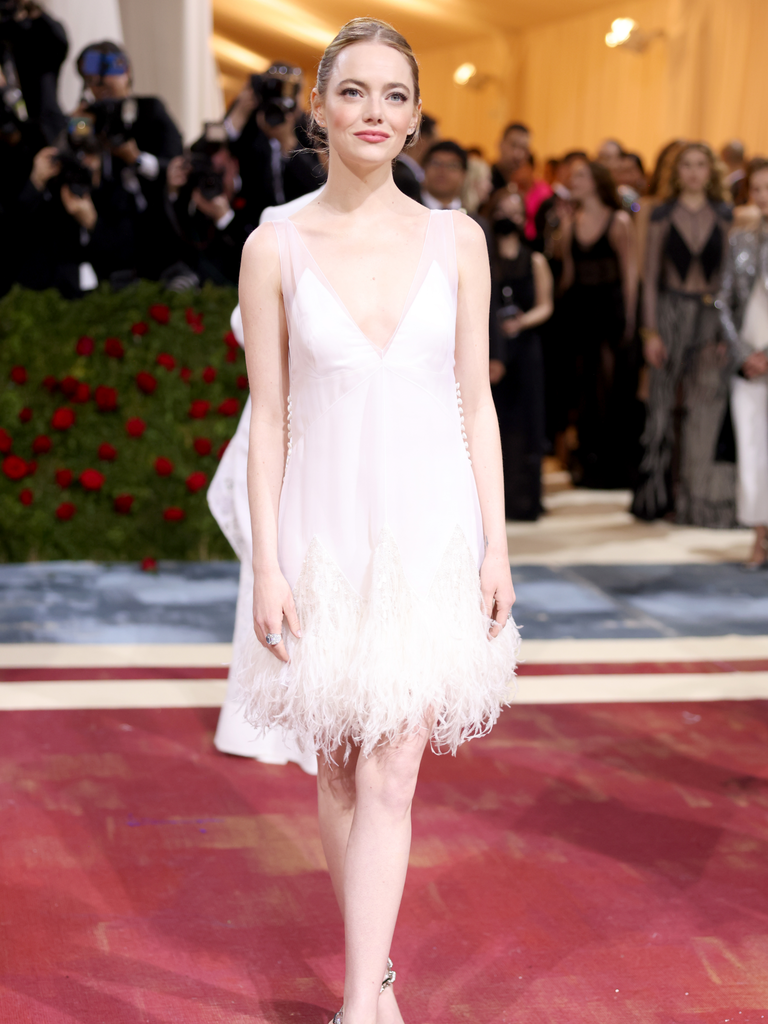 If you thought Emma Stone's 2022 Met Gala red carpet dress looked like something you'd wear to a wedding, that's because it is. Although we have yet to see photos of the actress's secret wedding to SNL writer Dave McCary, it was later revealed that she first wore this featured Louis Vuitton mini frock at their reception.
Barbie Ferreira, 2021
Pearls and the Met Gala go hand-in-hand. Euphoria actress Barbie Ferreira wore one of our favorite red carpet dresses of all time at the 2021 event, which perfectly blended the pearlcore trend with the 1920s Art Deco aesthetic—an amazing look to recreate for your vintage nuptials.
For more inspiration, check out the best wedding-worthy Met Gala looks of all time.
Cannes Film Festival Red Carpet Looks
Often taking place in late May, the Cannes Film Festival is a renowned event that previews new films of all genres from around the world. Although this French ceremony isn't often associated with the most popular awards shows here in the US, it has delivered a few iconic looks that can inspire your wedding wardrobe, which we highlight below.
Gemma Chan in Louis Vuitton, 2023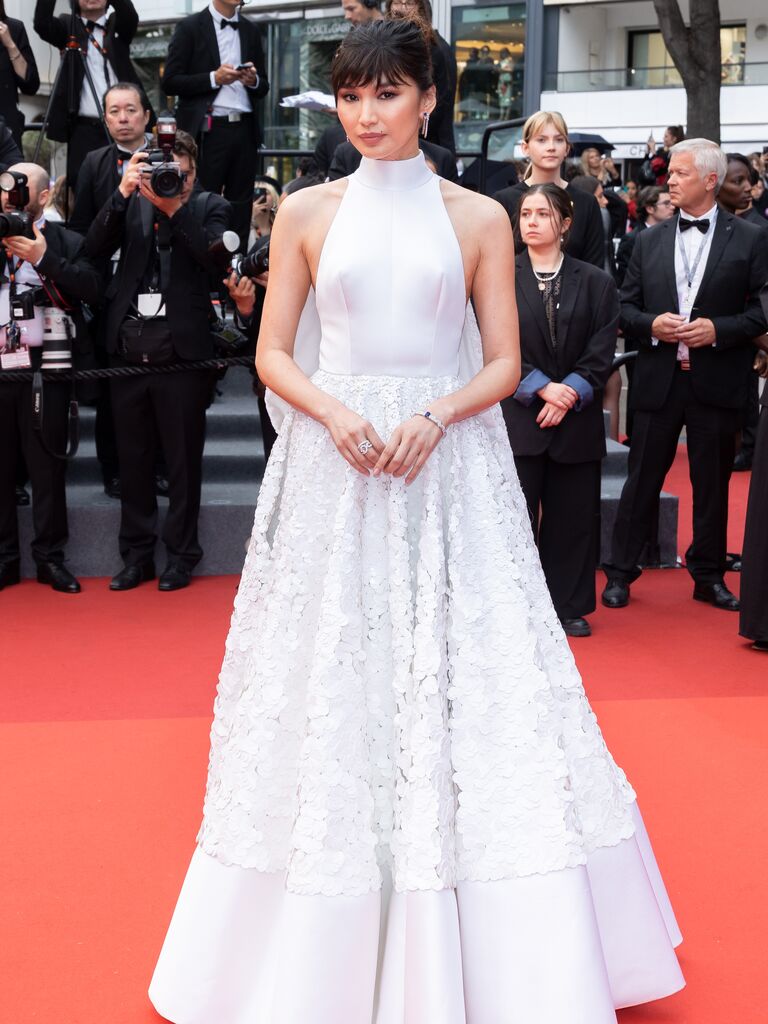 Gemma Chan's Cannes Film Festival red carpet looks always stun, but her 2023 ensemble is a must-see for to-be-weds. The actress graced the carpet in a look that we dream of seeing at the altar. She opted for a Louis Vuitton halter-neck gown with a high neckline and a structured skirt with floral embroidery, which instantly drew comparisons to Audrey Hepburn's timeless and classic style.
Anne Hathaway in Armani Privé, 2022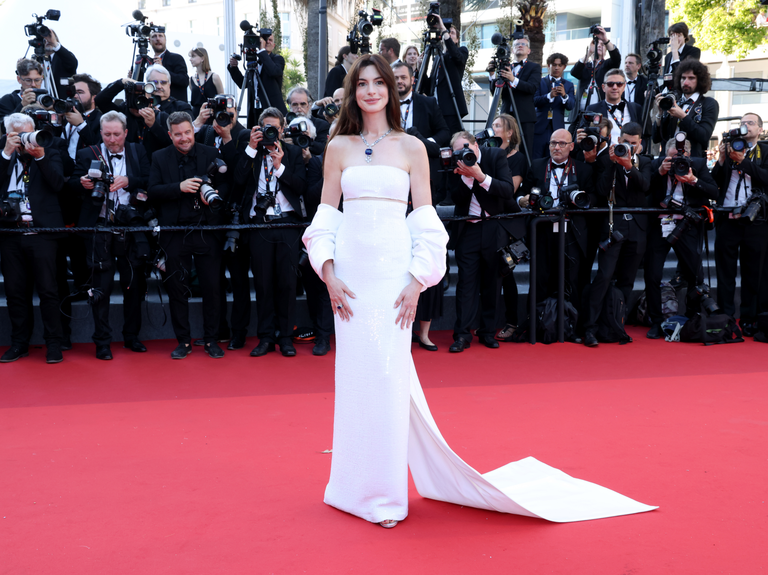 All hail Anne Hathway, queen of red carpets. The iconic actress always looks like a vision at awards shows, but we were especially stunned by her 2022 Cannes Film Festival red carpet dress. She looked like royalty in her white sequined column gown, which she accessorized with an oversized white silk bow that acted as a floor-length stole. Fitting, indeed, for the former Princess of Genovia.
Priyanka Chopra in Georges Hobeika, 2019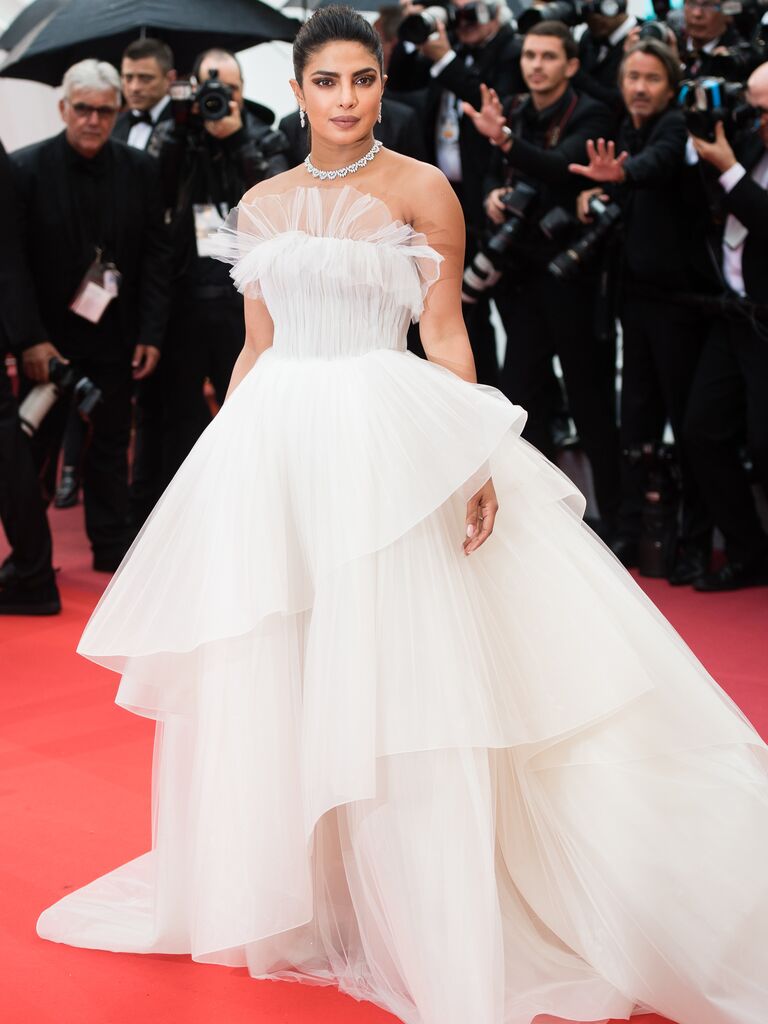 File this under one of our favorite red carpet dresses of all time. Priyanka Chopra looked like a blushing bride at the 2019 Cannes Film Festival, because she wore an actual wedding dress. The jaw-dropping tulle gown, which featured a strapless neckline and a tiered tulle skirt, was part of Georges Hobeika's spring 2020 bridal collection, making this red carpet look an attainable one to recreate for your own big day.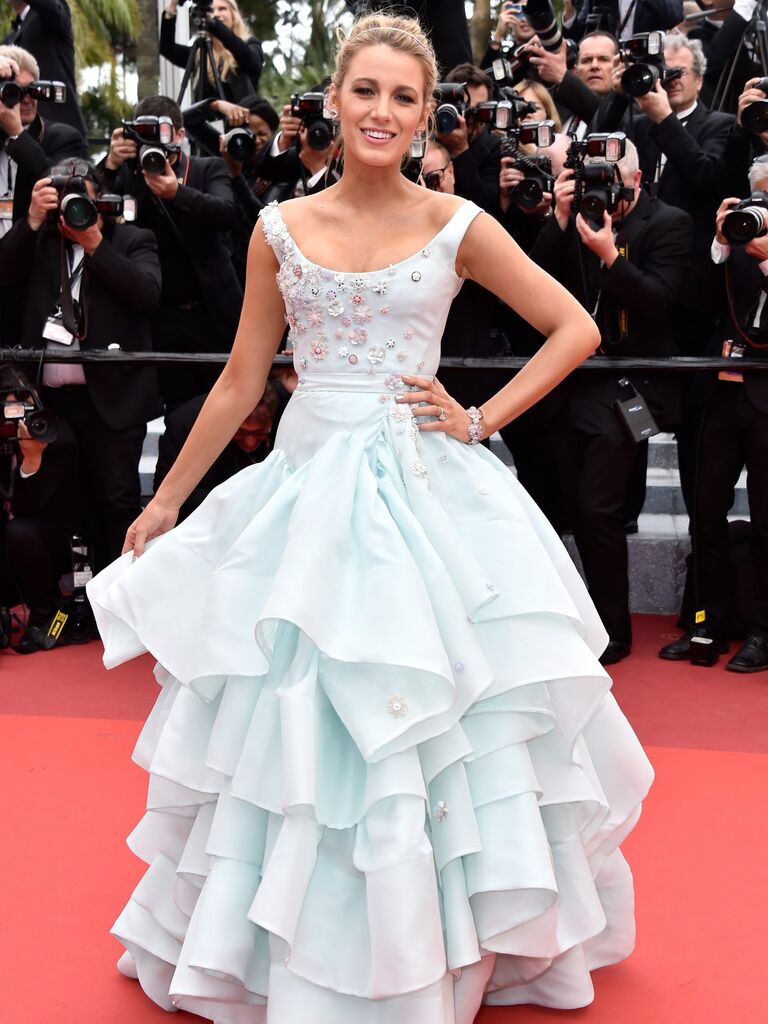 Allow Blake Lively to make the case for wearing something blue down the aisle. The actress is known for her incredible red carpet looks, and we've got the heart eyes for this 2016 Cannes Film Festival dress. She opted for a light blue ball gown by Vivienne Westwood, whose namesake label also creates wedding dresses. Although this red carpet dress wasn't explicitly bridal, we could see this being the perfect look to inspire those looking to rock an unexpected color at the altar.
Princess Diana in Catherine Walker, 1987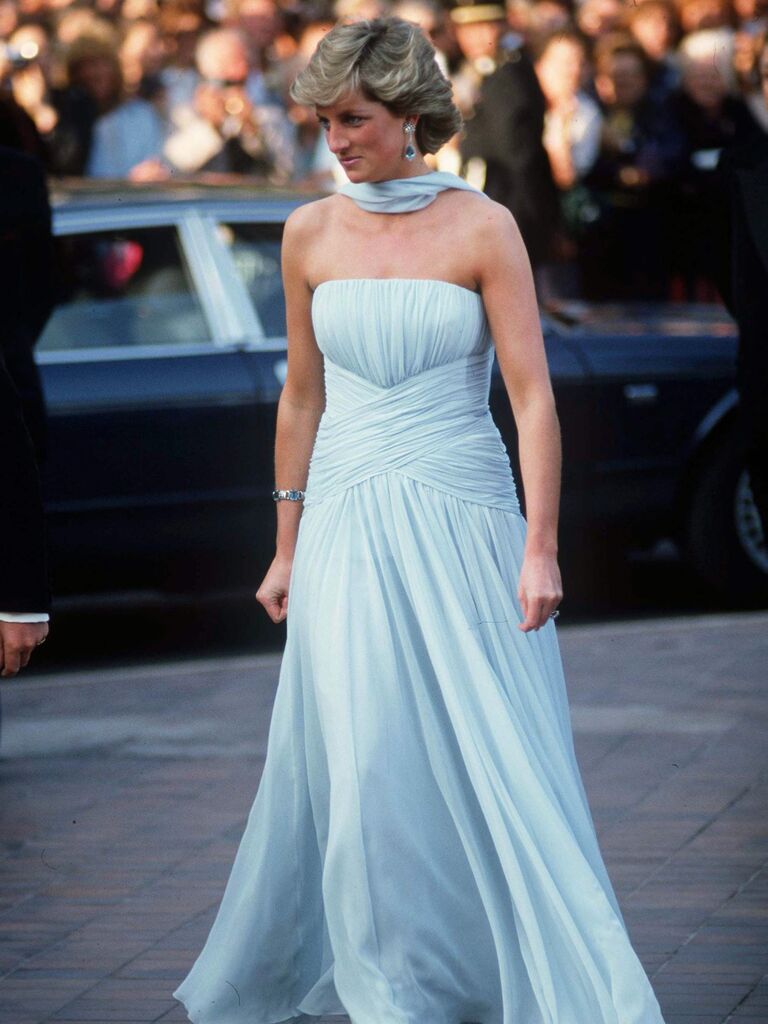 Even if you aren't quite sold on a blue wedding dress, hear us out—although Princess Diana looked like a vision in this airy gown at the 1987 Cannes Film Festival, it's the silhouette to keep an eye on. Recent famous brides like AnnaSophia Robb and Georgia Fowler got married in similar strapless ball gowns with draped scarves over their neck, so we have a feeling this unique aesthetic might be having a moment. Take this photo to your next wedding dress shopping appointment to emulate this timeless red carpet dress worn by Princess Di.