30 Bridal-Worthy Met Gala Looks That Are So Good, We're Screaming
No, seriously: Our celebrity editor is actually screaming.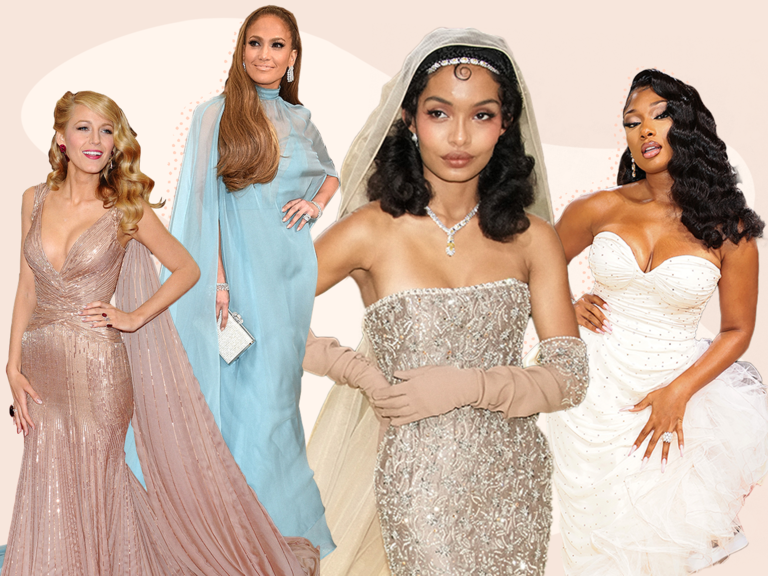 Getty Images | Design by Tiana Crispino
The Met Gala is undoubtedly one of the biggest nights in the fashion industry every year. Those lucky enough to land a spot on the exclusive guest list gather at the Metropolitan Museum of Art in New York City on the first Monday in May to attend the prestigious fundraising gala, which benefits the museum's Costume Institute. Attendees are encouraged to wear a Met Gala outfit that matches the theme, selected by Vogue's editor-in-chief Anna Wintour, who has served as the event's co-chair since 1995. From our coveted spot on our living room couch, we've seen plenty of amazing Met Gala dresses and looks on the red carpet over the years, including some that double as wedding fashion inspiration. Stars like Blake Lively, Rihanna and Victoria Beckham have all worn Met Gala outfits that are simply perfect for weddings, which we look back on here. Relive our favorite bridal-worthy Met Gala dresses below, and screenshot your faves to inspire your own wedding wardrobe.
Penélope Cruz, 2023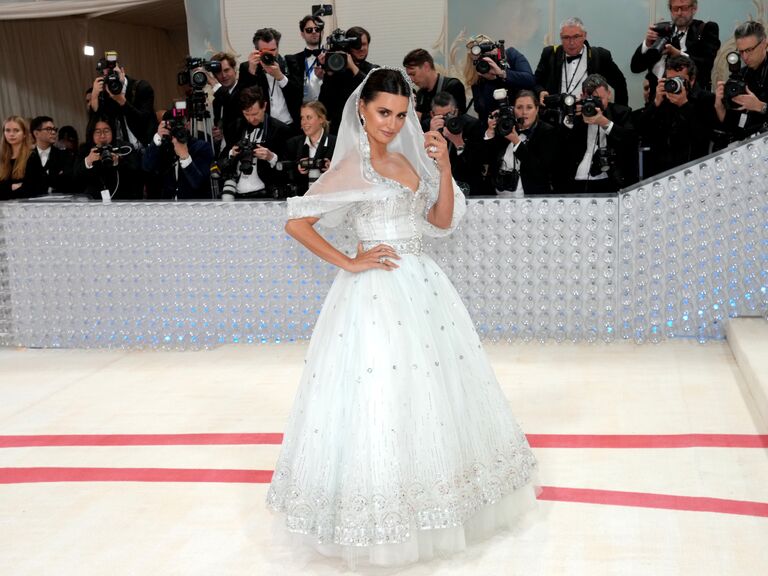 The 2023 Met Gala was the year of bridalcore. The evening began with a bridal bang thanks to Penélope Cruz, who had the honor of co-hosting the event. The actress arrived on the Met steps wearing a white Chanel Couture Spring/Summer 1988 ball gown complete with a sheer, veil-inspired hood. The ethereal dress was covered in sparkling Chanel "C" logos all over in homage to Karl Lagerfeld, the former creative director of the French fashion house who inspired the theme.
Dua Lipa, 2023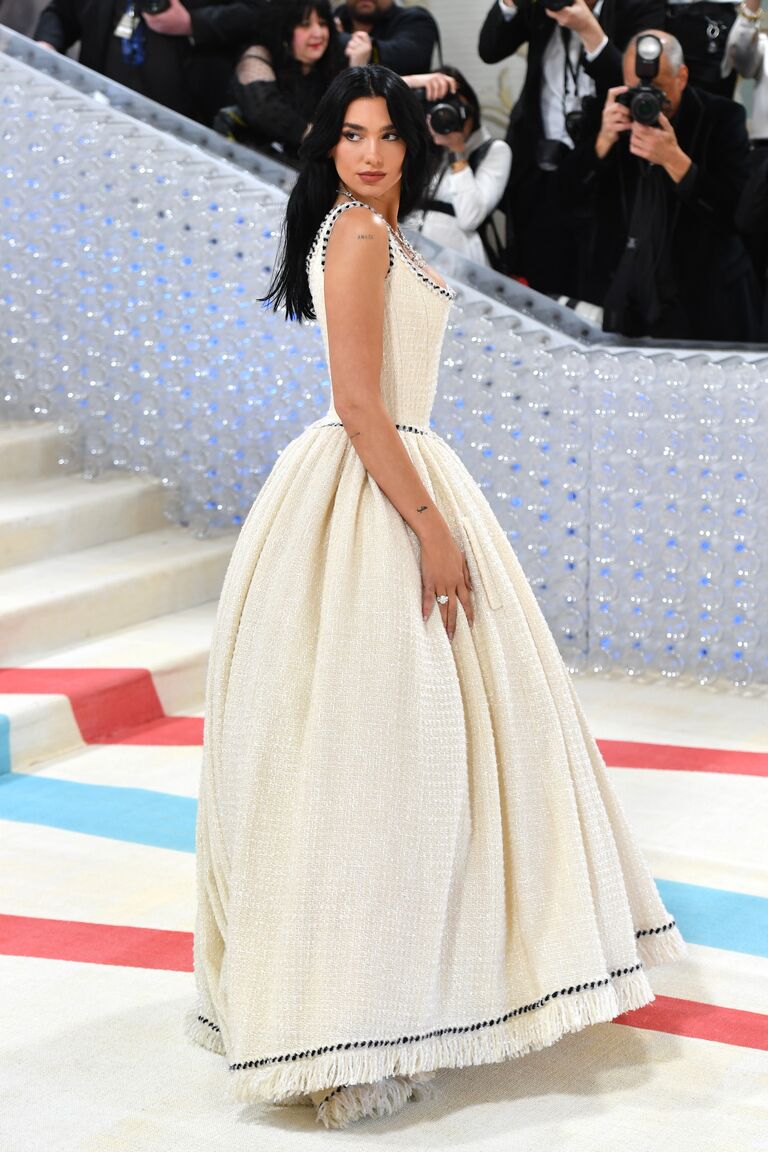 Penélope Cruz wasn't the only 2023 Met Gala host in a wedding-worthy outfit. Fellow co-host Dua Lipa arrived at the event in a white bridal tweed ball gown by Chanel with a dramatic basque waist, woven black trim, and a fringe hem. The gown, which was originally worn by Claudia Shiffer, debuted back in 1992. The singer accessorized her look with the Lucida Star Necklace by Tiffany & Co., which is estimated to be worth $10 million.
Nicole Kidman, 2023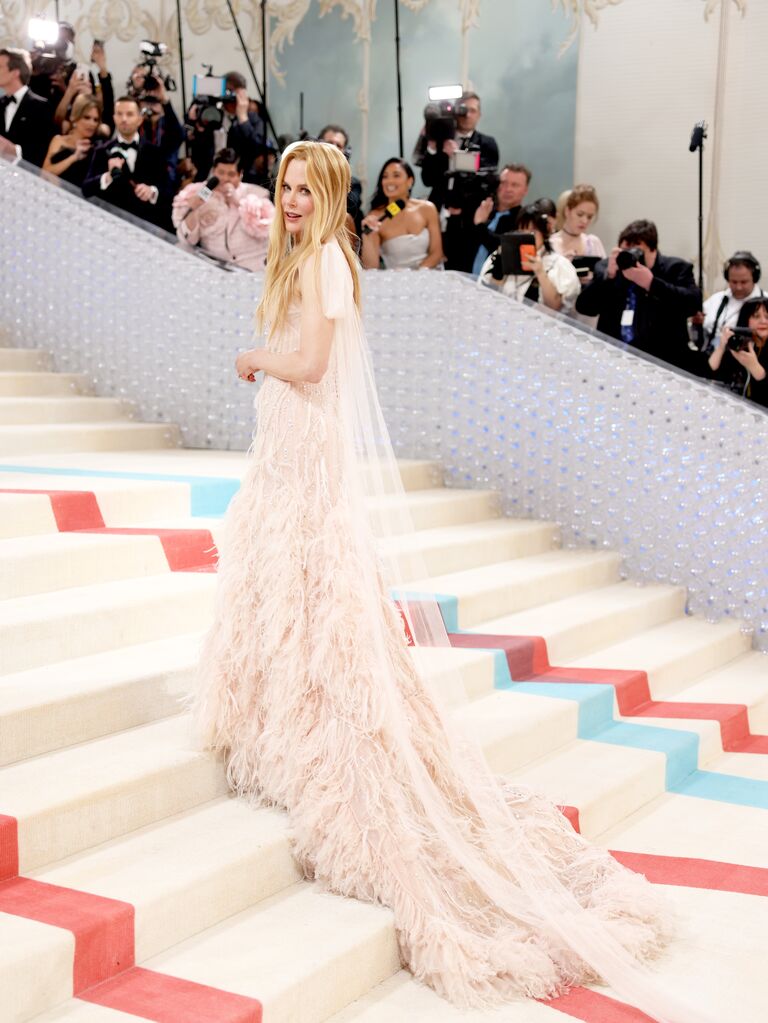 If you're up for the challenge of rocking a bold trend down the aisle, you may be inspired by Nicole Kidman's 2023 Met Gala outfit. The Australian actress donned a blush pink feathered Chanel couture gown covered in silver sequins. It also featured a sultry leg slit, a train accented with feathers, and a one-shoulder tulle cape. If this Met Gala dress looks familiar to you, it's because this wasn't the first time Nicole Kidman wore it! She previously sported the gown in 2004 for a Chanel No. 5 commercial directed by Baz Luhrmann.
Gisele Bündchen, 2023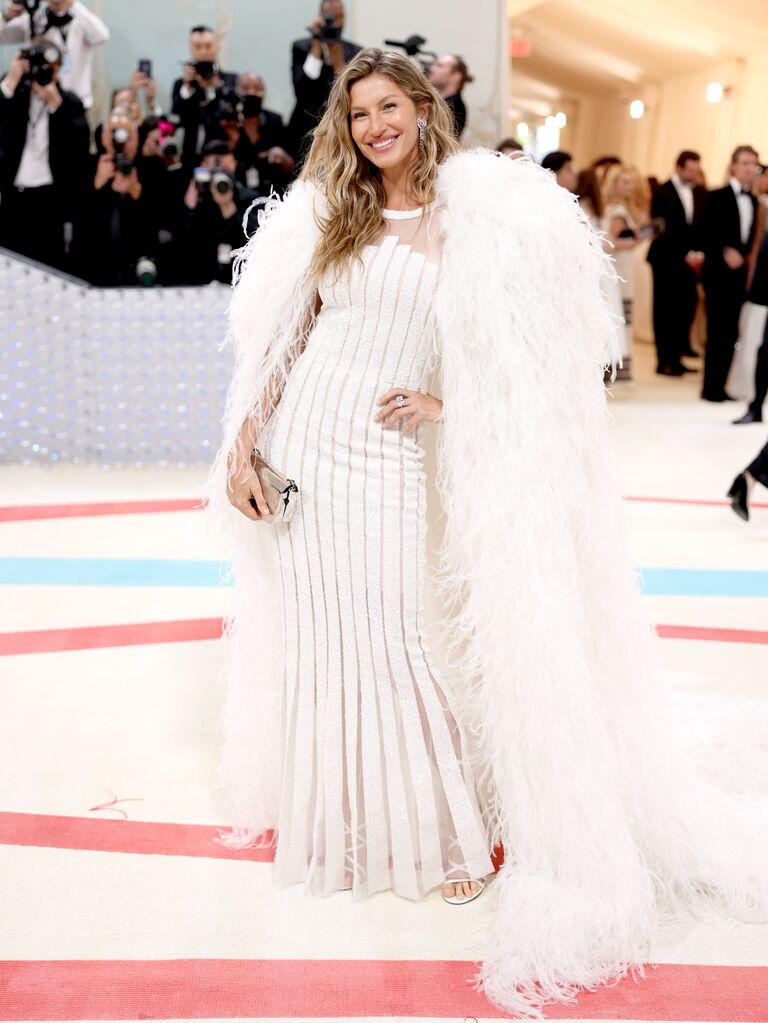 Gisele Bündchen was all smiles at the 2023 Met Gala, and for good reason. The Brazilian model shut down the carpet in a showstopping gown (or, shall we say revenge dress?) that's simply perfect for your wedding vision board. She honored the theme in an angelic vintage Chanel column dress with sparkling panels and a sheer neckline, complete with a trailing feathered cape. Like Nicole Kidman, Gisele previously wore this exact dress for a 2007 Harper's BAZAAR Korea photoshoot.
Anne Hathaway, 2023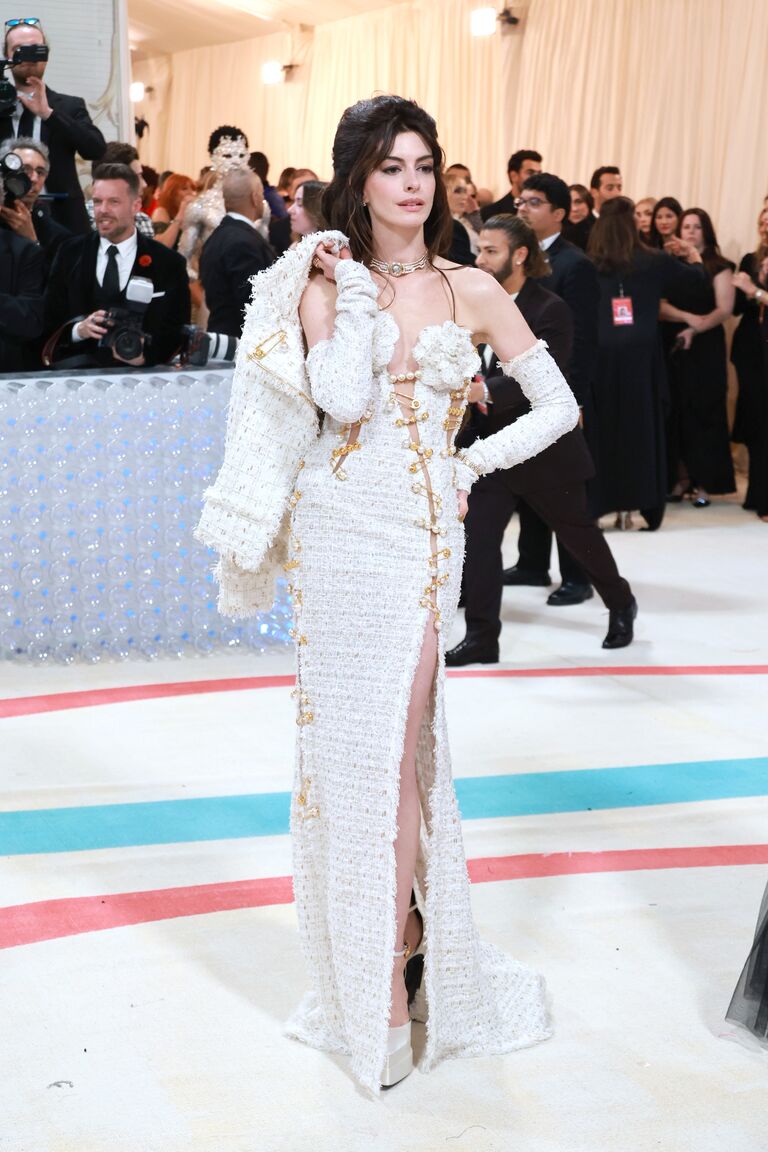 Anne Hathaway slaying at the Met Gala? Groundbreaking. The actress has become a red carpet favorite in recent months, and her 2023 Met Gala dress certainly didn't disappoint. She looked like the ultimate cool girl in a strapless white tweed Versace gown with pearls, in honor of Karl Lagerfeld's affinity for textured fabric and gemstones. The look also had major '90s nostalgia, which is one of the biggest bridal fashion trends of the moment—so we love the idea of channeling this fashion-forward aesthetic at your prewedding events.
Kim Kardashian, 2023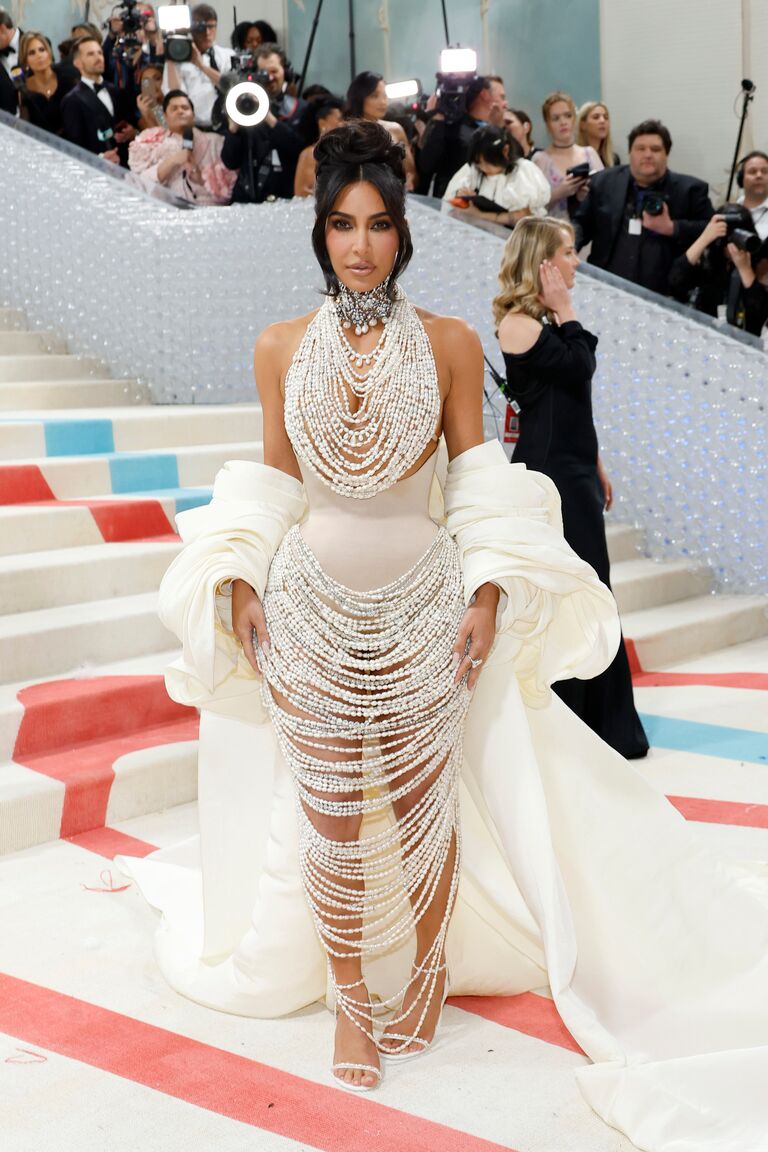 Kim Kardashian channeled the bridal pearlcore trend at the 2023 Met Gala in a nude Schiaparelli dress covered in layers of pearls. The longtime Met Gala attendee paired her barely-there look with a ruffled white shawl and a dazzling pearl- and gemstone-encrusted choker necklace.
Halle Bailey, 2023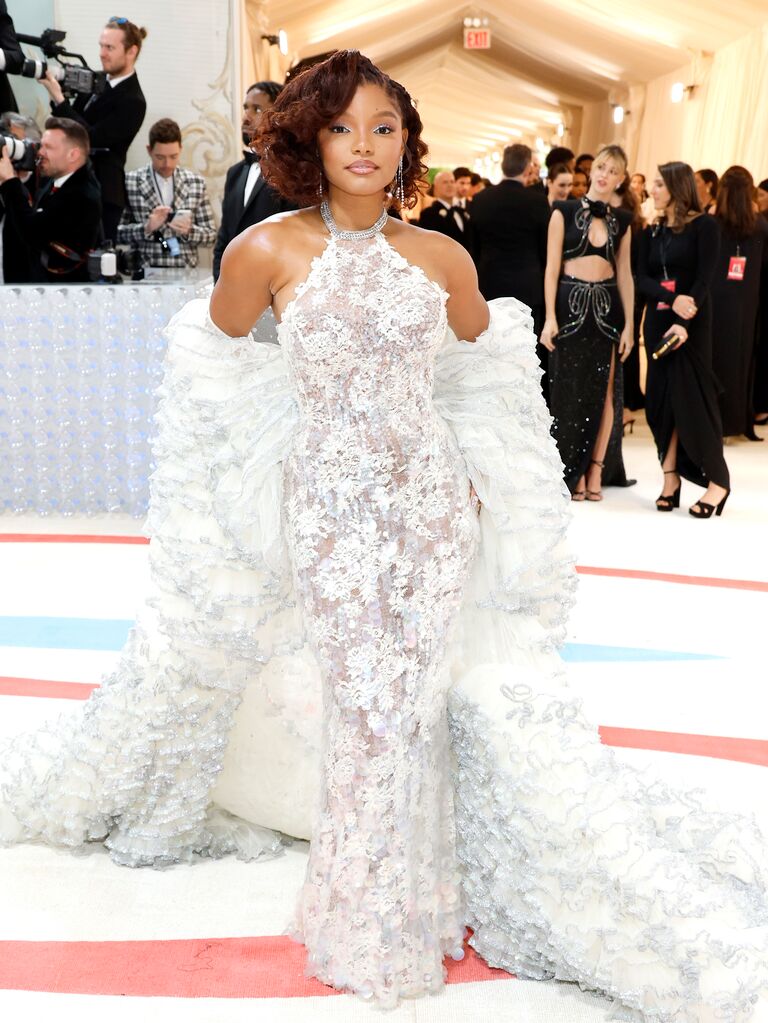 Halle Bailey looked oh-so-bridal at the 2023 Met Gala in a romantic semi-sheer lace Gucci dress with a high neckline and a ruffled, aquatic-esque cape seemingly inspired by her upcoming role in the upcoming film The Little Mermaid.
Bad Bunny, 2023
Consider us obsessed with Bad Bunny's 2023 Met Gala outfit. The Puerto Rican rapper made an unforgettable entrance in a monochromatic white suit, complete with a daring open back cutout and a cascading ruffled train—an iconic look to inspire the to-be-wed looking to wear something totally out of the ordinary on their big day.
Elle Fanning, 2023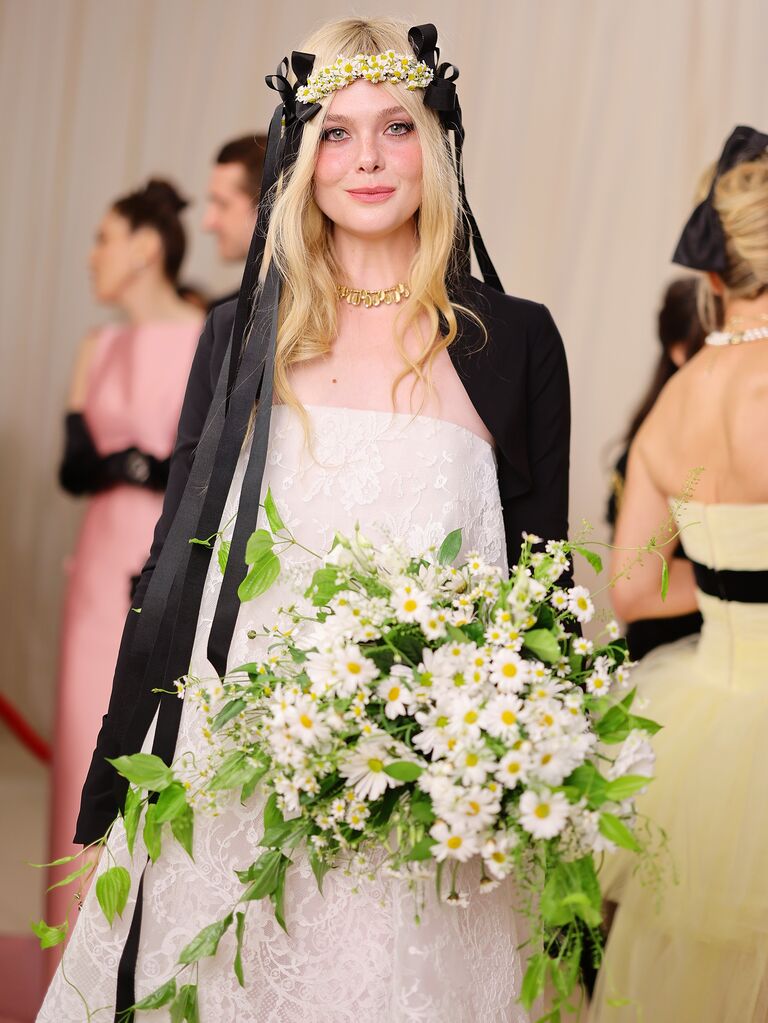 With a bouquet of daisies in her hands, Elle Fanning looked every bit the blushing bride at the 2023 Met Gala. She wore an elegant Vivienne Westwood bridal-inspired white lace gown with a black cardigan, which she accented with a charming flower crown. Speaking to the hosts of Vogue's red carpet coverage, the actress explained that her ensemble was inspired by the first time she met Karl Lagerfeld as a young child. She noted that she was wearing a white dress at the time, and that the fashion designer placed a crown of daisies on her head, thus inspiring her headpiece. She also joked that she planned on throwing her handheld flowers once inside the gala à la a traditional wedding bouquet toss.
Alton Mason, 2023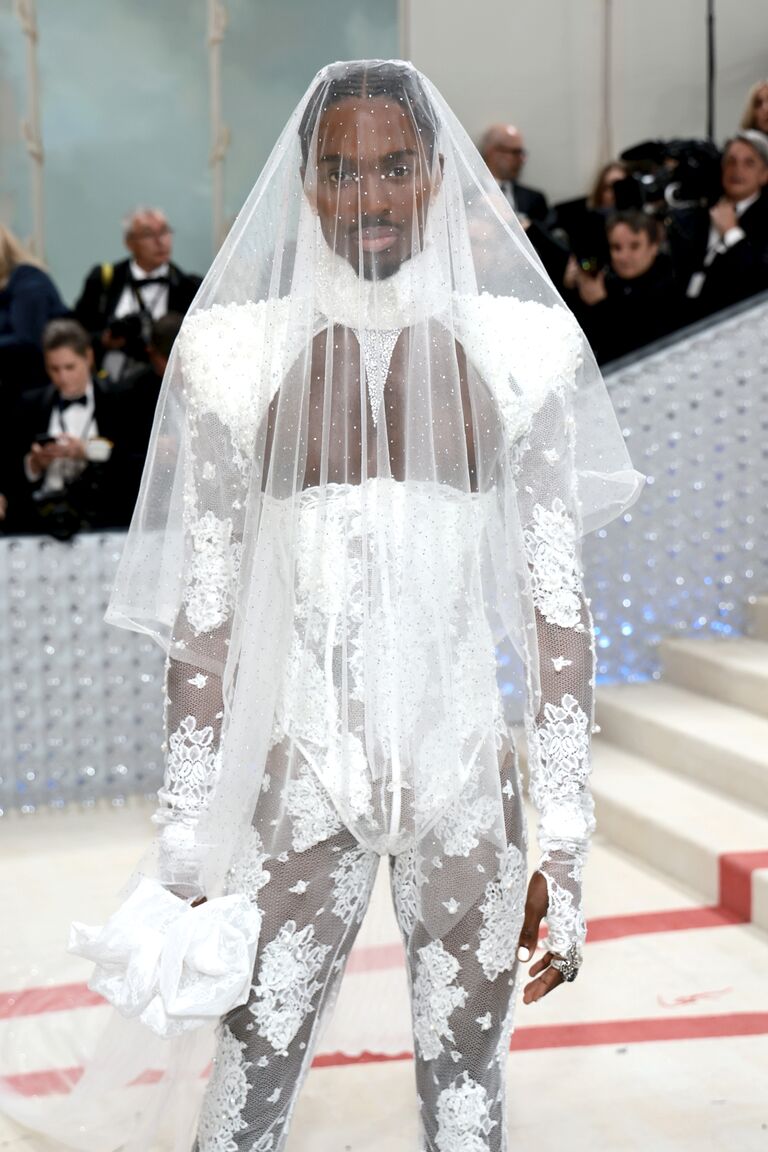 What could be more iconic than being the Chanel bride at the 2023 Met Gala? Just ask Alton Mason. The model, who was the first Black model to walk for Chanel, donned one of our favorite wedding-worthy on the red carpet. Mason stunned in a sheer long sleeve lace body suit with structured shoulder pads and a cutout bodice—and we can't forget the sheer veil draped over top, which was dotted with sparkling crystals.
Alia Bhatt, 2023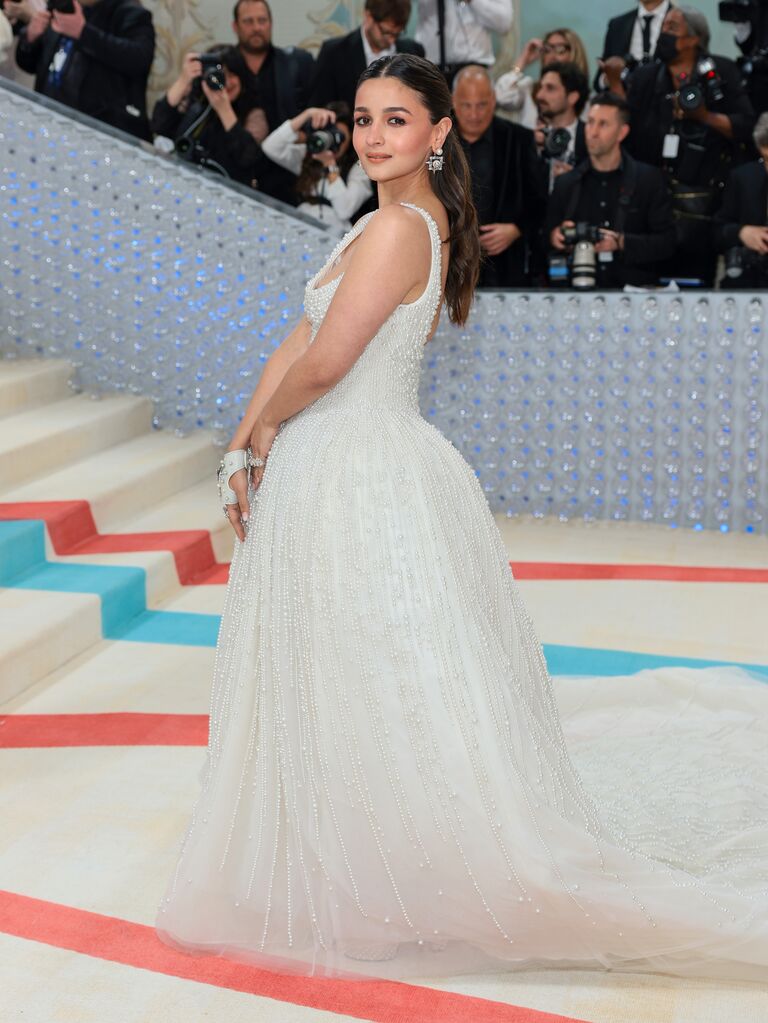 This is how you make a Met Gala debut. For the 2023 event, Bollywood star Alia Bhatt looked effortlessly elegant in one of our favorite wedding-worthy looks on the red carpet. Her all-white Prabal Gurung ball gown featured a dramatic sheer train and thousands of pearl beads, creating the ultimate princess bride ensemble.
Emma Chamberlain, 2022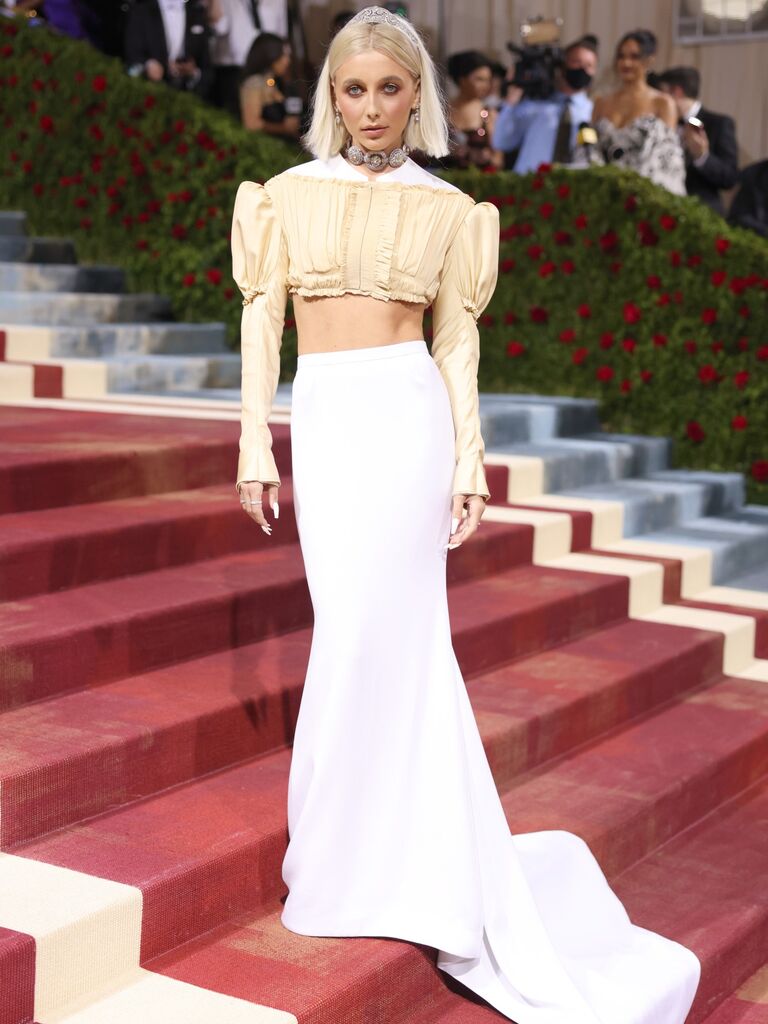 Gen Z fashion icon Emma Chamberlain's Met Gala 2022 outfit is one of our favorites when it comes to wedding inspiration. Following the "In America: An Anthology of Fashion" gilded glamour theme, the influencer opted for a two-piece Louis Vuitton set. The top featured a high neckline with puff sleeves and a cropped hemline, which contrasted the white column skirt. She topped off her look with a sparkling tiara, which complimented her diamond choker necklace. While you might not think to wear this sort of look down the aisle, we love the idea of recreating this Met Gala outfit on your bachelorette party to channel the ultimate cool-girl bridal aesthetic.
Emma Stone, 2022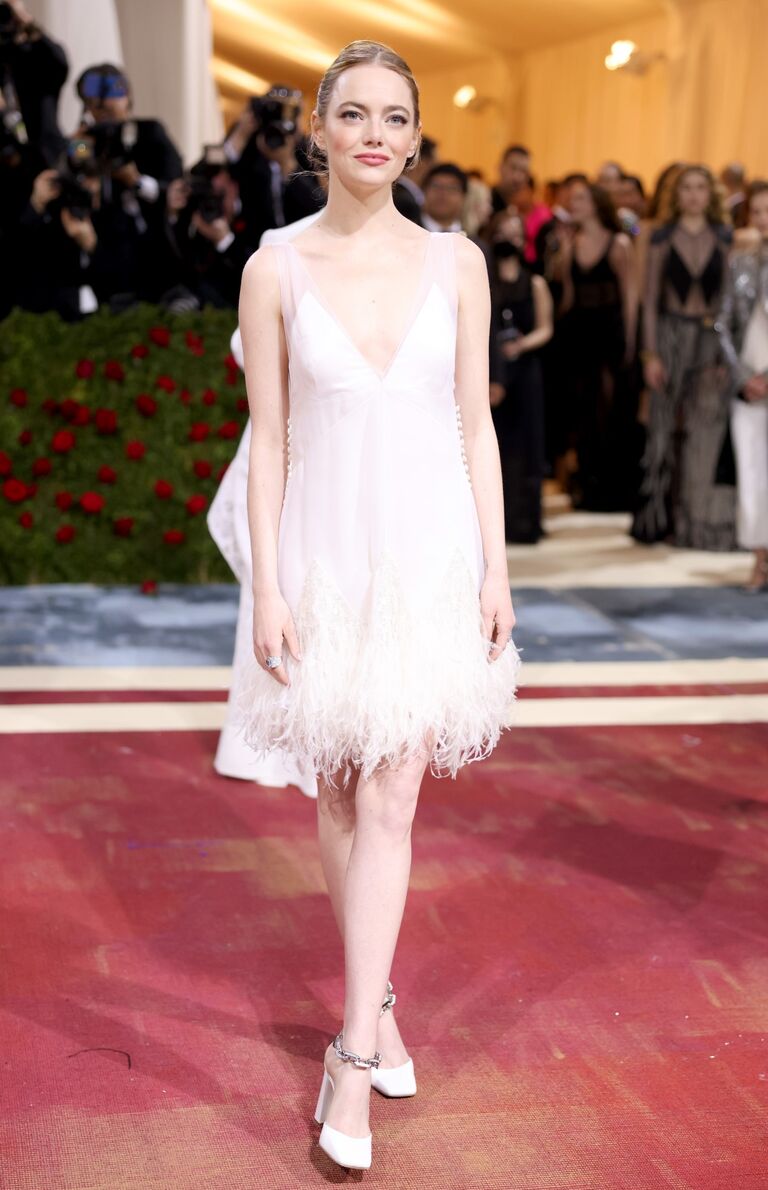 There's no denying that Emma Stone's 2022 Met Gala dress has major bridal energy, because it's a look she wore on her actual wedding day. The actress stepped onto the red carpet wearing a never-before-seen Louis Vuitton mini dress, which she donned at her wedding after-party when she wed SNL writer Dave McCary in 2020. The playful frock features sheer straps that lead into a plunging V-neckline and a feathered hemline. For the Met Gala, Stone wore her hair in a tight bun and accessorized with equally-bridal-worthy white heels.
Sydney Sweeney, 2022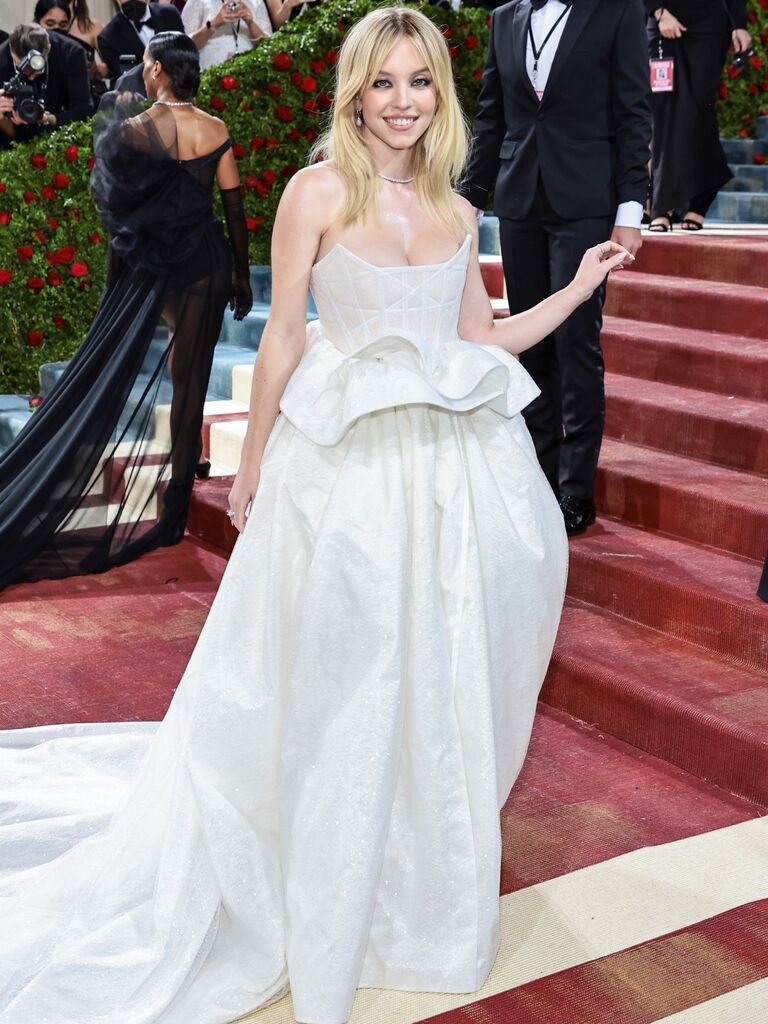 We can't get enough of Sydney Sweeney's red carpet style, and this Met Gala outfit is no exception. In 2022, the Euphoria star donned a Tory Burch ball gown with a geometric corset top and full taffeta skirt—but once she stepped onto the carpet, she pulled away the bottom to reveal a mini dress underneath. While the white hue makes this one of the best Met Gala looks for wedding inspiration, we also love the two-in-one style, which is perfect for to-be-weds who want to rock multiple looks throughout their wedding day.
Hailey Bieber, 2022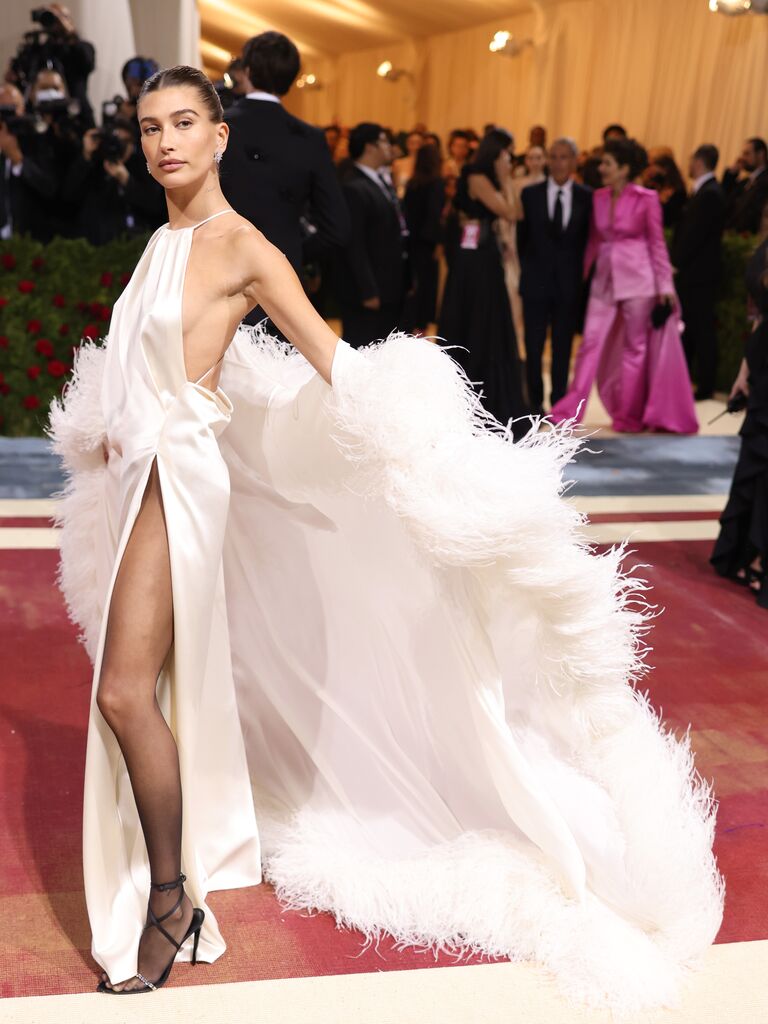 In 2022, Hailey Bieber gave us a fresh dose of wedding inpso. After all, the skincare entrepreneur's Met Gala outfit is about as bridal as it gets. She donned a silky white Saint Laurent slit dress with a high neckline and open back for the occasion, which she paired with a feathered coat, black tights and black heels. We love the idea of wearing a simple slip dress for the ceremony, then jazzing it up with a statement coat or shawl for the reception, especially if you're swapping vows in a chilly climate. (Just imagine this feathery look on the mountains of Aspen or the snowy bluffs of Maine.) We'd also be remiss to not mention that one of the biggest wedding beauty trends came from this exact Met Gala look. This night marked the first time Hailey Bieber's milky white "glazed donut" nails went viral, inspiring wedding manicures for scores of brides around the world.
Miranda Kerr, 2022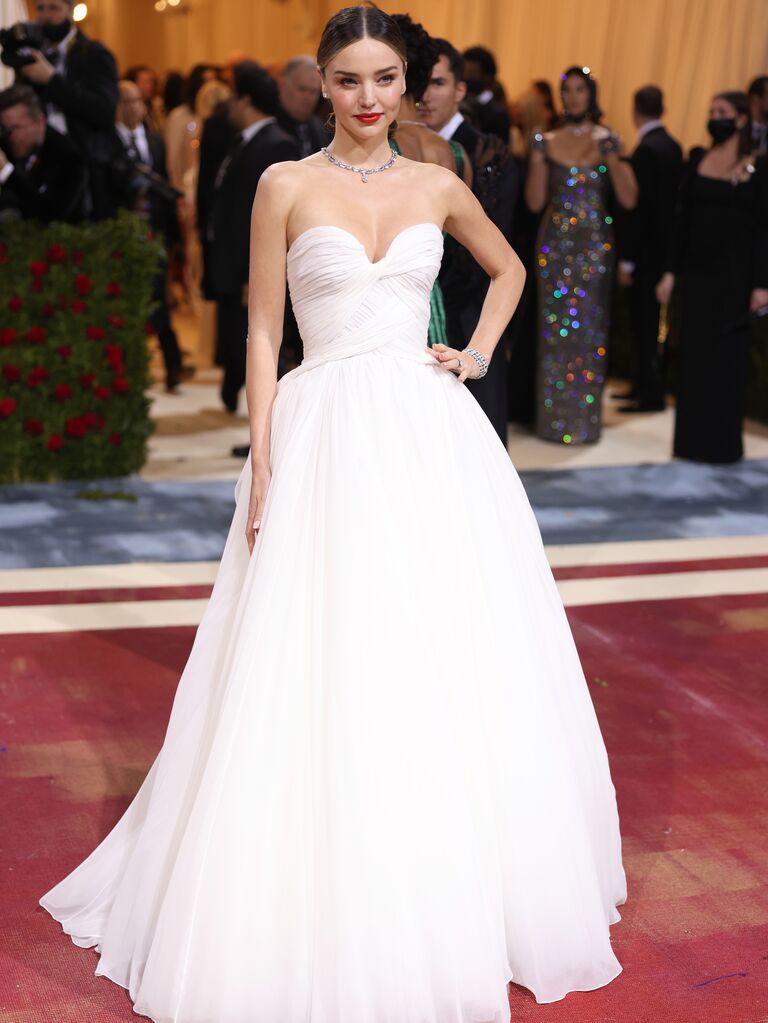 The appearance of true wedding dresses on the Met Gala red carpet are few and far between, but this is about as close as it gets. In 2022, Miranda Kerr donned a Met Gala dress so bridal, it instantly became one of our favorite looks of all time. The model worked with the team at Oscar de la Renta to create this ethereal wedding-worthy look. She graced the carpet in a strapless silk chiffon ball gown with a draped and ruched bodice, which she accessorized with a diamond choker necklace and diamond earrings. Just add a veil and this gown is quite literally ready to be worn down the aisle.
Yara Shahidi, 2021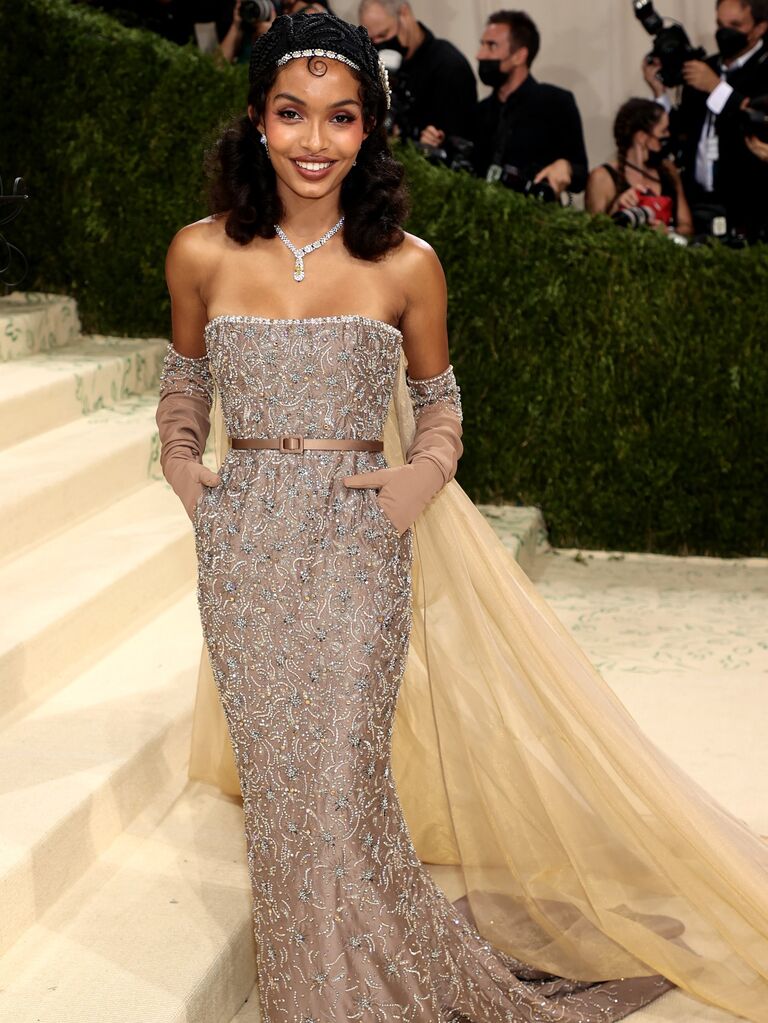 We couldn't help but swoon over Yara Shahidi's 2021 Met Gala dress, which featured an ultra-bridal veil headpiece. The Black-ish actress worked with Dior to create an ensemble inspired by fashion designer Josephine Baker, and they ultimately pulled pieces from her actual wardrobe to create Shahidi's look. Her outfit was a strapless embroidered gown with a tulle cloak, which they accessorized with a gold tulle veil, gloves and a Cartier yellow diamond necklace. Considering off-white and colorful wedding dresses have been trending in recent years, this is one Met Gala outfit that offers up non-traditional wedding inspiration.
Barbie Ferreira, 2021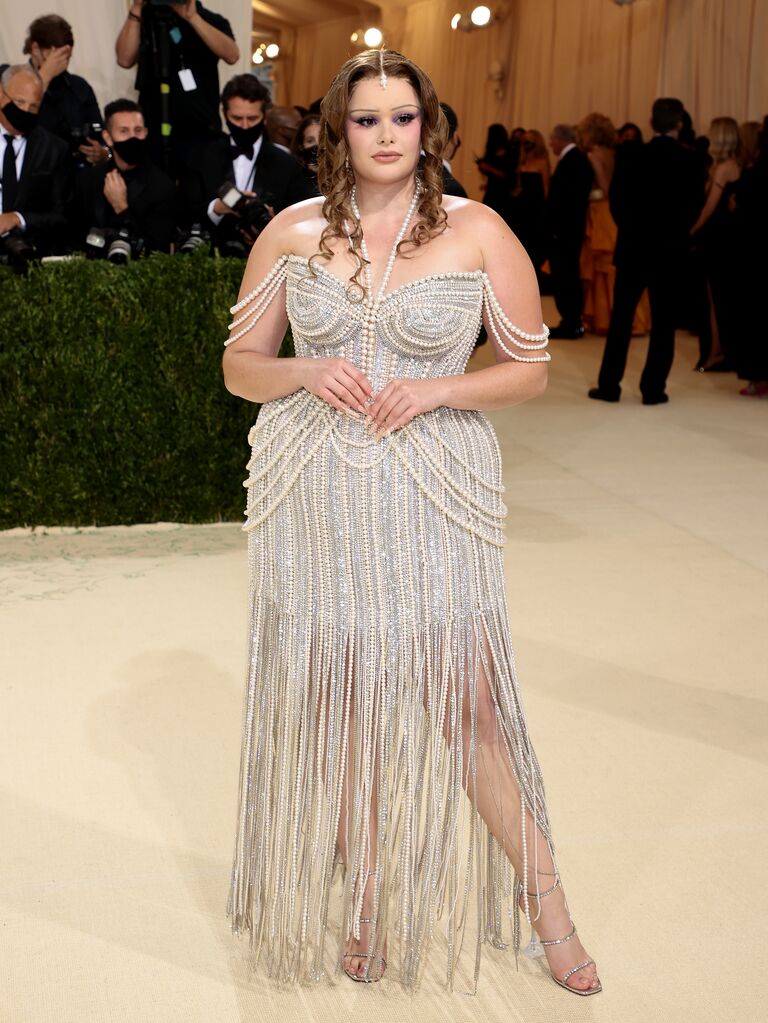 Euphoria actress Barbie Ferreira embodied the pearlcore wedding trend at the 2021 Met Gala, wearing a pearl-encrusted dress by Jonathan Simkhai. The Old Hollywood glam-inspired look was a nod to the 1920s flapper era, but you don't need to be planning a vintage wedding to recreate this aesthetic. We love the idea of donning a pearl-covered dress to your rehearsal dinner, especially if you're looking for an outfit that's incredibly fashion-forward.
Billie Eilish, 2021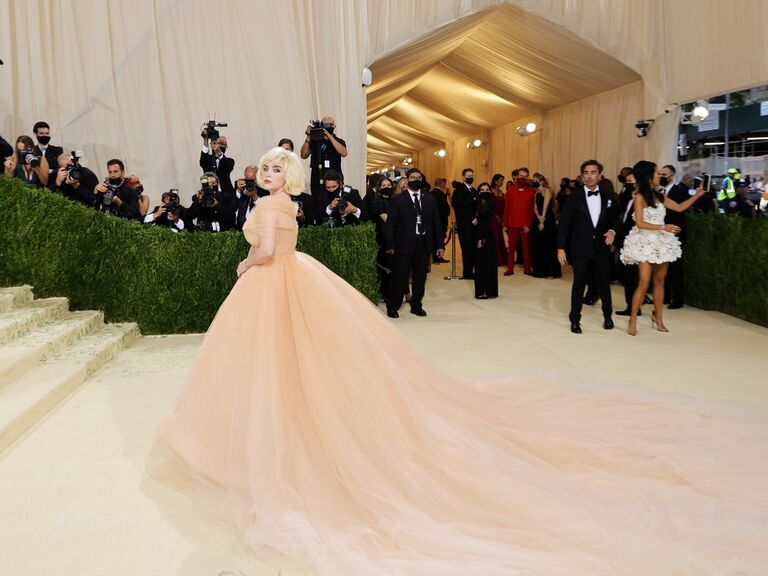 Of all the wedding-worthy Met Gala red carpet dresses, Billie Eilish's may take the cake. The singer wore an ethereal tulle ball gown to the 2021 event, inspired by a dress Marilyn Monroe wore to the 1951 Oscars. The nude-colored Oscar de la Renta dress featured an off-the-shoulder neckline, a corset bodice and a long train, which Eilish said was a nod to her childhood. "Big dresses were my favorite thing when I was a kid," she told Vogue. "I had so many dresses; I would wear a dress every single day." Those looking to feel like royalty on their big day need not look further than this princess-worthy wedding dress inspiration from the Met Gala red carpet.
Megan Thee Stallion, 2021
Love a pink bridal moment? You'll want to save Megan Thee Stallion's 2021 Met Gala outfit, because the rapper looked like a blushing bride on the red carpet. She donned a pink-toned strapless dress from Coach, complete with an asymmetrical ruffle lining the hem and beading on the bodice. If you want to wear white for your actual wedding ceremony, we love the idea of channeling this look at your wedding shower or rehearsal dinner.
Amanda Gorman, 2021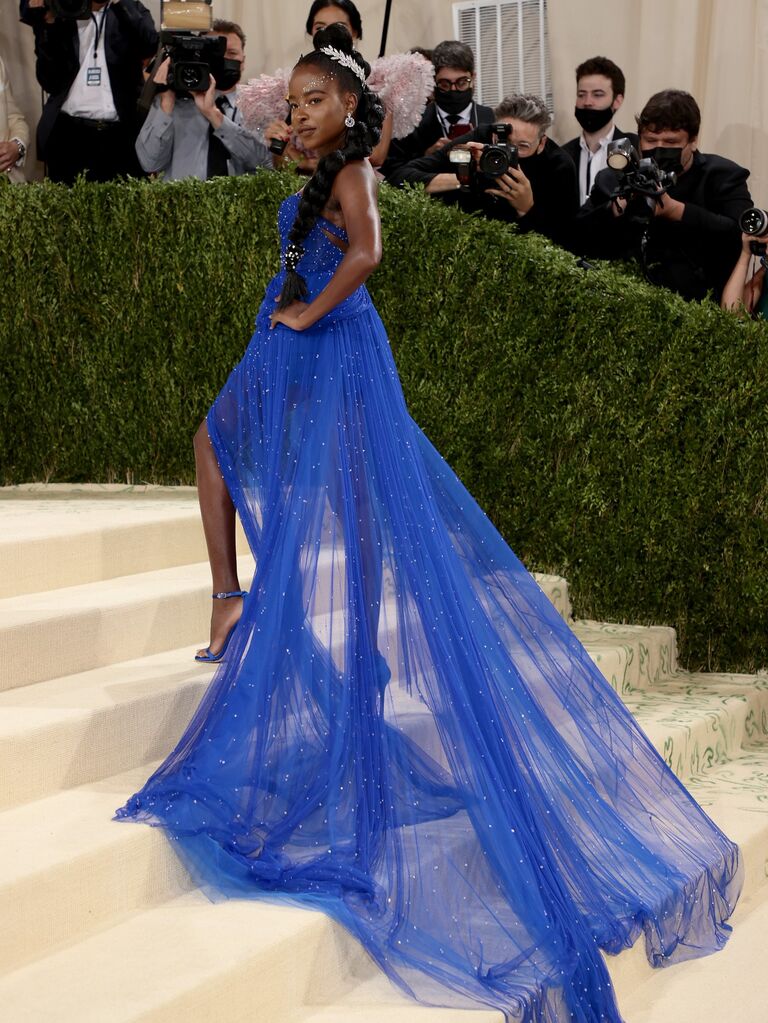 Wearing something blue is always a good idea, especially when it comes to your prewedding event wardrobe. We were captivated by Amanda Gorman's 2021 Met Gala ensemble, which was inspired by the Statue of Liberty—and it was created by one of the most iconic wedding dress designers of all time. The poet wore a custom blue Vera Wang gown with a strapless neckline and a trailing skirt, with over 3,000 sewn all over the dress. She accessorized her striking look with a laurel crown headpiece from NYC label Jennifer Behr, which produces plenty of wedding-worthy headbands and accessories.
Rihanna, 2018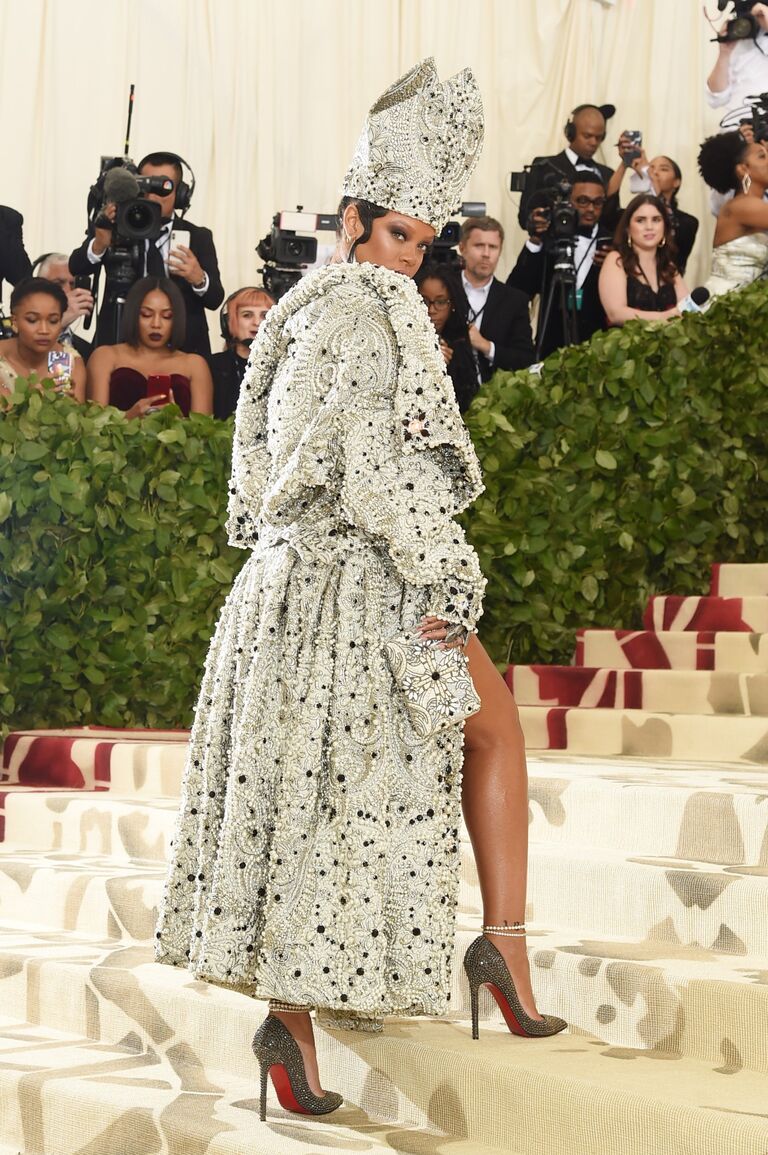 Rihanna's Met Gala outfits have become some of the most highly-anticipated, and her 2018 look was one of the best we've ever seen. Channeling the "Heavenly Bodies" theme, the singer stepped onto the carpet in an unforgettable look inspired by the Pope. She stunned in a dazzling pearl- and jewel-encrusted robe, a matching papal mitre and necklace, Christian Louboutin heels, hoop earrings by Maria Tash, and Cartier jewelry. The outfit, which was designed by Margiela, instantly became one of the most iconic Met Gala looks of all time. We know what you're thinking: Who would wear this to get married? Consider adding this to the vision board for your bachelorette party, or your rehearsal dinner. Without the papal hat and mitre, there's no better occasion to wear a white outfit dripping in jewels and embellishments than your wedding era.
Jennifer Lopez, 2017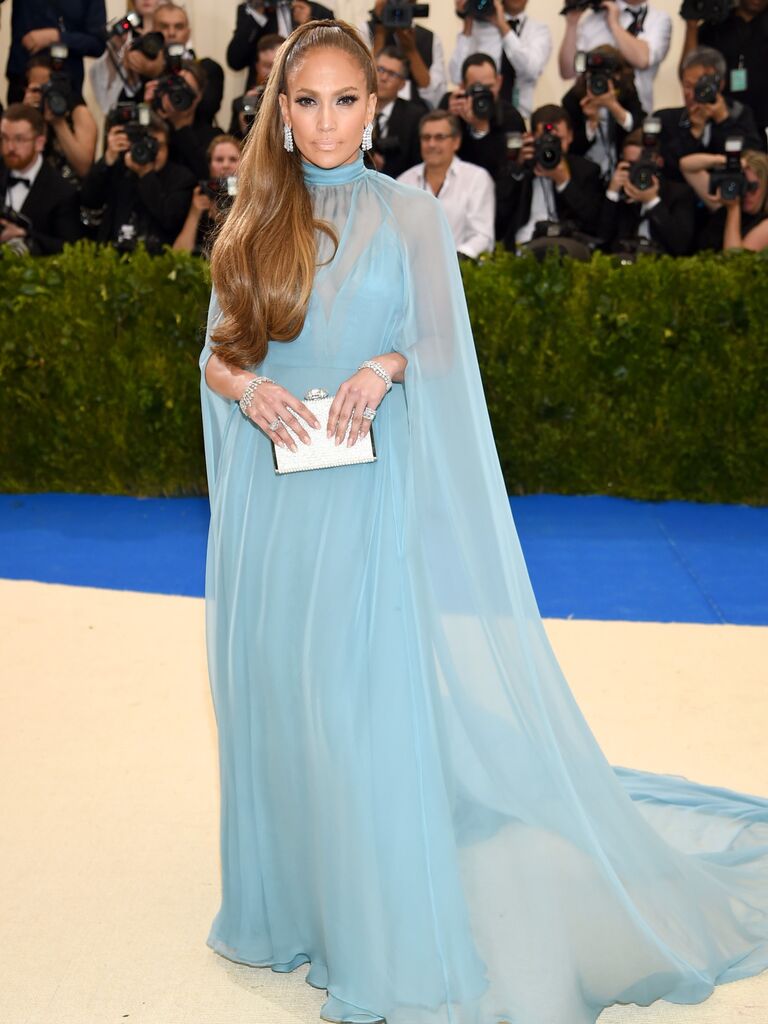 Jennifer Lopez has worn plenty of incredible wedding dresses throughout her film career, but her 2017 Met Gala outfit was a stark contrast from traditional bridal attire. Dressing for the "Rei Kawakubo/Commes des Garçons" theme, the singer and actress donned an elegant high-neck, light blue silk chiffon gown by Valentino for the event. She paired the outfit with a high ponytail to show off her dazzling Harry Winston diamond earrings. In keeping with the "something blue" tradition, this lovely Met Gala outfit serves as perfect inspiration for your prewedding shower.
Claire Danes, 2016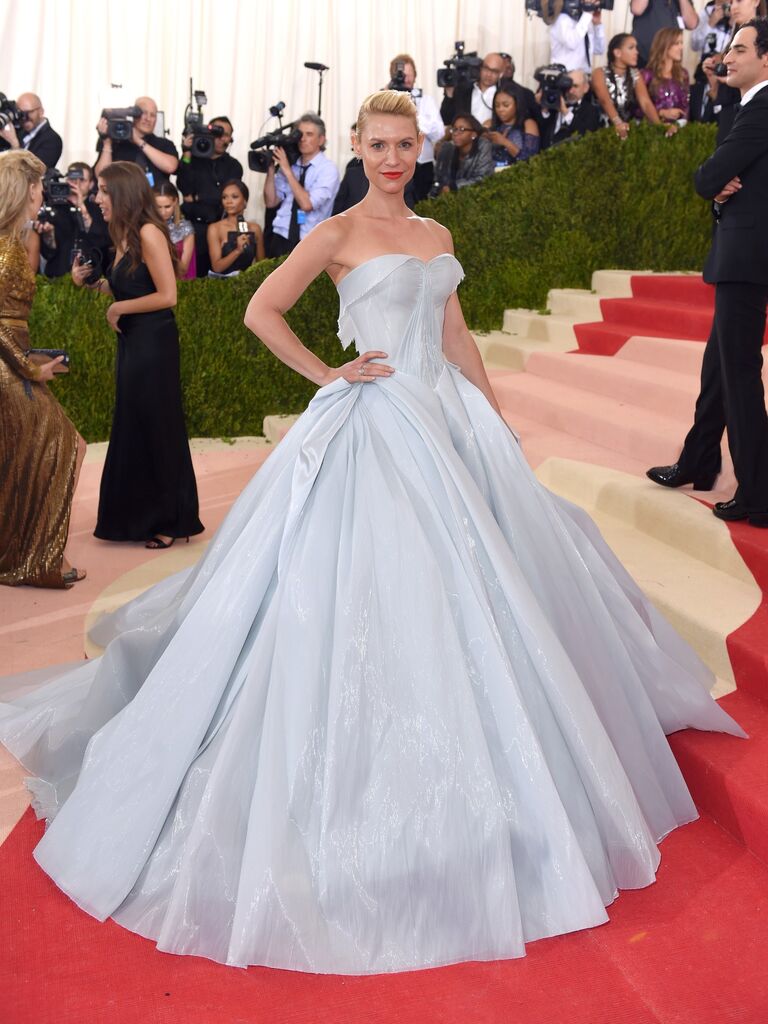 Although we don't often see true wedding gowns on the Met Gala red carpet, this is about as close as it gets. For the 2016 soirée, actress Claire Danes turned to Zac Posen for her "Manus x Machina: Fashion in an Age of Technology" themed outfit. She looked effortlessly bridal in the strapless organza ball gown, which actually glowed in the dark. According to the designer, it took over 600 hours to create this pale blue stunner. Lighting effects aside, this princess-worthy gown is incredibly apropos for those looking to have a "Cinderella" moment on their wedding day.
Victoria Beckham, 2014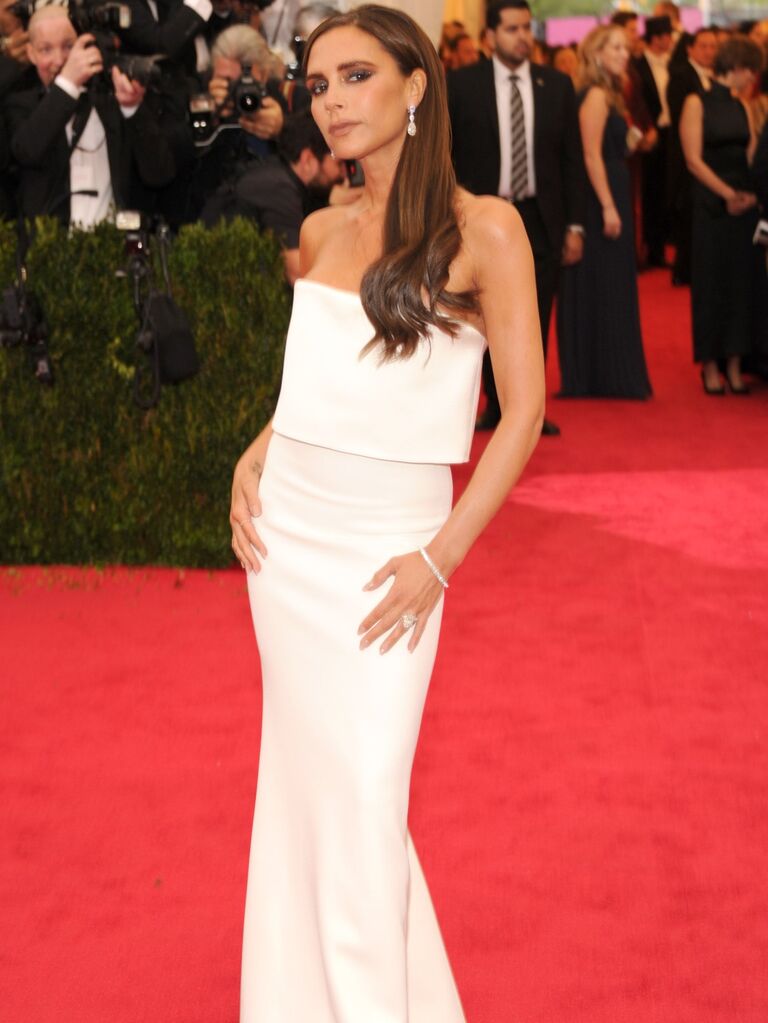 It doesn't get more posh than this. Spice Girl Victoria Beckham looked as bridal as can be at the 2014 Met Gala, and her wedding-worthy look is one that easily stands the test of time. The singer stepped out in a sleek cropped-top strapless white dress, which she designed for her fashion label's Pre-Fall 2014 collection. Consider channeling this sort of wedding look for a chic city hall elopement or an ultra-cool soirée at a unique venue, like a museum or a swanky rooftop.
Blake Lively, 2014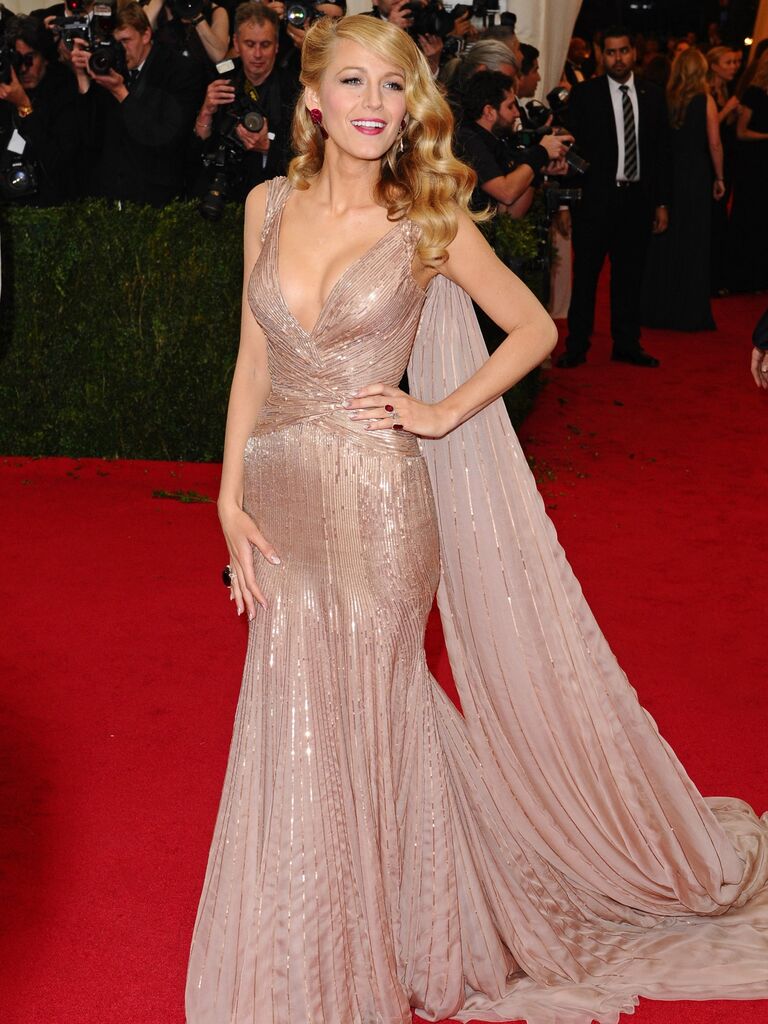 Blake Lively has been dubbed by fans as "Queen of the Met Gala" over the years, which is a fitting title—after all, she's had the honor of attending the event 10 times. She often takes her looks to the extreme, going out of her way to fully channel each theme or even match the color of the carpet. While we haven't seen many Met Gala outfits from Blake Lively that are explicitly bridal, we loved her 2014 look. This event was extra-special because it marked the first time she made her red carpet debut with her husband, Ryan Reynolds. For the occasion, Lively wore an Old Hollywood glam blush-colored Gucci gown, which was adorned in sparkly pink sequins.
Gwyneth Paltrow, 2011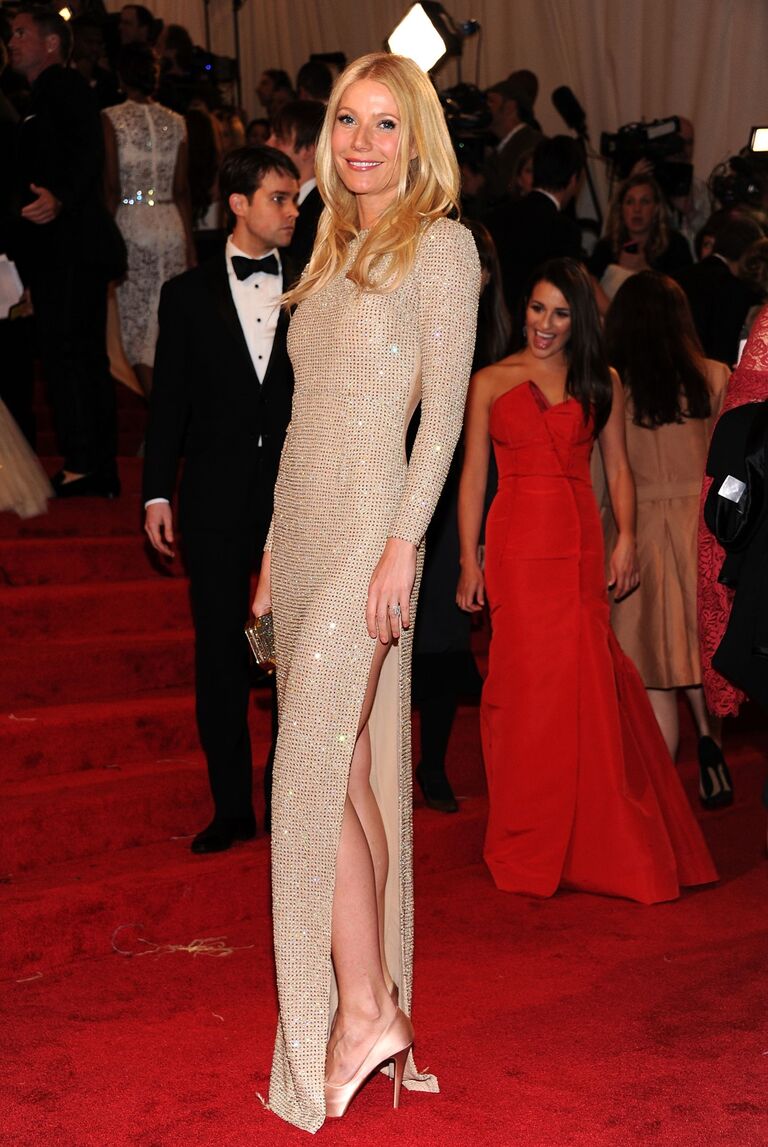 Save this Met Gala look for your bach party vision board. Actress Gwyneth Paltrow looked elegant and chic in a long sleeve, form-fitting Stella McCartney dress at the 2011 Met Gala. The off-white dress was covered in sparkling accents, making this an incredible look to recreate for your prenuptial festivities.
Iman, 2003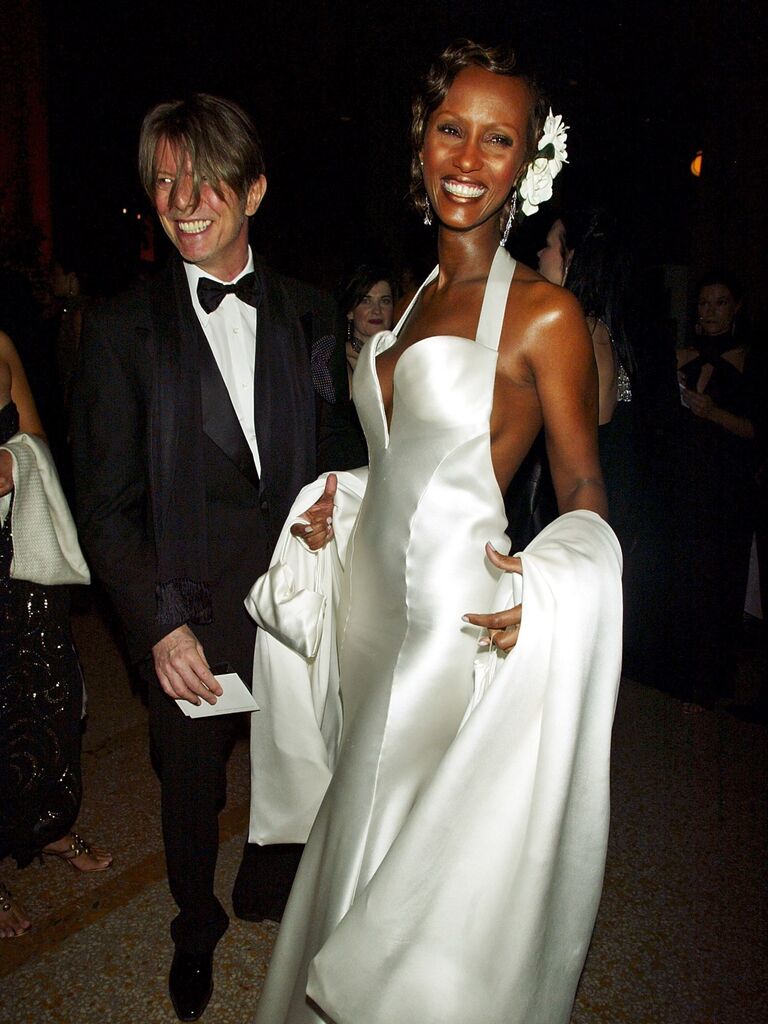 In 2003, supermodel Iman arrived at the Met Gala red carpet wearing a look that we could easily see at a wedding altar. She opted for a silky white halter-top dress with a plunging neckline, which she accessorized with a matching white shawl draped around her arms. She completed the look with wedding-worthy white flowers pinned in her hair.
Kate Moss, 1995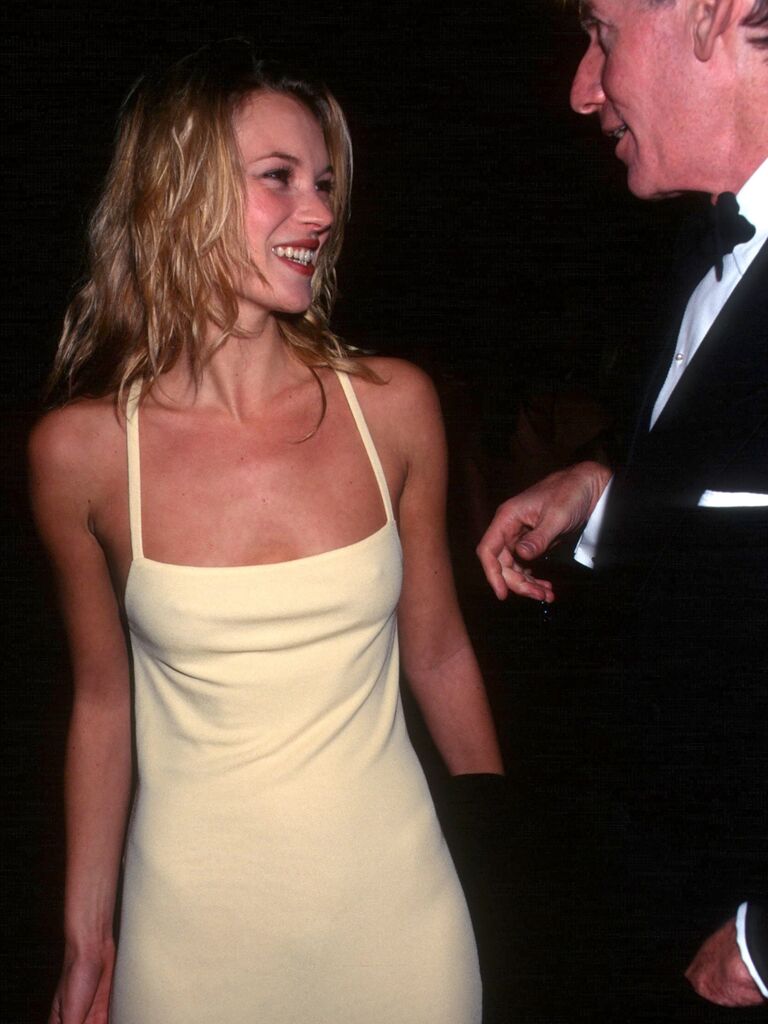 Looking to add some color to your wedding wardrobe? Let us introduce you to Kate Moss' 1995 Met Gala outfit, which can easily inspire a wedding shower or a honeymoon look. The model looked effortlessly cool in a pale yellow slinky slip dress by Calvin Klein, which had a sultry open back.
Naomi Campbell, 1995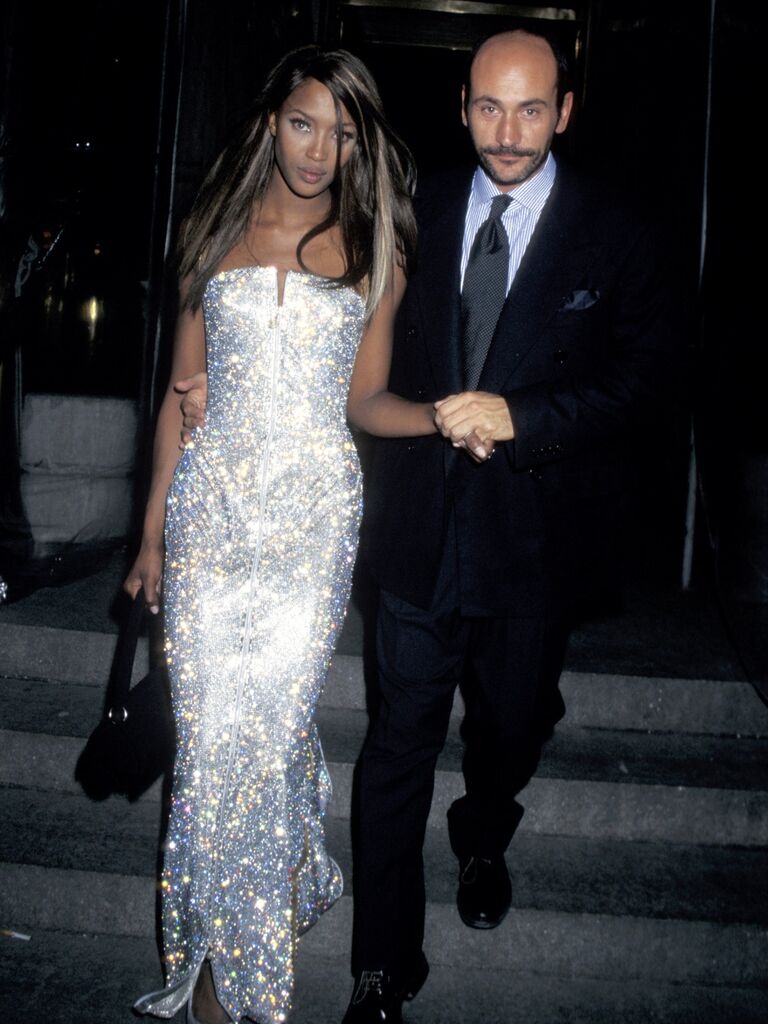 We went back into the archives to find one of the very best Met Gala outfits of all time, worn by Naomi Campbell. The model looked like the ultimate cool-girl bride in her strapless Versace gown, which was covered in glittering sparkles. There's no denying this Met Gala red carpet look would be downright incredible for a wedding reception.