50+ Romantic Valentine's Day Ideas to Celebrate in 2023
From lavish excursions to free at-home activities, we've got ideas for every couple and every budget.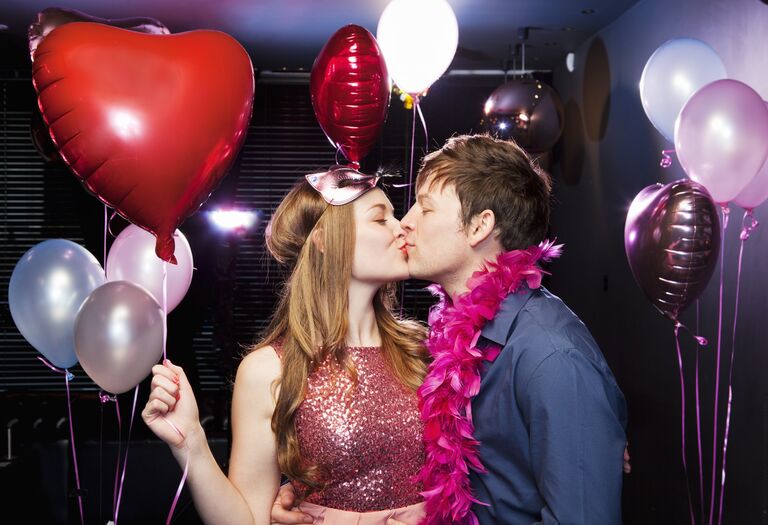 Betsie Van Der Meer / Getty Images
We have included third party products to help you navigate and enjoy life's biggest moments. Purchases made through links on this page may earn us a commission.
Here at The Knot, we love love—which means Valentine's Day is one of our favorite holidays throughout the entire year. Although we're of the mindset that your relationship should be celebrated every day, February 14th is an opportunity to go all out and show your partner the magnitude of your love. That said, we're here to help you wow them this year by sharing the very best Valentine's Day ideas.
Considering no two relationships are the same, we've compiled romantic things to do on VDay for every budget. From lavish gestures to free activities you can do in the comfort of your own home, these creative Valentine's Day date ideas are sure to wow. (Trust us. Xoxo.)
In this article:
Cute Valentine's Day Ideas to Show Off Your Love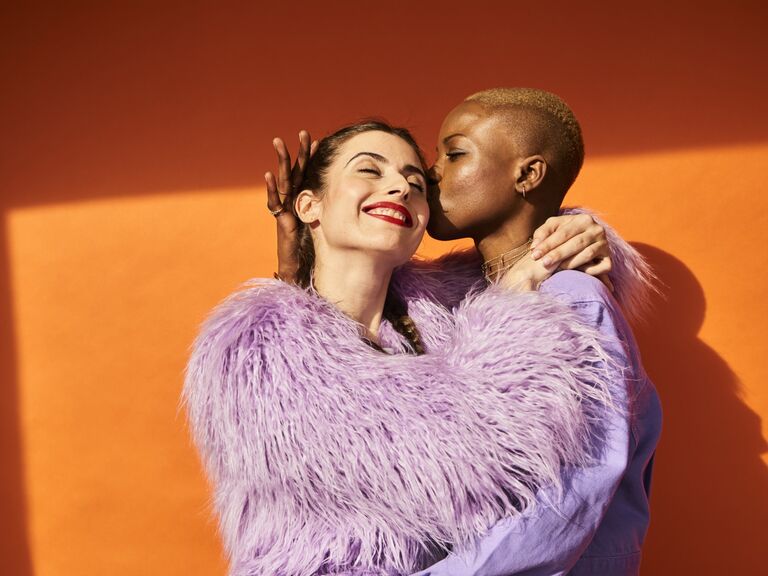 We know a thing or two about romance, including which Valentine's Day ideas will always wow your S.O. Big and small, these gestures will make your person feel cherished and adored. After all, what more could you want on the most romantic day of the year? Below, we've compiled cute Valentine's Day ideas that say "I love you."
Wake Them Up to a Romantic Message
Start Valentine's Day on a strong note by leaving your partner a romantic (or sultry!) message to wake up to. Write something in lipstick or steam on your bathroom mirror, or leave them a handwritten note in bed to kick off your day of romance.
Pen a Personal Valentine's Day Card Message
What's VDay without a special card? Make sure your partner knows just how much you mean to them by purchasing a Valentine's Day card and writing a thoughtful message on the inside.
Post to Instagram
We know you're itching to post all those cute couple pics on the 'gram, and Valentine's Day is the perfect opportunity. Using one of our Valentine's Day captions, craft an ode to your S.O. and spread the love on social media.
Make a Valentine's Day Playlist
When you just can't seem to come up with adequate words yourself, let music do the talking. If you need a cute Valentine's Day idea, create a Valentine's playlist of your favorite love songs and share it when the holiday arrives. We have a feeling this thoughtful gift will make them weak in the knees.
Serve Up Breakfast in Bed
Let's be real: Everyone loves the thought of getting served breakfast in bed, especially on Valentine's Day. Wake up early to prepare a delicious spread of your partner's favorite breakfast foods and deliver it first thing in the morning. Bonus points if your meal is accompanied by a stunning arrangement of flowers.
Send Flowers
Speaking of flowers, delivering red roses to your love is one of the most romantic Valentine's Day ideas of all time. Head to your local florist or source a bouquet from an online seller to ensure your partner wakes up to a gorgeous display of fresh blooms.
Wear Sexy Lingerie
Spice up your VDay by wearing a brand new set of sexy lingerie. Not only will your partner enjoy this sultry Valentine's Day idea, you'll feel like a million bucks too—a win-win for everyone.
Give Them a Cute Valentine's Day Gift
Presents and Valentine's Day go hand-in-hand. Browse our roundup of the best VDay gifts to find something special that'll make any boyfriend, girlfriend, fiancé or spouse feel loved.
Buy Their Favorite Food
You know your person better than anyone. Whether they have a serious sweet tooth or they're always asking for sushi take-out, make sure they get a taste of their favorite food on Valentine's Day.
Mark Something Off Your Bucket List
Need a Valentine's Day date idea that'll really shock your partner? Plan an activity that's on your bucket list. From traveling somewhere exciting to making a reservation at that special restaurant you've been dying to go to, this cute activity will seriously impress your S.O.
Cool Things to Do on Valentine's Day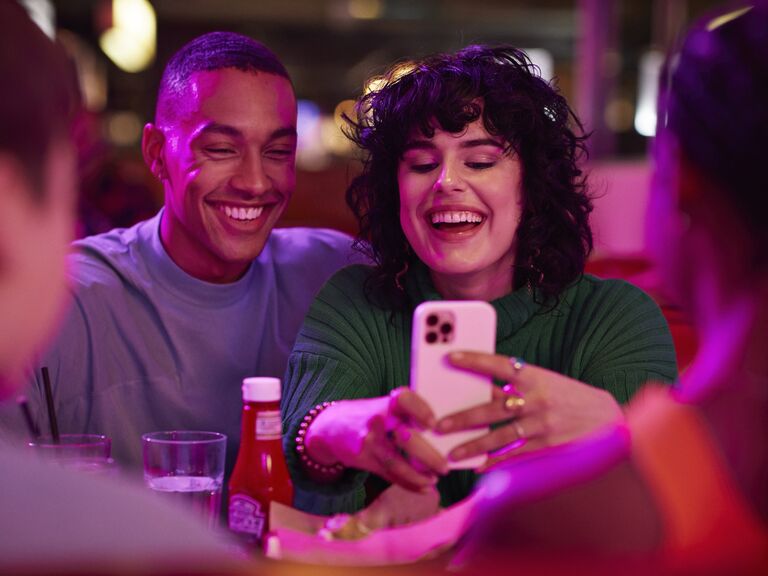 Looking for something that's a little more out of the box? We've got plenty of cool Valentine's Day ideas right here. Your partner won't suspect a thing if you opt for one of these creative dates.
Plan a Romantic Getaway
What could be cooler than going on a romantic getaway to mark Valentine's Day? While this activity will take some planning ahead of time, your S.O. will be totally blown away by your thoughtfulness.
Go to a Concert
Music lovers, take note. Valentine's Day is the perfect chance to go see a concert or a show. (Bonus points if you're able to snag tickets to a performer you both love.)
Book a Cooking Class
When you can't think of cool things to do on Valentine's Day, enroll in a local cooking class. Not only is this a fun way for the two of you to pick up some new skills, you'll get to enjoy a delicious dinner at the end. How's that for a win?
Buy Museum Passes
Art and history buffs alike will love this Valentine's Day activity. Buy passes to a local museum or exhibit for something completely out of the ordinary. You'll have so much fun leisurely strolling around and learning new things together.
Head to the Movies
You can't go wrong by heading to the movie theater for a cute Valentine's Day date. Stock up on popcorn, soda and your favorite candy to enjoy as you take in a new flick.
Explore Your Hometown
Sometimes, the best Valentine's Day ideas are hidden in your backyard. There's so much fun to be had in your hometown—all you need is a little curiosity. Head out on an expedition of your local town or city in search of something new to do that you haven't experienced yet. You never know what adventures you'll have along the way.
Take a Workout Class Together
If your love language is getting a good sweat in, Valentine's Day is a great time to do it together. Book a class at your local spin studio, head out on a long run, or slow things down with a hot yoga session to get those endorphins flowing.
Plan a Spa Day
Valentine's Day can be an occasion for rest and relaxation, so enjoy a little R&R together at your local spa. Book a couples massage, enjoy some time in the sauna, or indulge in a facial with all the extras. You two deserve it.
Play TikTok's Date Game
If you're on TikTok, there's a chance you've seen the date game: an activity where couples play rock, paper, scissors to decide who picks where they'll get drinks, appetizers, entrees and dessert. This Valentine's Day dinner idea is particularly apropos for indecisive foodies.
Go to a Comedy Show
Laugh until your stomach hurts by snagging tickets to a comedy show on Valentine's Day. Follow it up by getting post-show dinner and drinks at a nice restaurant for a memorable VDay activity.
Adopt a Pet
Couples who are ready to grow their family by a few paws (or fins, or scales) may be intrigued by the idea of adopting a pet on Valentine's Day. After all, nothing says love quite like welcoming a furry friend in your home—and your hearts.
Go Camping
Adventurers in search of cool things to do on Valentine's Day need not look further. Connect with the great outdoors by pitching a tent and sleeping among the stars—if you live in a warm enough climate, that is.
Book an Intimacy Retreat
Valentine's Day is the perfect opportunity for you and your partner to connect with your deepest desires. Book an intimacy retreat or a sex workshop with a licensed professional to learn more about how to communicate what you want from your partner, and to explore new things together. Or, consider buying a couples' sex toy from a brand like Lovehoney or We-Vibe to spice things up in the bedroom.
Romantic Valentine's Day Date Ideas for Every Budget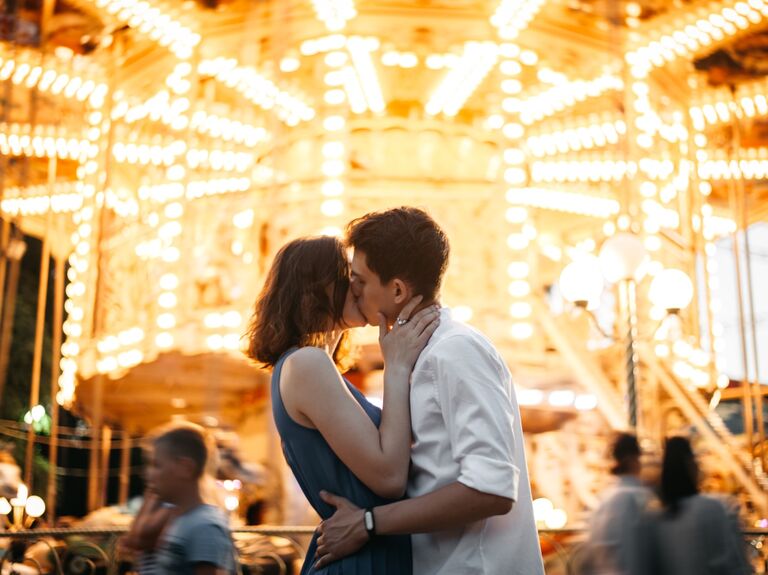 How much you spend on your Valentine's Day activity is completely up to you. While you can splurge on luxe gifts or a fancy date night, you certainly don't have to spend a lot of money to show your partner how much you love them. Whether you're looking to save or splurge, here are our favorite Valentine's Day ideas for every budget.
Under $50
Head to your local coffee shop for lattes and pastries.
Do a puzzle together.
Play trivia at a local bar.
Go stargazing in your backyard.
Get your favorite takeout delivered.
$50 - $100
Create a scavenger hunt in your hometown that ends with a romantic dinner.
Go to a drive-in.
Plan a DIY wine and charcuterie night.
Get materials for a craft night at home.
Go thrift shopping.
$100 - $200
Indulge in a wine tasting experience at a winery.
Go brewery hopping.
Book a couples' massage.
Go on a double date with friends.
Head to a local theme park.
$200 - $500
Plan a romantic staycation in your hometown.
Enjoy fine dining at an elevated restaurant.
Book a boudoir photoshoot.
Take a day trip somewhere within driving distance.
Get tickets to a local comedy or theater show.
$500 and up
Pull out all the stops with a romantic proposal.
Charter a helicopter ride.
Splurge on a nice suite in a fancy hotel room.
Book an international trip you've both been wanting to take.
Rent a boat for the day.

Free Valentine's Day Activities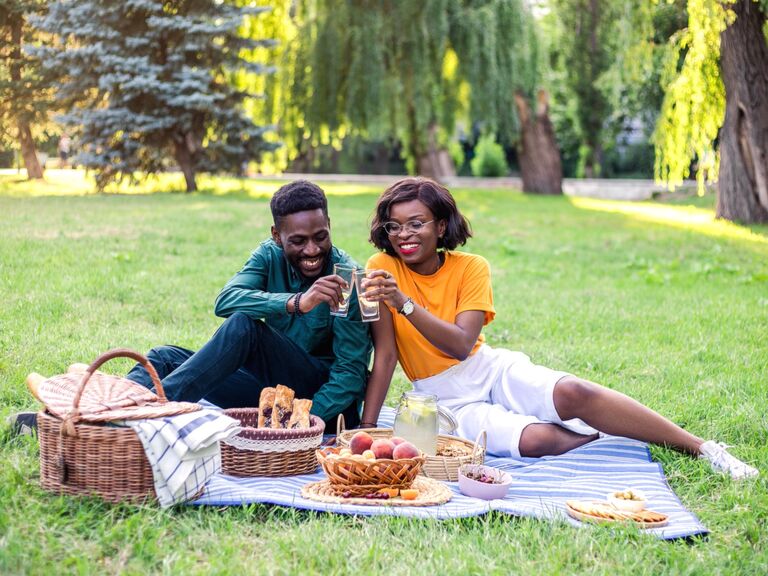 In the words of JLo, love don't cost a thing. There are plenty of cool and romantic Valentine's Day date ideas that are completely free—it just takes a little creativity to bring them to life. Here are some of our favorite date ideas for Valentine's Day that won't set you back a single penny.
Take a Hike
Lace up your boots and immerse yourselves in nature by heading out on a Valentine's Day hike. The photos you get from the summit will be well worth the effort, especially if you hit it right at sunrise or sunset.
Go Skating
Depending on where you live, you might be able to head to a local ice rink or skate park completely free of charge. Or, if you live somewhere warm, grab your rollerskates and hit the town for a spin. (Looking at you, West Coasters.)
Tour Art Galleries
Not all art galleries have entrance fees. Do some research to discover nearby museums that are free of charge. This affordable Valentine's Day date idea will also allow you to immerse yourself in local culture, a huge win if you're new to the area (or if you just want something creative to do).
Play Truth or Dare
Remember this childhood favorite? While truth or dare is totally free, the memories you make will be priceless. Plus, you'll have a great time connecting to your inner child with this Valentine's Day activity.
Watch a Movie
Homebodies will adore this cute Valentine's Day day date idea. Transform your living room into a cozy oasis of blankets, pillows and candles to set the mood for a movie night in the comfort of your own home. (And we'd be remiss not to recommend watching some of our all-time favorite wedding movies.)
Have a Picnic
You're never too old for a good, old-fashioned picnic. In fact, you don't have to splash out on a fancy dinner just because it's Valentine's Day. There's something extra romantic about preparing a meal together—especially if you or your partner are aspiring home chefs.
Make Playlists for Each Other
Consider this one of our favorite Valentine's Day ideas of all time. Since music is closely intertwined with memory and emotion, set aside time for you and your S.O. to make playlists for each other. Think about the songs that remind you of them. Is there a tune you heard on your first date? Do you have a shared karaoke hit? What song always makes you think of them when it comes on the radio? Compile your top picks, then listen to the playlists together. It's totally free, and it'll give you all the feels.
Have Deep Conversations
A holiday dedicated to love is a great time to strengthen your bond, so pop a bottle of bubbly and have some deep conversations. (Psst: We've got 72 thought-starters right here.)
Create an At-Home Spa
The costs of a spa day can quickly add up, so if you need a Valentine's Day idea that won't break the bank, bring the experience to you. Create an at-home spa by dimming the lights, sparking some candles, drawing a bubble bath, and giving each other massages.
Volunteer Together
One of the best ways to mark Valentine's Day is to spread love to others. Volunteering is totally free, and it's an impactful way to make a difference. Those looking for things to do on Valentine's Day might find it fulfilling to spend time giving back on this special day.
Go Star-Gazing in Your Backyard
When night falls on Valentine's Day, bundle up and head outside to look at the stars. This underrated Valentine's Day date idea costs absolutely nothing and is perfect for astrology and nature lovers alike.
Valentine's Day Dinner Ideas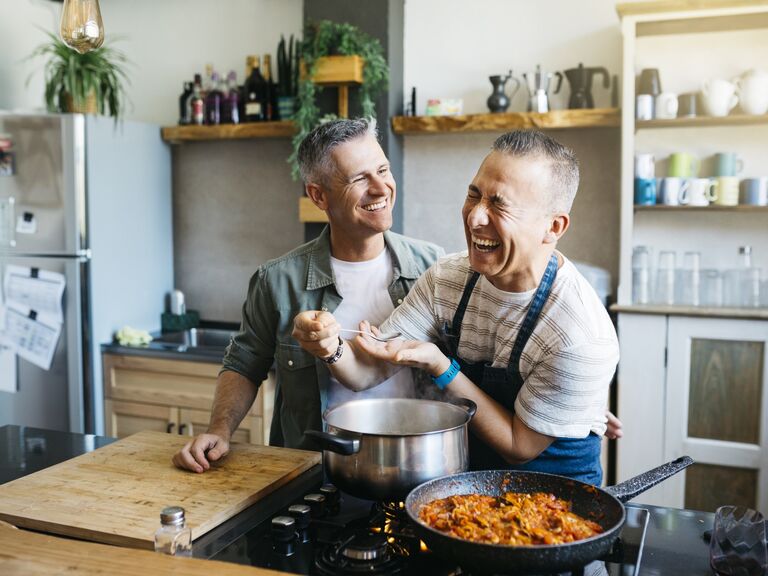 When you think of good Valentine's Day ideas, food likely comes to mind. VDay is synonymous with bubbles, chocolate and fine dining—so a romantic dinner date is always a good idea. Here, find some of our favorite things to do on Valentine's Day that involve food.
Indulge in Some Aphrodisiac Foods
Valentine's Day is an opportune time to enjoy aphrodisiac foods (read: foods that stimulate sexual desire). Chocolate, figs, oysters, strawberries, watermelon, apples, pomegranates and hot peppers are all examples of tasty aphrodisiac bites to enjoy on Valentine's Day.
Find a Valentine's Day Prix Fixe Menu
Many restaurants offer prix fixe menus in honor of Valentine's Day—in other words, a meal of several courses at a fixed price. A quick Google search for special prix fixe menus in your area will present you with a variety of restaurants worth dining at for an extra-special VDay experience.
Reserve a Table with a View
Up the ante of your Valentine's Day dinner date by requesting a table with a nice view. While not all restaurants may be able to guarantee where your spot will be, it won't hurt to give them a call ahead of time to see what they can offer. Or, plan your Valentine's day date at a restaurant that offers stunning views from every seat in the house.
Order a Home Meal Kit
Not into the idea of going out for dinner on Valentine's Day? Bring the fine dining experience to your kitchen with a meal kit service. These pre-made boxes come with every ingredient you need for a stellar recipe, thus taking the guesswork out of cooking. Don't underestimate how accomplished you'll feel after preparing a delicious dinner from scratch.
Order Take-Out
When you can't even be bothered to cook on Valentine's Day, treat yourself to take-out. You won't regret a cozy night at home with your favorite bottle of wine and yummy pad Thai.
Host a Potluck Dinner With Friends
Celebrating Valentine's Day with your besties? Yes, please. We love the idea of hosting a potluck dinner with your nearest and dearest. Invite everyone to celebrate the holiday at your place and ask them to bring their favorite dish for one big, unforgettable meal.
Recreate Your First Date
Take it back to the beginning with this cute Valentine's Day idea. Reminisce on your very first date with your S.O. What did you do? If you met for dinner and drinks, go back to that same restaurant to relive your early days as a couple.
Have a Pizza Taste Test Game
Here's a creative Valentine's Day idea for foodies. Grab a pie from all of your favorite pizzerias, and do a blindfolded taste test at home to see how well you really know your local slices. That's amore!
Create Your Own Wine Tasting Experience
Bring the winery to your kitchen by setting up your own tasting activity for VDay. Grab a few bottles of different blends and enjoy your sips with homemade charcuterie and crudités.
Make Each Other's Favorite Meals
This Valentine's Day date idea is fitting for the couple who can never decide on a place to go out to eat. Let's say you love Italian, but your partner prefers Mexican—challenge yourselves to create your partner's all-time favorite dinner dish. Not only will this fun date force you to get creative in the kitchen, it may inspire you to cook outside your comfort zone more often.
Host Your Own Bake-Off Challenge
Can't get enough of The Great British Bake Off? Celebrate February 14th with this adorable Valentine's Day idea inspired by the beloved competition series. Select a dessert for you and your partner to make, and see whose is better. The catch is that there are no losers in this game, because you'll both have a sweet ending to another great Valentine's Day together.