These 15 Best Bad Bunny Wedding Songs Are Dance-Floor Favorites
Bad Bunny's hits will definitely keep the energy high and the party going.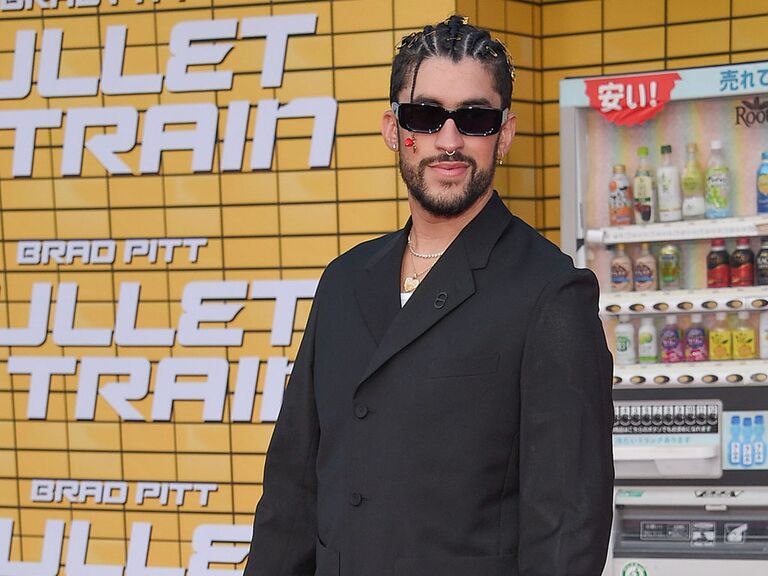 DFree / Shutterstock
If you listen to the radio, even on occasion, you've most definitely come across a Bad Bunny song or two. In fact, the Puerto Rican artist who rose to the ranks in 2017 with his first hit "Soy Peor" ("I'm Worse"), has been dropping hot tracks left and right ever since. He was Billboard's top artist of the past year, making him the very first Latin artist to earn that title. In addition, Bad Bunny scored the number-one listens on Spotify of any artist for three years and counting.
Needless to say, Bad Bunny songs are so popular right now and many of them make wonderful additions to your wedding celebration, particularly if you're looking to add some Spanish songs to your reception playlist. Some Bad Bunny songs are romantic, while others are just designed to get your body moving and grooving on that dance floor.
Here, we're sharing some of our very favorite Bad Bunny wedding songs to share with your DJ or a live band, and add to your playlist.
"Party," Un Verano Sin Ti
Lyrics you'll love: "Se miró al espejo y vio que está buenota, vio que está buenota/Y quiere perreo y coger una nota"
So long as your guests are open to some raunchy lyrics, this song is sure to get everyone moving on the dance floor. We love the slow-to-fast transitions that this song offers, as well as the chorus that repeats "party" over and over again.
"Después de la Playa," Un Verano Sin Ti
Lyrics you'll love: "Aunque sea de lejito' con la hookah y el perreo"
Despite the fact that this song is new, it has this old-school dance vibe that will encourage guests to flock to the dance floor. If you have any relatives or friends who know how to salsa, this is definitely a song that they can show their skills off to.
"MIA" (feat. Drake), Single
Lyrics you'll love: "Dile que tú eres mía, mía/Tú sabe' que eres mía, mía/Tú misma lo decías/Cuando yo te lo hacía"
This song, which ruled the charts in 2018 and 2019, is really quite romantic. Basically he and singer Drake are telling a girl that they are very in love with her and that they don't want her to be with anyone else.
"Enséñame a Bailar," Un Verano Sin Ti
Lyrics you'll love: "Yo sigo tus pies/A donde vaya' te sigue la luna (Sigue la luna)"
Here's a softer, more romantic side to Bad Bunny that would make for a great song to play at your wedding. It's about a man and woman who become infatuated with one another over one evening together.
"Ojitos Lindos," (feat. Bomba Estéreo), Un Verano Sin Ti
Lyrics you'll love: "Hace mucho tiempo le hago caso al corazón/Y pasan los día', los mese' pensando en tu olor"
If you're looking for a romantic first dance song that has a nice pick up to it, this is a great choice. Bad Bunny performs a duet with Liliana Saumet of the Colombian band Bomba Estéreo. She has a soft voice that blends so nicely with Bad Bunny's more intense and deeper voice.
"Cómo Se Siente" (feat. Jhayco), Compilation Album
Lyrics you'll love: "A mí me encantan los tatuajes en tus brazos/Como un examen, tu cuerpo yo lo repaso (repaso)"
Despite the fact that this song is definitely a bit sexual in nature, it has a nice beat that will be fun to dance to at your wedding or after party. It's a duet between Bad Bunny and another Puerto Rican rapper and singer, Jhayco.
"Dakiti," El Último Tour Del Mundo
Lyrics you'll love: "Toma cinco mil, gástalo en Sephora/Louis Vuitton, ya no compra en Pandora/Como piercing a los hombres perfora, eh-eh-eh"
If you really want to get into the partying vibe, this Bad Bunny song is a must-play for your big day. While not the most romantic song, it was popular on the radio when it was released in 2020, so many of your wedding guests will likely know it and want to dance to it. It was performed by Bad Bunny and Jhayco, although at the time he was known as Jhay Cortez.
"Volando - Remix," (feat. Mora & Sech) Single
Lyrics you'll love: "Sigo viendo tu cara cuando a otra se lo pongo/Si todavía tengo tu wallpaper de fondo/Ando sin salvavida' nadando en lo hondo/Yo siento tus latido' aunque me quede sordo"
This song was originally sung by Puerto Rican singer Mora on his 2021 album Primer Dia de Clases, but he remixed it with Bad Bunny which made it even more popular. It's a song about a forbidden type of love—a man who is in love with a woman who is unavailable.
"Volví," Single
Lyrics you'll love: "Yo sé que al final/A mí no me olvidas tan siquiera un poco/Al final, baby, tú extrañas cómo yo te toco"
This song which translates in English to "I've returned" or "I came back," is performed by the band Aventura, which specializes in bachata-style music. They teamed up with Bad Bunny for this hot single that combines the sounds of bachata guitar with a reggaeton vibe.
"Vete," YHLQMDLG
Lyrics you'll love: "Mami, cuando tú quieras, cuando tú quieras, yeh, yeh"
This song is not a love song in any way; in fact, it talks about a break up that's left the singer quite distressed. If you're okay with that and are just looking for a Bad Bunny song that your guests will love moving to, this is certainly one.
"Yonaguni," Single
Lyrics you'll love: "Una noche más y copas de más/Tú no me dejas en paz, de mi mente no te vas"
If you love when a Latin song is mixed with a reggaeton feel and a little pop, you'll appreciate this song playing at your wedding. The name of this song is actually referring to the small island off the coast of Taiwan, but the song itself is actually about heartbreak, like most of Bad Bunny's songs. In the song, he talks about how the love of his life moves to this island, which is far away from him.
"Safaera," (feat. Jowell & Randy and Ñengo Flow), YHLQMDLG
Lyrics you'll love: "Hoy se bebe, hoy se gasta/Hoy se fuma como un rasta"
Your Great-Aunt Carmen might not be keen on the translation of this popular song, which was released back in February 2020 from Bad Bunny's second studio album, YHLQMDLG, it's definitely a hot track for dancing. It features Puerto Rican reggaeton duo, Jowell & Randy, and fellow Puerto Rican singer slash rapper Ñengo Flow.
"Estamos Bien," X 100pre
Lyrics you'll love: "Y si mañana me muero (Brr-brr)/Ya estoy acostumbra'o a estar siempre en el cielo, ey (Ey)"
The translation of this song, which was released back in 2018 as a first single from Bad Bunny's first studio album, X 100pre, is "We're Good." Written by Benito Martínez and Ismael Florest, it's about enjoying a luxurious lifestyle. It's perfect for a summer or destination wedding, as it has a tropical sound.
"La Noche de Anoche," (feat. Rosalía) El Último Tour Del Mundo
Lyrics you'll love: "Porque la noche de anoche fue/Algo que yo no puedo explicar/Eso era dando y dándole sin parar"
If you love a good duet, this one is quite romantic. Sung with Spanish singer Rosalía, Bad Bunny lets his softer side shine in this flirtatious song about two young lovers who detail the romantic encounter they experienced together the night before.
"Yo Perreo Sola," YHLQMDLG
Lyrics you'll love: "La disco se prende cuando ella llegue (¡wuh!)"
Here's a song that will definitely get your wedding crowd moving. In fact, this is apparently Gloria Estefan's favorite Bad Bunny song, which definitely says a lot! Despite the fact that the credit for this song goes to Bad Bunny alone, you'll hear a beautiful female voice on the track and that is by Puerto Rican Latin trap artist Nesi.