35 Wedding Ceremony Recessional Songs to Start Your Marriage Off Right
A celebratory recessional song will make your ceremony exit as memorable as your entrance—and match your just-married mood.
by The Knot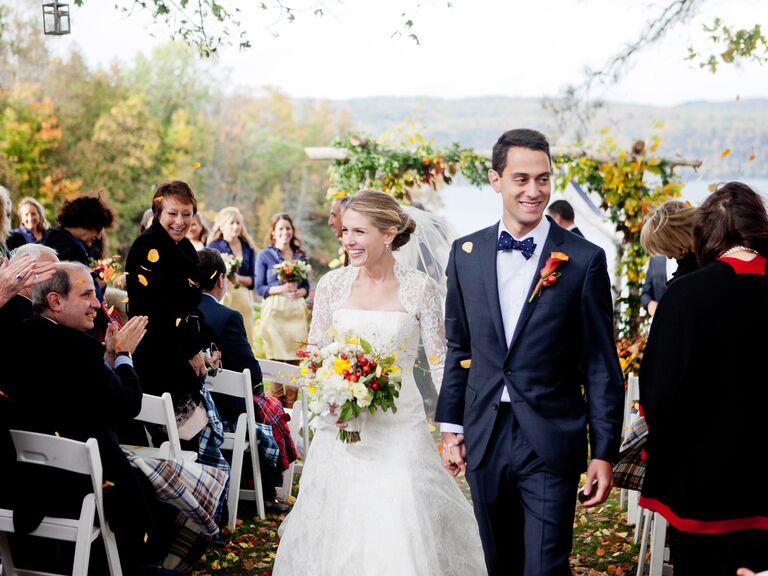 After your officiant pronounces you married, you'll want to follow up with a triumphant tune. Whether the recessional music is played by a DJ or band, or sung by a soloist, your ceremony recessional music should inspire your guests to stand up and cheer as you make your way back up the aisle as newlyweds. Here are 35 of our favorite, no-fail recessional songs to inspire your selection.
Traditional/Classic Recessional Wedding Music
1. "Allegro Maestoso" (from Water Music Suite) by George F. Handel
2. "Brandenburg Concerto No. 1," Allegro, by Johann S. Bach
3. "Brandenburg Concerto No. 4," Allegro, by Johann S. Bach
4. "Coronation March" (from Crown imperial) by Sir William Walton
5. "Fugue in E-Flat Major" (from St. Anne) by Johann S. Bach
6. "Hallelujah Chorus" (from The Messiah) by George F. Handel
7. "Hornpipe" (from Water Music Suite) by George F. Handel
8. "Ode to Joy" by Ludwig van Beethoven
9. "Spring," Allegro, (from The Four Seasons), by Antonio Vivaldi
10. "The Arrival of the Queen of Sheba" by George F. Handel
11. "Toccata" (from Symphonie 5, opus 42), by Charles-Marie Widor
12. "Trumpet Tune and Bell Symphony" by Henry Purcell
13. "Tuba Tune in D" by Craig Sellar Lang
14. "Wedding March" (from A Midsummer Night's Dream) by Felix Mendelssohn
Traditional Alternative Recessional Wedding Music
15. "Badinerie" (from Orchestral Suite No. 2) by Johann S. Bach
16. "Concerto grosso in D Minor," Op. 2, No. 3 (Presto) by Francesco Geminiani
17. "Rondeau" (from Abdelezar) by Henry Purcell
18. "Rondeau" (theme from Masterpiece Theater) by Jean Joseph Mouret
19. "Sonata in G Major" by Giuseppe Tartini
20. "Triumphal March" by Edvard Grieg
21. "Variations on the Kanon by Pachelbel" by George Winston
Contemporary Recessional Wedding Music
22. "Anthem" by Suzanne Ciani
23. "Beautiful Day" by U2
24. "From This Moment On" by Cole Porter
25. "Linus & Lucy" (Peanuts Theme) by Vince Guaraldi
26. "Little Martha" by The Allman Brothers Band
27. "Oh! You Pretty Things" by David Bowie
28. "Signed, Sealed, Delivered" by Stevie Wonder
29. "Sunshine of My Life" by Stevie Wonder
30. "The Long and Winding Road" by The Beatles
Religious/Sacred Recessional Wedding Music
31. "Exultate, Jubilate" by Wolfgang Amadeus Mozart
32. "Joy" by George Winston
33. "Now Thank We All Our God" by Johann S. Bach
34. "Now Thank We All Our God" by Sigfried Karg-Elert
35. "Psalm 19" by Benedetto Marcello
Want more recessional song inspo? Check out fun ceremony exit tracks here.

Find ceremony ensembles and soloists in your area here.
Just starting to plan? Brush up on wedding ceremony music basics right here.