Here's What to Do About Your Wedding Registry as Bed Bath & Beyond Goes Out of Business
Panicked? No need.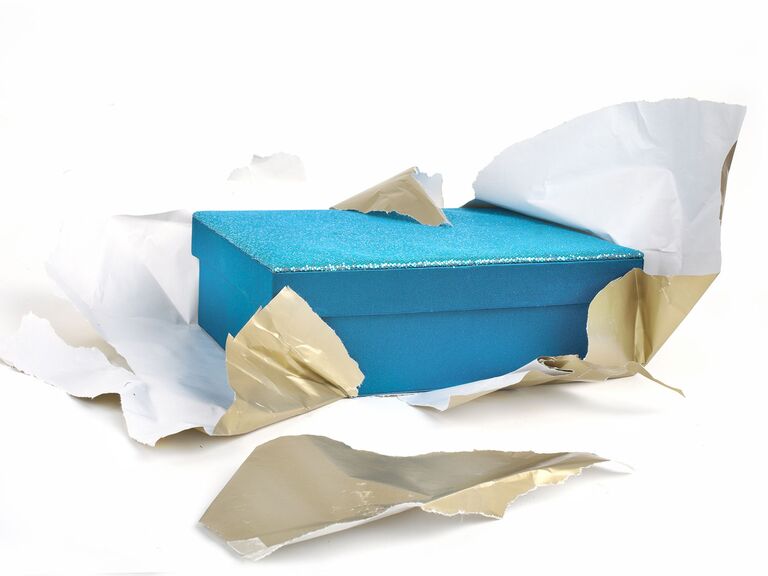 Getty Images
We have included third party products to help you navigate and enjoy life's biggest moments. Purchases made through links on this page may earn us a commission.
After 52 years of helping furnish college dorms, generously distributing its well-known blue coupons, and equipping couples with wedding registry basics, Bed Bath & Beyond's bankruptcy news brings about much change ahead. Despite high hopes a deal could be salvaged, the embattled retailer filed for Chapter 11 bankruptcy on April 23, 2023. If the Company cannot find a buyer for its operations, it would begin liquidating.
Bed Bath & Beyond's bankruptcy filing and ongoing store closings follow years of fracas, especially within the company's final stretch in the markets. Speculation about Bed Bath & Beyond's imminent descent trailed the news of a 33% sales decline in the third quarter of 2022.
Two days after the bankruptcy filing, NASDAQ sent Bed Bath & Beyond (BBBY) a delisting notice. The news was devastating, particularly, for the masses of former and once-hopeful employees who have been laid off in recent months. "When the business started to shift from brick-and-mortar to online, Bed Bath & Beyond was [unable] to adapt and move along with their customers," the former director of registry, Hank Reinhart, shared with a local newspaper on May 21.
The company once established itself as a leading registry business across the wedding and newborn gifting categories, especially as the industry flourished with bespoke events and personalization. The loss of Bed Bath & Beyond's registry presence, including that of its sister brand Buy Buy Baby, will be felt by couples and guests familiar with both. Read our responses to the most common questions about the Bed Bath & Beyond bankruptcy filing and store closings.
How Does Bed Bath & Beyond's Bankruptcy Affect My Registry?
While couples can still access their registries on the company website, the retailer has replaced all former registry messaging with a thank you note to customers.
Will My Bed Bath & Beyond Registry Remain Active on The Knot?
All Bed Bath & Beyond registries are no longer automatically linked on The Knot from Bed Bath & Beyond. Couples, however, can manually link to their individual registry accounts should they choose to do so or automate the transfer. (More on that, below).
How Do I Replace My Bed Bath & Beyond Registry on The Knot Registry?
Automation experts, rejoice. The Knot's registry specialists will help replace your Bed Bath & Beyond registry on The Knot Registry Store on your behalf. To be qualified, couples simply need to save a PDF file of their Bed Bath & Beyond registry and email it over to help@theknot.com with the subject line, "BBB Registry Customer." You can easily download a PDF by selecting the print icon in the top right corner of your "management" page and selecting "save as PDF."
Our FAQ page includes the finer details for how to get started on The Knot Registry, including offers from Crate and Barrel, Amazon and Sur la Table. (By the way, if you complete all steps before June 30, 2023, we may have a little gift for you.)
What Should I Say to My Guests About Bed Bath & Beyond's Bankruptcy?
Once you take the aforementioned step in replacing your registry information from Bed Bath & Beyond on The Knot, you'll want to swap related information on your wedding website if you mention the retailer. A Q&A page on your wedding website is an easy way to update said changes. Then, let your loved ones know about the change by sharing the link to your Q&A with a brief email explanation of the update.
I'm a Guest. What Should I Know About Bed Bath & Beyond's Bankruptcy?
For guests who are eager to pick up items at a local Bed Bath & Beyond store, be aware of the retailer's latest and prior closings. As encouraged throughout the planning process, you'll want to scope out the couple's wedding website and their registry to ensure you're up to speed with gift requests.
Should I Continue Shopping at Bed Bath & Beyond for the Wedding?
If you plan to stop by the store or retail locations, check the retailer's latest store closings for updates.
Help! I Need Registry Inspiration
Well, you've come to the right place. The editors have plenty of wedding registry inspiration and advice. If you want to easily add items to your updated registry on The Knot, the team has also curated a collection of must-haves (tried and true, timeless classics) to suit your fancy.