47 Best Wedding Registry Ideas for Every Price Range
What wedding gifts are worth registering for? Check out The Knot's list of must-have registry items you'll be using for years to come.

We have included third party products to help you navigate and enjoy life's biggest moments. Purchases made through links on this page may earn us a commission.
One of the best parts of your wedding planning is figuring out together what to pick for the best wedding registry ideas. There are tons of options out there these days, so you will need to decide early what to register for your wedding. If you don't already live together, it's the first time you can envision how you will decorate and plan for your home together. If you do share a home, this is a fun chance to upgrade those hand-me-down items you've had since you were in college (looking at you, sauce-stained Tupperware.) Here at The Knot, we've provided you with some tips and suggestions to help you figure out what to register for if you are registering for the first time, and ensure that your registry contains all the latest wedding registry must-haves, including winners from this year's The Knot Registry Awards.
Wedding Registry Ideas in this Article:
Why Have a Wedding Registry?
Unless you specify that you do not wish for any wedding gifts from friends and family, having a registry allows your guests to pick from a selection of top wedding registry items that you would love in your new home. A registry takes the guesswork out of the task, giving your loved ones confidence that they are purchasing a meaningful gift that you will love. A wedding registry also helps keep tabs on which wedding registry items have already been purchased by another guest, saving you the hassle of having to return that fifth gravy dish from your great aunt once removed in Idaho.
Many stores offer post-wedding discounts that let you purchase the wedding registry must-haves that your guests didn't purchase from your registry. If you received any cash wedding gifts, this is a great opportunity for you to personally choose items while getting a great discount. In addition, wedding registries from major department stores offer services to help you keep track and remind you to send those very important thank you cards after your wedding. In case you need any more persuasion to register for your wedding, many wedding registries will send you a personal gift for registering with them. So, do your research, and get the most out of your wedding registry in order to start your lives together.
How Many Items Should be on a Wedding Registry?
The size of your wedding registry should reflect the size of your guest list. Your wedding registry ideas should be in direct proportion to the number of gifts you expect to receive – and then some. If you're inviting 100 guests, you can generally expect a gift from each couple in attendance. There's no harm in having at least as many gifts on your registry.
As you weigh how many items to register for, you may also want to consider spreading your registries around multiple stores. Should all the gifts on one registry get snatched up quickly, your guests can turn to another list of options at another store. Diversifying your registries is a great way to ensure that nobody is stuck with a gift they can't afford.
What Should You Not Put on Your Wedding Registry?
Avoid putting truly personal gifts on your wedding registry. You might have had your eye on that pair of designer shoes for months, but since they can't exactly be shared with your significant other, it's best to save them for birthday or holiday wish lists. Shared gifts are true wedding registry must haves.
It's also a good idea to avoid registering for really expensive gifts. People want to give you presents that feel meaningful, and registering for a pricey television can feel like a cash grab. 
Tips for Registering your Wedding Registry
1. Have Several Price Points 
To avoid embarrassing your guests with the price tags of some of your wedding registry must-haves, make sure to have a wide range of price points to select from. There are many wedding registry ideas at affordable prices, but there are plenty others that allow family members to splurge if they choose to.
2. Involve Your Other Half
Whether you or your soon-to-be hubby is the shopper of the household, make sure to work together to pick out the items that you will both enjoy. Include some of the best wedding registry items for men as well as for women on your list so that you both enjoy a personal touch.
3. Check Out the Return Policies of your Registry Items
Having a registry means that you will be much more likely to receive gifts you love. However, there may be times where you change your mind. Plan ahead to make sure that your registry offers the most seamless exchanges and refunds.
4. Register at Several Stores 
Give your guests a few selections to choose from, both online and offline; that way they do not feel restricted and can have some unique wedding registry ideas to choose from.
5. Set it Up Early 
Make sure to do your research and add your wedding registry items to your wedding registry checklist early on so that your guests are not scrambling to find wedding gifts at the last minute.
Finding the Best Registry Gifts
1.  Items That Will Last
The best wedding registry items can be cherished for many years to come. At The Knot, we curated our list of top wedding registry items with quality in mind.
2. Items That Suit Your Lifestyle
Give your guests a few unique wedding registry ideas so they can feel they are personalizing your wedding gift. That special touch connects you to your honored guests in a very special way.
3. Items That You Use Everyday
Planning what to register for should be as simple as figuring out what you use daily. The best wedding registry items are things that you use every day in the kitchen, bedroom, and bathroom.
4. Items That Add a Personal Touch
Unique wedding registry ideas include monogrammed items and personalized gifts.
Wedding Registry Ideas: $250+
On the high end of the spectrum as far as gifting a couple for their wedding, this price point is typically reserved for the closest friends and family, so you may be wise to only include a few of these wedding registry ideas. However, with this list of amazing gifts that we have put together, you're sure to find something you can't live without!
KITCHEN
Couples that get healthy together, stay together. The Vitamix blender is a wedding registry must-have; from fruit smoothies to soups, you can make snacks and quick meals in a cinch. The brushed stainless steel makes the Vitamix a beautiful accessory to sit on your kitchen countertop. It also comes with a 20-oz. travel mug for those morning smoothies on the go.
1. Vitamix S55 Blender, $450, Crateandbarrel.com
BATH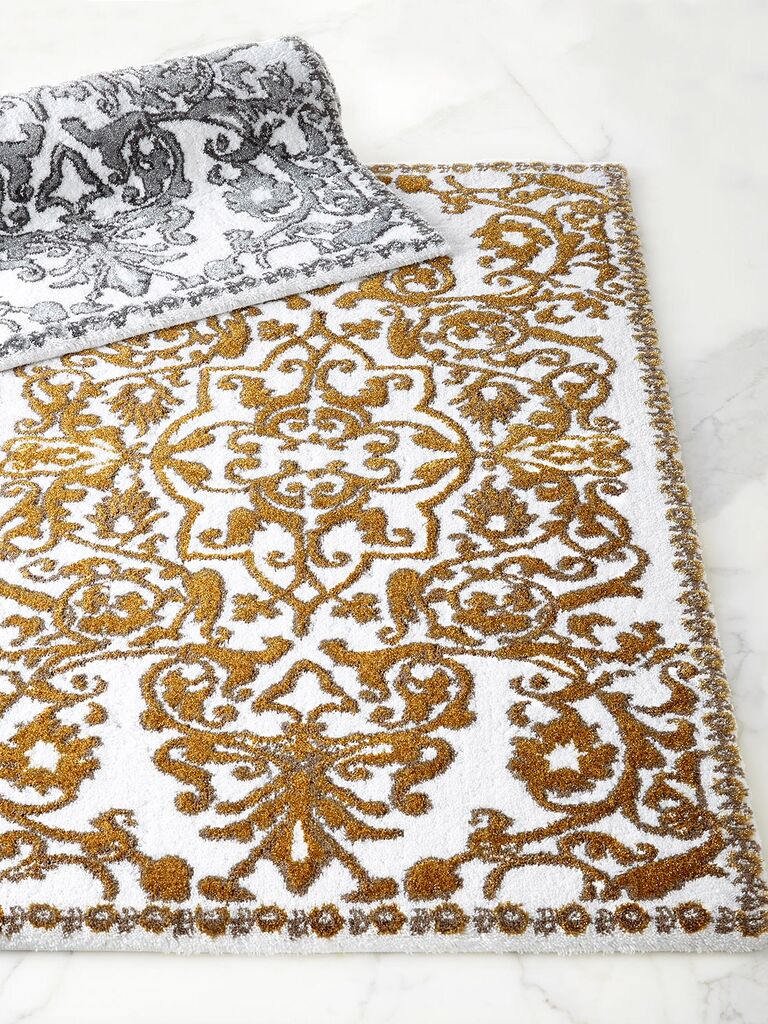 Indulge yourself in exuberance with this bath rug from Neiman Marcus and take the weekend off, spending most of it in your bathroom with your significant other. The metallic fibers in a scroll pattern would be an elegant touch to your spa-like bathroom at home.
2. Abyss & Habidecor Perse Bath Rug, $484, Neimanmarcus.com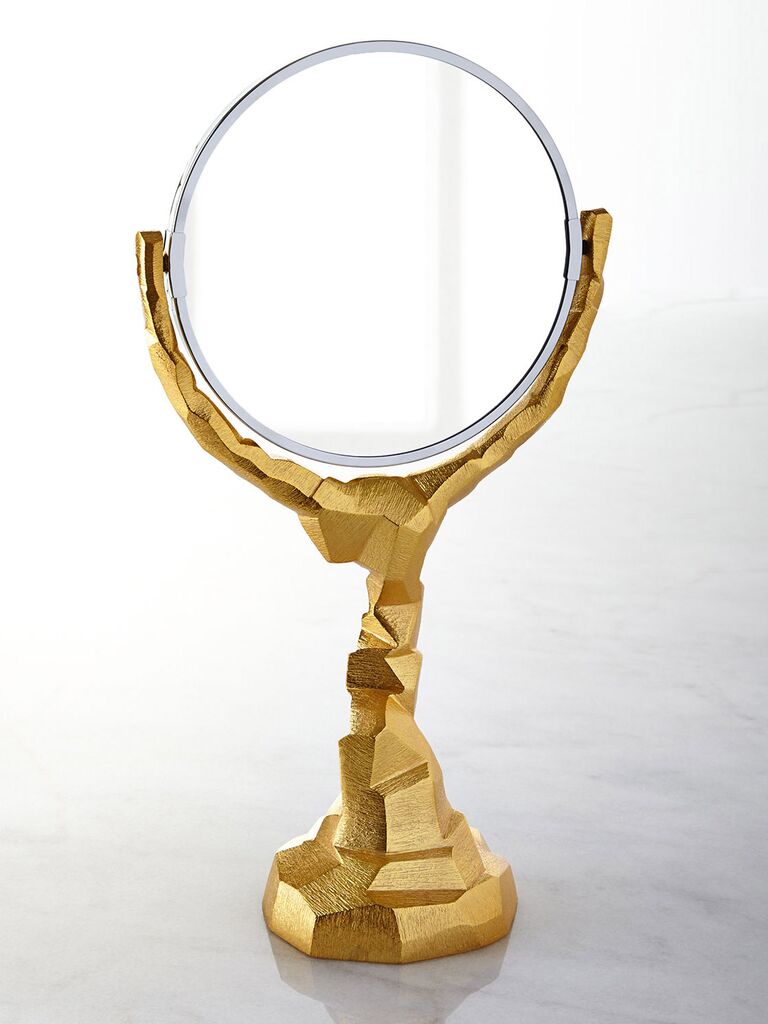 Completely handmade and different from every other one made, the rock vanity mirror from Michael Aram is the ultimate in unique wedding registry ideas. Register for this one-of-kind piece that complements your bathroom with distinguishing lines and form. It will be a statement piece in your bathroom and stand out for guests and family members to admire.
3. Michael Aram Rock Vanity Mirror, $275, Neimanmarcus.com
BEDROOM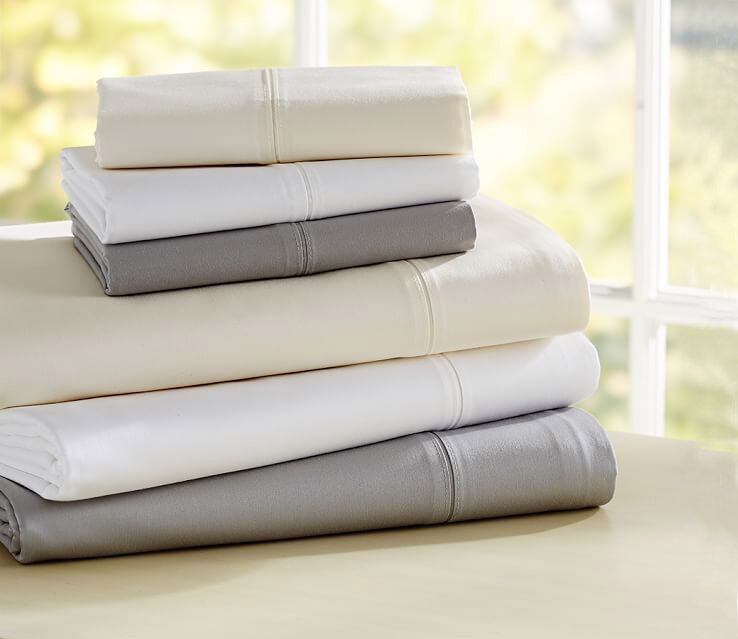 This 700-thread-count sheet set from Pottery Barn is the ultimate upgrade for your bedroom. Look no further for the softest and most comfortable sheets you'll own. Monogramming is available on request for an additional charge.
4. Pottery Barn 700-thread-count sheet set, $40 - $259, Potterybarn.com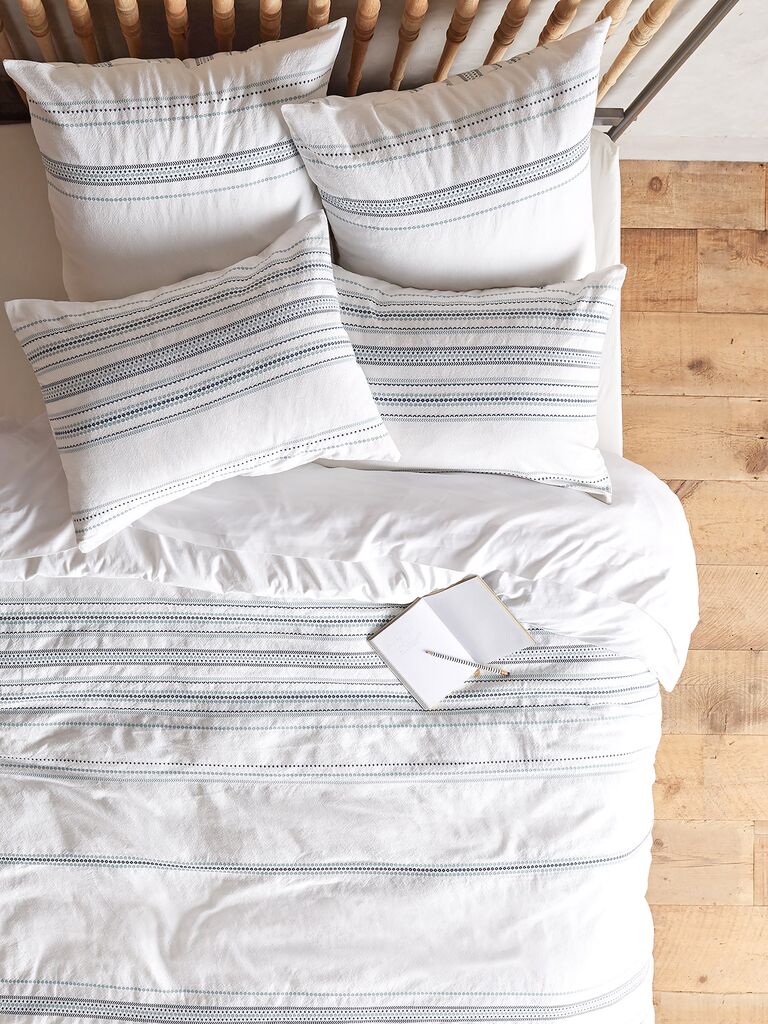 With a name like Coyuchi, this geo stripe duvet is a wedding registry must-have. Dressing your bedding with eco-conscious textiles, the certified organic materials are drawn from a special type of cotton from the heart of Mexico. Your weekends will consist mostly of lounging around in bed with this duvet from Anthropologie.
5. Coyuchi Geo Stripe Duvet, $328, Anthropologie.com
ENTERTAINING
What a better way to entertain your other half with the Happy Anniversary wine trio. This is a wedding gift to get excited about when you include it as one of your wedding registry ideas. Splurges like this top wedding registry item will encourage you to look forward to your wedding anniversaries for years to come. The trio of wine is to be opened on the fifth, tenth, and fifteenth wedding anniversaries so that they can be savored as you reach those important milestones in your marriage.
6. Bottlerocket Happy Anniversary! Wine Trio, $275, Newlywish.com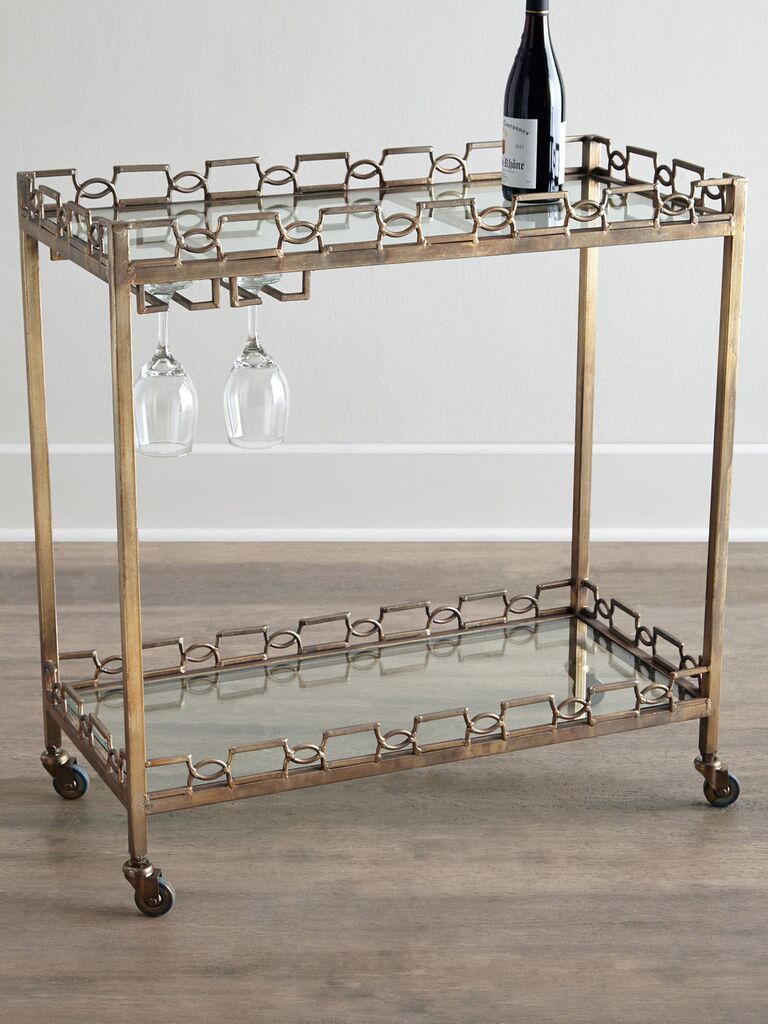 A bar cart is a mandatory entertaining piece in any home; so, for the hosting couple, this item is a great choice. The brass finish and forged iron bars of this bar cart are elegant yet functional in any space. The timeless design in gold and tempered glass is beautiful against any backdrop in your home.
7.. Hamilton Bar Cart, $699, Neimanmarcus.com
OUTDOOR & TRAVEL
For the world-traveling couple, this "experience in a box" may be the best wedding registry item to add to the list. Choose from romantic getaways for two in Paris to thrilling adventures in the Damajagua waterfalls in the Dominican Republic. This truly unique registry item offers many great experiences to choose from for any newly married couple.
8. Tinggly Worldwide Experience Gifts - Ultimate Tinggly Voucher / Gift Card in a Gift Box, $280, Amazon.com
Capture all those adventures from your wedding day to your honeymoon in exotic regions with the GoPro Hero5! Imagine all the memories you will be able to capture in your first year of marriage!
9. GoPro HERO5 Black, $295,  Amazon.com
Wedding Registry Ideas: $100 - $250
There's a good chance your parents may be looking for some wedding gifts up to $250, so be sure to add to a few to make shopping easier for dear mom and dad! We have some items on our list that you won't want to pass up.
KITCHEN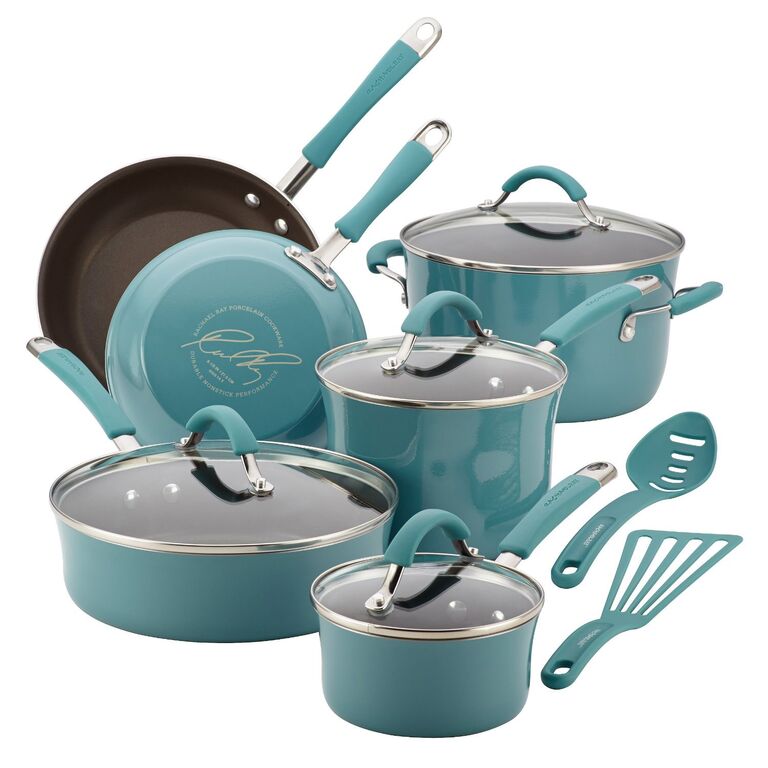 For the homebodies that love to cook and dine-in, this 12-piece cookware set is a wedding registry must-have. The lovely yet durable design from Rachel Ray is one of the top wedding registry items on every new couples' list. This rustic yet modern colored set will sit beautifully in your new open-concept kitchen with open shelving. Host in style with these durable wedding registry items at your next potluck party.
10. Rachael Ray Cucina Hard Porcelain Enamel Nonstick Cookware Set, 12-Piece, Agave Blue, $120, Amazon.com
BATH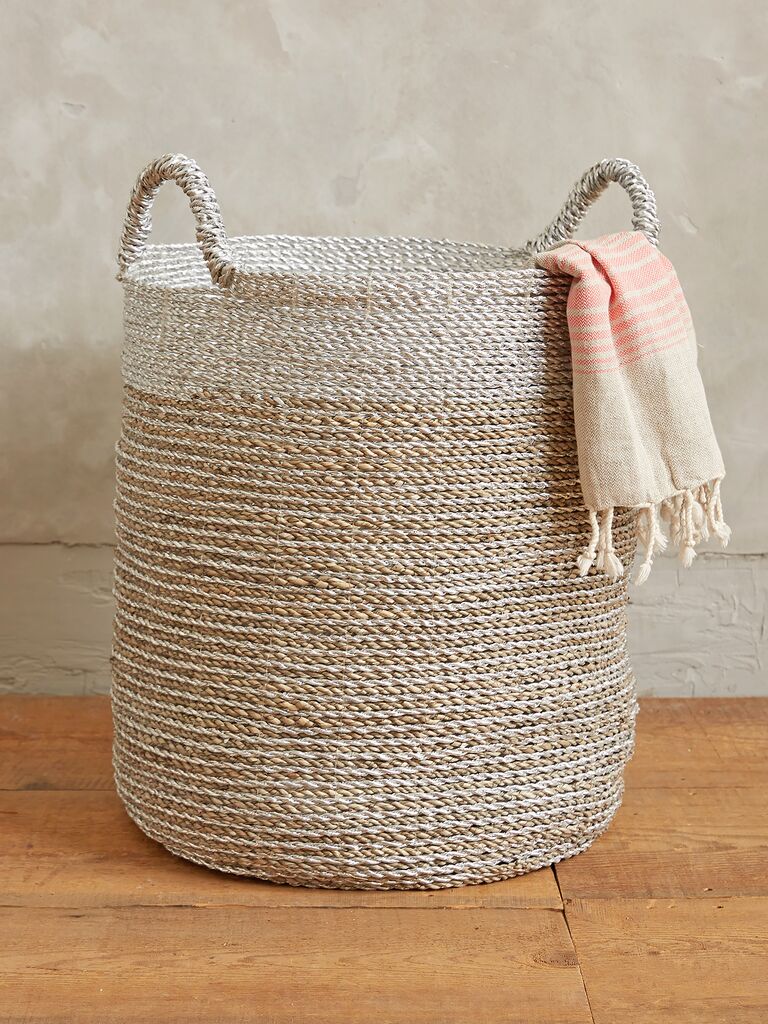 If you are ever wondering what wedding items to register for in your bathroom, check out the beautiful sun stream basket from Anthropologie. The large size and rustic charm of this basket makes it a great accent piece to your bathroom. It can hold three large towels easily, and its wicker seagrass material makes it super easy to clean; just wipe it with a dry cloth to remove dust.
11. Anthropologie Sun Stream Basket, $108, Anthropologie.com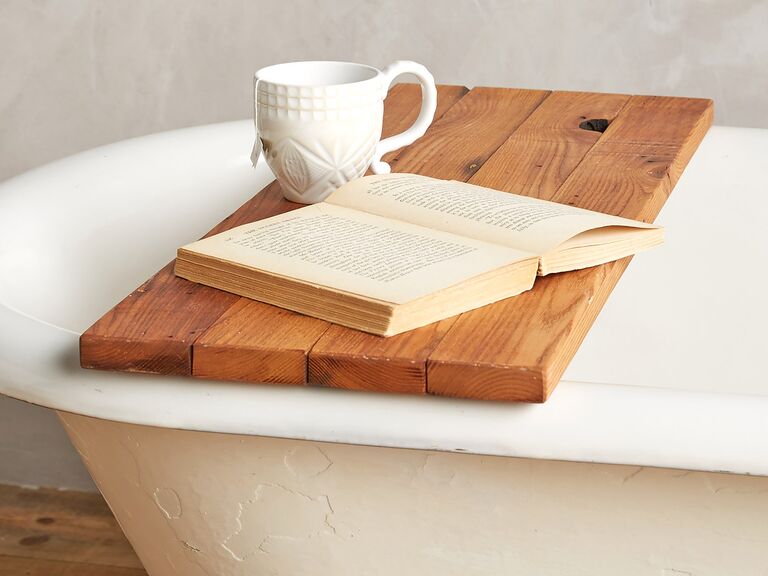 If you are into furniture made from reclaimed wood, this bathtub caddy is a unique wedding registry idea for your bathroom accessories. This water-resistant caddy adds character to your bathroom, whether you have a small but cozy bathtub or a large and luxurious tub. It makes you feel like you are in a spa with its earthy design and functionality.
12. Peg & Awl Vestige Bathtub Caddy, $168, Anthropologie.com
BEDROOM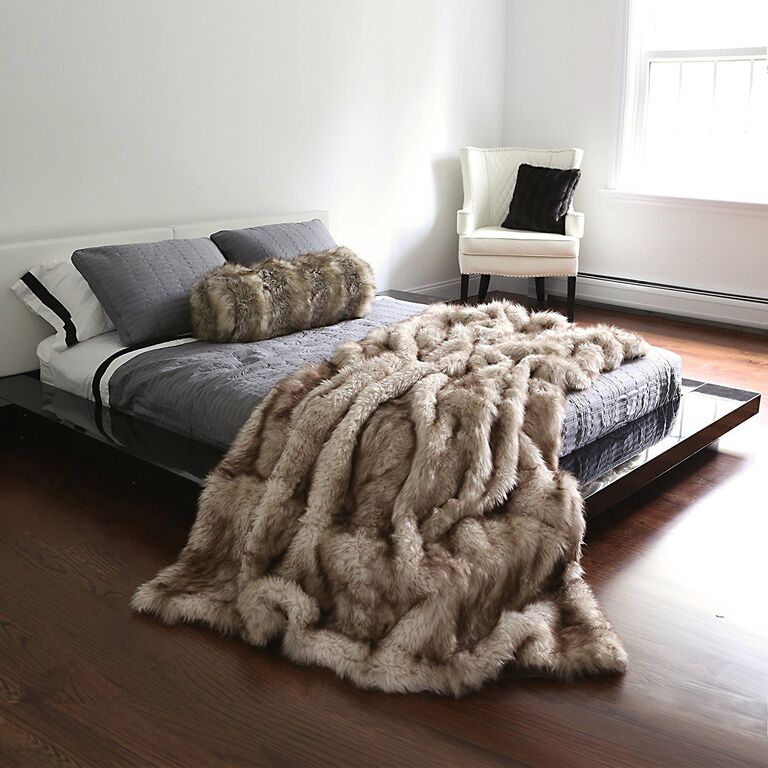 Your bedroom should be a safe haven for you to relax and unwind in every night. This beautiful, lush faux fur throw is an incredible addition to your wedding registry ideas. The faux rabbit fur throw adds warmth and luxury to create an inviting allure to your bedroom décor. Made with super soft innovative fibers that mimic animal fur without harming any animals, it looks best draped over your bed or on one of your reading chairs in your bedroom.
13. Best Home Fashion Faux Fur Throw - Full Blanket, $160, Amazon.com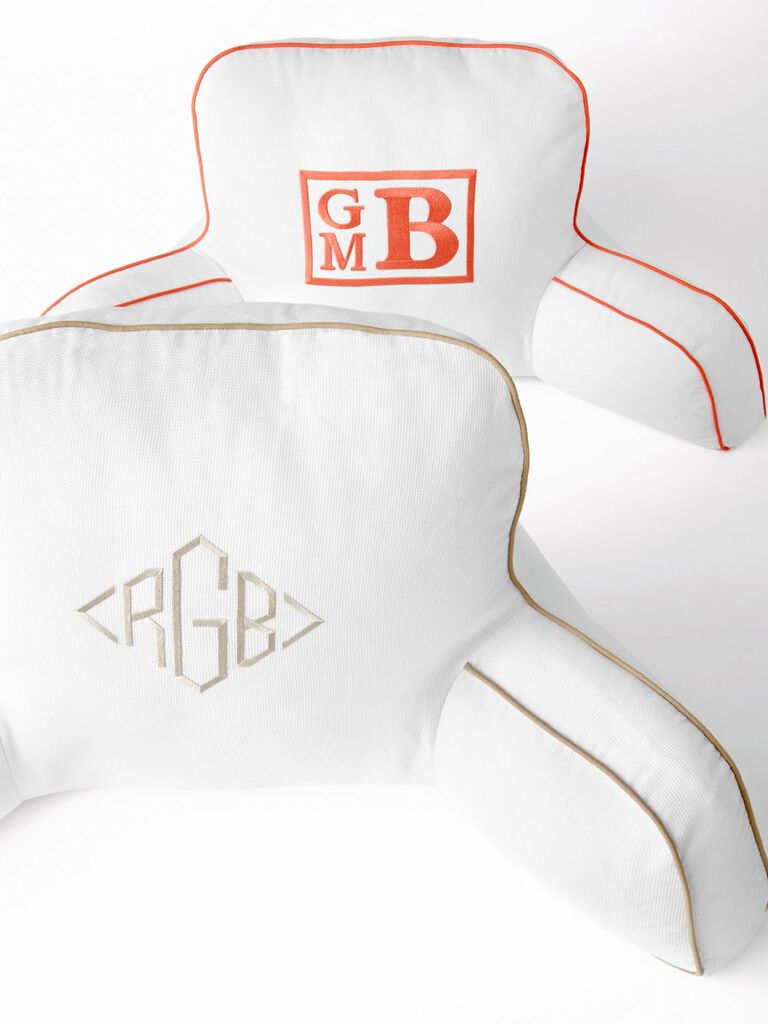 Personalized backrests are superb wedding registry ideas for men. Enjoy reading or watching a movie in bed in ultimate comfort with your personalized backrest embroidered with your initials. The white pique backrest can easily be stored away in the closet and pulled out to be used whenever you need it. No more back pains while lounging around in bed!
14. Peacock Alley Personalized "Boyfriend" Backrest, $193, Neimanmarcus.com
ENTERTAINING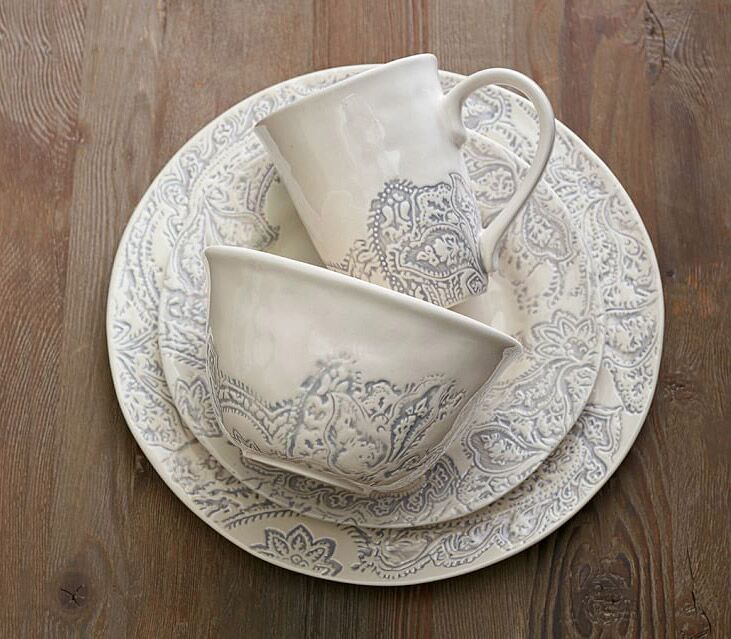 Dinnerware sets make excellent, necessary gifts to add to a wedding registry. The proper way to start a new life together as a new couple is to have proper dinnerware for when family comes over. Choosing the right pattern and style may seem daunting, but this simplistic set from Pottery Barn is a fantastic contender for price point and style as one of the best wedding registry items.
15. Pottery Barn Scarlett 16-piece dinnerware set, $180, Potterybarn.com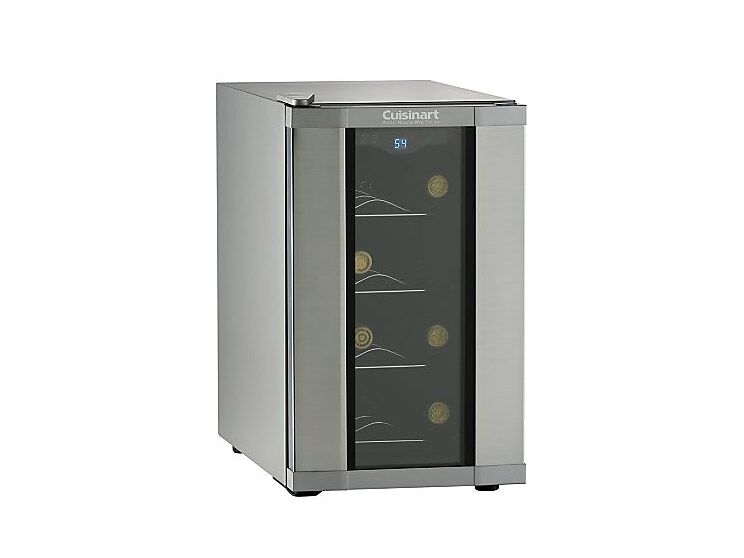 This entertainment piece is a unique wedding registry idea to put on your list. It is an investment in your endeavor to be the best dinner hosts in your neighborhood. This wine cooler can easily be stored away in a corner of your kitchen or game room without taking up too much space. You can chill your wines and coolers ahead of time for a sophisticated night of wine and cheese with your group of friends when you add this to your list.
16. Cuisinart 8-Bottle Wine Cooler, $160, Crateandbarrel.com
OUTDOOR & TRAVEL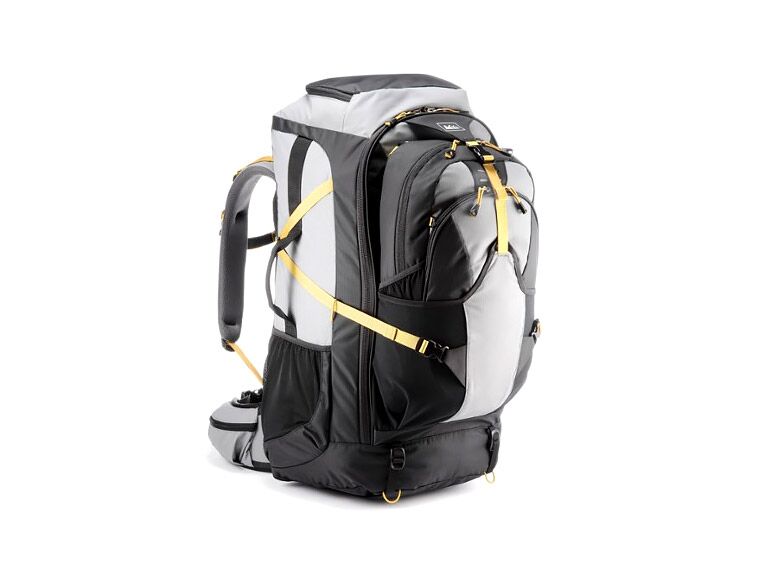 For the outdoorsy couple who love to explore the forces of nature, the REI Grand Tour travel pack is the ideal wedding registry idea for men. Just remember to add one for his better half to your registry! With removable daypack options, this ultra-lightweight travel pack is great in any weather with its rain/travel cover to protect against the elements. Roomy enough for a month-long backpacking trip in Europe, this pack is comfortable to wear and a great investment item.
17. REI Grand Tour 85 Travel Pack – Men's, $189, REI.com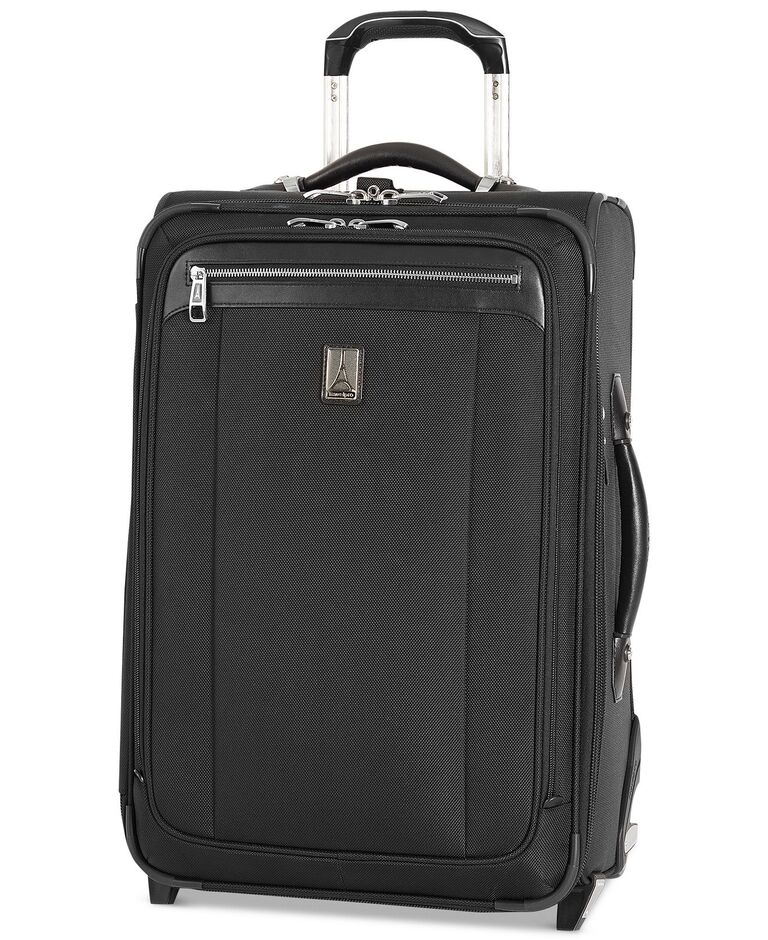 Effortless and smooth steering is the difference maker in this wedding gift. The Platinum Magna suitcase makes a great gift for those set to travel the world together as a newly married couple. Durable nylon and rubber crash guards keep your contents intact during long trips while still being super lightweight and maneuverable in crowded airports.
18. Travelpro Platinum Magna 22-Inch Expandable Rollaboard Suitcase, $232, Macys.com
Wedding Registry Ideas: $50 - $100
Items on this list are a bit more lavish, but still well within the range of what to spend on a couple for their wedding. Close friends and family will find plenty of ideas here, so be sure to add a few registry gifts up to $100, or many if you'd like!
KITCHEN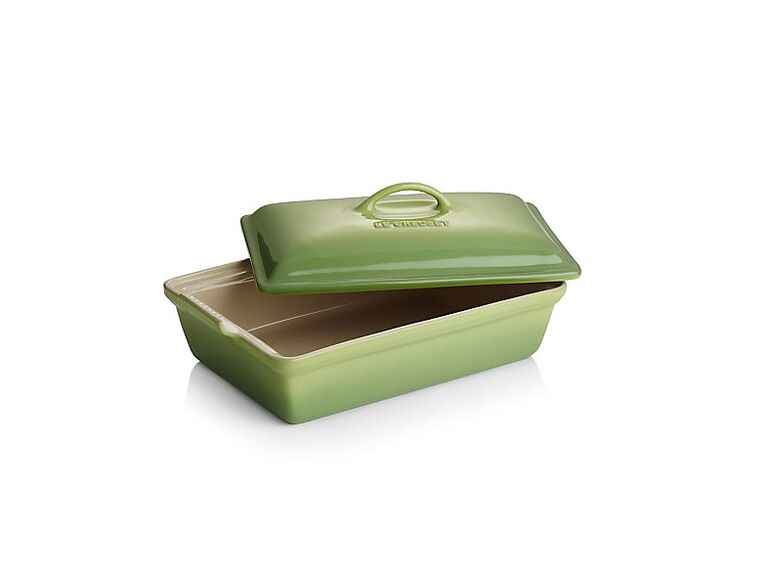 Even if you aren't a chef at heart, you will appreciate a durable and beautiful baking dish to complete your kitchen ensemble. When we think of the top wedding registry items, bakeware is always among the top five choices. For those sticky pot roasts and messy quick breads, this a great wedding registry idea that is beautifully crafted and performs superbly well.
19. Le Creuset Heritage Covered Rectangle Palm Baking Dish, $100, Crateandbarrel.com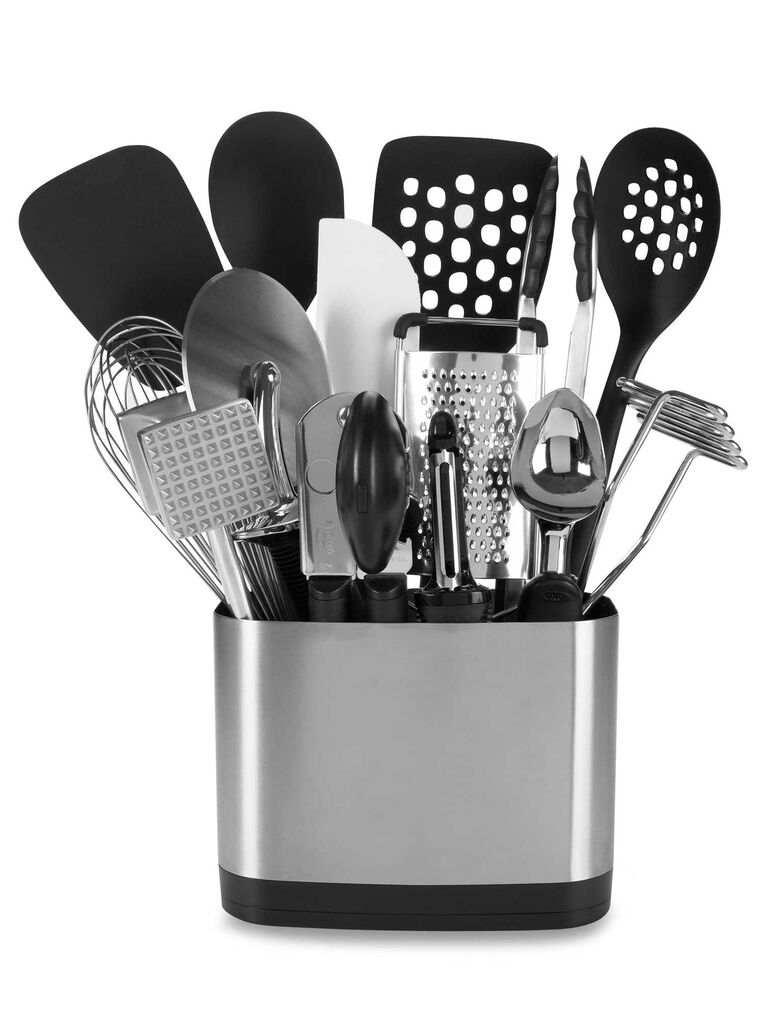 Moving in together for the first time usually means empty kitchen drawers for the first year. This wedding gift is a definite must on your wedding registry. This 15-piece kitchen tool set has all the essentials to start you off right as you learn to make home-cooked meals after you come home from your honeymoon.
20. OXO Good Grips 15-Piece Kitchen Tool Set, $100, Bedbathandbeyond.com
BATH
The shower dispenser and basket from Better Living Products is a unique wedding registry idea, and one of the best wedding registry items for men because of the easy access to your soap and shampoo. This dispenser is ideal for a quick shower in the morning for the new couple that prefers to sleep in.
21. Better Living Products Aviva II Dispenser Shower Basket, $80, Wayfair.com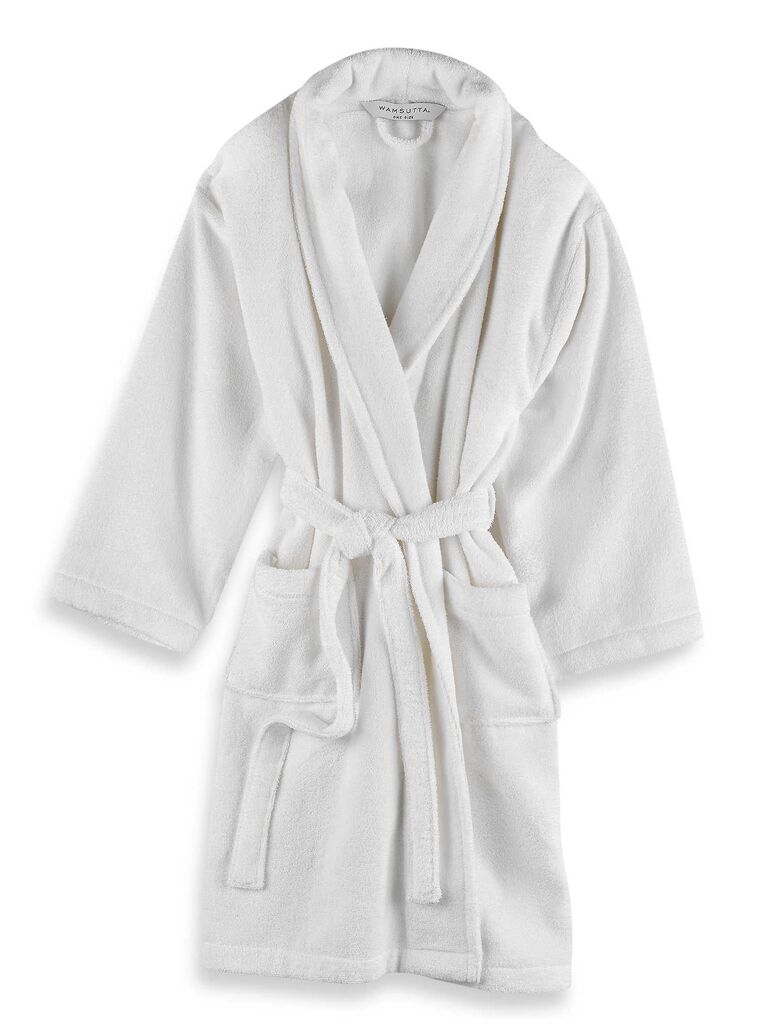 Terry bathrobes are a wedding registry must-have! The comfortable and plush bathrobe is a favorite wedding registry idea. A perfect unisex style for him or her, this bathrobe holds up its shape and fluffiness even after multiple washings. Slip into this super-plush wedding gift right after a warm shower and cozy up to your spouse for a lazy night in.
22. Wamsutta Unisex Terry Bathrobe in White $90, Bedbathandbeyond.com
BEDROOM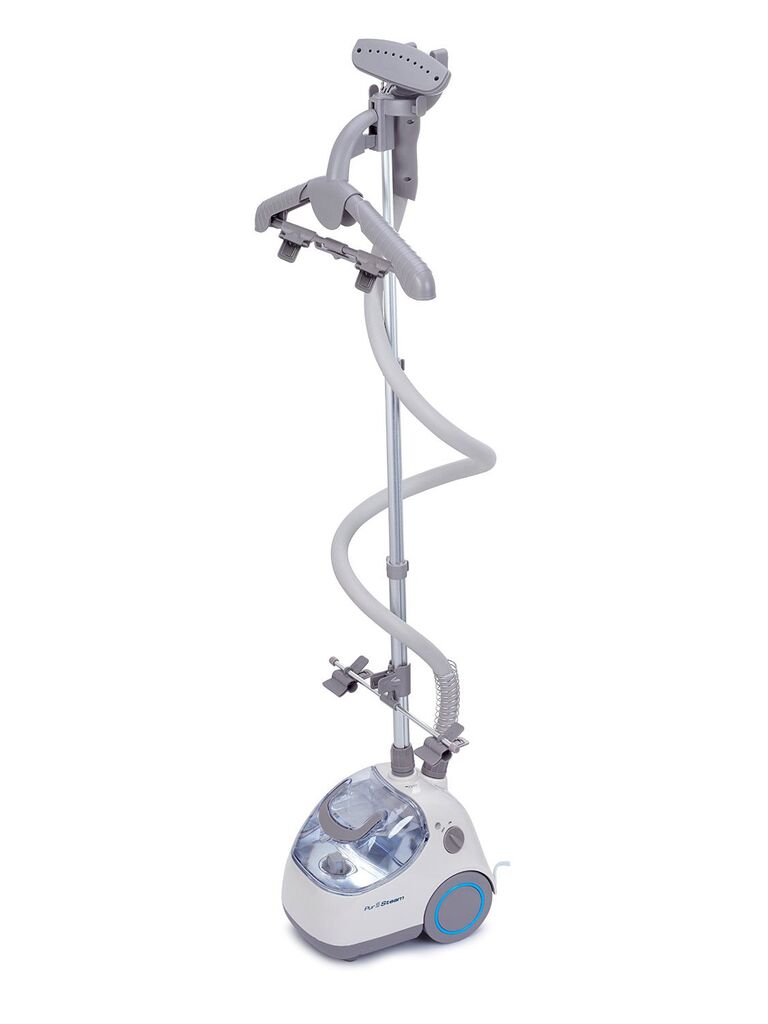 Not enough credit is given to a good fabric steamer for your new home as a new couple. Looking sharp has never been easier for your weekly date nights. This is one of the best wedding registry items to have on your list, because it will save you time and money in getting your dress clothes looking their best.
23. PurSteam Heavy Duty Powerful Fabric Steamer with Fabric Brush and Garment Hanger, $65, Amazon.com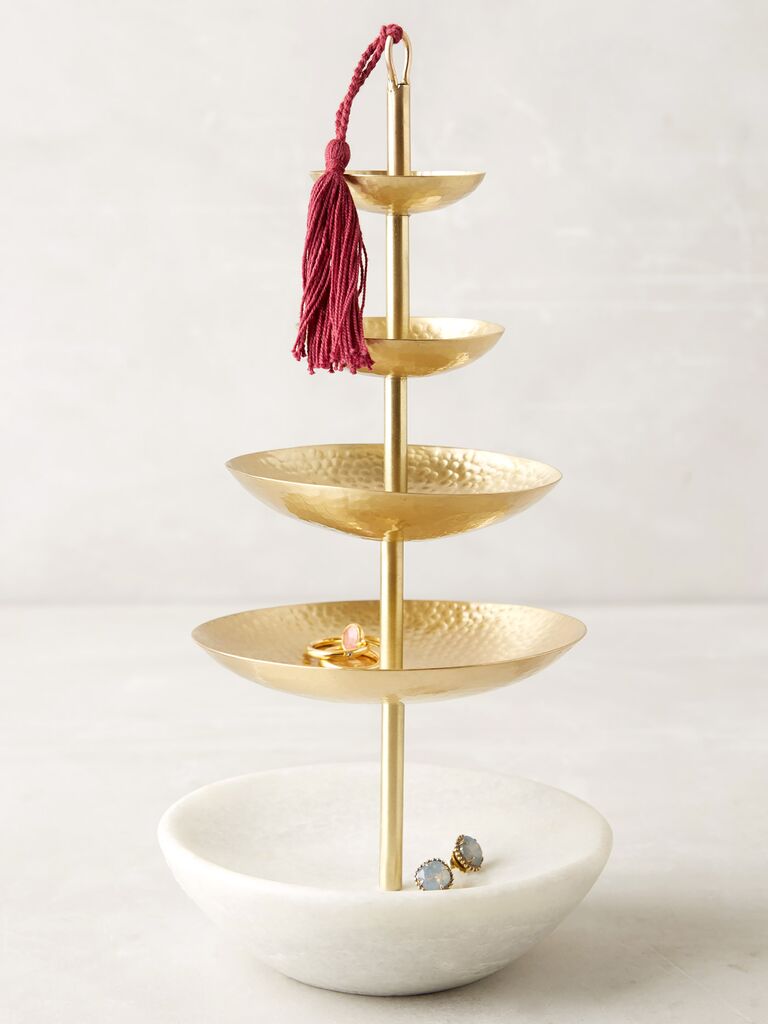 What a better splurge item for her than this beautiful wedding registry idea from Anthropologie. This handmade brass and marble jewelry stand is a tasteful wedding registry item for your bedroom to store your watches, rings, and other jewelry. Add this unique wedding registry gift for some personal touch to your bedroom décor.
24. Anthropologie Tasseled Jewelry Stand, $98, Anthropologie.com

ENTERTAINING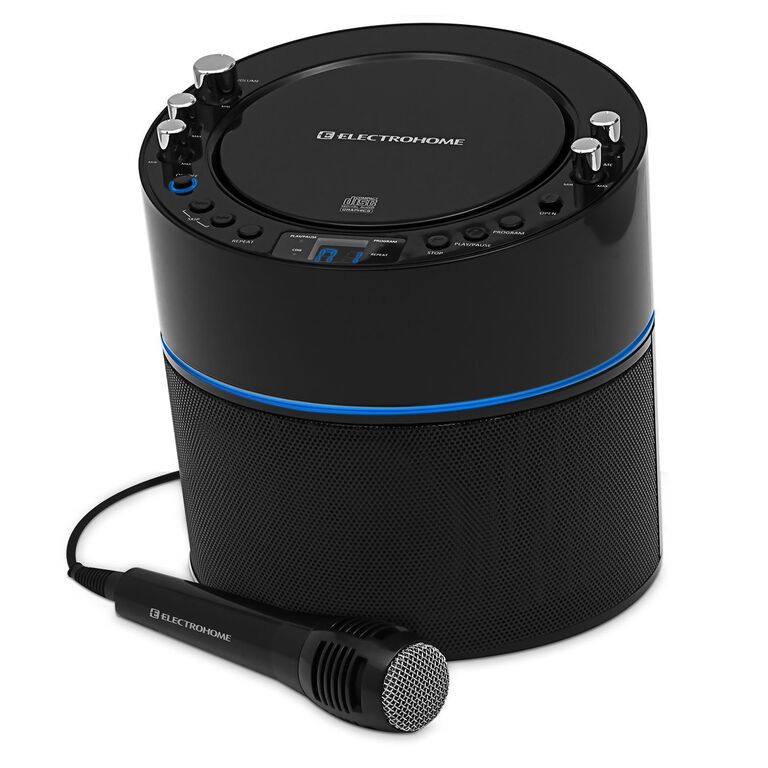 Holidays and get-togethers will never be the same with this unique wedding registry idea. Think of the endless nights of fun-filled couples' karaoke contests in the comforts of your own home! Entertain with a couple of drinks and snacks in bowls and glasses from your wedding gift stash and you're set to have an incredible time singing to your favorite tunes.
25. Electrohome Karaoke Machine Speaker System, $70, Amazon.com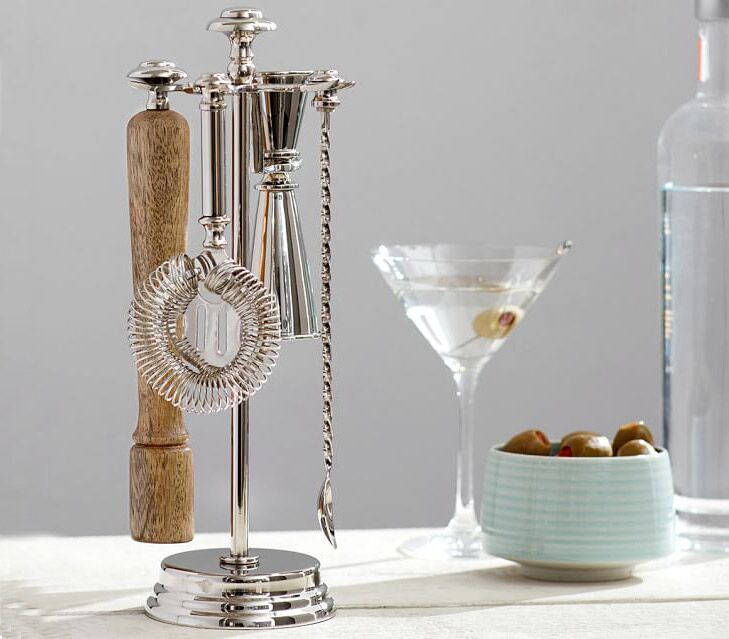 This bar tool set from Pottery Barn is a stylish addition to the entertaining area of your new home. A bar is not complete without this set, which includes a strainer, bar spoon, jigger, and muddler. Bringing professional elegance to your home bar, this practical tool is a wedding registry must-have.
26. Pottery Barn Harrison bar tool set, $70, Potterybarn.com
OUTDOOR & TRAVEL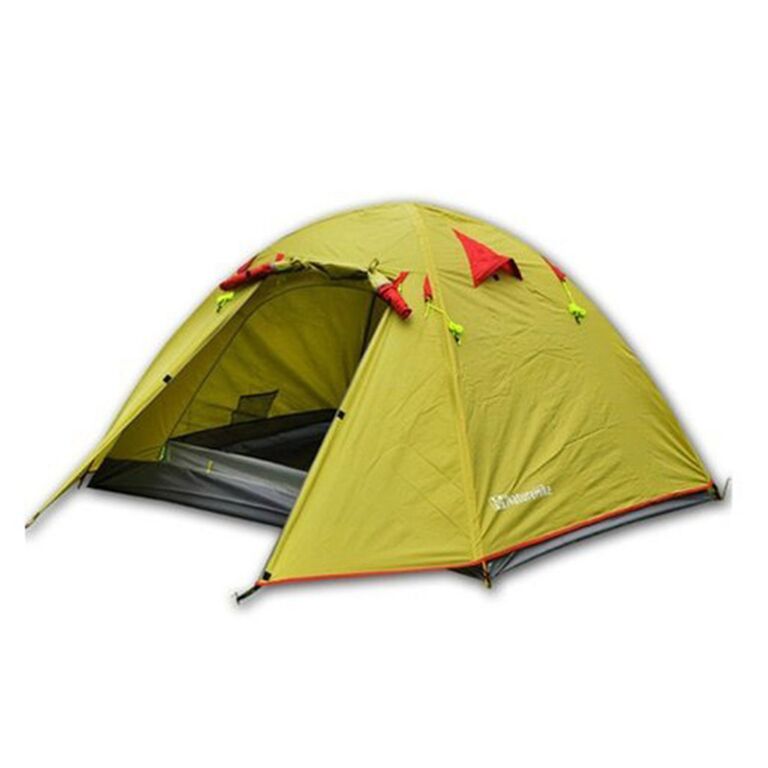 Camping trips are common getaway for newly married lovebirds. The adventure of exploring the outdoors is appealing to outdoor lovers, and the Weanas tent is a wedding registry must-have to explore the outdoors with. The tent is light and compact enough to fit into a backpack, making traveling a breeze. Designed to withstand multiple elements, this is the best wedding registry item for the outdoors-loving couple.
27. Weanas Waterproof Double-Layer 3-Season Backpacking Tent, $100, Amazon.com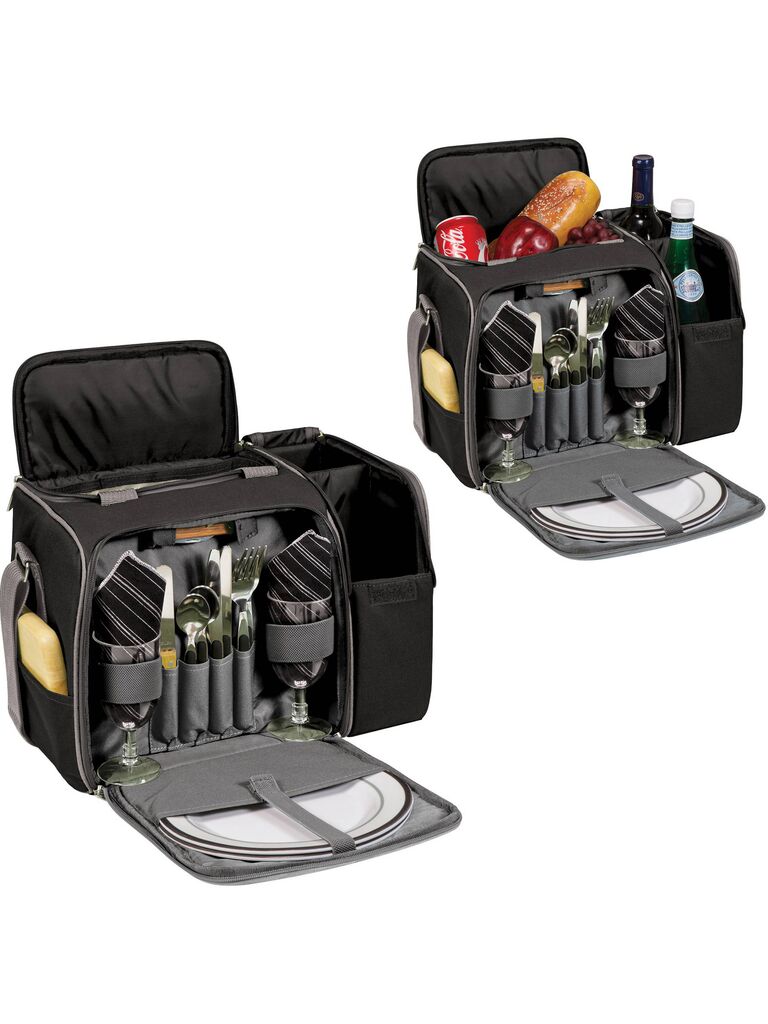 Romantic picnics in the park are in the plans with this handy wedding registry must-have. The picnic pack comes with a 16-piece set of utensils, which include a cheese knife, corkscrew for opening a bottle of wine, and a cutting board to cut and serve up some cheese. With compartments for plates, forks, knives, spoons, and napkins, all you'll need to plan for is what food to pack for your picnic together.
28. Malibu Picnic Pack – Black, $90, Target.com
Wedding Registry Ideas: $20 - $50

A common price point among wedding guests, registry items up to $50 provide many options to choose from. These may be given as stand-alone gifts, or guests closer to you could choose two complementary gifts in this price range.
KITCHEN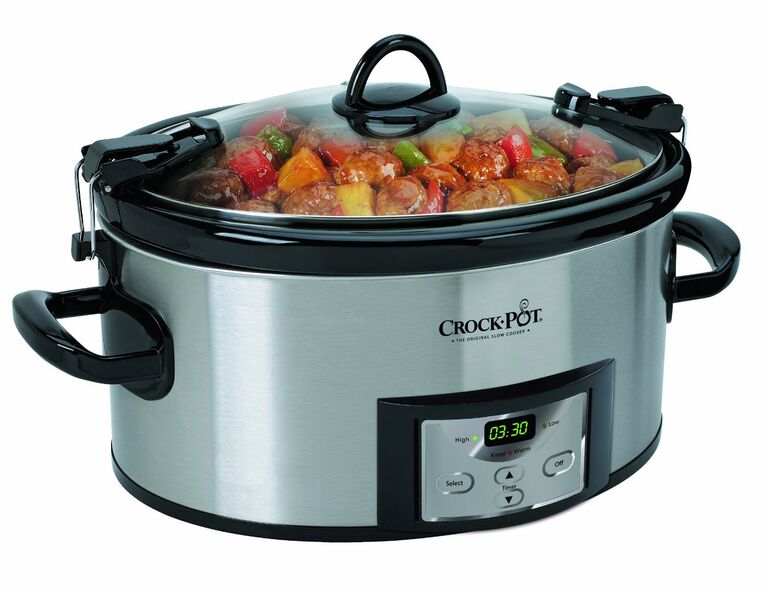 Probably the most essential wedding gift that you should register for is a crock pot. When you're putting together some wedding registry ideas, this kitchen item is a wedding registry must-have. On many nights when neither of you will be available to slave away at the stove because of your hectic schedules, a good-sized crock pot will be a lifesaver.
29. Crock-Pot 6-Quart Slow Cooker, $50, Amazon.com
BATH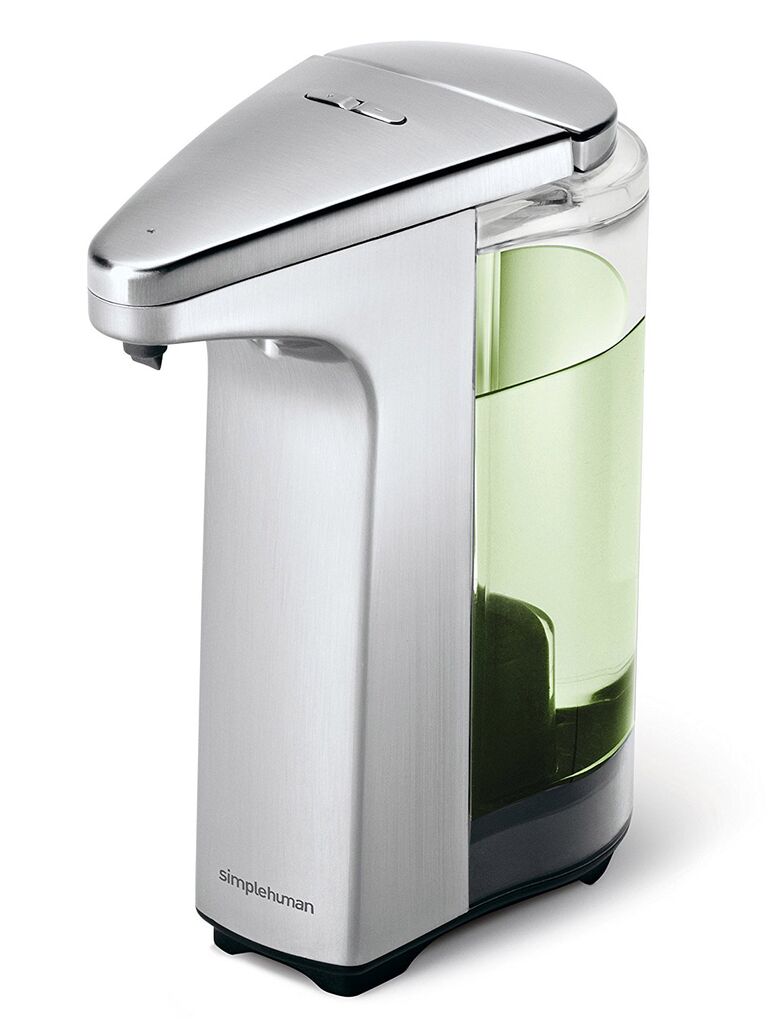 Life gets messy, and a fun way to add a little technology to your humble abode is to add this soap pump to your wedding registry. This is one of the best wedding registry items for men for its energy-efficient and mess-free design. It's easy to refill and ideal for your kitchen, bathroom, or wherever dirty hands need to be washed.
30. Simplehuman 8 oz. Sensor Pump, $40, Amazon.com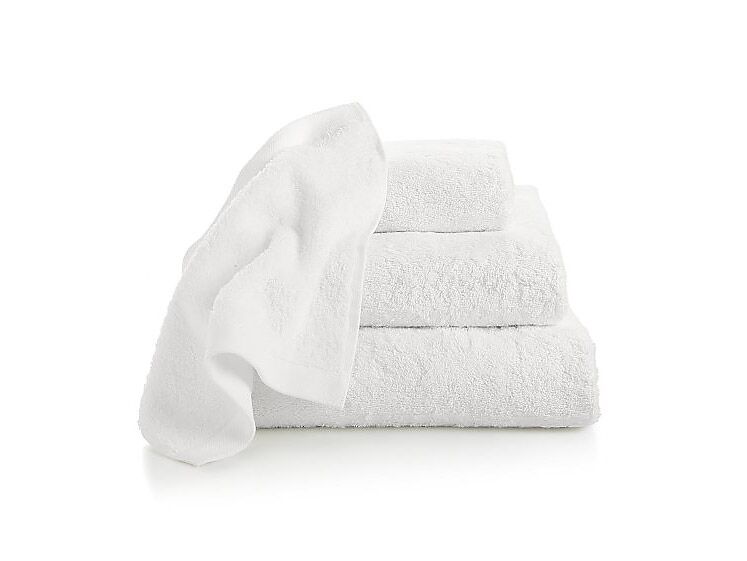 One of the top wedding registry items are bath towels; you can never have enough! When you have out-of-town guests visiting, you will be glad that you registered for towels as one of your wedding gifts. These Egyptian cotton bath towels are as soft and comfortable as they come. Having several sets just mean that you're always ready to have clean towels to display in your impeccably grown up and married bathroom.
31. Crate & Barrel Exclusives Egyptian Cotton White Bath Towels, $40, Crateandbarrel.com
BEDROOM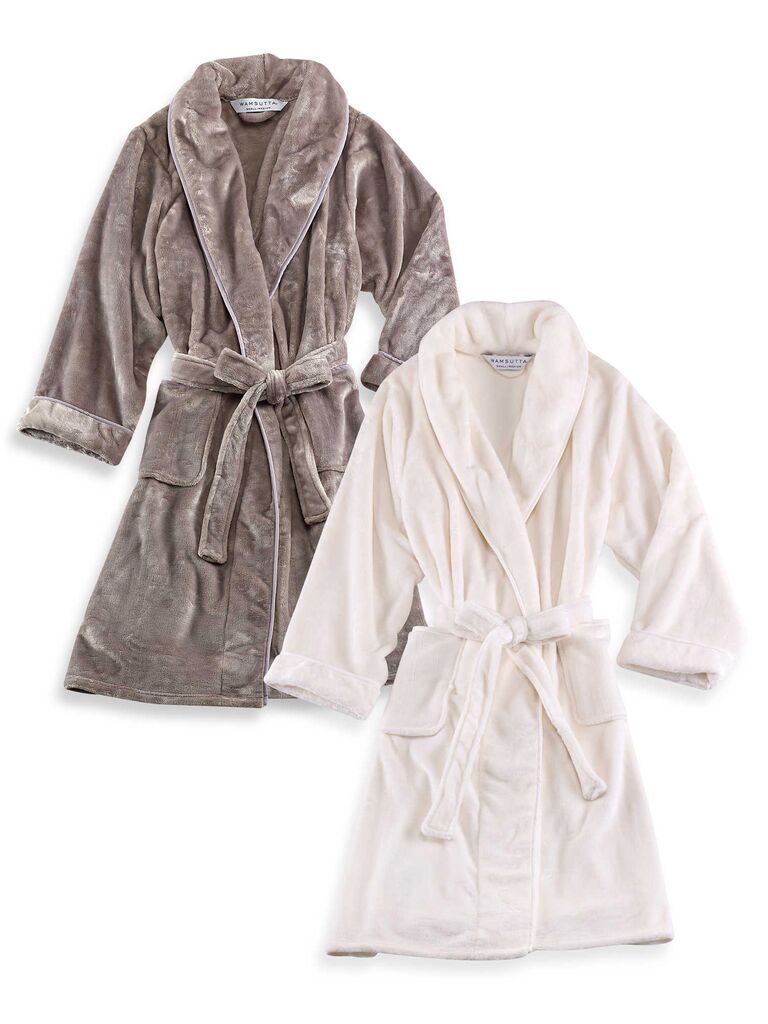 Snuggle up with your significant other in a pair of plush and fluffy robes from Bed, Bath & Beyond this winter and enjoy the marital bliss. Whether you're looking for a great way to end an awesome date night, or planning to stay in for a Netflix marathon, this robe is a wedding registry must-have.
32. Wamsutta Plush Robe, $50, Bedbathandbeyond.com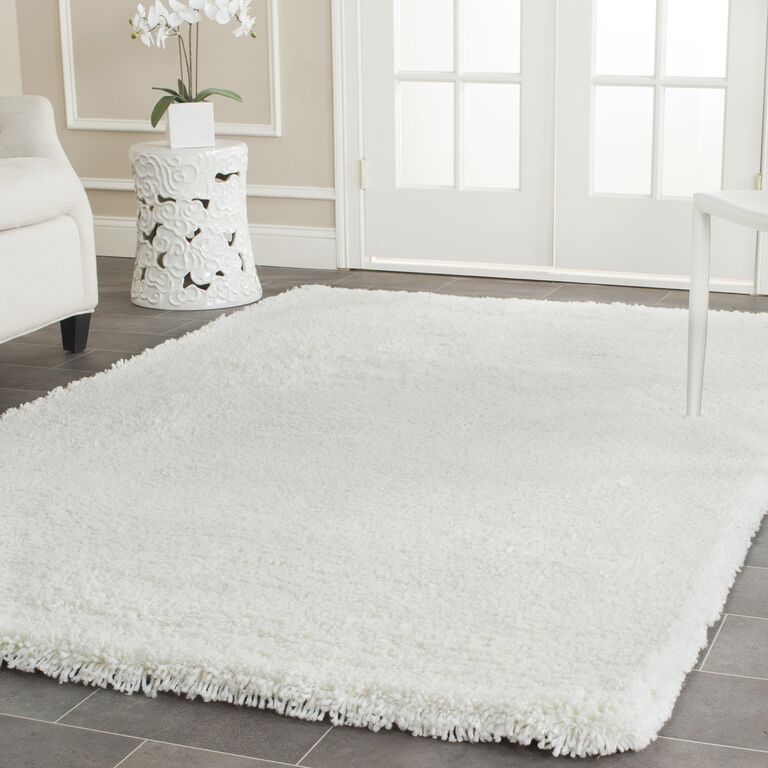 A romantic evening with your spouse with a glass of champagne by the fireplace is incomplete without this unique wedding registry idea. You may never think to add an area rug to your wedding registry, but it'll be a great piece to add to your bedroom for the serene ambiance.
33. Safavieh Shag White Area Rug, $112, Wayfair.com
ENTERTAINING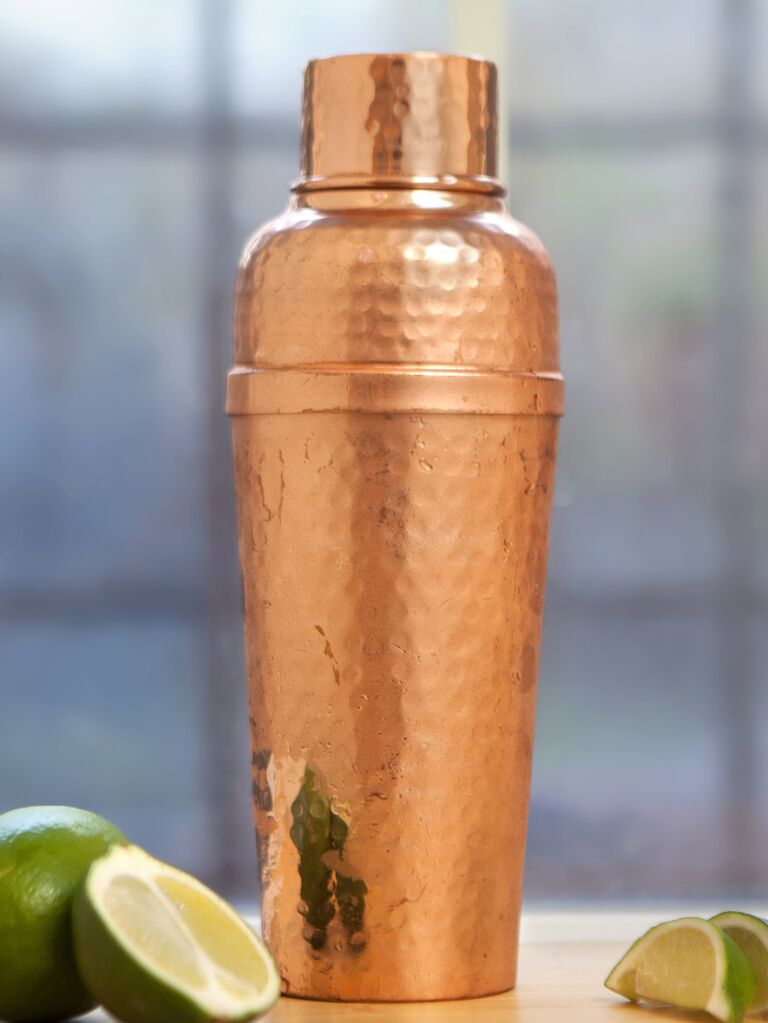 Double-date nights with your best friend and their spouse just got more fun with this chic wedding registry item. Create your own signature drinks whenever you are hosting with this beautiful 100% copper cocktail shaker from Alchemade. Bring on the board games and karaoke nights; entertaining your friends just got swankier with some home-made concoctions.
34. Alchemade Hammered Copper Cocktail Shaker, $29, Wayfair.com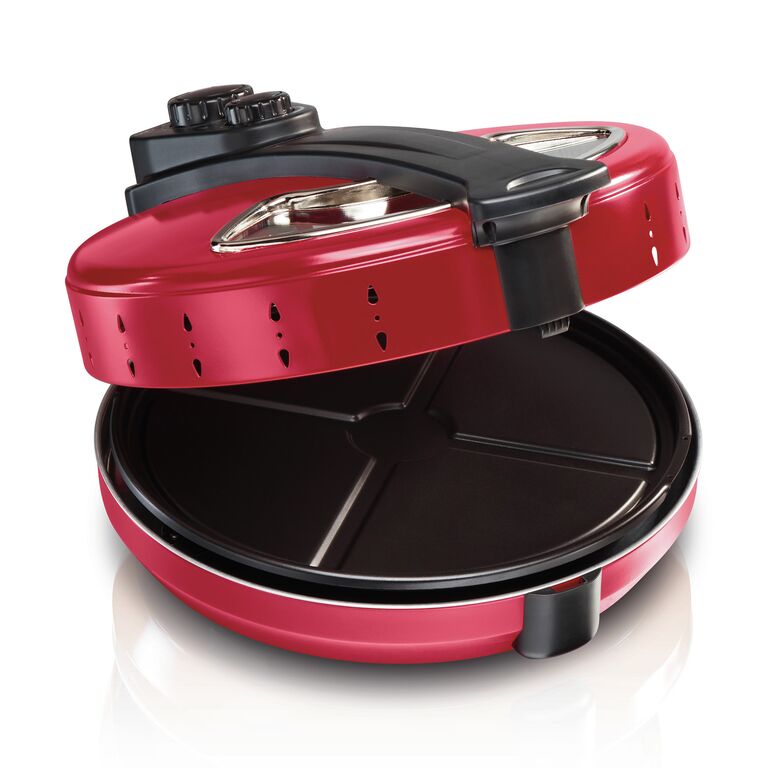 There will be nights when you and your spouse are both too busy to prepare dinner and eating out is not in your plans. While trying to stay on budget to pay for your upcoming wedding, break out this wedding registry must-have to heat up some pizza at home. Unlike an oven, this amazing tool won't overcook or burn your pizza. It has a self-timer that shuts off if you manage to forget you put the pizza maker on in the first place.
35. Hamilton Beach Electric Pizza Maker, $50, Wayfair.com
OUTDOOR & TRAVEL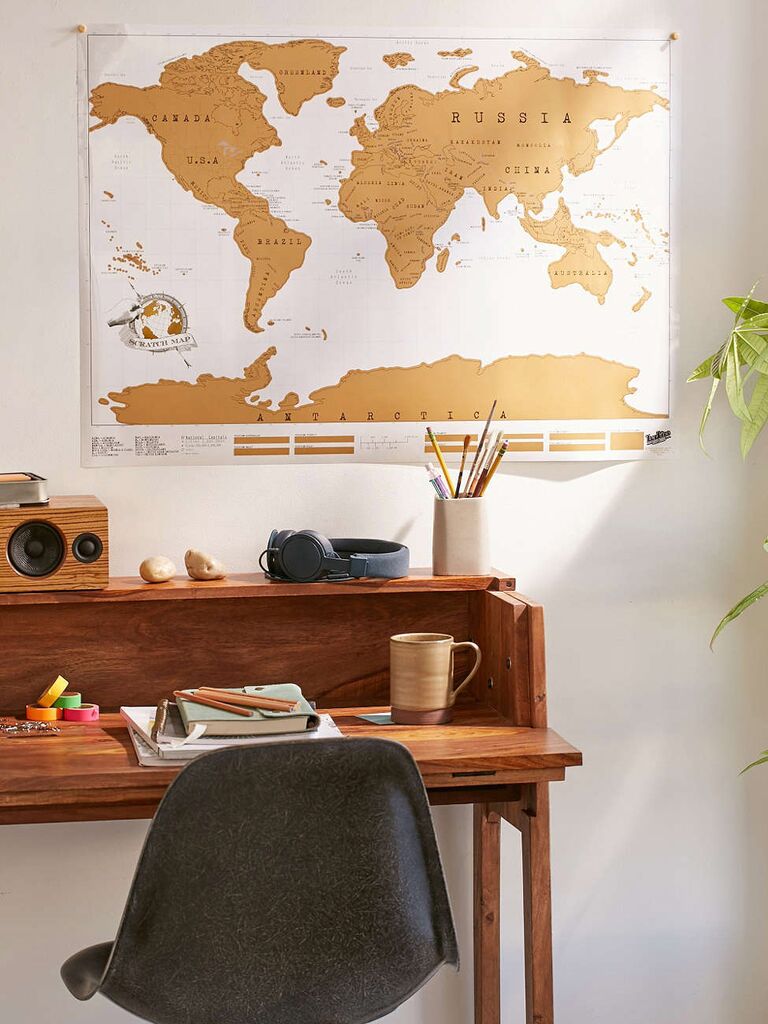 If traveling abroad is a part of your dreams as a newly wedded couple, make sure to register for this fun world scratch map as one of your top wedding registry items. This classic world map is layered with foil so you can scratch off places you have visited and keep track of places you have yet to go see together.
36. Urban Outfitters World Scratch Map, $34, Urbanoutfitters.com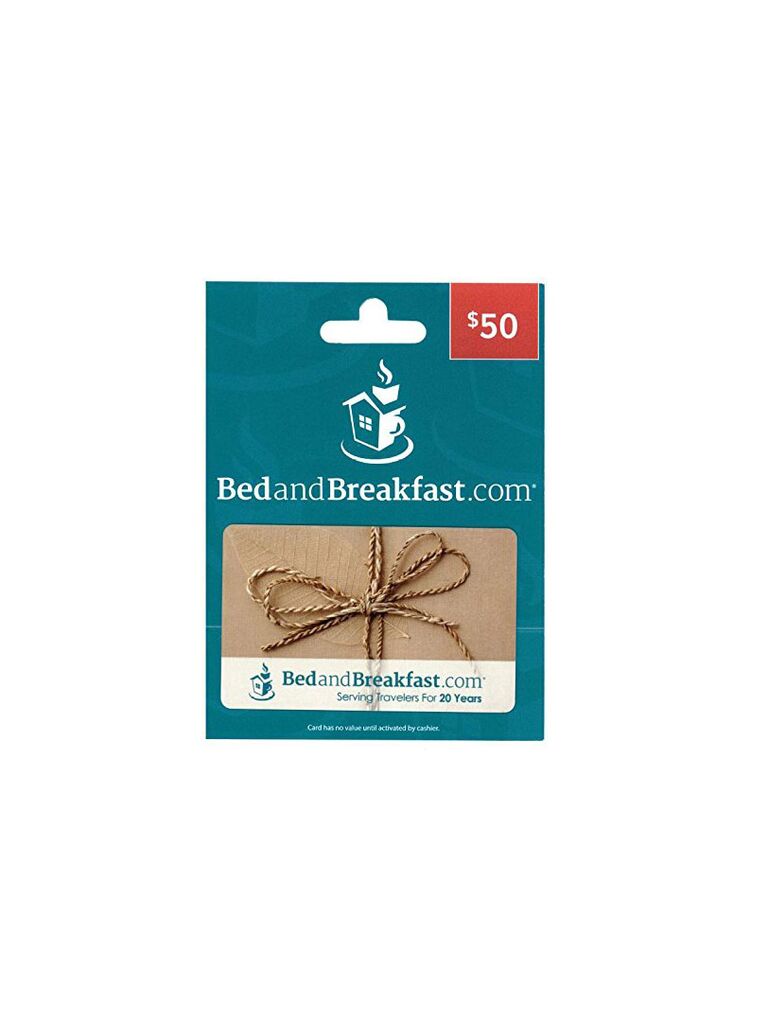 A gift card to a cozy bed and breakfast for your one-year wedding anniversary is the perfect item if you are wondering what to register for. With your honeymoon already planned and set, getting a wedding gift for a quick getaway for you and your new spouse will help you unwind from the stress and tension brought on by your daily lives. With many B&Bs to choose from, this wedding registry idea will bring many memories to be cherished for years.
37. BedandBreakfast.com Gift Card, $50, BedandBreakfast.com
Wedding Registry Ideas: $0 to $20
Here we have provided a list of the least expensive but still excellent wedding registry ideas. These make great options to include in a gift basket, or for a guest on a tight budget, so be sure to include plenty of these, as long as they are items you really want.
KITCHEN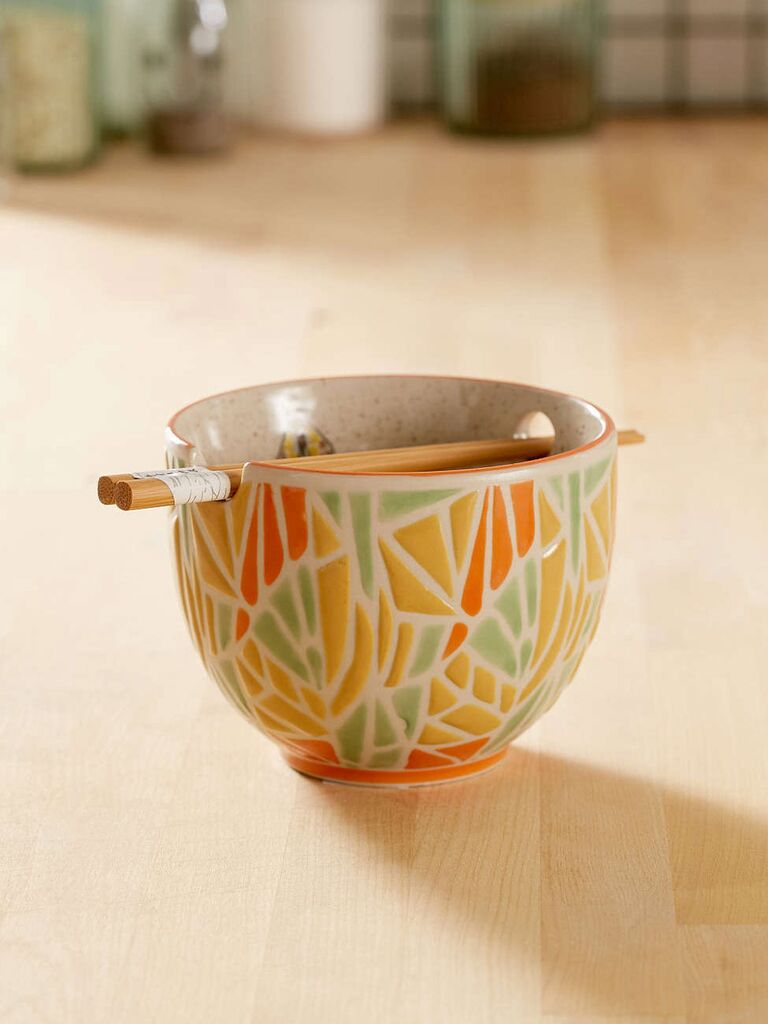 For a cute idea on what to register for, check out this noodle bowl and chopsticks set from Urban Outfitters. Why not share a delicious late-night snack with your new spouse in this whimsical ceramic bowl with chopstick holder? Super easy to clean and space-conscious, this is a cheap wedding registry must-have.
38. Urban Outfitters Noodle Bowl + Chopsticks Set, $14, Urbanoutfitters.com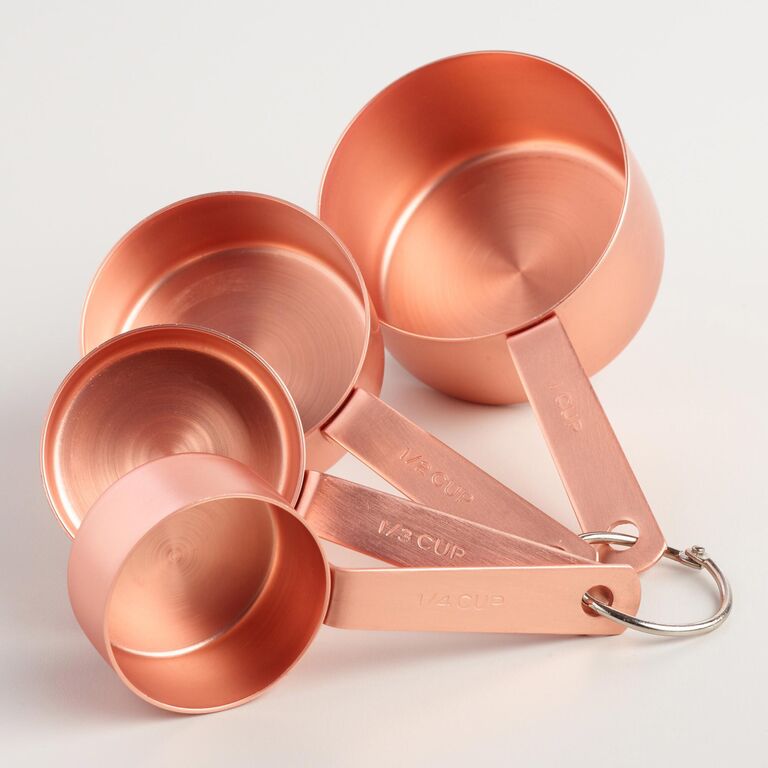 Copper products are the trendiest items on the market right now. To match the rest of the copper wedding gifts you'll be receiving from other guests, make sure to include this top wedding registry item. The set of copper measuring cups come in standard ¼- to 1-cup sizes for all your baking and cooking needs.
39. World Market Copper Measuring Cups Set, $16, Worldmarket.com
BATH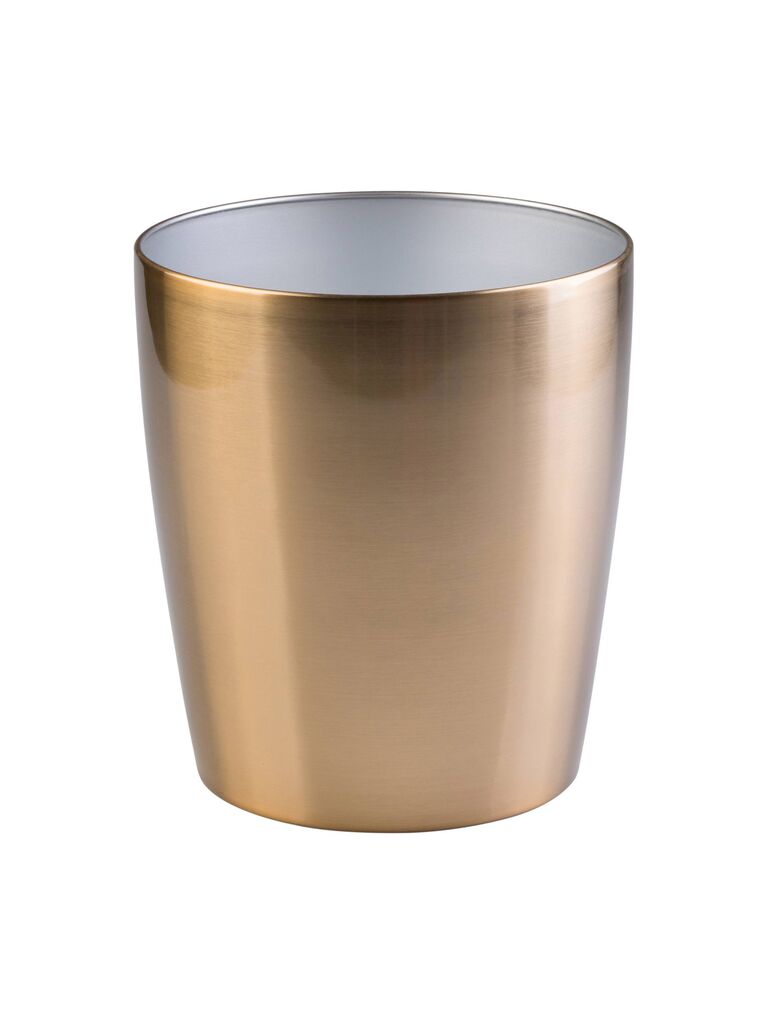 The popular bronze-colored trash can from Target is a top inexpensive wedding registry item. The compact decorative wastebasket is a modern and sophisticated statement piece for your bathroom. Register for this wedding gift to complement the rest of your contemporary bathroom accessories. It's an upgrade that makes your home so much more appealing and put together.
40. InterDesign Steel Round Wastebasket, $20, Target.com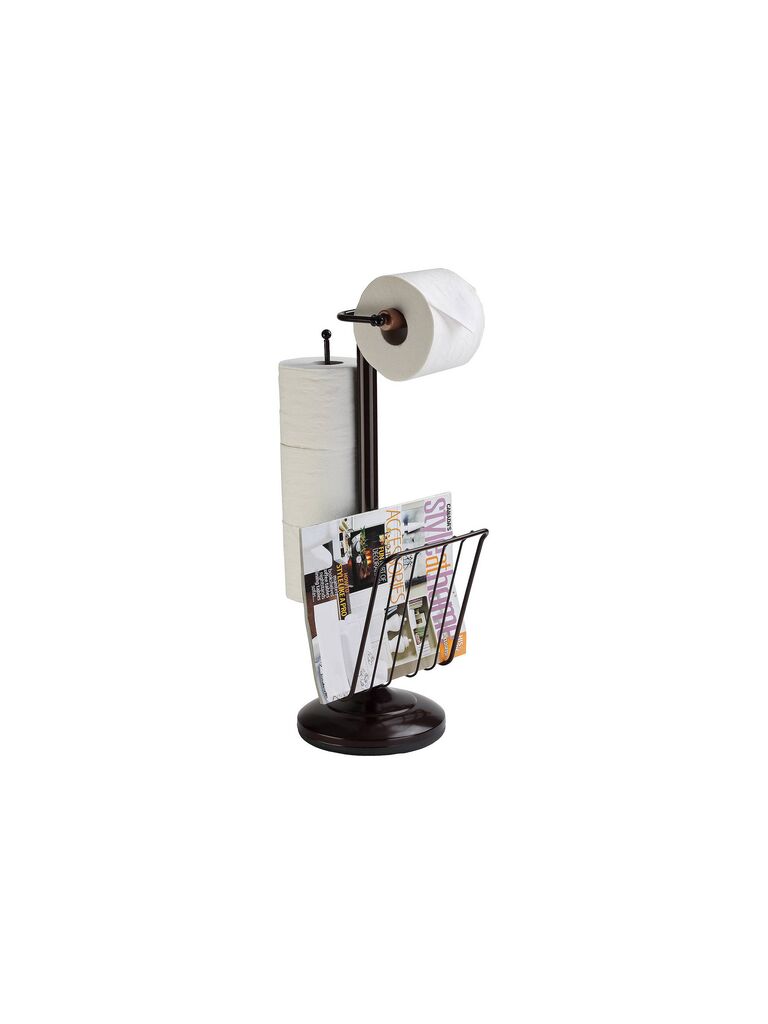 The perfect wedding registry idea to fit into your small bathroom or powder room, this sturdy and chic toilet caddy has an extra space for magazines and space for extra rolls of toilet paper to give extra storage to any limited space.
41. Better Living Products Toilet Caddy - Oil Rubbed Bronze, $42, Target.com
BEDROOM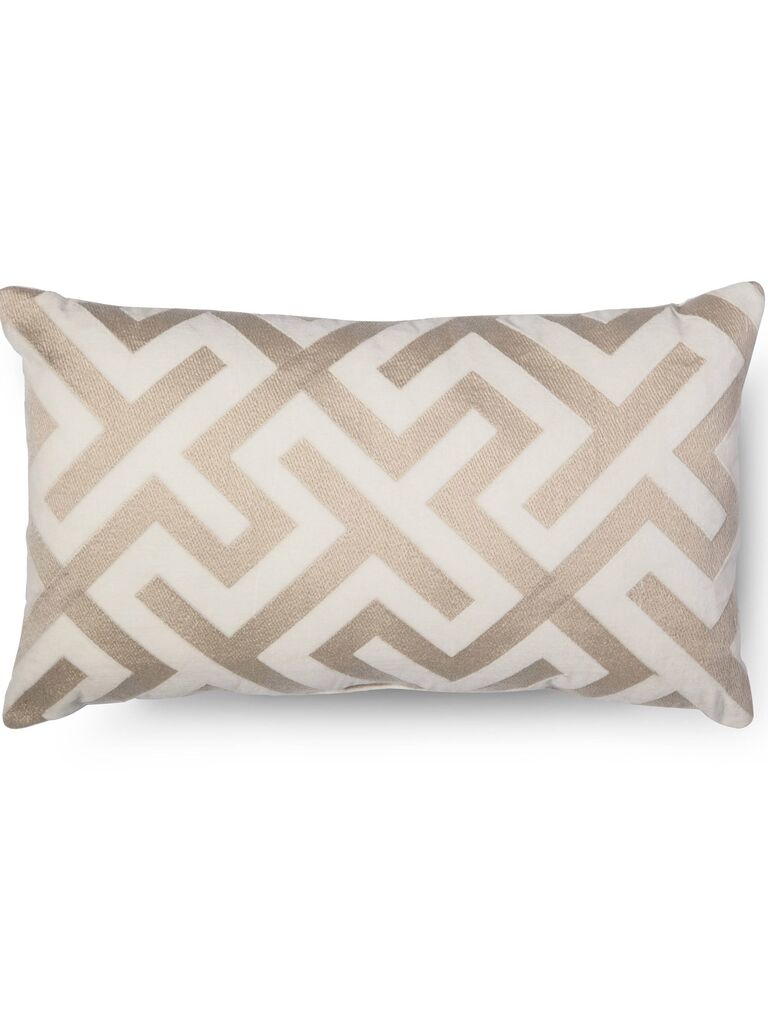 The perfect finishing touch to your luxurious bedroom getaway, this modern patterned accent pillow is a cheap but practical item to add to your wedding registry. This and other Fieldcrest luxury accent items are some of the best wedding registry items. Your bedroom will feel like a warm and inviting 5-star hotel room when you decorate with this oblong pillow in cream.
42. Fieldcrest Embroidered Oblong Pillow (Cream), $12, Target.com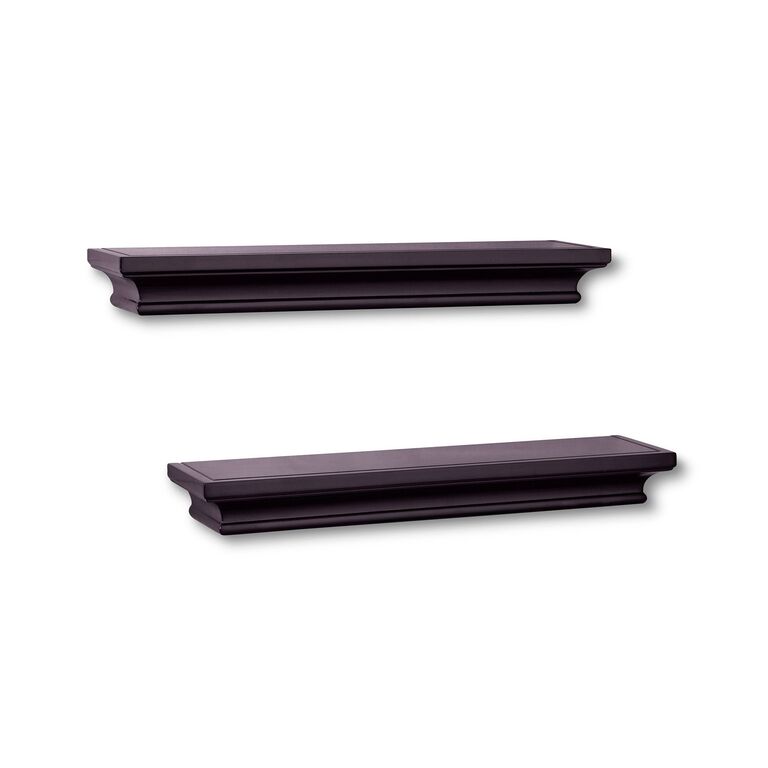 Wedding registry items can be great upgrades to the home accessories and décor you already own. These traditional shelves from Target will be a great new accent to your bedroom wall to replace the shabby shelf you've owned since college. Easy to install and super sturdy, these shelves will free up your table space, making them one of the best cheap wedding registry items.
43. Threshold Set of 2 Traditional Shelves - Brown, $20, Target.com
ENTERTAINING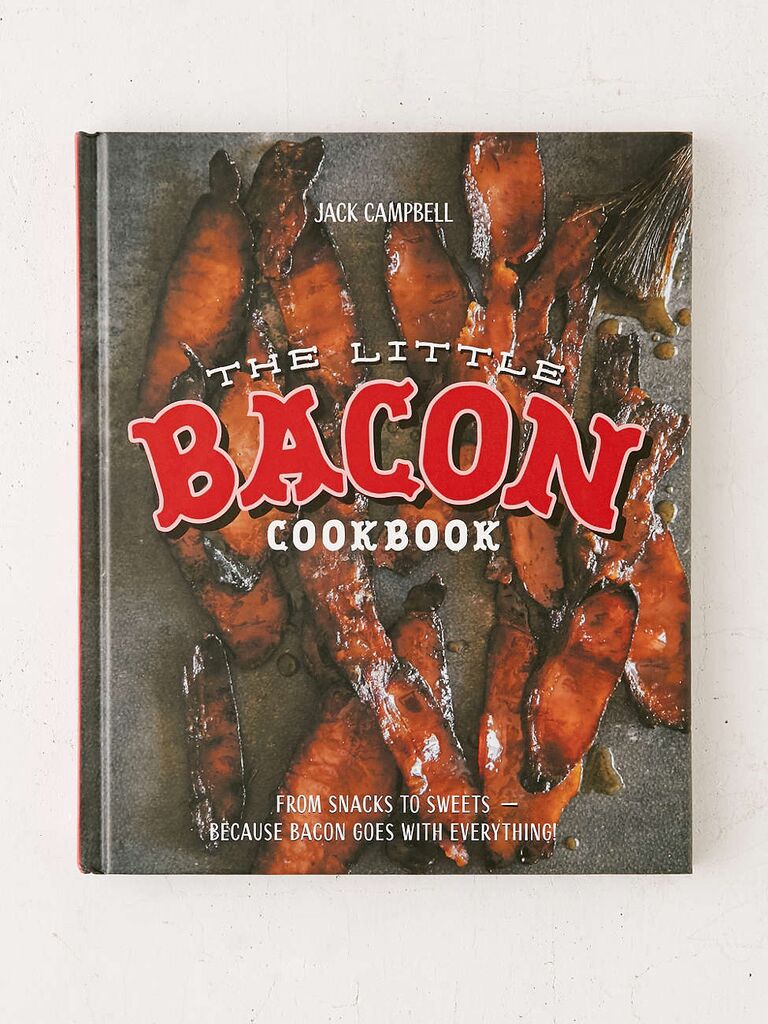 Bacon brings people together! Enjoy entertaining your guests with this fun little book. The forty easy-to-follow recipes range from snacks made with bacon to bacon main courses, and they are extremely simple to follow with pictures to help you along. Created to suit at-home chefs at any level, this fun cookbook will bring your friends together to celebrate your newly wedded bliss when you register for this inexpensive wedding registry idea.
44. Jack Campbell The Little Bacon Cookbook: Because Bacon Goes with Everything!, $20, Urbanoutfitters.com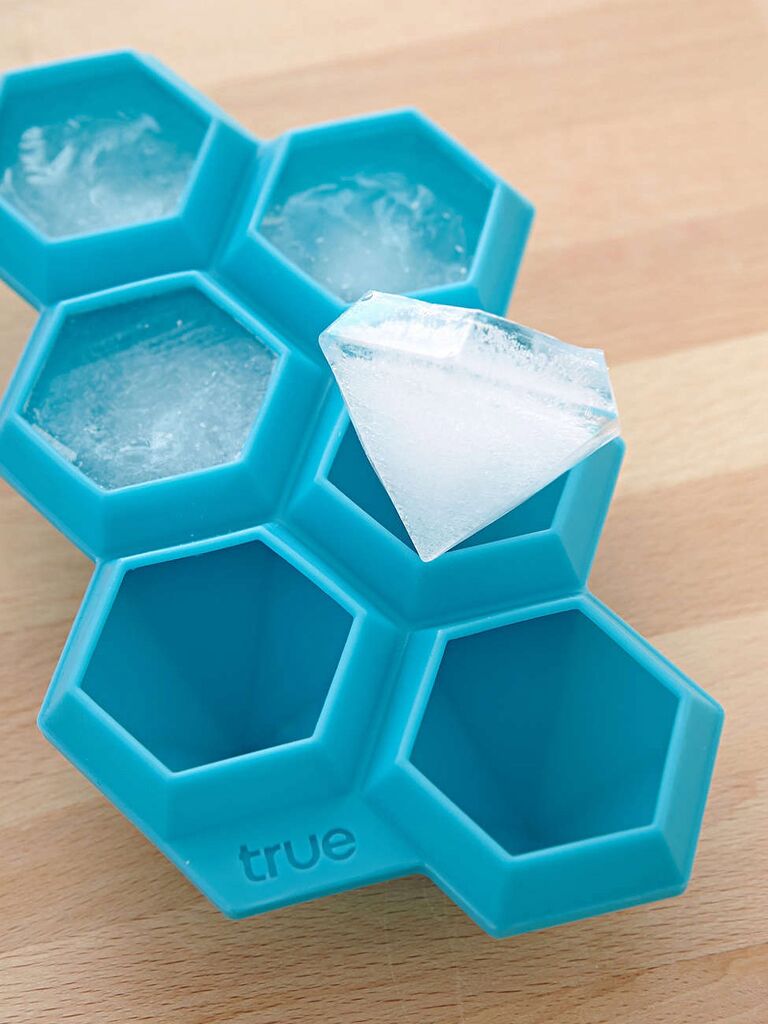 Add some fun to plain old ice making with these nifty diamond ice cube trays from Urban Outfitters. Your guests will be complimenting you on this great wedding registry idea when they enjoy their ice-cold drinks at your home. Made with thick and sturdy silicone, it's a breeze to get the ice out, which makes it one of the best inexpensive wedding registry items.
45. Urban Outfitters Diamond Ice Cube Tray, $14, Urbanoutfitters.com
OUTDOOR & TRAVEL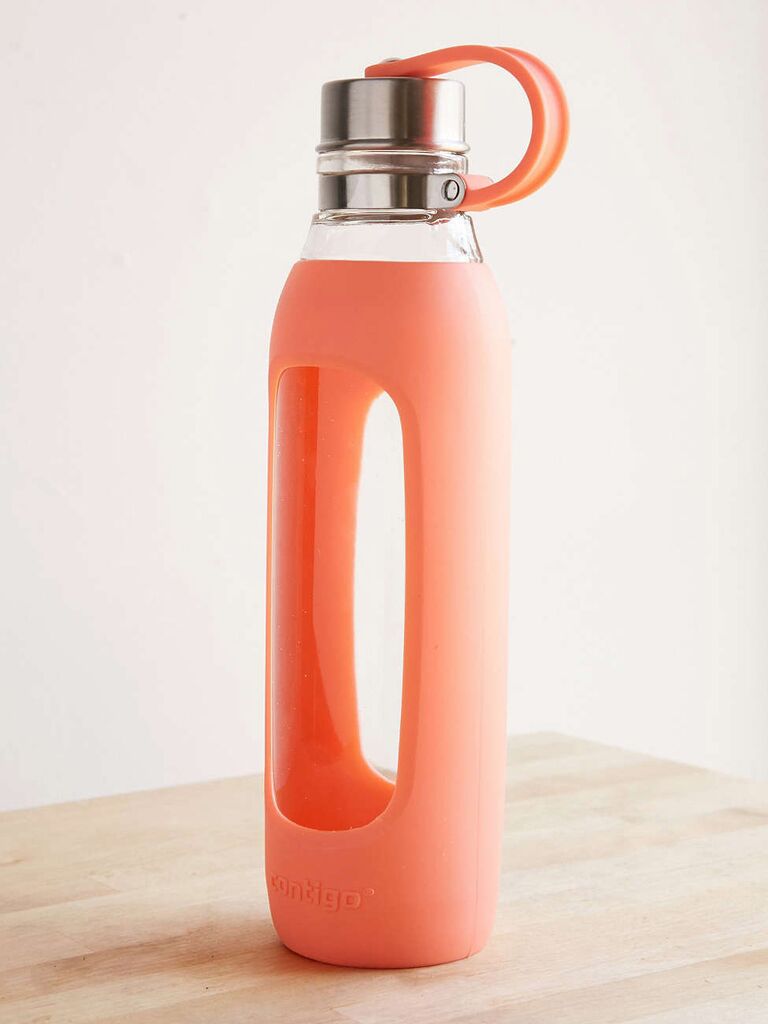 If you and your hubby are a couple into fitness, this plastic-free purity water bottle is a wedding registry must-have. Dishwasher safe and made of glass and silicone, this is the best wedding registry item for men who love to work out with their similarly fit spouses. The stylish silicone sleeve functions as a protective cover to ensure the glass doesn't break if dropped.
46. Contigo Purity Glass Water Bottle, $18, Urbanoutfitters.com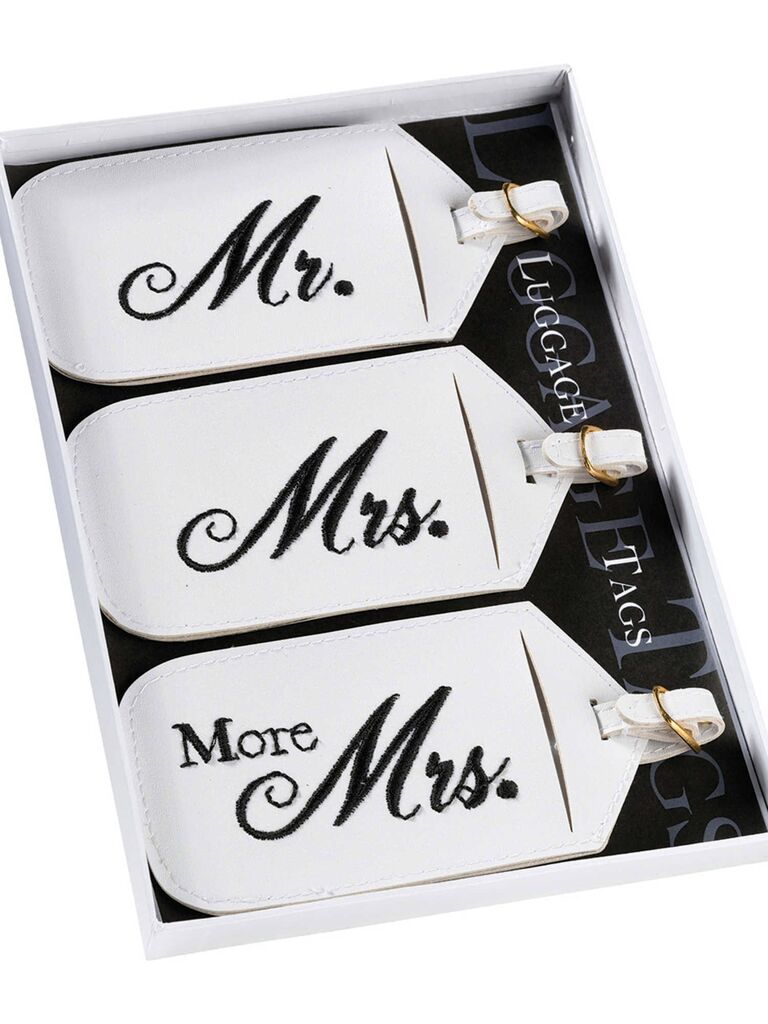 Traveling with basic black luggage means long waits at baggage claim searching for your luggage. Include this cute wedding registry idea to make your luggage stand out when you're off to your honeymoon together. The tags come in a set of three, perfect for you and your man!
47. Lillian Rose Mr. and Mrs. White Luggage Tags (Set of 3), $9, Bedbathandbeyond.com
Not sure where to begin with your wedding planning? Take our Style Quiz and we'll pull together a custom wedding vision and vendors to match, just for you. After that, create a free, personalized wedding website to keep your guests informed (and excited!) about your plans, and a time-saving Guest List Manager to organize your attendees. Even better? You can sync your Guest List Manager and wedding website to update everything at once.