The 60 Best Wedding Registry Items to Put on Your Wish List
Some traditional, some trendy, all necessary.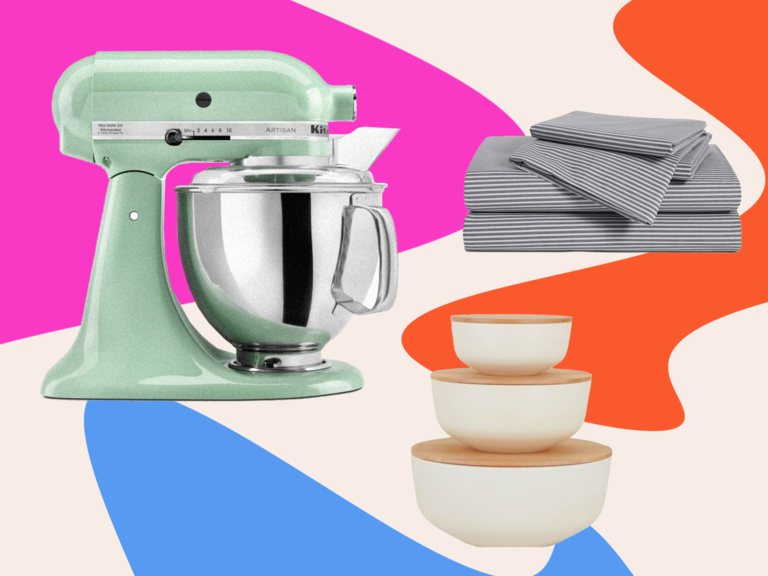 Photo: The Knot Registry Store | Design: Tiana Crispino
We have included third party products to help you navigate and enjoy life's biggest moments. Purchases made through links on this page may earn us a commission.
A wedding registry is a win-win situation: It sets both your future married selves and your wedding guests up for success. You get the items you know you'll use and enjoy, while they get easy access to wedding gift ideas. But of course, coming up with some hundred wedding registry ideas is easier said than done. Guests aren't the only ones searching for suggestions—couples need inspiration, too.
Luckily, The Knot Registry Store is a one-stop shop for the best items to put on your wedding registry. We've got curated collections covering lots of different needs and interests, from the coolest registry ideas for small spaces to the most practical picks for cooking pros. And if you've got your eye on something specific from another retailer, our handy browser button allows you to add that to your wish list on The Knot with one click.
Need a little extra help starting (or completing) your registry? Keep on scrolling. Here, we've compiled some of our favorite things to add to your wedding registry, including winners from this year's The Knot Registry Awards that our couples and editors can't get enough of. But first, you'll find a few pointers to help you make the most of your gift wish list below.
Jump to our favorite ideas:
Why You Want a Wedding Registry
It may feel weird to register for wedding gifts, but it's totally expected—and honestly appreciated. That's because a registry takes the guesswork out of wedding gift-giving, since it offers guests the confidence that they're purchasing something meaningful and useful to the couple. Plus, it shows them what other guests have bought. That way, your loved ones aren't accidentally ordering duplicates.
Meanwhile, you can track guests' purchases on your end, too, with online registries, which makes writing thank-you notes so much easier. On top of that, you can take advantage of cool perks like The Knot Registry's 20% postwedding discount on eligible ungifted items from The Knot Registry Store.
What Should You Add?
A well-rounded registry has a mix of practical and personal picks at a range of different price points. Base the size of your registry on the size of your guest list, with options for everybody and a few extras to give ample options and account for any overeager gift-givers. As you're searching for good wedding registry ideas, keep these types of products in mind:
Items that you'll use often: Which kitchen accessories do you need to cook your favorite recipes to perfection? What entertaining pieces are you constantly borrowing from family or friends? If it's something you know you'll use regularly, it's an excellent wedding registry item.

Items that suit your style: Think about your shared style, the aesthetics that really bring you joy and the colors and patterns that'll look amazing with the rest of your home decor.

Items that are made to last: The best wedding registry items can be cherished for years to come and won't need frequent replacing. Think: goodies from heritage brands like Le Creuset.

Items that reflect your relationship: Consider your shared passions and hobbies and honor them on your registry. Guests will love seeing your personalities shine through and it'll make their gifts feel all the more special.
Want to emphasize a few of your wedding registry must-haves? The Knot Registry allows you to pin certain gifts to the top of your wish list and marks each of them accordingly as a "Top Choice." That way, you can let your guests know exactly what items you're most interested in receiving. For more recommendations, check out our top wedding registry tips. And be sure to reference our essential registry checklist so you don't miss any important additions.
What Should You Skip?
Think about what you already have and what you're fine living without when considering what to skip adding to your wedding registry. What kinds of things are collecting dust on your shelves? Are there certain gadgets and gizmos that you've never found a use for (hello, apple slicer)? That's the stuff to skip.
It's also super important to make sure you're only including presents that, for the most part, feel like wedding gifts. For example, super-personal items like clothing or beauty products that are meant for only one of you are best saved for a birthday or holiday wish list. For your registry, focus on the items you and your partner will both appreciate and enjoy.
Practical Wedding Registry Ideas
Practical items are the best way to start—and round out—your wedding registry. If you need ideas, these classics are a great jumping-off point. Who knew you could get so excited about a good vacuum or the right cookware set?
Brooklinen Super-Plush 4-Piece Bath Sheet Set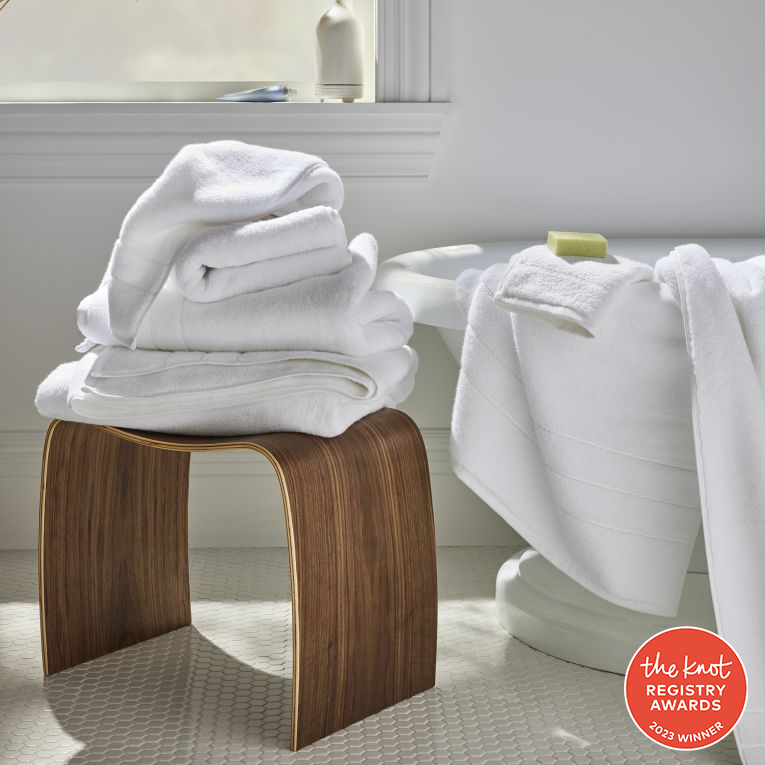 Maybe you've got bath towels, but you need bath sheets. They're extra big, so you can fully wrap yourself in coziness the second you step out of the shower. Crafted from Turkish cotton, this set comes with two bath sheets and two matching hand towels. Your bathroom will be hotel-level fancy—let the honeymoon continue.
Our Place Always Pan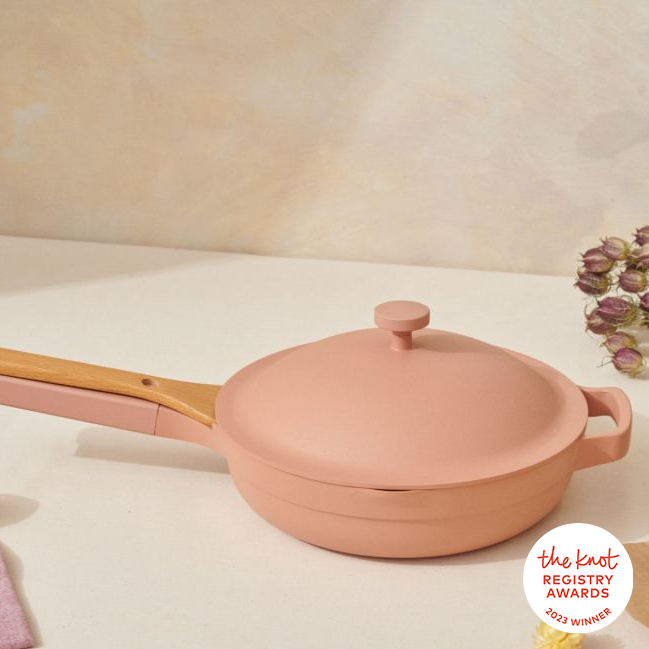 Just because pans are practical, doesn't mean they can't be pretty. The internet-famous Always Pan comes in myriad chic hues (this editor owns the Spice shade, herself), so no need to store it away in a cabinet. It's not all about looks here, though, the thick walls of the nonstick pan hold heat and distribute it evenly—no burn spots!
Character 13-Piece Tool Set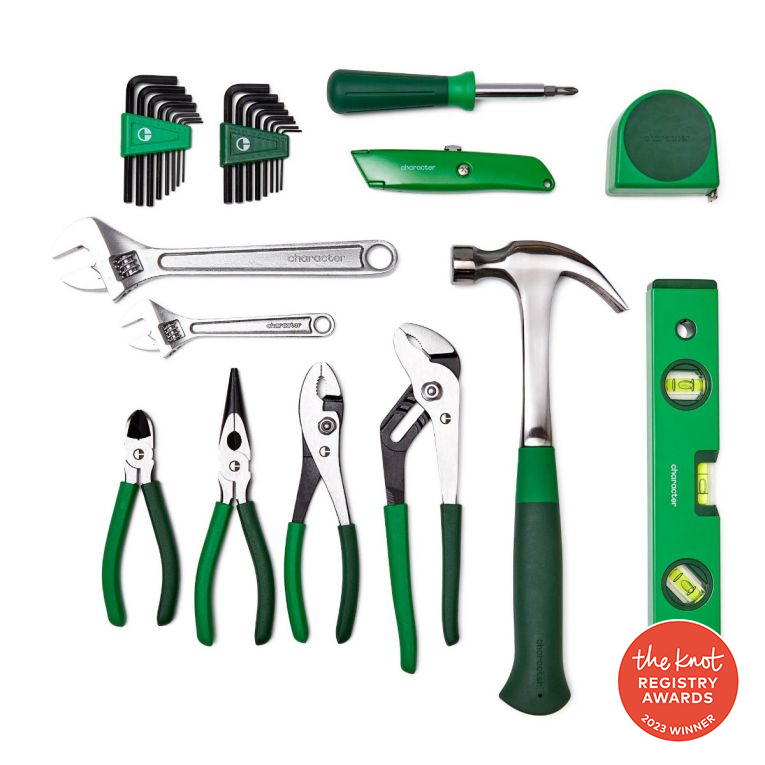 You won't want to store this (dare we say) sexy tool set in your shed or under your sink. The stunning and sleek emerald green box is sure to make a style statement and it includes everything you need for hanging up a gallery wall in your newlywed nest or changing out those hideous rental apartment kitchen knobs. You might even be excited the next time a bolt needs tightening, since you get to whip this baby out.
Kate Spade Carlton Street 45-Piece Flatware Set, Service for 8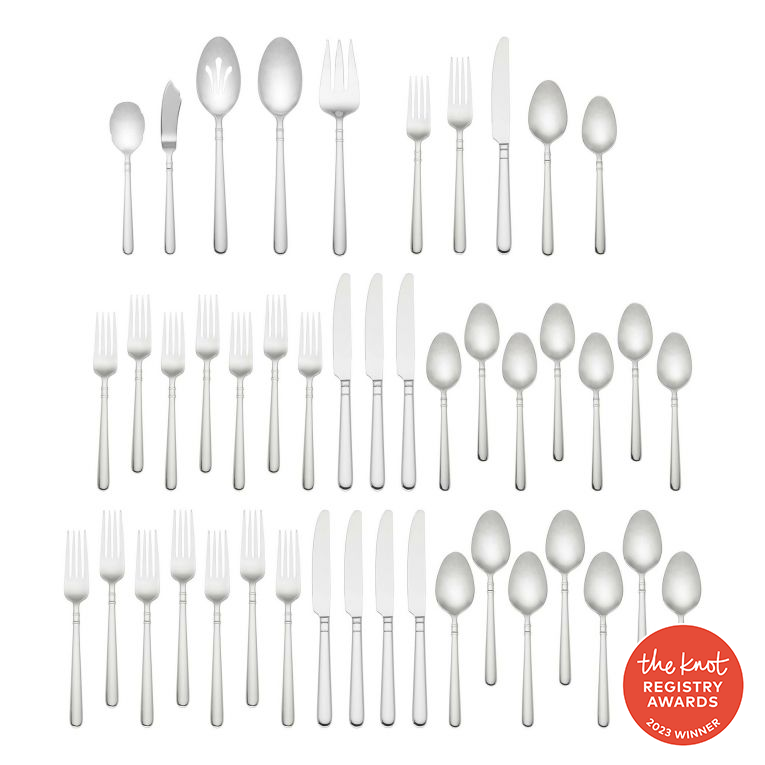 If you're cohabiting with your soon-to-be-spouse or if you're riding out your lease with your trusty roommate, chances are, your flatware doesn't match or you have about two spoons to your name. That's why a robust 8-person flatware bundle is a classic must-have for your wedding registry. And when it comes to all things modern-meets-timeless, Kate Spade is our gal. This flatware set features ultra-thin handles with elegant banding at the top.
iRobot Roomba i3+ Wi-Fi Connected Robotic Vacuum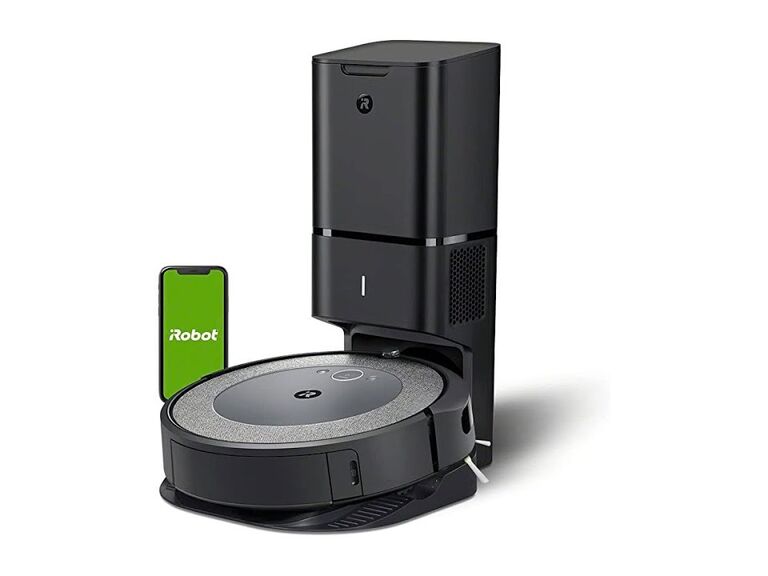 A versatile vacuum that controls itself? You'll feel like you're living in the future. This iRobot model has improved intelligence, allowing you to schedule multiple cleanings per day as well as request on-the-spot cleaning for unexpected messes—no crumb gets left behind! Bonus: Pet owners can rest assured that they won't come home to any—er—big accidents, since it's designed to recognize and avoid pet waste among other common objects that can get in the way, like shoes or cords. The best part? It automatically empties itself into the docking station when it's done cleaning.
HitchSwitch Name Change Gift Card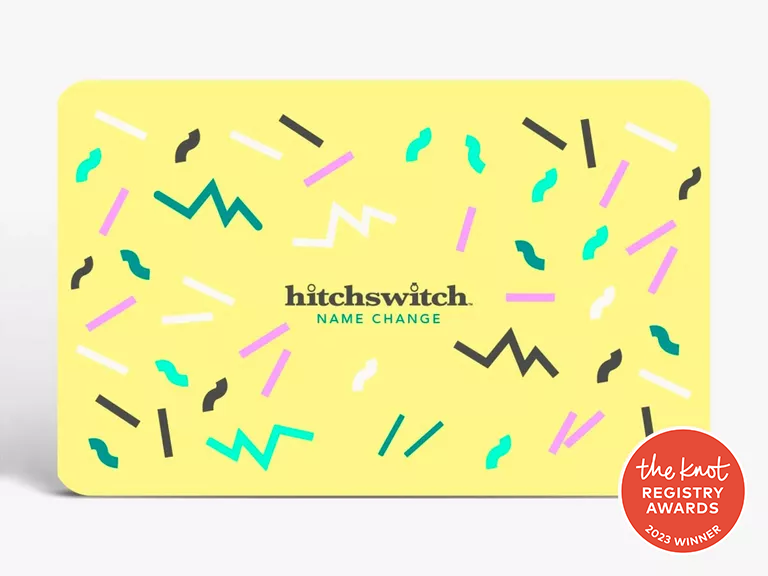 Anyone who's ever changed their name after getting married will tell you there's a lot of paperwork involved. If one or both of you plans on updating your surname, this might just be the most practical wedding registry gift ever. HitchSwitch simplifies the process and provides easy access to the relevant name change forms. Add a gift card for the service to your wish list so you can get a jump start on making your shiny new name appear on all of your official documents.
Fellow Stagg EKG Electric Pour-Over Kettle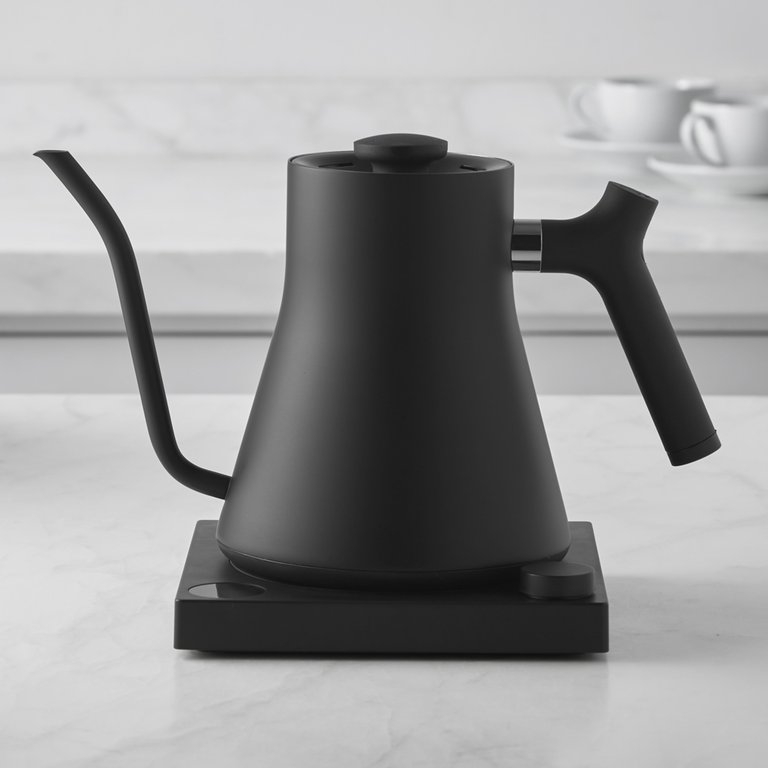 This pretty little kettle has racked up countless accolades for its form and function. We're here to say it's worth the hype. Coffee enthusiasts know there's an art to making the perfect pour-over and, with this nifty kettle, you can set the temperature yourself to get it right. Plus, it offers a super smooth pour, given the elegant gooseneck and counterbalanced handle. It works for tea, too.
Zwilling Joy Nonstick Stainless Steel Wok With Lid, 12"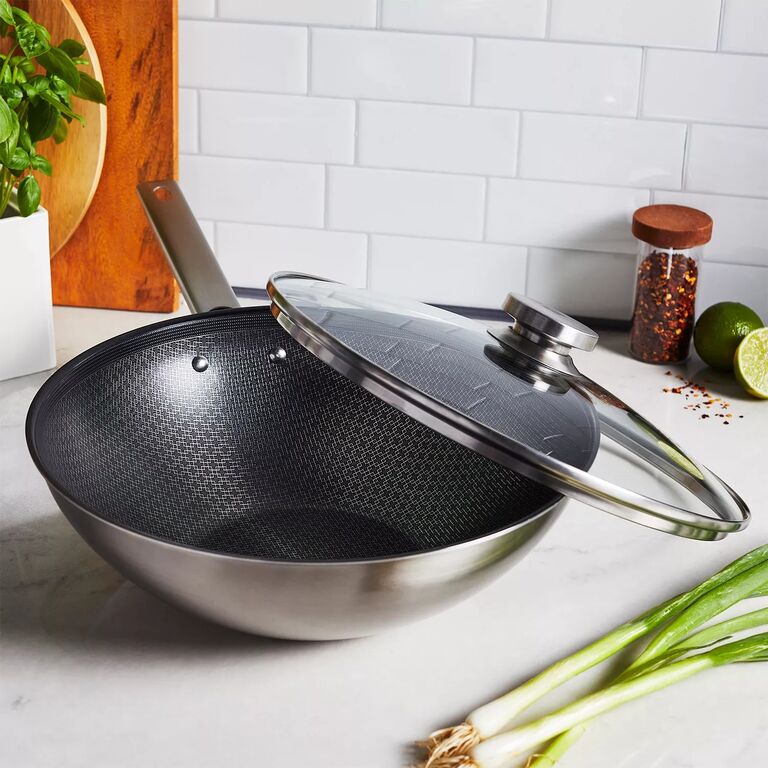 Take it from this former food editor: You need a wok on your wedding registry. This style of pan provides so much surface area for cooking up just-tender veggies, meat and more in a flash. Zwilling is a top brand in the culinary space, so of course we're partial to their model. The slight texture helps give it even better nonstick properties, so delicate foods like fish won't tear when you flip them.
NutriBullet Combo 64 oz. 3-Speed Electronic Countertop Blender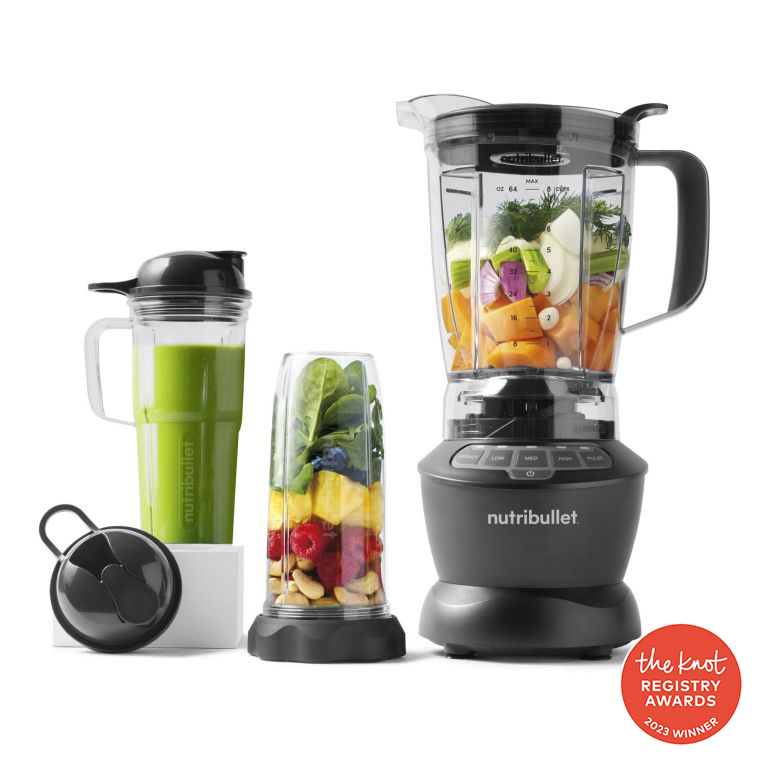 When it comes to crowning the best blenders on the market, NutriBullet consistently makes (and often tops) the list. If smoothies are your go-to breakfast, but you've struggled with finicky machines in the past, this appliance will amaze you. And perfectly blended smoothies are just the start—this versatile blender can make soups, salsas, sorbets...the list goes on! The best part? You can blend right into the travel cup, so that's one less dish to wash for you and your boo.
Brooklinen Luxe 4-Piece 480-Thread Count Cotton Sheet Set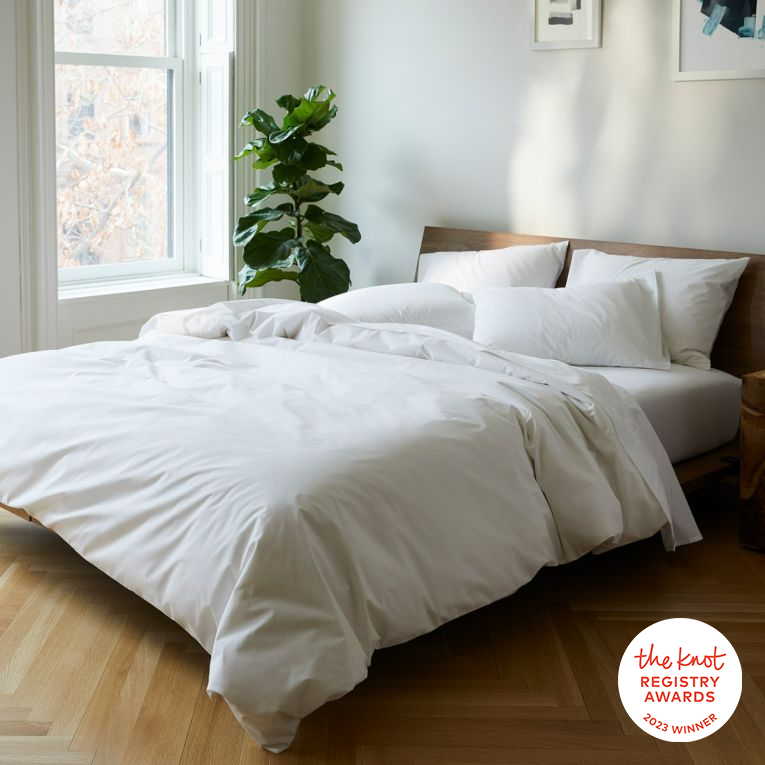 PSA: You deserve nice sheets. Add this bundle from Brooklinen to your registry, made from soft long-staple cotton. Complete with a fitted sheet, flat sheet and two pillow cases, it'll make every sleep as newlyweds extra dreamy.
Fable Base 16-Piece Dinnerware Set, Service for 4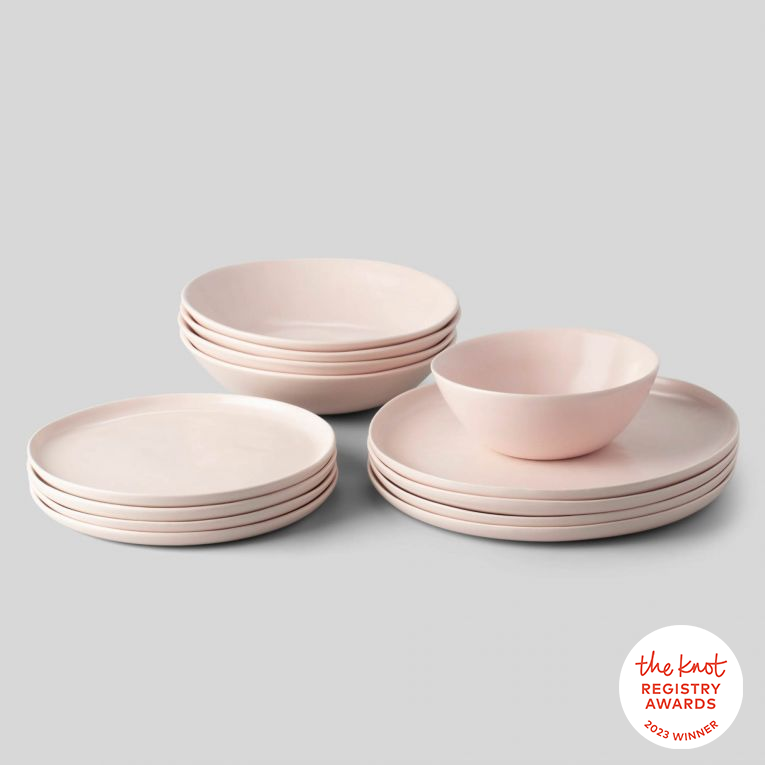 There are so many choices when it comes to plates and dinnerware out there, but it's definitely a must-have to add to your wedding registry to get your couple kitchen looking cohesive. We love this set with a coveted modern silhouette, made sustainably with local and recycled clay in Portugal. And it's got the must-have qualities you'd want in your daily dinnerware: microwave-safe and dishwasher-safe.
Nordic Ware Gold Nonstick Baking Sheet Sets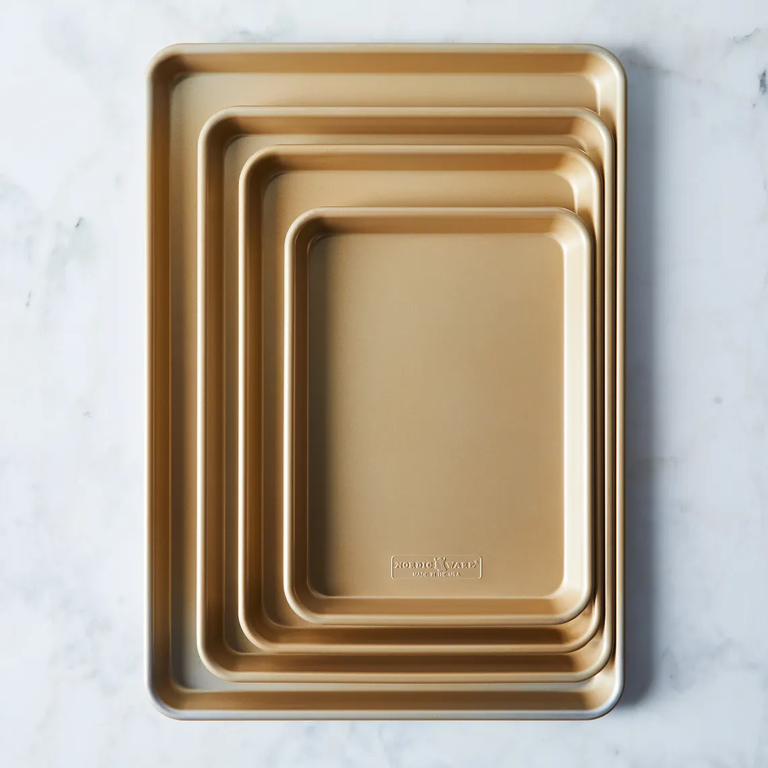 Top performance with a little extra sparkle—that's why we love these gold-toned baking sheets from Nordic Ware. They're nonstick and available in three different sizes to suit every baking endeavor, from ooey gooey brownies to flaky biscuits. Select a set of two quarter sheets, half sheets or big sheets (for those times where you just need a double batch).
W&P Porter 5-Piece Food Storage Bag Set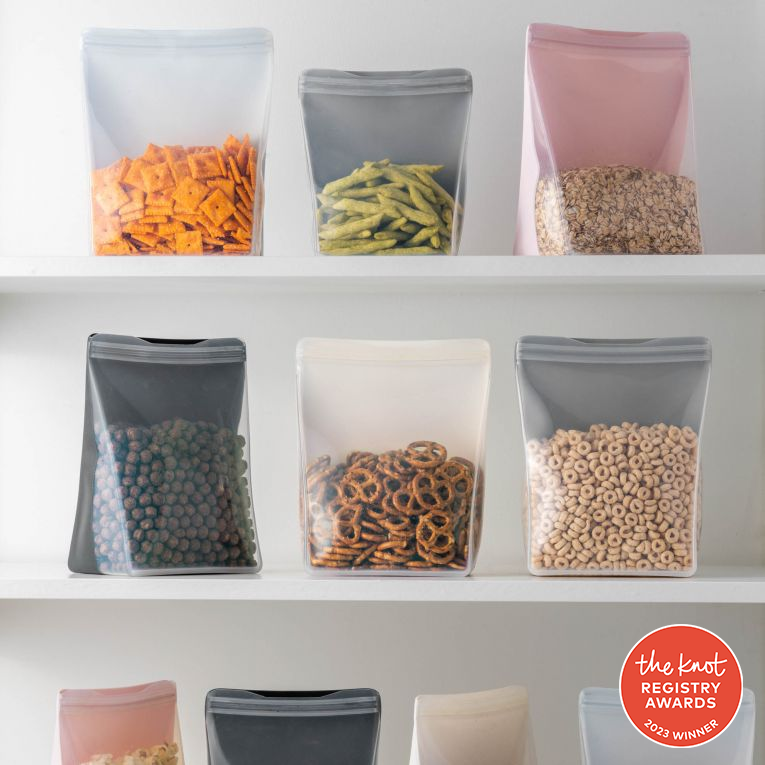 PSA: Your mom's habit of rinsing and reusing Ziploc baggies is not the only way to be sustainable when storing snacks and leftovers. This five-piece set of resealable food storage bags will have you covered for picnics, office lunches and more—thanks to the variety of sizes. They also offer a cute cabinet storage solution, since the bottoms pop out flat so they can stand up.
A New Home Cash Fund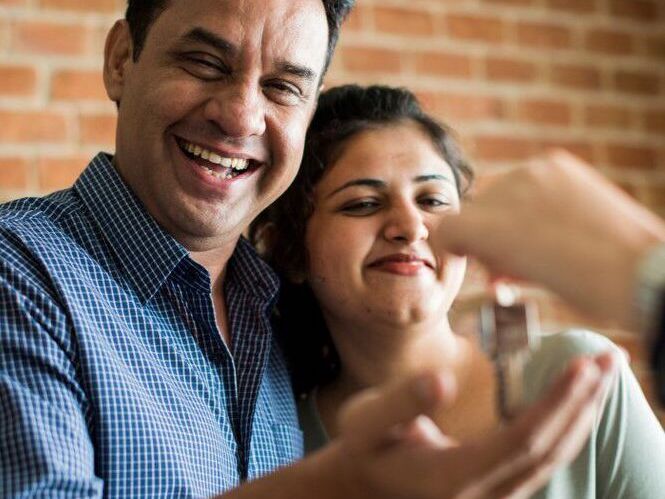 Some of the most useful registry items aren't tangible objects at all. Use The Knot Registry to set up a cash fund for something really meaningful, like a new home. You can add a special note for guests about your plans for a truly personalized touch. Request a set amount of money or allow loved ones to decide on their contributions. Either way, you'll be one step closer to your dream home.
Unique Wedding Registry Ideas
Once you've stocked up on the basics, it's time to browse beyond the basics. These unique registry items are still very useful, but they bring a little something extra to the table (sometimes literally).
Estelle Colored Glass All-Purpose Wine Glass, Set of 6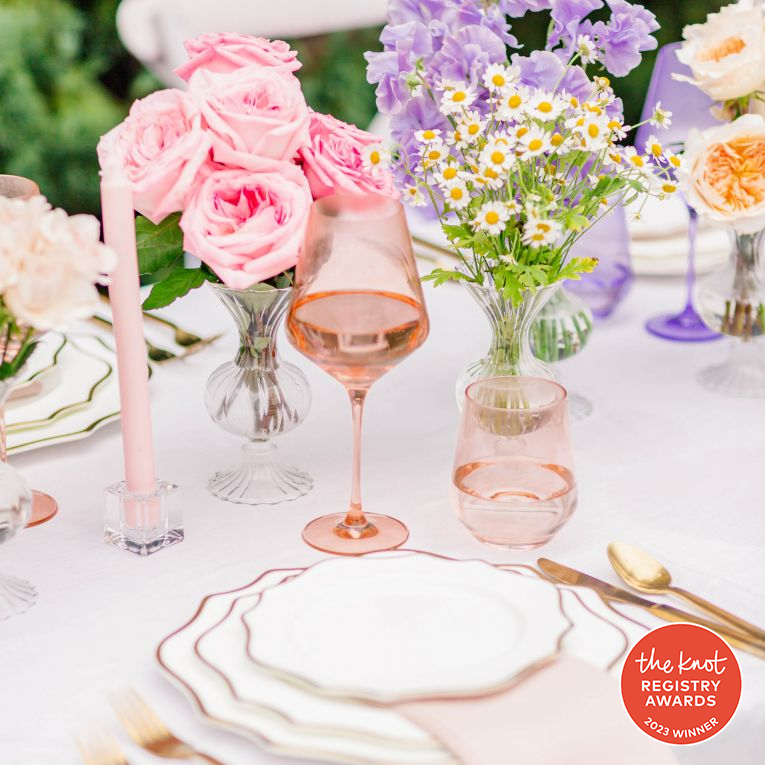 Wine glasses are a common wedding registry item, but this unusual drinkware reaches new heights of elegance. Swap out your standard clear wine glasses for these artisanal colored glasses in one of 11 stunning hues (or a mixed set of many). From subtly tinted pastels to striking jewel tones, they're sure to make a statement on your dining table. It's the kind of thing you'll pull out whenever you're toasting a special occasion—just think of all those future wedding anniversaries.
Airbnb Gift Card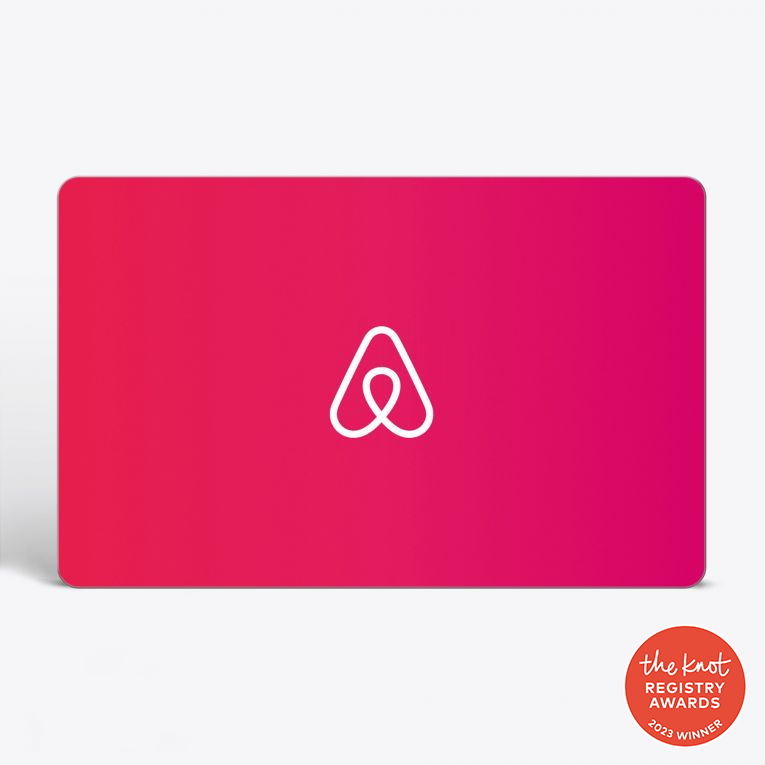 Get your postwedding vacay on with an Airbnb gift card. It's one of the most popular wedding registry asks for a reason. From weekends away to destress from all that wedding planning to sojourns to visit friends and family, you'll definitely find a great use for it. Happy trails!
Havenly Full Transformation Design Package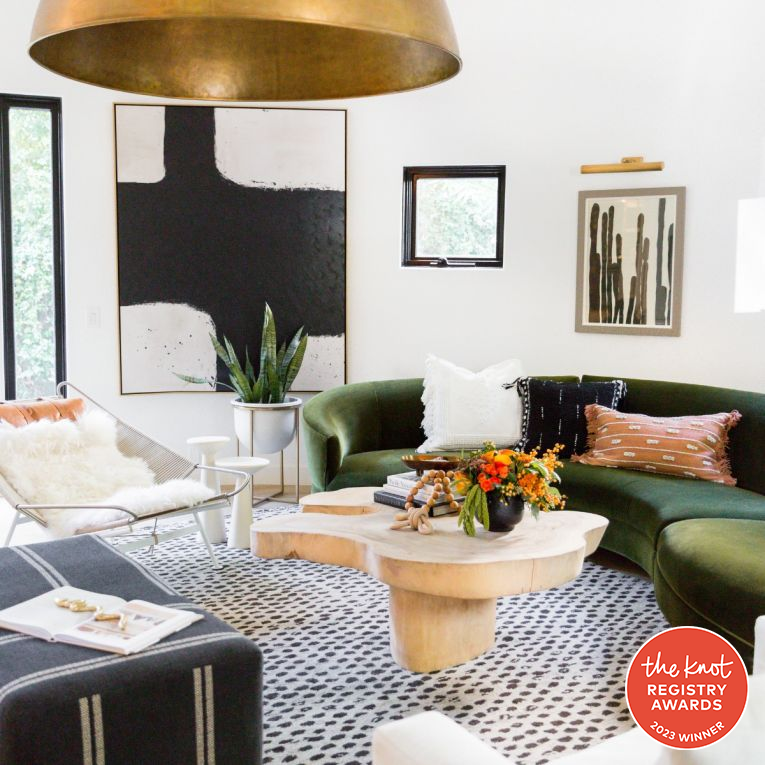 Did you know you can add a full-on room makeover with a professional-interior-designer touch to your wedding registry? Well, now you do. Taking into account the client's personal style and budget constraints, Havenly will dream up a unique design concept for any room in your home. All you have to do is take a style quiz and then you'll be matched with an accredited designer. You can revise your design as many times as you'd like and you receive the first design pitch in just two days. Last minute powder room refresh before hosting your first Thanksgiving as newlyweds? No prob.
MADRE Linen Napkins, Set of 4
If you're really trying to up your entertaining game, paper napkins just won't cut it. Opt for these versatile Belgian-linen napkins, which feature contrasting stitching around the edges and a slew of stunning earth tones. Each set of four features either a different array of colors or four of the same hue, though we can't resist a rainbow moment. Bonus: They're woven in a sustainable mill.
SIND Studio Handmade Pottery Plates
So you have your everyday dinnerware sqaured away. But for those sexy couples dinner parties and holiday tablescapes that could rival those of Athena Calderone, you need something with a cool aesthetic and a handmade construction. This ceramic set is sure to be a conversation piece, complete with a smaller bowl, dinner plate and side plate.
Framebridge The Newlywed Gift Picture Frame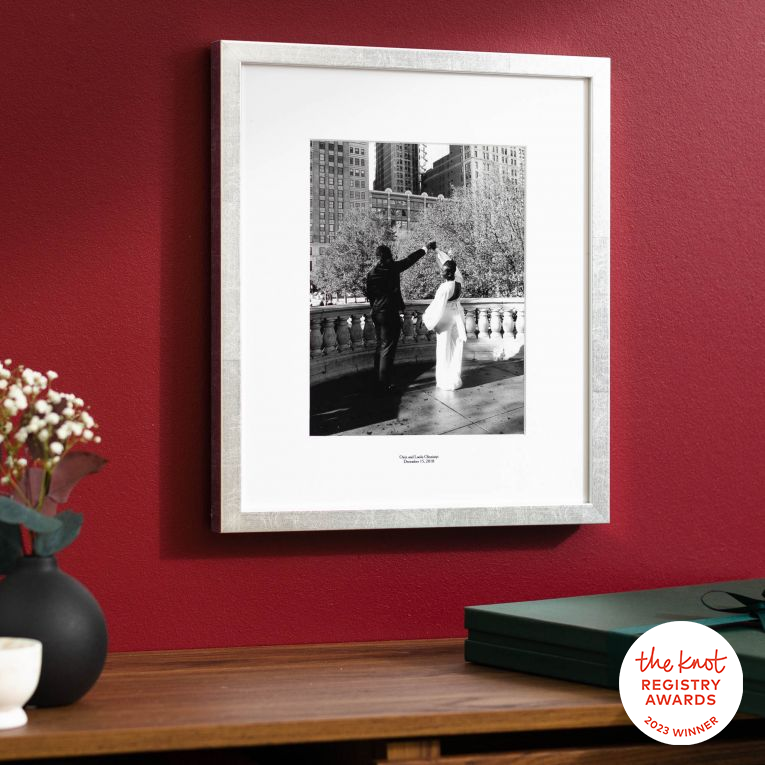 You'll need a spot for your favorite wedding photo and this picture frame is the perfect spot. It can hold an 8" x 10" photo with a thick white mat that gets personalized with your wedding date or a sweet note of your choice. The secret story pocket on the back is also the perfect place for handwritten vows or another sweet memento.
Coton Colors Signature White Cake Stand
A cake stand worthy of a patisserie in the South of France? Oh la la, how lovely. It's made from rustic earthenware and features a cream glaze and ruffled edge—the perfect balance between whimsy and elegance. Plus, with the divots along the edge, a cake knife can easily slide in to make clean slices.
Miyabi Kaizen 7" Hollow Edge Santoku Knife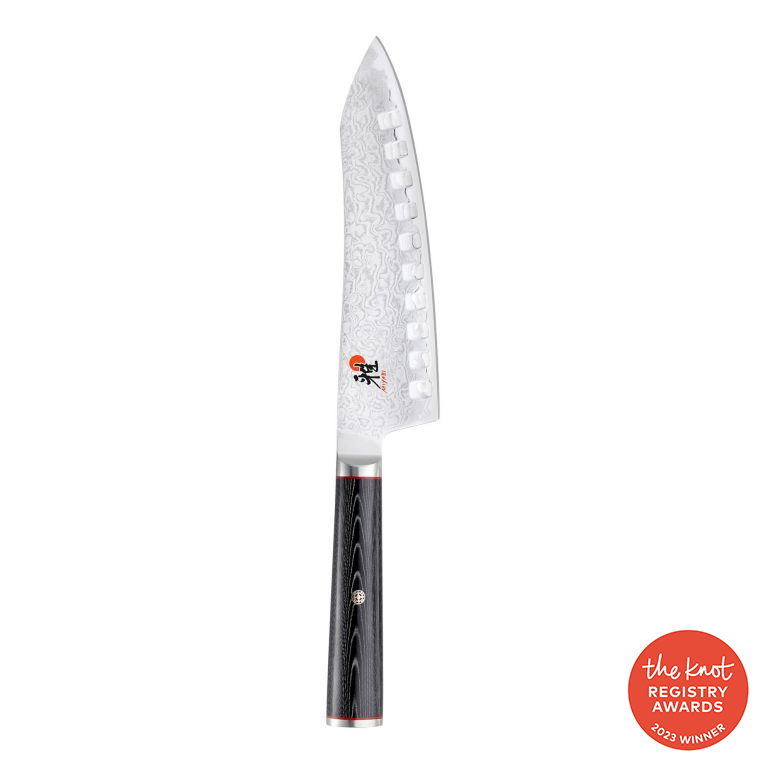 You're probably thinking of registering for a classic, European-style chef's knife. Consider a santoku instead. Santoku knives are basically the Japanese version of a chef's knife, with a much lighter body and more nimble silhouette (thanks to a thinner steel blade), so you get much more precision when it comes to more delicate knife tasks like mincing.
Adore Dreamy Designs Creative Glass Flower Vase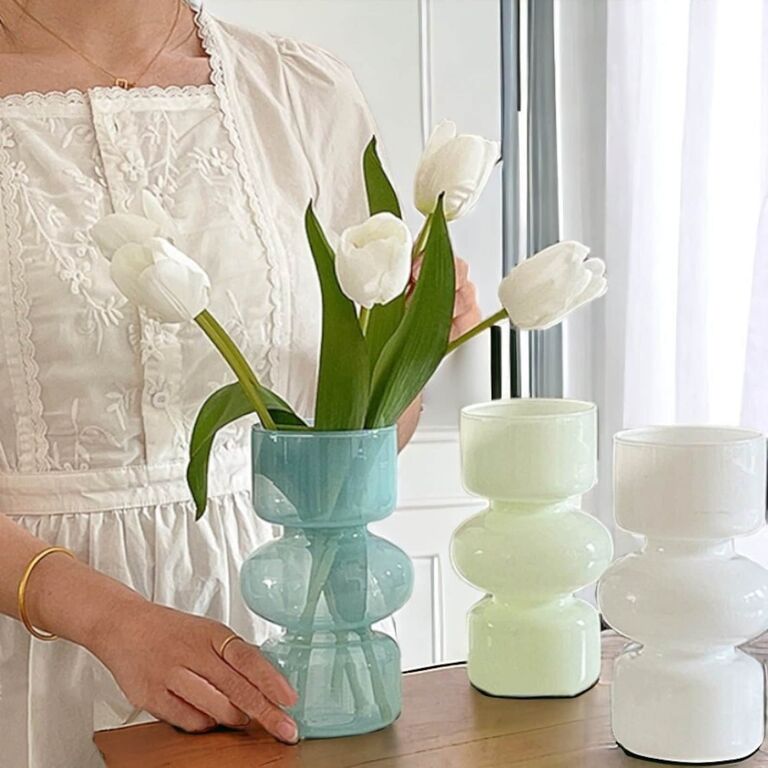 Maybe your spouse doesn't need an extra reason to bring you flowers just because, but this cool vase just beckons to be filled with fun blooms. Each one is handcrafted by a duo of best friends to represent the beauty and organic shapes found in nature. It'll be the cutest and coolest thing on your coffee table.
Paravel 4-Piece Packing Cubes Set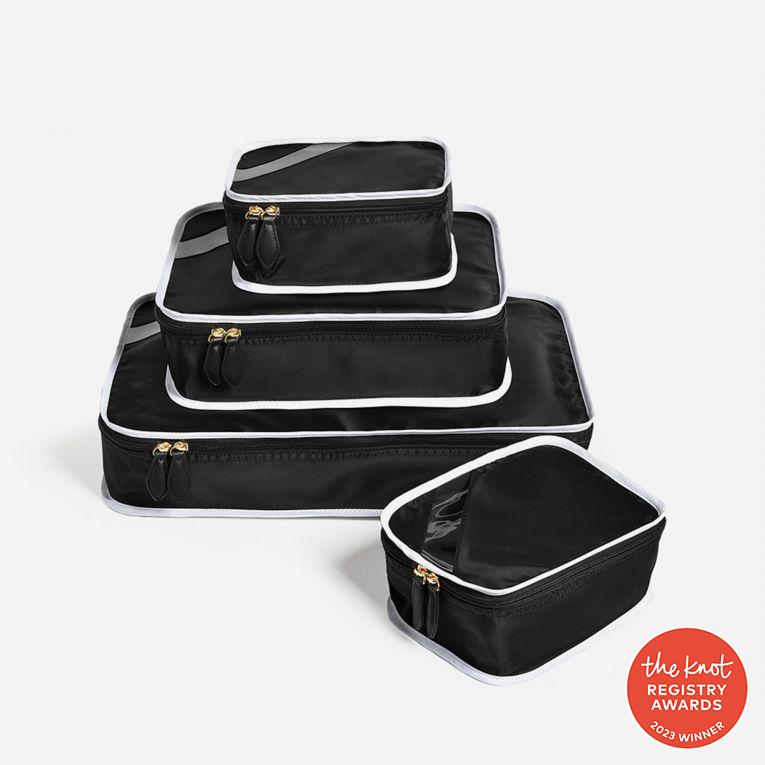 Are you ever the jet-setting couple? Then you'll definitely want to include these colorful packing cubes on your wedding registry. They're great for long trips and perpetual overpackers (same though), since they both organize the contents of your suitcase and save some space for you to pick up more souvenirs.
Assouline Publishing Coffee Table Book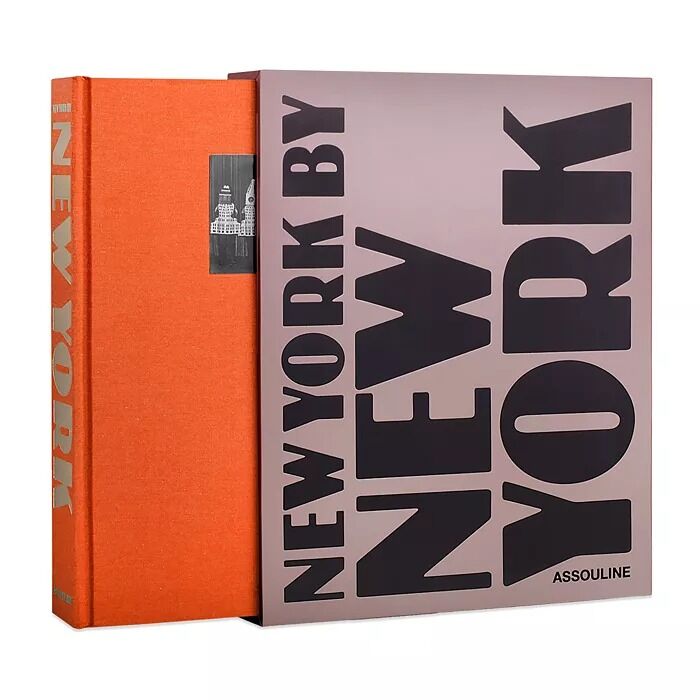 A coffee table book somehow just ties a whole room together (not to mention, it gives your guests some entertainment). Assouline Publishing is known for their gorgeous books that are more like layred pieces of art. We love this one that's a tribute to New York and all its boroughs, but the publisher has many more tomes dedicated to different locales.
Ivation 18-Bottle Freestanding Wine Refrigerator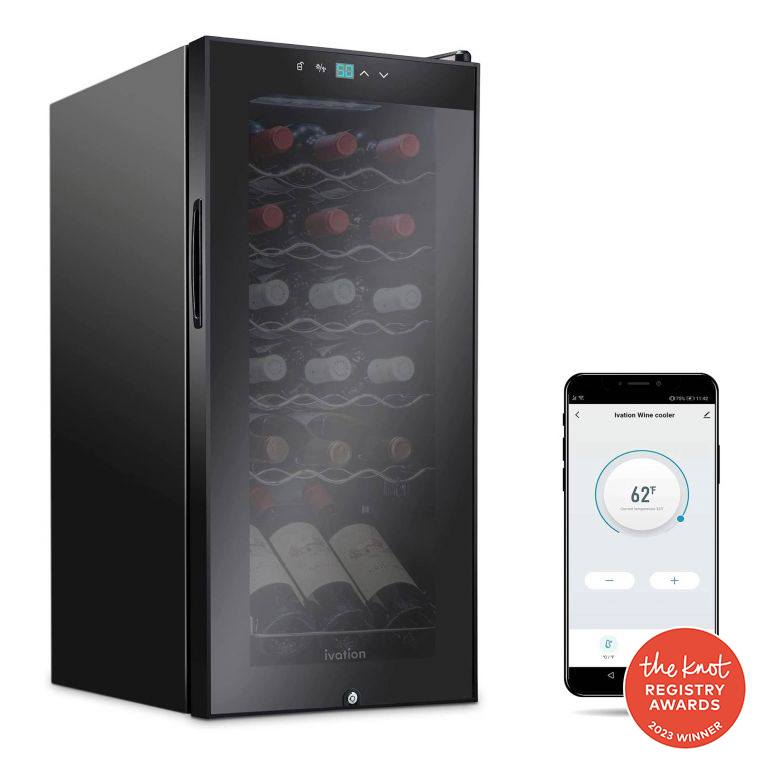 Still discussing what to register for ahead of your wedding? If you're building a wine collection or love to host family and friends, a wine fridge is certainly a handy appliance. This freestanding cooler chills up to 18 bottles at once. Simply set the temperature to the optimal level for the bottles you've got on hand (55 degrees if you have a mix of reds and whites) and let it work its magic.
All-Clad Sous Vide Immersion Circulator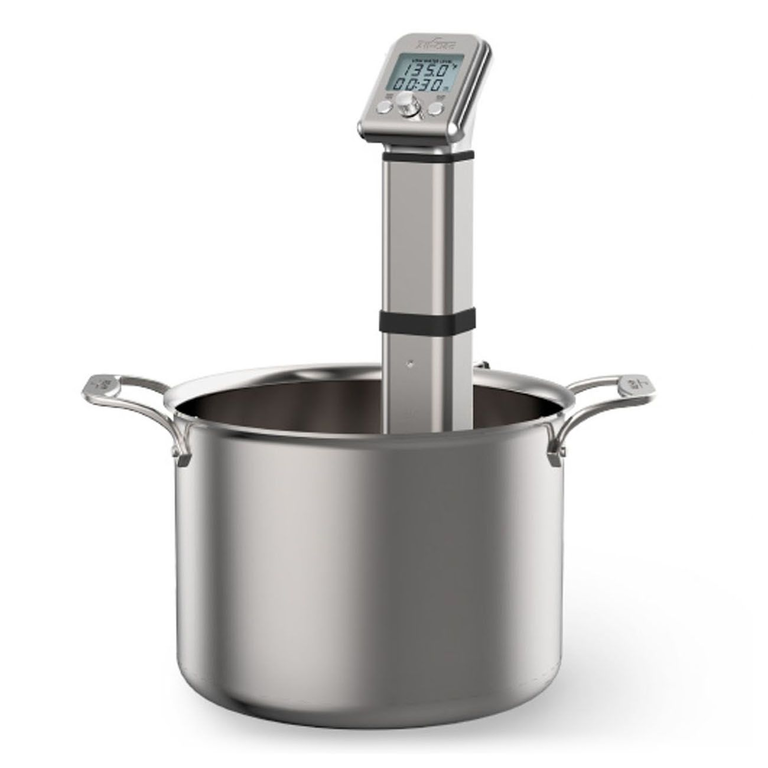 Something you probably don't have in your kitchen already? An immersion circulator. This incredibly accurate device will have you cooking your steaks (or veggies) in a whole new way. Sous vide is the chef-approved method you've probably seen on "Top Chef" and now you can do it at home. The immersion circulator clamps onto the cookware you already have, so it's a great way to upgrade pots and pans without having to replace them. Cue tender meats in veggies in five, four, three…
Ember 10-Ounce Smart Mug²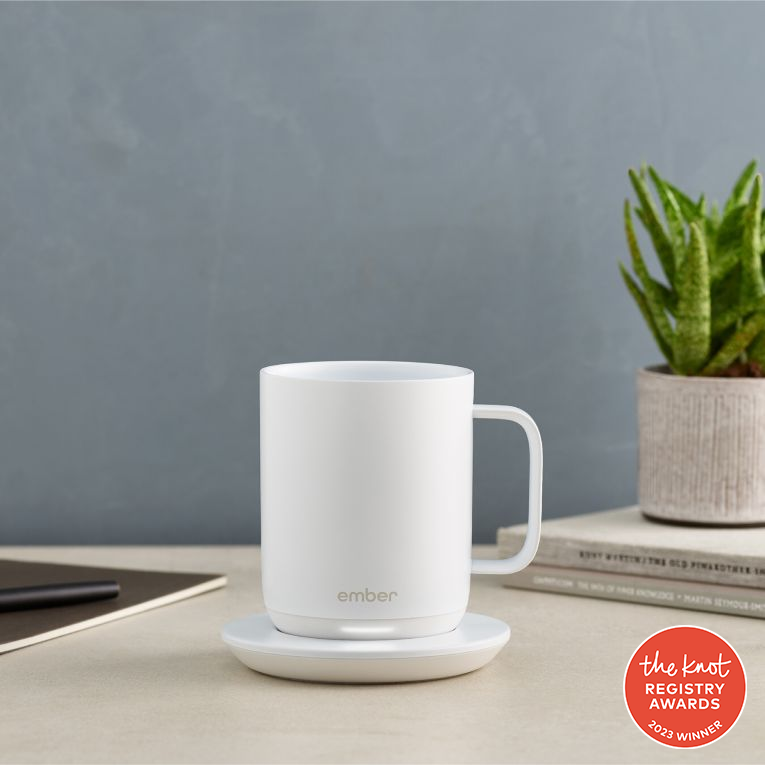 Raise your hand if you're someone who makes frequent trips to the microwave to reheat (and re-reheat) your coffee throughout the work day. Whether you get distracted from your beverage with frequent meetings or you just prefer an extra-hot cup of joe, this heated mug can maintain an optimal temperature for up to 80 minutes on the go or all day at your desk using the charging coaster.
Zojirushi 5.5-Cup Rice Cooker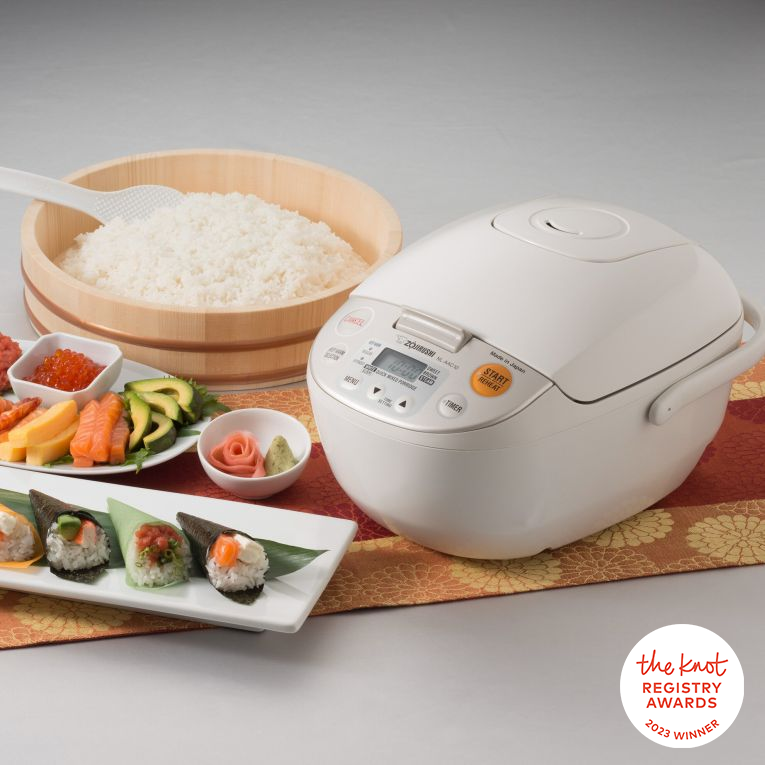 If you make rice at all, you absolutely need a rice cooker for the convenience and the super slim margin of error (no more crunchy or mushy stovetop grains). And Zojirushi is one of the biggest names in the game. This classic model is equipped with fuzzy logic technology, which means it can sense the proper cooking time and temp, so it's much less work for you.
White Marble & Brass Hanging Bar Tools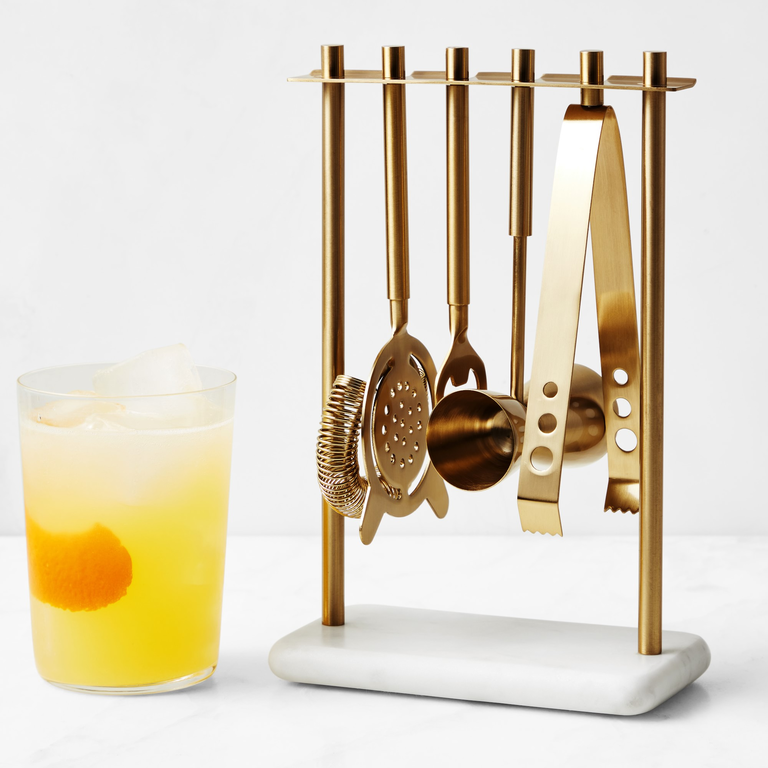 Sure, bar carts tend to be more popular than bar cabinets, but there's that added pressure to keep every shelf extra stylish, since everything's on full display. That's where these sexy bar tools come in. Not only are they stunning in a satin brass finish, but the stand itself has some sass, crafted with a sturdy and elegant marble base.
Fun Wedding Registry Ideas
Coming up with wedding registry ideas should be fun. After all, it's a unique opportunity to express yourselves as a couple. At least one of these out-of-the-box items is bound to put a smile on your face.
Solo Stove Bonfire 2.0 Fire Pit With Stand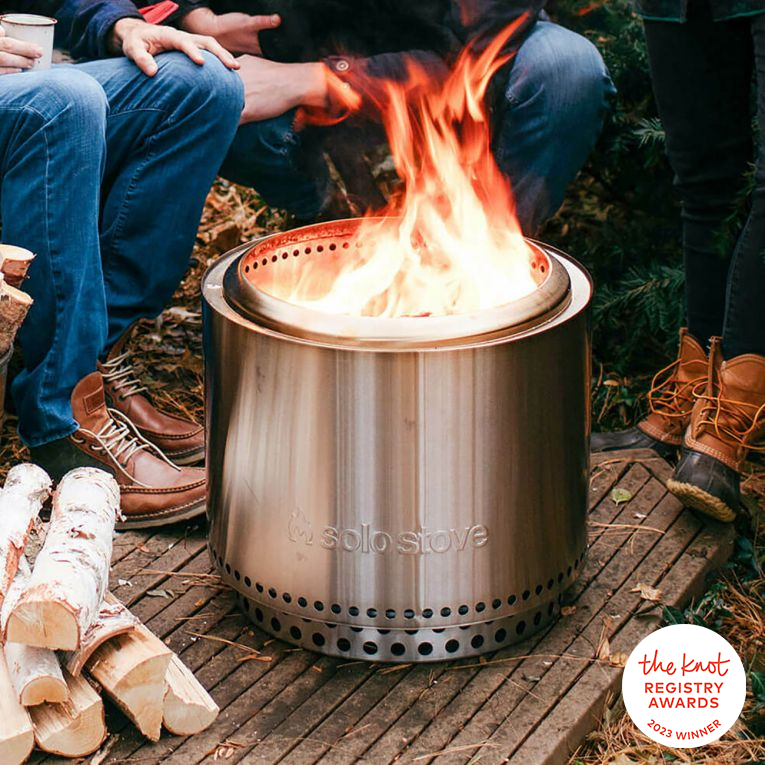 If you're blessed with your own outdoor space, take a peek at this low-smoke fire pit. It's portable, durable and perfect for roasting s'mores to celebrate married life. The matching stand protects the surface below, so you can rest assured your patio, deck or lawn is safe.
Baccarat Lucky Butterfly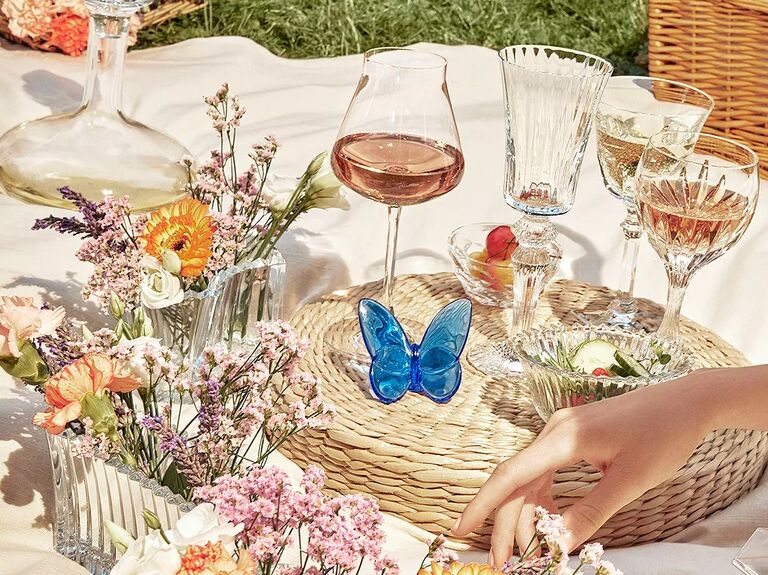 Looking to add a touch of whimsy and luck to your registry? Not that you'll need luck as you get hitched to your soulmate of course, but nonetheless, this butterfly from iconic luxury crystal maker Baccarat will be a sweet memento of your love. Choose between a bunch of pretty hues (maybe it could even be your something blue).
Pottery Barn Dream Robe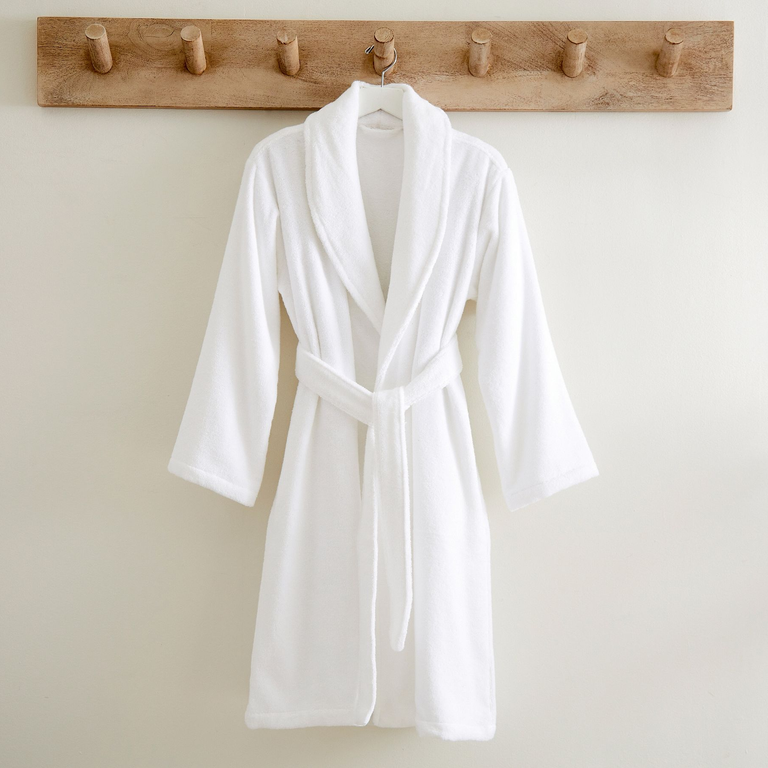 What could be more fun than a couple of cozy robes to make every Sunday afternoon feel like your honeymoon? They're made from an ultra-soft blend of cotton, modal and silk and can also be monogrammed with you and your love's initials. Choose between white and gray colorways.
Ooni Koda 12 Gas Powered Pizza Oven
There's something special about bonding over a slice on a cozy Friday, which is one of the reasons why a portable outdoor pizza oven deserves a spot on our list of top wedding registry items. This fun appliance cooks fresh, stone-baked pizza in just 60 seconds. It's gas-fueled and has a larger cooking area for 16-inch pizzas. Make memories experimenting with toppings and sharing some seriously tasty slices.
The Adventure Challenge Couples Camera Set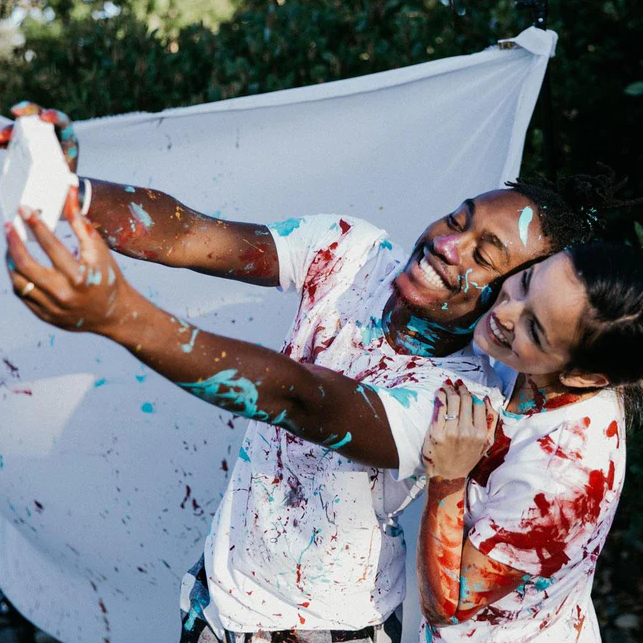 Filling those last few spots on your registry can be tricky. After all, there's no point in registering for an extra set of bath towels or bed sheets if you know you won't use them. Instead, look for something off the beaten path, like this cool wedding registry item that offers super fun date ideas and a place to document the memories all in one. The Adventure Challenge: Couples Edition includes 50 scratch-off date ideas that, once revealed, must be completed. Afterward, there's space to jot down notes and add a photo from the included instant camera.
Recess Pickleball Paddle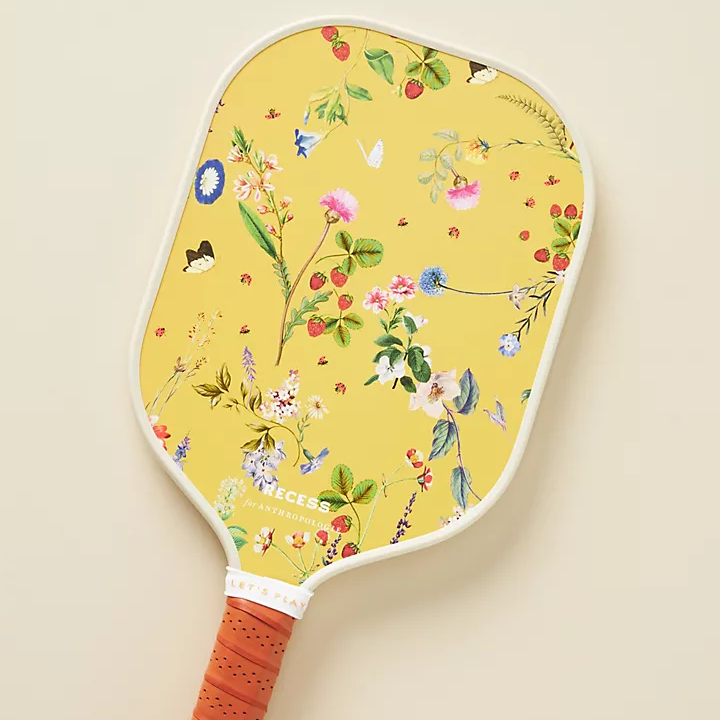 We found them: world's prettiest pickleball paddles! Scoop up two or four of these patterned paddles for your sweetie and your squad and get to practicing your "dinks." You'll have so much fun getting in on this popular sport.
YETI Roadie 24 Cooler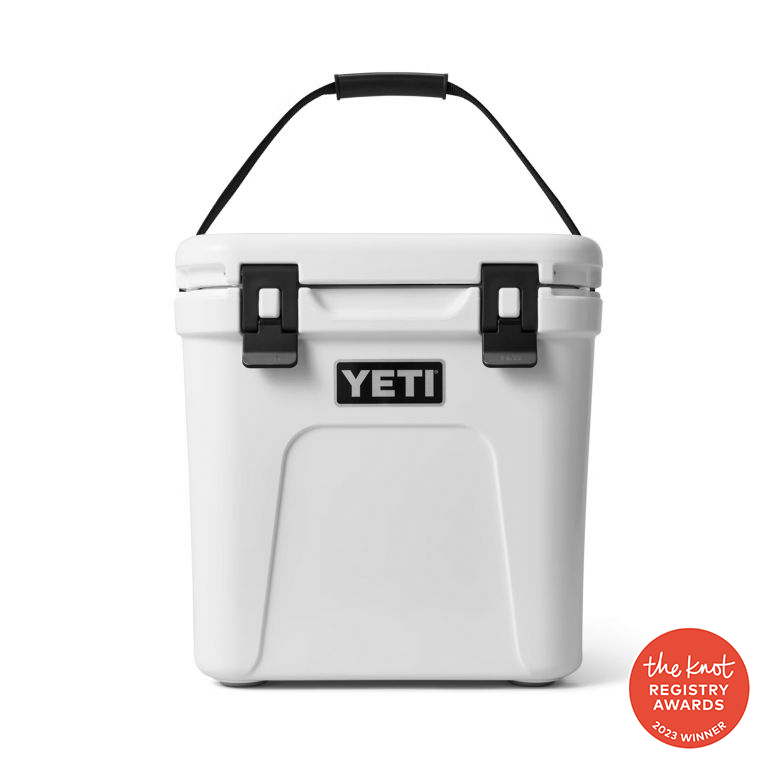 What could be more fun than a cooler perfect for long beach days? This model from YETI is ideal for grabbing and going, with space for 18 beer cans or an assortment of drinks and snacks. Plus, it has ample height to fit bottles of wine for those extra-romantic newlywed picnics.
KitchenAid 5-Piece Pasta Maker Set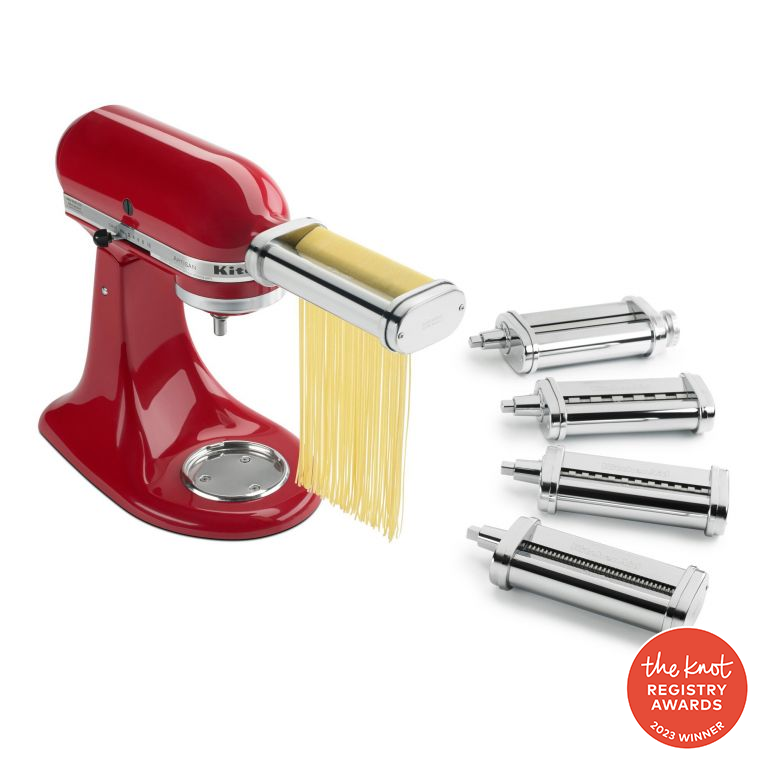 So you've got your fancy schmancy KitchenAid mixer for your morning muffins and holiday baking. Now, make it work for dinner with this pasta maker attachment set. It comes with the tools to whip up spaghetti, fettuccine, capelli and lasagna noodles like a pro—don't be surprised if Stanley Tucci shows up to your house for dinner, camera crew in tow, when you break out this set.
SPUR Experiences NBA Tickets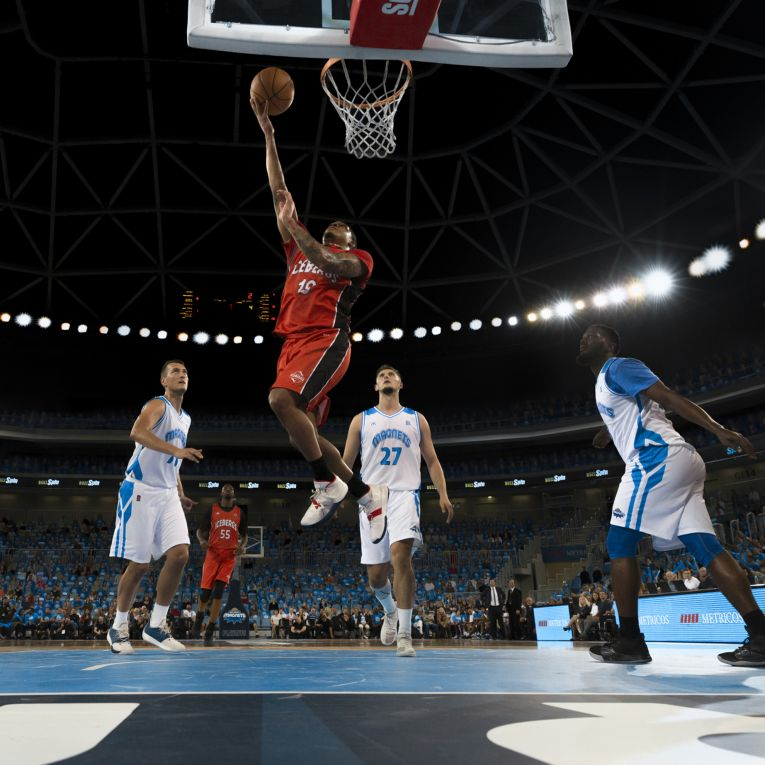 Basketball fans rejoice, you can now register for NBA tickets exclusively on The Knot Registry Store. Experience gifts are becoming increasingly popular on wish lists. They're a great way to keep up regular date nights after the wedding and honeymoon—keep that spark burning, baby!
YETI Rambler 30-Ounce Tumbler, Set of 2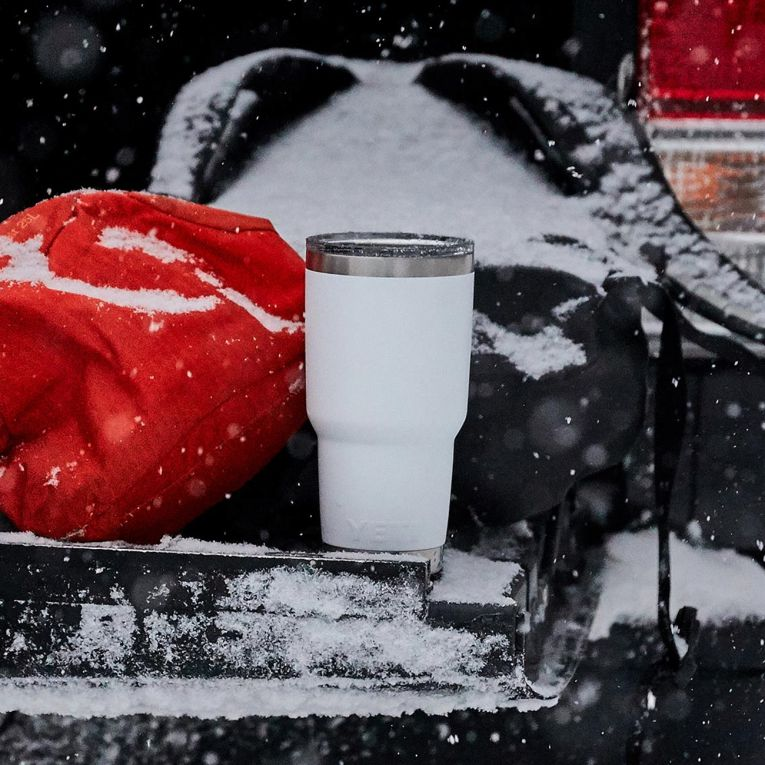 Think of all of the adventures you two will have together with this set of two YETI tumblers. Tote your favorite sips on a hike, to the beach and on your morning walk with your dog. They'll stay hot or cold the whole time.
Big Wedding Registry Ideas
Like we said, it's important to keep your guests' budgets in mind. While you should avoid exclusively expensive registry items, it's perfectly fine to add a few big-ticket wedding gifts to your list. What counts as "big-ticket" is different for everyone, but all-in-all, these items are investment pieces: pricey home goods that are meant to last and are worth every penny.
KitchenAid Artisan Series 5 Qt. 10-Speed Stand Mixer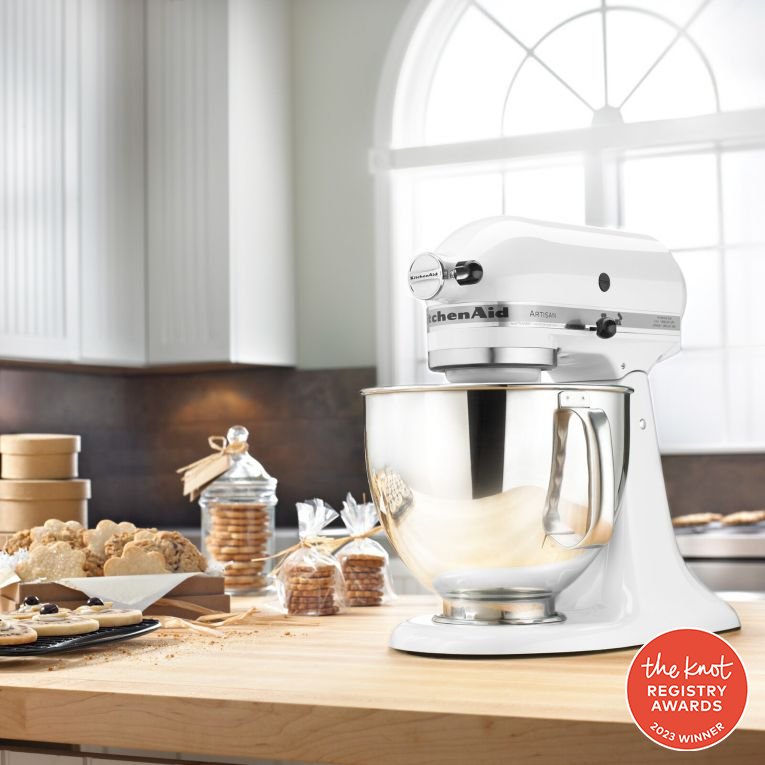 What would a list of wedding registry ideas be without the most popular wedding gift of all? A KitchenAid stand mixer costs a pretty penny, but it's famous for a reason. The plentiful attachments are a joy to use and the color options are true eye candy. This one comes with the basic attachments: a wire whisk, a dough hook and a beating paddle. It truly is a baker's dream appliance (not to mention, one of the most highly recommended wedding registry items).
Le Creuset Signature Cast Iron Round Dutch Oven With Lid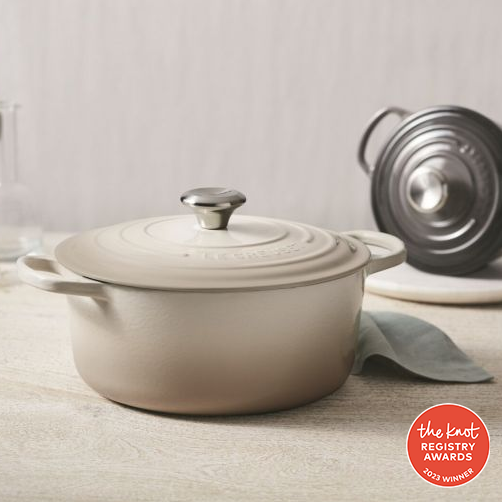 A colorful Dutch oven is another timeless registry item that's worth the splurge. The Signature Dutch oven from Le Creuset is a perennial favorite, thanks to its eye-catching enamel and solid, heirloom-worthy cast iron. It'll add an air of elegance to any kitchen. Le Creuset Dutch ovens come in a wider variety of colors and sizes than most other brands, so finding the perfect one for you and your kitchen is that much easier.
65" Class LS03B Samsung The Frame Smart TV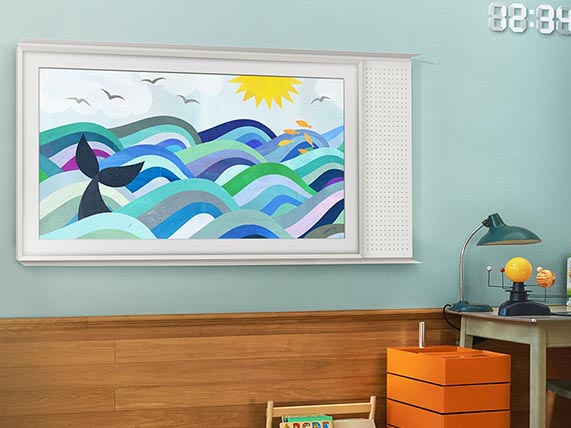 This interesting wedding registry idea is for the couple who already has the basics and is looking to upgrade. Samsung's ingenious "The Frame" television has everything you'd expect from a shiny new smart TV, including access to all your favorite streaming services. One thing you might not expect? It doubles as a work of art mounted on your wall. When placed in art mode, the screen can display paintings, personal photos and more. Thanks to the slim-fit wall mount, anti-reflection matte display and customizable bezel that gives the appearance of a frame, no one would ever guess the difference.
Breville Bambino Plus Espresso Machine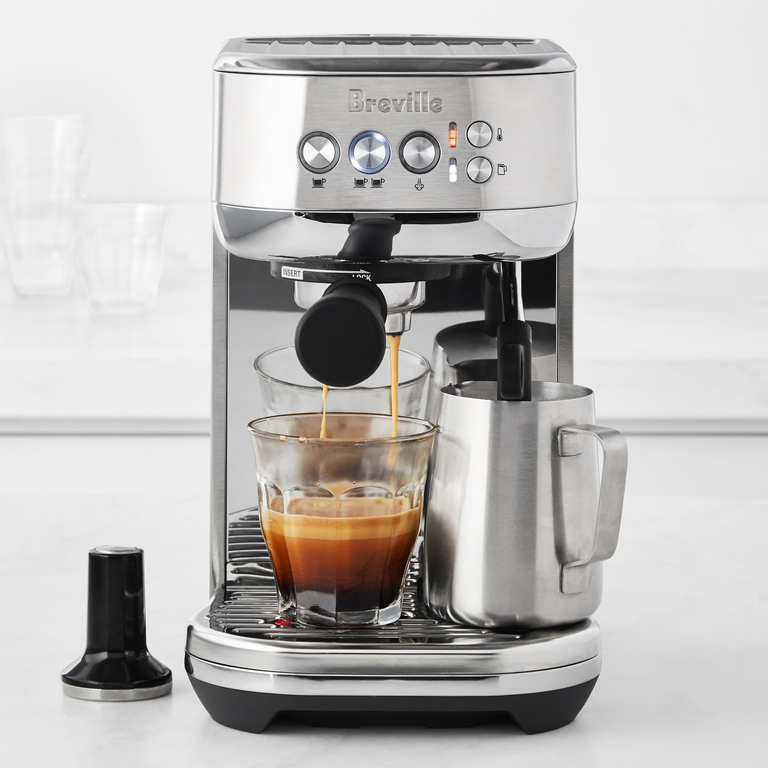 So you want to save some cash on weekday mornings instead of splurging on a cappuccino at the local coffee shop, but you don't have pro-barista chops just yet. If this sounds like you or your future spouse, you need the Breville Bambino Plus. Though small and relatively inexpensive compared to the typical, high-end espresso machine, this little powerhouse is fully automatic, which means that all you have to do is measure the correct amount of grounds into the portafilter, tamp them down and let the Bambino take it from there. Though if you are craving a little customization, you can change up the shot pull time as well as the milk frothing time and temp. No guarantee you'll ever master latte art, though.
BALMUDA Toaster Oven with Steam Technology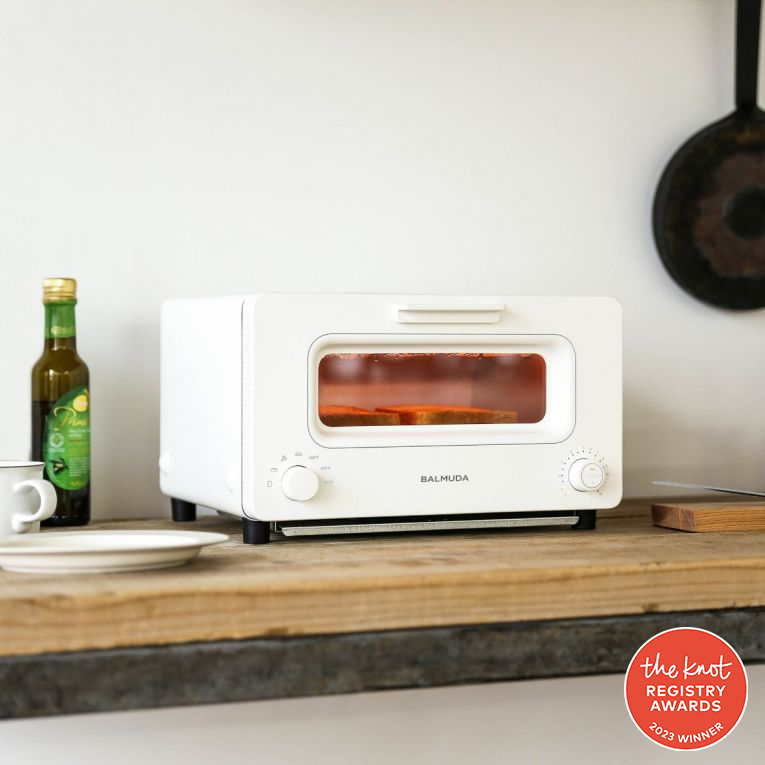 Yes, this sleek toaster oven is famous for being owned by influencer Emily Mariko, but it's not just a pretty piece for your countertop. This appliance totally lives up to the hype, though. What makes it special is that it steams while it toasts, so your bread gets an even golden crust without getting too dry and brittle. It does wonders for heating up leftovers, too.
All-Clad D3 10-Piece Non-Stick Stainless Steel Cookware Set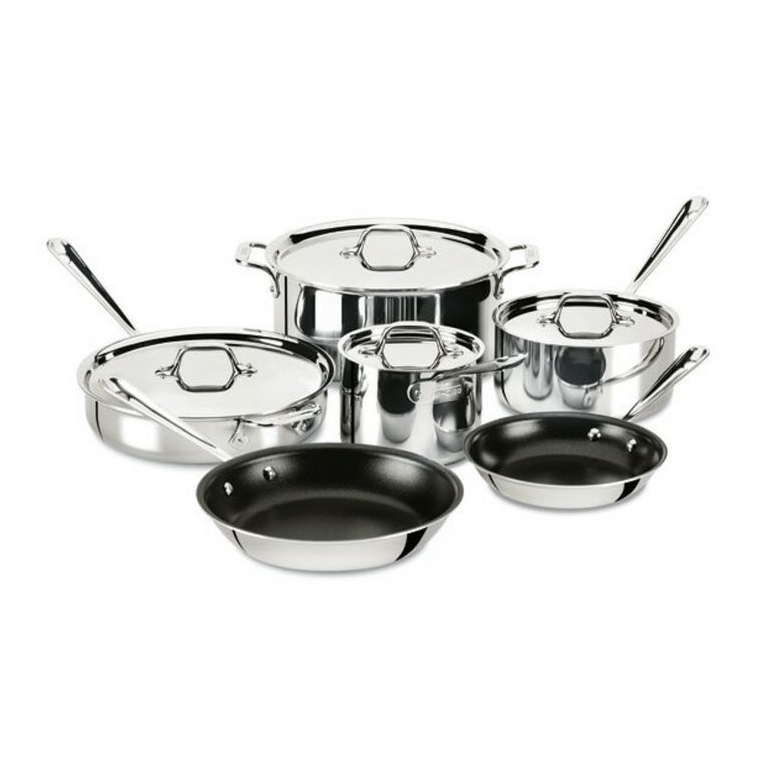 There's a reason why pro chefs love All-Clad pots and pans. And this set includes the best versions of workhorse pieces of cookware like stockpots, fry pans and sauté pans, with a few extra luxurious construction features. The skillets are nice and wide, plus the triple-ply steel and aluminum core construction of the entire set makes each piece heat evenly and quickly.
Anthropologie Gleaming Primrose Mirror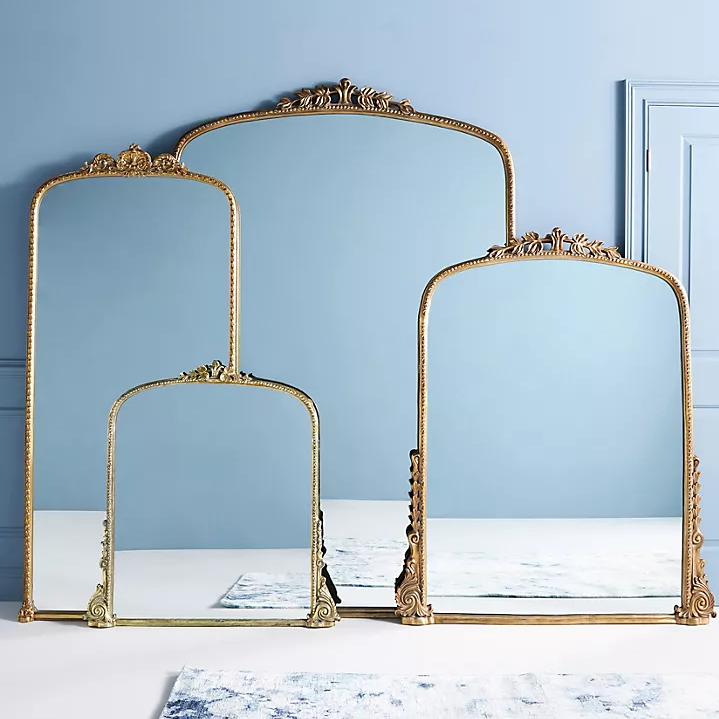 If you're wondering about that stunning antique-style mirror that you're seeing adorn every Instagram influencer's mantlepiece, here it is. A mirror is a must-have for your newlywed nest. Not only will a wall mirror make your digs look larger and brighter (always welcome if you're sharing space for the first time), but a full-length floor mirror is great to do a quick outfit check before you run out the door. Luckily, this mirror comes in a variety of shapes and sizes to suit your home decor needs.
Blackstone 2-Burner Propane Gas Grill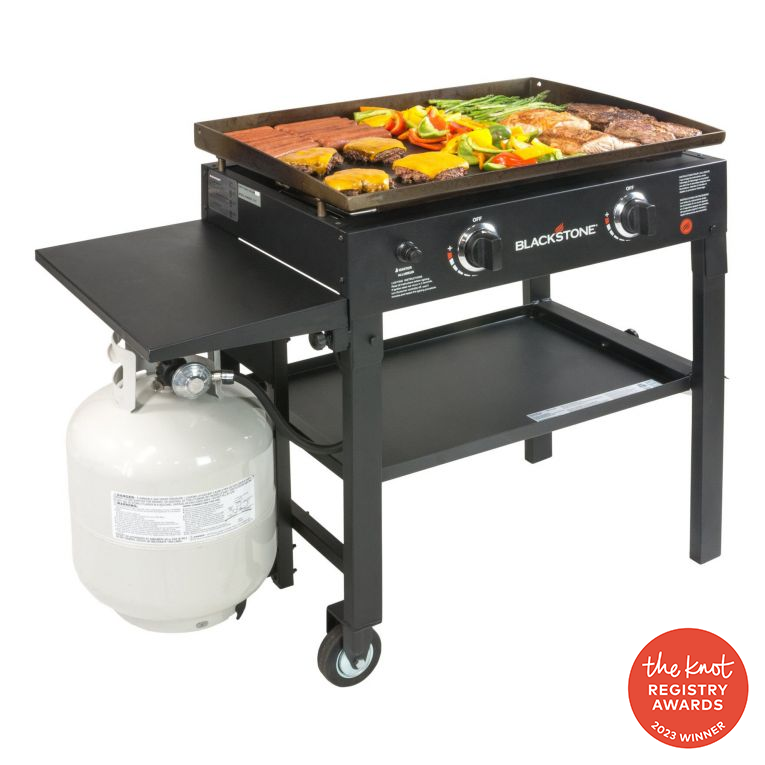 Blackstone grills are known for their superb performance, so it's no wonder this baby received one of our 2023 Registry Awards. Whether you're playing host during the big family Memorial Day cookout or just grilling some steak skewers for two to the soundtrack of summer cicadas, this option has you covered, with ample space and two separate cooking zones. That means you won't singe your steaks while you cook your chicken.
Lettuce Grow Farm Stand With Seedlings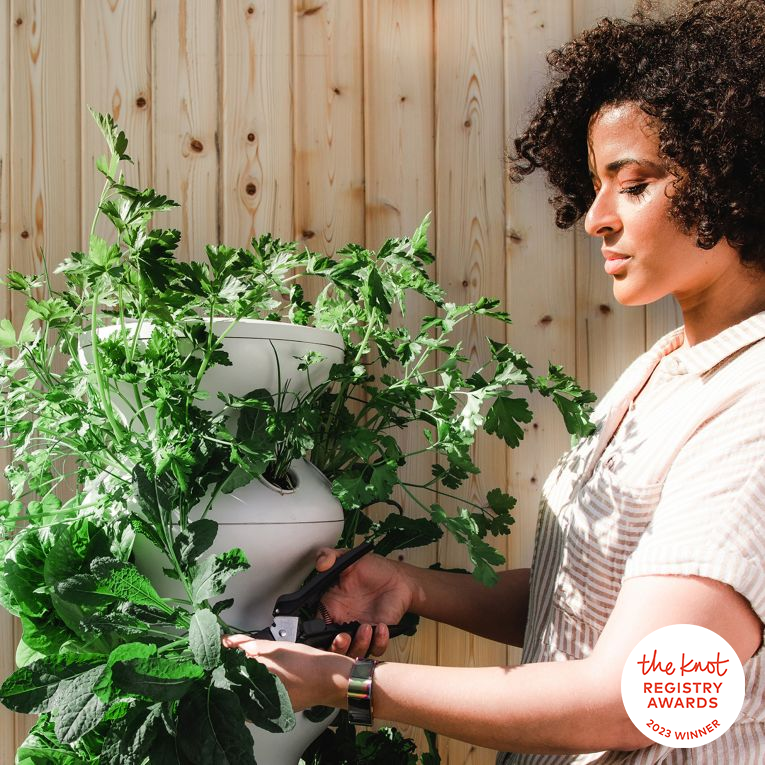 You don't want to miss this game-changing gift idea on your wedding registry. Lettuce Grow's Farmstand is a self-watering and self-fertilizing hydroponic planter that grows pre-sprouted seedlings. You and your new spouse could be harvesting your very own fruits and veggies in as little as three weeks—impressive, right? The Farmstand's innovative design means you don't need a ton of space; you can grow up to 10 times more per square foot compared to traditional gardening. It's also cleverly engineered to reduce CO2, water use and waste, so you can honestly feel good about your garden.
Small Wedding Registry Ideas
Fill in the blanks with these budget-friendly registry items priced under $50. They may be small, but they're all designed to make your lives that much easier and more enjoyable. Bonus: If they bundle a few together, your guests can make custom gift baskets.
DASH Rapid 6-Egg Cooker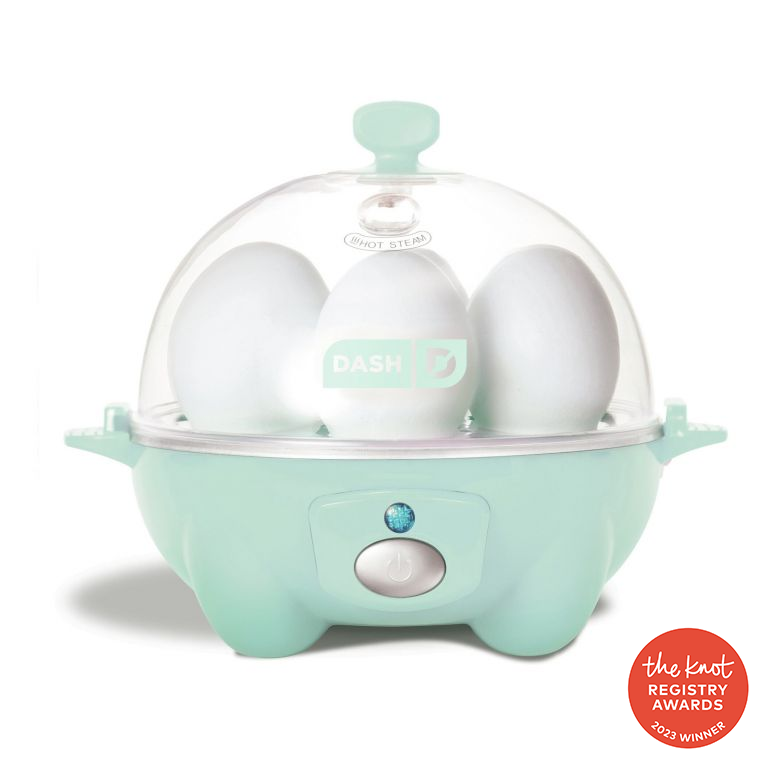 This spaceship-like egg cooker is as adorable as it is useful. Whip up six soft-cooked, medium or hard-boiled eggs in a flash without fussing with the stove. It takes a maximum of 12 minutes to cook and signifies its completion with a little bell noise. But even if you get too into mashing your avo for toast, it has an automatic shut-off function, so you won't risk overcooking your eggs.
CB2 Marta Optic Fluted Cooler Glasses, Set of 6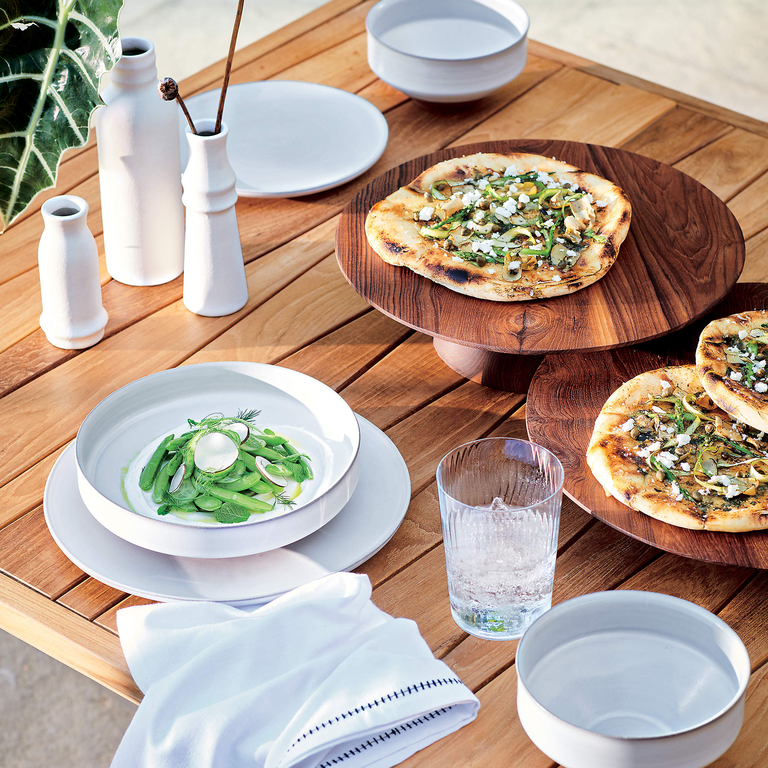 Just because you'll be using your water glasses everyday doesn't mean they can't be interesting. Fluted glassware is so in right now and we love how it looks on these sophisticated drinking glasses made in Poland. Stylish and dishwasher safe? Count us in.
Escali Primo Digital Scale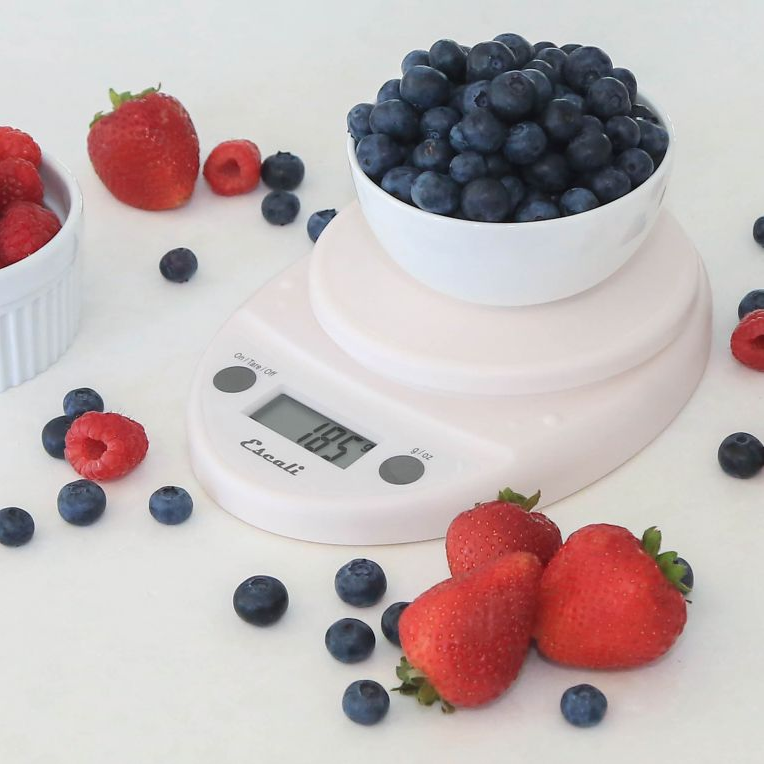 A reliable scale goes a long way in a busy kitchen and Escali's digital scale is just that: reliable. If you and your S.O. enjoy baking and trying new recipes, this small but mighty registry item will be your new best friend. Plus, how cute are all of the colors?
Escali Velo Luggage Scale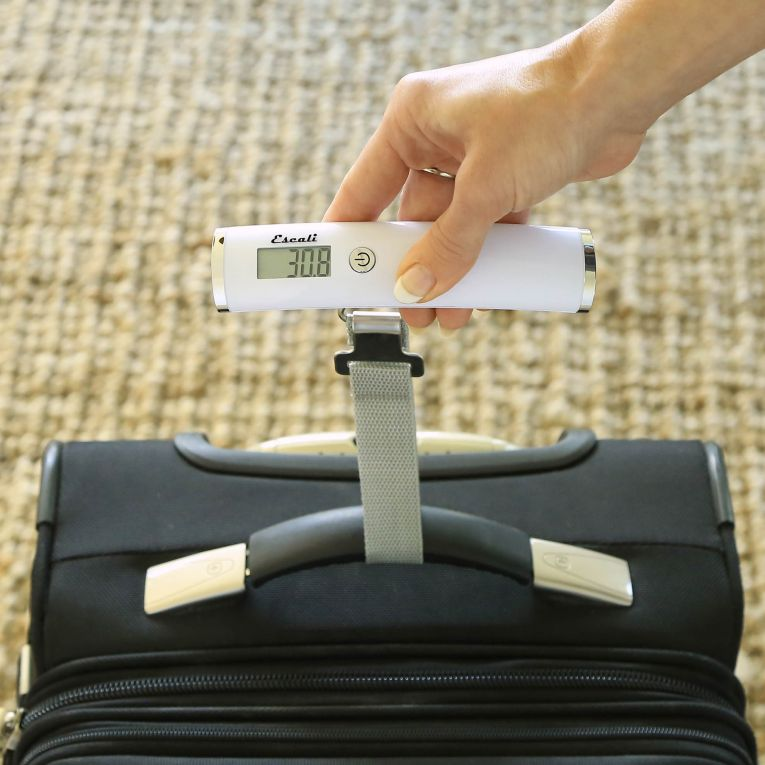 Not so keen on cooking or baking? Avid explorers can swap out the kitchen scale for a luggage scale instead. This handy digital option makes checking the weight of your precious cargo easy peasy. If you're anything like us, your luggage can be heavy. To make things easier, the scale has an ergonomically designed handle and displays the reading on screen for a few seconds after you set the luggage back down. No more wild guesses (followed by unfortunate last-minute airline fees).
CB2 Oni White Alabaster Coasters, Set of 4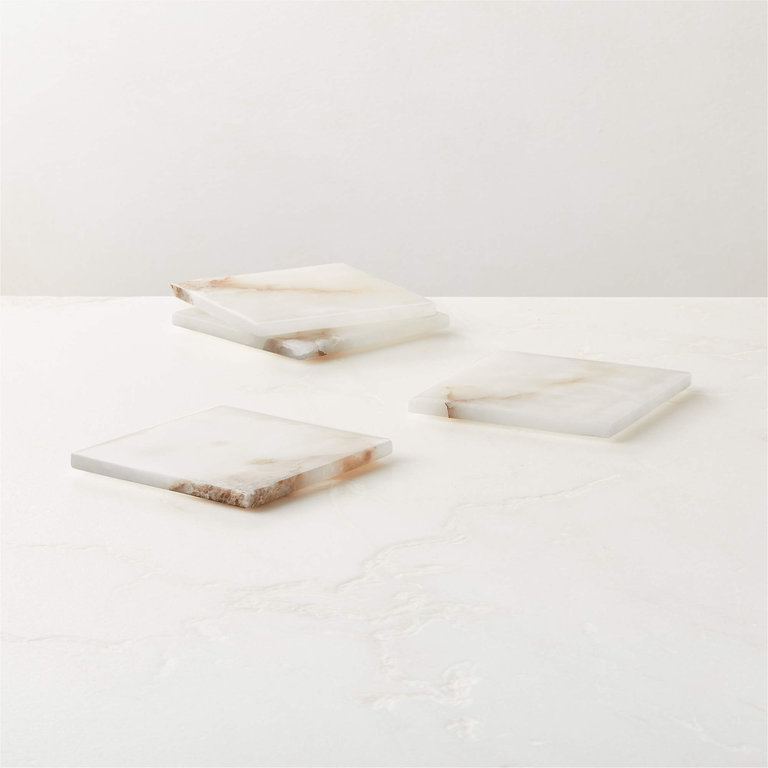 Take it from a girl who lost a beloved antique side table to ring-shaped stains—it's time you get yourself some coasters. These Alabaster ones are so stunning—a cooler version of the white marble options you see everywhere. They also look pretty just stacked on your coffee table, so your friends will actually want to use them without you having to hint too much.
Abi Measuring Cups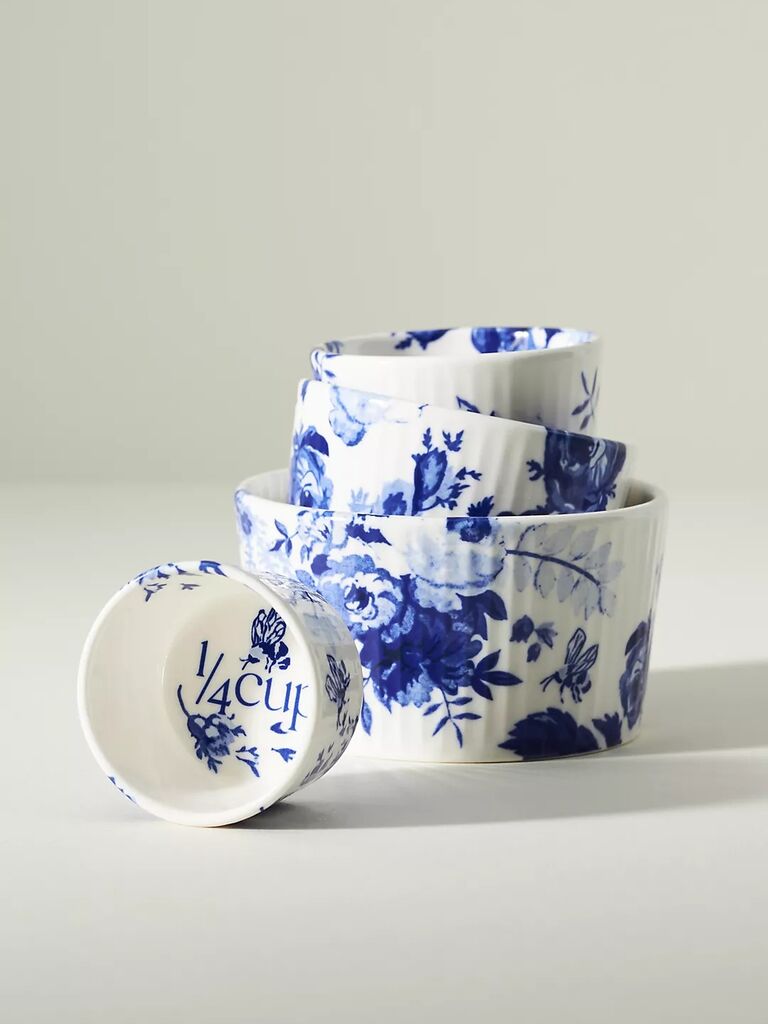 Measure out the perfect dose of flour and sugar (add a little extra, trust us) with these whimsical stoneware measuring cups. The classic blue and white floral motifs will add some cheer and elegance to your kitchen. You can't go wrong with these cottagecore cuties.
OXO Good Grips Salad Rotator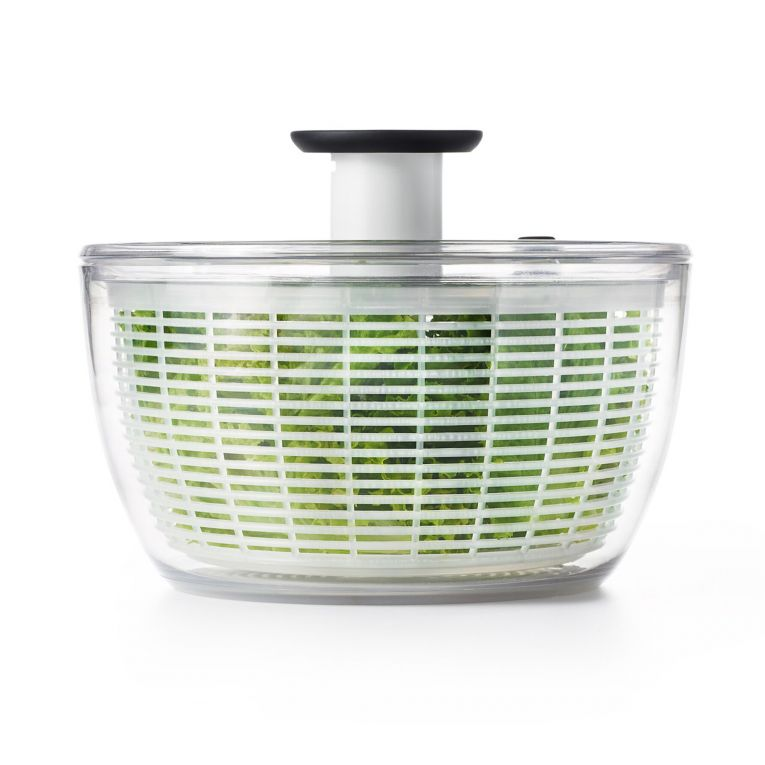 Take it from us: A salad spinner is the kitchen item you definitely need. No one wants a soggy salad. This model easily spins the water out of your greens by pumping the central button. And it's pretty fun to use, to boot.
Marble & Brass Round Charcuterie Board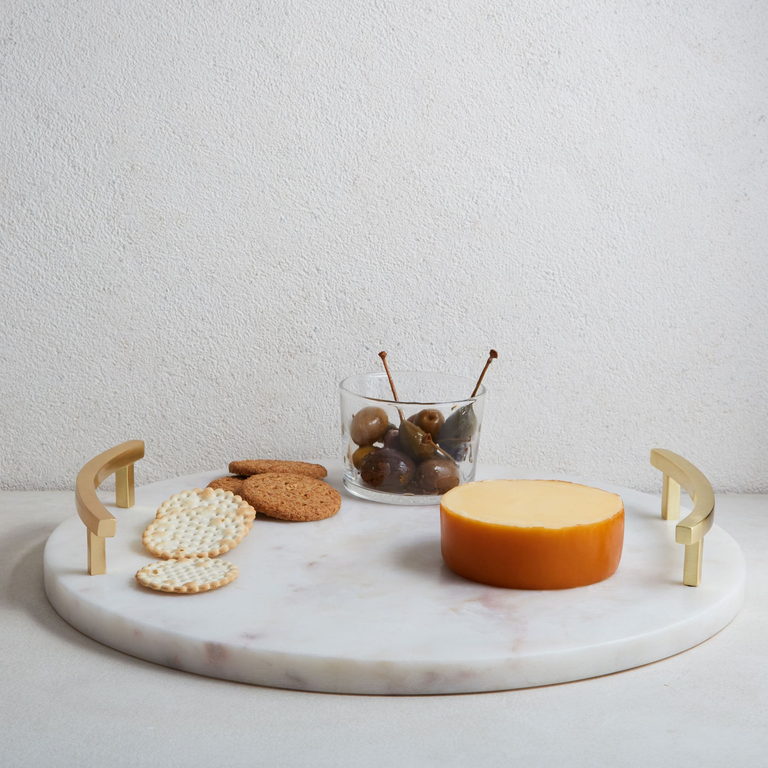 If we aren't socializing at a party, you can surely find us right by the charcuterie board. Be the hosts with the most with this classic marble and gold-hued option from West Elm. It'll be a timeless addition to your party table.
Hawkins New York Essential Nested Bowls with Lids, Set of 3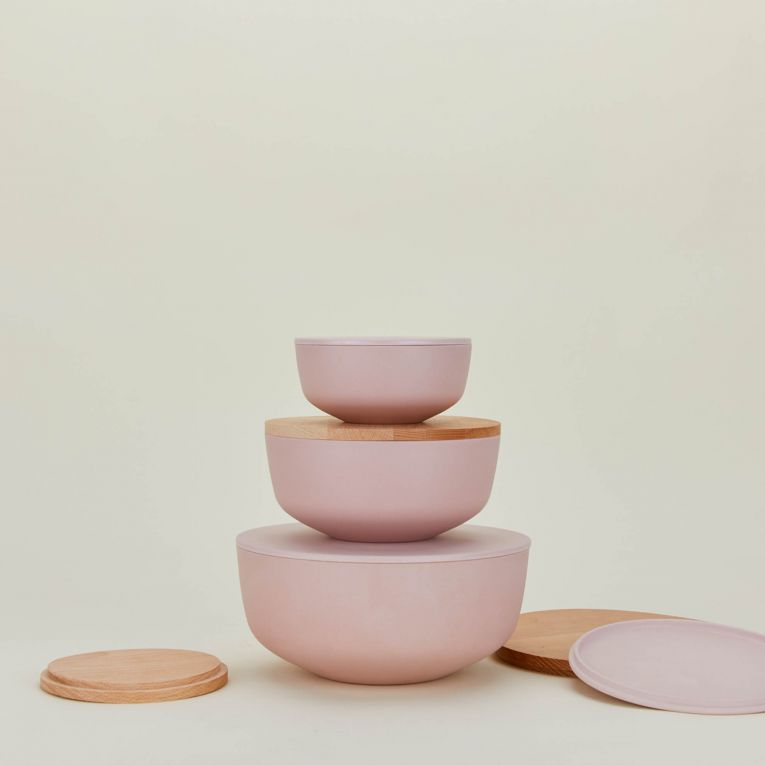 Store and serve in the utmost style with this set of three bowls from chic brand Hawkins New York. We adore the soft colorways they come in—like soft blue and blush—they're also made from eco-friendly resin and bamboo, so they're equal parts sustainable and stylish. And they're dishwasher safe.
Crate & Barrel Clear Glass Carafe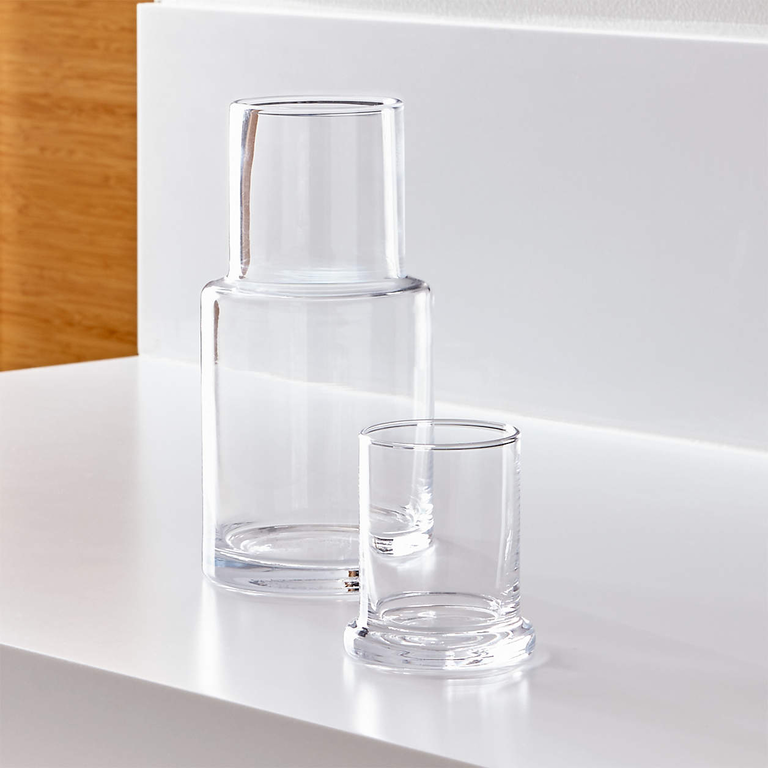 This is the special nightstand touch you never knew you needed: a cute little cup-carafe duo. The cup fits perfectly atop the carafe like a cap, so you can fill it up a few hours before bed and it'll be ready to go. Scoop up extras for any guest bedrooms you have—your company will feel super pampered.
Pottery Barn Dreamy Handwoven Fringe Throw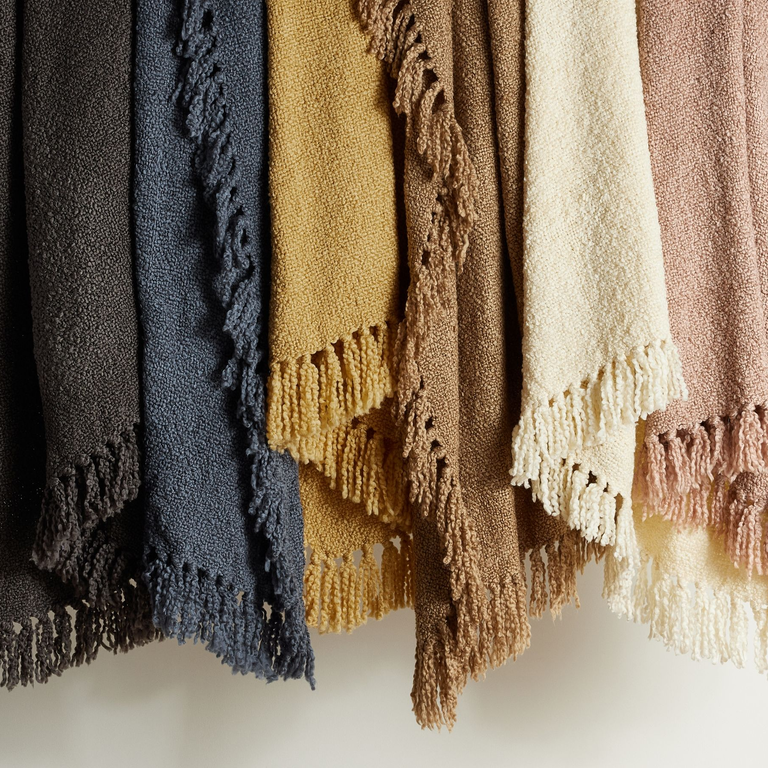 You'll want to stock up on these throws to add some color and coziness to your couch or bed. Each is super soft and lightweight, finished with fringe for a little extra pizazz. Wrap yourself in this blanket and cue up your latest Netflix binge.