50 Wedding Registry Ideas to Get Your Wish List Started
These items will take your gift list to the next level.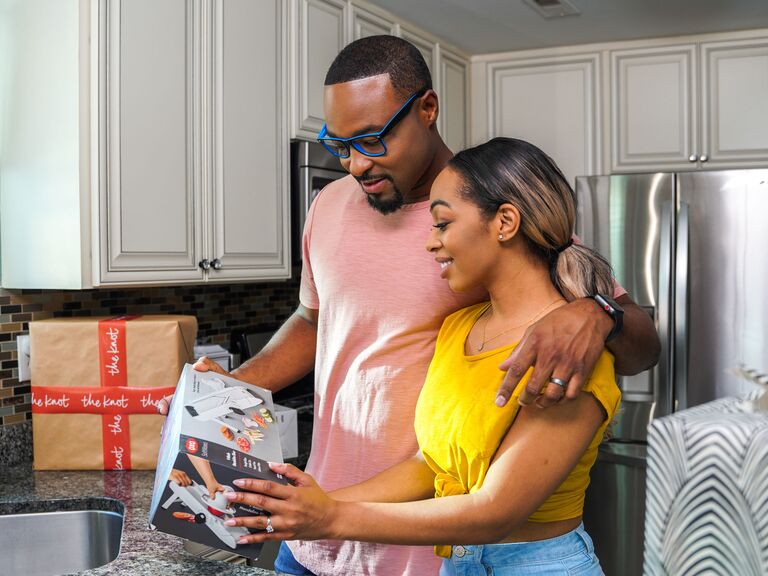 Jess Kane
We have included third party products to help you navigate and enjoy life's biggest moments. Purchases made through links on this page may earn us a commission.
A registry sets your future selves and your wedding guests up for success. You get the items you know you'll use and enjoy, while they get easy access to wedding gift ideas. But of course, coming up with a few hundred wedding registry ideas can be easier said than done. Guests aren't the only ones searching for suggestions—couples need inspiration too.
Luckily, The Knot Registry Store is a one-stop shop for the best items to put on your wedding registry. We've got curated collections for lots of different needs and interests, from the coolest registry ideas for small spaces to the most practical picks for cooking pros. And if you've got your eye on something specific from another retailer, our handy browser button allows you to add that to your wish list on The Knot too.
Need a little extra help starting (or completing) your registry? Keep on scrolling. Here, we've compiled some of our favorite things to add to your wedding registry, including winners from this year's The Knot Registry Awards that our couples and editors can't get enough of. But first, you'll find a few pointers to help you make the most of your gift wish list.
Jump to our favorite ideas:
Why You Need a Wedding Registry
It may feel weird to register for wedding gifts, but it's totally expected—and honestly appreciated. A registry takes the guesswork out of wedding gift-giving. It gives guests the confidence that they're purchasing something meaningful and useful to the couple. Plus, it shows them what other guests have bought. That way, your loved ones aren't accidentally ordering duplicates.
Meanwhile, you can track guest purchases on your end too, which makes writing thank-you notes so much easier. On top of that, you can take advantage of cool perks like The Knot Registry's 20% postwedding discount on eligible ungifted items from The Knot Registry Store.
What Should You Add?
A well-rounded registry has a mix of practical and personal picks at a range of different price points. Base the size of your registry on the size of your guest list, with options for everybody. As you're searching for good wedding registry ideas, keep these types of products in mind:
Items that you'll use often: Which kitchen accessories do you need to cook your favorite recipes to perfection? What entertaining essentials are you constantly borrowing from family or friends? If it's something you know you'll use regularly, it's an excellent wedding registry item.
Items that suit your style: Think about your shared style, the types of designs that really bring you joy, and the colors and patterns that'll look amazing with the rest of your home decor.
Items that are made to last: The best wedding registry items can be cherished for years to come and won't need frequent replacing.
Items that reflect your relationship: Think about your shared passions and hobbies and honor them on your registry. Guests will love seeing your personalities shine through, and it'll make their gifts feel more special.
Want to emphasize a few of your wedding registry must-haves? The Knot Registry allows you to pin certain gifts to the top of your wish list as a Top Choice. That way, you can let your guests know exactly what items you're most interested in receiving. For more recommendations, check out our top wedding registry tips. And be sure to reference our ultimate registry checklist so you don't miss anything important.
What Should You Skip?
Think about what you already have and what you've happily lived without. What kinds of things are collecting dust on your shelves? Are there certain gadgets and gizmos that you've never found a use for? That's the type of stuff to skip.
It's also good to think about the intent of the item. Super-personal gifts that are meant for only one of you are best saved for a birthday or holiday wish list. For your registry, focus on the items you and your partner will both appreciate and enjoy.
Practical Wedding Registry Ideas
Practical items are the best way to start—and round out—your wedding registry. If you need ideas, these classic essentials are a great jumping-off point. Who knew you could get so excited about a good vacuum or the right cookware set?
iRobot Roomba j7 Wi-Fi Connected Robot Vacuum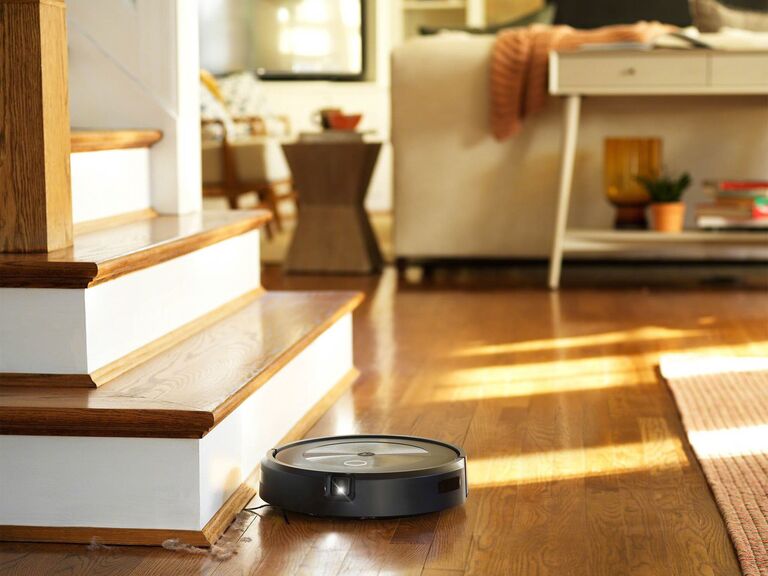 A versatile vacuum that controls itself? You'll feel like you're living in the future. This iRobot model has improved intelligence, allowing you to schedule multiple cleanings per day as well as request on-the-spot cleaning for unexpected messes. The Roomba j7 also has 10 times the power-lifting suction compared to the Roomba 600 series—no crumb gets left behind! Bonus: Pet owners can rest assured that they won't come home to any—er—big accidents. The Roomba j7 is designed to recognize and avoid pet waste among other common objects that can get in the way, like shoes or cords.
Caraway Ceramic Non-Stick Aluminum 12-Piece Cookware Set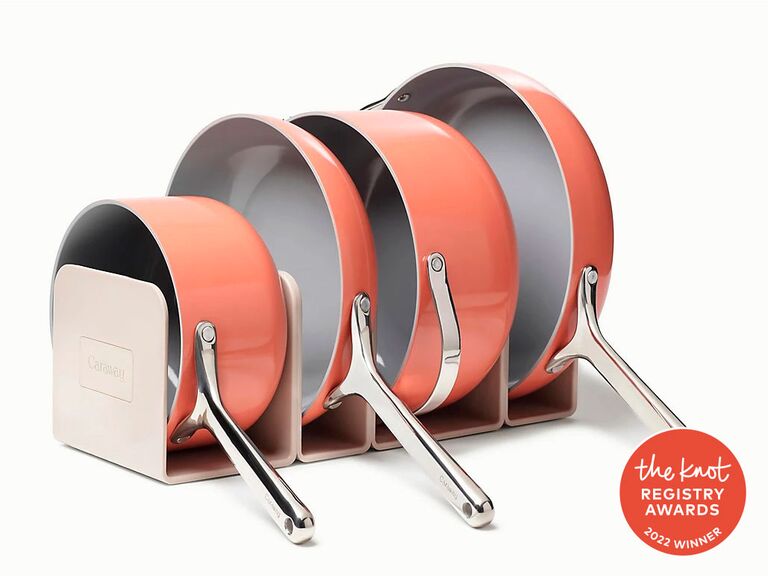 This trusted cookware set is made from durable cast aluminum, which distributes heat quickly and evenly for perfectly cooked food every time. Each piece has a ceramic non-stick coating, which is safer at high temperatures than other non-stick cookware and promotes quick cleanup (phew!). The set comes with all the basics every couple should own: a saucepan, a frying pan, a Dutch oven, a sauté pan and accompanying lids. But that's not all: Fans of The Home Edit will appreciate the magnetic pan racks and canvas lid holder. Your kitchen just got a whole lot more organized.
Ayesha Curry 10-Piece Non-Stick Bakeware Set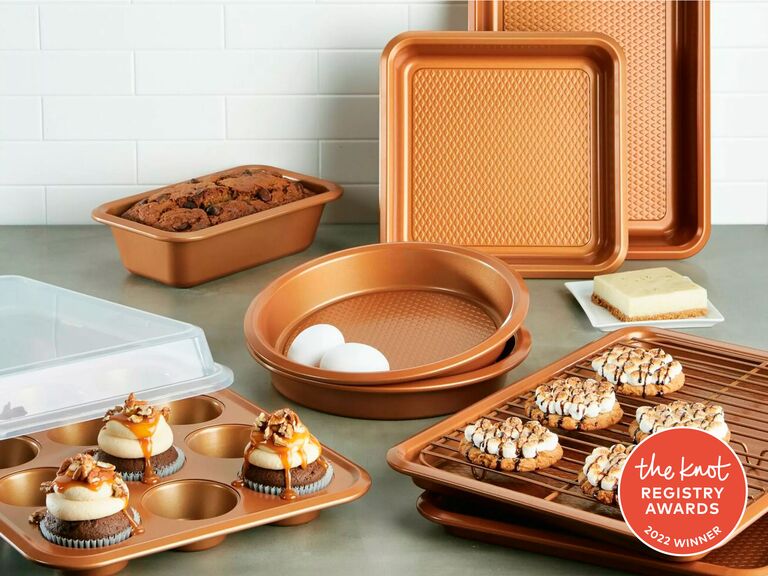 Maybe you've already found a reliable cookware set. But do you have a bakeware set? You might be getting by with some hand-me-down baking sheets, but now's a great time to upgrade. You never know when you'll be volunteered to make something for the next work party or school fundraiser. This attractive assortment includes 10 long-lasting carbonized steel pieces handling cookies, cakes, cupcakes and more. The non-stick material makes cleanup easier, but they're also dishwasher safe, so you can sit back, relax and enjoy the fruits (or cookies) of your labor.
Instant Pot Duo Crisp 6 Qt. Pressure Cooker and Air Fryer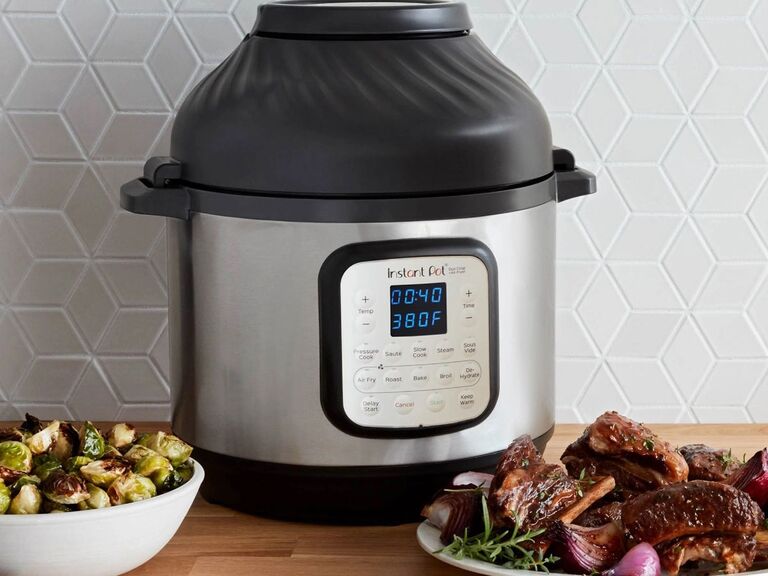 If you only ask for one kitchen appliance, we vote for this do-it-all Instant Pot. This ultra-practical registry item has an 11–in–1 functionality—TBH, there's not much it can't do. There are two lids for switching between an air fryer and a pressure cooker. Air fryer mode also lets you roast, dehydrate, broil and bake, while the pressure cooker has sautéing, steaming and slow-cooking functions. Your dinner options will be endless, even if your counter space isn't.
Crate and Barrel Hue Contemporary Porcelain Dinnerware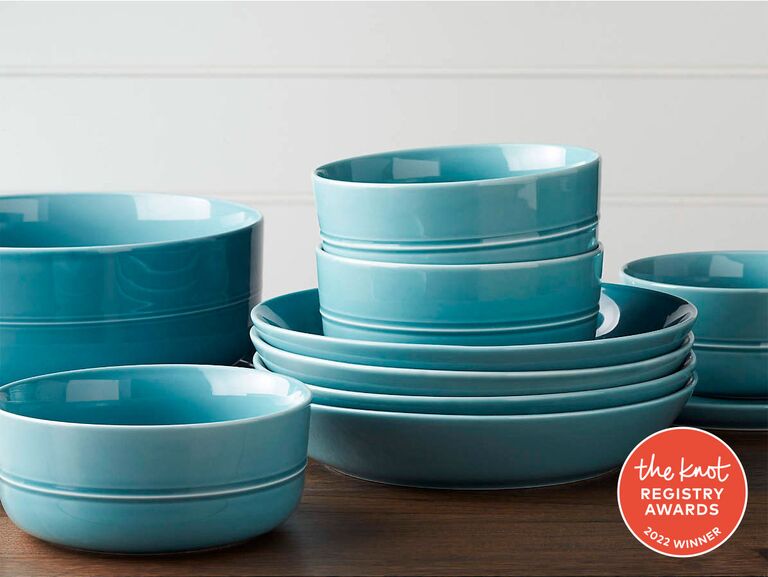 There's something so pleasing about matching dinnerware. If you've yet to treat yourselves to a stylish set, consider these plates, bowls and mugs from Crate and Barrel. The streamlined modern tableware will look great with a range of design schemes, whether you're fans of minimalist Scandi style, have a pared-back country aesthetic or your home is sleek and contemporary. There are five versatile hues to choose from, including blue, gray and white tones with a glossy hand-glazed finish.
Coyuchi Organic Crinkled Percale Sheet Set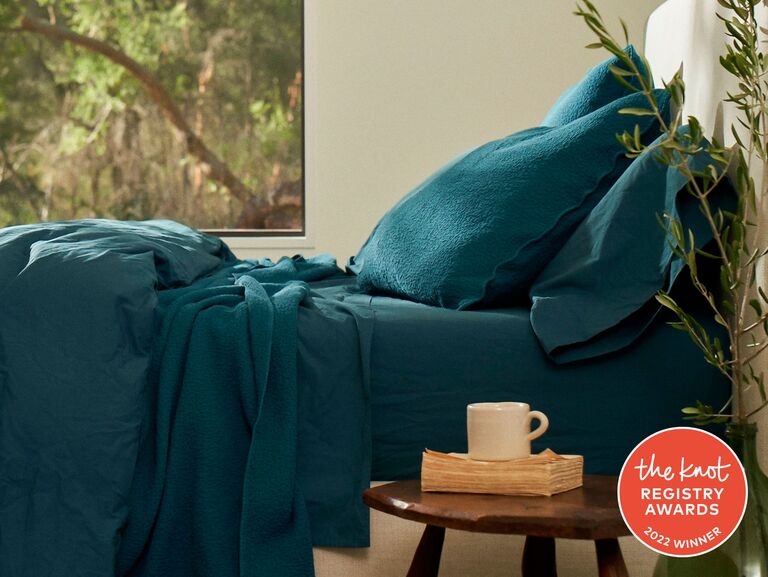 Registering is an excellent opportunity to replace some old, worn-down stuff. And if you've always dreamt of hotel-quality bedding, it's your chance to reinvent your bedroom and improve your sleep hygiene. These unbelievably comfy sheets are made from crisp cotton percale that's 100% organic, breathable and lightweight. If you're always searching for the cold side of the pillow, these are the bed linens for you. Another excellent pro? They're Fair Trade, benefit 1% for the Planet and come in eco-friendly packaging. So what are you waiting for? All you have to do is decide on a color.
Instant Pot Solo Single Serve Coffee Maker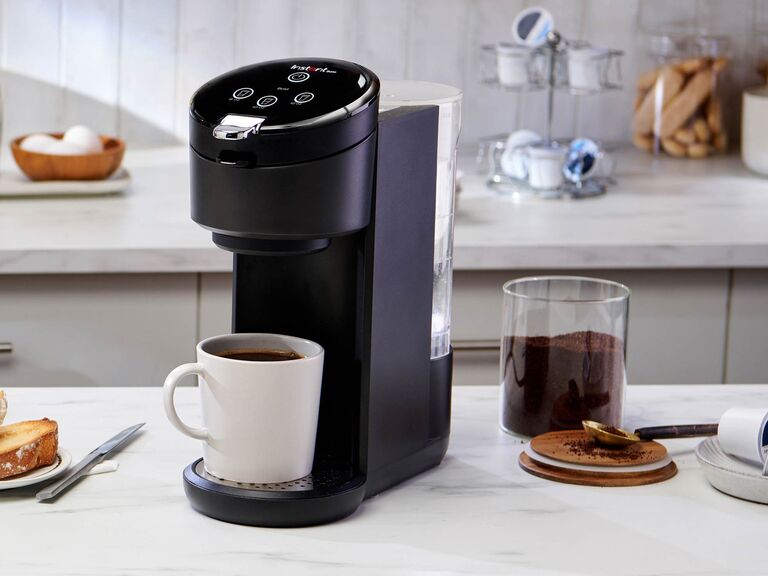 Of all the practical things to add to your wedding registry, a coffee maker is a no-brainer if you a) drink coffee and b) don't already have one. Not only will having your own at-home coffee machine save you countless Starbucks trips, but it also lets you experiment with different blends from small roasteries. This single-serve device brews a cup in just 90 seconds and is compatible with Nespresso pods, K-Cup pods or your favorite ground coffee beans. The icing on the cake? The compact design won't clutter your counter.
Weezie Bath Sheet Starter Pack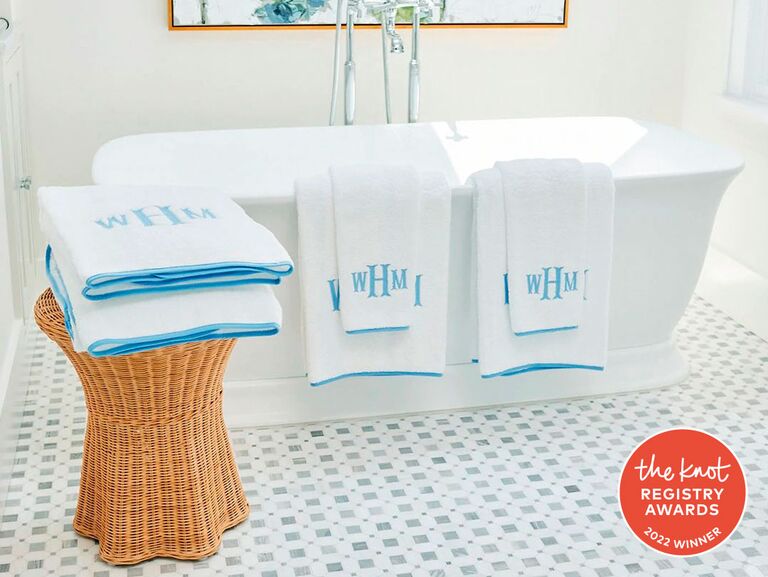 Why settle for just any pack of bath towels when you can spring for these elegant piped-edge towels personalized with your new monogram? Your wedding registry gives you the chance to elevate the everyday items that subtly contribute to your home's overall aesthetic. Weezie's oversized organic cotton towels are larger than the typical bath sheet, guaranteeing you'll feel luxuriously swaddled after every shower or soak in the tub. The starter pack includes four bath sheets and two hand towels, so you could potentially stock two bathrooms with just one set.
HitchSwitch Name Change Gift Card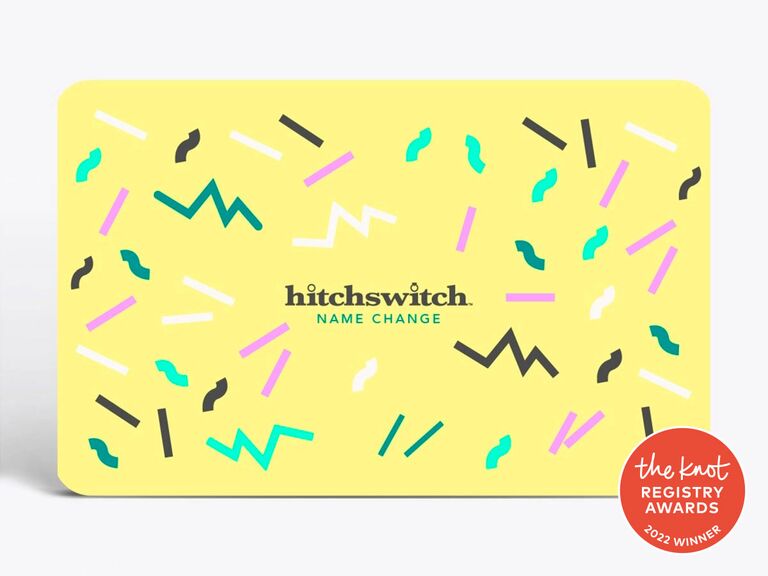 Anyone who's ever changed their name after getting married will tell you there's a lot of paperwork involved. If one or both of you plans on updating your name, this might just be the most practical wedding registry gift ever. HitchSwitch simplifies the process and provides easy access to the relevant name change forms. Add a gift card for the service to your wish list so you can get a jump start on making your shiny new name appear on all your official documents.
A New Home Cash Fund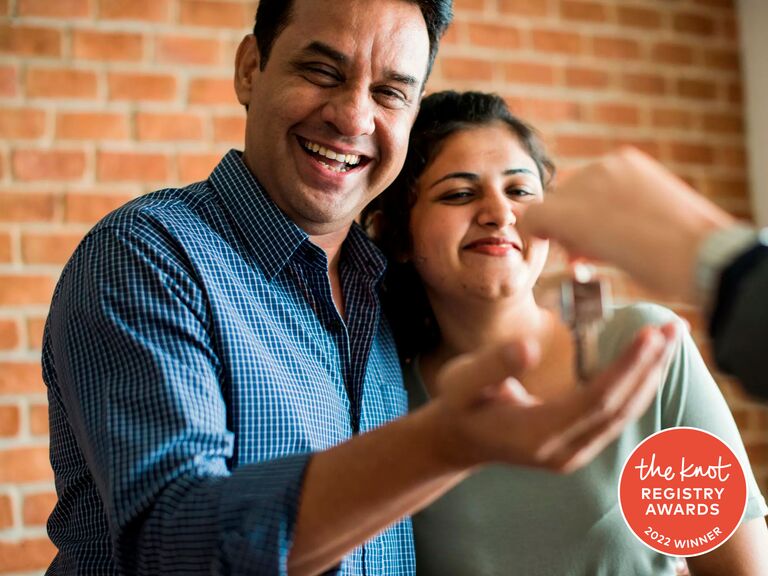 Some of the most useful registry items aren't tangible objects at all. Use The Knot Registry to set up a cash fund for something really meaningful, like a new home. You can add a special note for guests about your plans for a truly personalized touch. Request a set amount of money or allow loved ones to decide on their contributions. Either way, you'll be one step closer to your dream home.
Unique Wedding Registry Ideas
Once you've stocked up on essentials, it's time to browse beyond the basics. These unique registry items are still very useful, but they bring a little something extra to the table.
Estelle Colored Glass Set of 2 All-Purpose Wine Glasses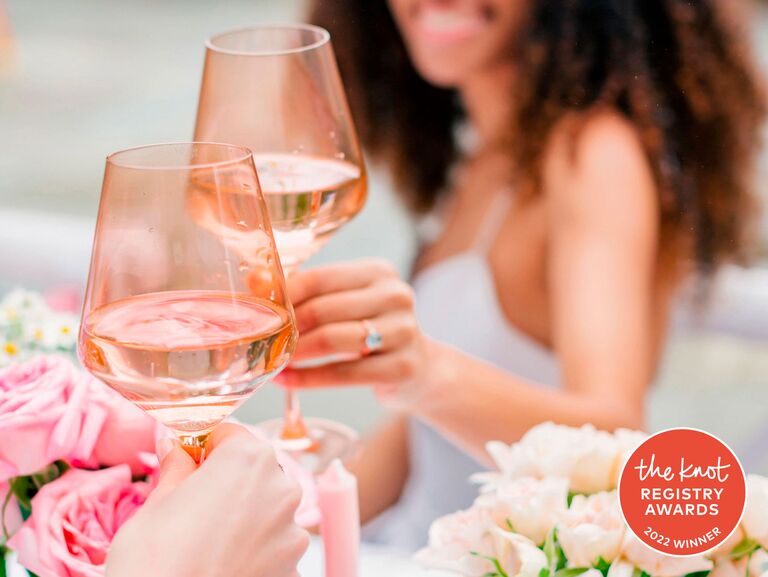 Wine glasses are a common wedding registry item, but this unusual drinkware reaches new heights of elegance. Swap out your standard clear wine glasses for these artisanal colored glasses in one of 11 stunning hues. From subtly tinted pastels to striking jewel tones, they're sure to make a statement on your dining table. It's the kind of thing you'll pull out whenever you're toasting a special occasion—just think of all those future wedding anniversaries.
All-Clad Sous Vide Immersion Circulator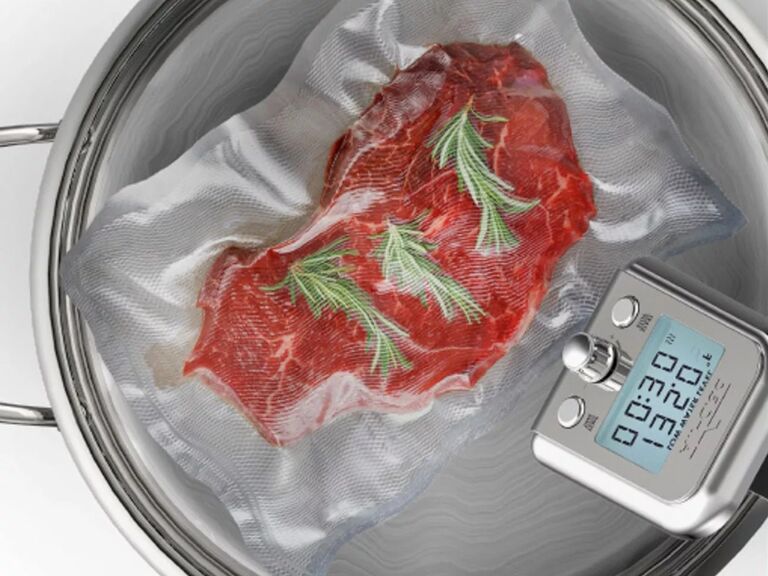 Something you probably don't have in your kitchen already? An immersion circulator. This incredibly accurate device will have you cooking your steaks (or veggies) in a whole new way. It's the chef-approved method you've probably seen on Top Chef, and now you can do it at home. The immersion circulator clamps onto the cookware you already have, so it's a great way to upgrade pots and pans without having to replace them.
Therabody Theragun Mini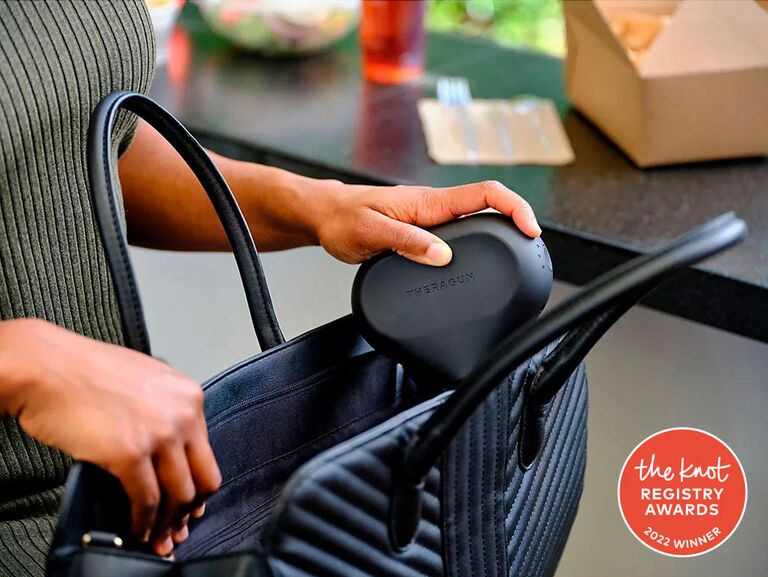 What you put on your wedding registry should reflect your personal interests and lifestyles. If you and your S.O. identify as fitness fanatics, don't be afraid to put health and fitness-themed gifts on your wish list. The Theragun Mini is hands-down one of our favorite wellness products. Don't let the compact design fool you—this handheld massage gun is a lot more powerful than it looks. The Mini still allows you to treat your other half to a relaxing at-home massage, but unlike its sister models, it's small enough to pop in a bag for soothing sore muscles on the go.
Nambé Harmony 3-Piece 24 oz. Salad Bowl With Servers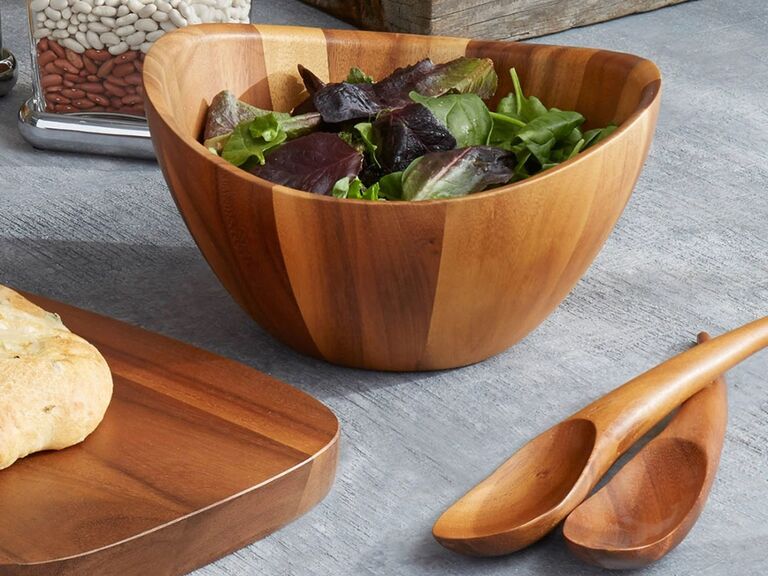 Always bring the salad to family gatherings? This distinctive wooden salad bowl will have you serving greens in style. It comes with two coordinating serving spoons that have stylish pointed stems and a wide head for easy serving. The bowl itself has tall sides so there's plenty of space for extra helpings.
PhoneSoap Wireless UV Smartphone Sanitizer and Charger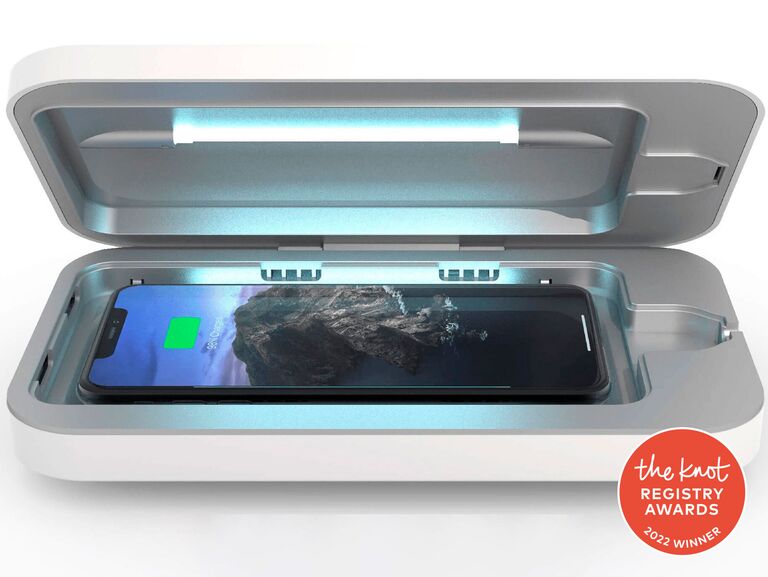 Talk about a unique and totally useful registry idea! Using UV-C light, the PhoneSoap disinfects your most-used (but hard-to-clean) accessory: your smartphone. Plus, it'll wirelessly charge your device at the same time as long as it's Qi-enabled (which most Apple iOS and Android phones are). If sanitizing brings you satisfaction, you'll really appreciate this wedding gift.
Morning Joy Co. Unique Serving Board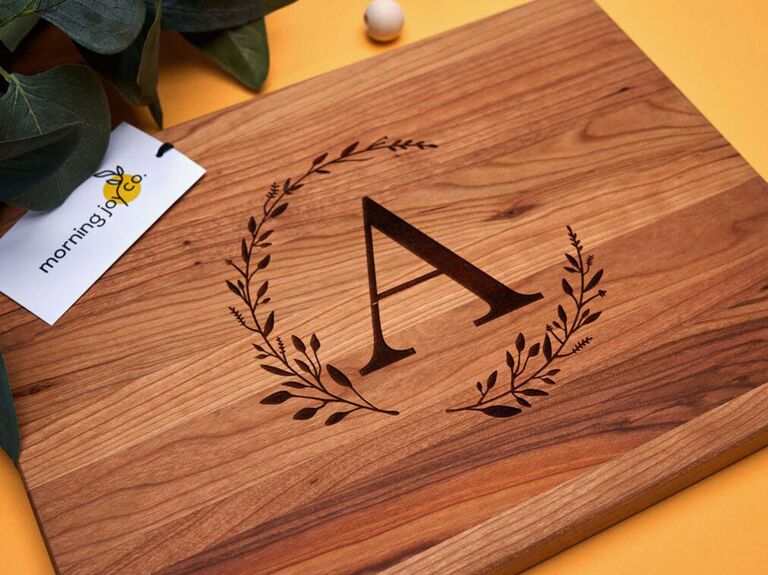 Wooden chopping boards are a valuable addition to any kitchen. This cherry, maple or walnut board can be used for prepping and serving food. Plus, it'll be one of the first physical symbols of your new shared last name (if one of you is changing it, that is). The beautifully engraved initial will stand out on your kitchen counter or dining table for years to come.
Airbnb Gift Card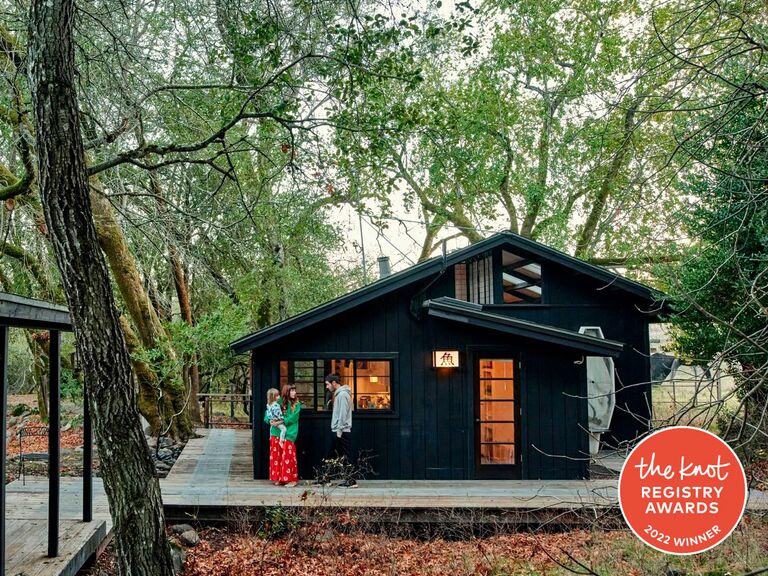 To get the most out of your registry, add a few gift cards to your assortment. You can base your selection on your hobbies and interests to make your registry feel more unique. An Airbnb gift card is one of the best registry items for couples who love to travel, but The Knot Registry Store has plenty of other gift cards where that came from.
Pretti.Cool Set of 4 Terrazzo Coasters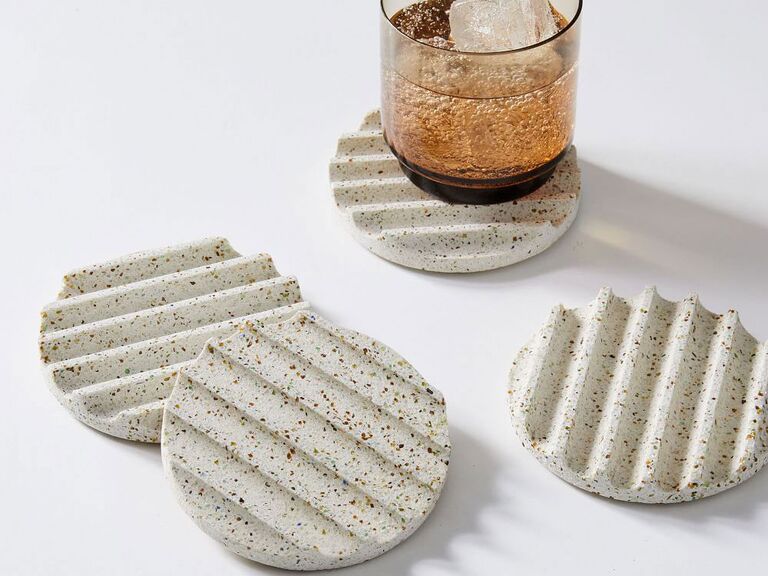 A set of coasters is something you may not have thought to add to your wedding registry, but we highly recommend it. These tabletop saviors aren't just incredibly practical, they also add a decorative element to your dining table, coffee table or nightstand. The eye-catching terrazzo coasters are hand cast from concrete, giving each piece a unique finish. Plus, the grooved design prevents glasses from sticking to the surface.
The Art of Etiquette The Best Is Yet to Come Anniversary Book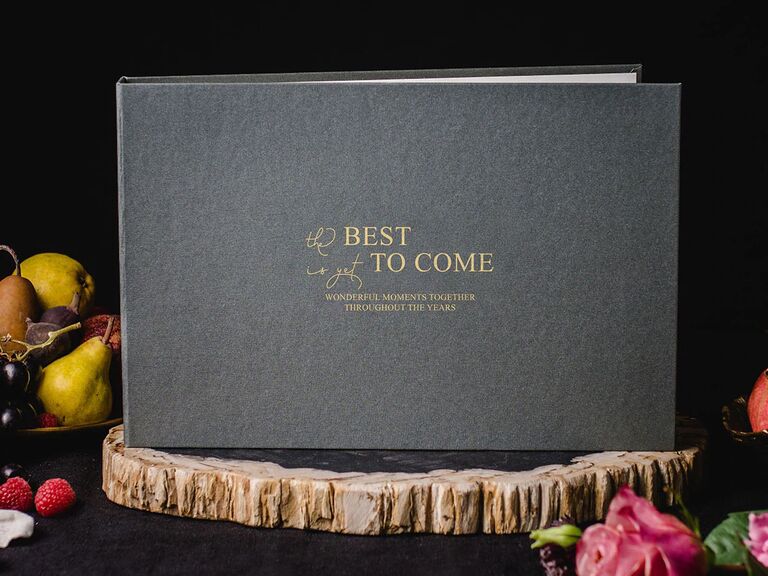 If you and your S.O. have already spent some time building the perfect home together, spring for unique wedding registry ideas that are fun or meaningful instead. Your wedding day is just the beginning of a lifetime of love and happiness. This heirloom-worthy journal has 25 anniversary pages, 10 photo pages and six pocket pages for documenting your love story after you tie the knot. There are also 50 "To My Beloved" cards intended for writing each other love letters to be opened on future anniversaries (awwh!).
Black + Decker 14-Bottle Freestanding Wine Refrigerator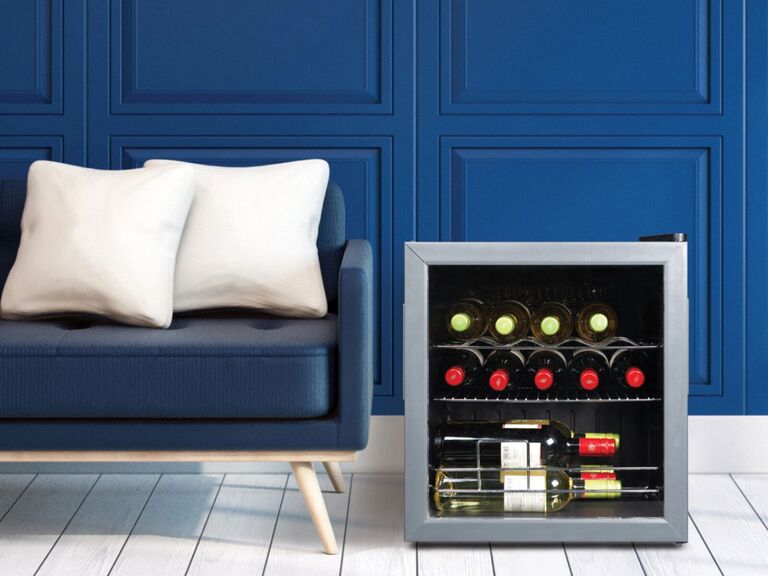 Still discussing what to register for ahead of your wedding? If you're building a wine collection or love to host family and friends, a wine fridge is certainly a handy appliance. This freestanding cooler chills up to 14 bottles at once. Simply set the temperature anywhere between 40 and 64 degrees Fahrenheit and let it work its magic.
Fun Wedding Registry Ideas
Coming up with wedding registry ideas should be fun. After all, it's a unique opportunity to express yourselves as a couple. At least one of these out-of-the-box items is bound to put a smile on your face.
A Honeymoon Cash Fund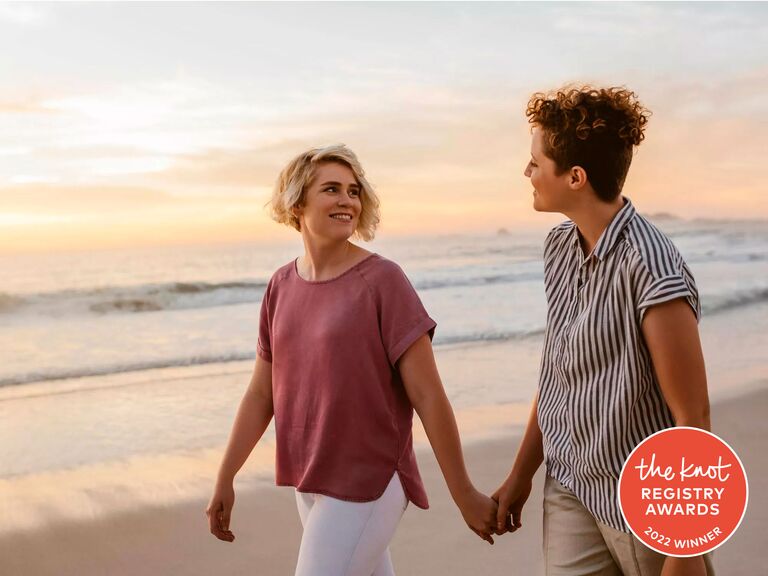 A honeymoon fund has got to be one of the best wedding registry gifts. Guests can contribute to travel expenses, hotel accommodations or activities for your trip. It's a nice way to make them feel like an extra-special part of this important time in your lives. Similar to a house cash fund, you can request a set amount of money or allow guests to contribute the amount of their choosing. The Knot also lets you create multiple cash funds specifying exactly what each one is for. That way, guests can decide if they want to put a monetary gift toward your airfare, a romantic dinner on the beach or a room upgrade.
SPUR Experiences NBA Tickets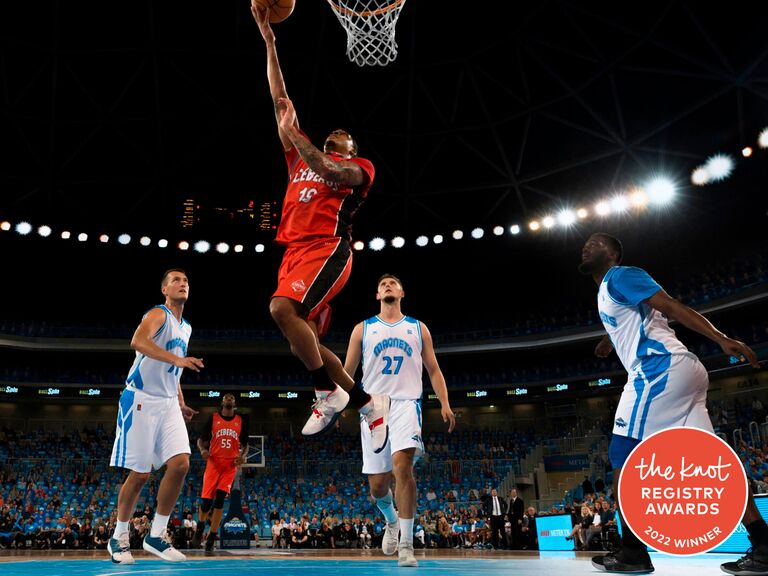 Basketball fans rejoice, you can now register for NBA tickets exclusively on The Knot Registry Store. Experience gifts are becoming increasingly popular on couples' wish lists. They're a great way to keep up regular date nights after the wedding and honeymoon—keep that spark burning, baby!
The Adventure Challenge Couples Camera Set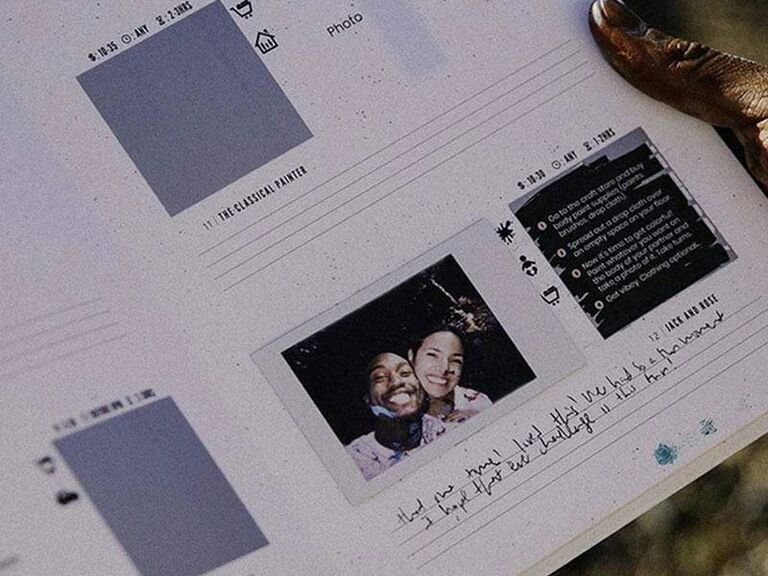 Filling those last few spots on your registry can be tricky. After all, there's no point in registering for an extra set of bath towels or bed sheets if you know you won't use them. Instead, look for something off the beaten path, like backyard games or a fancy photo album. This cool wedding registry item offers fun experiences and a place to document memories in one. The Adventure Challenge: Couples Edition includes 50 scratch-off date ideas that, once revealed, must be completed. Afterward, there's space to jot down notes and add a photo from the included instant camera.
Solo Stove Bonfire 19.5" Fire Pit With Stand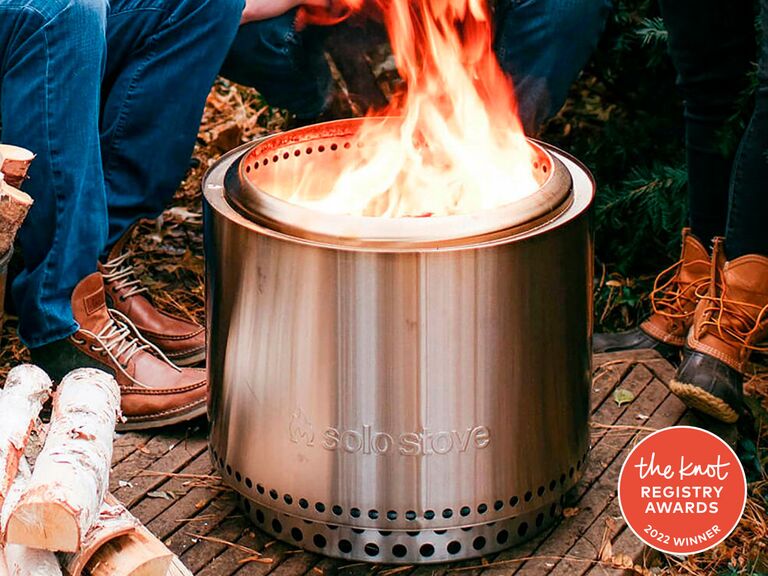 If you're blessed with your own outdoor space, take a peek at this low-smoke fire pit. It's portable, durable and perfect for roasting s'mores to celebrate married life. The matching stand protects the surface below so you can rest assured your patio, deck or lawn is safe. And since it's a little bigger than the Ranger model (15") and less expensive than the Yukon model ($699), the Solo Stove Bonfire is the perfect meet-in-the-middle fire pit.
Cuisinart S'mores Maker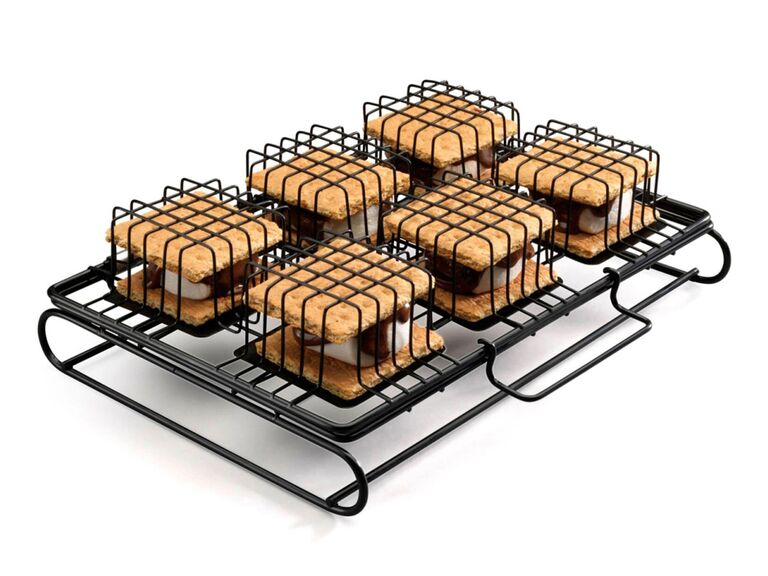 Speaking of s'mores, here's another fun addition to your wish list that's small, budget-friendly and easy to use. Who said you need good weather or a backyard to toast s'mores? This non-stick steel tray lets you make them in your oven, toaster oven or grill in under five minutes. It's also dishwasher safe, so you can skip the cleanup and keep enjoying your indoor camping experience.
Virgin Experiences Date Night for 2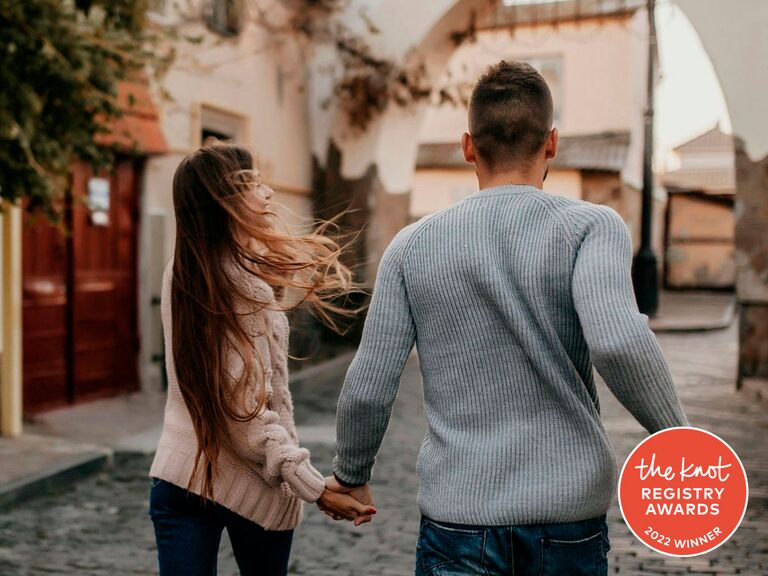 Enjoy a romantic date night in the city of your choosing, no planning required. This fun gift covers an activity from a curated selection of experiences (think: creative pottery classes, adrenaline-filled adventures and romantic sunset dinners). Filling up your postwedding calendar with fun dates and experiences is a great way to start your new lives together and keep the romance in check.
Ooni Koda 16 Pizza Oven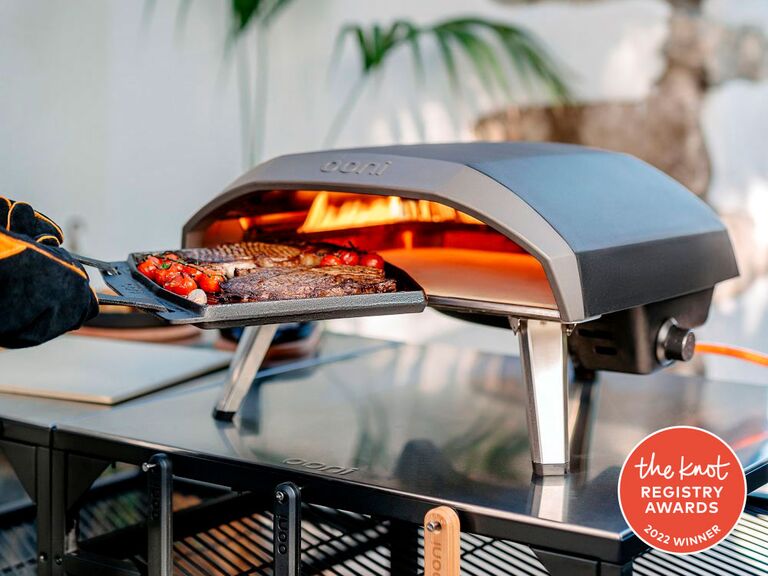 There's something special about bonding over a good meal, which is one of the reasons why a portable outdoor pizza oven deserves a spot on our list of top wedding registry items. This fun appliance cooks fresh stone-baked pizza in just 60 seconds. The Ooni Koda 16 is gas fueled and has a larger cooking area for 16-inch pizzas. Make memories experimenting with toppings and sharing some seriously tasty slices.
Kate Spade New York 2-Piece Love You Coffee Mug Set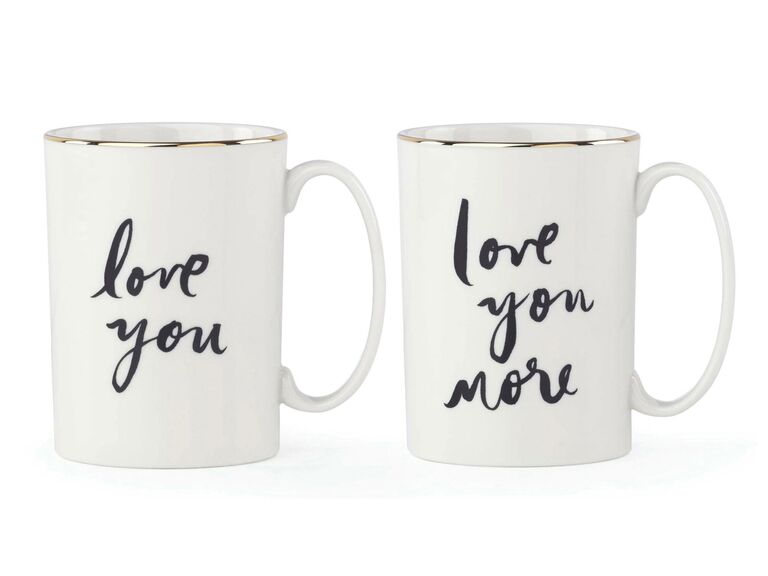 Once you check off all the basics on your wish list, feel free to turn away from the "needs" and focus on nice-to-have items instead. These whimsical coffee mugs are a creative wedding registry idea that'll look oh-so-cute in your kitchen cabinet (and even cuter when you're both sipping your morning brew from them). The set is microwave and dishwasher safe, so you don't have to worry about accidentally damaging the gold rims and cursive text.
Libbey Acaciawood Cake Dome With Lid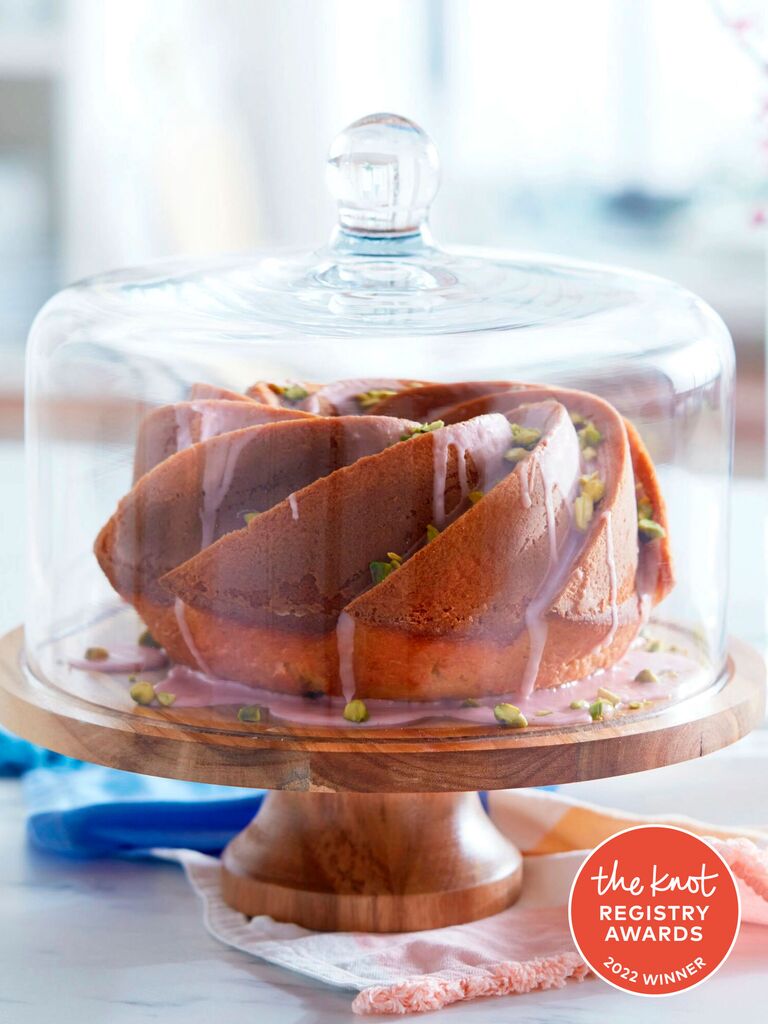 Cake is easily one of the most fun foods of all. It's a symbol of celebration (which you'll have plenty of opportunities for as you continue to spend birthdays, holidays and anniversaries together). A fancy cake stand is a nice addition to your kitchen that allows you to serve desserts in style, be they homemade, store-bought or from a local patisserie (we won't tell!).
GoSports Giant Toppling Tower Game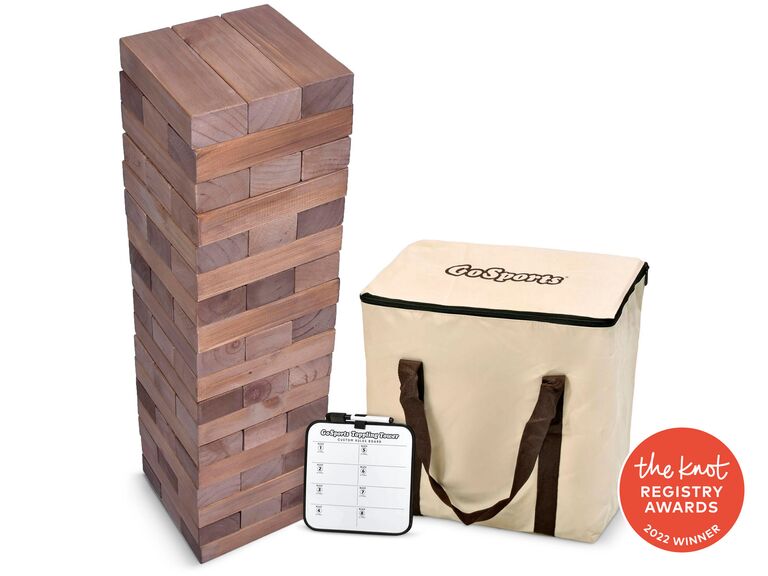 If you ever played the regular-sized version of this toppling tower game, then you already know how much fun it can be. Increase the size of the game and you're increasing the fun too. The tower is 2.5-feet tall when stacked and it can reach up to 5 feet during gameplay. Don't let your kitchen or bathroom get all the love when adding items to your wedding wish list. This is a great registry idea for outdoor spaces.
Big-Ticket Wedding Registry Ideas
Like we said, it's important to keep your guests' budgets in mind. While you should avoid exclusively expensive registry items, it's perfectly fine to add a few big-ticket things to your list. What counts as "big-ticket" is different for everyone, but essentially, these items are investment pieces: traditionally pricey home goods that are meant to last.
Revolution Cooking 2-Slice High-Speed Smart Toaster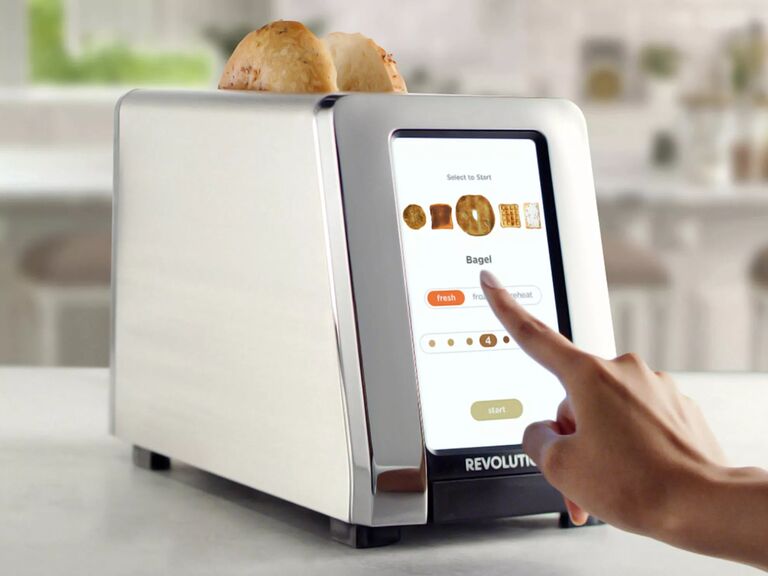 Not everyone wants—or needs—a touchscreen toaster oven. But boy, does this one mean business! The high-tech settings and clean interface make toasting remarkably pleasant. You're promised the ultimate balance of toastiness: crunchy on the outside, chewy on the inside. Go with the brushed stainless steel option for a sleek addition to your countertop or choose matte black for a cool, understated finish.
KitchenAid Artisan Series 5 Qt. 10-Speed Stand Mixer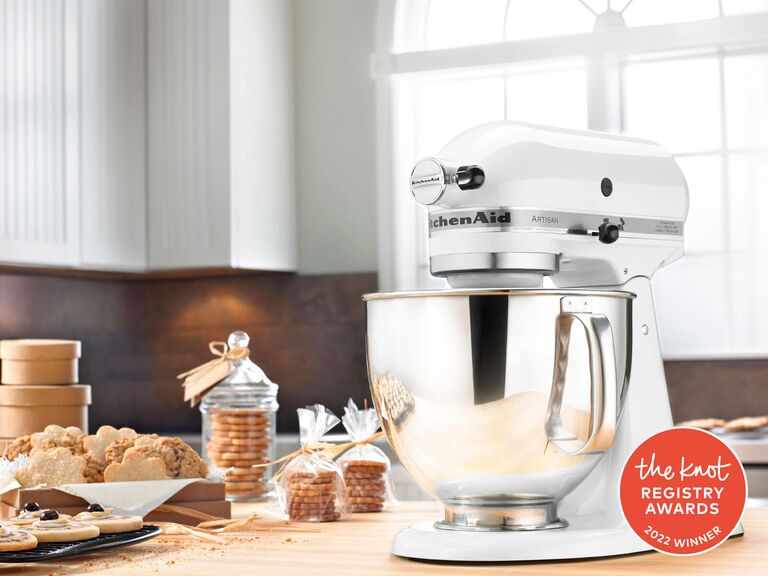 What would a list of wedding registry ideas be without the most popular wedding gift of all? A KitchenAid stand mixer costs a pretty penny, but it's famous for a reason. The plentiful attachments are a joy to use and the color options are a joy to look at. This one comes with the essential attachments for getting started: a wire whisk, a dough hook and a beating paddle. It truly is a baker's dream appliance (not to mention, one of the most highly recommended wedding registry items).
Le Creuset Signature Cast Iron Round Dutch Oven With Lid
A colorful Dutch oven is another timeless registry item that's usually worth the splurge. The Signature Dutch oven from Le Creuset is a perennial favorite, thanks to its eye-catching enamel and solid, heirloom-worthy cast iron. It'll add an air of elegance to any kitchen. Le Creuset Dutch ovens come in a wider variety of colors and sizes than most other brands, so finding the perfect one for you and your kitchen is that much easier. There's a nice selection available on The Knot Registry Store, including this striking 5.5-quart flame-hued pick.
Samsung The Frame QLED 4K Smart TV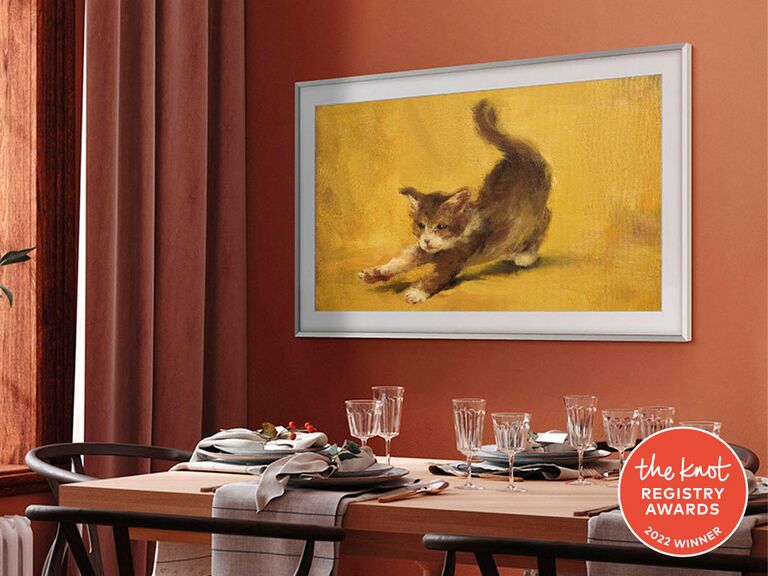 This interesting wedding registry idea is for the couple who already has the basics and is looking to upgrade. Samsung's ingenious "The Frame" television has everything you'd expect from a shiny new smart TV, including access to all your favorite streaming services. One thing you might not expect? It doubles as a work of art mounted on your wall. When placed in art mode, the screen can display paintings, personal photos and more. Thanks to the slim-fit wall mount, anti-reflection matte display and customizable bezel that gives the appearance of a frame, no one would ever guess the difference.
Bissell Air320 Purifier With HEPA Filter
An air purifier definitely qualifies as an appropriate wedding registry item and can significantly improve the quality of air in your home. This one contains a HEPA filter, which means it captures 99% of dust, dander, pollen and other airborne particles that can have a negative impact on your health (especially if someone in your home suffers from allergies). The Bissell Air320 also works to remove odors and has a clever night mode for improved air quality during sleep. Of course, the benefit of cleaner air shouldn't come at the cost of your home's aesthetic, which is why this purifier has a stylish mid-century design.
Lettuce Grow Farmstand With Seedlings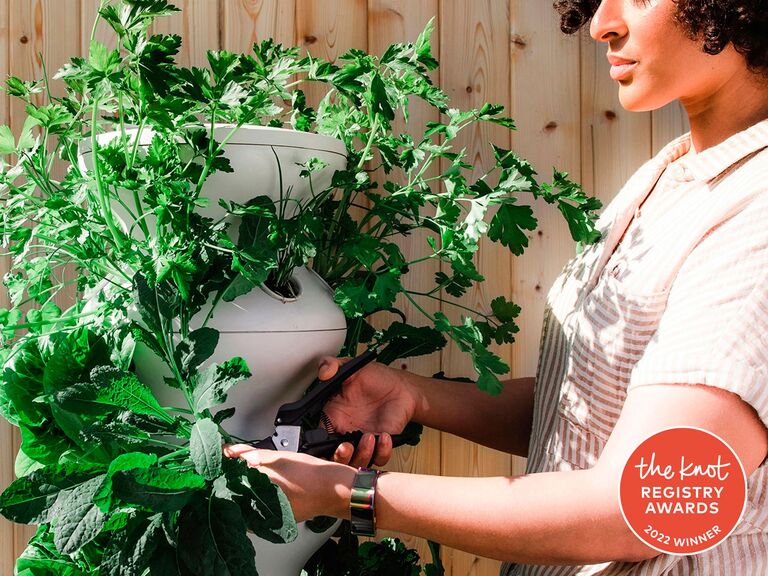 You don't want to miss this game-changing gift idea on your wedding registry. Lettuce Grow's Farmstand is a self-watering and -fertilizing hydroponic planter that grows pre-sprouted seedlings. You and your new spouse could be harvesting your very own fruits and veggies in as little as three weeks—impressive, right? The Farmstand's innovative design means you don't need a ton of space; you can grow up to 10 times more per square foot compared to traditional gardening. It's also cleverly engineered to reduce CO2, water use and waste, so you can honestly feel good about your garden.
Samsonite Winfield Deluxe 3-Piece Luggage Set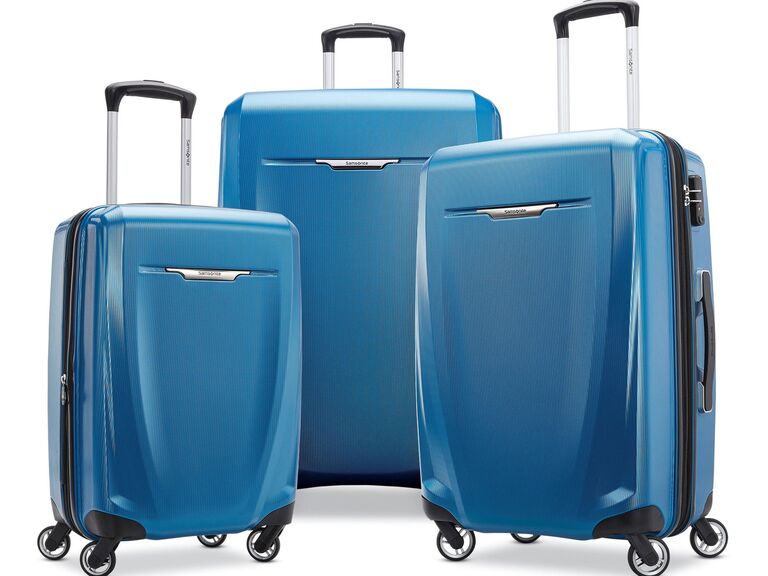 This modern luggage may just be the only luggage you ever need. With two checked bags and one carry-on, this set checks all the boxes. Each piece is hardy, easy to maneuver and has interior pockets and dividers for seamless organization. The cases are fitted with TSA-approved locks so your belongings remain safely stowed inside while you travel.
Vitamix Professional 750 Series 64 oz. 10-Speed Electronic Blender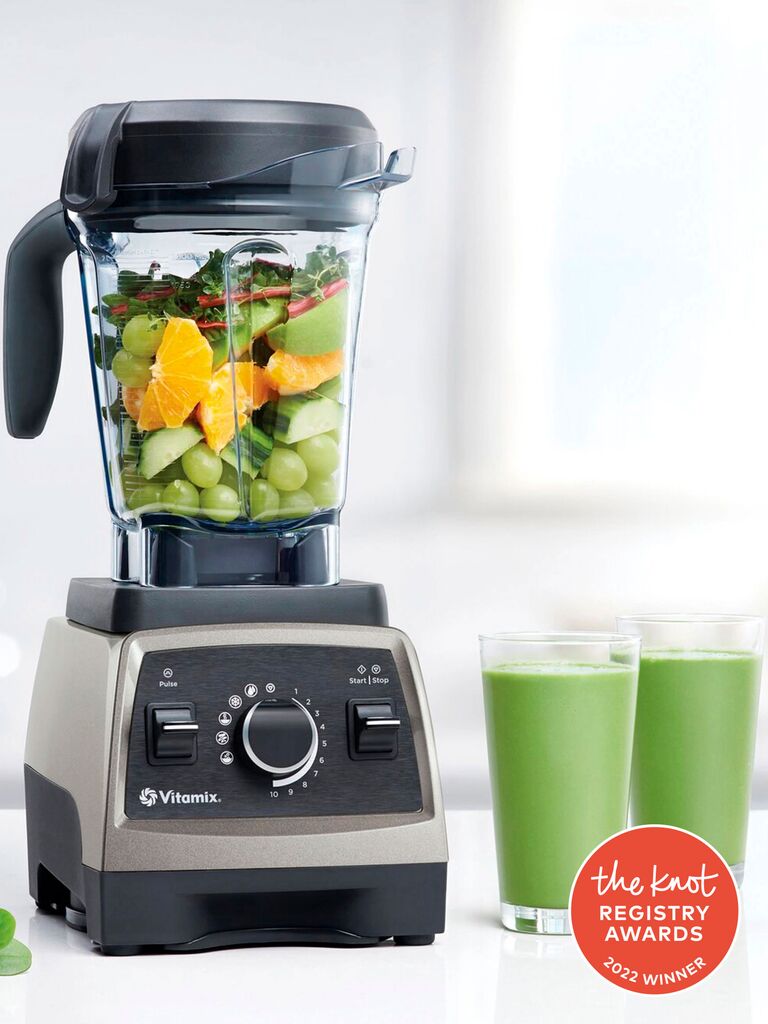 When it comes to crowning the best blenders on the market, Vitamix consistently makes (and often tops) the list. If smoothies are your go-to breakfast but you've struggled with finicky machines in the past, this appliance will amaze you. And perfectly blended smoothies are just the start—this versatile 10-speed blender can make soups, salsas, sorbets... the list goes on!
Mycube Mini Digital Keypad Safe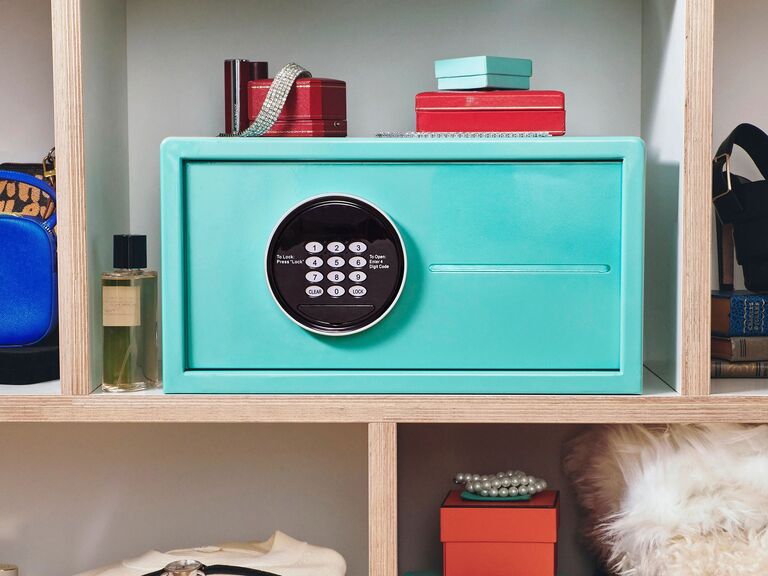 Sometimes the best wedding registry items aren't what you expect. Having a compact and reliable safe in your home isn't just a security measure—it also brings peace of mind. The Mycube mini has reinforced steel walls and tamper-proof door bolts for maximum security. Installation is simple thanks to the pre-drilled bolt holes, and the illuminated digital keypad ensures easy access (for anyone who knows the code, that is).
Mirror Basic Home Gym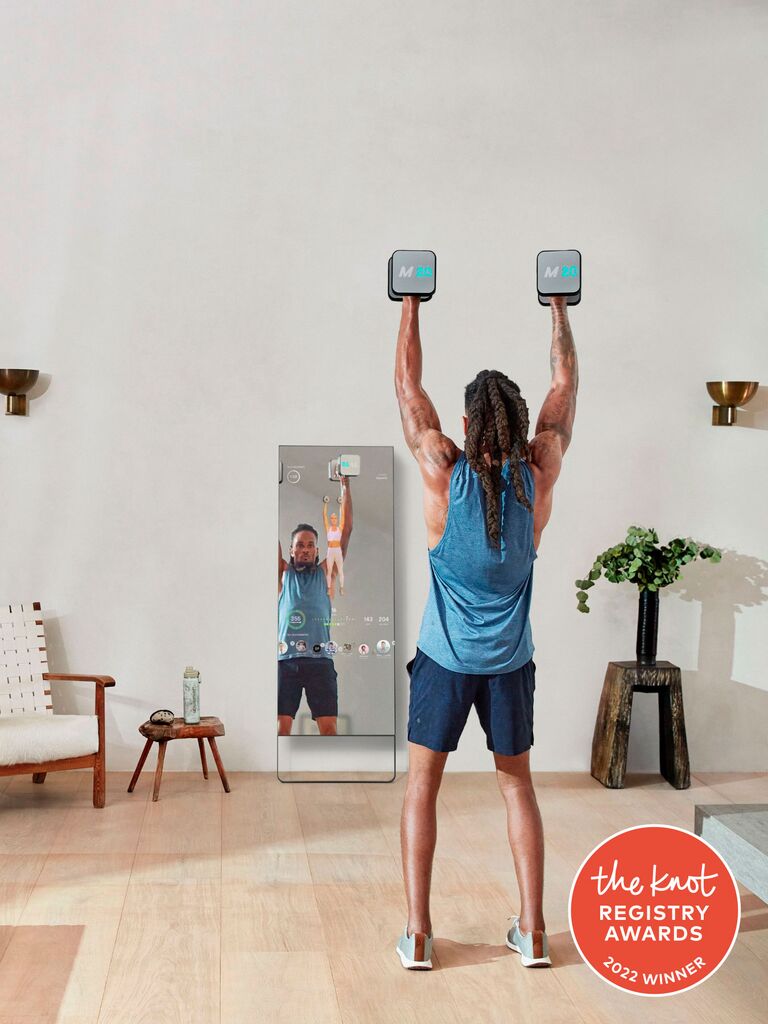 Always dreamed of having your own home gym but don't have a ton of space or an entire room to dedicate? We've found something you'll love. The Mirror has completely changed the way people work out at home. When not in use, it's disguised as a sleek, contemporary standing or mounted mirror. But reach for your workout gear and choose a class and it becomes your very own virtual trainer and fitness tracker.
Small Wedding Registry Ideas
Fill in the blanks with these budget-friendly registry items priced under $50. They may be small, but they're all designed to make your lives that much easier and more enjoyable.
Pyrex 2-Cup Glass Measuring Cup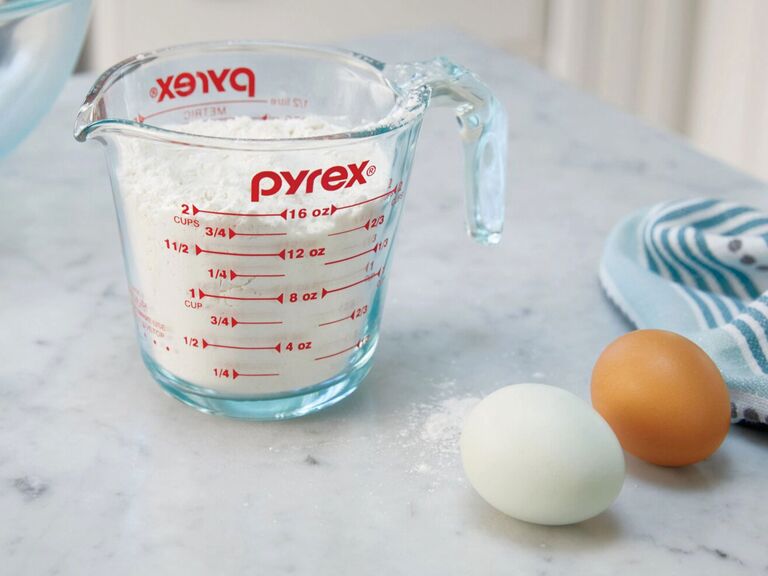 Measuring cups are a kitchen necessity and Pyrex jugs are highly regarded as the best of the best. The glass is durable, stain resistant and won't absorb food odors or flavors. Plus, it's microwave and dishwasher safe for ease of use and maintenance. This versatile jug measures up to two cups of liquid and has helpful conversions to ounces printed on the sides.
OXO Good Grips Stainless Steel Sink Caddy
Decluttering your sink may not have been top of mind when you first started adding items to your registry, but we bet it is now. Believe it or not, how you manage your home organization impacts your relationship. Messy rooms and cluttered countertops can be an unnecessary source of stress—and that goes for your sink too. Small, affordable solutions like this stainless steel sink caddy can transform a disorganized kitchen into a neat, functional zone in minutes.
Rachael Ray Handheld Stainless Steel Grater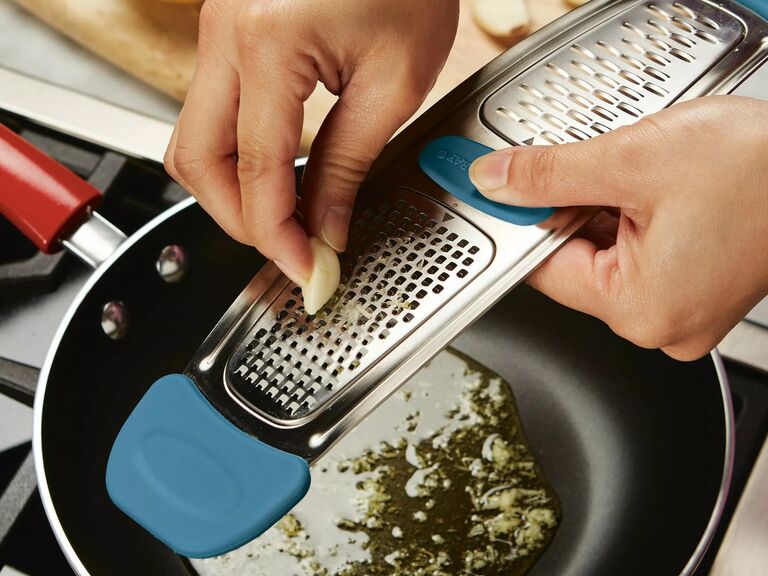 You might not have thought to register for a multipurpose kitchen grater, but you'll be so glad you did. What can we say? Freshly grated parmesan just hits different. Our favorite feature is the silicone grip in the middle—safety first!
Nordic Ware 2-Piece Burger Serving Tray Set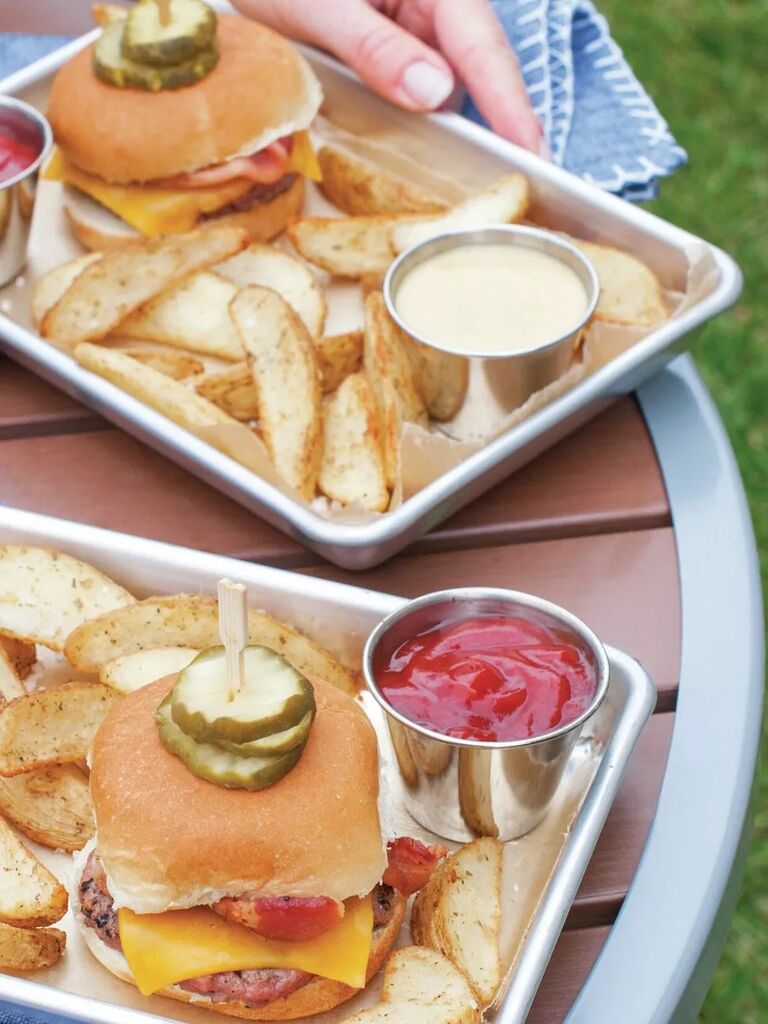 We're taking inspiration from our favorite The Bachelorette couple's wedding gift picks. You'll find these retro serving trays on JoJo Fletcher and Jordan Rodgers' registry. The restaurant-style burger trays are a cute addition to BBQs and an inexpensive addition to your wedding wish list. They're also made from PTFE-free aluminum for safe and healthy meals.
Escali Primo Digital Scale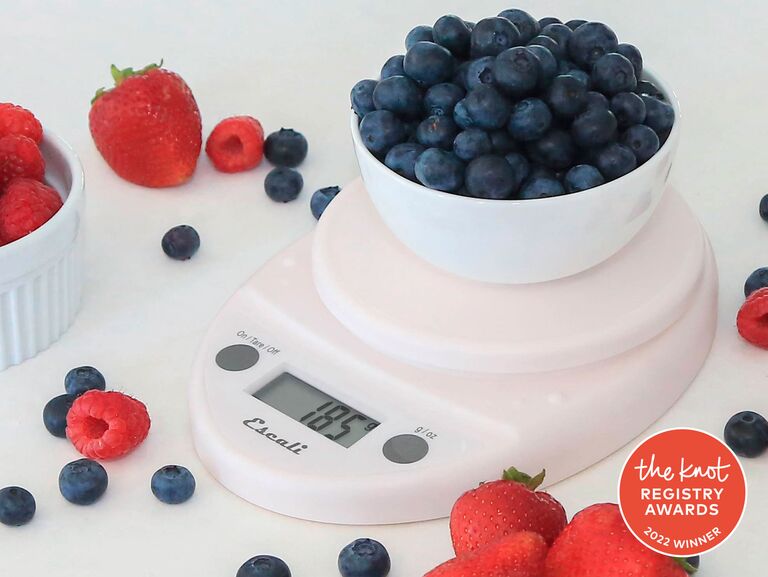 A reliable scale goes a long way in a busy kitchen and Escali's digital scale is just that: reliable. If you and your S.O. enjoy baking and trying new recipes, this small but mighty registry item will be your new best friend.
Eddie Bauer Mountain Plaid Reversible Sherpa Fleece Throw Blanket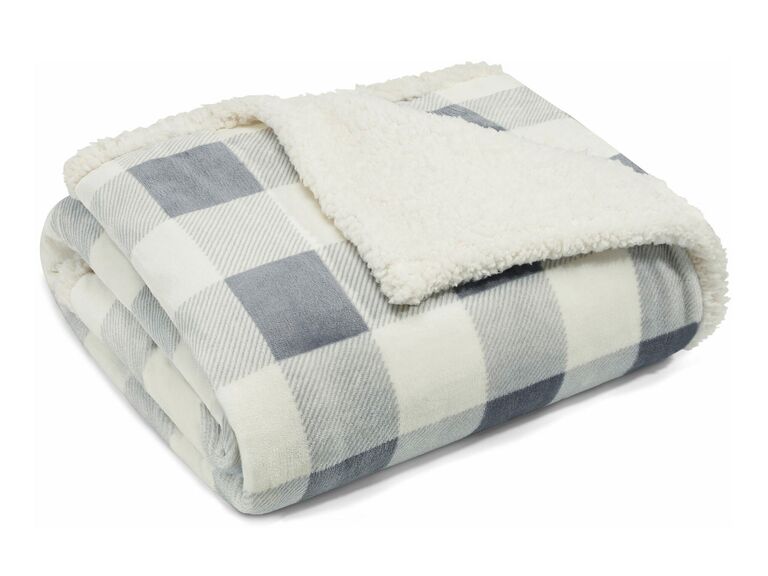 There's nothing like cuddling under a super-soft fleece blanket. This cozy microfiber throw is reversible, so you can switch up how it looks draped over a chair or sofa every now and then. It measures 50 by 60 inches, leaving plenty of room for the two of you to snuggle up underneath. Plus, it's machine washable so you don't have to freak out when your partner inevitably spills their coffee (or vice versa). For a blanket this luxurious, the price is pretty darn impressive.
Lenox Devotion 2-Piece Dessert Set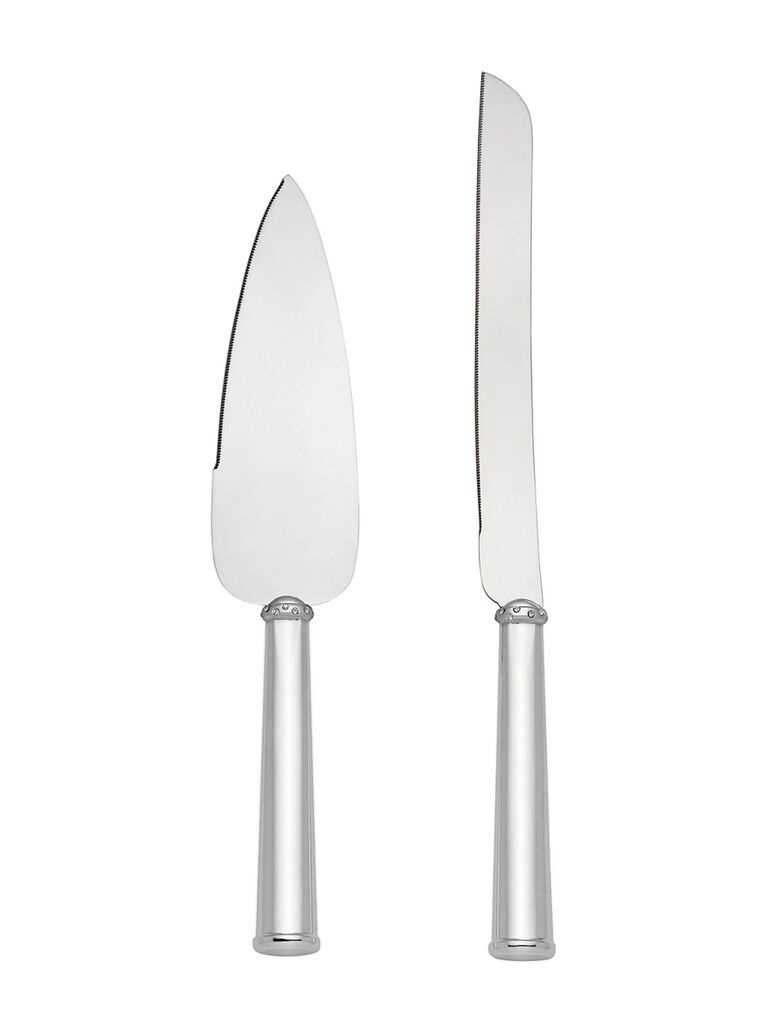 Your registry is the perfect opportunity to collect useful items that you may not think to buy for yourself. Exhibit A: fancy dessert serveware. This two-piece set includes a cake knife and server with subtle jewel-encrusted handles. (Psst, they're also great for using on your wedding day.)
Escali Velo Luggage Scale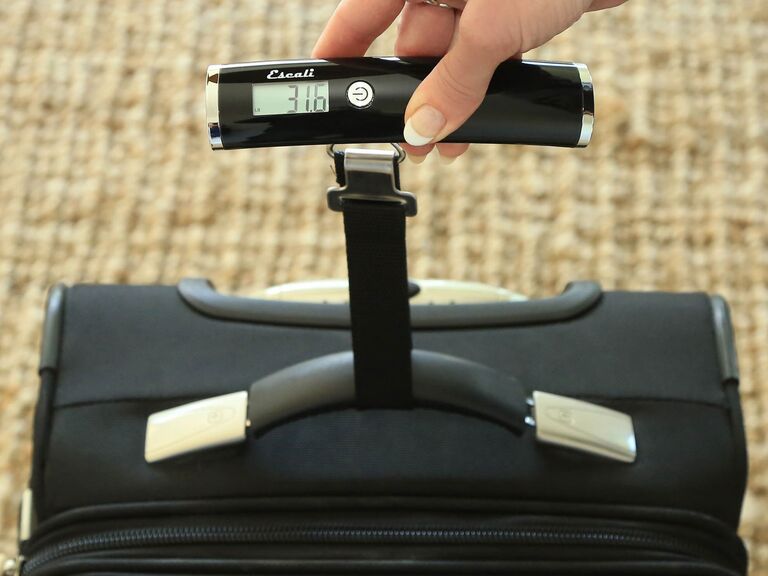 Not so keen on cooking or baking? Avid explorers can swap out the kitchen scale for a luggage scale instead. This handy digital option makes checking the weight of your precious cargo easy peasy. If you're anything like us, your luggage can be heavy. To make things easier, the scale has an ergonomically designed handle and displays the reading on screen for a few seconds after you set the luggage back down. No more wild guesses (followed by unfortunate last-minute airline fees).
Material The Air Whisk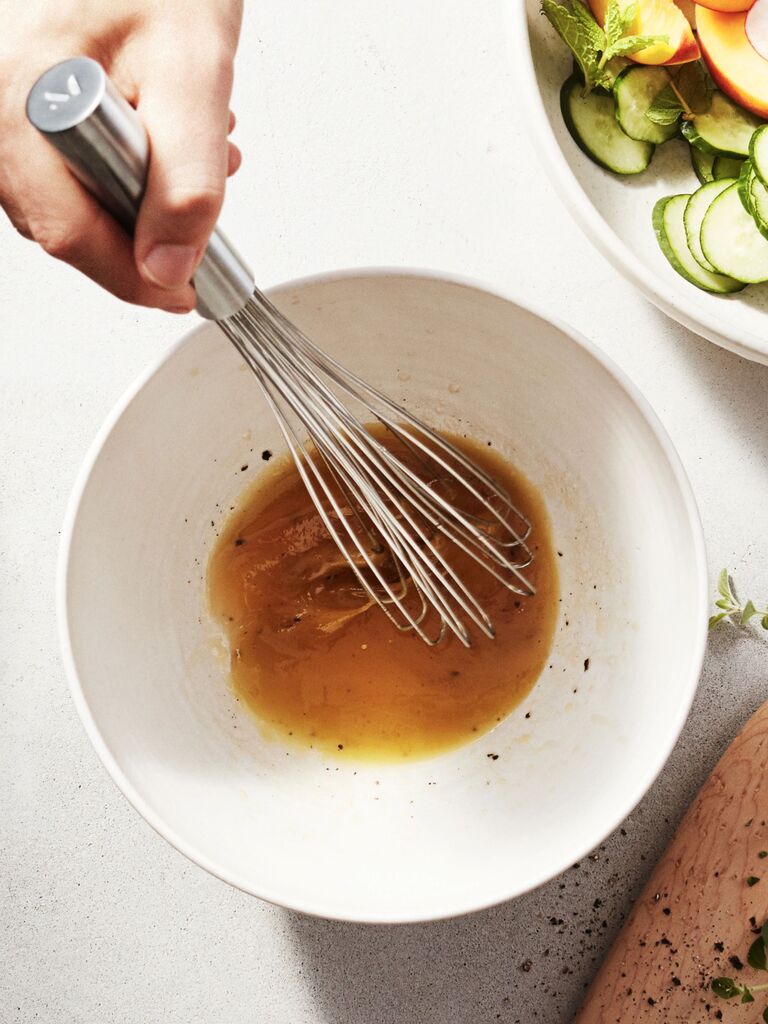 Prepare to meet the whisk of your dreams. This innovative gadget is designed to increase the air you whip into your dishes while simultaneously improving control. As a result, you can whip up a storm without the need for an intense arm workout. The Air Whisk is a cross between the classic ball and balloon whisks, and TBH, it's pretty magical.
iDesign Crisp 14.82" Stackable Food Storage Container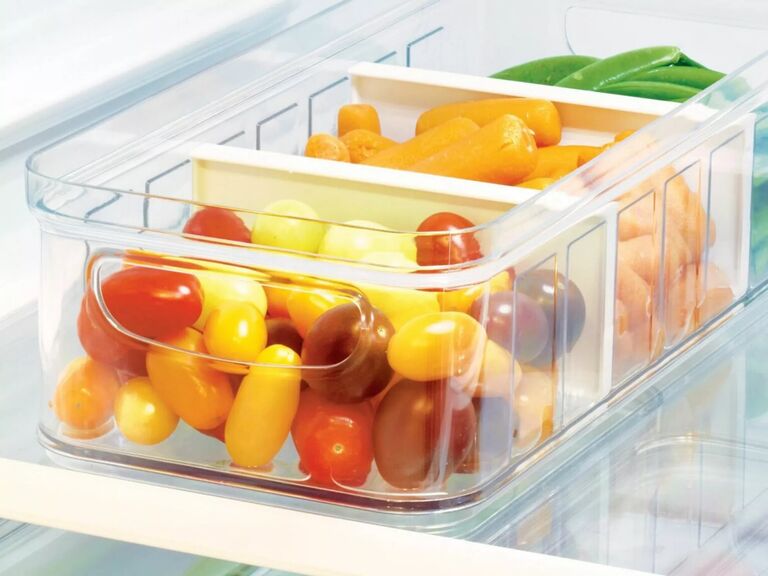 Running out of ideas of what to ask for on your wedding registry? If you need some extra items, browse iDesign's collection of fridge storage containers. There's something for every organizing need, from drawer dividers to these stackable bins. Your fridge will thank you.