32 Essential Questions to Answer on Your Wedding Website FAQ Page
Ensure that your wedding guests have all the important details at their fingertips by including answers to common questions on your wedding website.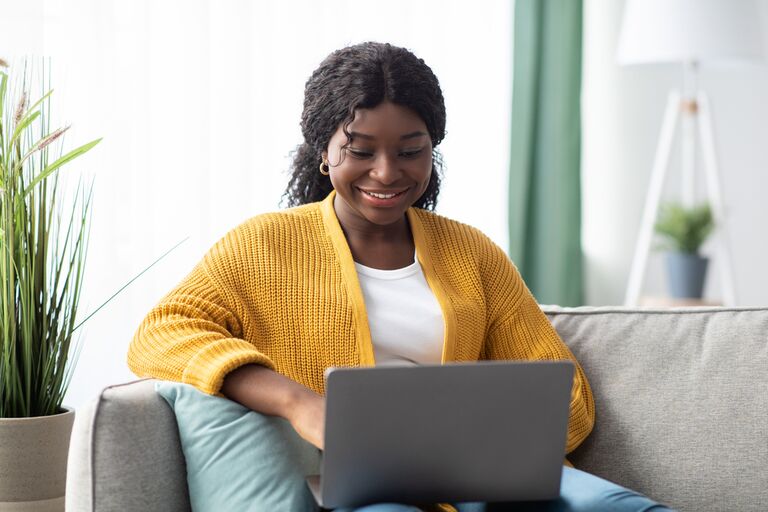 Prostock-studio/Shutterstock.com
Your wedding website is the online hub for your big day and should have the answers to every question your wedding guests may have. The wedding website FAQ page can be a catch-all for queries about dietary restrictions, venue directions, dress code and everything in between. Not only will answering common FAQs on your wedding website save them from calling and texting you multiple times, but it'll save you from having to answer the same questions over and over and over again—including awkward ones.
A comprehensive FAQ page will help ensure a seamless wedding guest experience so that your loved ones are able to make the most of your celebration and have all the important details at their fingertips—especially if they don't have your printed wedding invitation readily available. If you're looking for common questions you should consider when it comes to creating the FAQs for your wedding website, read on.
Wedding website FAQs in this article:
Wedding Website FAQs About RSVPs
Can I RSVP online or do I have to mail in an RSVP card?
Keeping your RSVPs in order is an important piece of the process. Let your guests know if they need to make a trip to the mailbox or if an online response will suffice. Say something like "We invite you to RSVP online here [insert link] or by mailing in the RSVP card sent with the invitation."
What date should I RSVP by?
Reinforce the RSVP deadline as one of the first FAQs on your wedding website to help save yourself from chasing down replies. Insert the link to your online RSVP to help expedite replies. Keep it short and sweet with copy like "Please RSVP [insert link] by [insert date]." You could use bold type to really emphasize it.
FAQs About Directions, Transportation and Accommodations
What are the addresses of the wedding ceremony and reception venues? Are they wheelchair accessible?
Providing the complete addresses for your venue(s) including zip codes along with a Google Maps link will make it easy for guests to plug the coordinates into a maps app for directions to your venue(s). You'll also want to let guests know how accessible the venue(s) are.
Pro tip: Let your guests know if you'll have directional wedding signage at the venue site to help them find their way.
What is the easiest way to get to and from your wedding venue(s)?
If there's a shuttle, public transportation, drop-off area, taxi stand or the venue(s) are within walking distance, give your guests all the details so they can plan ahead.
Is there parking available near your wedding venue(s)?
Fill your guests in on all the parking info and options available including whether they can leave their car overnight if they'd like to take a taxi home after a few drinks.
Will your wedding be indoors or outdoors?
Help your guests further prepare for the weather conditions. Let them know whether your wedding reception, cocktail hour and reception will be indoors or outdoors. You could also provide some details about your Plan B in case of rain.
Have you reserved blocks of rooms at one or more hotels?
Out-of-town guests will need to arrange accommodations and so give them options. We've got everything you need to know about reserving hotel room blocks.
Will there be a shuttle to and/or from the hotel(s)?
If you have a lot of out-of-town guests, consider providing a shuttle service to get them to and from the venue(s). If not, that's okay, simply suggest their best transportation options for getting there.
Wedding Dress Code FAQs
What is the dress code for your wedding?
Your wedding guests will want to look and feel their best, too! Clearly state the dress code using common terminology to ensure everyone's aligned. Bonus: Check out these dress code wording tips.
Are there any colors or styles you'd prefer me to wear?
If your wedding theme lends itself to a particular clothing style or color, give your guests as much direction as possible so they can feel part of it (and comfortable). For example, if it's a beach wedding, you could suggest a flowy frock or dress shorts and sandals.
What is the weather like in the area?
Similarly, share any local weather knowledge. This is especially important for a destination wedding or for out-of-town guests less familiar with your region.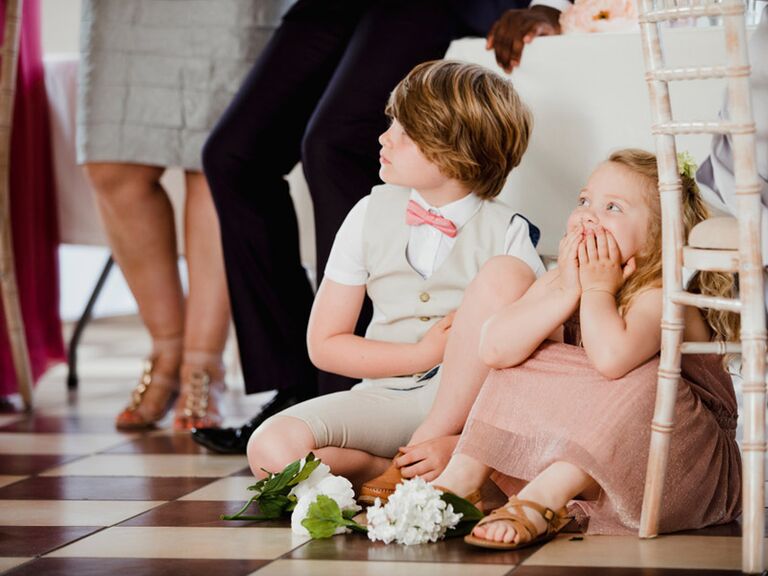 Wedding Website FAQs About Plus-Ones and Children
Am I allowed to bring a plus one?
This FAQ can be a delicate one—all the more reason to include it. Whether you're thinking "absolutely not" or "the more the merrier", make your wishes clear and be consistent from the outset to avoid misunderstandings. Read our guest list etiquette guide for "plus ones" for more guidance.
Am I allowed to bring my children?
This common FAQ for a wedding website also needs to be clearly answered from the outset, especially because it's not proper etiquette to print phrases like "adults only" on a wedding invitation (i.e. the invitees are typically specified through the address).
If children are welcome, provide as much detail as possible so parents can plan accordingly (e.g. food options, children's activities, babysitting services, etc.).
If it's an adults-only wedding, make no exceptions (other than wedding ceremony attendants or your own children)—get more etiquette tips here to avoid hurt feelings. Answer this FAQ with wording such as: "We love your children, but due to space restrictions we cannot accommodate guests under age 18 [or 21, or another age] on our wedding day." or "Unfortunately, we cannot host any children at our wedding. We appreciate your understanding." You can also suggest babysitting services.
Wedding FAQs About Menu and Dietary Restrictions
What type of food will be served at your wedding?
Sure you want there to be some surprises at your wedding, but providing guests with a few menu details will help them plan accordingly. Again, you don't want hangry wedding guests. Say something like "We'll be serving hors d'oeuvres at cocktail hour followed by a sit-down dinner with a choice of entree" or "a buffet with a selection of meat, fish, vegan dishes and salads will be served" or "we'll have food stations with several types of cuisine to choose from".
Will there be meal options for guests with dietary restrictions or allergies?
Your guests with dietary restrictions will appreciate knowing their menu options. Also, direct them to your online RSVP to note their preferences.
Will there be an open bar?
Being direct about what type of bar you plan to have will let guests know whether to bring cash or a credit card and help manage their expectations for the event.
FAQs About Wedding Registry and Gifts
Could you give me a link to your wedding registry?
Wedding gifts are customary, so give your guests some guidance with a link to your wedding registry or gift wishes. We've got lots of wedding registry wording examples so you can compose just the right message for your situation.
Where should we bring/send our wedding gift?
Typically guests are not encouraged to bring wrapped gifts to the wedding as it is not convenient for the couple to pack them up at the end of the reception, whereas, a wedding card box is more practical. Say something like "Your presence at our wedding is the greatest gift we could ask for! If you would like to honor us with a gift, you can have it delivered to our home at [insert address]. A wedding card box will be at our reception."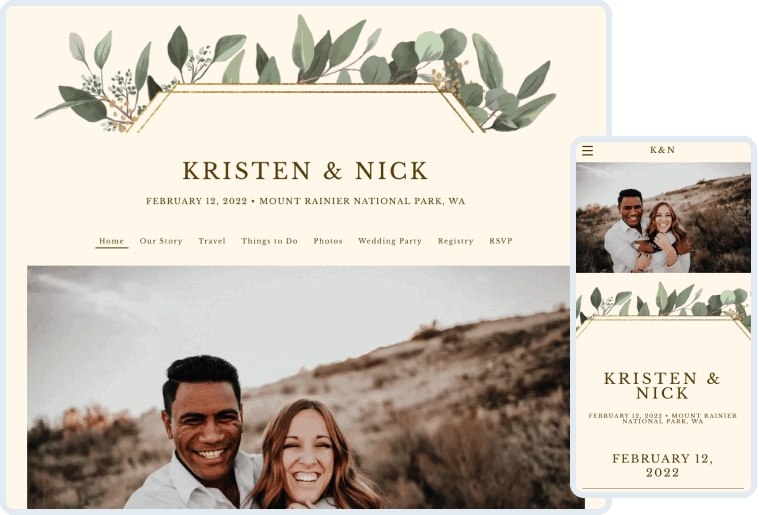 Wedding Weekend Itinerary FAQs
What is the wedding day itinerary?
There's no need to outline every detail of your wedding day timeline, but providing your guests with broad strokes like the start and end times of each part of your day will help them prepare for your celebration. People like to know things such aslike when to arrive, if there will be time to kill between the ceremony and reception, when the meal will be served (so they don't get hangry) and when the event ends.
What time should I arrive at your wedding ceremony?
Ensuring your guests are in their seats on time, will get your festivities off to the right start. You know your ceremony venue best, so if it requires a 15-minute walk into a forest or 20 minutes to park in a city lot and walk over to a place of worship, give your guests a heads up. It's reasonable to ask guests to arrive 60 minutes beforehand in order to be in their seats 30 to 45 minutes before the ceremony starts. While they're waiting, they can admire the ceremony decor, listen to prelude music, read your ceremony program and acknowledge other guests,
What time will your wedding reception end? Is there an after-party?
Your guests will need to know when the party ends so they can plan their ride home or make babysitting arrangements. Keep in mind that some guests will need to make an early exit, so don't plan important speeches or moments (like the cake cutting) for the end of the event. If you're planning an after-party, will there be late-night snacks served or a food truck nearby—some guests will need to fuel up by that point?
Will there be a time gap between your wedding ceremony and reception?
Give your guests a heads up about what will be happening between the ceremony and reception. Will there be refreshments served or lawn games to play while you get photos taken? Or will there be a gap of several hours between when they will need to entertain themselves?
Could you suggest places to eat, drink and see while I am in town for your wedding?
Share some local knowledge with your guests so that they can enjoy their stay or direct them to a local tourism website or the hotel concierge to help them out.
Will there be other events to attend on the wedding weekend?
Answering this FAQ on your wedding website can be tricky if not everyone is invited to the adjacent wedding events. Usually, it's perfectly acceptable to give out-of-town guests special treatment and so you can use this "definition" to answer this question. "We invite our out-of-town guests to join us for brunch on the day after our wedding. [insert details or link to brunch event page]." Or, "All of our guests are invited to join us for a welcome cocktail party on the evening before our wedding. [insert details or link to event page]."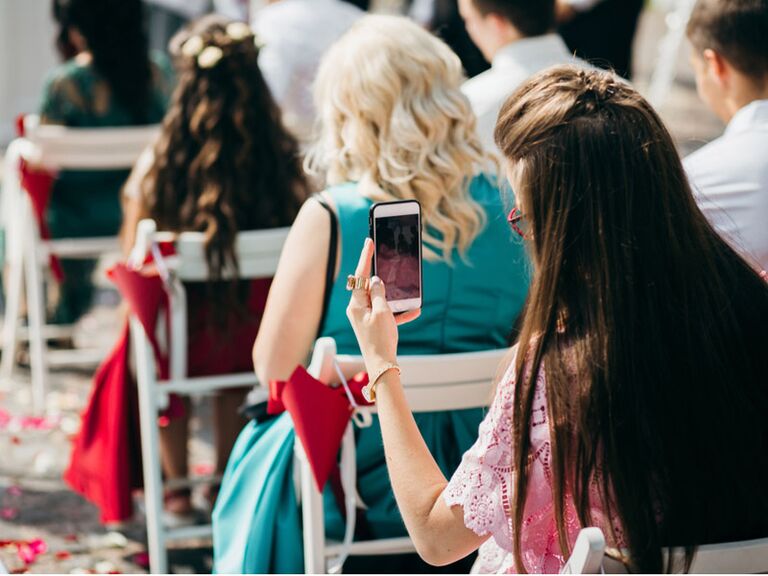 Other Common Wedding Website FAQs
Am I allowed to take photos at your wedding?
These days, some couples opt for an unplugged wedding ceremony so that guests are not distracted by their devices and the professional wedding photographer can get the best possible shots without the interference of other flashes or mobile screens. On the other hand, some couples love the idea of having a variety of photos from different vantage points to document their event. Either way, give your guests some guidance.
Can I post wedding photos on social media?
Another consideration is how widely spread you'd like the photos to be shared on social media. Again, there's no right way to do it, just let your guests know your preferences.
What is your wedding hashtag?
If you are encouraging social media posts about your wedding, creating a wedding hashtag will let you easily browse all the posts. Put your wedding hashtag on your FAQ page, home page and wedding signage to encourage people to use it in their posts.
Will you be live streaming your wedding?
Including a virtual component to a wedding became commonplace during the pandemic and travel can still be troublesome for some people. Whether you're planning to offer a live stream or not, include this FAQ to let guests know their options if they can't attend physically.
What health and safety measures will be in place?
As we continue to navigate the pandemic, it's crucial to address health and safety questions or concerns your guests may have—particularly elderly and immune-compromised individuals. Talk to your venue coordinator or wedding planner and consult public health websites for current guidance in your region to answer this important FAQ.
Where will wedding updates be posted?
Let guests know how you will be keeping them informed of any changes to your plans. Will updates be posted to your home page or by email?
I have more questions about your wedding, who can I contact?
If possible, delegate a wedding party or family member to field questions for you, especially during the weeks and days leading up to your event, and post their contact info here.