The 50 Best Wedding Gift Ideas for Couples Getting Married in 2023
Finding the perfect wedding present has never been easier.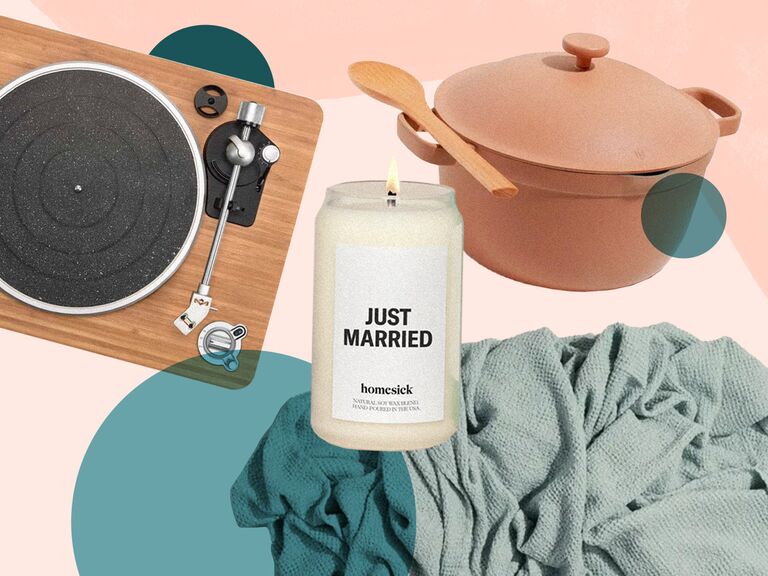 Photo: The House of Marley, Photo: Homesick, Photo: Our Place, Photo: Hawkins New York, Design: Tiana Crispino
We have included third party products to help you navigate and enjoy life's biggest moments. Purchases made through links on this page may earn us a commission.
When it comes to wedding gift ideas, there are so many options that it can feel overwhelming. Luckily, most couples create a wish list their guests can shop from that makes gifting easy peasy. And as long as you know where they're registered, finding the soonlyweds' wish list should be simple. Most online registries have a handy search bar you can use (and if your couple is registered with The Knot, you can find their wish list here). While that should definitely be your starting point, we know that guests sometimes need to look elsewhere for wedding gift ideas. When you're in a pinch, you can rely on this list of the best wedding gifts.
Engaged and ready to register? This inspiration isn't just for guests. Keep scrolling for unique wedding gift inspo, then use The Knot Registry to add items (from anywhere!) to your curated wish list.
What's a Good Wedding Gift?
Anything from the couple's registry is a great wedding gift. The soonlyweds have requested each item specifically, meaning it's something they'll 100% appreciate. Shopping for a couple who doesn't have a registry or already has most of the things they need? We've got you covered.
"If you're looking for something off the registry I would look to The Knot Collections for inspiration," says Sam Kaplan, Category Manager, Registry at The Knot Registry. "Our team has curated the perfect assortment of gifts for every couple's interests." Find out which gifts guests love giving, the coolest experiential presents, the latest winners of The Knot Registry Awards and more.
We've also got plenty of great wedding gift ideas for couples who have everything right here, including custom keepsakes, upgraded housewares and items to reflect their unique interests. For more advice, check out our complete guide to wedding gift etiquette and use our wedding gift calculator to figure out your budget.
The Best Wedding Gift Ideas
Ready to check "buy a wedding gift" off your to-do list? These unique and creative ideas are sure to go down a treat, and you can snap them up right away.
1. Estelle Colored Glass Set of 2 Martini Glasses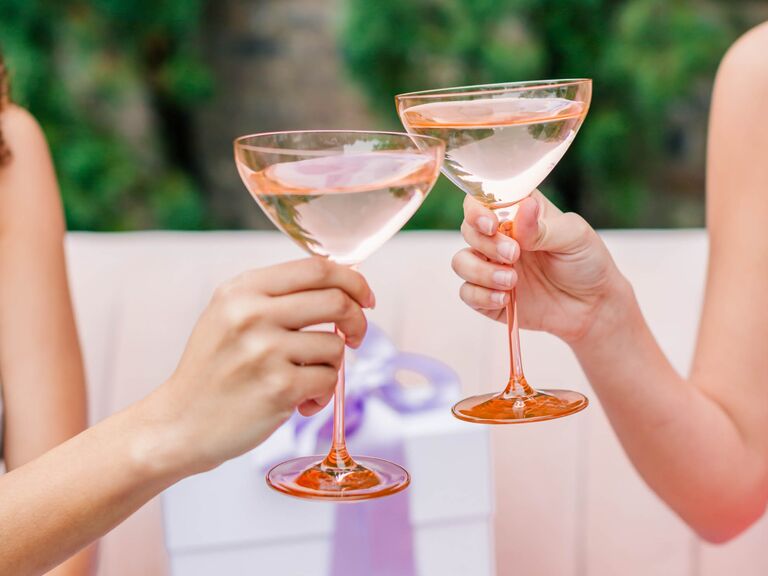 Add this one to the list of wedding gifts for couples who like to keep up with the latest trends. Colored glassware is having a major moment, and this wedding registry trend isn't going away anytime soon. Estelle Colored Glass creates some of our favorite colored glassware, from cake stands and decanters to these eye-catching martini glasses. And while the to-be-weds probably already have wine glasses and champagne flutes if they've been living together for a while, we bet they don't have stylish martini glasses.
2. The Adventure Challenge Couples Edition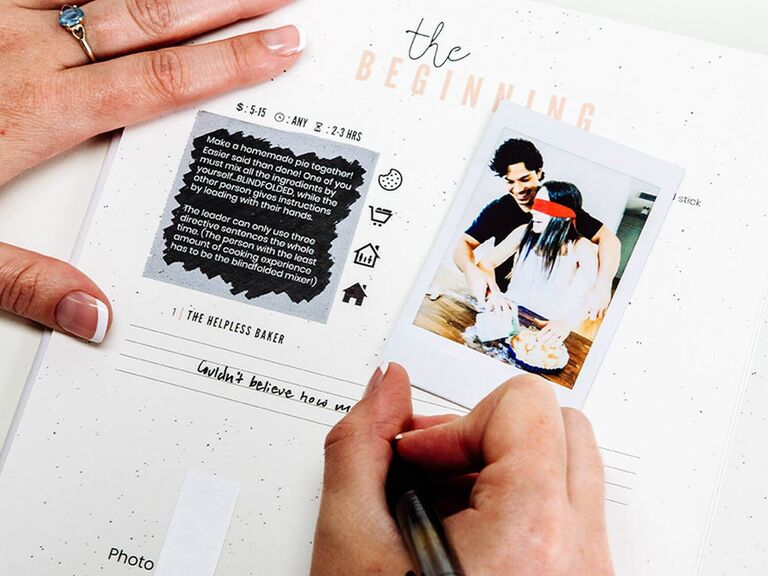 Here's another unique wedding gift for the couple who has everything: a scratch-off activity journal filled with a year's worth of cute and creative date ideas. Each date is a total mystery until it's scratched off, giving adventure seekers plenty of fresh and exciting things to look forward to. If your gift budget is on the bigger side, upgrade to a book that comes with a camera for capturing memories. Nab 10% off the site with our exclusive code THEKNOT10.
3. Airbnb Gift Card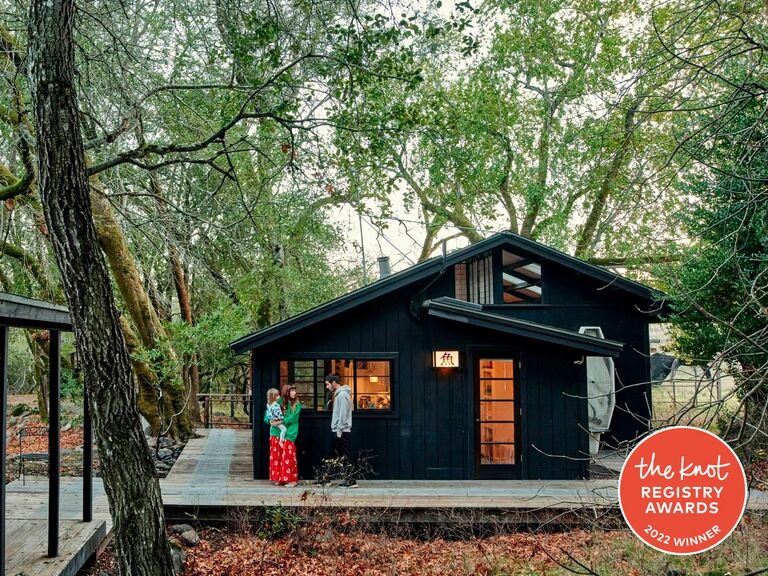 A gift card can actually be a really thoughtful wedding gift. You pick a store that you know the couple will love, then they get to pick out something special together—win-win! We've loaded The Knot Registry Store with lots of gift cards to choose from, but this one is a great go-to for adventurous couples. You can sponsor their next romantic getaway or help cross another destination off their bucket list.
4. Click & Grow The Smart Garden 3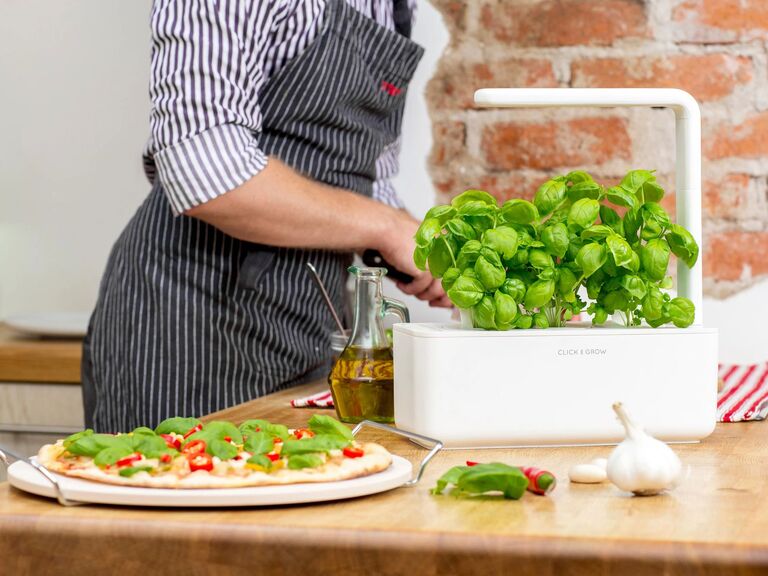 When you're cooking for two, it's always a challenge to use the full pack of herbs from the grocery store. Click & Grow makes it so the couple can grow their own—without a traditional garden or any outdoor space. This indoor garden automates every step of the process, from giving plants water and nutrients to getting them the right amount of light. In addition to herbs, it can grow fruits, vegetables and flowers. In other words, it'll seriously up their garnish game.
5. Paravel Cabana Pet Carrier
Shopping for pet parents? Upgrade their travel gear with a chic pet carrier. This cool accessory doesn't just look good; it's designed for functionality too. Mesh panels encourage comfortable airflow and the washable liner seriously helps with hygiene. Additionally, the carrier is made from sustainable materials. It's a unique wedding gift for couples who never leave their fur baby behind.
6. Intersection of Love Photo Print by Patricia Carlin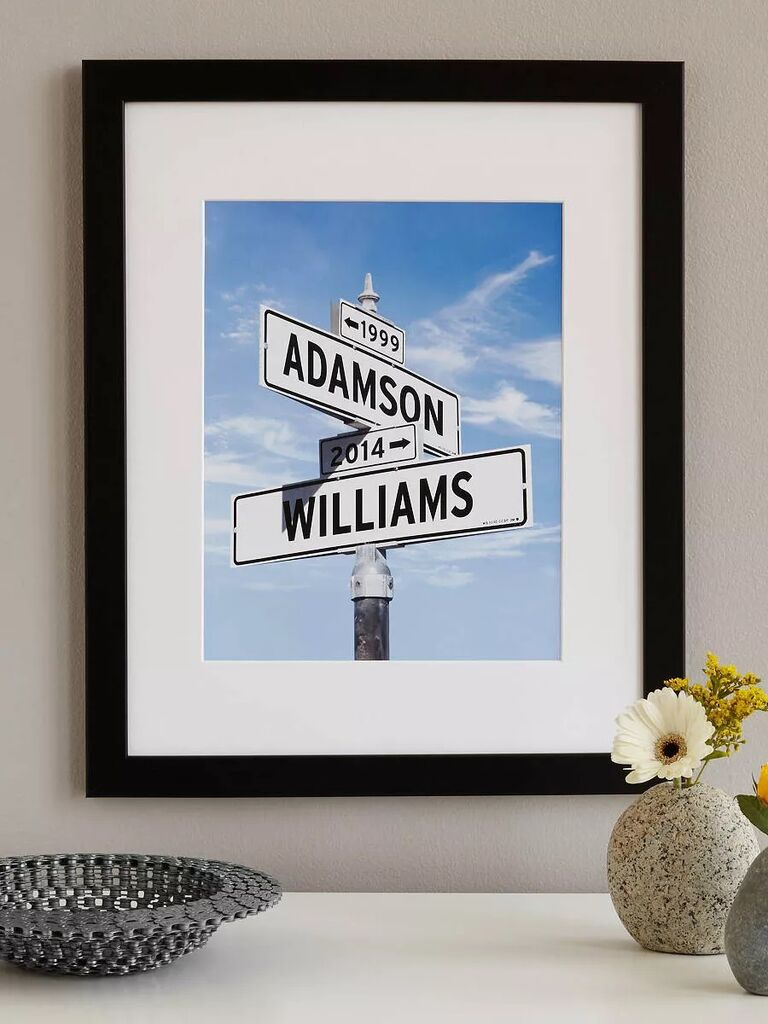 Home decor is particularly tricky to buy for someone else. But when you're shopping for a wedding gift for a BFF whose style you're super familiar with, artwork becomes fair game. Our readers adore this sentimental print that represents a couple's unique relationship. Use it to symbolize when their paths first crossed and the love story that's blossomed since. It's easily one of the most thoughtful wedding gifts you could choose.
7. SPUR Experiences NBA Tickets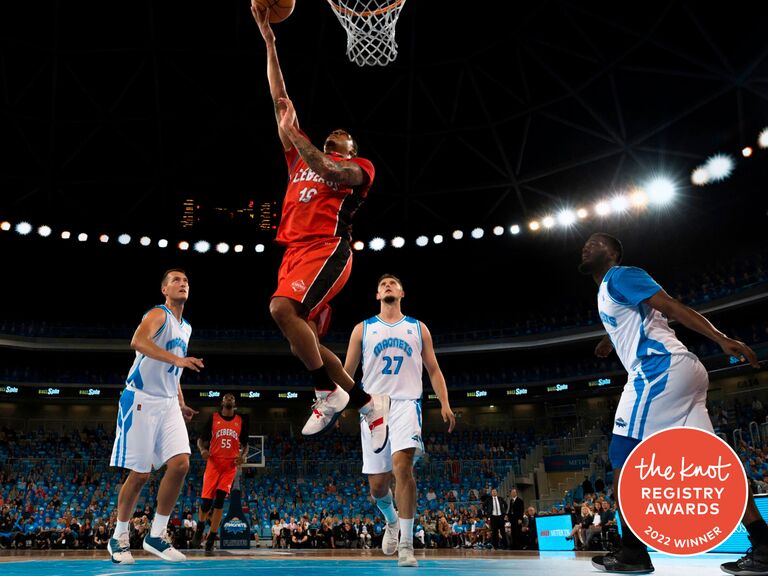 The Knot Registry Store has lots of unique wedding gifts you can add to your cart right away, including virtual presents that translate into one-of-a-kind experiences for the happy couple to enjoy together. Basketball fans will be surprised and delighted by the gift of NBA tickets to cheer on their favorite team. Bonus: This last-minute wedding gift gets delivered via email.
8. Homesick Just Married Candle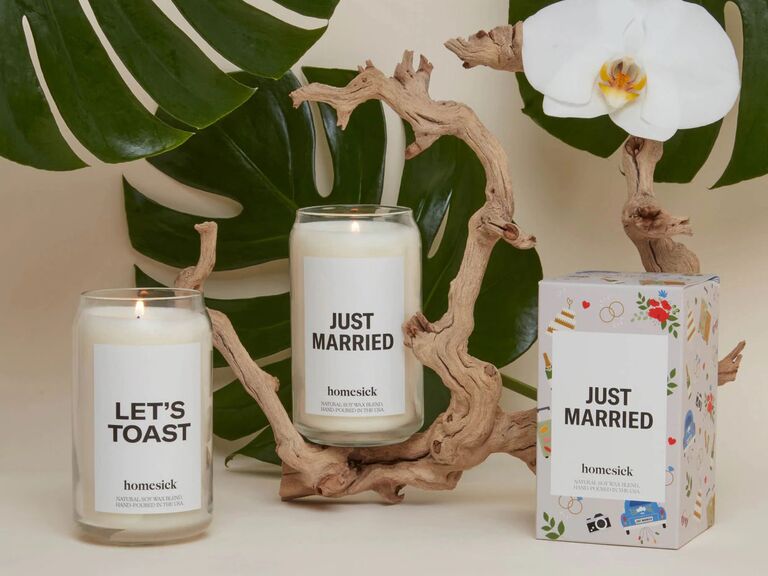 Sometimes small wedding gifts are the most appreciated, especially if you're shopping for a couple who already has everything they need. While it's easy to wind up with one too many baking sheets or bath towels, there's really no such thing as having too many candles. This small and simple wedding gift idea is perfectly sentimental thanks to the "Just Married" packaging and celebratory scent of champagne, fresh linens and seaside air. Make it an even more special wedding gift by having the jar personalized with a congratulatory message for the lovebirds.
9. Uber Appliance 12-Can Mini Fridge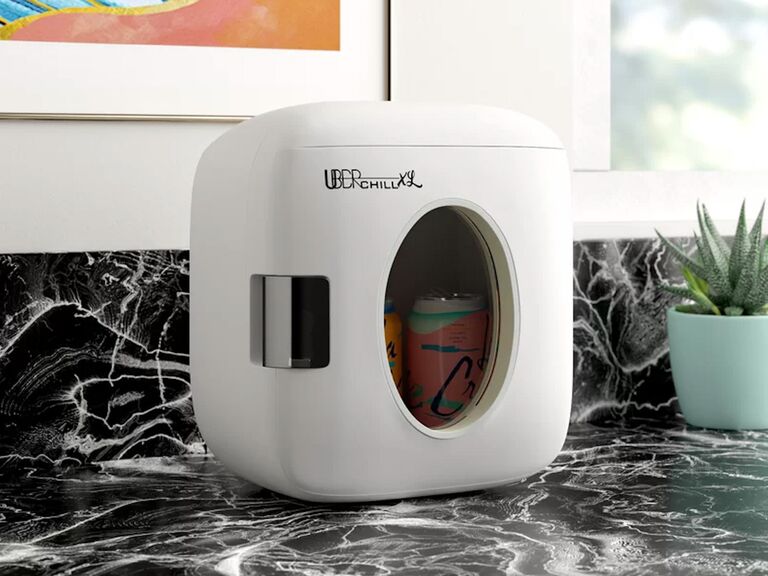 Shopping for a couple who already has the essentials can be tricky, and nowadays more and more soonlyweds have fully stocked homes before they tie the knot. Thankfully, there are lots of unique wedding gifts on The Knot Registry Store that they probably don't have (but could really benefit from). Whether they love a chilled can of soda or they routinely host friends and family when there's a big game, this stylish mini fridge will go a long way. It has space for up to 12 cans at a time and—most importantly—won't look out of place in their carefully styled home.
10. Canvas Vows Pushpin World Travel Map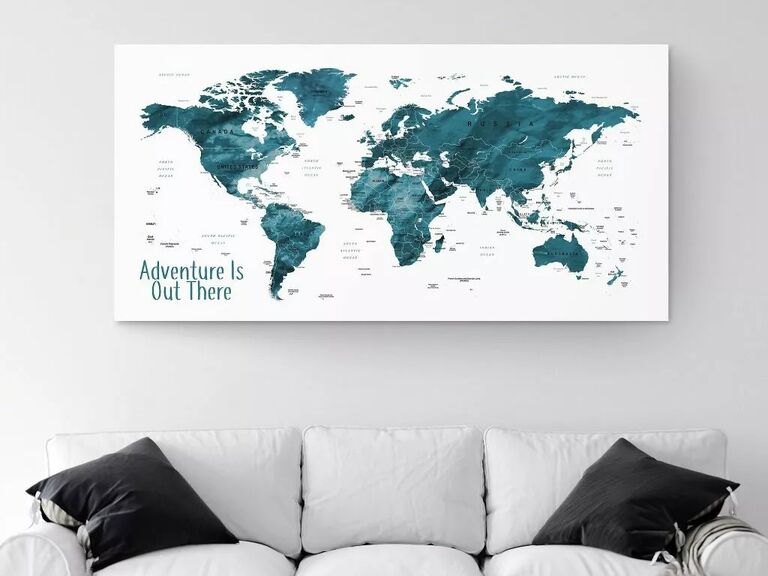 Seeking out the perfect wedding gift for travelers? Give the globe-trotters a cute way to track their married travels, starting with the honeymoon. This pushpin map makes it stylish and easy, plus it's a great conversation starter. Personalize the size, quote and color and you've got a wedding gift for your friends that really stands out.
11. Flax Home Set of 2 The Waffle Bath Sheet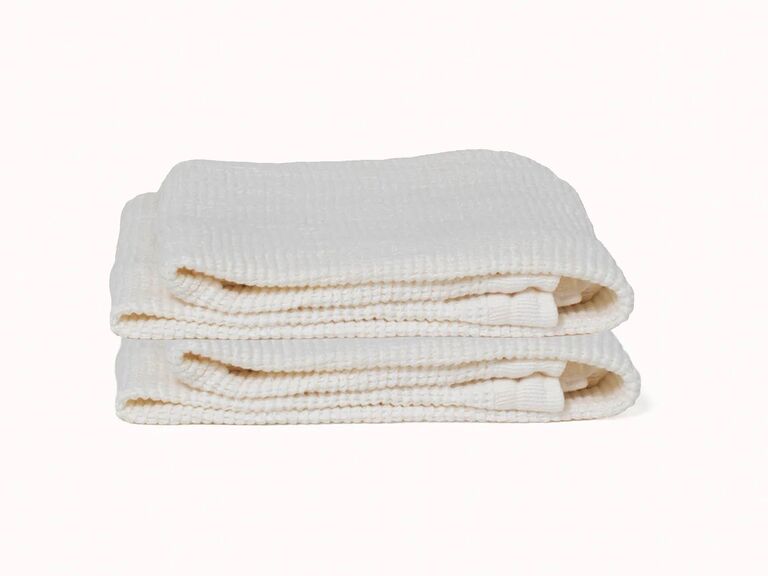 According to the trend-setters at Pinterest, 2023 is the year of the shower. What does that mean, exactly? Basically, your daily ritual of showering is about to get a wellness-inspired makeover. Help the couple elevate their everyday well-being with a set of soft linen waffle bath towels that'll make shower time extra luxurious. It's a thoughtful wedding gift that'll definitely go to good use.
12. Personalized Dream Together Wedding Bowl by Bryan Becker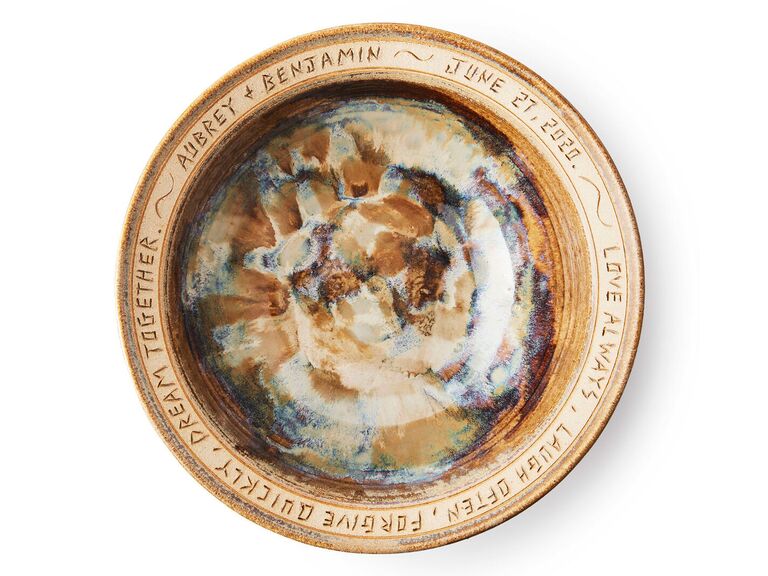 Here's a timeless gift they probably didn't think to register for: a beautiful keepsake bowl personalized with their names and wedding date. This bowl is made from stoneware clay and engraved with the phrase "Love always, laugh often, forgive quickly, dream together." It'll look beautiful in a display cabinet or on a shelf or console table.
13. iRobot Roomba i3 Cordless Wi-Fi Connected Robotic Vacuum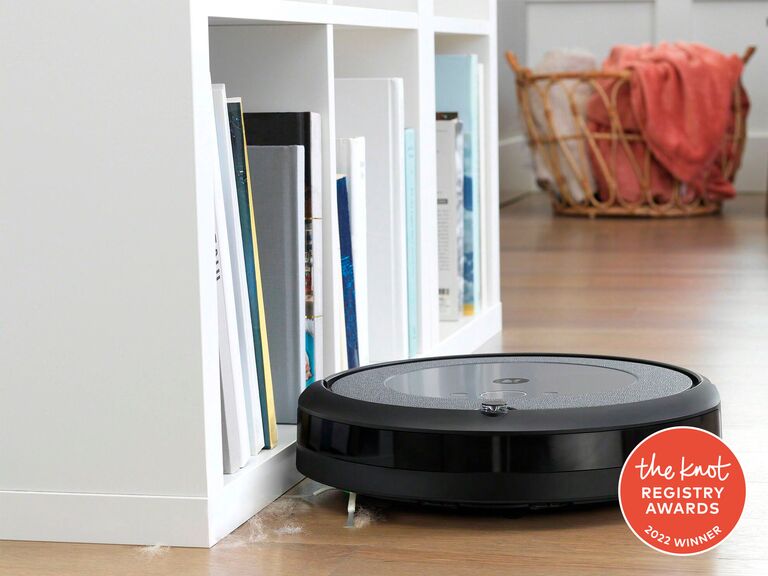 Couples can't get enough of this iRobot vacuum. Seriously—it's one of the top wedding gifts. That's because its smart sensors fully automate cleaning. The gadget glides over carpet, tile and hardwood floors with ease, sucking up dirt, dust and the vacuum's specialty: pet hair and dander. With the help of an app, it even suggests extra cleaning during pollen or shedding season. Whether the lovebirds have allergies or a very furry feline, this classic wedding gift may just change their life. Welcome to the future.
14. Anniversary Journal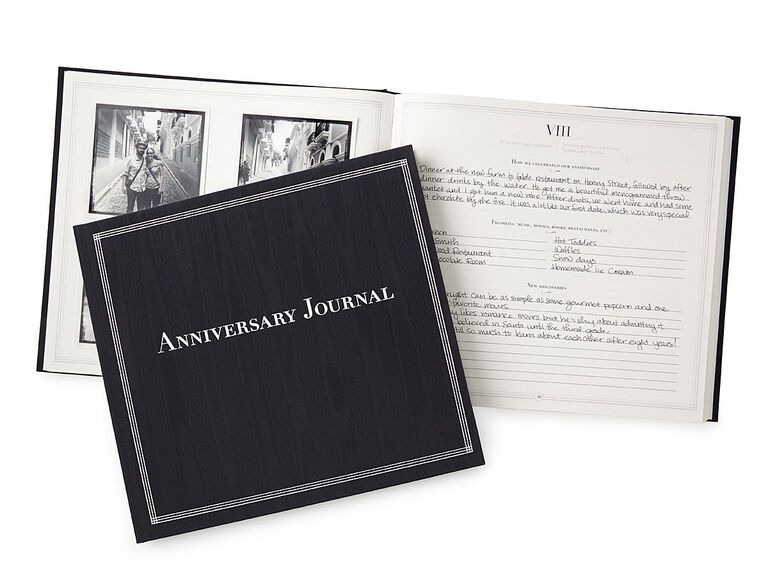 Want a keepsake they'll keep coming back to? This anniversary journal has sections for commemorating the lovebirds' first anniversary all the way up to their 60th. Each year has four pages of prompts and space to fill in favorite memories, details about how they celebrated, photos and more. If it isn't already heirloom-worthy enough, the vellum paper gives the journal a luxe look and feel. It's a unique wedding gift they won't see coming. (Oh, and there's a personalized version too.)
15. BALMUDA Wireless 3D Sound Speaker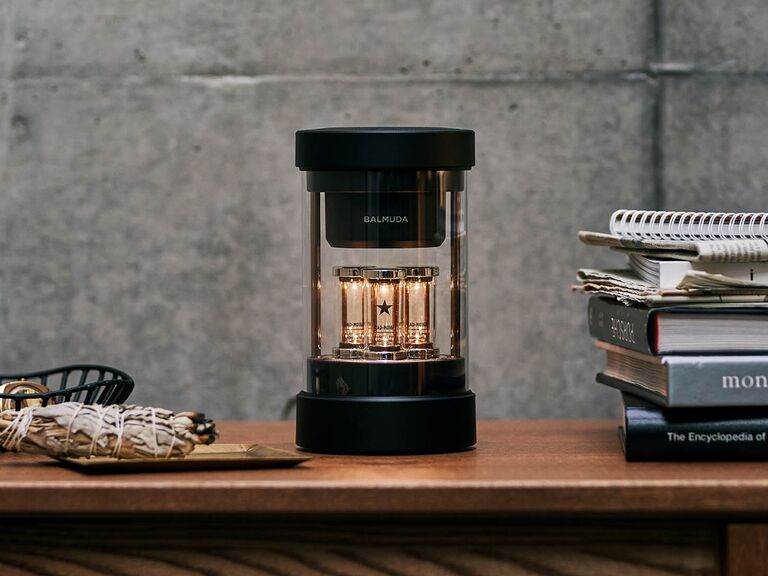 Okay, so maybe they have a speaker and maybe they already own a couple of lamps, but we bet they don't have anything like this. It's a high-tech speaker and light all in one and it's a music-loving couple's dream. Clever inner acoustics allow it to fill their space with clear, high-quality audio and the multifunctional lighting adds to the atmosphere by synchronizing to the beat. Plus, it's wireless, so they can easily move it around their home. Watch this speaker slowly become one of those unforgettable wedding gifts they rave about for years to come.
16. Aura Mason Digital Photo Frame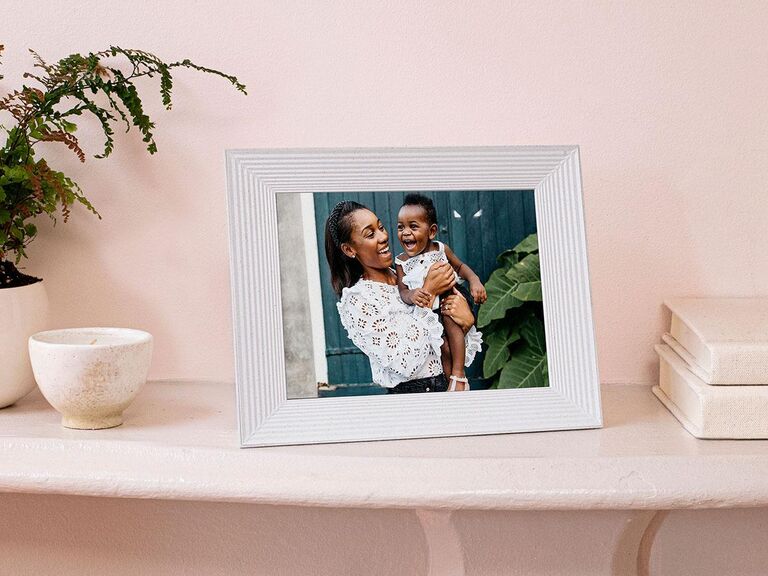 It's a digital world, so introduce them to this digital picture frame. Aura's Mason frame lets friends and family share images online for instant display. The couple can use it to store, send and showcase all their favorite photo memories. It's a whole lot easier than switching out physical photographs and it'll let them enjoy all of their favorite moments without cluttering the mantelpiece. Trust us when we say that they'll get tons of use out of this modern wedding gift.
17. Sagaform Moon Vase
When buying a wedding gift for a couple who has everything, try skipping the practical stuff and instead choose something that's nice to have, like a piece of decor or sentimental keepsake. Anyone with a contemporary sense of style won't hesitate to put this cool, minimalistic vase on display. In fact, we wouldn't be surprised if it takes center stage on their coffee or console table. Now they'll know exactly what to do with all those wedding flowers.
18. Be Rooted Cheers to Adventure 2-Piece Stemless Wine Glass Set
If you're looking for a wedding gift with no registry to guide you, use your knowledge of the couple's likes and interests to choose a present. Adventurous duos will resonate with these stemless wine glasses from BIPOC-owned business, Be Rooted. Each one is printed with the phrase "cheers to adventure" in shiny gold foil.
19. Brewista Artisan 1L Gooseneck Electric Kettle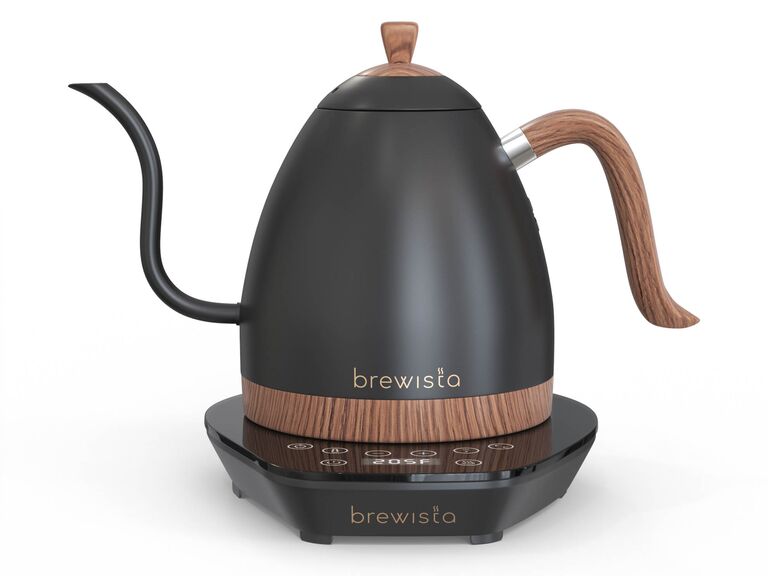 An electric kettle is a useful wedding gift for any couple who loves tea or coffee. And this electric kettle just happens to be a great gift even if they've already got one. That's because it's a super-cool upgrade that probably trumps whatever model they already own. Brewista's aesthetically pleasing kettle features a gooseneck spout for precision pouring, a sleek, ergonomic handle and an LCD control panel for setting the optimal temperature.
20. Hamlin Row Shop Last Name Doormat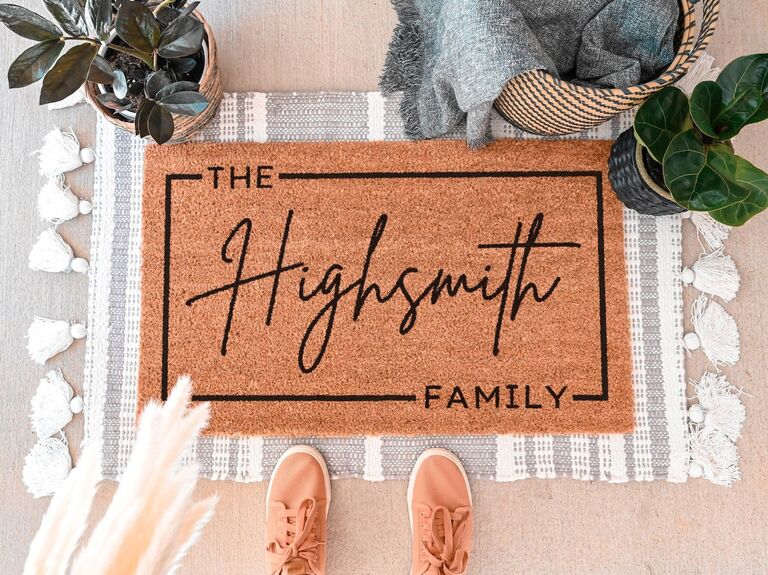 A custom doormat is easily one of the most creative gifts to celebrate a marriage we've ever seen. Have it personalized with the couple's new family name (if they're sharing one, that is) so they can show off their marital status right on their doorstep. This unique find really is one of the best wedding gifts ever.
21. Tuft & Needle Queen-Size Original Mattress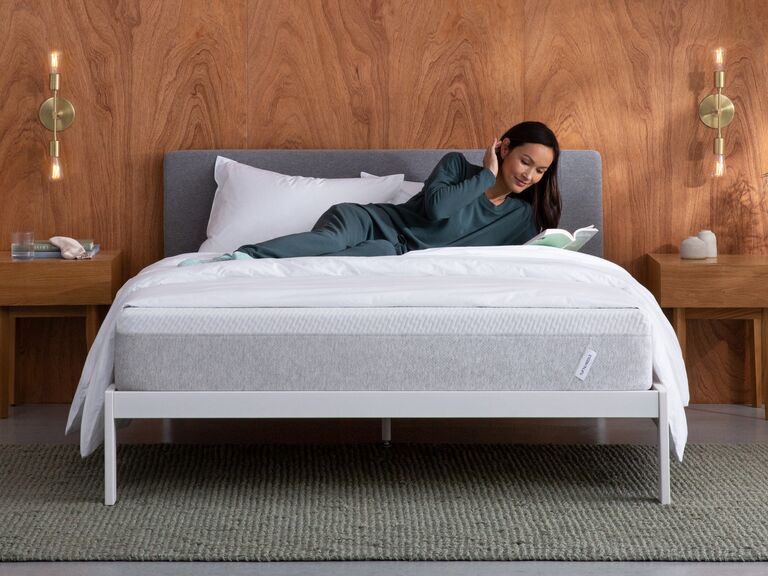 As you're looking for ideas for wedding gifts, think beyond what was traditionally considered "practical." A stand mixer is a tried-and-true favorite, but if the couple doesn't like cooking or baking, it may not be a practical present for them. Really, the most useful wedding gift is the one they actually need. Any lovebirds who recently moved into a new home and are still working on kitting out the guest room will be over the moon to have a mattress taken care of. It's a splurge, but it'll serve them (and their guests) for years to come.
22. Set of 2 Etched Champagne Flutes by Jennifer Francis Fillinger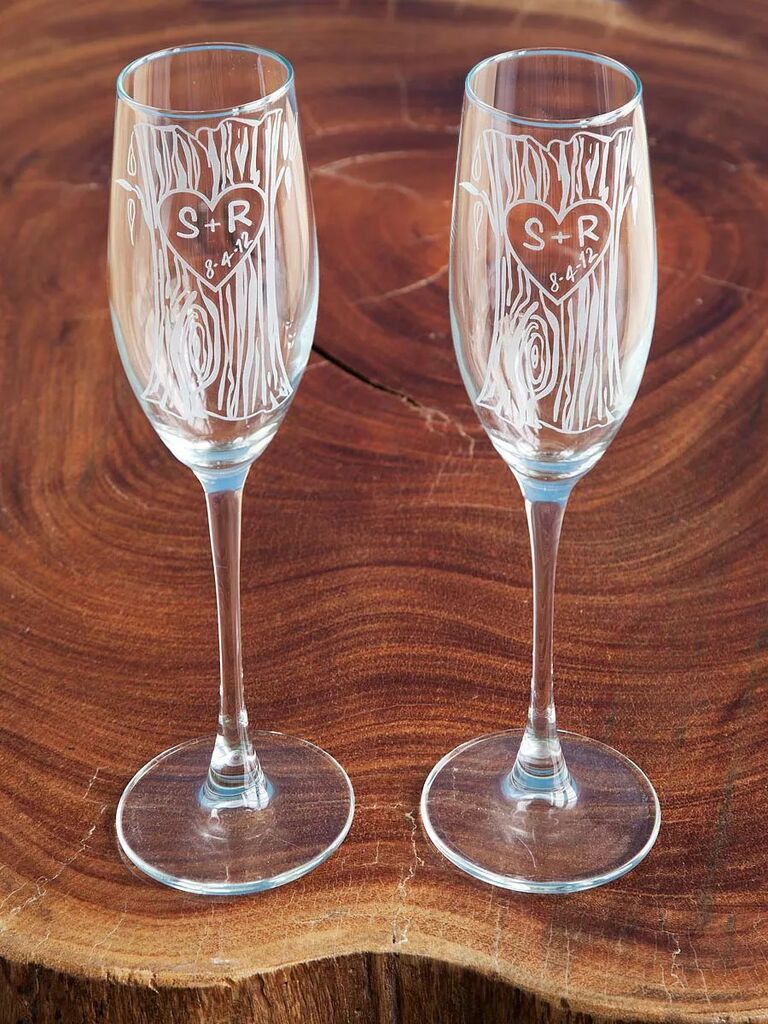 Cheers to married life! These unique champagne flutes are a cute twist on a classic wedding gift. Each one displays the couple's initials and wedding date on a rustic faux bois backdrop. The lovebirds can use these to toast their love and commitment on future anniversaries.
23. Coyuchi Unisex Organic Waffle Robe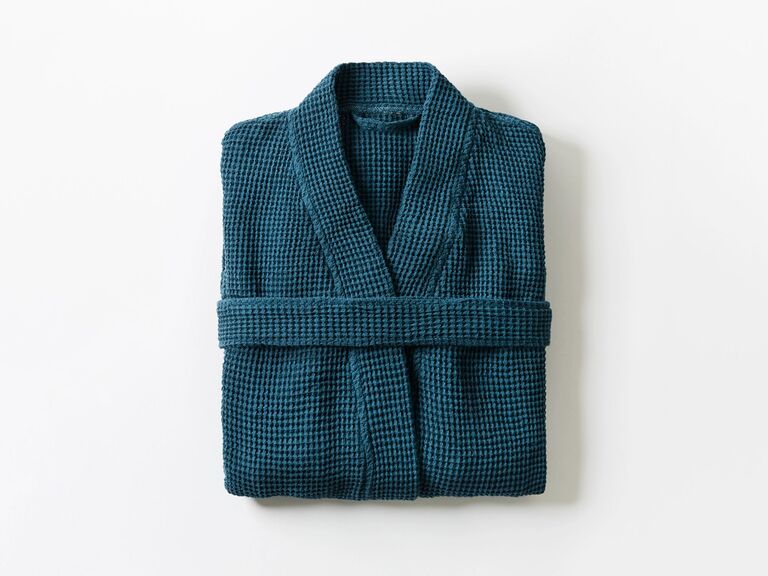 Looking for luxury gifts for the wedding VIPs? Pick up two of these unisex robes for the bride and groom, brides or grooms. Each one is made from 100% organic cotton that's equal parts soft and absorbent. The waffle weave is lightweight and easily stowed in a suitcase for spa weekends or romantic getaways. We especially love the gorgeous teal hue, but there are neutral shades of white and gray if that's more in tune with their style.
24. The Spice House Kitchen Essentials
Spices are kitchen must-haves, so why don't more people register for them? When you give the couple a curated starter set from The Spice House, you won't just be giving them a good wedding gift. You'll be giving them a good wedding gift idea for the future. This starter set includes 12 essential herbs and spices for cooking up a storm. Think: rosemary, thyme, paprika, basil, cinnamon and beyond.
25. Courant Catch 3: Essentials Wireless Charging Tray
Courant's clever valet trays are a wedding gift any bride or groom would welcome. That's because it's not just a handy (and chic) place to store everyday essentials like a phone or set of keys. It's also a wireless charger that works to keep Qi-enabled devices (which includes most up-to-date phone models) full of juice without the need for messy, tangled cables.
26. Whiskey Peaks Mountain Decanter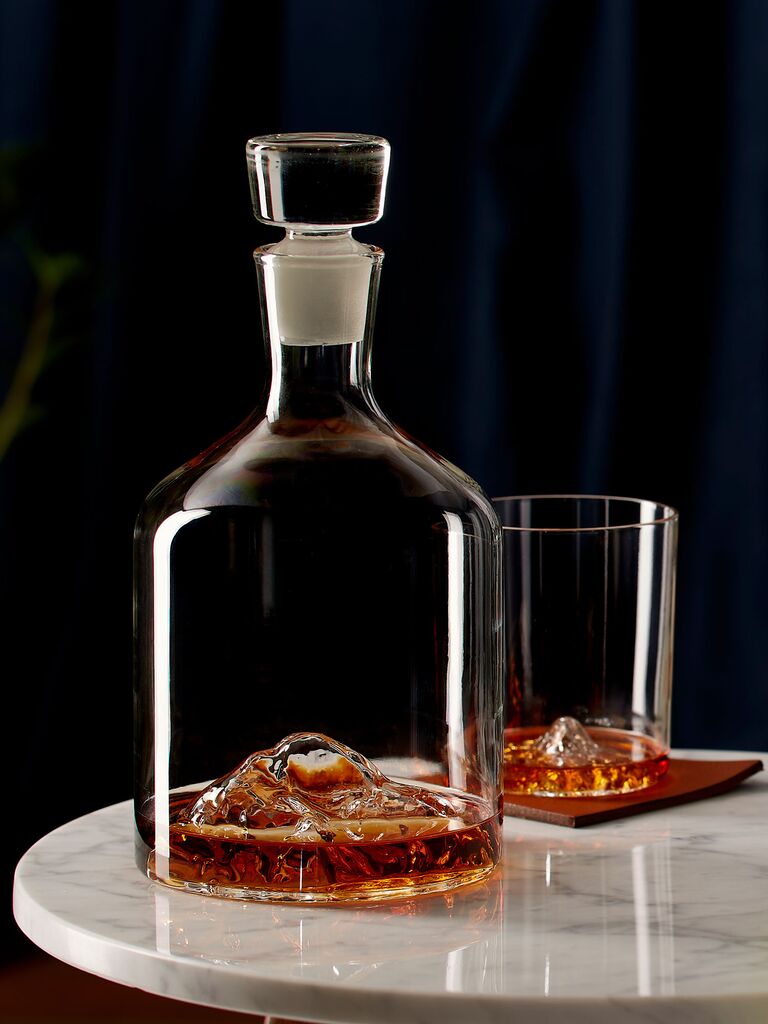 If you're really not sure what to give as a wedding gift, stick with presents that have always proved popular, like barware. We get that decanters can sometimes feel overdone, but not this one. A hand-blown mountain rises up from the inside of this carefully crafted vessel. It's a surefire talking piece that'll wow any outdoorsy couple. Bonus points if they've planned a honeymoon at high elevation.
27. Ring Video Doorbell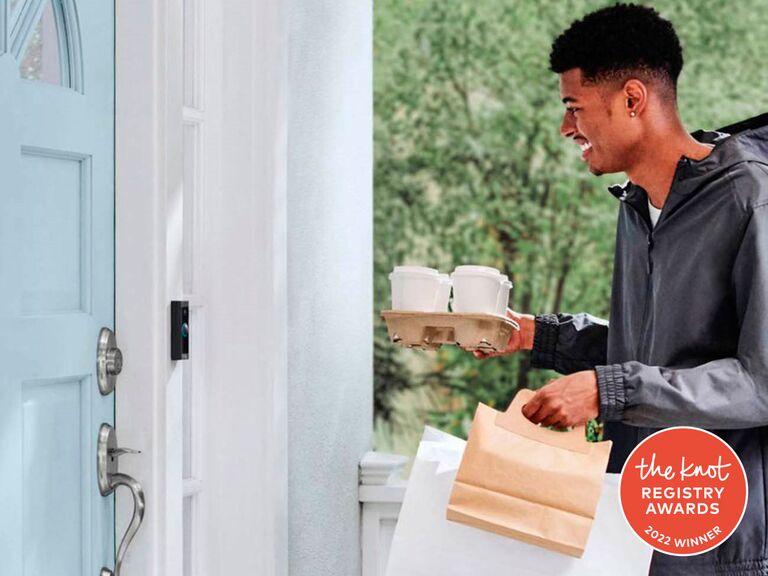 If their home is already stocked full of valuables, help the couple upgrade their security instead. The Ring doorbell is fitted with a video camera that can be accessed from their smartphones (and they can opt to receive a notification whenever someone rings the bell or motion is detected on the property). This wired doorbell allows the door to be answered from any room, so they won't miss an important delivery any time soon. Really, this wedding present idea is two gifts in one: a convenient new doorbell and peace of mind.
28. Wood By Stu Personalized Couple Names Sign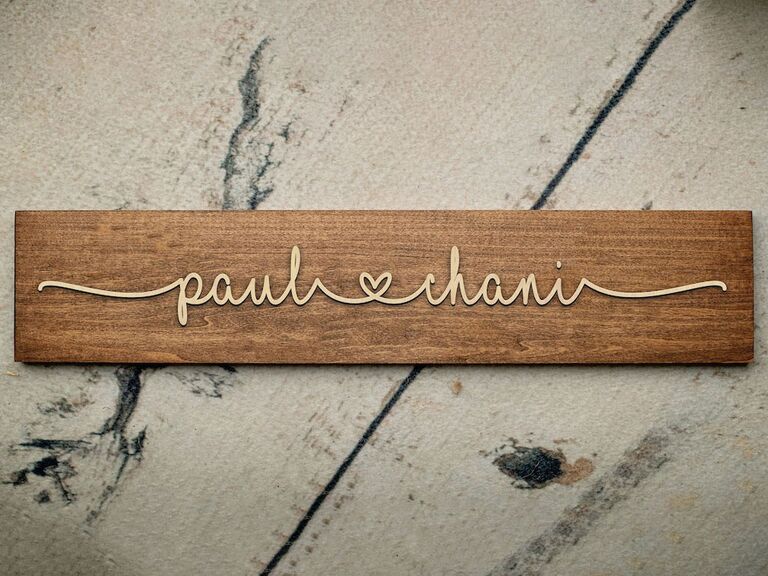 This Etsy seller makes custom home decor that celebrates a couple's love, like this rustic wooden sign. Their first names are spelled out in handmade raised lettering and joined together by a heart—how romantic! And since the grain and stain varies slightly on every piece of wood, each sign is subtly one-of-a-kind. How's that for a cute wedding gift?
29. Virgin Experience Gifts Date Night for 2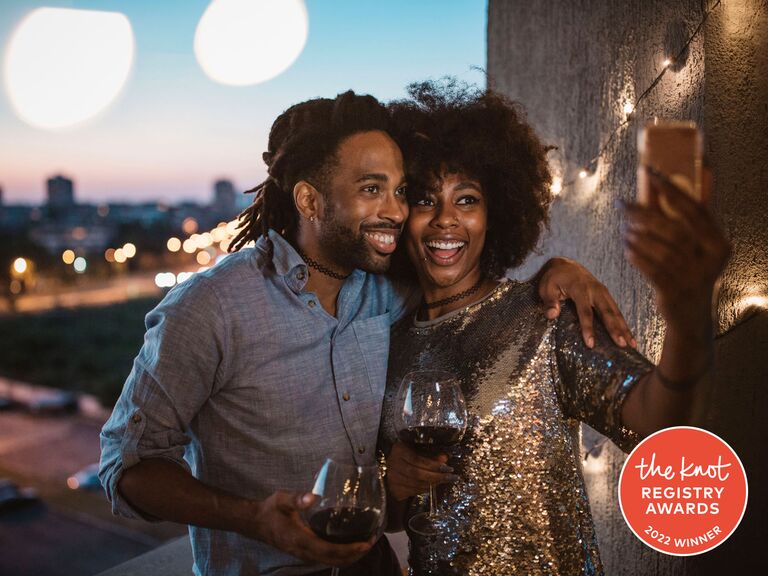 We've got plenty of creative ideas that'll help them take married life to the next level. For the couple who has more than enough material possessions, look to the variety of virtual and experiential gifts up for grabs at The Knot Registry Store. Simply choose the city nearest to the soonlyweds and send them the gift of a fully funded date night in that location. They'll be given a selection of fun and romantic activities to choose from, resulting in a memorable wedding gift.
30. The House of Marley Stir It Up Wireless Turntable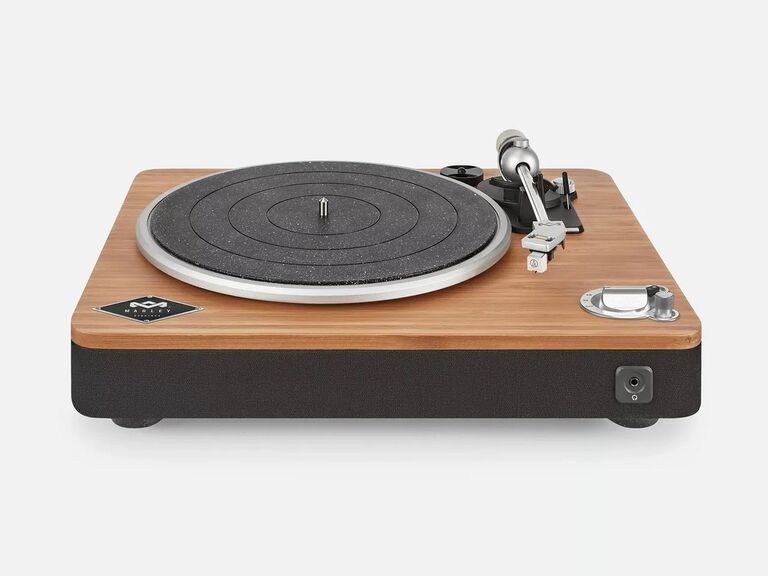 If music is their jam, this eco-friendly turntable is probably right up their alley. The sleek design is crafted from sustainable materials, and thanks to Bluetooth, it offers a wireless listening experience. Any couple who prioritizes aesthetics equally alongside function will be pleasantly surprised by this turntable—but don't just take out word for it, check out the five-star reviews.
31. London Sip Coffee Hand Grinder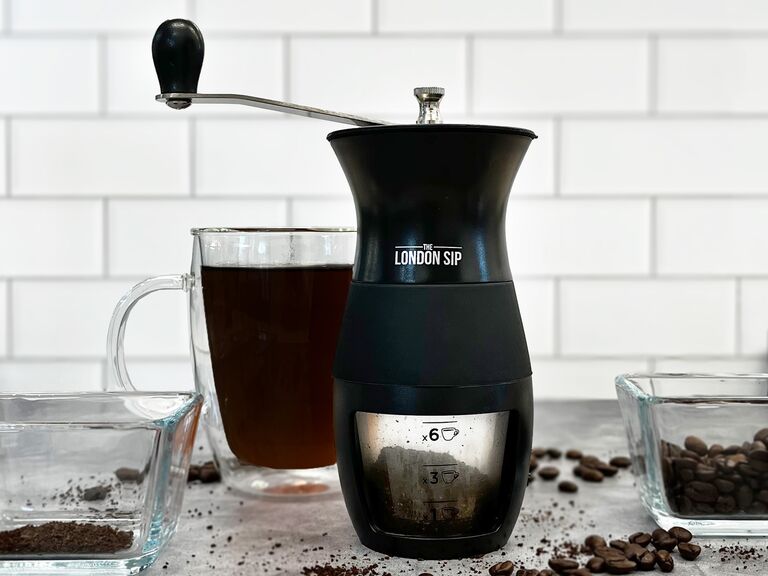 Small wedding gifts can make a big impression, especially when they show just how well you know your favorite pair of lovebirds. This one's for the couple who appreciates the finer things but likes to keep clutter on their kitchen countertops to a minimum. With this practical (and budget-friendly!) coffee hand grinder, they can enjoy gourmet brews without the need for a huge piece of equipment like an all-in-one coffee machine.
32. Personalized Wedding Family Portrait by Shelly Klein
If you know the couple really well, you have a little more creative freedom. Maybe you've already purchased something from the registry for the wedding shower. Or maybe you're shopping for a unique gift that honors your tight relationship. Whatever the case, this sweet and personal present is an extra-special wedding gift for a close friend or family member. It's an illustrated portrait of the duo on their special day, which can also include the wedding party, family members or even a beloved pet. Just keep in mind that you may have to wait until after the nuptials to get a sense of the couple's attire and wedding style.
33. Tuft & Needle Queen Percale 4-Piece 100% Cotton Sheet Set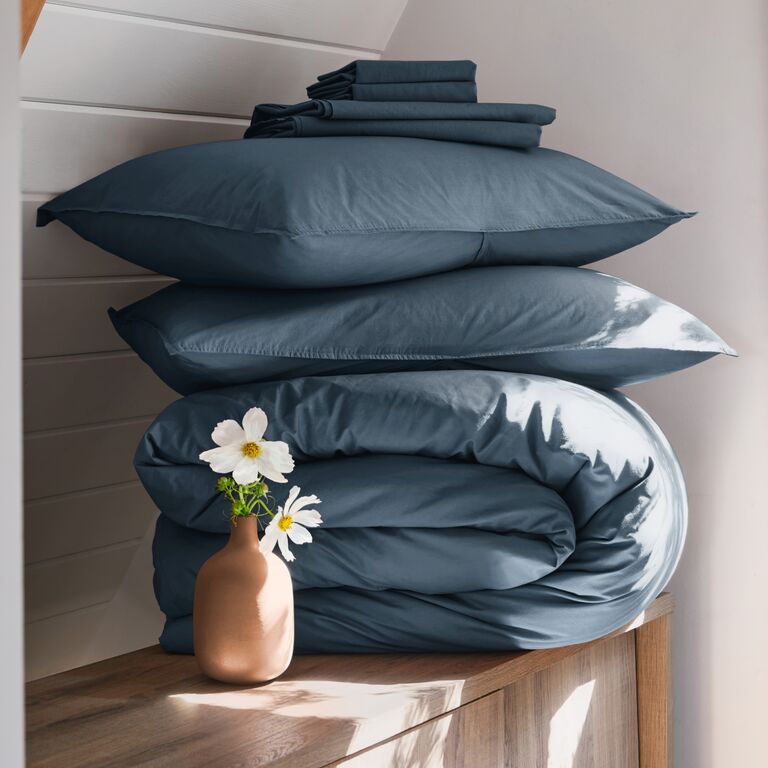 Believe it or not, there are still plenty of nice wedding gifts for couples who already have the basics. Just give some thought to where they might appreciate an upgrade. Housewares like towels and bed linens can get tired after a while, so that's usually a great place to start. A luxurious set of sheets that's made to last will instantly take priority in their rotation, and who better to turn to than the sleep experts at Tuft & Needle? This 100% cotton percale set includes one fitted sheet, one flat sheet and two pillowcases in one of five contemporary colorways. The only problem they'll have will be getting out of bed in the morning!
34. Sur La Table Glass Oil and Vinegar Cruet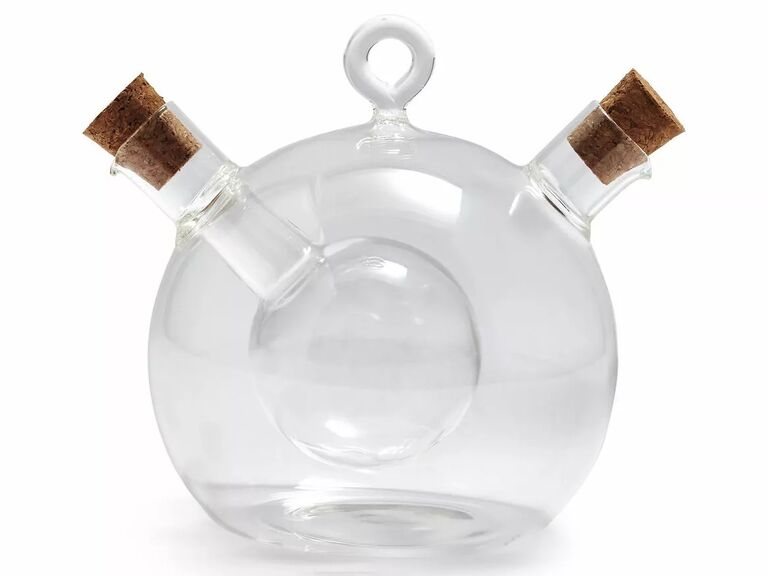 Wedding gifts don't have to be big to make a big impact. Some of the most necessary and enjoyable home goods are also the most affordable. This glass cruet has to be one of our favorite small wedding gift ideas. The outer bottle holds oil, while the inner bottle holds vinegar. Once filled, it's a beautifully simple and convenient serving vessel. It looks so effortlessly elegant, the couple won't want to take it off their dining table.
35. Our Place Perfect Pot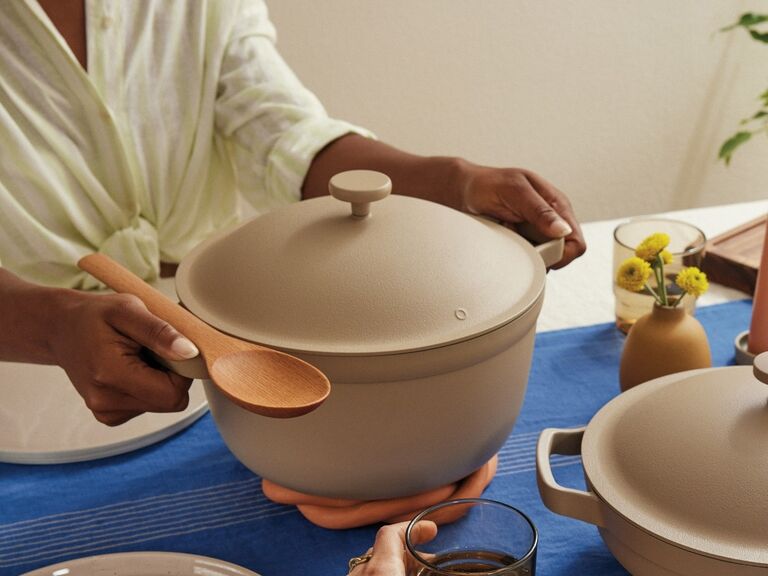 Want to pick up a classic wedding gift for the couple but not sure what kind of pots or pans they actually need? We've got you (or rather, Our Place has got you). The brand's Perfect Pot does it all. This culinary masterpiece can be used for boiling, roasting, baking, crisping, steaming... the list goes on. Oh, and it looks pretty darn stylish too—so they don't have to rush cleaning up and putting it away.
36. Mano's Wine Wedding Cheers Custom Etched Wine Bottle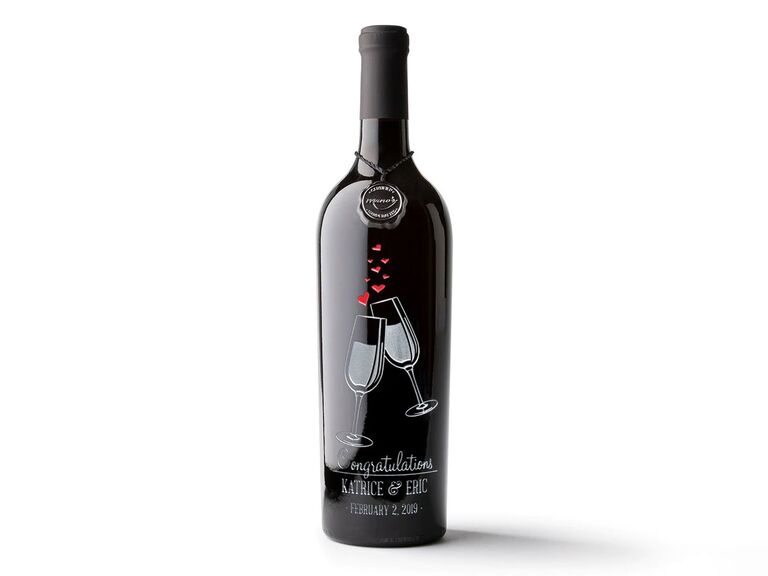 Extend the celebratory toasts by giving the happy couple a bottle of wine—but not just any bottle of wine. This California cabernet sauvignon is custom engraved with their names, the date they said "I do" and an illustration of two clinking champagne flutes. They can hold onto the bottle afterward as a sweet memento (and impromptu candle holder), making it a super-sentimental wedding gift suggestion.
37. GoSports BattlePutt Golf Game
There's no rule that says you can't give the couple a fun wedding gift in honor of their new marital milestone. For the sporty, fun-loving duo in your life, consider something that embraces their competitive, energetic spirit. One unusual (but epic) option? This golf and ping-pong hybrid game that'll make their backyard a really fun place to hang out.
38. Zwilling J.A. Henckels Fresh & Save 3-Piece Vacuum Glass Box Set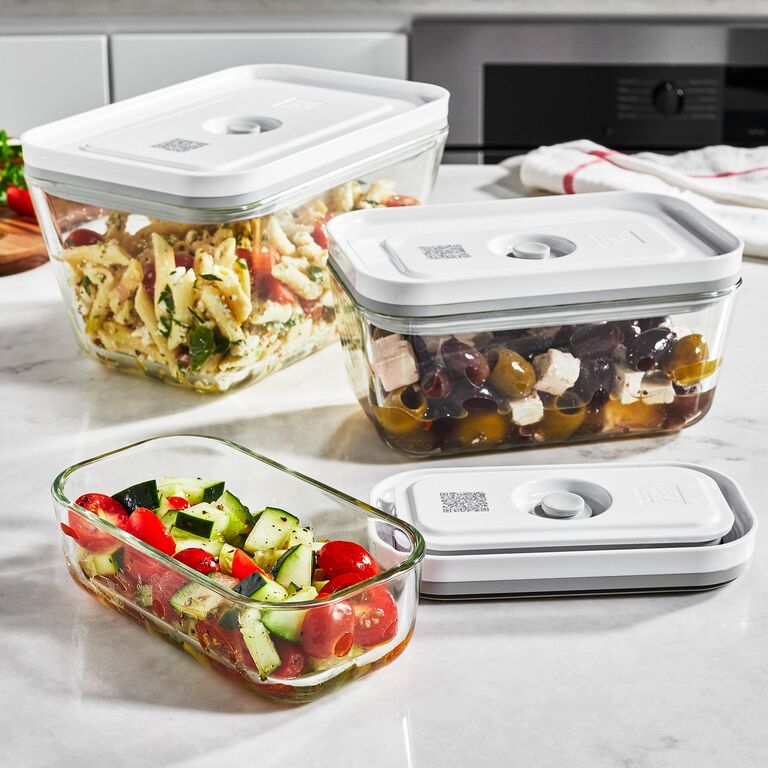 Here's another small wedding gift that we can pretty much guarantee will go a long way. Who couldn't benefit from some brand-new food storage containers? Instead of plastic, this elevated set is made from glass and comes with matching lids that seal the contents for optimal freshness. Bonus: They're freezer-safe, meaning meal-prepping couples will especially appreciate them.
39. Smithey No. 10 Cast Iron Skillet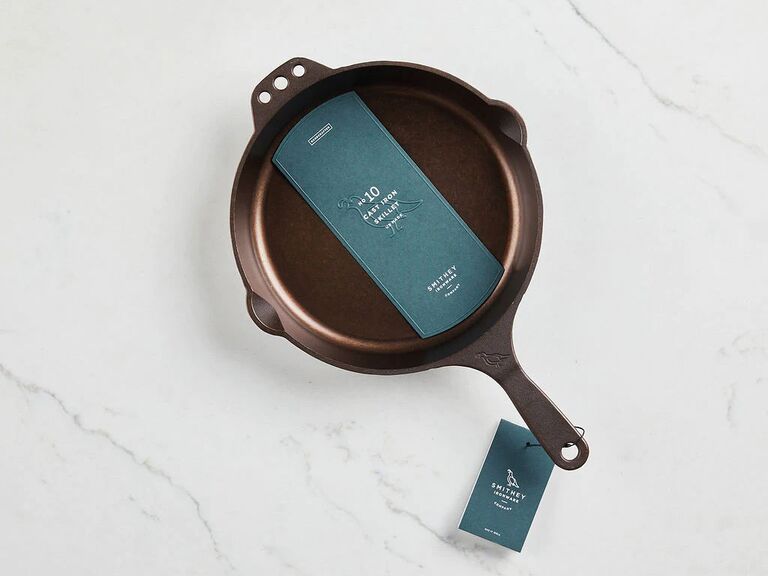 Traditional gifts like cookware and appliances are some of the most practical presents. They're also the gifts most frequently added to couples' wedding registries. If the soonlyweds have already registered for the type of gift you have in mind, grant their wish and buy them exactly what they picked out—they'll be overjoyed. If they haven't registered for classic wedding gifts, it might be because they already have those things. When in doubt, pick up a timeless (but still creative) wedding gift that'll round out their home or upgrade their old gear, like this high-quality cast iron skillet that can be engraved with their names and wedding date.
40. Kodak Printomatic Digital Instant Print Camera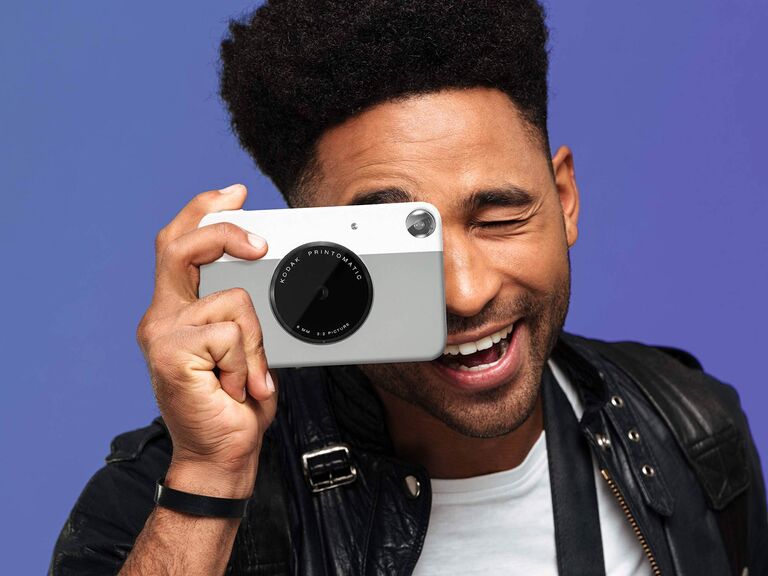 Their wedding day certainly won't be the end of their adventures. Help the couple capture all of the wonderful moments that await them with this surprisingly meaningful wedding gift. This nifty little camera instantly prints photos on Zink zero-ink photo paper (bonus: no costly ink cartridges needed). It also has a sleek, compact design that makes it easy to capture snapshots on the go.
41. Vitamix Professional 750 Series 64 oz. 10-Speed Blender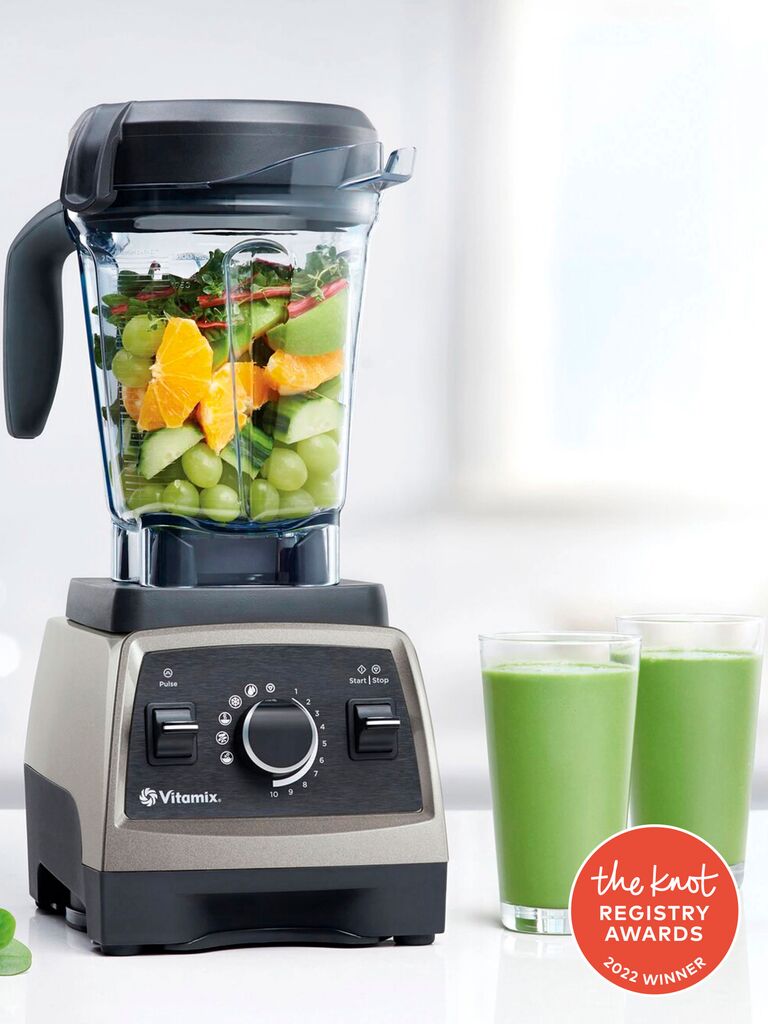 There's a reason serious smoothie drinkers obsess over Vitamix gear. The blenders really do it all—and they do it all well. This model offers 10 different speeds for juicing, chopping, mixing and more. Better yet, the large container makes batch blending quicker and easier. It's another awesome wedding gift that's common on couples' wish lists for a reason. Once they realize how much this appliance can handle, they'll honestly be amazed.
42. Coral & Tusk Whale Love Tea Towel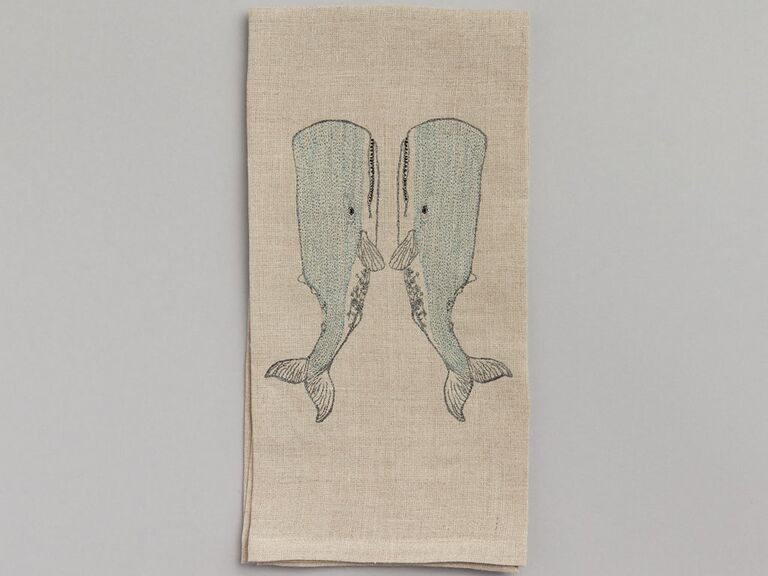 Need something cute, thoughtful and affordable? This adorable whale motif tea towel checks all those boxes. Each one is individually stitched with over 14,000 stitches to bring the romantic illustration to life. It's a subtly sentimental wedding gift that's practical to boot.
43. Blue Apron Signature Meal Kit One Month Subscription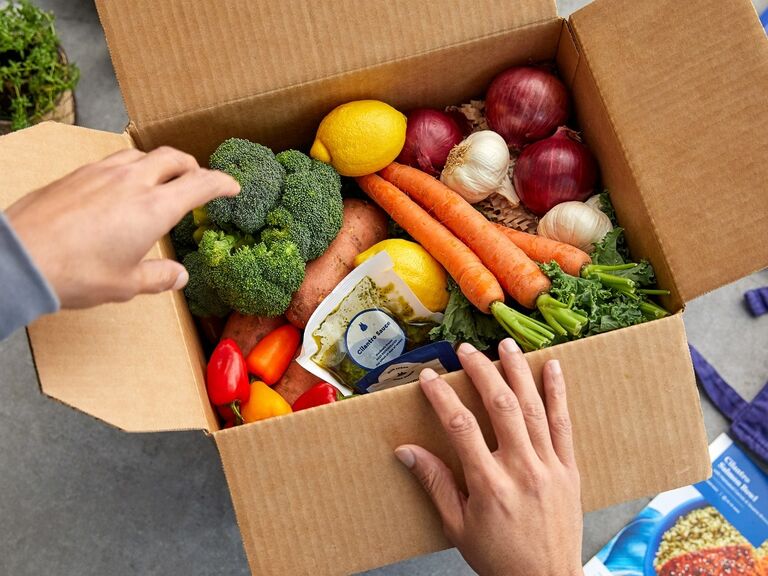 There are lots of reasons why a Blue Apron subscription is one of the best wedding gift ideas for couples. For starters, it makes everyday life easier by helping with meal planning and reducing trips to the grocery store. On top of that, it encourages them to spend quality time together at home (while honing their cooking skills at the same time). Sign the couple up for a one-month subscription and Blue Apron will take care of the rest, sending the ingredients and instructions weekly over the course of four weeks. Say hello to tasty, farm-fresh and seasonally-inspired meals!
44. Baumbirdy Custom Coordinates Art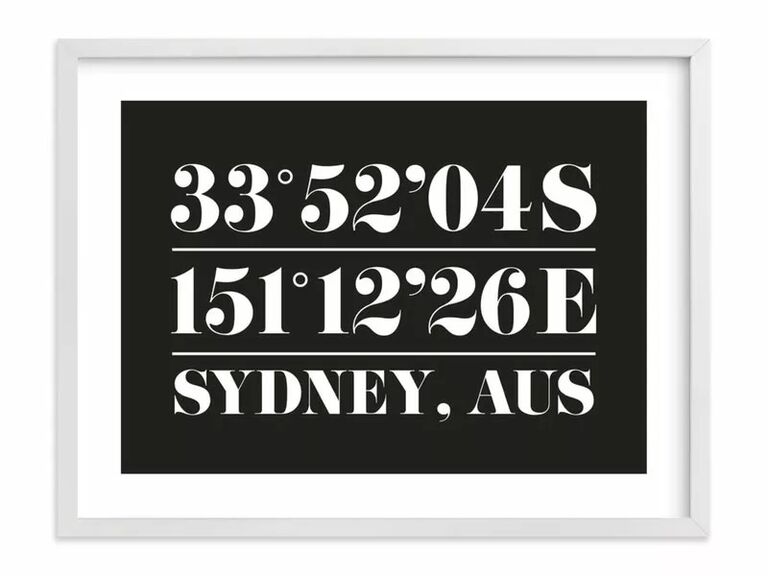 Chances are, the couple's wedding location holds a special place in their hearts. This meaningful wedding gift turns the coordinates into an original work of art. You could also choose their hometown or the place they met instead. No matter what, they'll be touched by your thoughtfulness. Minted offers lots of customization options to help you create the best wedding gift for your friends or family, including seven different sizing options and six color themes. Add a high-quality frame to your order before checkout for a display-ready present.
45. YETI Set of 2 Rambler 20 oz. Tumblers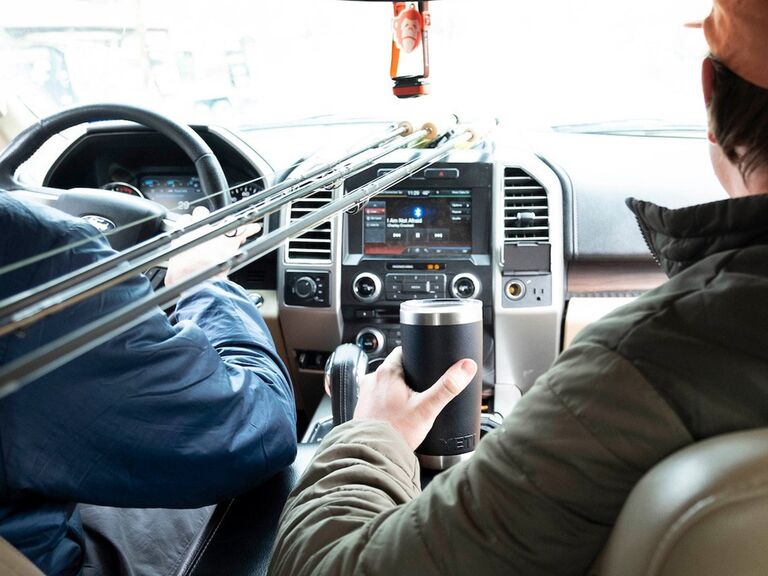 Almost everyone has a use for a durable, insulated tumbler. This couple's set is a great wedding gift for the coworkers, friends and relatives who are typically hard to shop for. It's also a thoughtful present for the duo who bonded over their love of camping, hiking or other outdoor pursuits. Each tumbler is double walled and vacuum sealed, meaning their hot drinks really will stay hot (and cold drinks will remain at the ideal chilly temp) for longer. Plus, with a 20-ounce capacity, they won't run out of coffee (or their preferred fuel) too soon.
46. Character The Gallery Wall Kit: No Holes
Searching for more wedding gifts with character? From innovative products that they've never seen before to thoughtful presents that go the extra mile, we've found the stuff that makes the most trendy couples say "cool!" Exhibit A: this "no holes" gallery wall kit from Character. This unexpected (but seriously cool) wedding gift makes installing their own gallery wall a breeze, no drilling necessary. It's especially great for couples who are renting.
47. Coravin Timeless Three+ Wine Preservation System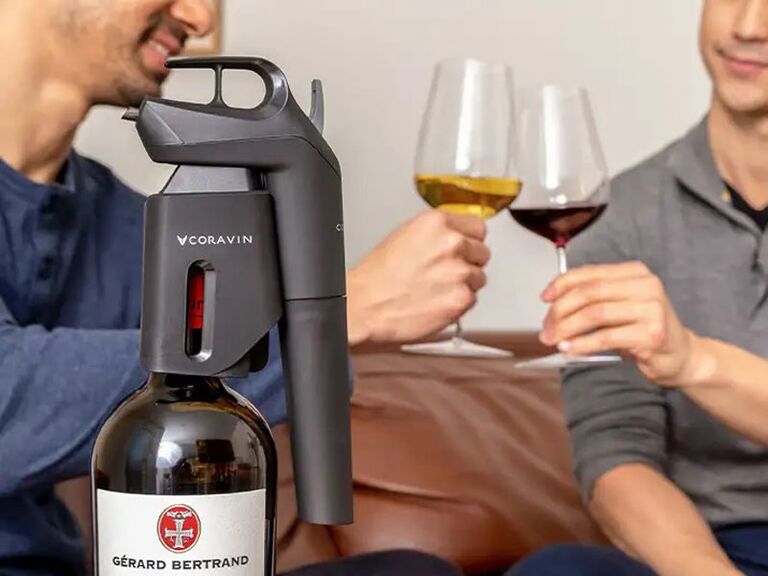 Don't be surprised if the couple receives a lot of congratulatory wine. This innovative gift lets them try it all without wasting a precious drop. With a Coravin, they can pour themselves a taste (or a full glass) without uncorking the bottle. Brilliant, we know. It's an awesome accessory to have on hand when they can't commit to a full bottle—or when they're hosting a group of guests with different wine preferences.
48. Kate Spade New York Rosy Glow Double Frame
This luxe decor is a thoughtful gift for the sentimental couple. The silver-plated frame fits a cherished photo as well as a copy of their wedding invitation. This sophisticated wedding gift also has special glass that'll protect their precious keepsakes from the sun, preserving the mementos for years to come.
49. AO Glass Stamped Decor Dish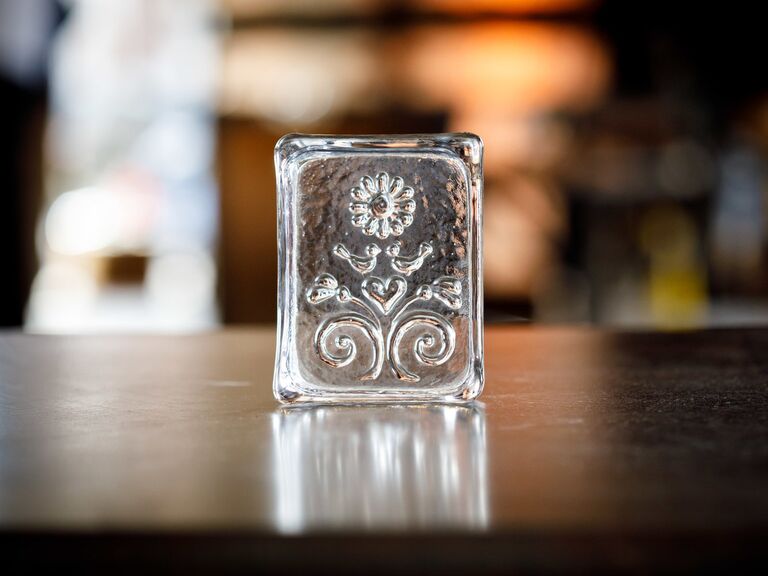 As far as slightly more unusual wedding gifts go, this one has our whole heart. This beautifully decorative glass dish is perfect for housing a bar of soap, business cards or any other small odds and ends they can never find a place for.
50. Hawkins New York Queen Simple Lightweight Cotton Blanket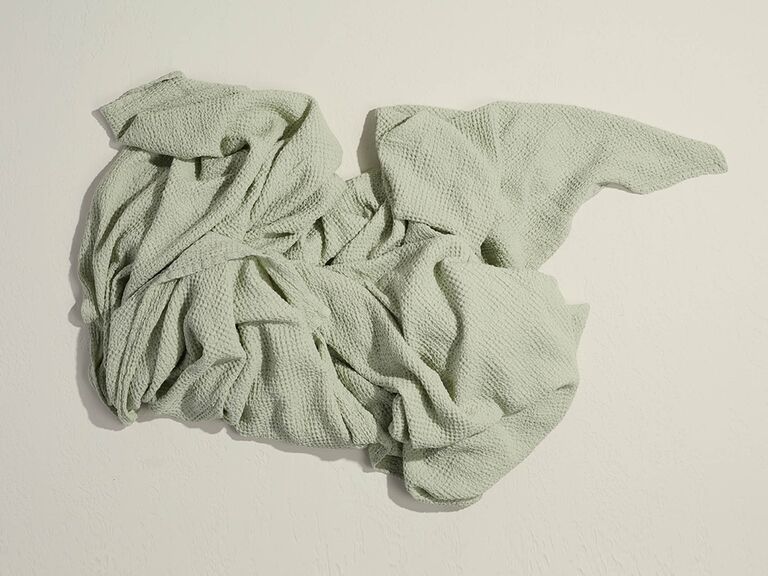 Sometimes simple wedding gifts are the most loved of all. We can't think of anyone who wouldn't appreciate a high-quality throw blanket to add to their collection. Hawkins New York's luxury textiles are made from ultra-cozy cotton that looks as good as it feels. The natural blanket has a relaxed vibe that makes achieving the low-effort-luxury aesthetic easy peasy.