26 Laugh-or-Cry-Worthy Birthday Wishes for Your Fiancé
Give those grocery store cards a little sparkle (like a diamond).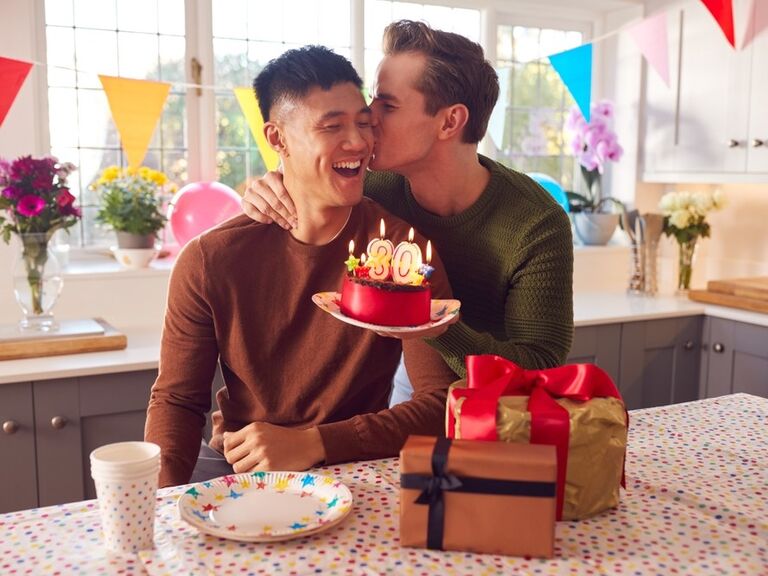 Photo: Monkey Business Images / Shutterstock

When you're in the midst of planning a wedding, it's easy to let your upcoming nuptials eclipse other milestones that we usually celebrate. But if your love's birthday is on the horizon, you may also have to prioritize drafting some birthday wishes for your fiancé—whether they're for a handwritten card to accompany the amazing birthday gift for your fiancé you selected or maybe for a caption for their dedicated birthday post on social media. So take a break from focusing on securing the venue, crafting your dream playlist and working on writing your vows and pen a sweet birthday message to your fiancé.
In this article:
What to Write in a Birthday Card for Your Fiancé
Unlike your wedding vows (or even an anniversary card), drafting a birthday wish for your fiancé gives you a little bit more wiggle room in terms of sentimentality, humor and tone. You can be as romantic, playful or short-and-sweet as you'd like—even tossing in a silly joke about aging is OK if done tactfully! The goal for your "happy birthday" to your fiancé is to let them know how glad you are that they were born—and ended up as your life partner—so, as long as you express your gratitude on that front, they're sure to be pleased. If you're stumped on where to get started when it comes to crafting the best birthday wishes for your fiancé, just start speaking from the heart. With that said, mentioning their birthday and saying "I love you" in some way are generally thought to be two non-negotiables. Other fun ideas to spice up your birthday wish to your fiancé include: Choosing a birthday-related quote from their favorite movie, a song lyric or even referencing a few famous people who were born on the same day are all creative additions that make the card feel more fun—and makes it look like you spent some serious time on it, which will always be appreciated.
Romantic Birthday Wishes for Your Fiancé
Don't just save the mushy sentiments for your anniversary or Valentine's Day card! Craft a heart-touching birthday wish for your fiancé that details how much you adore them. Don;t forget to throw in some qualities you admire about them and how excited you are to spend your lives together. Pair it with a romantic gift and you're golden.
I'm not counting your years, I'm just looking forward to our years together.
The only thing I love celebrating more than us is you.
Age is only a number, but I'm excited for our marriage to grow.
Soon, your birthday won't be the only anniversary to celebrate.
I'll never get my fiancé another birthday card—soon my [wife/husband/spouse] will be getting them all.
I can't wait to spend the rest of my life with you. Here's to a lifetime of birthdays, my love.
The best day of my life may be yet to come, but the day you were brought into this world is always going to remain a close second.
I'm so lucky to have spent another year around the sun with you.
Happy birthday to my spouse-to-be! I can't wait to spoil you today and every birthday for the rest of our lives.
Deciding to marry you has been the best gift of my life. Cheers to a lifetime of birthdays together!
Funny Birthday Wishes for Your Fiancé
If your love gears more toward silly than sappy, a funny birthday message might be just the ticket. Pepper your well-wishes with inside jokes and cute puns. You can even print out a meme, if you're feeling old school (and if, you know, you own a printer).
You may be getting up there in years, but your single days are numbered.
I skipped your birthday present this year since marrying me is the ultimate gift.
I can't wait to grow old with you…and it looks like the wait is over!
Don't go digging through your cake this year—you already got a ring!
I didn't know what to get the [guy/girl/person] who has everything…because you already have me.
You may be one year older, but marrying me will keep you young, so we won't count this year.
I know we're together 'til death do us part, but we'll age like fine wines in the meantime.
Cheers to your last single birthday!
Simple Birthday Wishes for Your Fiancé
Maybe words of affirmation aren't your fiancés love language. Or perhaps you prefer to speak off the cuff about your feelings instead of writing them down. Whatever your reasoning, sometimes simple and sweet is the winning duo (just like you two).
I am honored to be by your side for another year around the sun. Happy birthday to my fiance!
I know you don't like to celebrate your birthday, but growing old with you is the gift of a lifetime.
Here's to a lifetime of birthdays together.
Growing old with you is the gift of a lifetime. Happy birthday, my love.
I hope your birthday is as special as you are.
I could not be more grateful you were born on this day. Happy birthday!
Cheers to celebrating you forever.
Every year with you just keeps getting better and better.