13 Trending Ways To Celebrate Your Engagement
Think beyond the party.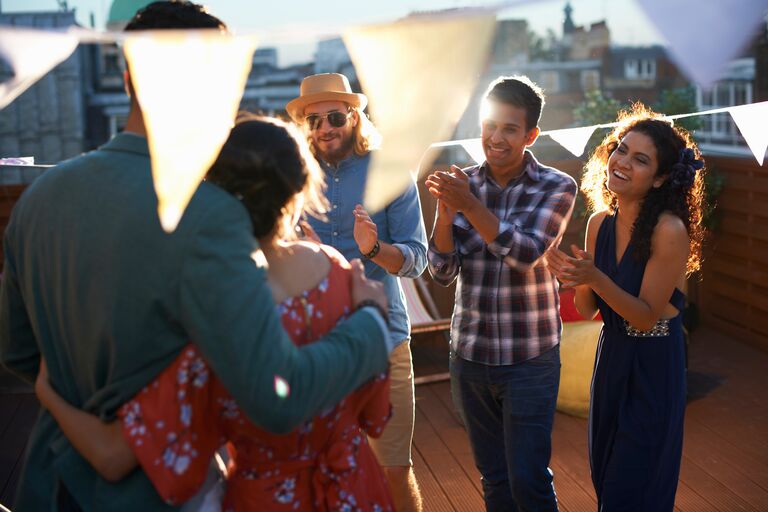 Photo: Peter Muller | Getty Images
Your engagement is definitely cause for celebration, but that doesn't necessarily have to be in the form of a traditional engagement party. While you can't go wrong with a classic soiree, you and your partner may choose to celebrate your engagement in a more unique way that feels more, well, personal.
Before diving in any deeper, it's important to consider your specific interests. For example, do you and your future spouse love to cook? Or, do you enjoy watching movies or listening to music? Of course, these are just a few factors to consider when planning your celebration. Another thing to keep in mind: Do you want to celebrate with loved ones, or keep it between just the two of you?
Couples who are searching for more unique ways to celebrate an engagement should certainly keep scrolling. From wine and cheese tastings to a fun-filled karaoke bash, read on for 13 of our favorite non-traditional albeit fun ways to celebrate your engagement.
Floral-Design-and-Sip Night
This fun idea comes courtesy of Joan Wyndrum O'Hear, the founder and owner of Blooms by the Box in Watchung, New Jersey. "If you love expressing yourself, you'll love this," she tells The Knot, before adding: "Bring out everyone's creativity by providing a floral container, floral foam, and flowers." Make the experience all the more fun and memorable by serving some tasty, crowd-pleasing appetizers with signature cocktails and wine pairings.
Private Chef Dinner
If you or your soon-to-be spouse is a foodie, consider hiring a chef to come to your home to cook an elaborate feast for just the two of you. This fun date idea is sure to spark romance, and, best of all, you need not worry about the prep work (i.e., grocery shopping) or clean-up (like doing the dishes). Instead, you'll have the opportunity to truly savor your meal with your SO, sans any stress.
Go Away (Really!)
Getting engaged is obviously exciting—wedding planning! Finalizing your registry! Proposing to your wedding party!—but it's easy to get caught up in the swing of things. Take some time to celebrate just the two of you by embarking on a quick romantic getaway, in which you'll enjoy uninterrupted quality time together. "Sometimes, it is all about those quiet moments together," says Dee Lee of Dee Lee Designs in Pasadena, California.
Sunset Boat Ride
What's more romantic than a sunset sailing with your better half? (That's a rhetorical question, of course.) According to O'Hear, "A sunset cruise can be an intimate and romantic celebration of your engagement." Another idea: Invite your closest friends and family to join you for a night out on the water filled with lots of dancing plus delicious food and drink offerings.
Game Night
Hosting a game night is one of the most fun ways to celebrate your engagement, but don't just take it from us. "Consider going to an established tabletop gaming center and sitting down for a few games and [having] some snacks & cold drinks," says Jen Sulak, the lead wedding photographer at Weirdo Weddings. "I found this to be oddly fun with my clientele, who LOVE gaming!" Stock up on some couples board games and you'll be good to go!
Movie Night
Love movies? Join the club. Post-proposal, keep things laid-back and low-key by curling up on the couch—or the bed—with your partner as you screen your favorite rom-com. Don't forget to snag some yummy snacks and popcorn to make the night all the more sweet.
Get Brunching
The morning after your engagement, surprise your partner by making them breakfast (or brunch) in bed. If you don't feel like cooking, make a quick trip to the local coffee shop or grocery store to stock up on coffee, pastries, bagels, and other brunch staples. Added bonus: You don't even need to change out of your PJs. Besides, who doesn't love a delicious brunch spread?
The Ultimate Surprise Party
Lee recommends newly engaged couples throw a "small gathering to surprise their family and friends that they are engaged!" Think of it as a reverse surprise party, since you'll be the ones surprising your loved ones (as opposed to the other way around!). To lure everyone over, tell them you're throwing a typical house party—and watch them burst with joy once they discover the happy news!​
Wine & Cheese Soiree
Wine and cheese go together just as well as you and your partner—which is why you should commemorate your engagement with an epic wine and cheese pairing party, be it for just the two of you or a few of your loved ones. You may also consider hiring a sommelier to elevate the experience even further.
Get Your Groove on with a Silent Disco
Dance parties are fun; however, they can definitely get loud and rowdy. So, if you're nervous about noise complaints from neighbors, keep things quiet with a silent disco. You'll need to buy a bunch of wireless headphones, a transmitter to broadcast the tunes, and, most importantly, a group of fun-loving friends who aren't afraid to bust a move (or two!). It's also worth springing on a DJ who will be on hand to curate a playlist of upbeat songs to get everyone on their feet.
Plan a Pool Party
According to Elena Gera, wedding photographer and owner of Focus on the Moment Photography in Bristol, TN, "Hosting a pool party is a fantastic way to have fun while sharing this significant moment with your loved ones." If you don't have a pool, consider renting a home with one—or, if you're lucky enough to have a friend or family member who has one, ask them nicely if you could use theirs! Curated a fun playlist to get the party started and purchase a few Instagram-worthy pool floats.
Rent a Limo
"If you don't feel like staying at home, it's time to hit the streets and embrace some whimsy!" exclaims Gera, who recommends renting a limousine for the evening to ride around town in style with you and your closest friends. Besides, says Gera, "With glasses of champagne, the cityscape rushing past the window, and great company nearby, what could be better?" Lastly, bring a Polaroid camera to capture all the fun on film.
Karaoke
Sing your heart out—not literally, but you get the gist—and host an at-home karaoke night with your loved ones. Karaoke allows you to show your partner how much they mean to you by serenading them as you sing along to your favoritelove song. Pro tip: To keep the good vibes going all night long, treat your guests torefreshing cocktails, which will double as liquid courage!