Just Engaged? Here's Why It's Important to Celebrate
Plus, some ideas on how to remember the joyous occasion.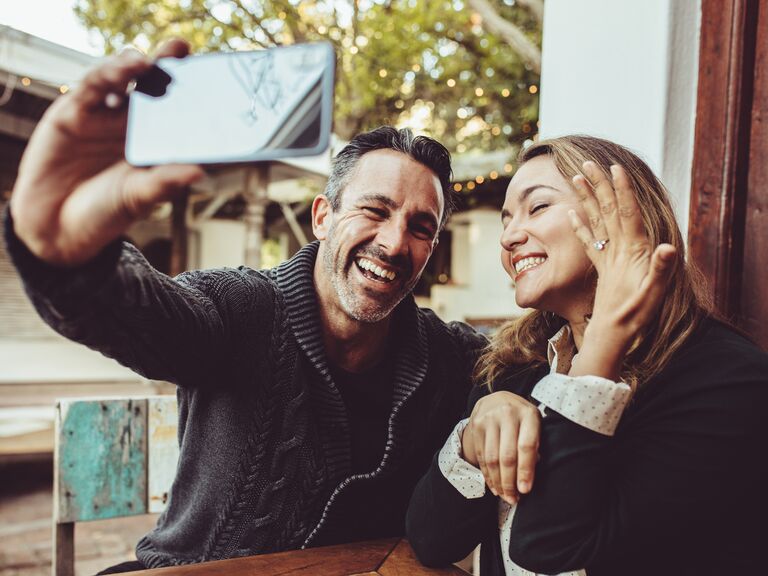 acob Lund/Shutterstock.com
As the coronavirus pandemic continues to affect 2020 spring and summer weddings, many ceremonies are being postponed. Engagements, nevertheless, are still happening. Couples are finding creative ways to pop the question even with social distancing measures involved. However, figuring out how to enjoy your engagement during a global crisis can be complicated. That's why we've tapped experts to help explain why it's not only OK to celebrate your engagement, but why it's important to celebrate happy things during a hard time.
If your partner has proposed amid COVID-19, you may feel a confusing mix of emotions. Of course you're likely happy and excited—but you may also experience guilt for feeling those positive emotions while so many sad things are happening around the world. Jean Fitzpatrick, a licensed psychoanalyst and a relationship therapist based in New York, says this sensation is known as survivor's guilt. "Right now, many couples are experiencing sad and scary things happening in the world, and so they're especially aware of the contrast between their own happiness and the pain and loss around them," she explains.
Even amid trying times, humanity is resilient, says Rachel Sussman, licensed clinical social worker, therapist and relationship expert. "There are stories of people making beautiful music and art during World War II," she says. "The human spirit is built to survive and thrive. We all need a reason to go on—what better way to feel alive than to fall in love and celebrate your commitment to each other." Read on to find out how to enjoy your engagement during this time.
It's All About Balance
"In a way that feels appropriate to you, acknowledge the contrast between your personal happiness and the times we live in," Fitzpatrick says. Perhaps in lieu of engagement gifts, you ask your loved ones to make a donation to a charity, local hospital or other organization that's helping with COVID-19 relief.
Alternatively, you can use this time to thoughtfully create your registry. Rather than asking for more products, use The Knot Cash Fund feature on our registry to raise money for an organization that's helping people during the pandemic.
Recognize How Lucky You Are
Although it's important to celebrate the good things happening in your life, it's equally important to be aware of what's going on around you. You can still respectfully celebrate your engagement, but Sussman says "respectfully" is the operative word. "People are allowed to grab hold of personal happiness," she says. If you're inclined to post on social media, she recommends keeping the focus on how lucky you are to celebrate something good in light of what's going on. "I would not flaunt any large engagement rings or say too much about wedding arrangements at this time."
If you know someone who has been personally affected by COVID-19, Fitzpatrick advises prioritizing that over your personal news. "Reach out to them personally before sending any kind of invitation," she says.
Be a Good Friend to Those Who've Postponed
While you and your S.O. may be beginning your wedding planning process, there are many couples who already did the work and didn't get to see their plans come to fruition due to coronavirus. You may have a few friends who are upset about having to postpone their wedding, so be sure to check in on them and see how they're doing. If you want to go above and beyond, there are many ways to support someone who had to reschedule their nuptials. You can send them a thoughtful gift, cook them a homemade meal or offer to take some work off of their plate. (Psst: just be sure not to say any of these things to them right now—trust us).
Use This Time to Grow Together
Fitzpatrick says that by getting engaged, you're embarking on the fun process of wedding planning together. But more importantly, you're doing something profound: committing to building a life together.

She notes that traditional wedding vows have the words "for better or for worse" in them. "Couples [who used this verbiage] acknowledged that living through ups and down over the years was inevitable," she explains. "Getting engaged during this pandemic is an opportunity to discover how you and your partner can face a painful and frightening situation together."

Take this time together as an opportunity to grow stronger. Thinking about your marriage in the wider context of your city, country and the world can bring the two of you closer. "Talking about how you see events around you and how you can make a difference feels good to couples," Fitzpatrick says. "In a world that can be overwhelming, it's great to have an ally." Some of her favorite questions to ask couples in premarital counseling are "How do you connect with your community?" and "What gives you meaning?"

If you want to continue strengthening your bond from home, download Lasting, the no. 1 relationship counseling app. It contains decades of relationship research distilled into short, daily sessions.
Celebrate With Friends and Family (From a Safe Distance)
True, your engagement party may look different this season. Rather than celebrating at a bar or at a family gathering, you're likely at home instead. If you're wondering how to enjoy your engagement during this time, we've got suggestions. Turns out, there are still several couple activities you can do together while social distancing.
Order your favorite takeout, schedule a virtual call with friends and family or drive by the houses of your loved ones. Allow yourselves to celebrate the special occasion. It's a much needed bright spot during these uncertain times.
Good News Is Needed Now More Than Ever
Amidst the sad news surrounding the coronavirus outbreak, Fitzpatrick says good news can be a powerful thing. "When we see so many sad pictures and hear so many sad stories in the media, the smiles on your faces give your family and friends gratitude, hope and inspiration." Consider crafting your wedding website together during this time to spread the cheerful news. Add in your favorite pictures, write about your love story and give a shout-out to the members of your wedding party.
Sussman adds that good news isn't just a nice distraction, it's actually necessary for our mental health during tough times. "Life is challenging right now, but life hasn't stopped," she says. "We all need things to feel good about and to look forward to." So go ahead—share your good news with friends and family. Even amid a global pandemic, love is not cancelled.