31 Creative Fiancé Gifts for the Holidays, Their Birthday and Beyond
These presents hit the sweet spot for this unique stage in your relationship.
We have included third party products to help you navigate and enjoy life's biggest moments. Purchases made through links on this page may earn us a commission.
Congrats on your engagement! Now that you're getting ready to tie the knot, you're not just shopping for your boyfriend or girlfriend anymore—you've officially leveled up to fiancés. No matter the occasion, choosing a gift for your fiancé deserves a little extra thought in reflection of this special and romantic time in your lives. But don't let that worry you—we've done a little digging on your behalf to find the best gifts to give your fiancé for every occasion—think Christmas, their birthday, or even the anniversary of your engagement.
While there are tons of gift guides out there for husbands and wives that'll work perfectly well for your fiancé, being engaged is a unique stage in your relationship. It's totally normal to want to choose a gift that really reflects your engaged status. Of course, this probably isn't your first time exchanging presents. If your creativity is running low after numerous birthdays, Valentine's Days and holidays spent together, we've got you. There's something on our list for every personality and style, as well as for every occasion.
1. A Love Note, Reimagined
This sweet little gadget hooks up to an app where you can type messages to your other half. Send one and the box's heart will spin, letting your S.O. know when they've received a note. From there, they simply open the lid to reveal what's on the screen. Texts are great, but this feels way more special—especially as a long-distance relationship gift.
2. A Robe Worthy of the Wedding Day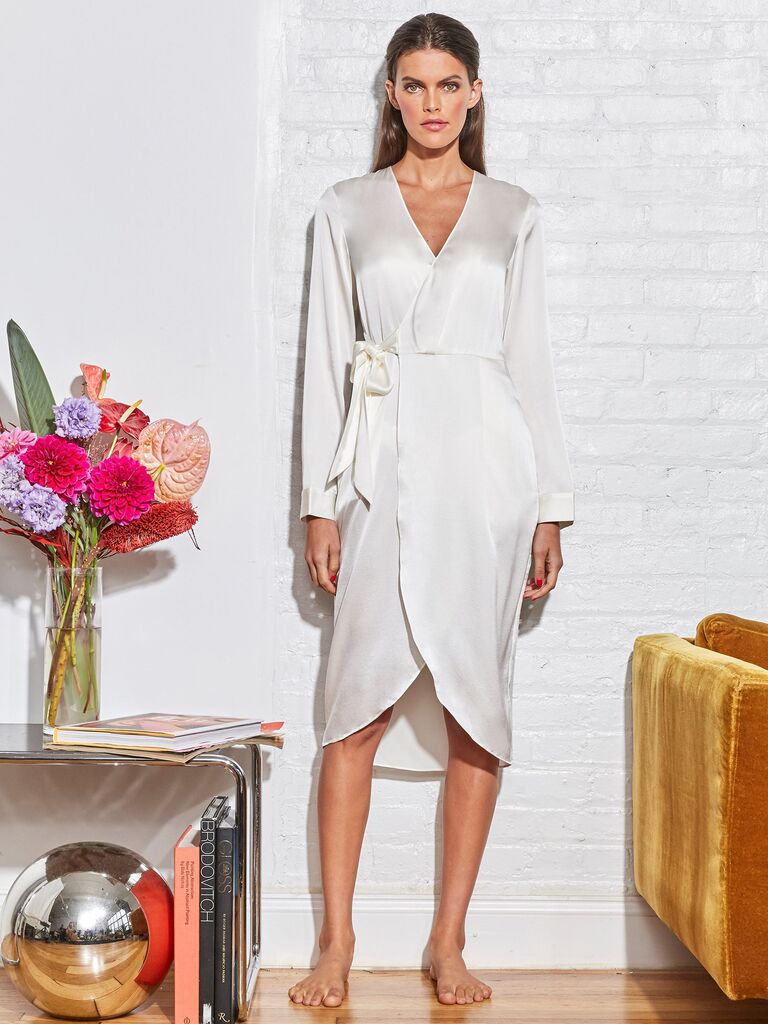 This soft (and stretchy!) silk robe comes in sleek black, classic bridal ivory or the perfect shade of something blue. But that's not all: It's also breathable, thermoregulating and machine-washable. Your bride-to-be can wear it on the morning of (and until then, it'll be a welcome addition to her loungewear). It's the kind of luxurious gift that'll really wow your fiancé on any occasion, whether it's their birthday or Valentine's Day.
3. The Perfect Accessory for a Relaxing Bath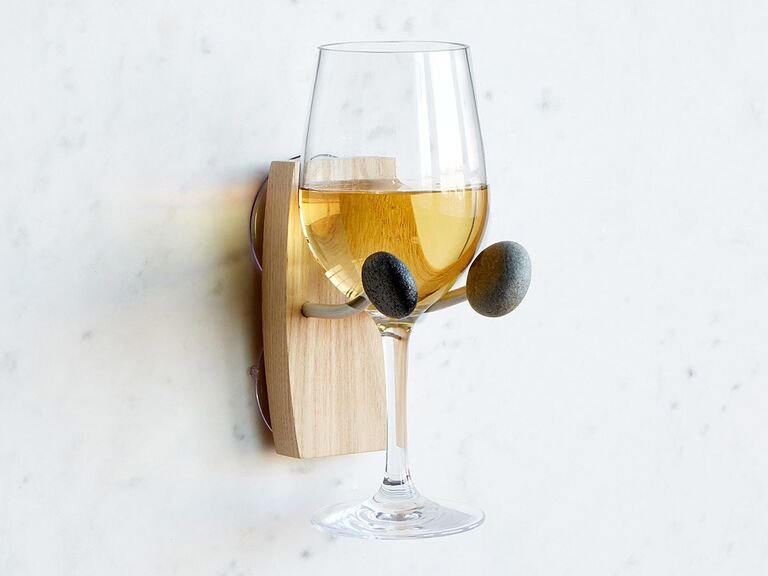 Make long days of wedding planning a little easier with this ingenious accessory. Suction cups allow this chic wine holder to stick to the wall of the bath so your fiancé can sip their favorite vino while soaking in the tub (basically our favorite form of self-care). You can hand it over for any occasion, whether you're shopping for a Christmas gift or just because.
4. A Candle That's Actually Meaningful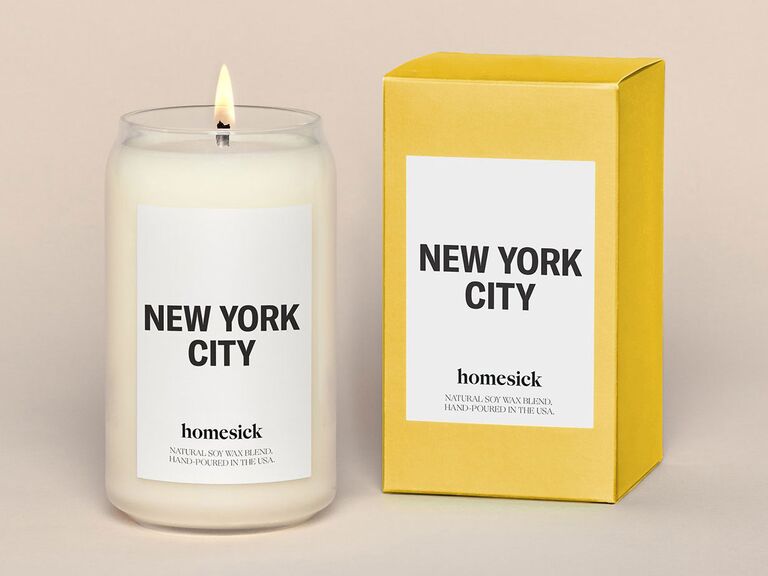 Ever wish you could capture the essence of your favorite place? What about your favorite memory? Either way, Homesick is here to help. The company sells candles that represent meaningful cities, states, countries and moments. It's a cute gift for your fiancé that'll transport them to that special time or place with every whiff.
5. Custom Artwork That Everyone Will "Aww" Over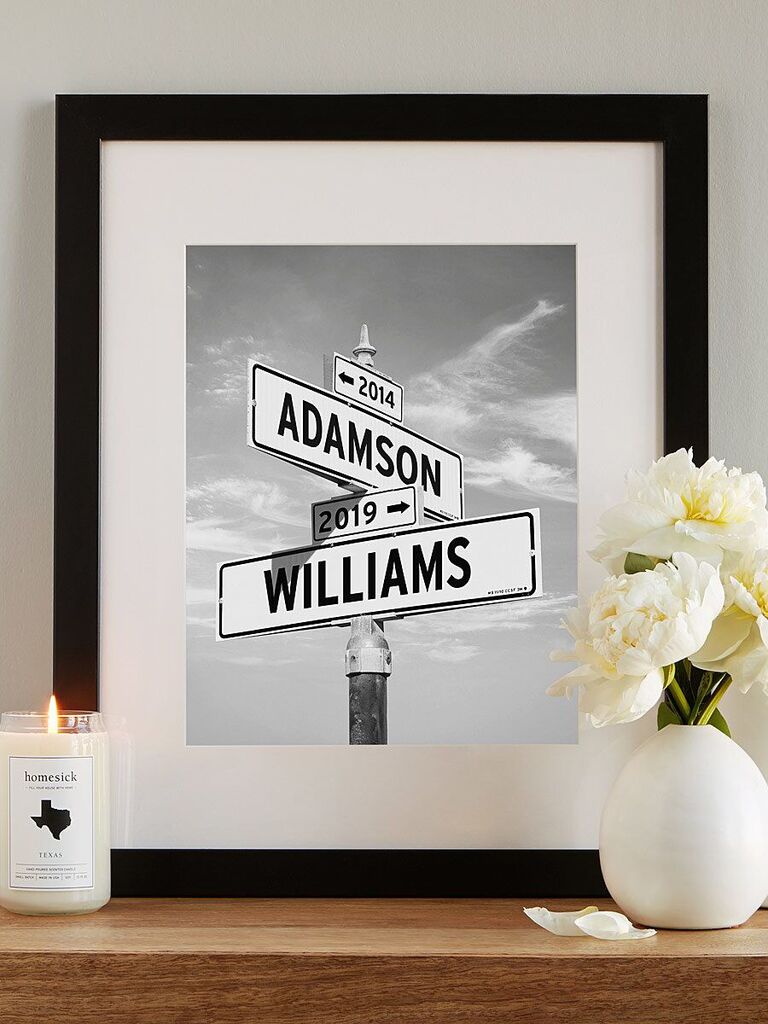 This adorable art piece turns both of your names into intersecting street signs. Bonus: You can add the year you met and your wedding year. It'll serve as a talking piece for years to come.
6. Elevated Loungewear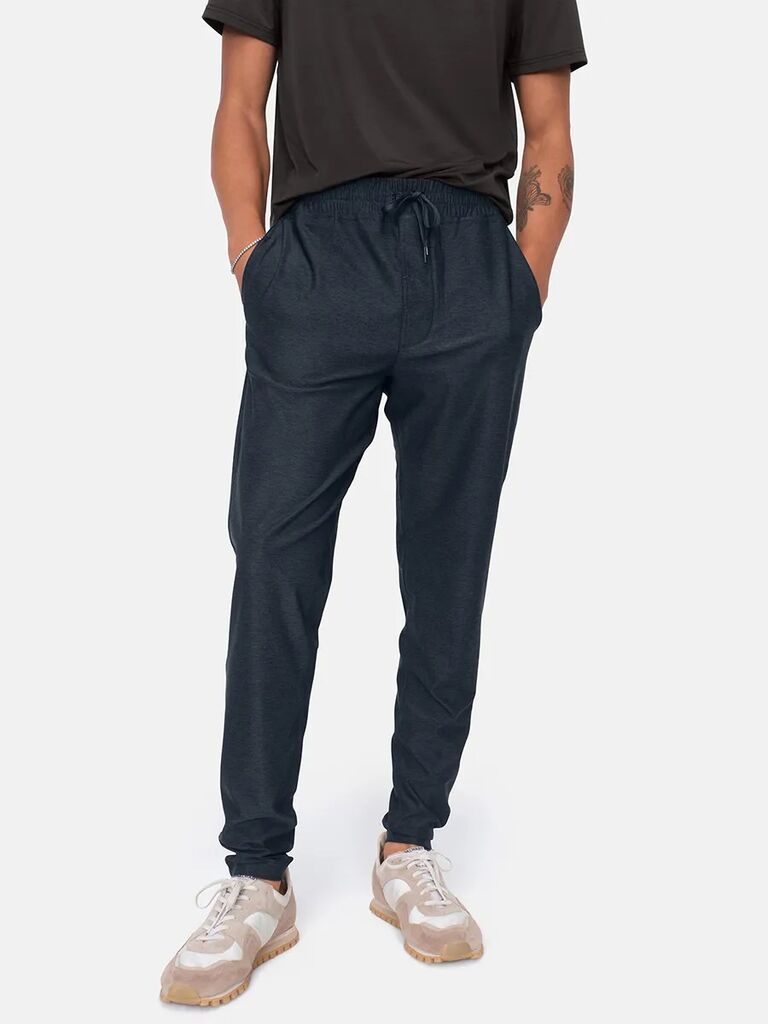 You can officially stop worrying about what to get your fiancé for Christmas, because we've found the perfect gift. These insanely comfy sweatpants are designed for everyday activity and feature a stylish tapered fit. They're a great gift for your fiancé around the holidays, aka the coziest time of year (and yes, they're also available in women's sizes). But don't just take our word for it—check out all the awesome five-star reviews.
7. Roses That Reflect Your Lasting Love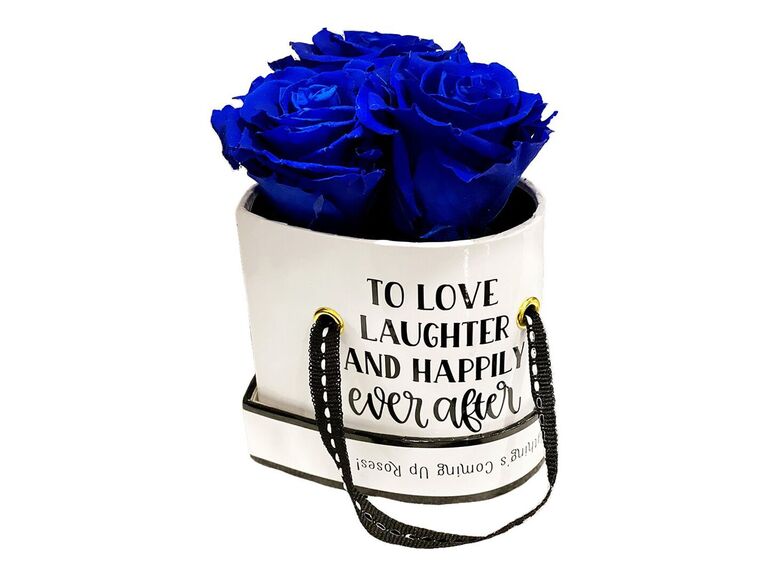 How about something blue? These vibrant preserved roses come in a romantic heart-shaped box with the sweet message: "To love, laughter and happily ever after." Even better, they'll last for up to a year. Still on the fence about it? You can nab 15% off sitewide with our exclusive code THEKNOT15. The search for romantic gifts for your fiancé stops here!
8. A Romantic Pair of Earrings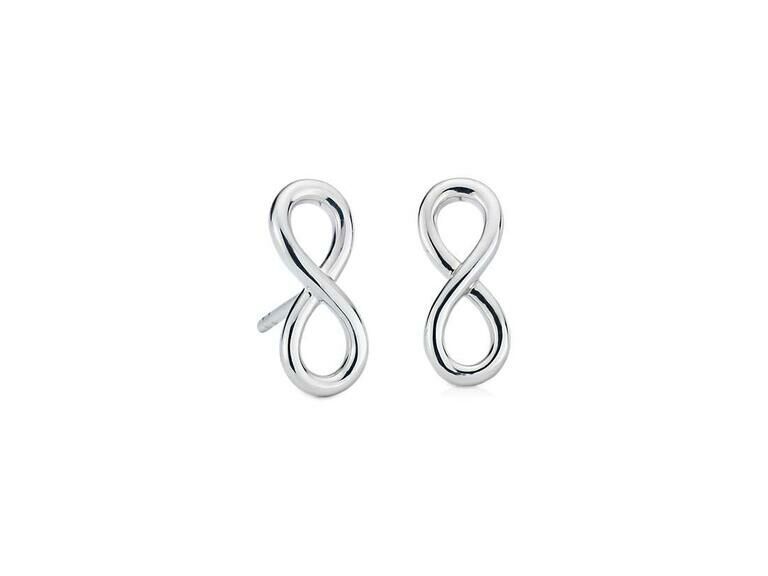 Choose these elegant, everyday studs to represent your eternal love. The earrings, like many of the items on this list, make excellent holiday or birthday gifts for your fiancé. They're made with precious sterling silver that'll maintain its shine over time—just like your relationship.
9. The Cutest Succulent Ever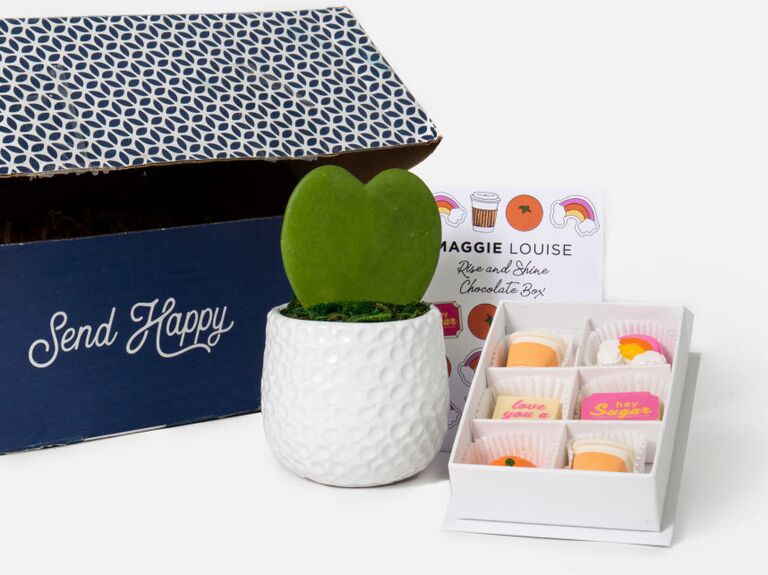 Here's another great alternative to traditional anniversary or birthday flowers: a heart-shaped Hoya plant. How can you not fall in love with something this ridiculously cute? A miniature box of whimsical coffee-themed chocolates adds the finishing touch to this romantic gift.
10. Symbolic Cuff Links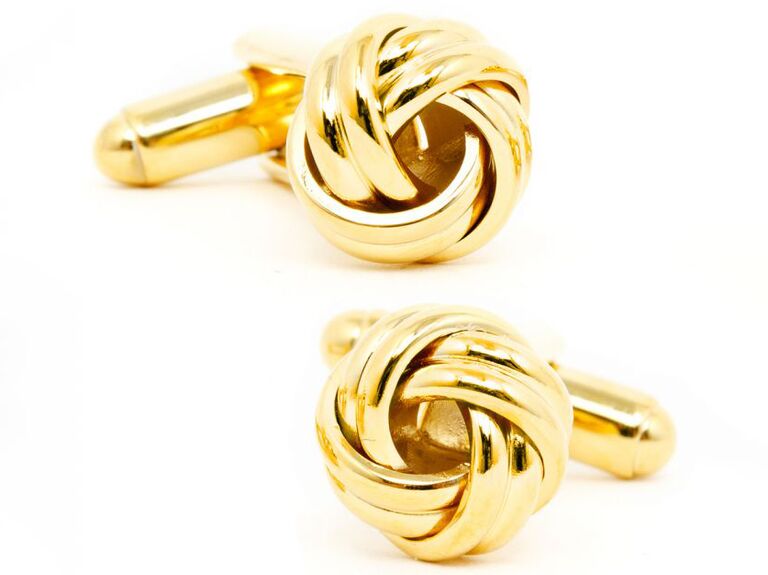 The best gift to give your fiancé is something they can use again and again. Spruce up their formalwear collection with these meaningful cuff links. The knot design represents the strength of your bond, and they're handsome enough for your S.O. to wear on the wedding day.
11. A Chic Ring Dish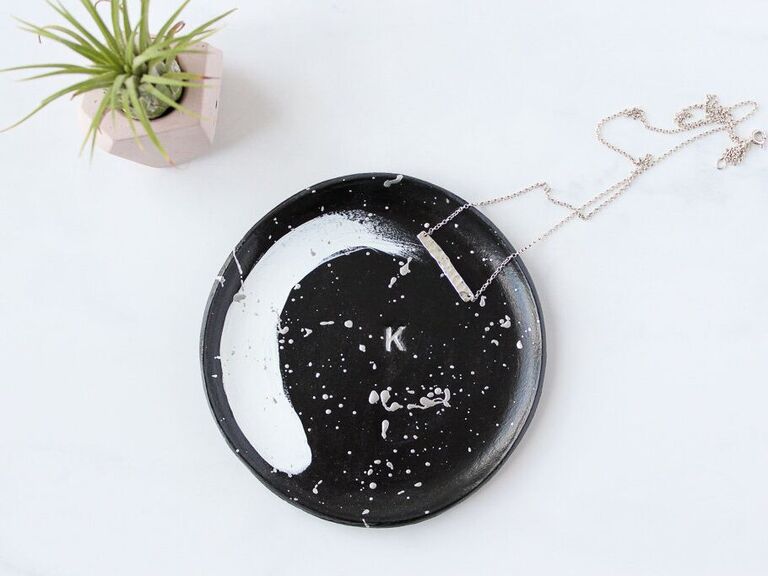 If you're struggling to come up with gift ideas for your fiancé, try something practical. They need somewhere to store their engagement ring, right? And even if they don't, this dish is a great place to drop their keys. Bonus: Have it personalized with their monogram for an extra-meaningful touch.
12. Beautiful Vow Books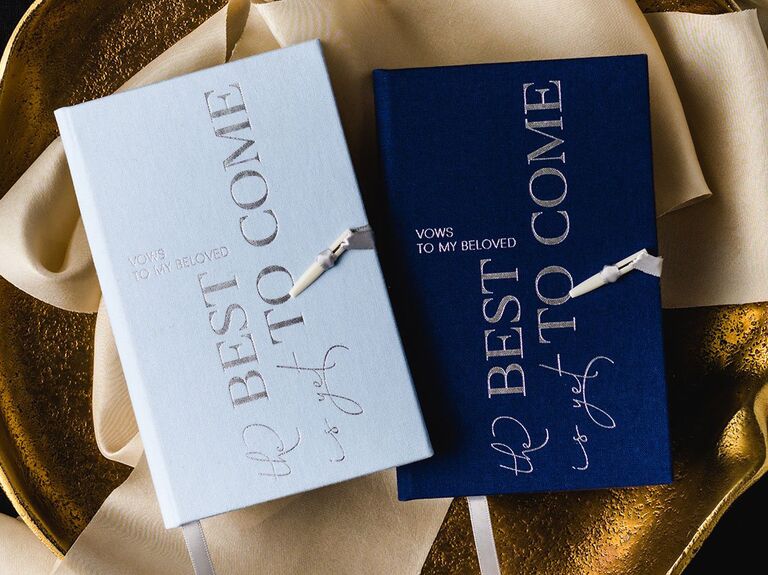 Nothing will show your fiancé how excited you are for the big day more than a pair of gorgeous vow books adorned with the romantic phrase, "The best is yet to come." Each book has 14 ruled pages, inspirational quotes to help jumpstart your creativity, and an attached envelope to include a love note for your first anniversary.
13. A Way to Track Your Travels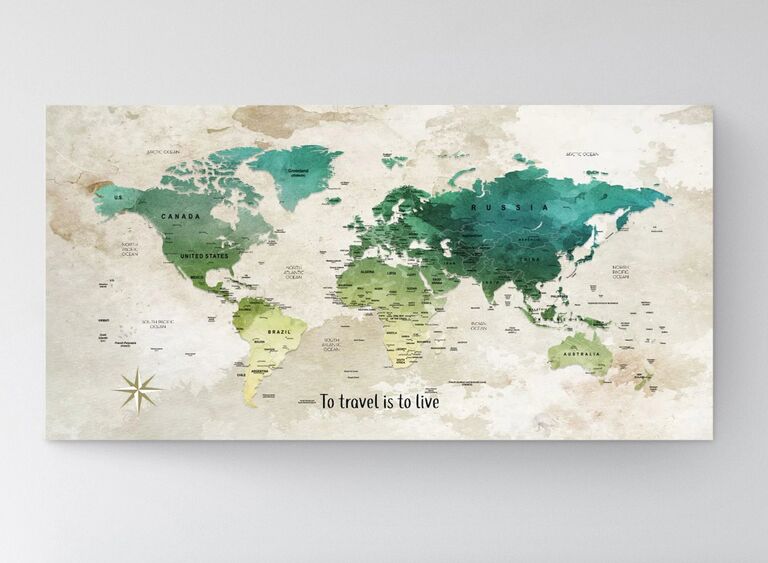 If you plan on traveling the world together, we've found the perfect way to keep tabs on your adventures. This map of the world doubles as a beautiful piece of home decor. It comes with push pins so you can easily mark the countries you've traversed already (or use them to pinpoint the places you want to go next). The ready-to-display canvas comes in four different sizes, so there's bound to be one that works for their space.
14. A Book of Adventurous Date Ideas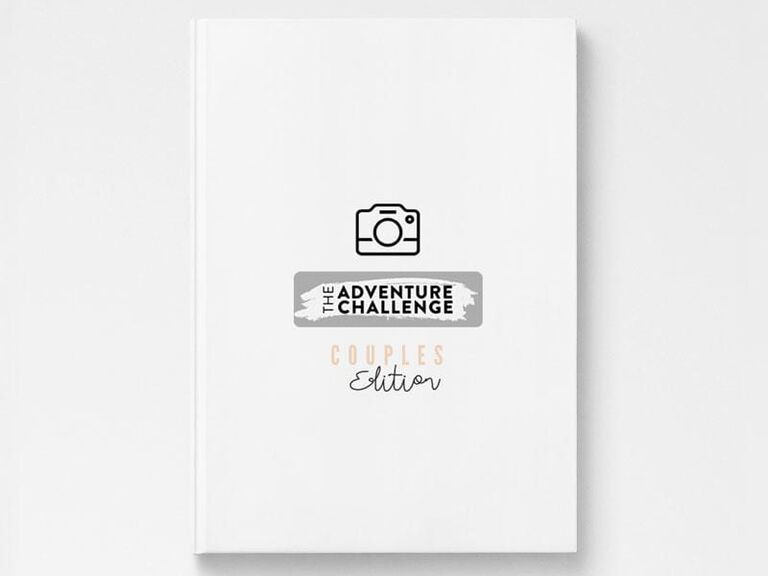 Speaking of adventures, consider giving your fiancé the couple's edition of The Adventure Challenge as a gift. This clever book will add an air of spontaneity to your dates with 50 scratch-off ideas. But there's a catch: You have to commit to an activity before you reveal what it is. Once you've completed everything, the book doubles as a meaningful memory journal. Take it a step further by pairing the Couple's Edition book with its corresponding subscription service. (And get 10% off the entire site with our code THE KNOT10.)
15. A Personalized, Made-for-Instagram Jacket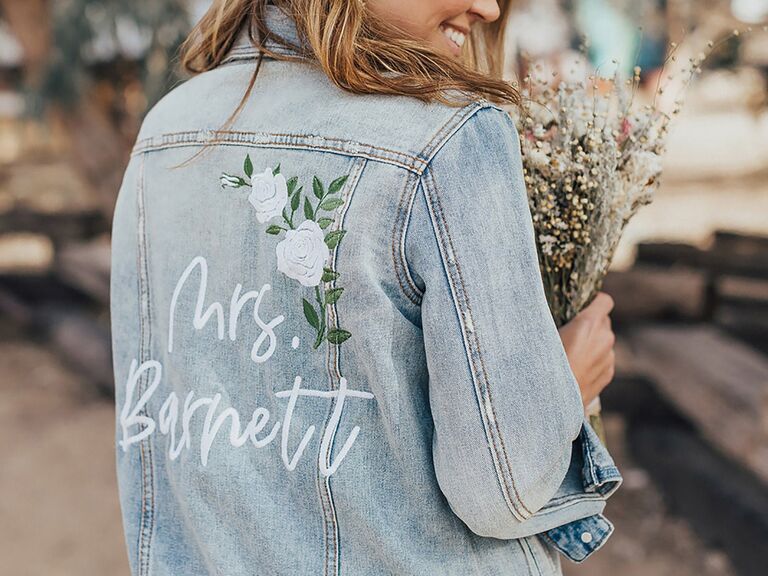 Chances are, they've hearted tons of wedding-worthy jackets like this one on Instagram, so surprise them with their own embellished denim masterpiece. They can wear it for ultra-trendy wedding photos or just in their day-to-day life postwedding.
16. A Rose That's Straight From a Fairy Tale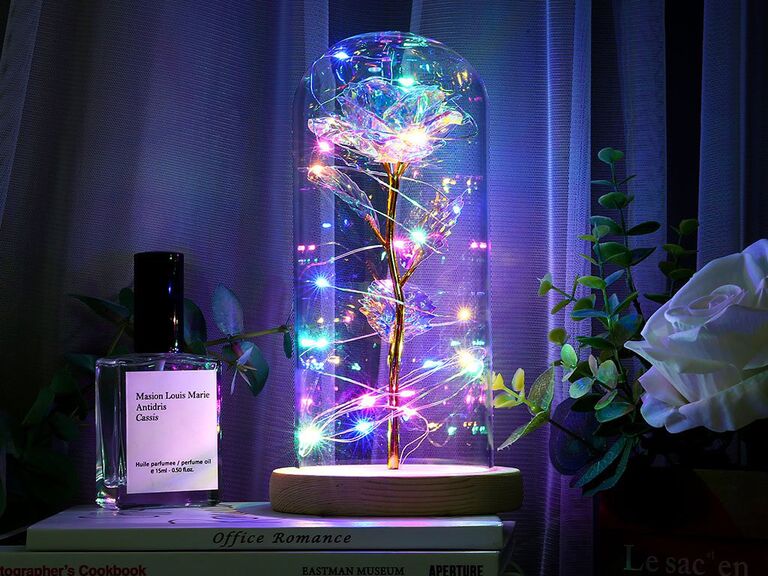 What better way to celebrate the beginning of your happily ever after than with a fairy tale-worthy rose? This Beauty and the Beast-inspired ornament will stand on their shelf as a romantic testament to your love story. The glass dome houses a stunning iridescent rose with a gold stem and colorful fairy lights.
17. A Custom Candy Delivery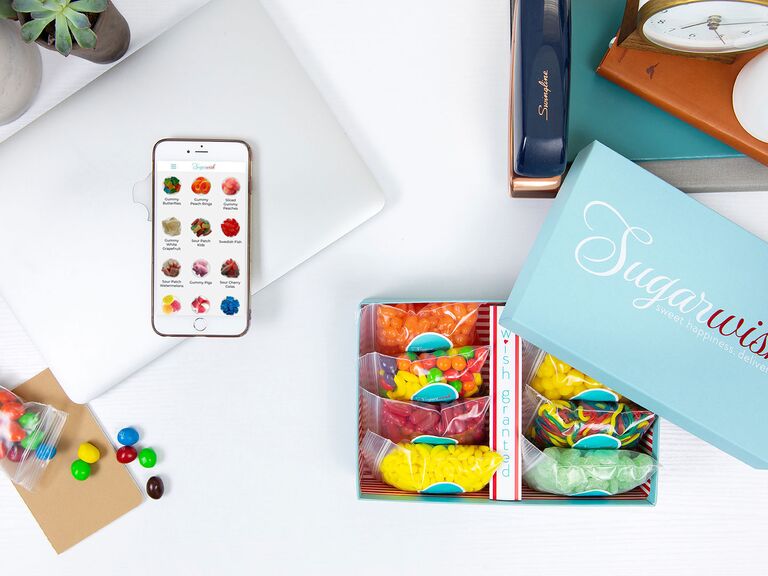 Need a last-minute holiday or birthday gift for your fiancé? Sugarwish will send him or her an e-certificate to order whatever candy they crave. From sour gummies and peanut M&M's to freshly baked cookies and gourmet popcorn, there's bound to be something they love. Now that's a sweet gift!
18. Jewelry Engraved With a Special Date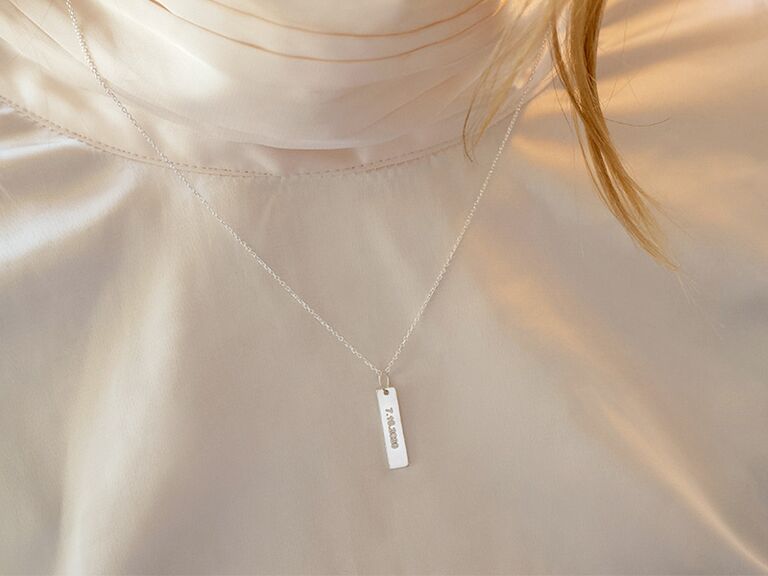 Commemorate the day you both said yes to forever with an engraved necklace. This dainty bar pendant is available in silver or 14-karat gold. It's subtle enough to wear on the daily and small enough to tuck away beneath their shirt too.
19. A Stylish Watch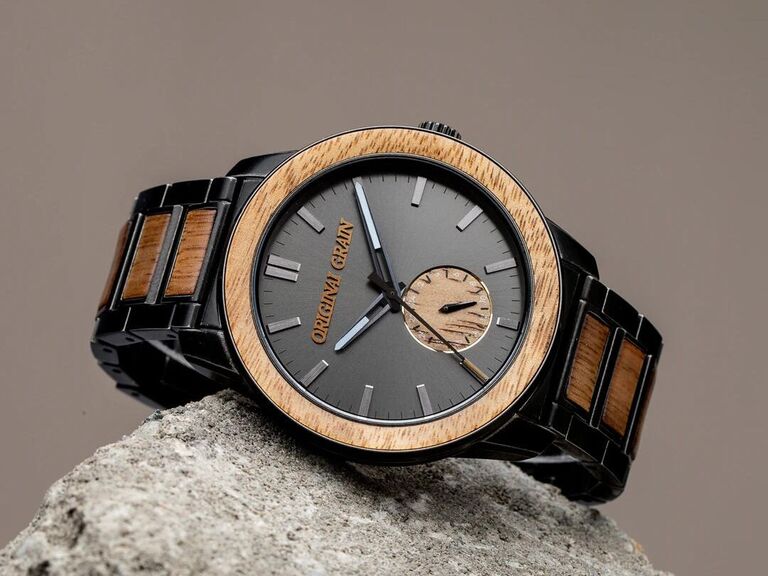 Whether you're reciprocating a proposal or you're just shopping for their birthday, a watch is a classic gift for a fiancé. This unique timepiece, made from wood and steel, is bound to rake in the compliments. Plus, you can have it engraved with their name, a meaningful date or a romantic message like "I will always love you."
20. A Mug With a Side of Humor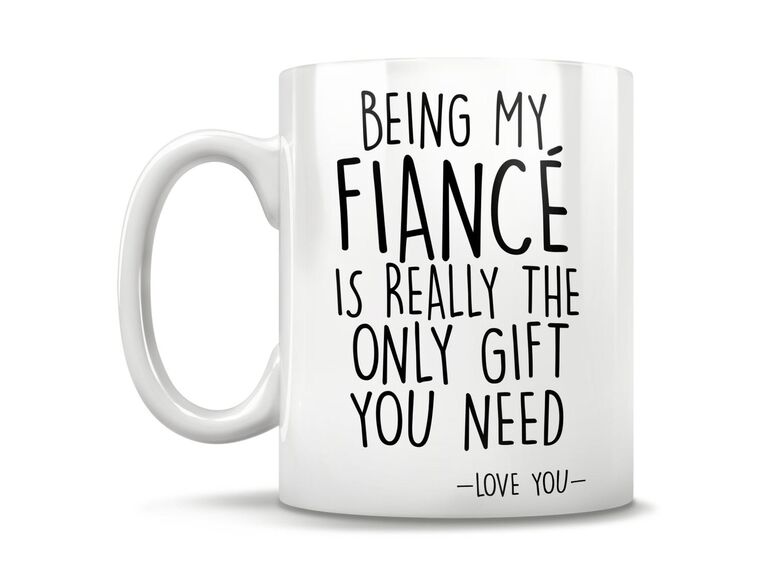 If they're always joking around, find a gift for your fiancé that'll make them laugh. This coffee mug reads: "Being my fiancé is really the only gift you need." Pair it with some of their favorite coffee for a present that's actually really useful (and just a little sassy).
21. A Memento of Your Engagement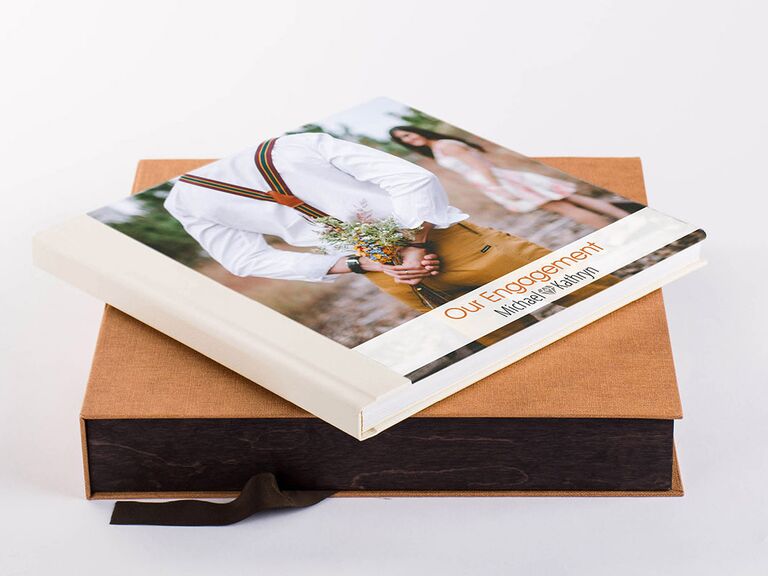 Running out of cute Christmas or birthday ideas for your fiancé? Use PikPerfect's online tools to create a custom photo book showcasing your favorite engagement photos. The site has a selection of styles, from professional flush mount albums to beautiful lay flats. If you haven't taken photos to commemorate your to-be-wed status, why not surprise your fiancé with an engagement photo session instead? Just connect with a local photographer to set a time and place. (Oh, and make sure to give your other half some advance notice so they can plan what to wear.)
22. Ingredients for the Perfect Cocktails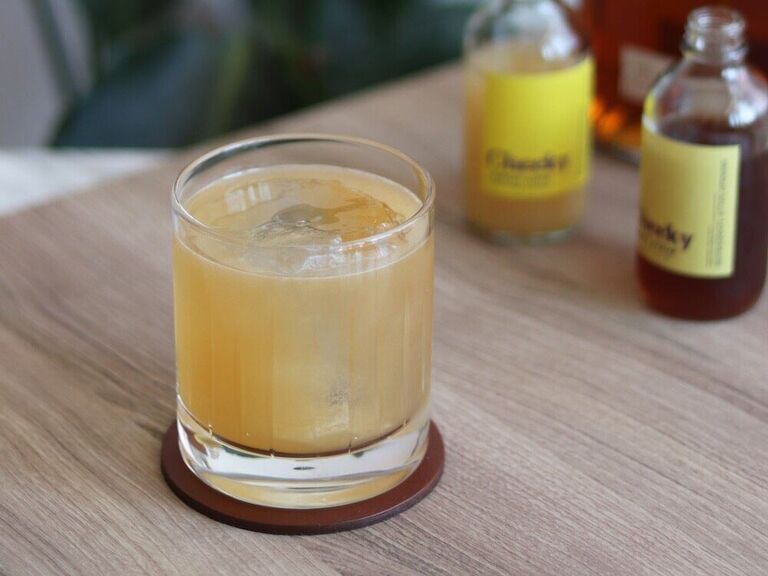 Let your S.O. know they hit the jackpot when they got engaged to you with this delightful Gold Rush cocktail kit. It includes everything but the booze, so you might want to order a bottle of their favorite bourbon too.
23. A Romantic Treasure Hunt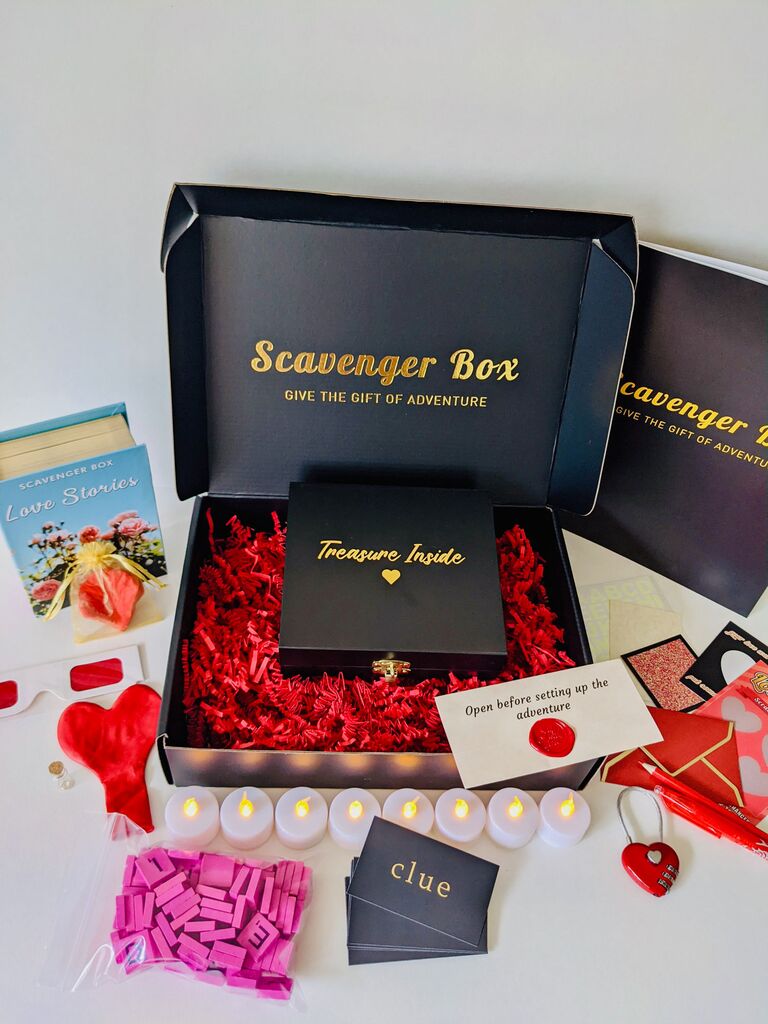 If you and your fiancé are all about the romance right now, this unique idea will blow them away. Scavenger Box contains everything you need to set up an exciting treasure hunt complete with romantic details like rose petals, LED candles and a treasure chest with a heart-shaped lock. There are also clue cards and puzzles for your S.O. to figure out along the way.
24. A Chance to Express Your Creativity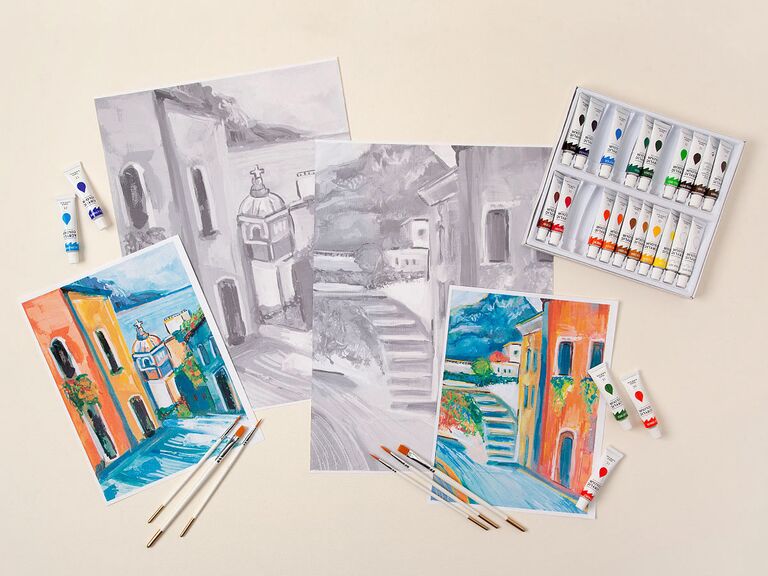 This virtual paint class for couples is an excellent birthday or Christmas gift for your fiancé because it's also a promise to spend some quality time with him or her. Simply choose a date to attend the class from the list of available options and wait for your paint-by-shadows kit to arrive in the mail—no previous painting experience necessary.
25. A Commemorative Christmas Ornament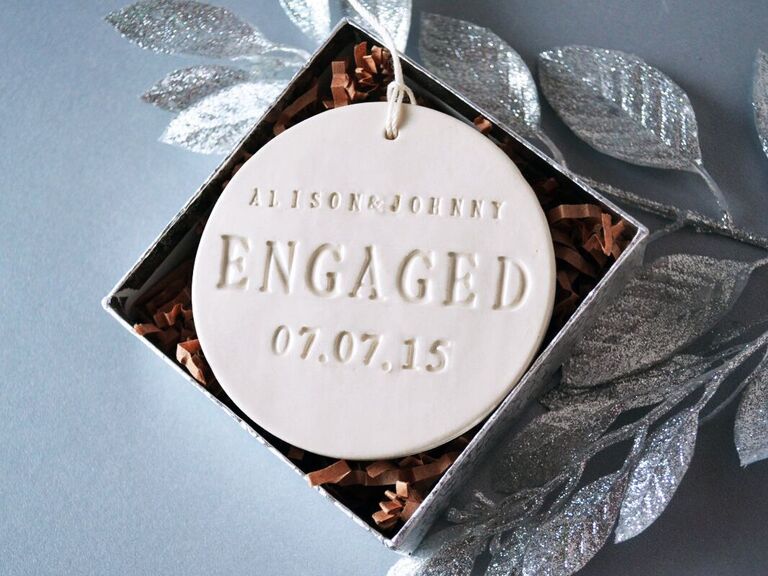 When it comes to Christmas presents for your fiancé, you can't go wrong with a personalized ornament, especially if they love sentimental holiday decor. Every year that you look at your tree, you'll be reminded of this special time in your lives courtesy of this classic ornament. It's undoubtedly one of the best Christmas gifts for a fiancé.
26. A Wallet Engraved With a Secret Message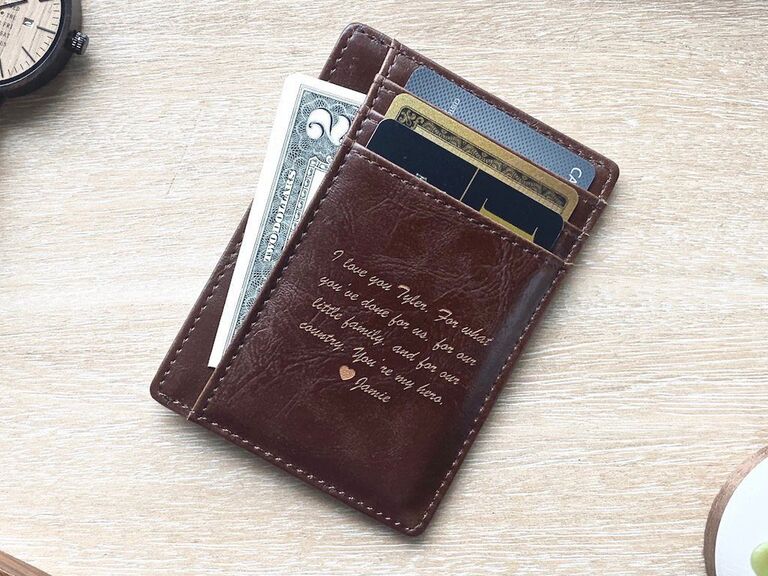 This slim leather wallet will fit right into their front pocket for easy on-the-go storage. It has seven card slots, one clear ID sleeve and a pocket for stashing cash. But that's not all, there's also a space to engrave a personal message they can carry with them wherever they go. It's a sweet, personalized gift, whether you're looking for holiday, Valentine's Day or birthday ideas for your fiancé.
27. Art That Honors Your Engagement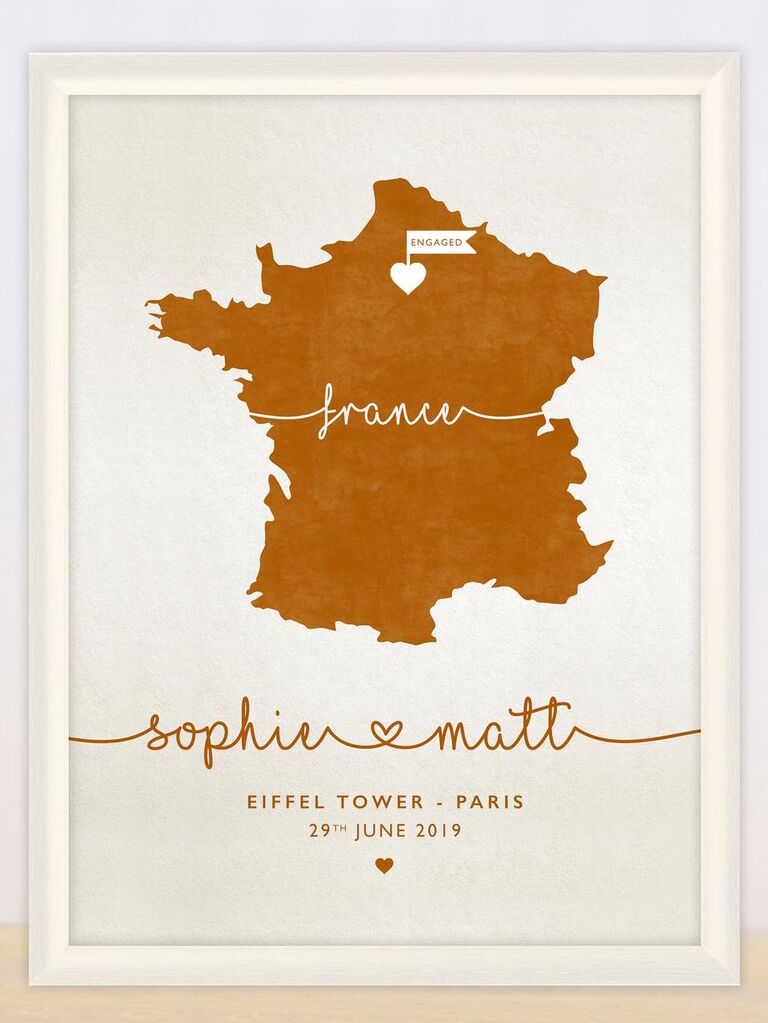 Still looking for something special for your fiancé? Celebrate this unique milestone with a custom print of where and when they (or you) popped the question. It's the perfect gift for the sentimental fiancé on their birthday, for the holidays or as a surprise at the engagement party. Buy the digital download for a little DIY project or order a framed print that's ready to hand over right away—the choice is yours.
28. A Tribute to Your Other Best Friend (Your Pet)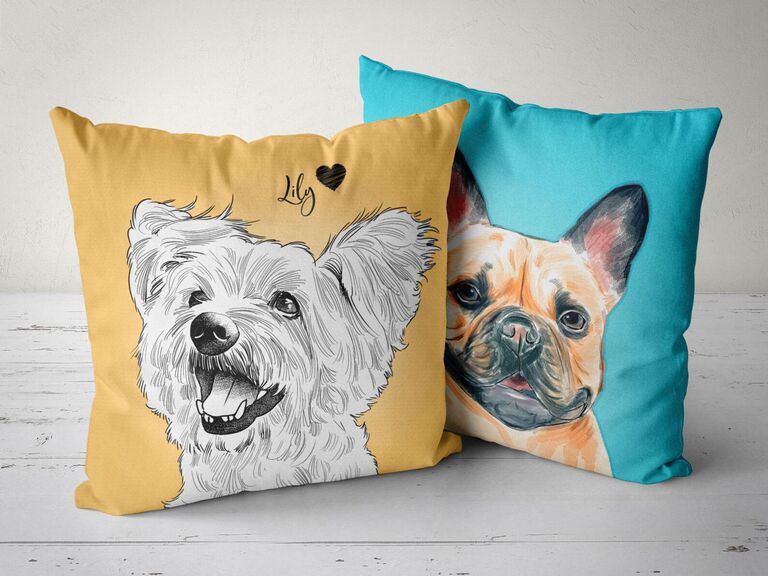 Everyone loves their pets, but some people really love their pets. If you know what we're talking about, you know your fiancé will love this pillow inspired by their furry friend.
29. A Unique Money Clip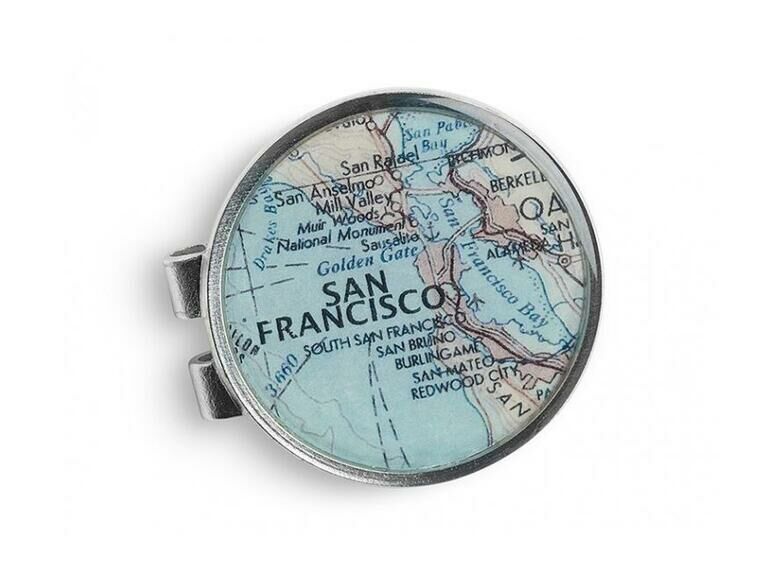 This money clip comes made-to-order with the map of your choosing. Pick a meaningful location to showcase, be it the spot where the proposal happened, your future wedding destination or the place you first met. Customized gifts for your fiancé like this thoughtful idea will always be a hit.
30. A Super-Thoughtful Subscription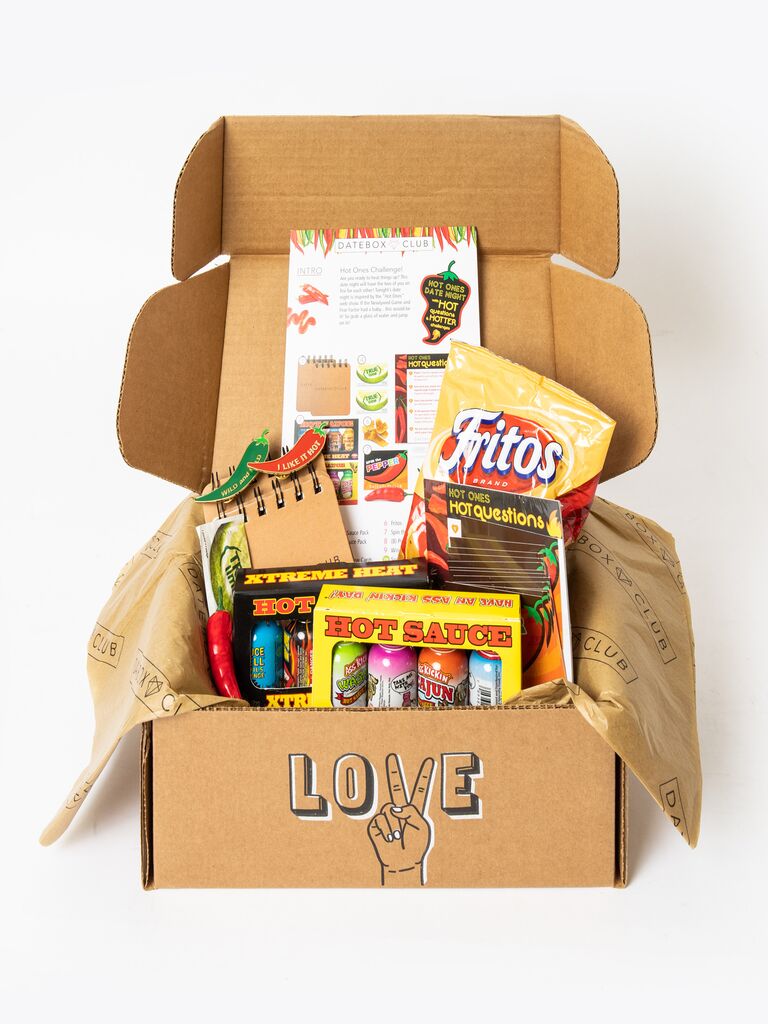 Just because you're engaged to be married doesn't mean you can't still go on dates (with each other, that is). Keep the romance alive by gifting your fiancé a subscription to DateBox Club. Each month, you'll receive a delivery of all the necessary goodies to enjoy a fun and memorable date night at home together. Previous boxes have included painting materials, trivia cards, a love story journal, crafty DIY kits and more.
31. A Meaningful Montage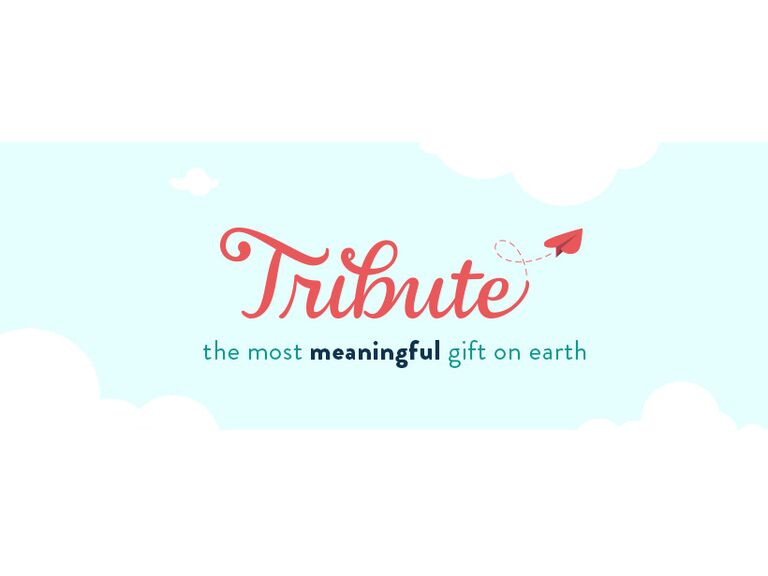 Spread the love with a sweet montage of messages from all their nearest and dearest. This unique service lets you reach out to friends and family via email with fun and sentimental video prompts. Afterward, you get to put it all together using Tribute's online editing tools. If you're looking for gifts for your new fiancé, this is an excellent opportunity for loved ones to say congrats.