31 Creative Fiancé Gifts for the Holidays, Their Birthday and Beyond
These presents hit the sweet spot for this unique stage in your relationship.
We have included third party products to help you navigate and enjoy life's biggest moments. Purchases made through links on this page may earn us a commission.
The internet is chock-full of gift ideas for husbands and wives, and we can't even count the amount of gift guides out there for boyfriends and girlfriends. Don't get us wrong—plenty of those presents work perfectly well as gifts for your fiancé. But it's high time we gave soonlyweds their own inspiration.
Right now, you're at a special stage, so you probably want to up the ante a little. But your creativity is also running dry—this isn't your first gift to your S.O., plus you're already exhausted from picking registry presents. Well it just so happens it's your lucky day, because we've done all the research for you. Here, shop dozens of great gifts for fiancés. There's something for every personality and style, as well as for every occasion—think Christmas, their birthday, or even the anniversary of your engagement.
1. A Love Note, Reimagined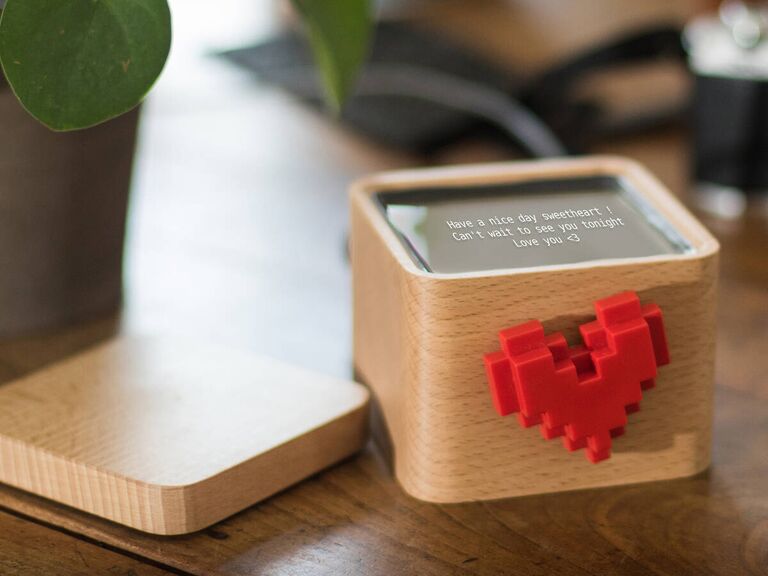 This sweet little gadget hooks up to an app where you can type messages to your other half. Send one and the box's heart will spin, letting them know when they've received a note. From there, they simply open the lid to reveal what's on the screen. Because texts are great, but this feels way more special—especially as a long-distance relationship gift.

Marie Poulle and Jean Gregoire Lovebox spinning heart messenger, $100, UncommonGoods.com
2. A Robe Worthy of the Wedding Day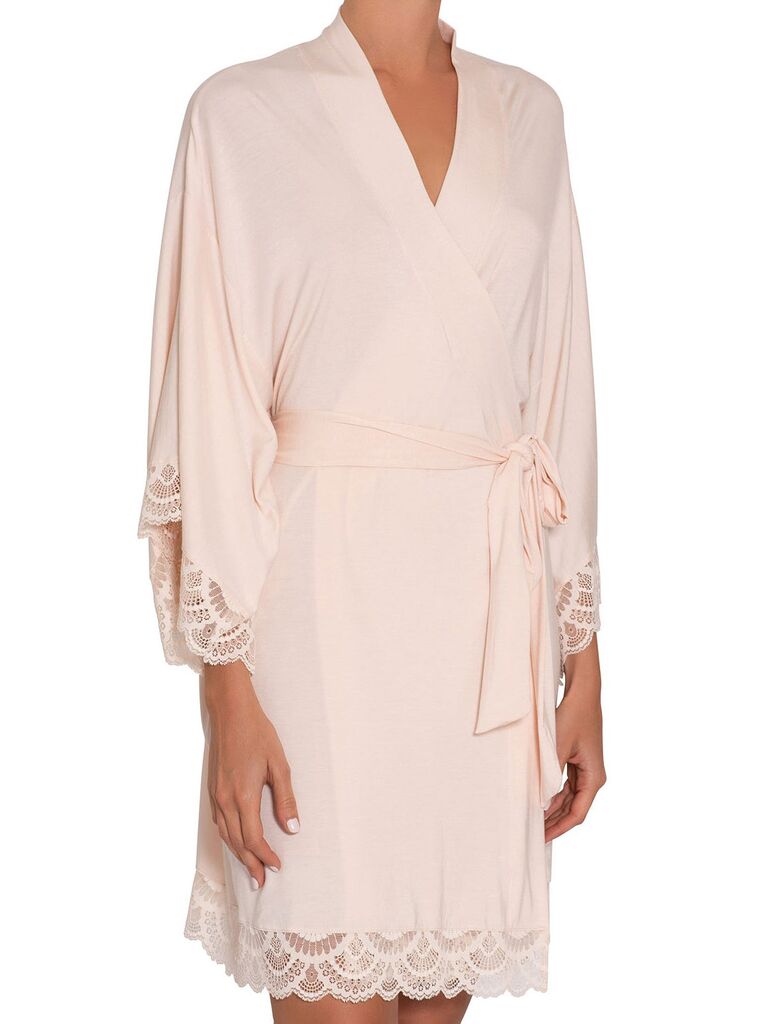 This elegant kimono comes in bridal blue or blush, perfect for your bride-to-be on the morning of. In the meantime, it'll seriously level up her loungewear.

Eberjey Marry Me Mademoiselle kimono robe, $111, Eberjey.com
3. The Perfect Accessory for a Relaxing Bath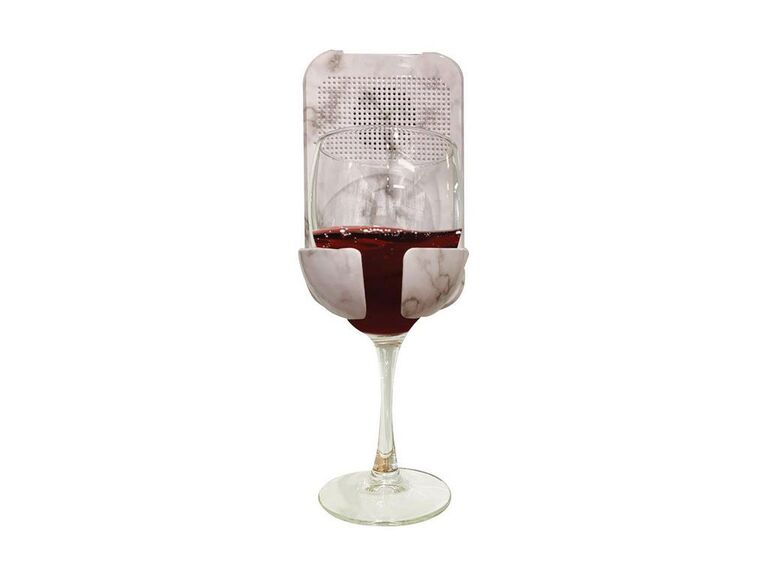 We know wedding planning can get stressful. A long soak with some tasty wine is the perfect antidote. The best part about this gift is that it doubles as a shower speaker. Now that's what we call self-care.

Gabba Goods bath wine holder and Bluetooth speaker, $20, GameStop.com
4. A Candle That's Actually Meaningful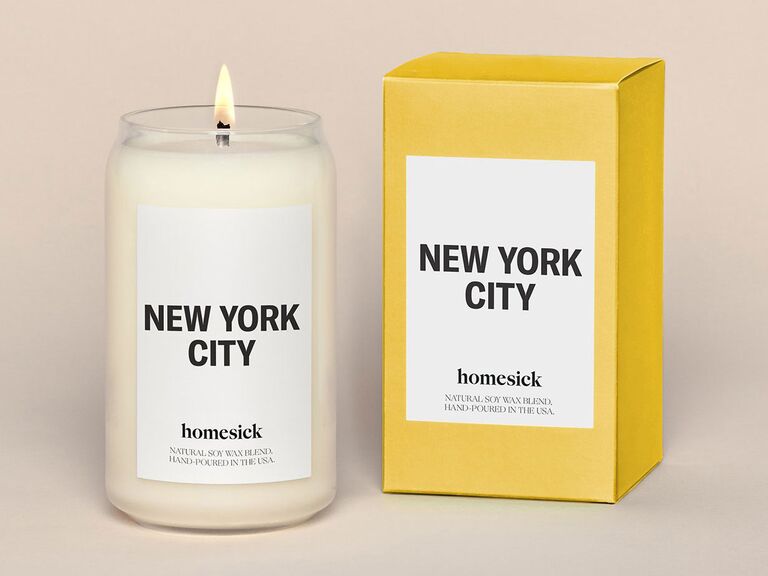 Ever wish you could capture the essence of your favorite place? What about your favorite memory? Either way, Homesick is here to help. The company sells candles that represent meaningful cities, states, countries and moments.

Homesick candle, $34, Homesick.com
5. Custom Artwork That Everyone Will "Aww" Over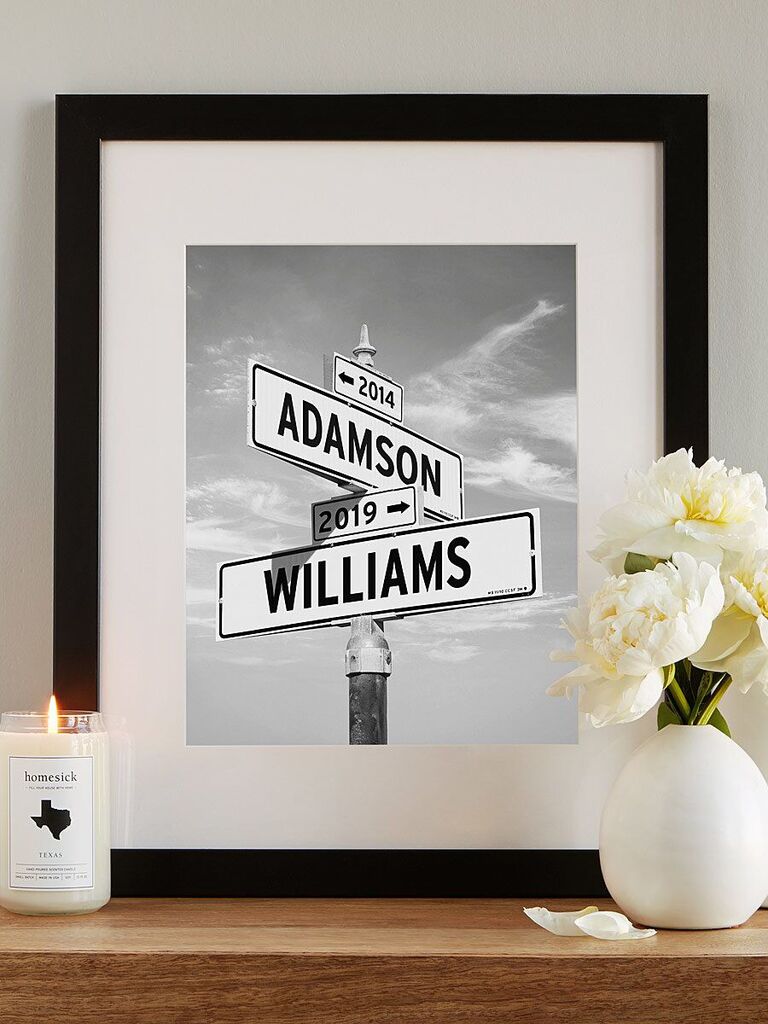 This adorable art piece turns both your names into intersecting street signs. Bonus: You can add the year you met and your wedding year. It'll serve as a talking piece for years to come.
Patricia Carlin Intersection of Love photo print, from $75, UncommonGoods.com
6. Elevated Loungewear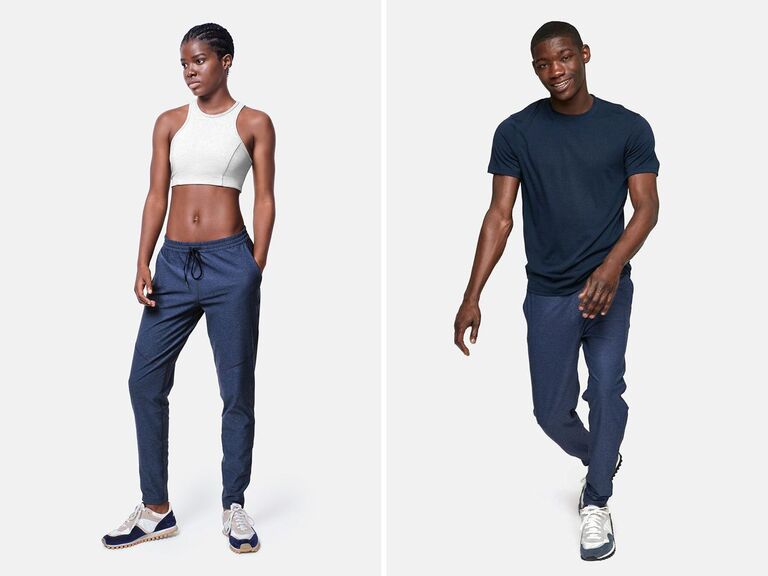 Now more than ever, sweats are a wardrobe staple. Upgrade your other half's collection with a cozy pair of these Sunday sweatpants they'll want to wear every day of the week. They make for a great gift for your fiancé around the holidays, aka the coziest time of year. (But don't just take our word for it—check out all the awesome five-star reviews.)

Outdoor Voices women's Sunday sweatpants, $78, OutdoorVoices.com; Outdoor Voices men's Sunday sweatpants, $88, OutdoorVoices.com
7. Roses That Reflect Your Lasting Love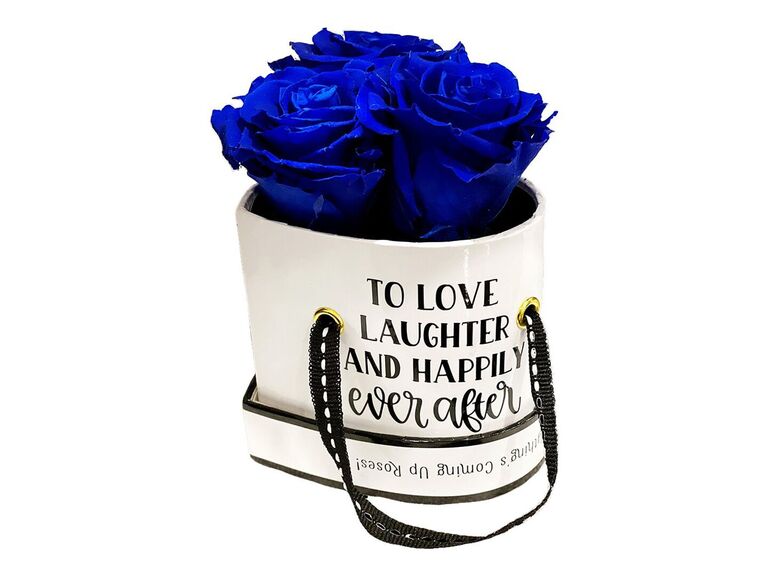 How about something blue? These vibrant preserved roses come in a romantic heart-shaped box with the sweet message: "To love, laughter and happily ever after." Even better, they'll last for up to a year. The search for romantic gifts for you fiancé stops here!

Rosepops The Blue Skies preserved roses, $80, Rosepops.com
8. The Cutest Succulent Ever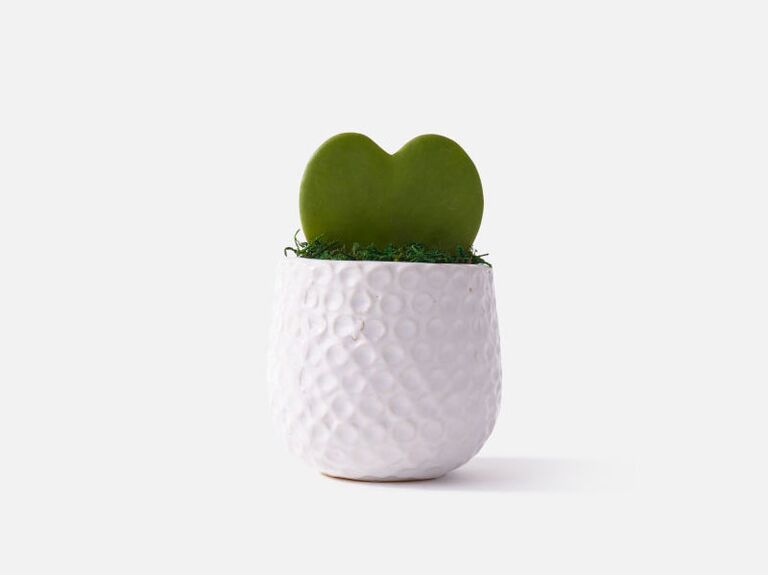 Here's another great alternative to traditional anniversary or birthday flowers: a heart-shaped Hoya plant. How can you not fall in love with something this ridiculously cute?

UrbanStems The Hoya, $35, UrbanStems.com
9. A Romantic Pair of Earrings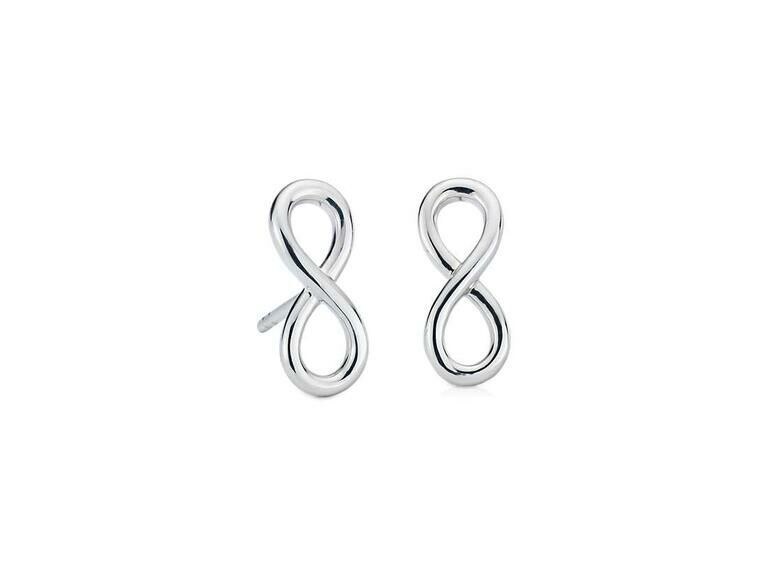 Get these elegant, everyday studs to represent your eternal love. The earrings, like many of the items on this list, make excellent Christmas or birthday gifts for your fiancé.

Blue Nile infinity stud earrings, $70, BlueNile.com
10. Symbolic Cuff Links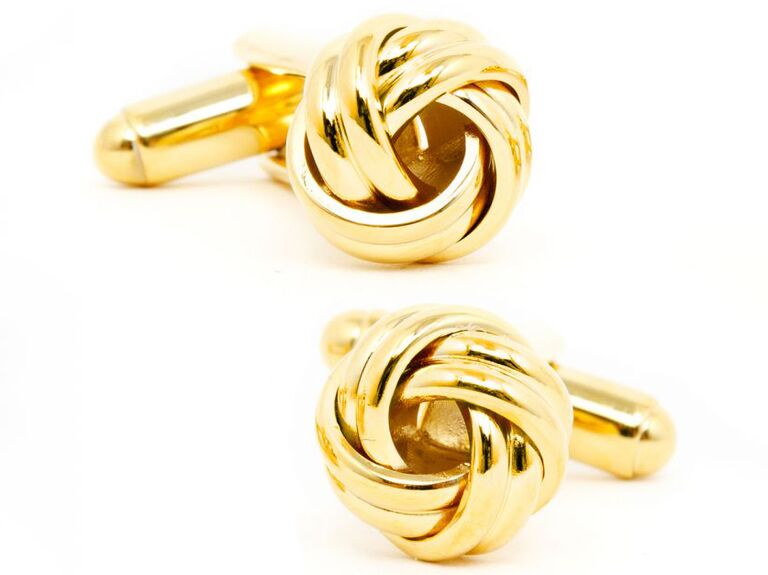 The best gift to give your fiancé is something they can use again and again. Spruce up their formalwear collection with these meaningful cuff links. The knot design represents the strength of your bond, and they're handsome enough for your S.O. to wear on the wedding day.
Ox and Bull Trading Co. gold knot cufflinks, $55, Cufflinks.com
11. A Chic Ring Dish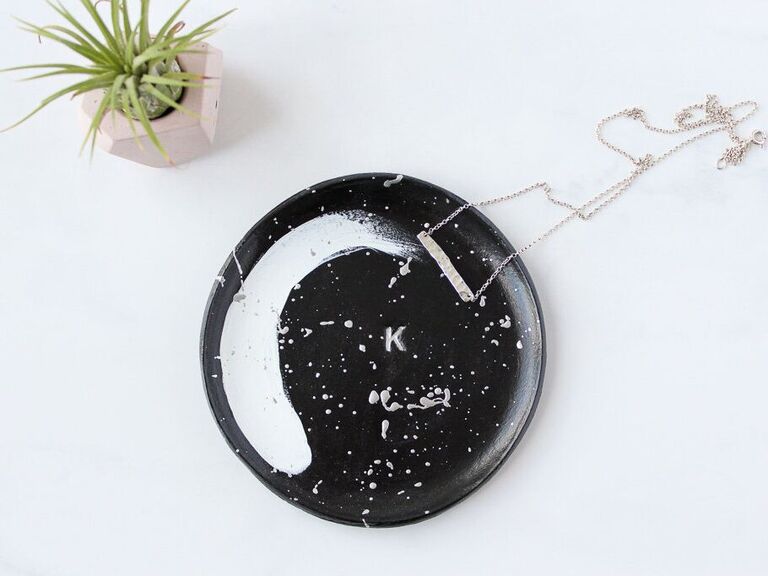 If you're struggling to come up with gift ideas for your fiancé, try something practical. They need somewhere to store their engagement ring, right? And even if they don't, this dish is a great place to drop their keys.

House & Honey black splatter ring dish, from $33, Etsy.com
12. A Different Kind of Diamond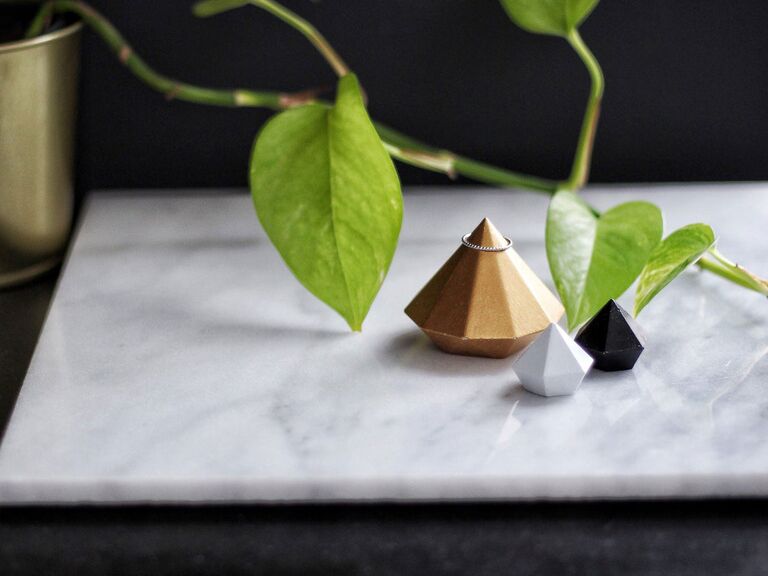 We also love these diamond-shaped ring holders, which feel extra appropriate for a fiancé. They're sold as a set of three and they double as decor.

Mind the Minimal Gold Trinity concrete diamonds, $21, Etsy.com

13. This Affectionate Ice Cream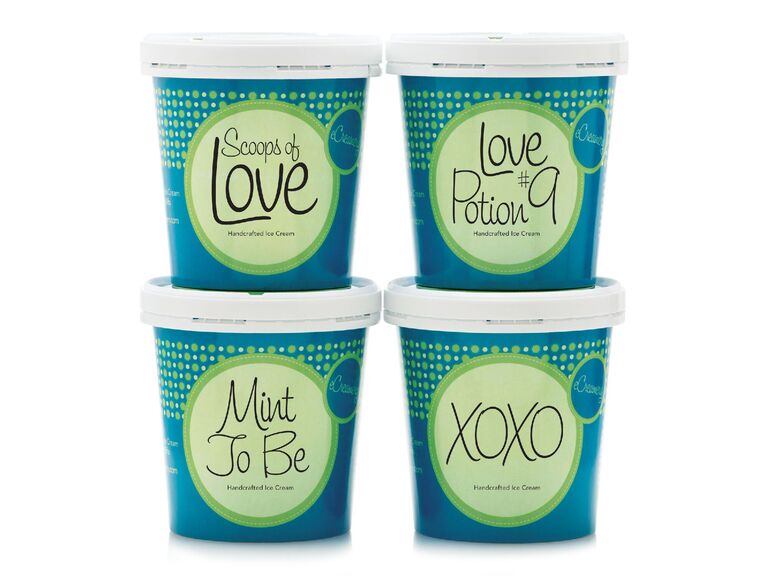 These frozen treats can't be beat. That's because each deliciously sweet flavor comes with an even sweeter name, from "Scoops of Love" to "Mint to Be." The best part? You can order them for any occasion, whether you're shopping for a Christmas gift or just because.

eCreamery Sweethearts premium collection, $70, eCreamery.com
14. A Bag That'll Make Them Feel Fancy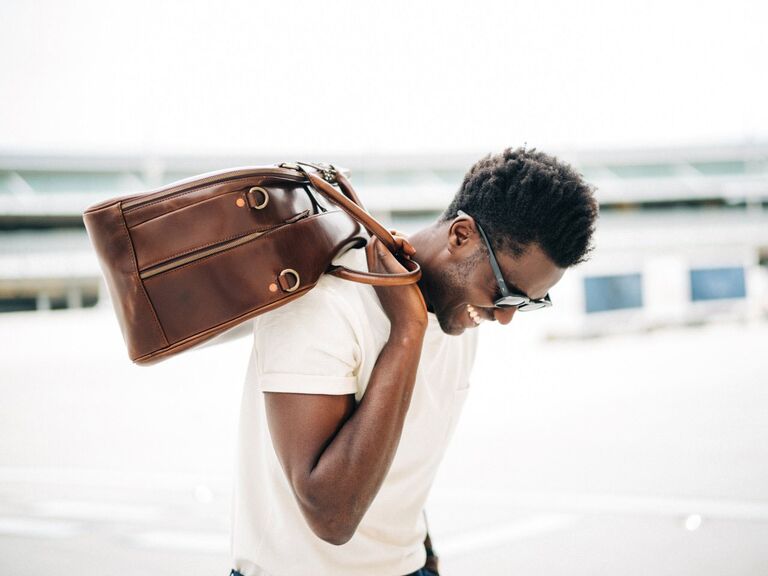 Upgrade their old duffel before the honeymoon. This ultra-luxe leather carryall is a gift that'll really wow your fiancé on any occasion, whether it's their birthday or Valentine's Day.

Satchel & Page carry all, $555, SatchelandPage.com
15. A Personalized, Made-for-Instagram Jacket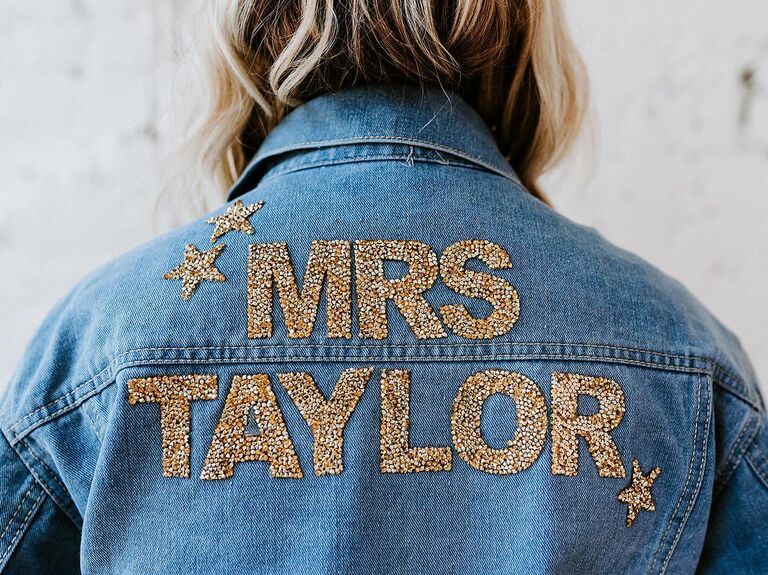 Chances are, they've hearted tons of jackets like this one on Instagram. So surprise them with their own embellished denim masterpiece. They can wear it for ultra-trendy wedding photos or just in their day-to-day life postwedding.

The Brodie Bride Mrs. denim jacket, $128, Etsy.com
16. Handmade, Sustainable Jewelry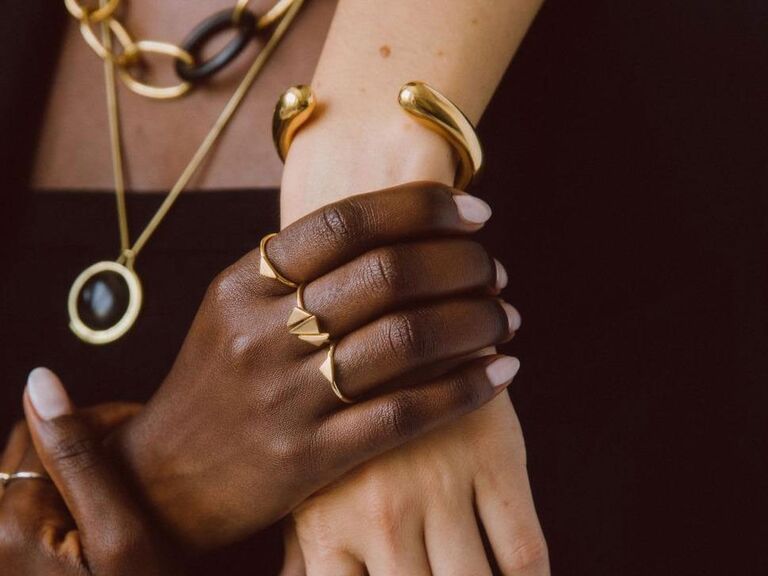 SOKO's distinctive jewelry is ethically made by artisans in Kenya. It's a good gift for the fiancé who wants to know where their fashion comes from.

SOKO Delicate Dash cuff bracelet, $98, ShopSOKO.com; SOKO Asili stacking rings, $88, ShopSOKO.com
17. A Custom Candy Delivery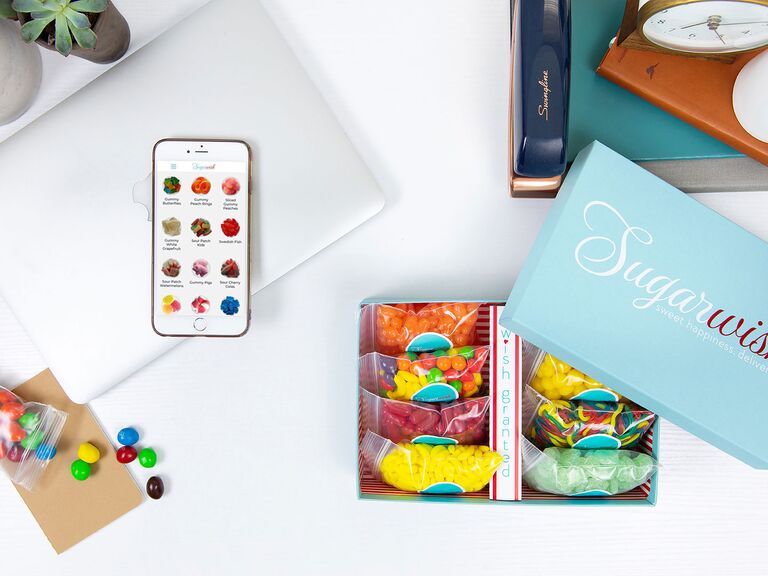 Need a last-minute holiday or birthday gift for your fiancé? Sugarwish sends them an e-certificate to order whatever candy they crave. Now that's a sweet gift.

Sugarwish candy Sugarwish, from $20, Sugarwish.com
18. A Subscription Box Tailored to Their Tastes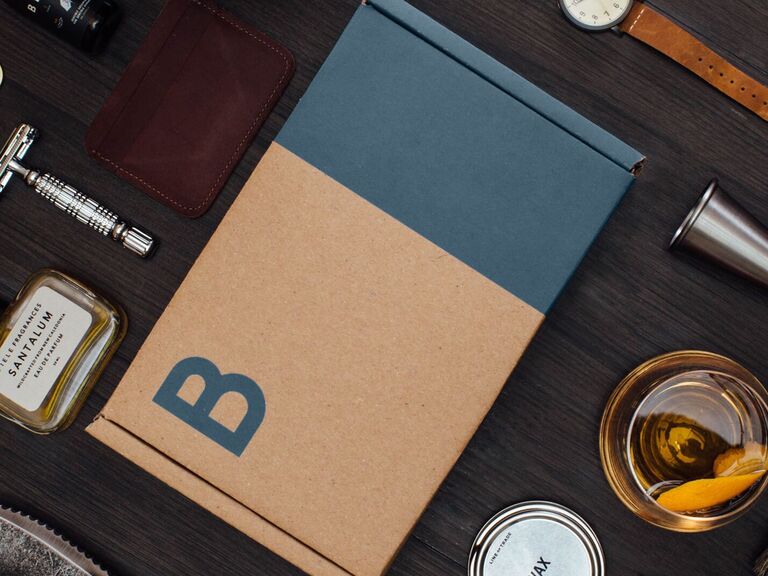 Sign your sweetheart up for a curated subscription box full of interesting and practical presents they'll actually use. From barware and grooming accessories to home decor and tech, there are lots of awesome categories to choose from. 
Bespoke Post subscription membership, $45 per box, BespokePost.com
19. A Stylish Watch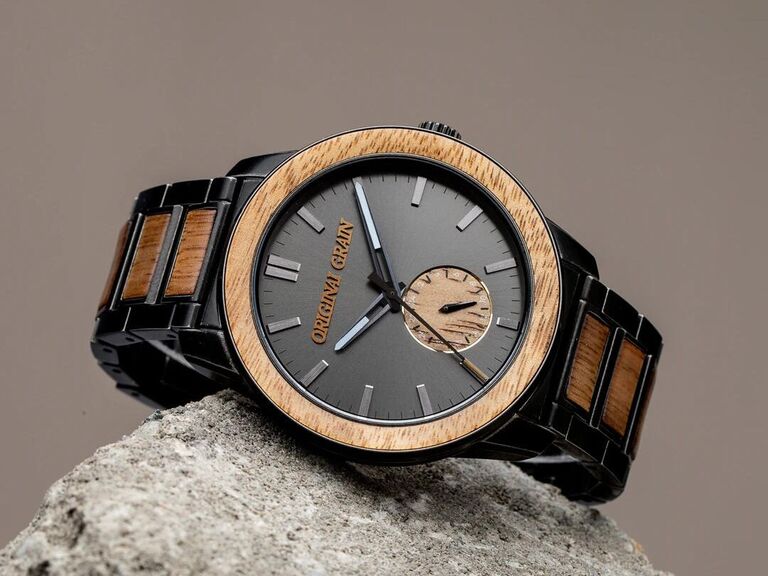 Whether you're reciprocating a proposal or you're just shopping for their birthday, a watch is a classic gift for a fiancé. This unique timepiece is made from wood and steel, and is bound to bring in the compliments.

Original Grain men's Koa 46mm barrel watch, $329, OriginalGrain.com
20. A Mug With a Side of Humor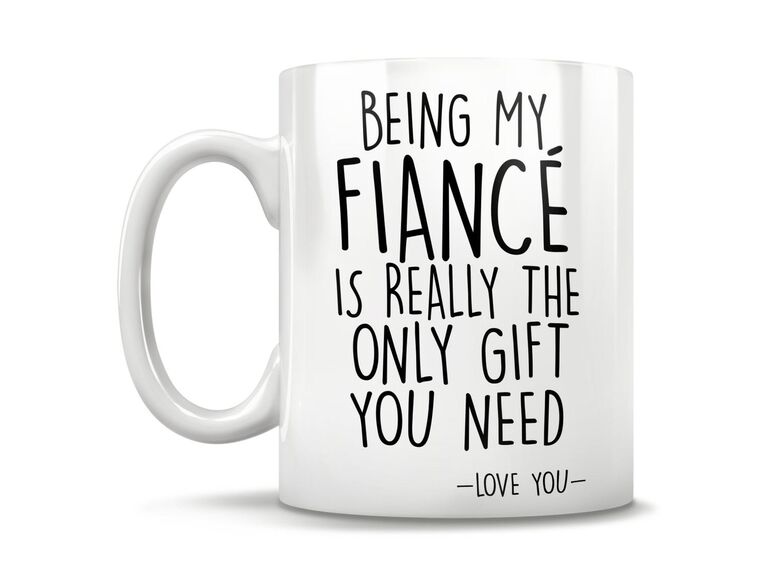 If they're always joking around, find a gift for your fiancé that'll make them laugh. This coffee mug reads: "Being my fiancé is really the only gift you need." Pair it with some of their favorite coffee for a present that's actually really useful (and just a little sassy).
Iconic Passion fiancé mug gift idea, from $15, Etsy.com
21. A Meaningful Montage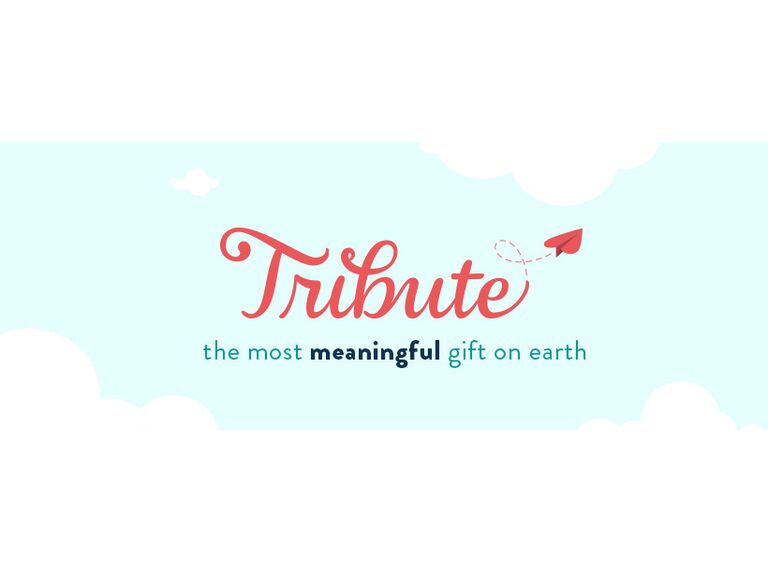 Spread the love with a sweet montage of messages from all their nearest and dearest. This unique service lets you reach out to friends and family via email with fun and sentimental video prompts. Afterward, you get to put it all together using Tribute's online editing tools. If you're looking for gifts for your new fiancé, this is an excellent opportunity for loved ones to say congrats.
Tribute video montage, from $25, Tribute.co
22. Ingredients for the Perfect Cocktails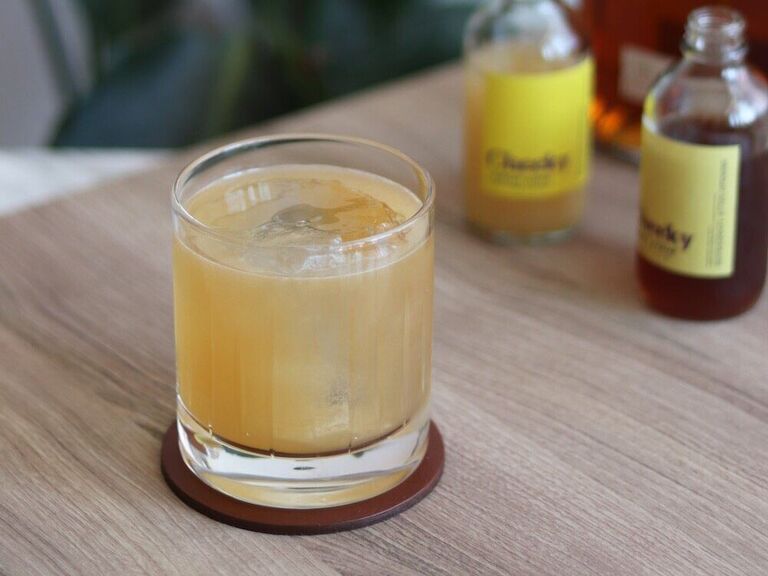 Let your S.O. know they hit the jackpot when they got engaged to you with this delightful Gold Rush cocktail kit. It includes everything but the booze, so you might want to order a bottle of their favorite bourbon too.

Cheeky Cocktails Gold Rush set, $15, CheekyCocktails.com
23. A DIY Brewing Kit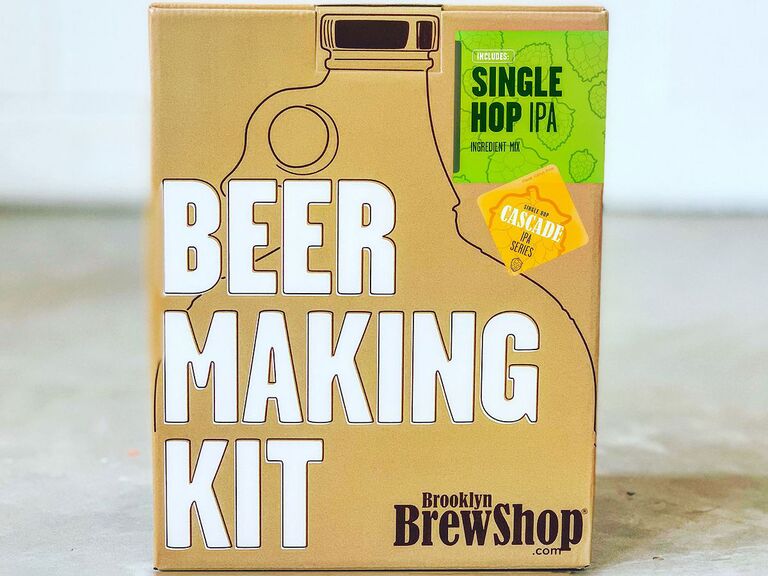 If they'd rather raise a glass of beer, help them create their own with this fun brewing kit. It's an entertaining activity with an awesome payoff. (Plus, it comes in a neat box that'll look right at home wrapped up under the tree. You can officially stop worrying about what to get your fiancé for Christmas!)

Brooklyn Brew Shop Single Hop Cascade beer making kit, $48, Bloomingdales.com
24. A Cute Activity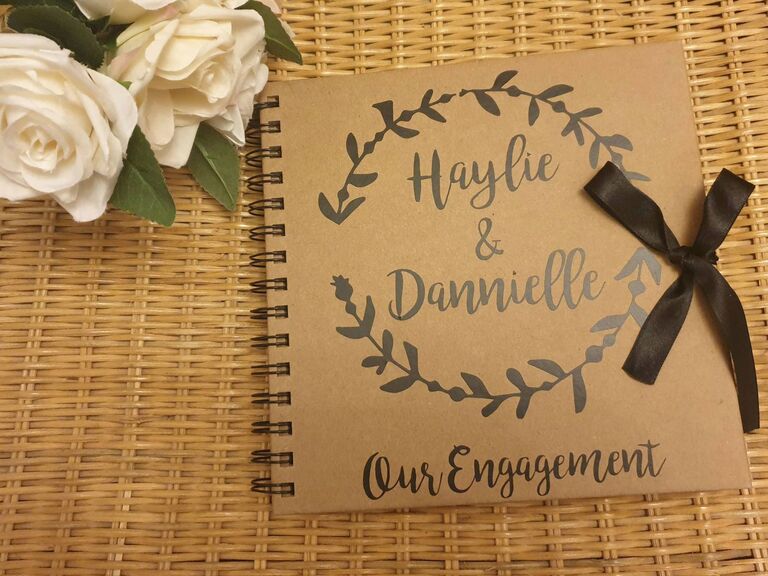 Or, bond over another new hobby: scrapbooking. It's a cute and sentimental activity, and let's face it, you both need a break after all that wedding planning. This adorable keepsake was designed specifically for your engagement.

The Customise Company engagement photo album, from $13, Etsy.com
25. A Commemorative Christmas Ornament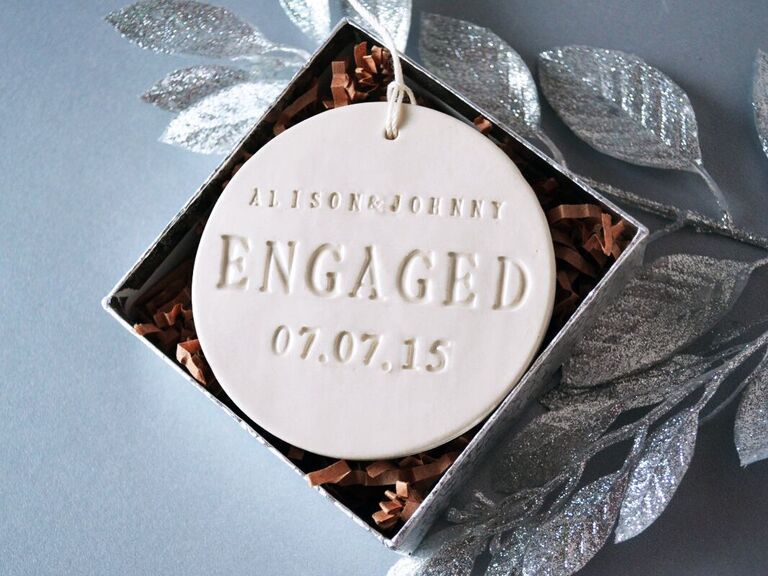 When it comes to Christmas presents for your fiancé, you can't go wrong with a personalized ornament, especially if they love sentimental holiday decor. Every year that you look at your tree, you'll be reminded of this special time in your lives courtesy of this classic ornament. It's undoubtedly one of the best Christmas gifts for a fiancé.

Susabella personalized engagement Christmas ornament, from $35, Etsy.com
26. A Wallet Engraved With Your Handwriting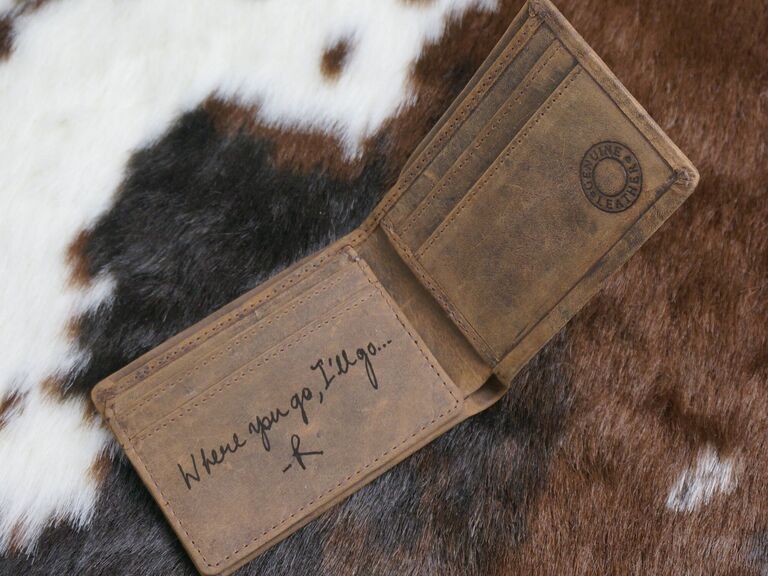 If they're mushy-gushy but don't like to show it, get them this sturdy leather wallet. It looks like a plain-old card case on the outside (especially if you skip the monogram option), but on the inside, you can get it inscribed with a handwritten note just for them to see.

KALGHI personal handwriting wallet, from $60, Etsy.com
27. A Meghan Markle-Approved Necklace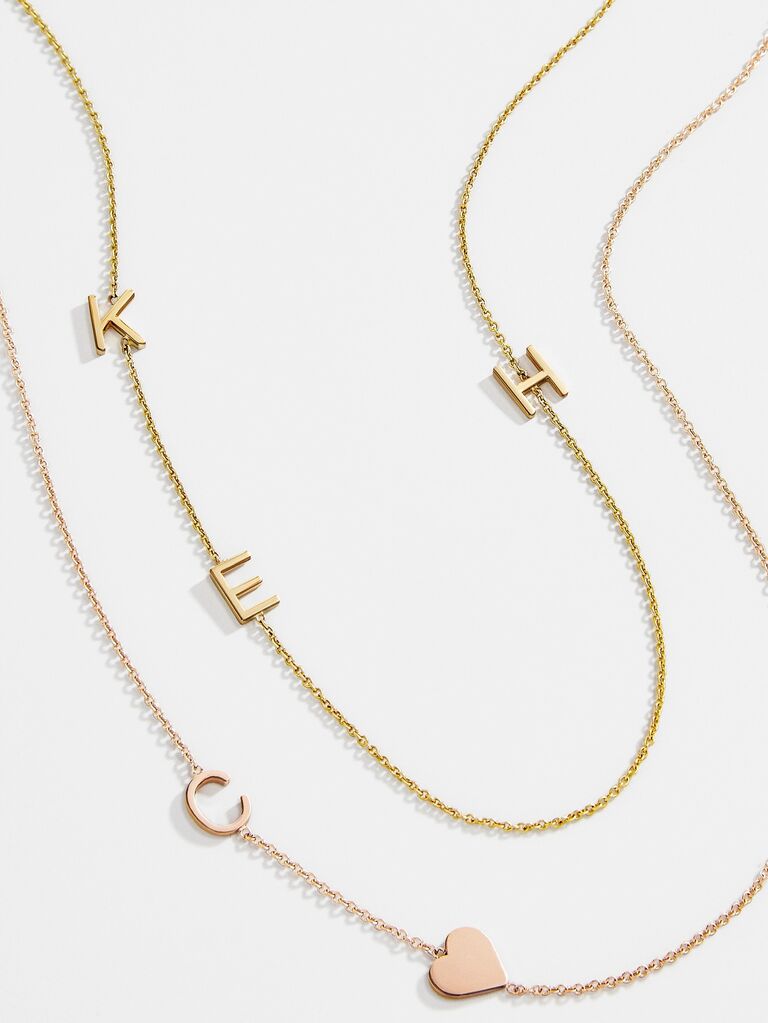 Customize this necklace with each of your first initials so your fiancé can wear their heart on their sleeve around their neck. Meghan Markle famously has her own with the letters "M" and "H."

Maya Brenner asymmetrical letter necklace, from $240, BaubleBar.com
28. Art That Honors Your Engagement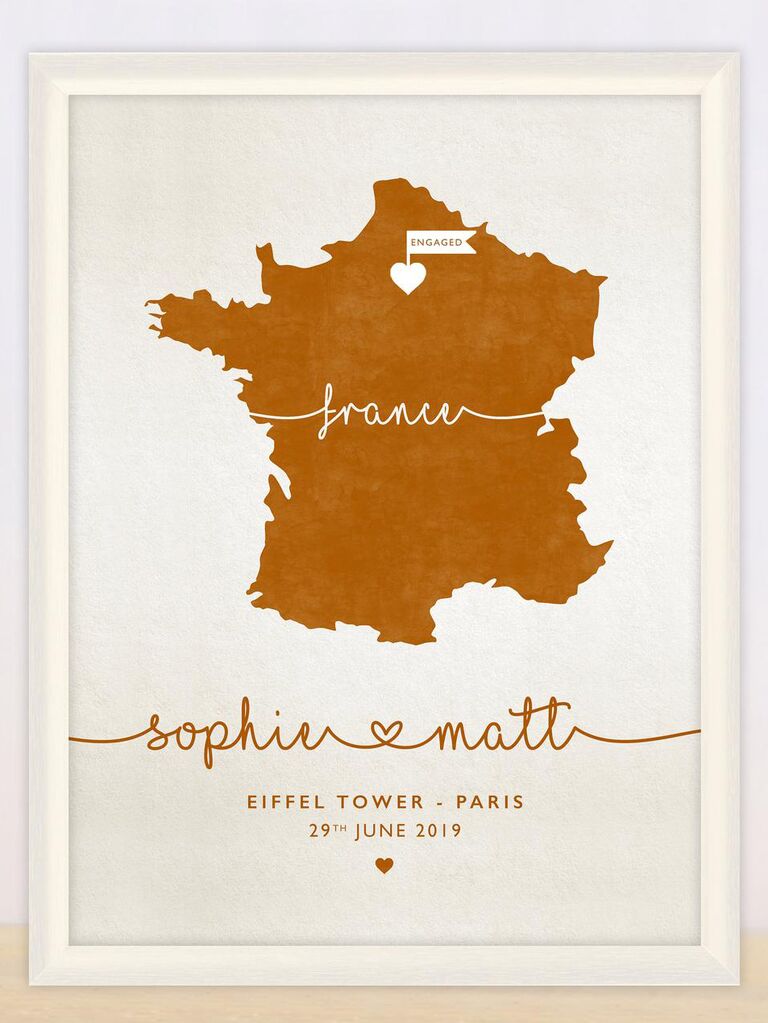 Still looking for something special for your fiancé? Celebrate this unique milestone with a custom print of where and when they (or you) popped the question. It's the perfect gift for the sentimental fiancé on their birthday, for the holidays or as a surprise at the engagement party.
Orchid Paper Boutique engagement location print, from $10, Etsy.com
29. A Tribute to Your Other Best Friend (Your Pet)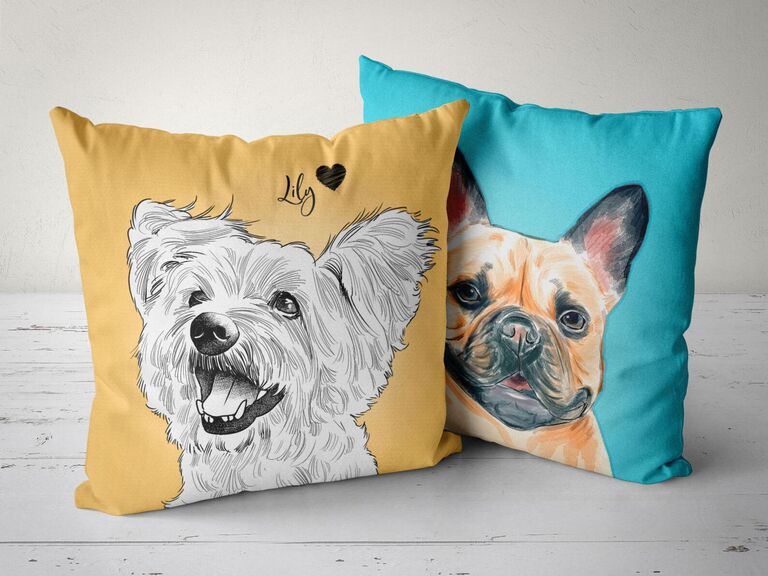 Everyone loves their pets, but some people really love their pets. If you know what we're talking about, you know your fiancé will love this pillow inspired by their furry friend.
Draw Your Portrait pet portrait pillow, from $50, Etsy.com
30. A Unique Money Clip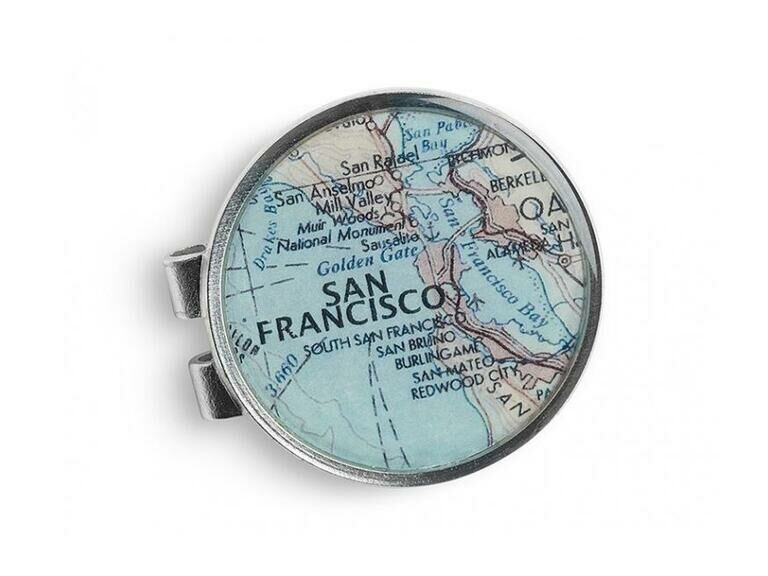 This money clip comes made-to-order with the map of your choosing. Pick a meaningful location to showcase, be it the spot where the proposal happened, your future wedding destination or the place you first met. Customized gifts for your fiancé will always be a hit.

CHART Metalworks money clip, $65, TheGrommet.com
31. The Coolest Couple's Portrait
Running out of cute Christmas or birthday ideas for your fiancé? Send this artist a few photos of you both together, and you'll wind up with a totally bespoke portrait made from paper. Everything can be customized, from the eye colors and the outfits to the background and banner. Your partner will tear up when they realize how much care went into this extra-special gift.

Purple Paper People custom couple portrait, from $280, Etsy.com