The Best Engagement Hashtags to Tell The World You Just Said Yes
Now that you're #engaged, it's time to #party.
Photo: Longbrook Photography X Pat Furey Photography
The big moment has finally happened. Your S.O. popped the question, and now you're on your way to wedding planning. But first things first, you've got to share this occasion on social media, which means you need the right engagement hashtags. We have you covered with everything you need to perfectly hashtag your engagement announcement so all the world knows you just said yes. Here are some of our favorite hashtags for engaged couples ready to break the big news. Trust us, you're going to want to bookmark this list.
Engagement Hashtags to Consider:
Best for Engagement Announcements | Best for Engagement Rings | Best for Engagement Party | Trending for Instagram | Trending for TikTok | Cute | Funny | Creative | Create Your Own
The Best Engagement Announcement Hashtags
If you're ready to announce your engagement on social media, then you've got to pick just the right hashtags. These are some of the best (and most popular) engagement hashtags to add to your post. Get ready, these hashtags are going to get you all the likes.
#JustSaidYes
#NearlyWeds
#GettingHitched
#WillYouMarryMe
#TyingTheKnot
#FutureBride or #FutureGroom
#JustEngaged
#PutARingOnIt
#ISaidYes
#WeGotEngaged
#GettingMarried
#OurProposalStory
#EngagedLife
The Best Engagement Ring Hashtags
We bet everyone in your circle is dying to see that bling, so show it off with its own post by using some of these engagement ring hashtags. After all, that sparkler definitely deserves the spotlight. Once you've snapped a pic of your new rock, post it to social media along with one of these catchy hashtags.
#BlingBling
#DiamondsAreForever
#SaidYesToTheRing
#EngagementRingGoals
#RingInspo
#SparklesAndBling
#RingSelfie
#RingOfTheDay
#HandmadeRing
#ForeverRing
#UniqueEngagementRing
The Best Engagement Party Hashtags
Who's ready to party? When it's time for the engagement party, make sure you're setting the scene with a fun hashtag. These are some of the hashtags for you and your loved ones to tag all the amazing photos from your engagement party.
#AintNoPartyLikeABridalParty
#MeetMyFiance or Fiancee
#AnEngagingEngagement
#GetThePartyStarted
#EngagementBash
#SipSipHooray
#EngagedAndReadyToParty
#OurEngagementParty
#PreWeddingParty
#CelebrateOurIDos
#SayYesToTheParty
#PopTheChampagne
Trending Engagement Hashtags For Instagram
Here are the top hashtags everyone's using these days on Insta to declare their love for their new future spouse. Who knows? Maybe your post will be trending, too.
#EngagementRingGoals
#BrideToBeVibes
#DreamRingMoments
#ShesEngaged
#ForeverBride
#RingGoals
#BrideStory
#SheSaidYes
#EngagementRingInspo
#BrideToBeStyle
#RingTrends
#BridalDreams
#RingsOfInstagram
Trending Engagement Hashtags For TikTok
Take to TikTok to show off the proposal and your ring by using some of these trending hashtags for the platform. Pro tip: You can even add your future wedding song in the background of your video. Get ready to go viral.
#EngagementRingInspo
#Engagement
#EngagementDay
#BrideToBe
#WeddingInspo
#EngagedTikTok
#EngagedAF
#BrideTok
#Engaged💍
#MarryMe
#EngagedCouples
#EngagementRingCheck
Cute Engagement Hashtags
This one's for the couple who write romantic posts to each other on anniversaries, Valentine's Day and other big days in their relationship. These cute engagement hashtags will give your followers serious heart eyes.
#ForeverAndAlways
#SaveTheDate
#ChangingMyLastName
#GoingToTheChapel
#FutureBrideAndGroom (or bride and bride, groom and groom)
#OurLoveStory
#JourneyToTheAisle
#WeddingReady
#MarryingMyBestFriend
#Soulmates
#NewYearNewName
#HowHeAsked
#HappilyEverAfter
#ToHaveAndToHold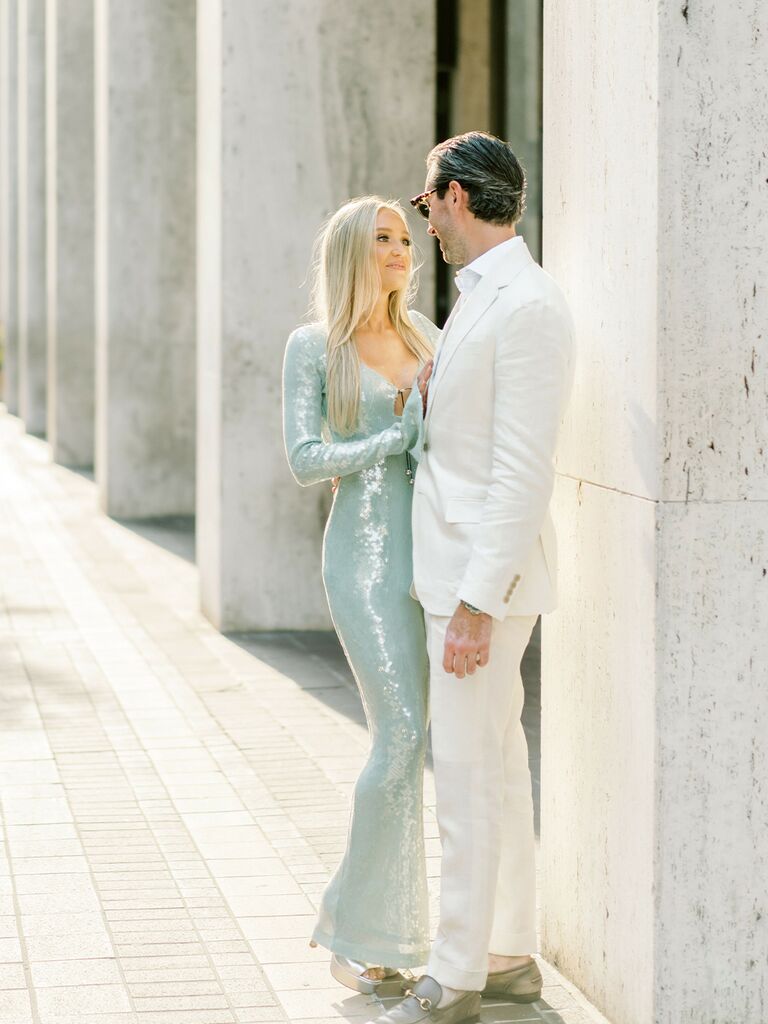 Funny Engagement Hashtags
The couple that laughs together stays together, and these funny engagement hashtags are perfect for the comedic duo who loves to have a little fun on their social media. Cue the laughs.
#AboutTime
#WifeMeUp
#TalkToTheRing
#NewRingWhoDis
#HePoppedTheQuestion
#DoesThisRingMakeMeLookEngaged
#NewRelationshipStatus
#ItsOfficial
#Feyonce
#PlanningStartsNow
#LoveAtFirstSwipe
#EatDrinkBeMarried
Creative Engagement Hashtags
Want to get a little more creative with your engagement announcement? These creative hashtags will do the trick, and you can personalize them with your upcoming new last name.
#TwoLessFishInTheSea
#MeetMeAtTheAltar
#GrowOldWithYou
#(Married Name)HasANiceRingToIt
#Goodbye(Maiden Name)Hello(Married Name)
#WedLongAndProsper
#Finally(Married Name)
#ThisTakesTheCake
#MyDateForLife
#WeSealedTheDeal
#AllYouNeedIsLove
#TwoIsBetterThanOne
#ForeverTypeOfLove
Create Your Own Engagement Hashtag
Many couples opt to create their own hashtag for their big day, and an engagement is no exception. This special hashtag lets you look back on this memorable moment and even allows your loved ones to add those sweet pics of your engagement into the mix. Wedding Hashers lets you create your own event hashtags for weddings, engagements and so much more. Check them out to get started on your custom hashtag for your "just said yes" moment.