Blake Lively's Wedding Dress: Photos & Info
by Ivy Jacobson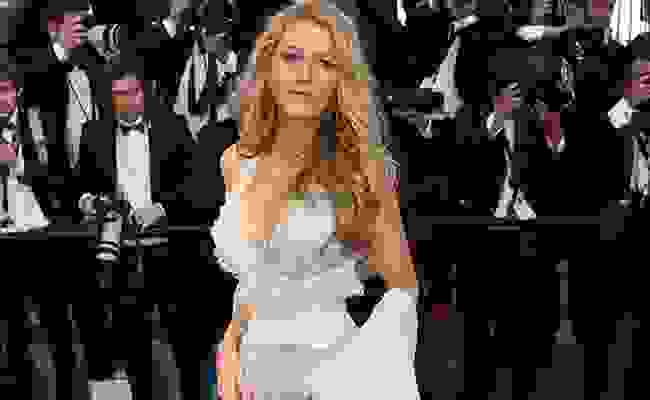 Blake Lively and Ryan Reynolds tied the knot in an intimate ceremony in Mount Pleasant, South Carolina, in 2012.But it took a whole three years until the public could get a peek at Blake Lively's wedding dress because the couple never circulated photos of their Big Day around social media or magazine circuits. 
It wasn't until Blake Lively's 28th birthday celebration, when Martha Stewart, who apparently helped plan their wedding, showcased a glimpse of Blake Lively's wedding dress for the whole world to admire in her Martha Stewart Wedding magazine--and of course, we weren't disappointed! 
Blake Lively's Dress Details

The magazine spread revealed a close-up image of Lively and Reynolds holding hands on their wedding day in which you can see some of the delicate details of her show-stopping gown. Though you can't see the dress in its entirety, you can get a sense of its elegant feel. You can also see that Reynolds complemented her look with a khaki-colored suit. 
While some details about her dress remain unknown, we do know that Georgina Chapman and Keren Crai of Marchesa fashion house had the honor of designing Blake Lively's wedding dress. Lively had shined in Marchesa designs before, so it only seemed fitting to rock one of their masterpieces on her Big Day. 
According to Martha Stewart Magazine, Blake Lively's dress was a silk tulle gown with a fitted bodice. It featured crystal beading on the shoulders and dazzled with delicate rose-gold embroidery. 
Of course, we only got to glance at Blake Lively's wedding dress. The actress later explained there was one element of her dress that she originally wasn't so pleased about following her reception, but it had nothing to do with the design!
A Memory That Left a Mark 
It's hard to imagine there's a part of Blake Lively's wardrobe that isn't 100-percent perfect — especially her couture Marchesa wedding dress — but in Vogue's August issue, the actress reveals that her gown was met with a sad fate during her and Ryan Reynolds's 2012 wedding reception.
"I get really frustrated when something goes wrong," Blake says. "For example, my wedding dress. Florence Welch was singing at the reception, and they brought out these sparklers, and I'm watching her sing. I look down and my wedding dress has a big burn mark from one of the sparklers. Right on the front! And it was just so heartbreaking to me."
She continues: "And later, my dress was hanging up and Ryan said, 'Isn't that beautiful?' I said, 'What?' And he pointed to the burn. My heart just stopped, because it was such a sensitive little subject. And he said, 'You'll always remember that moment with Florence singing and the sparklers. You have that forever, right there, preserved.' Now that's my favorite part of the dress."
Aaaaand now that's one more reason why we're in love with Ryan Reynolds — a man who sees beauty in the tiny imperfections. Swoon. But he's right — when you have Florence Welch singing to you and your gorgeous husband at your gorgeous wedding and you're wearing Marchesa, you kind of can't be too mad.
We often expect perfection from Hollywood's elite, so it's endearing to discover their appreciation for imperfections. While we might only have a tiny peek and a few details about the gorgeous gown Lively wore on her wedding day, we're still hoping for a full look at the gown--burn marks and all--one of these days.
Want more? Right here!
> Shop these 10 gorgeous bridal headbands
> 5 amazing hanging wedding cakes