Everything to Know About Blake Lively and Ryan Reynolds' Wedding
Including how a sparkler burn on her dress became a favorite memory.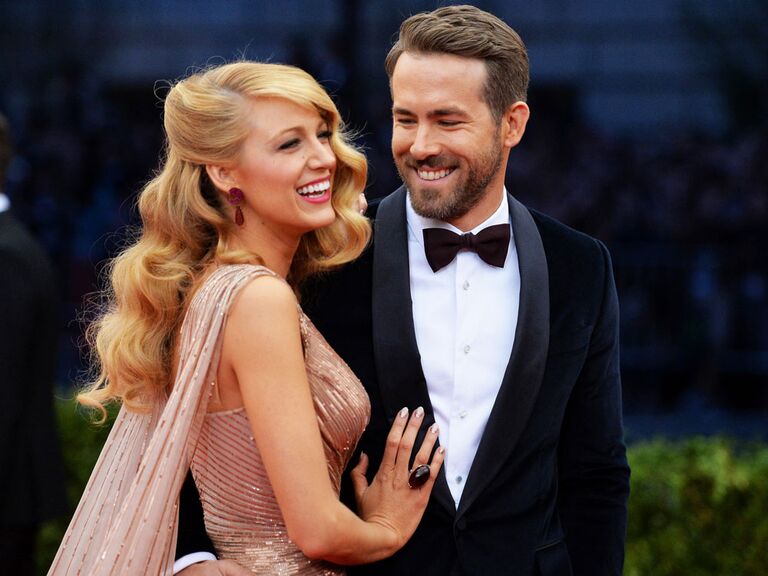 Mike Coppola/Getty Images
It wasn't quite love at first sight for Blake Lively and Ryan Reynolds, but their love story does feel like the plot of a movie. The actors tied the knot in an intimate ceremony in Charleston, South Carolina in 2012, two years after meeting on the set of Green Lantern. What started as a friendship eventually blossomed into romance. Reynolds proposed in 2011, and less than a year later they were married. Today, they have three children who generally remain out of the public eye.
Despite being one of the biggest power couples in Hollywood, not much is known about Blake Lively and Ryan Reynold's wedding. In fact, it wasn't until Lively's 28th birthday in 2015 that the first photos were shared from the big day. We've got the scoop on everything you need to know about the couple's private nuptials, from Blake Lively's wedding dress details to their lavish dessert spread.
In this article:
Blake Lively's Wedding Dress Photos
So, what did Blake Lively's wedding dress look like? The actress solidified herself as a style icon thanks to her breakout role as Serena van der Woodsen in the hit CW series Gossip Girl. But the bride opted for a romantic look on her wedding day—a stark contrast to her character's infamous preppy style.
While some details remain unknown, Georgina Chapman and Keren Craig of Marchesa fashion house designed Blake Lively's wedding dress. (Lively had worn plenty of couture Marchesa designs before, so it was fitting to wear the brand on her wedding day.) An exclusive photo shared by Martha Stewart Weddings shows a close-up of Lively and Reynolds holding hands in their wedding outfits. The picture offers a glimpse of Blake Lively's wedding dress, which had a silk tulle skirt and rose gold embroidery. The groom wore a khaki-colored suit to match his wife's gown.
Lively later opened up to Vogue about a fashion blunder that occurred during the wedding reception. "I get really frustrated when something goes wrong," she said. "For example, my wedding dress. Florence Welch was singing at the reception, and they brought out these sparklers, and I'm watching her sing. I look down and my wedding dress has a big burn mark from one of the sparklers. Right on the front! And it was just so heartbreaking to me."
She added: "And later, my dress was hanging up and Ryan said, 'Isn't that beautiful?' I said, 'What?' And he pointed to the burn. My heart just stopped, because it was such a sensitive little subject. And he said, 'You'll always remember that moment with Florence singing and the sparklers. You have that forever, right there, preserved.' Now that's my favorite part of the dress."
Blake Lively and Ryan Reynolds Wedding Photos & Details
The rest of the wedding, which was planned by Martha Stewart Weddings, had a romantic and whimsical theme—but few photos have been shared. According to the publisher, the bride's bouquet was made of pink and white florals, and some petals were dipped in rose gold glitter. Food was also a main component of the nuptials. The newlyweds served guests a lavish spread of sweets at the wedding reception. The dessert table included a vanilla and sour cream cake with peach preserves, as well as alternative desserts like espresso beans, fruit tarts, jellies, mini cakes and s'mores bars.
Lively and Reynolds hosted their wedding at Boone Hall Plantation in Mount Pleasant, South Carolina. Their choice to wed at the southern plantation, which once had nine slave cabins, was highly criticized for years due to the romanticization of a venue with a fractured history of enslavement—without acknowledgment of its broken past. In 2018, the spouses faced scrutiny about their choice of wedding venue again when Reynolds was accused of hypocrisy after publicly praising the cast of Black Panther, the first superhero movie to feature a majority Black cast.
It was in June 2020, amid Black Lives Matter protests and advocacy throughout the United States, that the couple released their first public statement about their controversial wedding venue. "We've never had to worry about preparing our kids for different rules of law or what might happen if we're pulled over in the car," they expressed in a joint statement on Instagram. "We don't know what it's like to experience that life day in and day out. We can't imagine feeling that king of fear and anger. We're ashamed that in the past we've allowed ourselves to be uniformed about how deeply rooted systemic racism is. We want to educate ourselves about other people's experience and talk to our kids about everything, all of it… especially our own complicity. We talk about our bias, blindness and our own mistakes. We look back and see so many mistakes which have led us to deeply examine who we are and who we want to become. They've led us to huge avenues of education. We're committed to raising our kids so they never grow up feeding the insane pattern and so they'll do their best to never inflict pain on another being consciously or unconsciously. It's the least we can do to honor not just George Floyd, Ahmaud Arbery, Breonna Taylor and Eric Garner, but all the Black men and women who have been killed when a camera wasn't rolling."
They concluded by sharing their commitment to anti-racism and education moving forward. "Last week we contributed $200,000 to the NAACP Legal Defense Fund. We stand in awe of this organization and its leader, Sherrilyn Ifill. And this is just a start... we want to use our privilege and platform to be an ally. And to play a part in easting pain for so many who feel as though this grand experiment is failing them."
In July 2020, Reynolds launched The Group Effort Initiative, a self-funded diversity and inclusion program that aims to give people of color experience on film sets. "Covid-willing, we'll be starting a movie this fall," reads a statement on the organization's website. "We'll be bringing on between 10 and 20 trainees who are Black, Indigenous, people of color or people from marginalized and excluded communities… These new recruits will be paid and housed out of my salary and will spend their days on set learning from professionals and getting real-life experience that they can then parlay into another job and another job and hopefully a career in the film industry."
At The Knot, we recommend couples research the history of potential venues during the wedding planning process. If you're in the process of securing your pro team, it's best to work with vendors who share your values. With careful consideration and thoughtful planning, your wedding can make a positive impact that you'll be proud of for years to come.