The Knot Editors' Favorite Celebrity Engagement Rings of All Time
Can you guess who made the cut?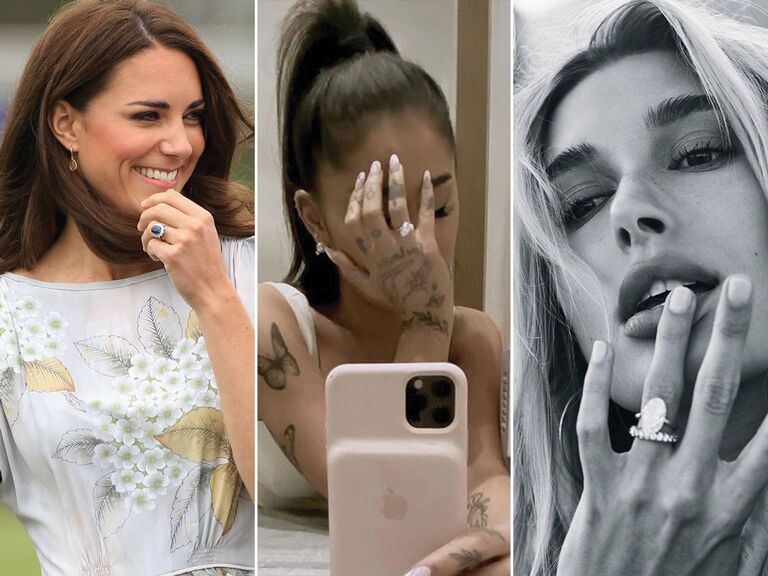 Chris Jackson/Getty Images; @arianagrande/Instagram; @haileybieber/Instagram
Narrowing down the most beautiful engagement rings of all time is no easy task. From iconic royal baubles to glitzy A-list diamonds, there have been plenty of notable engagement rings that shaped jewelry trends throughout history. As wedding editors and self-proclaimed jewelry connoisseurs, we've seen our fair share of amazing celebrity engagement rings over the years (think: Princess Di's sapphire gem, Blake Lively's trendy oval and Mariah Carey's record-breaking rock). But which A-lister actually has the most beautiful engagement ring? Here, The Knot editors share their favorite celebrity engagement rings to determine the best baubles of all time. Prepare to swoon over these unforgettable celeb sparklers.
Beyoncé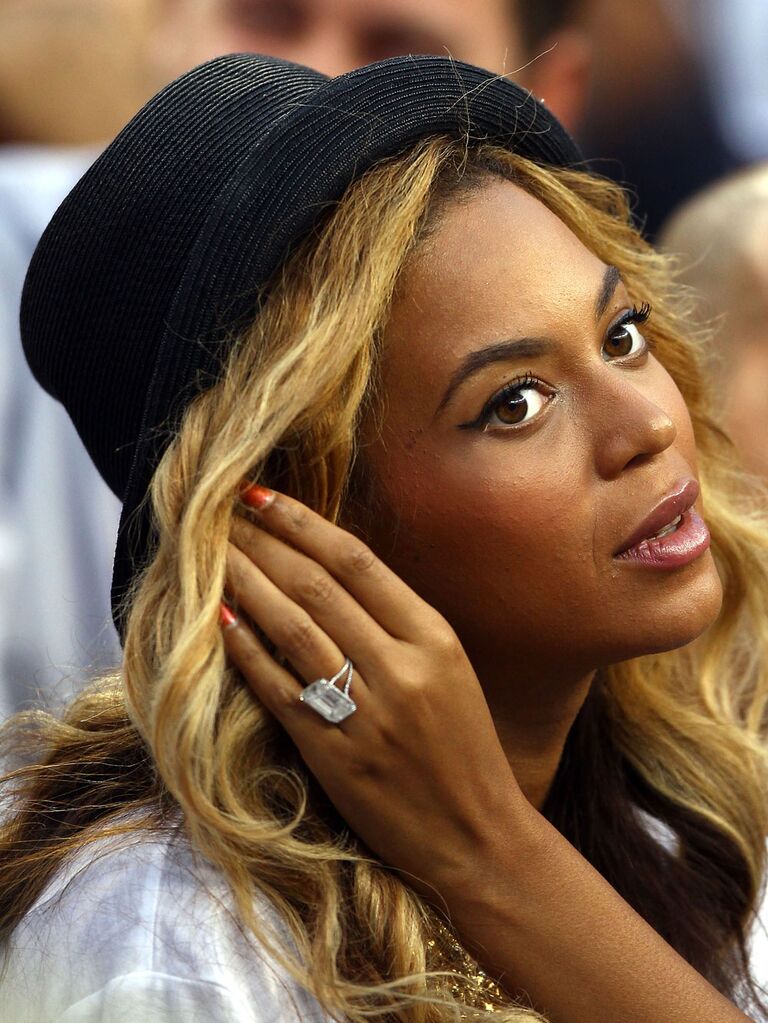 "I love an emerald-cut diamond and Beyoncé's engagement ring is pretty much the most perfect example of the style. I mean, it is absolutely enormous (24 carats), worth over $5 million, and only Queen B can pull off something so glam. But, if you're going to put a ring on one of the world's top celebrities, you might as well go over-the-top. Oh, and I adore the split-shank band. It's just perfect." —Kim Forrest, Senior Editor
Blake Lively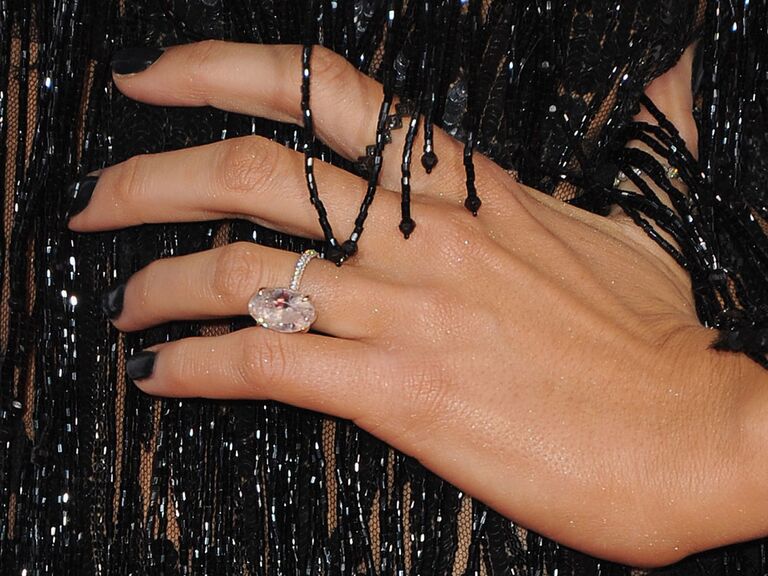 "While I could never pull off (much less afford) a double-digit-carat oval solitaire, I am here for celebs who rock them (think: Blake Lively, Julianne Hough and Hailey Baldwin). They've all worn incredibly similar, and stunning, rings with front-and-center sparklers that are what my dreams are made of. But Lively's $2 million design from Lorraine Schwartz is the one that reigns supreme, thanks to the slim, rose gold pavé band and the main stone's rare blush hue." —Hannah Nowack, Real Weddings Editor
Kate Middleton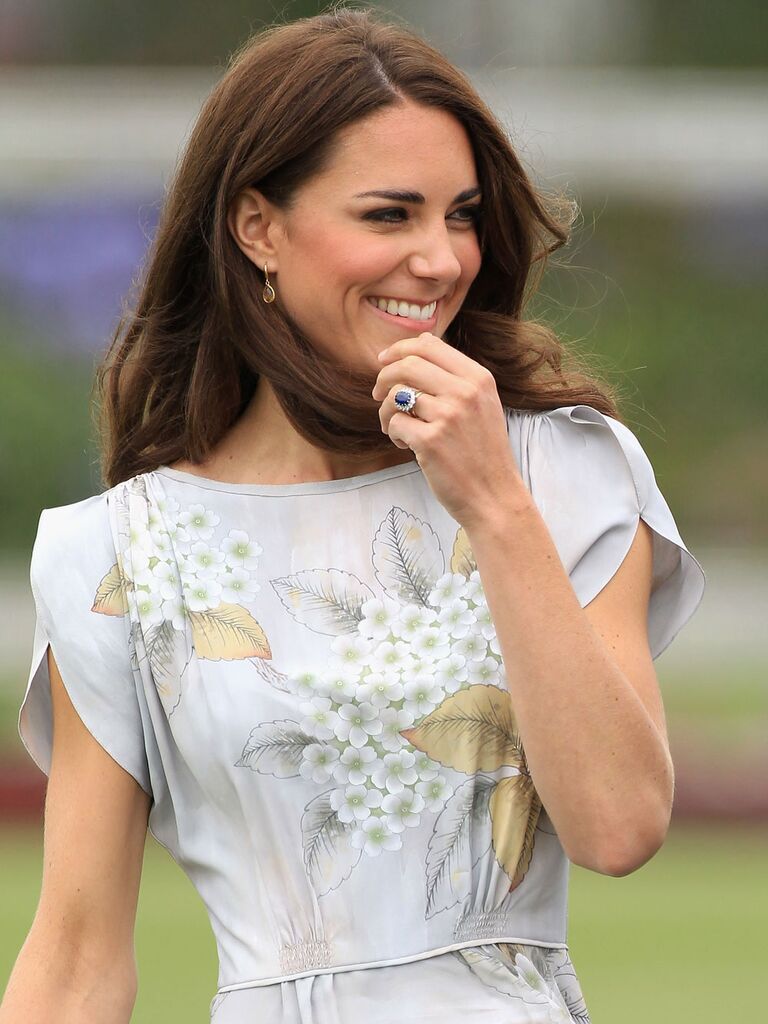 "Someone had to say Kate Middleton's, right? Or should I say Princess Diana's? This oval engagement ring—designed by Garrard, the former crown jeweler—is famous for a reason: It's steeped in royal history and just plain eye-catching. It's hard to ignore, or forget, a 12-carat sapphire circled by sparkly diamonds. My favorite celebrity engagement rings are rings I'd never wear myself, but rings I like to look at on someone else." —Emily Platt, E-Commerce Editor
Solange Knowles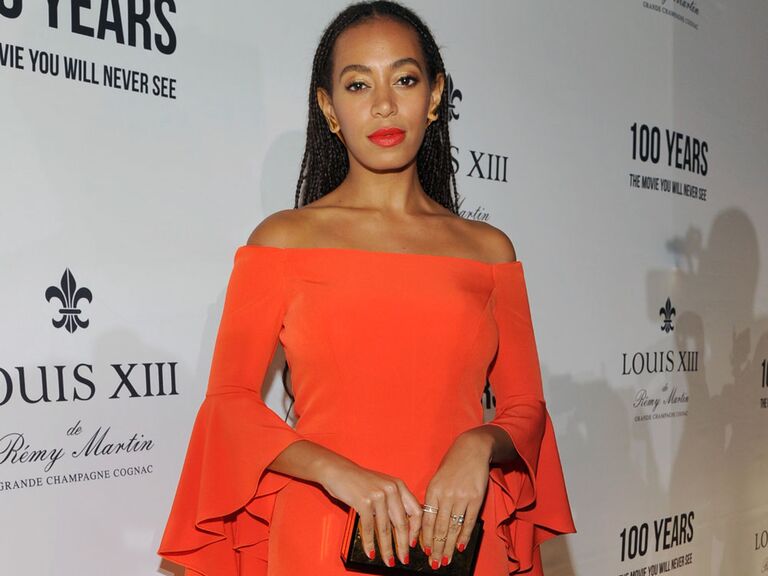 "I'd keep up the charade that I don't hoard celeb engagement ring photos like some people do souvenirs or personal mementos, but any guy I've gone on more than two dates with would rat me out. (Subtlety was never my speciality.) My favorite celebrity ring ever goes to a Knowles, of course. Solange's stunning art deco-esque toi et moi sparkler, which featured one emerald-cut diamond and one square-cut diamond, lives rent-free in my head. Even cooler, Solange infamously lost her ring while partying during Mardi Gras. A girl after my own heart with the ring of my dreams." —Louis Baragona, Social Media Community Editor
Sophie Turner
"If you've never seen the stunning piece of bling on Sophie Turner's left hand, prepare to be mesmerized. A unique pear cut diamond set on an even more unusual double pavé band stands out so beautifully on its own. It's perfect for anyone who, like me, doesn't tend to wear a lot of other jewelry. Serious props to Joe on this one. Is there anything he can't do?!" —Naoimh O'Hare, Assistant E-Commerce Editor
Julianne Hough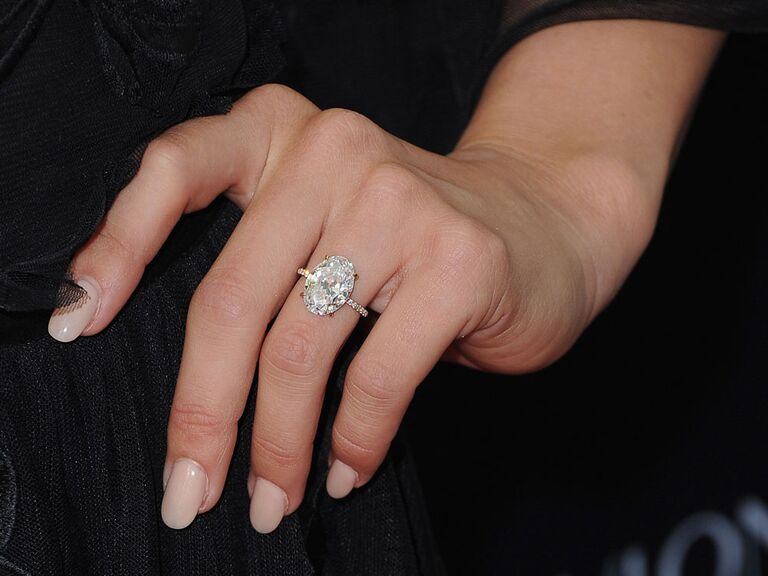 "Julianne Hough's oval stunner (given to her by Brooks Laich) is my definition of sheer celeb engagement ring perfection. I'm especially drawn to the skinny, rose gold band, featuring even micro diamonds on each side of the main gem. It's classy, elegant, very feminine and would have looked fantastic paired with a mixed metal band." —Sarah Hooper, Social Media Manager, The Knot
Jennifer Lopez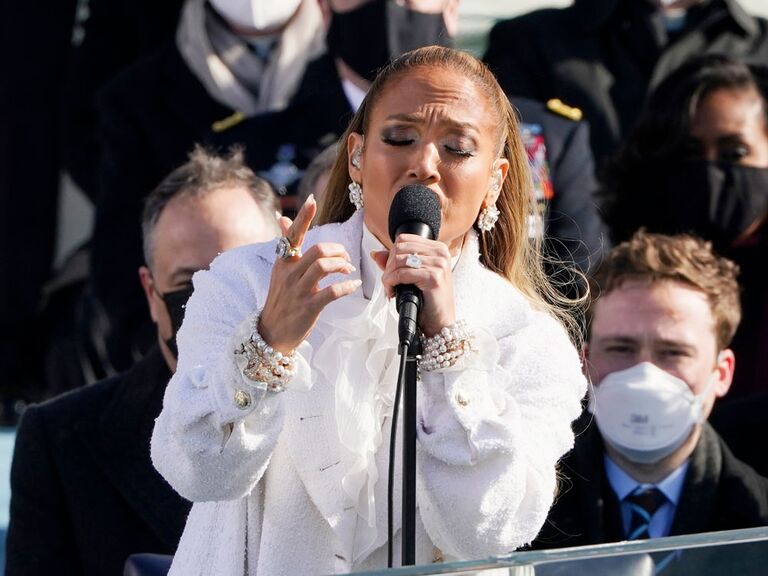 "Like most Americans, I was mesmerized by Jennifer Lopez's performance at President Joe Biden's inauguration on January 20th—the all-white ensemble, the rousing renditions of 'This Land Is Your Land' and 'America the Beautiful.' But most of all, I was blinded by the up-close-and-personal view of J.Lo's enormous engagement ring. Wow, A. Rod, wow. The former Yankee hit it out of the park (had to) with the flawless emerald-cut diamond solitaire sparkler, which is estimated between 15-18 carats, and likely costs more than $1 million. I always adore the modern, glamorous lines of an emerald-cut diamond, and the bigger then better, IMO. Plus, the solitaire band makes that Ring Pop-sized diamond stand out even more." —Morgan Gibson, Director of Digital Content
Meghan Markle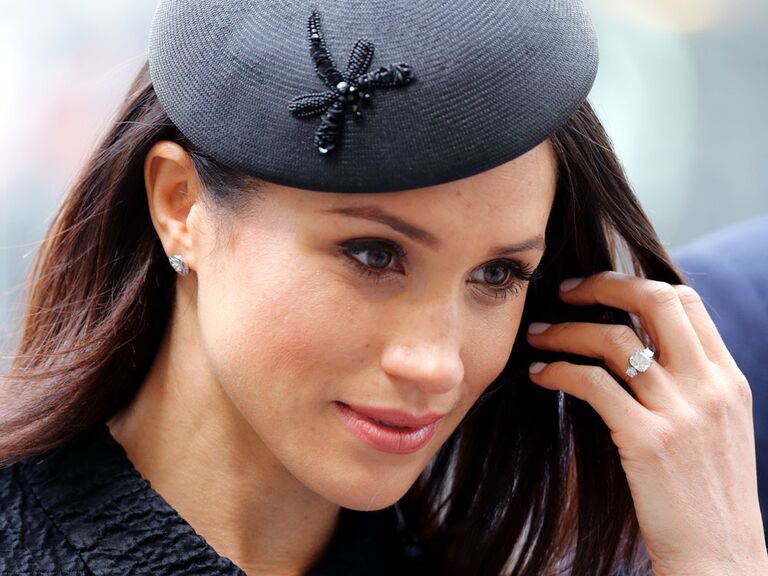 "Call me basic if you must, but I really adore Meghan Markle's engagement ring from Prince Harry. Outside of the fact that I think it's truly stunning, I love the story behind it: The center stone is an ethically-sourced diamond from Botswana, where the couple has vacationed together, flanked on either side by diamonds from Princess Diana's collection. Plus, I respect the fact that she had it altered to more closely fit her personal preference. We stan a woman who knows what she wants." —MaryKate Callahan, Senior Manager, Digital Content Strategy
Amal Clooney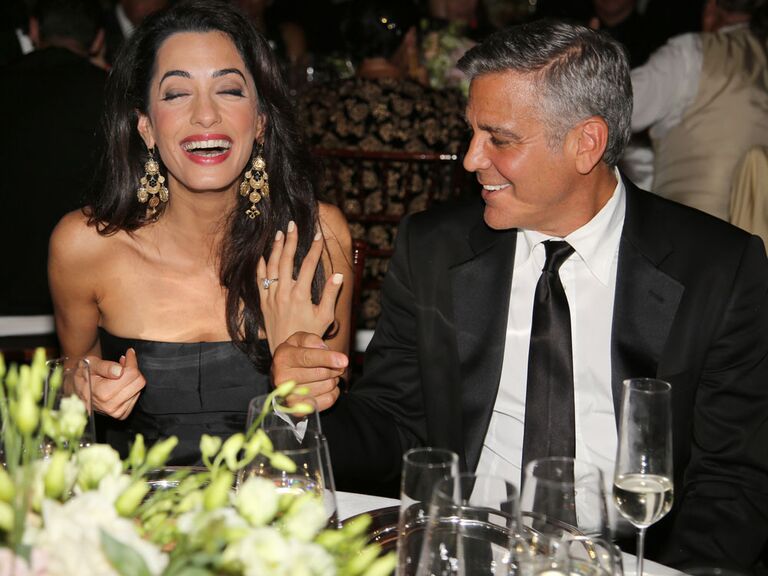 "I have major diamond envy over Amal Clooney's dazzling emerald-cut engagement ring. The seven-carat center stone is a show-stopper for sure, but it's not too over the top (read: I think I could still manage to lift my finger if I were lucky enough to ever wear such a bauble). Although I prefer dainty yellow gold settings, the ring features a silver band with two accent baguette diamonds, and it reminds me so much of Grace Kelly's engagement ring—timeless and polished." —Samantha Iacia, Associate Editor
JoJo Fletcher
"I used to be a round diamond fan until I saw JoJo Fletcher's gorgeous new ring. Bachelor fans will remember her fiancé Jordan Rodgers originally proposed on the show with an oval-shape stone set on a thick pavé band. But in 2019, he proposed again with a stunning oval-shaped diamond set on a super-thin gold band complete with a hidden halo of diamonds around the bottom for extra sparkle. When they posted pictures of this beautiful ring, I immediately hit save—I'm totally in love!" —Maddy Sims, Assistant Editor
Ariana Grande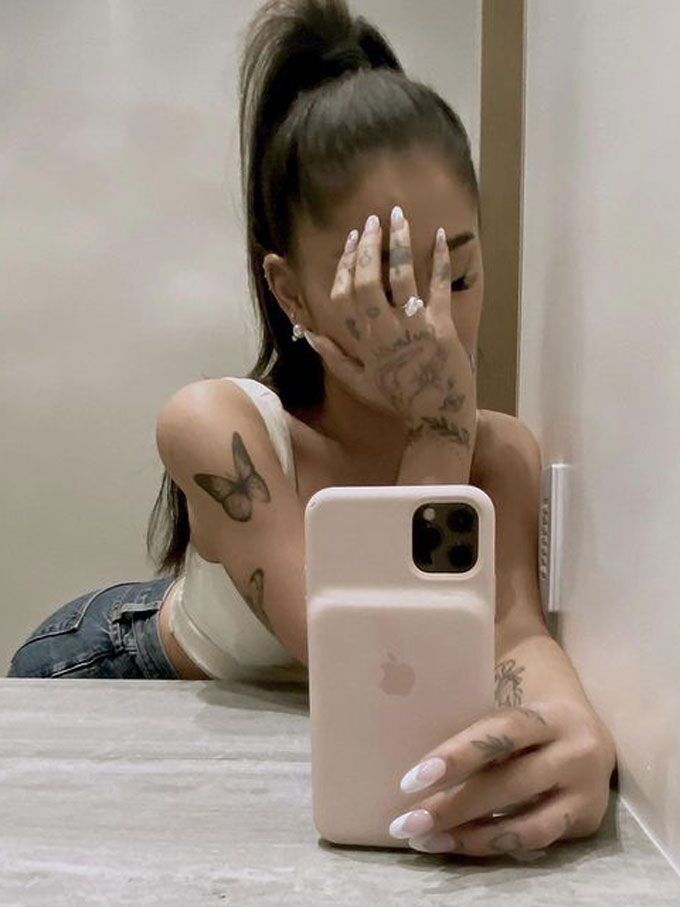 "As an Ariana Grande stan, I would say I loved her engagement ring no matter what it looked like. However, her diagonally-set diamond-and-pearl ring from Dalton Gomez gave me actual heart eyes. I love oval diamonds to begin with, but the sentimental value of Ari's ring had me in tears. The pearl was pulled from her late grandfather's collection (and as any fan knows, she was very close to her grandfather). This subtle detail shows off the love she has for her family, and it also gives the ring a unique look to match her personality. It's perfect in my eyes. Now, I'm just curious if the seven rings given to her besties will get an upgrade for the wedding." —Lucy Ferut, Social Media Coordinator, The Knot
Hailey Baldwin
"If I had to design my dream engagement ring, it would be an exact replica of Hailey Baldwin's. (Don't ask how many photos of her ring I have saved on my phone.) I love the contrast of an elongated solitaire diamond on a super-skinny (and simple) gold band—it feels modern yet timeless at the same time. Needless to say, Justin Bieber really knocked it out of the park with this blinding Solow & Co. pick." —Sarah Hanlon, Assistant Editor