20 Instagram-Worthy Bridal Headbands You'll Never Want to Take Off
Plus, expert advice on the best ways to style them.
We have included third party products to help you navigate and enjoy life's biggest moments. Purchases made through links on this page may earn us a commission.
ICYMI: bridal headbands are having a major moment right now. Iconic celebs like Hilary Duff and Kate Middleton have endorsed the trend, proving that the bold accessory has staying power. It's no mystery why headbands are a beloved bridal hair accessory. They're the perfect way to complete any wedding-related outfit—even your wedding gown (no veil, no problem!). As an innovator in the world of hair accessories with over 18 years of experience, designer and founder of the namesake brand, Jennifer Behr would be the first to tell you about the dimension a headband can add to your wedding day look.
"Headbands are the accessory that transforms a white dress into a finished bridal ensemble. We always tell brides that their wedding look should be the most elevated version of their personal style and we think the wedding headpiece is the perfect touch that puts everything into place."
If you're ready to shop, you've come to the right place. We've rounded up the trendiest headbands on the market for your bridal fashion capsule, plus expert advice on how to style them. From pearl-embellished designs to floral accents, these wedding headpieces are perfect for your bachelorette, bridal shower, rehearsal dinner and beyond. Below, find our favorite Instagram-worthy headbands for weddings that you'll never want to take off. And if you find one (or two) that you absolutely love, you can add them right to your cart (you're welcome).
Expert Bridal Headband Styling Tips
The way in which you choose to style your bridal headband can help make your look uniquely your own. According to accessory designer, Lele Sadoughi (also known as the "headband queen"), jewels and accessories elevate any outfit, and a headband is the ultimate accessory for your big day." Wearing a headband can help keep your hairstyle in place all day, from your ceremony to the after-after-party, but it can also complete a bachelorette party or rehearsal dinner outfit. To make your bridal headband stand out, consider wearing it over a low bun or ponytail to let it shine. "A knotted headband looks very polished over sleek hair," Sadoughi advises. "A headband helps to keep it set all day."
For those who prefer relaxed hairstyles, Behr suggests allowing a headband to accent loose waves or a laid-back updo. "You can incorporate a headband into your look, regardless of which hairstyle you find most flattering," she says. "Headbands can definitely loan themselves to more 'undone' and romantic looks, or even different types of chignons." Above all, how you style the accessory should reflect the kind of bride you want to be. "I really love to see brides get creative in their looks, and wear something in a way that I wouldn't have expected," Behr adds.
One bonus to investing in a bridal headband is that you can love it for years to come by styling it with your everyday wear. "People are styling headbands in so many different ways, from minimalist to maximal dressing, to the office or brunch and events big and small," Behr shares. An embellished headband is an excellent way to take a simple look, like jeans and a classic tee, to a whole new level. They also lend themselves nicely to any season, making them ultra-versatile.
Luxury Wedding Headbands You'll Love
If you're a bride who loves to accessorize, why not splurge on an elegant headband that you can wear for all your wedding events? These 10 luxury headbands are the perfect way to top off your look—literally.
Jennifer Behr Bellatrix Pearl Headband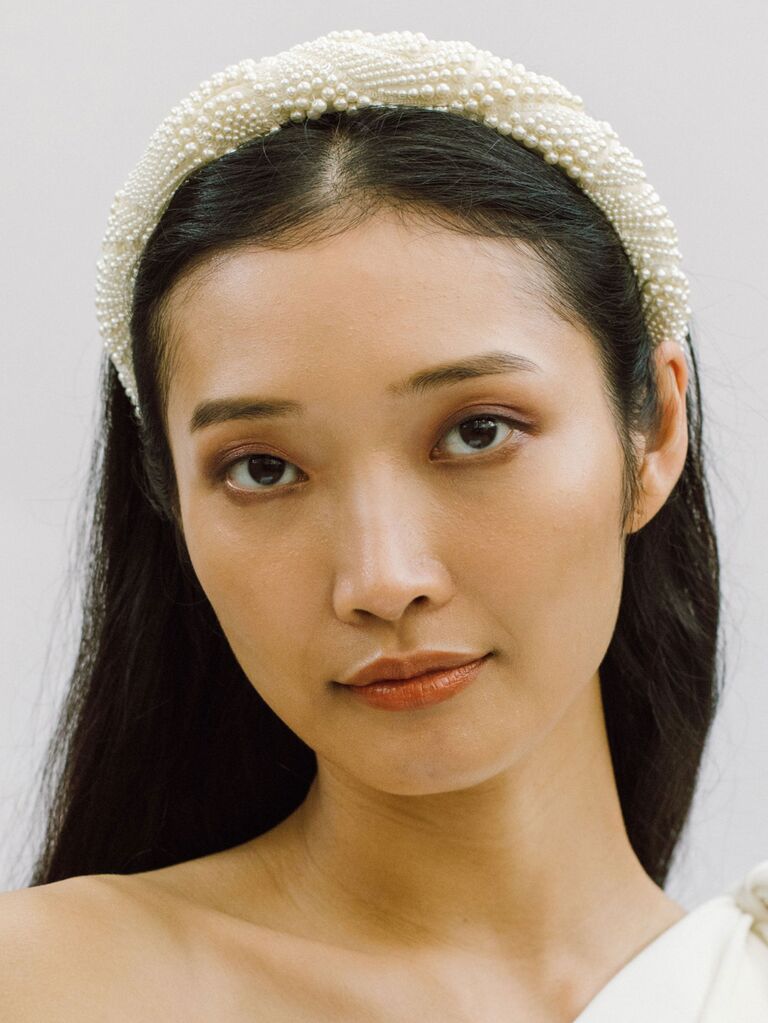 You'll look effortlessly elegant in this pearl-embellished bridal headband. A modern geometric design of luxe pearls and tiny sequins define this gorgeously padded piece. Wear it on your wedding day or pair it with a chic pre-wedding rental outfit.
Twigs & Honey Carlotta Tiara
Channel your inner Queen with this crystal-adorned tiara headband. Its embellishments will completely elevate your look (cough, and royal status). If you can't don a crown on your wedding day, when can you?
Nestina Accessories Haleine Floral Headband
Can't decide between wearing a flower crown or a headband? This option is the best of both worlds. Its scattered pearl and floral embellishments make it a luxurious bridal accessory that's perfect for your wedding day.
Elena Honch Ophelia Mint Headband
There are plenty of subtle ways to incorporate something blue into your wedding day look, but for brides who love to accessorize, a headband just might top them all (yes, pun intended). Made from light blue satin ribbon and adorned with bold, iridescent crystals, the Ophelia Mint headband is a lovely choice for your nuptials or everyday wear.
Jennifer Behr Vera Circlet Headband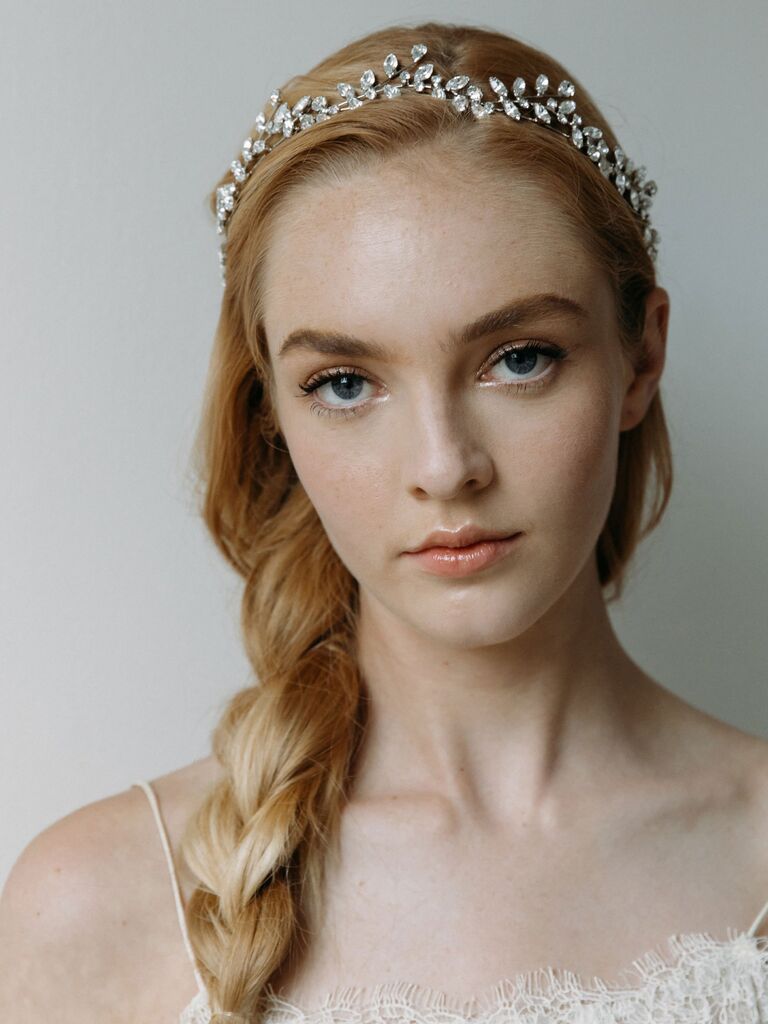 How whimsical is this floral-inspired bridal headpiece? The fairy-like accessory is crafted from stunning Swarovski crystals, and can be worn at the crown (or in the back) of the head and paired with a veil. It's a sentimental accessory you'll treasure long after your wedding day.
Jennifer Behr Tori Voilette Headband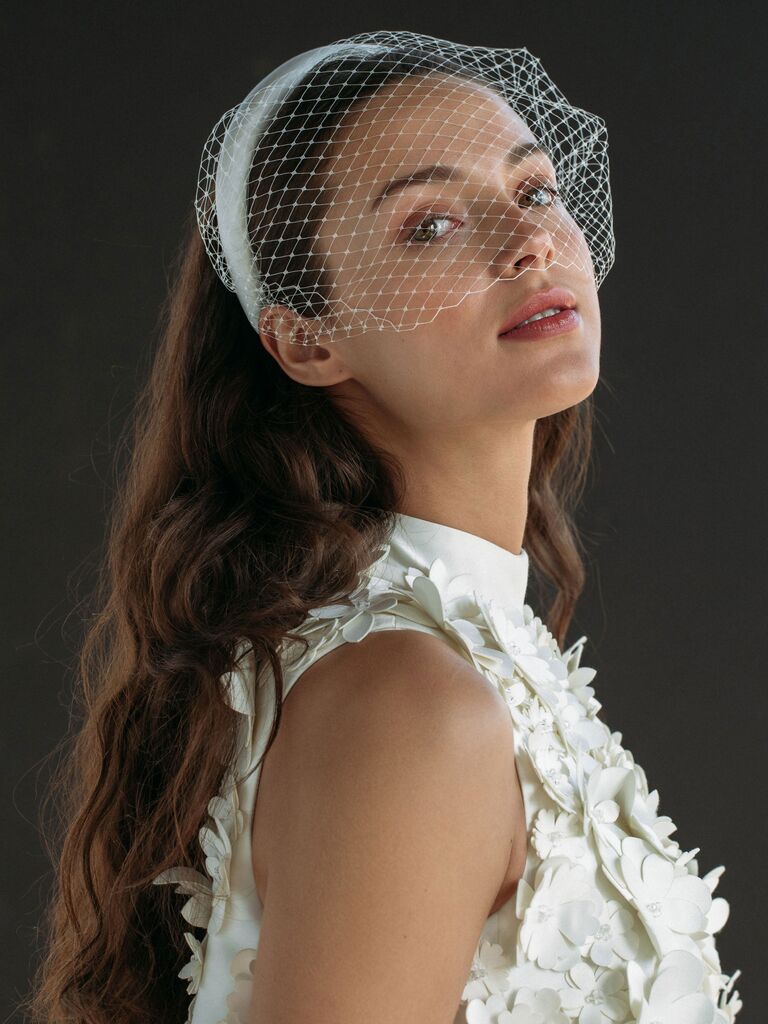 Talk about the best of both worlds. Here, Jennifer Behr took its best-selling Tori headband and added a vintage-inspired birdcage veil. The padded height of the headband complements the delicate silk-rayon veil, creating a fashionable ensemble that'll earn plenty of compliments.
Elena Honch Headband Kellie Black
Calling all edgy brides. If you're looking for an alternative to white headbands, swap in a black band. This satin hairpiece is topped with iridescent crystals making it a chic option for brides who want to break with tradition when it comes to wedding fashion.
Lelet NY Emily Headband
This stylish crystal wedding headband proves that sometimes less is more. At first glance, the piece seems like an understated accessory. But the side tassels—lined with Swarovski crystals and luminous pearls—add a touch of bling. Plus, it's a beautiful piece to wear alongside pearl wedding earrings.
Jennifer Behr Meadow Headband
How about a bridal headband covered in multicolored flower appliqués? Wear this eye-catching accessory with any of your spring wedding looks—from your engagement party outfit to the reception dinner. Or, pair it with a simple wedding dress and let the headband stand out.
Elena Honch Gwendolyn Ivory Headband
This ornately beaded bridal headband by Elena Honch is certainly a timeless option. Between its hand-sewn lace, crystals and pearls, it's clear that no detail went unnoticed while designing it. We'd pair it with a sleek wedding pantsuit for a stunning bridal ceremony look.
Affordable Wedding-Worthy Bridal Headbands
After spending hundreds (if not thousands) on a wedding dress, splurging on accessories might not be in the budget, but not to worry! There are plenty of gorgeous wedding headbands on the market for under $100. Here's 10 of our top picks.
Lele Sadoughi Ivory Bardot Ribbon Headband
How about a stylish bow for your big day—because every great package gets wrapped up in a bow. This dainty velvet option is perfect for your wedding day and beyond. Plus, it comes in five different color options if you're looking for an accent to your look.
Lulus Reign of Romance White Pearl Beaded Headband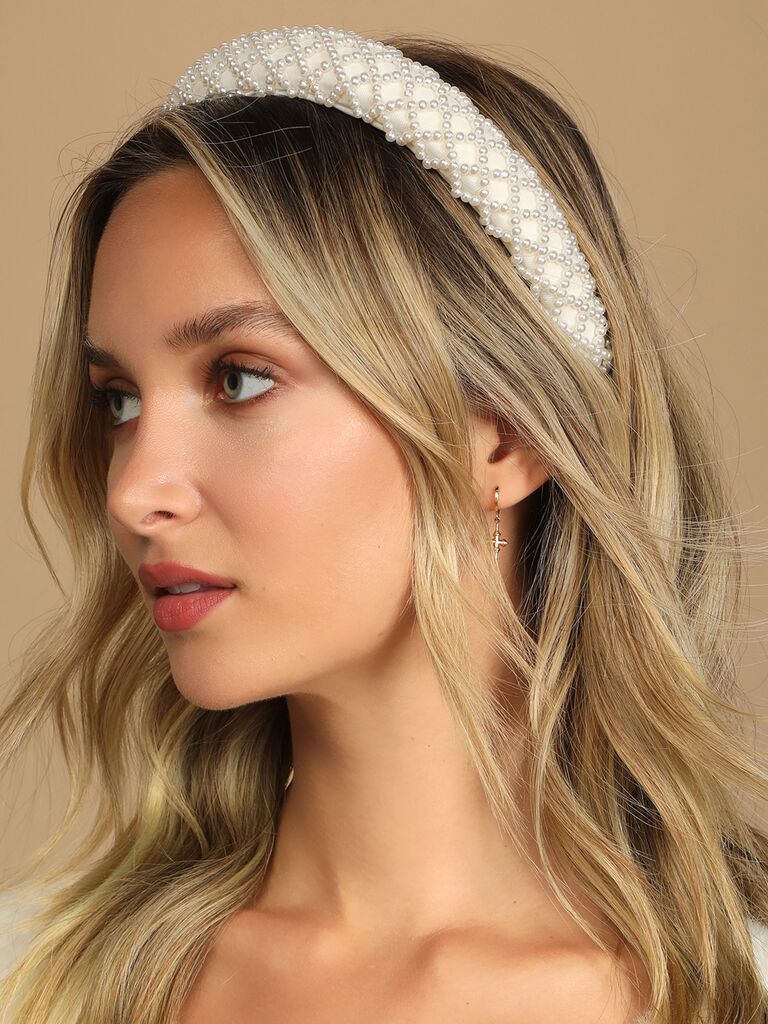 It doesn't get more wedding-worthy than this. This white bridal headband is adorned in pearls, making it the quintessential must-have for headband-loving brides. Bonus: You simply can't beat that price tag.
Hill House Home The Halo Headband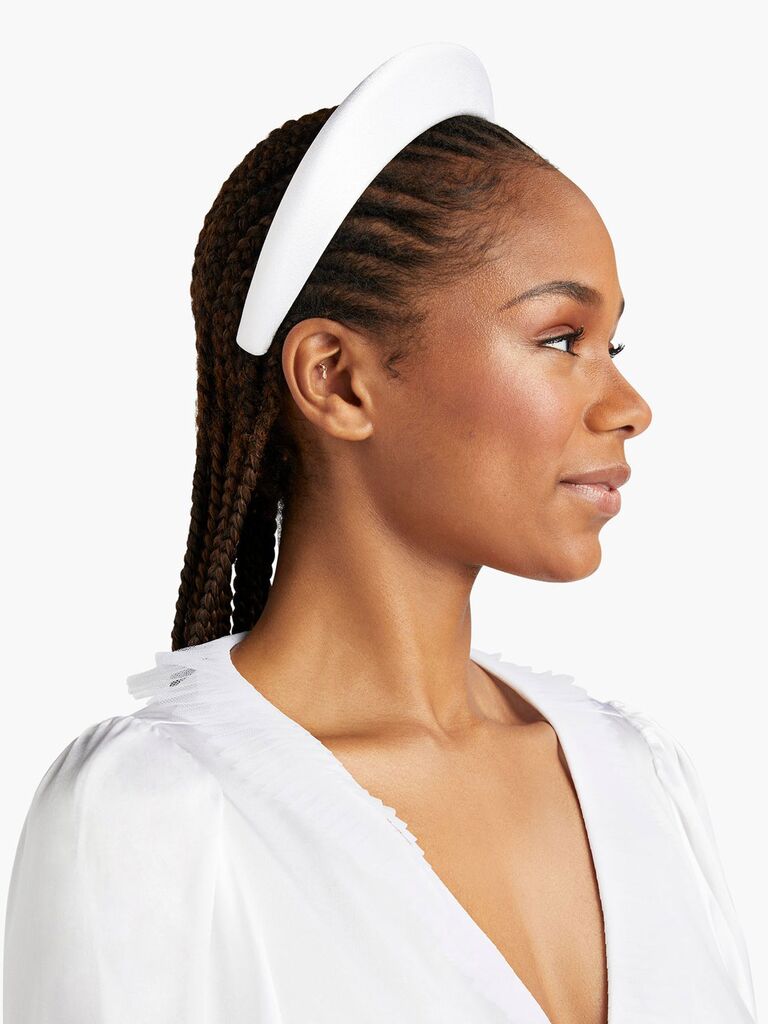 Here's a simple wedding headband that still makes a statement. The Halo headband by Hill House Home is made with 100% silk and boasts a padded design for a subtle lift reminiscent of a crown. It's the ideal minimalist alternative to the embellished headbands on our list.
True Decadence Crystal Tiara Headband in Silver
If you're really going for the "wow" factor, you'll love this opulent wedding headband. Clusters of crystals and faux pearls are meticulously placed throughout the silver band, creating a refined look for a bride craving a glam headpiece.
ASOS DESIGN Headband with Multi Row Pearl Design
Perfect for the bride who loves statement accessories, this oversized pearl bridal headband is a must-have for any wedding look. From the bachelorette to the morning-after brunch, this showstopper pays tribute to one of the hottest trends of 2023: Pearlcore.
Lulus Glim and Glam Silver Rhinestone Headband
How to Lose a Guy in Ten Days fans, why not 'frost yourself' in this stylish bridal headband. With sparkling silver rhinestones, it offers a look of luxury for a price that simply can't be beat. If you don't want to wear a headband for your nuptials, consider adding this lustrous accessory to your bridal shower outfit.
BHLDN Kinder Headband
Keep things sweet and simple with this padded ivory bridal headband. Its understated design allows your dress to do all the talking, while still keeping your hair out of your face. The best part? It's guaranteed to become your staple hair accessory after the wedding.
Lulus Vine Art Gold and Pearl Clip-On Headband
Trendsetters, listen up. If you're not afraid to go bold with your wedding accessories, this vine-inspired headband is a must-have. Its elevated rhinestone and pearl embellishments create an unforgettable bridal look that is sure to impress.
Lulus Charlotte Gold Pearl Headband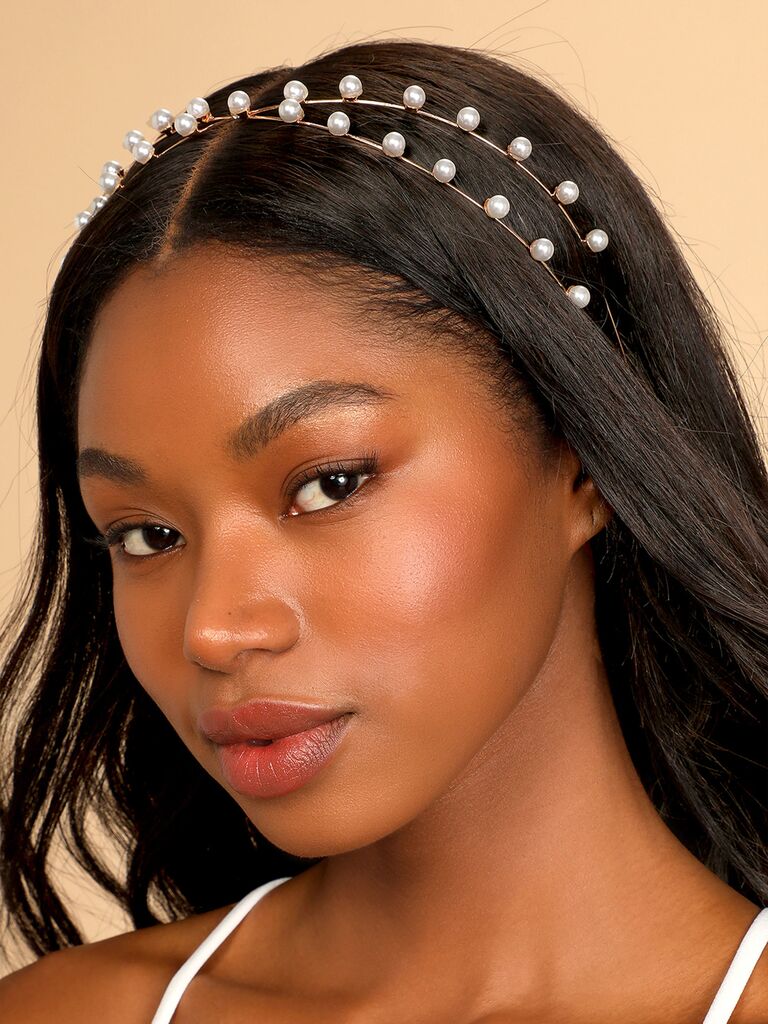 Featuring two rows of beautiful faux pearls against a thin gold band, we're swooning over this minimalist wedding headband. The band will flex to comfortably fit your head, making it an ideal option to rock with a chic bridal updo.
Lele Sadoughi Pearly Velvet Knot Bow Headband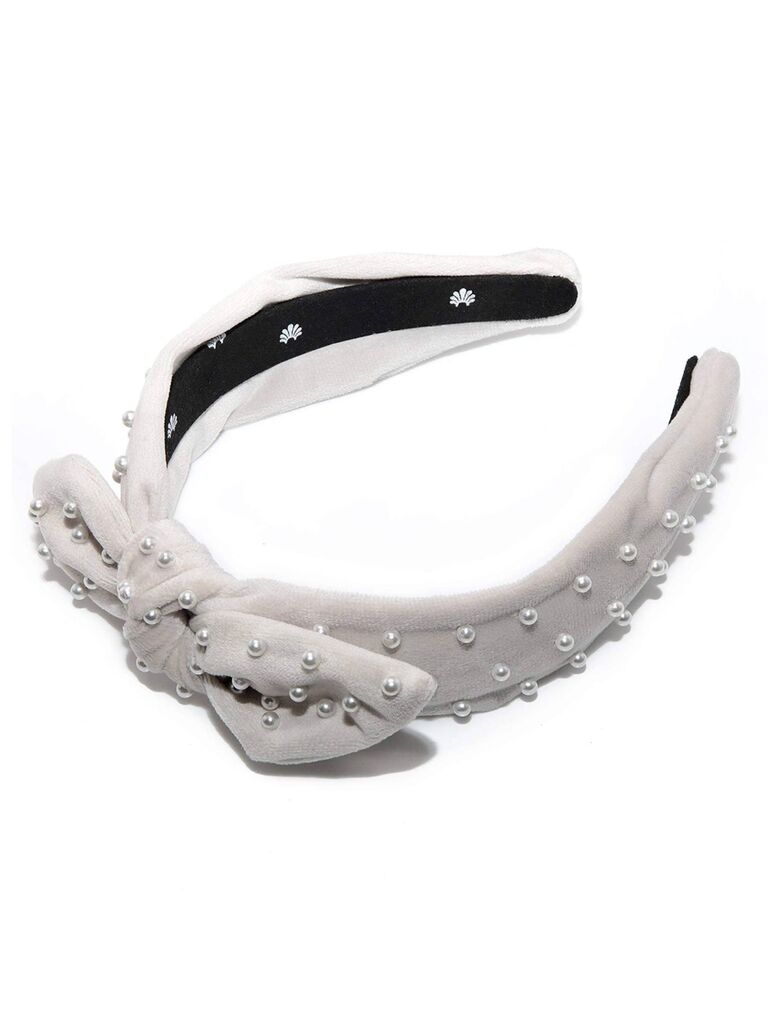 This cute knotted bridal headbandhas 'winter wedding' written all over it. We're big fans of the allover acrylic pearl embellishments on top of luxe velvet fabric. Another plus? It will add an extra pop to any wedding-related outfit.
Where to Buy Bridal Headbands
Jennifer Behr
Trust us: Jennifer Behr's immaculate bridal headbands are worth the splurge. Not only are they ultra-chic, but they're also made to last, crafted from high-quality materials such as authentic freshwater pearls. We like to think of them as the perfect heirloom pieces that can be loved for generations to come.
Lele Sadoughi
If you're looking for stylish wedding accessories that won't break the bank, Lele Sadoughi is your one-stop-shop. We love their wide selection of headbands, but they're also a great place to find jewelry, handbags and hats. Because they offer so many affordable options, they're a great destination to shop accessories for all your wedding moments.
Elena Honch
For trendy headband options that are guaranteed to make a statement on your wedding day, you can't go wrong with Elena Honch. But it doesn't stop at headbands. They also have an array of stylish accessories for everyday wear as well, making them the perfect go-to for your big day and beyond.