Four Ways Your Wedding Can Make an Impact, According to Wedding Pros
Turn your wedding into an opportunity to express your activism.
As conscious consumerism becomes mainstream, more and more couples are approaching their weddings (and all the choices that come with it!) with intention, whether that's to show support, tell a story or make a statement.
"The wedding industry often promotes the narrative that the planning process and the wedding day should be a time where the couple should solely focus on themselves. In actuality, the culmination of the wedding day is an opportune time to allow the love that the couple shares to result in creating even more joy for others; including family, loved ones, and even people they may not have ever met," says Bisola Esiemokhai of Event Design by BE. "The first step to rethinking the approach to wedding planning with an aim of infusing more activism into the day is to not allow current social norms to dictate the wedding the couple creates. The wedding should be authentic to who they are as people and as a couple. At the beginning of the planning process, I always ask my couples what their top priorities are when it comes to their wedding day. This is a time to focus on what's important and not get consumed with conspicuous spending just for the sake of it. When making a decision for the wedding, it's always a gut check. 'Does this decision tie back to the top wedding priorities?' Each decision should relate back to their vision as a couple, particularly in terms of what they stand for and what they truly believe in."
"Your wedding is one of the biggest days in your life and how you spend the money on that day will be important. If you're looking to make a statement or allow people a little more insight into who you are in the way of infusing activism, there are several things you could do," says wedding expert Jaclyn Watson of Jaclyn Watson Events. Wondering how exactly you can harness the social footprint of your wedding (and, let's be honest, all that spending power) in a way that will make you proud decades from now? Read on—we've got just the tips.
In this story:
Choose a Venue With History
One of the first decisions you'll make when it comes to planning your wedding is, well, where to have it. And with so many wedding venue options out there, it might be hard to narrow in on a space that feels like you and supports a cause or outlook you believe in. To start your search, focus on venues with a rich history. This can be anything from a bar with a reputation of supporting the LGBTQ+ community to a town hall rich with meaning from the abolitionist movement or a gallery that supports female artists. Booking a venue with this type of history is a great way to say, "This matters to us." Bonus points if part of your fee goes toward the work they continue to do.
There are a lot of decisions to be made when it comes to planning a wedding. Every dollar spent speaks to the larger social and political commitments you have. In light of this, research all vendors prior to agreeing to sign a contract. For example, when searching for your wedding venue, dig into their history in order to know more about current and previous ownership, space accessibility issues, and ensure that the site is inclusive of people from all backgrounds," says Esiemokhai.
Support Your Local Industry
We're certainly not the first ones to tell you to shop local—but that doesn't make the sentiment any less valuable. You'll be doing a lot of purchasing throughout your wedding planning journey, so look at each box on your to-do list as a chance to speak with your money. When possible, opt to hire or shop within the community where you live or are holding your wedding. Not only will you be supporting local industry in your area, but it's also a sneaky way to save money. You'll escape the big-box retailer markup and are more likely to buy in-season, which, in the case of things like food or flowers, can mean big savings.
Esiemokhai notes that "our communities are enriched financially with the help of thriving local businesses. Since a wedding day is one of the most costly events a couple will take on together, intentionally focusing on hiring local vendors will in turn stimulate the local economy. Furthermore, purposely supporting local minority-owned businesses including BIPOC-, LGBTQ+- and women-owned businesses who oftentimes get overlooked or denied support to run their business efficiently will allow this category of business owners to gain a more equal footing. Let your money speak for you by using your funds to support a local business who also pours back into the community and aligns with your personal values and beliefs."
Sarah Alouache, creative director, designer and founder of Sarah Alouache Bridal goes on to add that "shopping locally is so important for saving the planet! Think about all the travel expenses you are saving between the regular back and forth appointments to vendors like your bridal boutique or florist. It will be less costly in travel fees, but it will also reduce your environmental footprint. Using local vendors will also help boost your local community's economy, and help you save a lot of time in your wedding planning process. Another big thing to not forget is that your local vendors know the ins and out of the wedding industry around them. They will gladly refer you to other suppliers or vendors that they love and recommend working with."
You and your partner may be committed to doing good throughout your wedding planning process, but it helps if your vendor team has the same outlook as well. More and more, we're seeing couples compile a team of like-minded individuals whose work they love and whose outlook they agree with. Whether that means hiring a culturally diverse team of photographers, stationers, florists and caterers, or knowing that each of your vendors volunteers in their off time for those less fortunate, enlisting a crew of pros with the same "do better" mindset that you have will make your planning process easier—and may even open your eyes to new opportunities to give back along the way.
"It is important for couples to consider local vendors when building their team as it helps the local economy grow," says Watson. "It also supports smaller-run companies that genuinely care about who you are versus big-name box stores. Staying true to the local vendors will help your guests see the various ways they could give back to their local community. Hiring some local vendors also cuts down on cost and travel for outside vendors and helps with sustainability."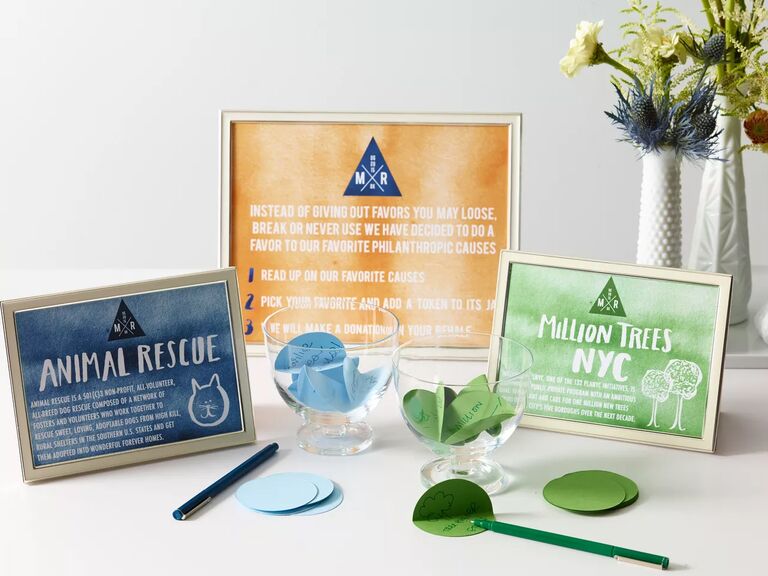 There are many ways to finish your wedding planning journey with a few simple acts of kindness. Some of our favorites? In lieu of favors, make a donation to a preferred charity or foundation in honor of your guests (or create a GoFundMe Registry). Or, enlist a company like Repeat Roses, who will repurpose your day's blooms into smaller arrangements and redistribute them to local hospitals or retirement communities for a bit of extra cheer. Other easy options, like donating your wedding attire or composting your dinner scraps, can make a big difference in the long run.
Ultimately, Allie Calzada of Allie the Wedding Officiant LLC emphasizes that "when most people think of weddings, they think of all the sparkle and the razzmatazz that comes with it. But what if your wedding could also be a force for good in the community? What if your wedding takes a step forward beyond the norm, and gives your guests some insights to your beliefs and values as a couple? It is possible to have a meaningful wedding while giving back to the community!