Here Are Four Ways Your Wedding Can Make an Impact
Throwing a wedding has become a force of activism all its own. Here's how to harness your to-be-wed power.
For many, 2021 will be the year of conscious consumerism. "Voting" with your money is a real thing, and more and more people are spending, shopping and hiring in a mindful manner that aligns with their overall belief system. And what better time to think about spending thoughtfully than International Women's Day? By giving your money to women-owned venues, vendors who are women and other local, women-founded companies, you're living out the value of equality in a powerful way. Wondering how exactly you can harness the social footprint of your wedding (and, let's be honest, all that spending power) in a way that will make you proud decades from now? Read on—we've got just the tips.

Read Next on The Knot
Your Wedding Style, Based on Your Fave Girl Scout Cookie

Read Next
Your Wedding Style, Based on Your Fave Girl Scout Cookie
Choose a venue with history
One of the first decisions you'll make when it comes to planning your wedding is, well, where to have it. And with so many wedding venue options out there, it might be hard to narrow in on a space that feels like you and supports a cause or outlook you believe in. To start your search, focus on venues with a rich history. This can be anything from a bar with a reputation of supporting the LGBTQ+ community to a town hall rich with meaning from the abolitionist movement or a gallery that supports female artists. Booking a venue with this type of history is a great way to say, "This matters to us." Bonus points if part of your fee goes toward the work they continue to do.


Read Next on The Knot
Your Wedding Style, Based on Your Fave Girl Scout Cookie

Read Next
Your Wedding Style, Based on Your Fave Girl Scout Cookie
Support your local industry
We're certainly not the first ones to tell you to shop local—but that doesn't make the sentiment any less valuable. You'll be doing a lot of purchasing throughout your wedding planning journey, so look at each box on your to-do list as a chance to speak with your money. When possible, opt to hire or shop within the community where you live or are holding your wedding. Not only will you be supporting local industry in your area, but it's also a sneaky way to save money. You'll escape the big-box retailer markup and are more likely to buy in-season, which, in the case of things like food or flowers, can mean big savings. 
Hire a like-minded team
You and your partner may be committed to doing good throughout your wedding planning process, but it helps if your vendor team has the same outlook as well. More and more, we're seeing couples compile a team of like-minded individuals whose work they love and whose outlook they agree with. Whether that means hiring a culturally diverse team of photographers, stationers, florists and caterers, or knowing that each of your vendors volunteers in their off time for those less fortunate, enlisting a crew of pros with the same "do better" mind-set that you have will make your planning process easier—and may even open your eyes to new opportunities to give back along the way.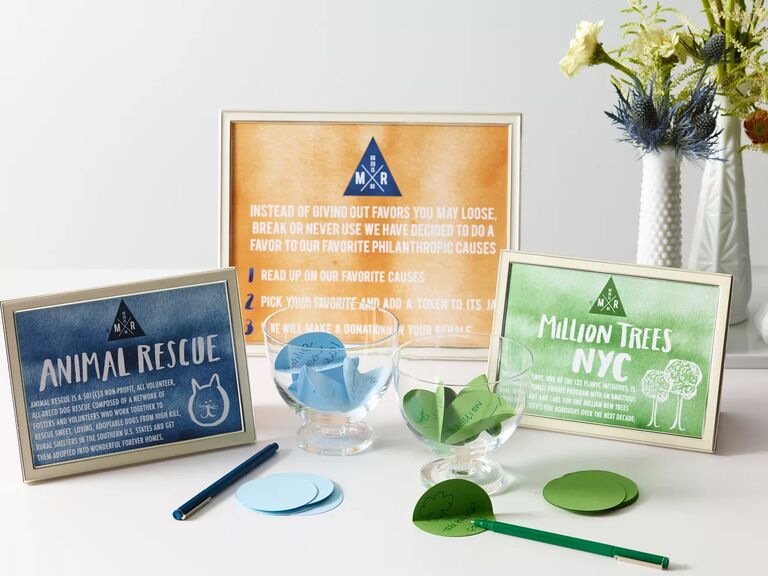 Give back post-I Do
There are many ways to finish your wedding planning journey with a few simple acts of kindness. Some of our favorites? In lieu of favors, make a donation to a preferred charity or foundation in honor of your guests (or add one to your wedding registry). Or, enlist a company like Repeat Roses, who will repurpose your day's blooms into smaller arrangements and redistribute them to local hospitals or retirement communities for a bit of extra cheer. Other easy options, like donating your wedding attire or composting your dinner scraps, can make a big difference in the long run.