16 Celebrity Homes and Mansions You Can Rent for Your Wedding or Honeymoon
Yes, you can actually swap vows at Blake and Ryan's Hawaiian bungalow.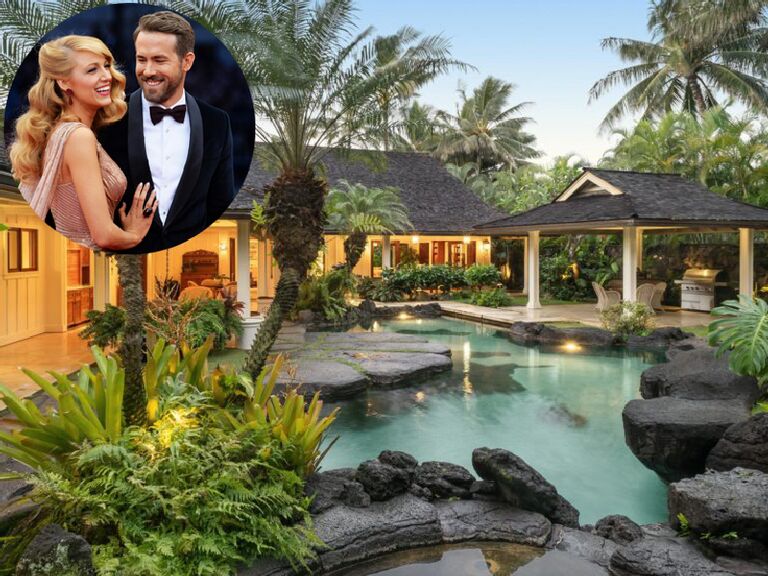 We have included third party products to help you navigate and enjoy life's biggest moments. Purchases made through links on this page may earn us a commission.
Selecting a location for your wedding or honeymoon is one of the most exciting parts of the planning experience. After all, the venue inherently sets the vibe for the entire celebration. So, how do you find the perfect setting? When it comes to your big day, just about anything goes. You can swap vows at a religious space, your favorite winery, a tropical seascape, City Hall, or your backyard. But if you're looking for a location that's truly out of the box, you can actually rent a celebrity home for your wedding (or even your honeymoon).
Quite a few A-listers share their properties on home rental sites like Airbnb and Vrbo, meaning you can reserve them for special occasions. Of course, as with all rental services, it's important to ensure your intended property allows events and can accommodate your guest list size. (And if not, you can always stay at one of these super-cool properties and do the legalities at a nearby location.) Fine print aside, renting a famous house or mansion for your wedding is perfect if you're a pop-culture enthusiast, or if you're simply looking for a unique venue to say your "I dos." To help you find the perfect home away from home, we've rounded up 16 celebrity houses, mansions and villas you can rent for your wedding.
Julie Andrews: The Rubber House, Accord, NY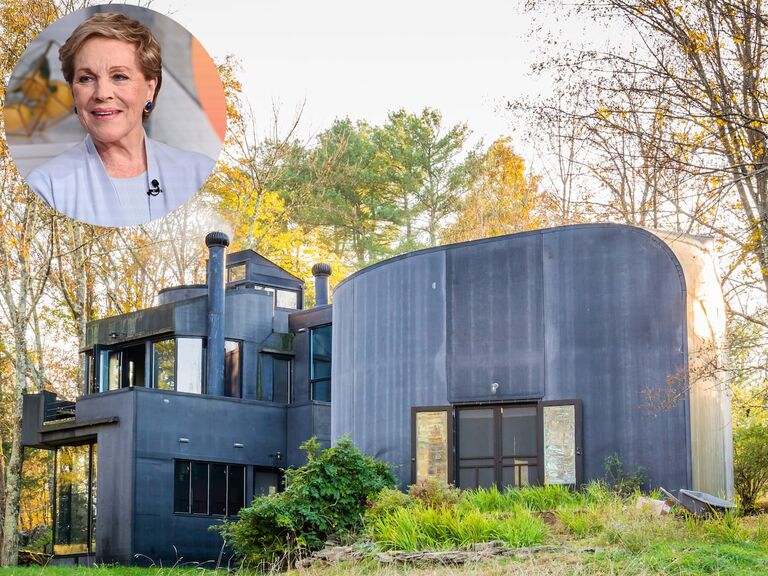 From Maria Von Trapp to Queen Clarisse and even Lady Whistledown, Julie Andrews has held many iconic roles throughout her illustrious career. But regardless of how you know and love this Hollywood star, you can rent her mansion for your wedding. Many speculate that Andrews once resided in The Rubber House, an artist colony and retreat in Accord, New York. The bucolic home, nestled in the Hudson Valley, was originally built for choreographer Eugene Loring and his partner, a chef. Airbnb's listing notes that it was later owned by "an Oscar-winning actor" who retained much of the original design, which includes a luxe primary suite, a calm, muted color palette, and a dance studio (perfect for those pre-reception rehearsals). This architectural celebrity home sleeps four guests and starts at $854 each night.
The Bachelor: Kleif Farm, Luxury Villa, Kjósarhreppur, Iceland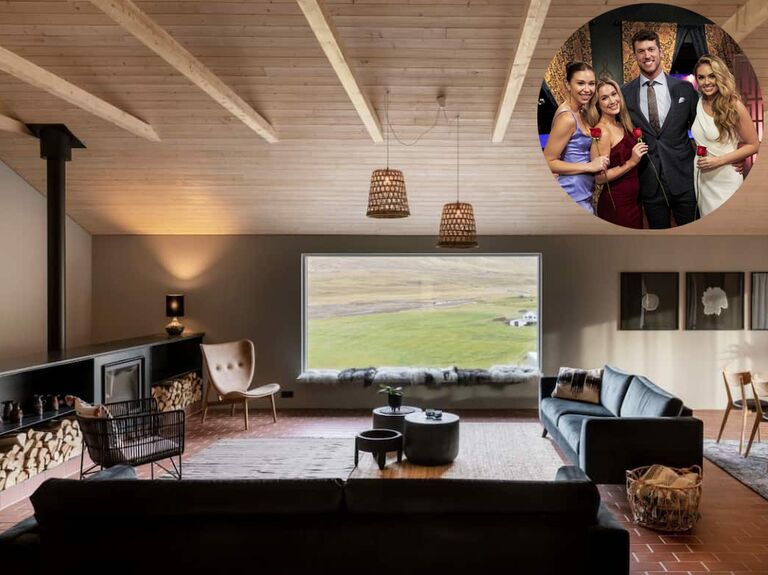 Can we steal you for a sec? It's true: You can rent one of The Bachelor mansions for your wedding. While this isn't the iconic series staple located in California, this luxury farmland villa in Reykjavík, Iceland was the setting for one of Clayton Echard's international dates on Season 26 of The Bachelor. Tucked away in the Icelandic mountains, this stunning wedding home rental boasts sweeping views and a cozy, wooded interior that's simply perfect for a destination wedding. This famous house is also conveniently located near popular destinations like The Golden Circle and the national park Þingvellir, allowing you and your guests to make the most of your travels. If you're interested in renting a villa for your wedding, this particular selection sleeps 10 guests at $1,480 a night—and it permits events.
Blake Lively & Ryan Reynolds: Paradise Point Estates, Oahu, Hawaii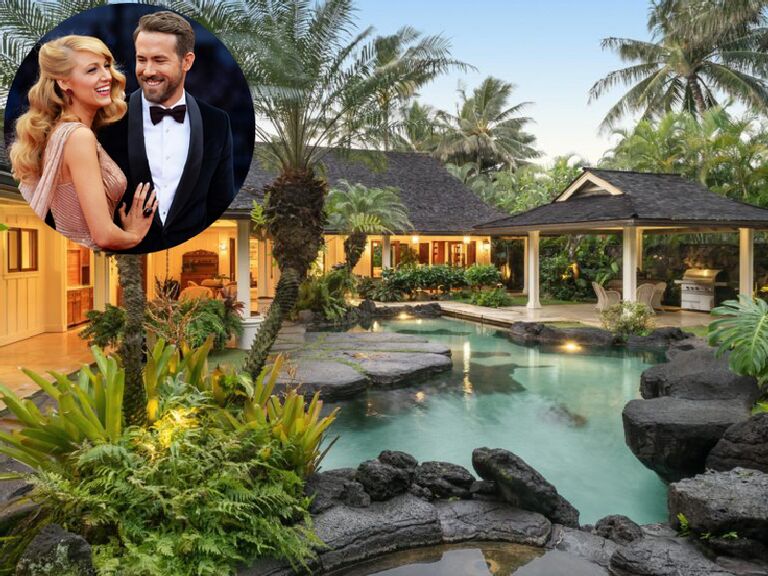 While Paradise Point Estates isn't exactly owned by a celebrity, it has been a Hawaiian hotspot for plenty of stars and public figures, including Blake Lively and Ryan Reynolds, Angelina Jolie, Bradley Cooper, Michael J. Fox and President Barack Obama. (The famous home earned itself the nickname "Winter White House" because the Obama family used to rent it every year for Christmas.) The five-bedroom oasis is steps away from Kailua Beach, which is rated one of the best beaches in the world. It also has a lagoon-style pool, a hot tub with a waterfall, a fitness center, a gourmet kitchen, and a concierge service.
Reba McEntire: The Estate at Cherokee Dock, Nashville, TN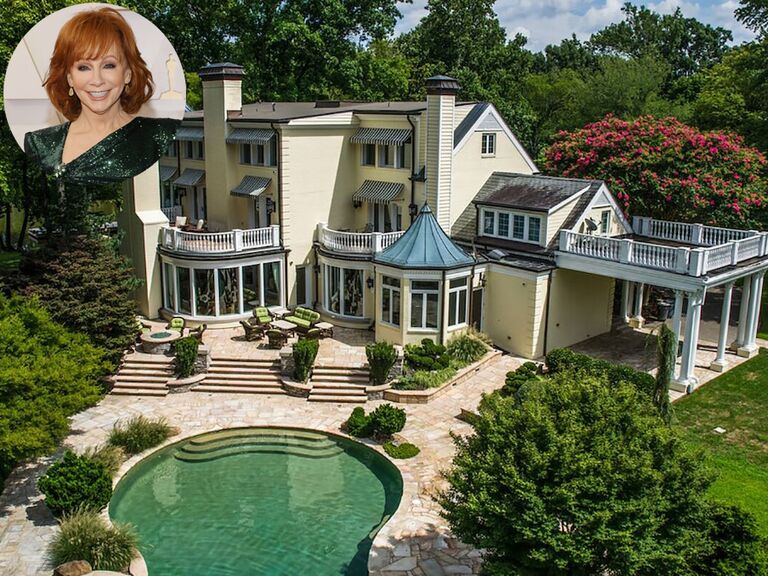 Treat your guests to true southern hospitality by snagging Reba McEntire's former mansion for your wedding. Starting at $5,500 per night, this country singer's sprawling lakeside estate can be rented for weddings and private retreats. Set on 13 acres, it boasts stunning amenities to make your trip unforgettable. Not only do the grounds include a pool and a pool house, as well as a guest home, The Estate at Cherokee Dock also features a luxury stable, a theater, a wine room, a parlor, and entertaining spaces both indoors and outside. Plus, every room has a view of Old Hickory Lake—a picturesque backdrop for your wedding photos.
Cardi B: Villa Loft, Samaná, Dominican Republic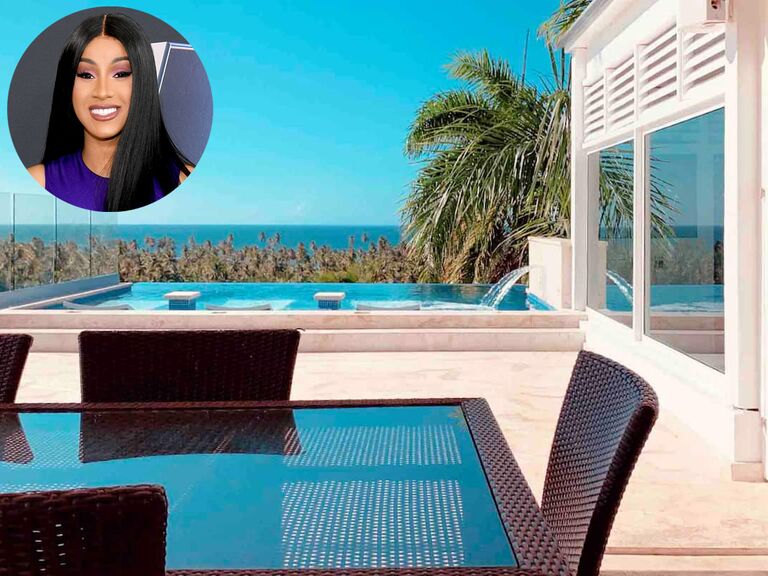 In 2021, rapper Cardi B took to Instagram to share her dream of investing in short-term home rental properties in the Dominican Republic. That wish became reality when her longtime beau Offset purchased this chic modern villa in Las Terrenas. While the couple no longer owns the home, it is available to rent on Airbnb. This seven-bedroom, four-level celebrity mansion has two pools, as well as private access to a nearby beach and a tennis club.
Vince Vaughn: Scrub Oak Circle, Watercolor, Florida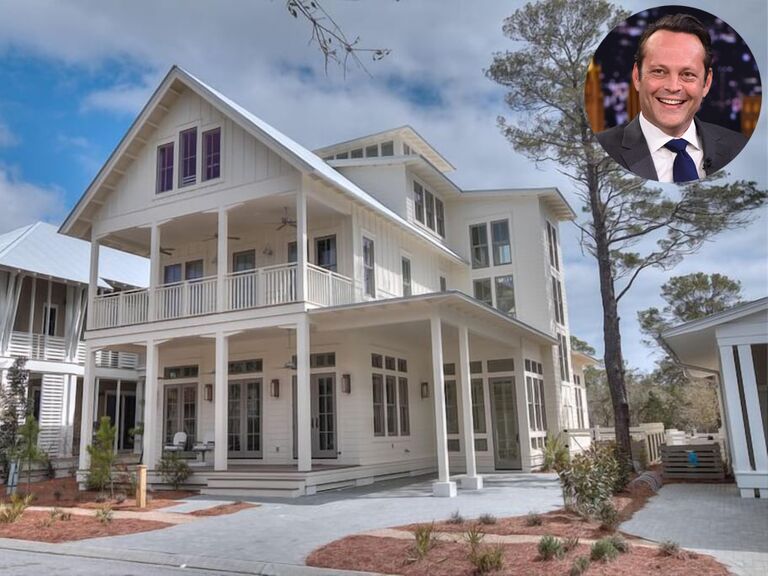 Actor Vince Vaughn bought this charming Floridian beach house in 2014, and it entered the short-term rental market four years later. Now available to book on Vrbo for $800 a night, this celebrity mansion sleeps 14 people. The large open-floor concept home has two kitchens (complete with Subzero and Wolf appliances), a media room, expansive outdoor space with a saltwater pool and outdoor shower, and four porches to take in the views of Western Lake.
Leonardo DiCaprio: 432 Hermosa, Palm Springs, CA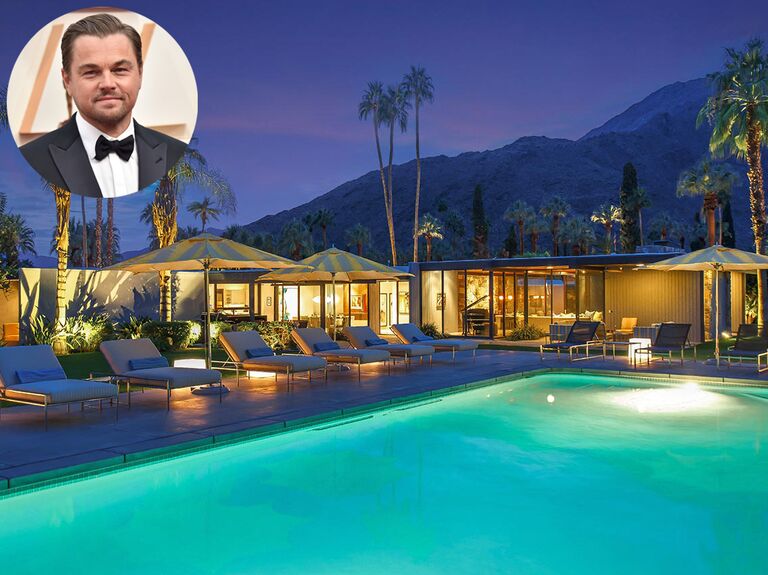 When it comes to renting the homes of celebrities, 432 Hermosa is one that should be on your radar. It's rumored that actor Leonardo DiCaprio has stayed at this ritzy estate, which was the former home of actress Dinah Shore. Nestled within the San Jacinto Mountains in Southern California, this celebrity home is an oasis of desert beauty. By the numbers, it has six bedrooms, seven-and-a-half baths, multiple firepits, a heated pool and spa, one guest house, and a tennis court. 432 Hermosa sits in one of the most sought-after neighborhoods of Palm Springs. In fact, stars like Frank Sinatra, Marilyn Monroe, Elizabeth Taylor, Cary Grant, Dean Martin, and Elvis Presley have all vacationed at homes in this neighborhood. Give your guests a one-of-a-kind experience by renting this estate for your nuptials. Rates start at $3,750 per night but are subject to change based on your event and group size
Naomi Osaka: Villa Nautica, North Bay Village, FL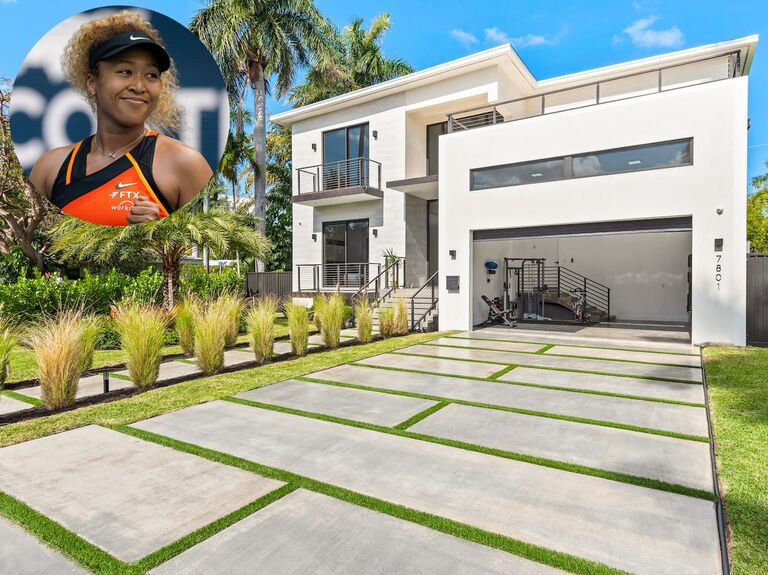 While competing at the 2022 Miami Open, tennis star Naomi Osaka lived at Villa Nautica, a luxurious modern estate in a high-end gated community in Florida. (She even shared a few snaps from her stay on Instagram.) Luckily, it's easy to emulate the pro-athlete lifestyle because this famous home is available to rent through Airbnb Luxe. The lavish villa accommodates 10 guests and features an array of amenities perfect for hosting, including a wine cooler, an eat-in bar, a hot tub, a fire pit, and a sleek outdoor patio with cozy seating surrounding a stunning pool. This celebrity home does come with a corresponding price tag, as rentals start at $3,000 a night. With added fees, you can enhance your stay with additional luxuries like airport transfers, housekeeping, a full-time butler, private drivers, chef and spa services, and activities and excursions.
Jack Nicholson: Bungalow on the Water N°3, Bora Bora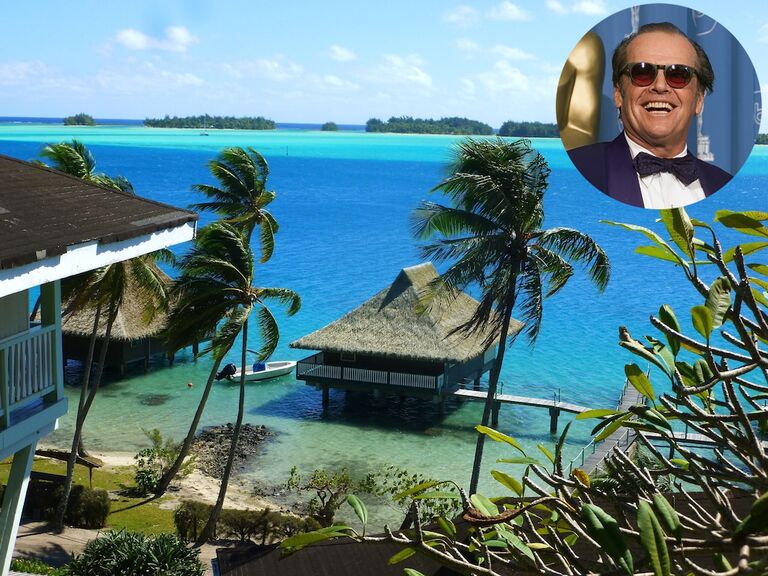 Trying to plan the coolest postwedding vacation? We suggest renting this luxurious bungalow that was once owned by Jack Nicholson. After all, how many people can say the've honeymooned at a celebrity home? This tropical hideaway sits on Bora Bora's famous blue lagoon and offers panoramic views worthy of a postcard. Spend your days lounging on deckchairs and bathing in the warm Tahitian sun on the terrace of this rental. When you're ready for adventure, test out the property's collection of water toys, which includes fins, masks and a kayak. Rates for this famous home honeymoon destination begin at $379 per night.
Sting: Il Palagio, Tuscany, Italy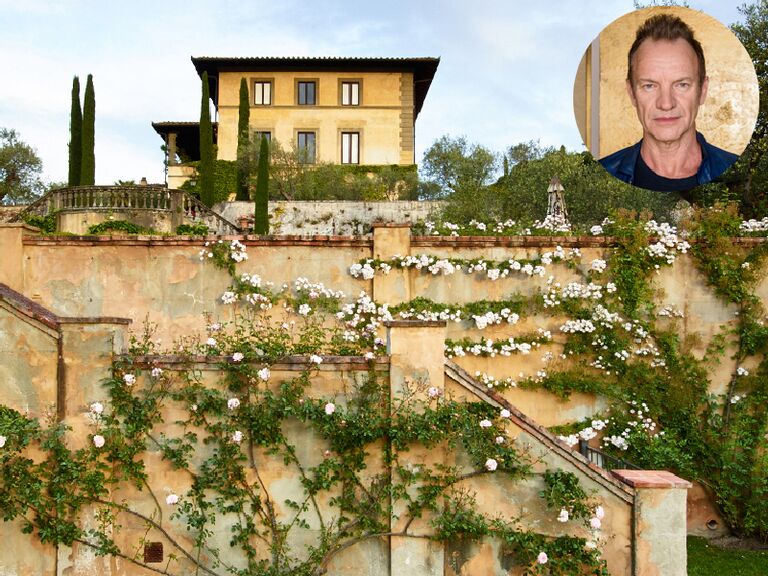 Those in the market to rent an estate for a wedding need not look further than Sting's Italian villa Il Palagio. This rustic 16th-century estate is perched on the lush Tuscan countryside and has been in the singer's family for over two decades. Today, it's used as a vacation home for him and his wife, Trudie, which they've renovated to accommodate events and special occasions. "Il Palagio is like stepping into a painting. And one of my favorite places on Earth. I hope you fall in love with it as much as I have," reads a message from Sting on the estate's website. The location itself can accommodate 49 guests overnight and cater 31, but can reach up to 400 when using outside suppliers and event planners.
Sir Richard Branson: Necker Island, British Virgin Islands
British entrepreneur Sir Richard Branson is the proud owner of Necker Island, a 74-acre property surrounded by coral reefs, white sandy beaches and sparkling water. If you've dreamed of having a tropical mansion wedding, you'll be pleased to know that Branson's exquisite property is available to rent for your big day. But don't just take our word for it—this famous home was also the venue for Hollywood couple Nick and Vanessa Lachey when they swapped vows in 2011.
Red Hot Chili Peppers: Casa Cortez, Cabo San Lucas, Mexico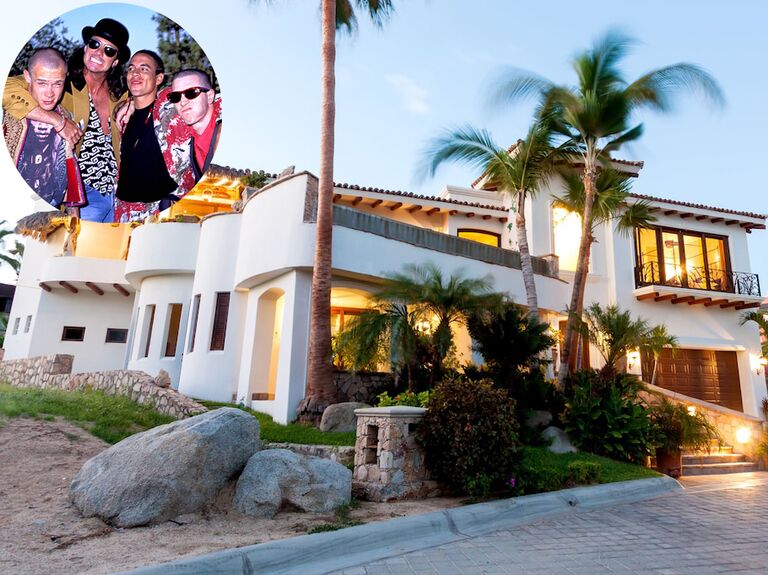 You'll feel like a VIP at Casa Cortez, a swanky seaside mansion in the exclusive community of Playa del Rey that was once the home of the Red Hot Chili Peppers. Given its location on top of a cliff, this four-person home features unparalleled views of the Sea of Cortez. Inside, a housekeeping staff keeps the kitchens stocked, while the outdoor area is maintained for entertaining. You and seven guests can enjoy the rooftop patio or the infinity pool and hot tub, all for $825 a night.
Jimi Hendrix: The Gingerbread House, Makawao, Hawaii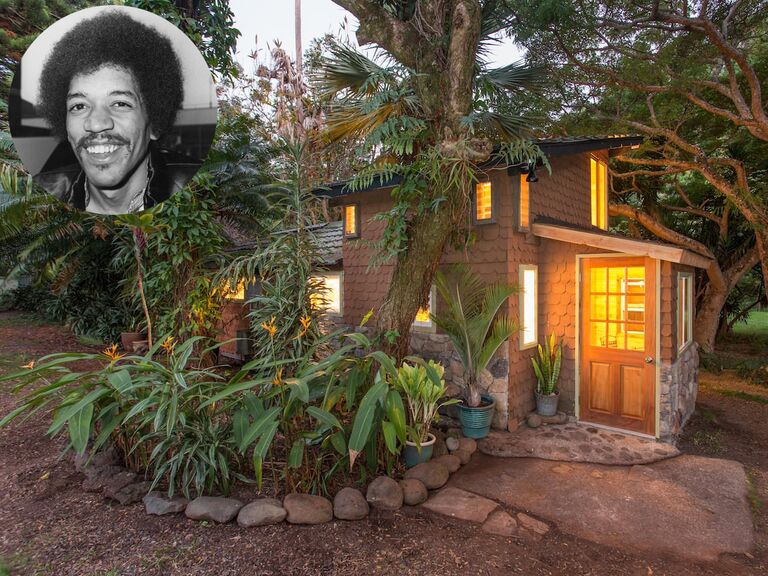 Perhaps one of the cutest honeymoon rentals you'll ever find, The Gingerbread House is a delightful option for your newlywed vacay. Even more enticing is the fact that it's the exact location where rocker Jimi Hendrix stayed while creating Rainbow Bridge in 1970. The remodeled cottage, which was built in the 1930s, is centrally located between multiple beaches, an airport, and a variety of restaurants and shops. Cathedral ceilings and large windows give way to sweeping views of Hana's lush surroundings. Two guests can relax and unplug in this famous celebrity home, which runs for $250 a night.
Zelda and F. Scott Fitzgerald: The Zelda Suite, Montgomery, AL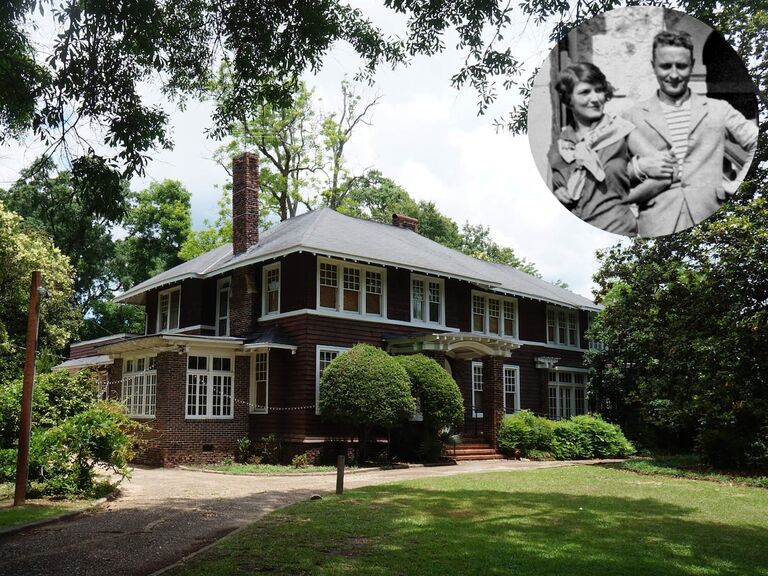 Classic lit enthusiasts, this one's for you. If The Great Gatsby is a staple on your bookshelf, you might be enticed to rent The Zelda Suite, located in Montgomery, Alabama. This four-person apartment unit is located inside a historic home that houses the only museum for Scott and Zelda Fitzgerald in the world. The couple lived in this exact space from 1931-1932, during which they wrote portions of their books Save Me The Waltz and Tender Is The Night. After the Fitzgeralds moved out, the home was renovated into four apartments. The downstairs area houses the museum, and there are two full units available upstairs. While this celebrity home doesn't permit parties or events, it's available for up to four guests at $119/night, making it a perfect honeymoon location for avid readers and history buffs.
Sonny and Cher: Mid-Century Modern Bungalow, Los Angeles, CA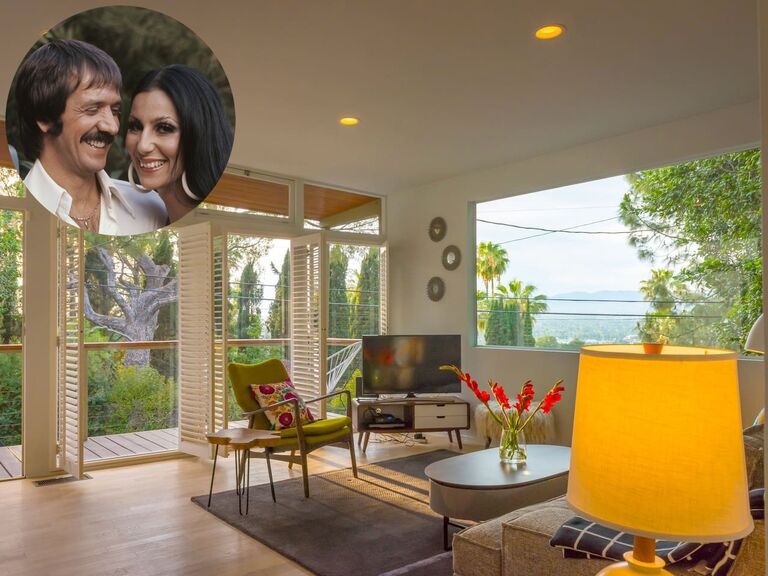 We got you, babe. If your dream is to swap vows or honeymoon at the famous home of a celebrity, you can do so at Sonny and Cher's former residence. In the 1970s, the famed pop duo resided in this upscale bungalow that overlooks the San Fernando Valley. The treehouse is nestled in a private wooded area and has been remodeled with a cool "mid-century-meets-boho-chic" aesthetic. During your stay at this architectural landmark, you can easily check out surrounding sights, as it's just minutes away from Warner Bros. and Universal Studios, as well as the Hollywood Reservoir and the entrance of the Wisdom Tree Hike. For $600 a night, you and three other guests can live like two of the most iconic pop artists in history.
Jane Austen: Restored Cozy Condo, Bath, England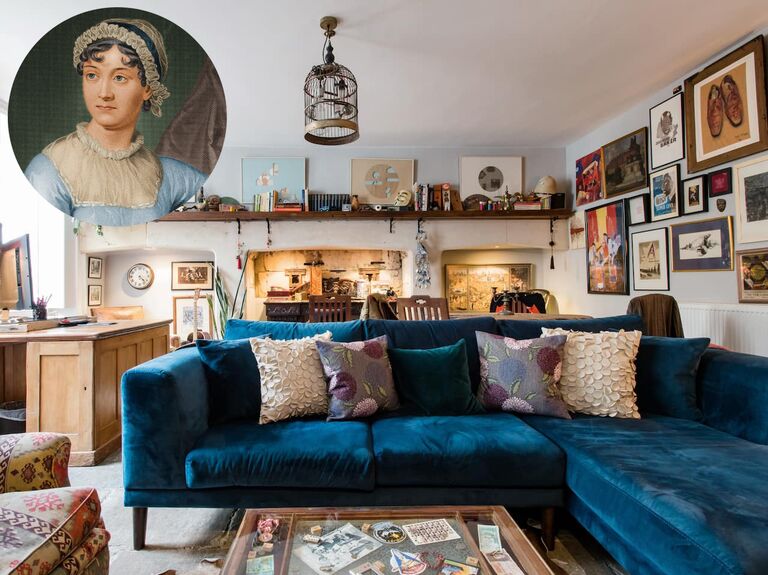 If you're willing to hop across the pond for wedding festivities, you can rent Jane Austen's family home where she lived from 1801 to 1805. The cozy condo, located in Bath, England, has been restored to blend the past with the present. While you'll find plenty of antique furniture, artwork and curated knick-knacks, the award-winning home rental also has modern amenities like a rainfall shower, heated mirrors and surround sound. Since this celebrity's house can only accommodate three guests, we recommend booking a stay for a unique honeymoon. At $183 per night, you won't regret it—especially if you have a penchant for classic novels.