19 Most Popular Wedding Reception Venues (and Why)
Finding the perfect venue is just as important as saying "yes" to the dress.
by Andrea Fowler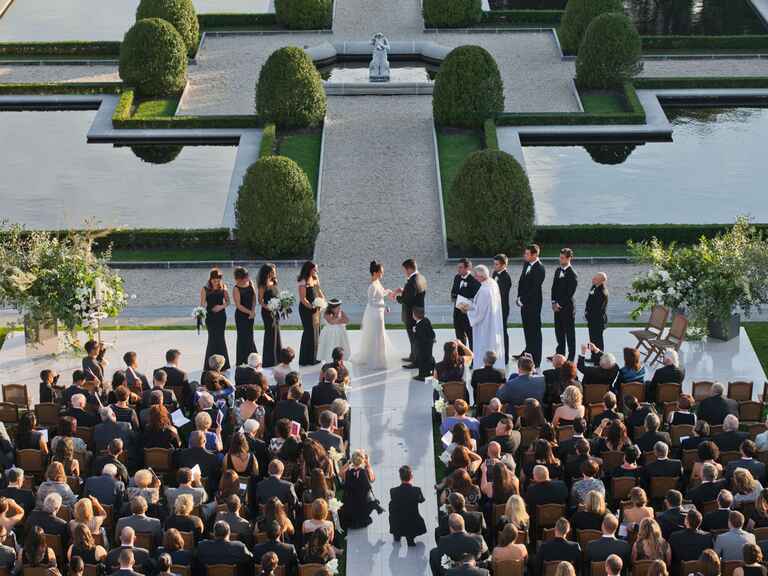 With an average cost of $16,107, venues are usually the biggest expense of any wedding. That said, you want to find the one that's perfect for you, right?
From refurbished barns to coastal vineyards, our most recent Real Weddings Study revealed that a willingness to work within a budget is less important than actually finding the perfect location.
These are the most important features to-be-weds considered when looking for their venue:
1. A scenic locale
2. Indoor and outdoor space options
3. A unique (or nontraditional) venue
4. A location close to home and family
5. Willingness to work within budget
6. Big enough area to accommodate large guest lists
7. A great space for dancing
8. Flexibility and options for customizing the space
9. Premium food and catering options 
10. Inclusion of a helpful staff or coordinator
We're not surprised to see that one of the most desired features is having indoor and outdoor access—outdoor weddings are on the rise, but the threat of bad weather is enough to make anyone hesitate to book that beautiful outdoor garden without a plan B space.
What do those perfect venues look like? Here's the breakdown of bookings:
Banquet hall: 18%
Historical building or home: 15% 
Farm/Barn/Ranch: 14% 
Hotel or resort: 13%
Country club: 11%
Backyard/Private garden: 7%
Restaurant: 7%
Winery or vineyard: 3%
Lake/Lake House/Cabin: 4%
Family/Friend's home: 3%
Religious institution: 3% 
Beach/Beach house: 3%
Museum or gallery: 3%
Park: 3%
Urban loft/Rooftop: 3% 
Bed-and-Breakfast: 2%
Public garden: 2%
Univeristy/College: 1%
Boat or yacht: 1%
Banquet halls have had the highest decrease in popularity, dropping from 27 percent in 2009 to 18 percent in 2016, but they're still leading the pack. And which venue is on the rise? Rustic locations like farms, barns and ranches—they've increased from 3 percent in 2009 to 14 percent in 2016, and historical homes are hot on their tail.
Ready to say "I do" to your perfect venue? Head to our All-In-One Wedding Planner to get started! First, define your wedding vision through our fun Style Quiz, then get matched with amazing venues and vendors to bring everything to life.