26 Lavish Ideas for a Great Gatsby-Themed Wedding
Say hello to the new roarin' '20s.
The modern roaring '20s are here—so if you have a penchant for all things vintage and Art Deco, there's never been a better time for a Great Gatsby wedding theme. Classic literature buffs and Leonardo DiCaprio fans alike might envision a lavishly glam wedding that would rival one of Jay Gatsby's extravagant soirées. If this sounds like you, we're here to help you channel the glitz and elegance of the flapper era. From jeweled headpieces to champagne towers and gold accents, there are so many tasteful ways to throw a modern Great Gatsby wedding. But before you can work with your team of pros to host a vintage party that's East Egg-apropos, you'll need to decide on a vision first.
Below, we've rounded up the very best Great Gatsby wedding ideas from real couples, as well as expert-approved planning advice. Take note of your favorite ideas, and share them with your vendors to bring your Great Gatsby wedding vision to life.
Opulent Wedding Venue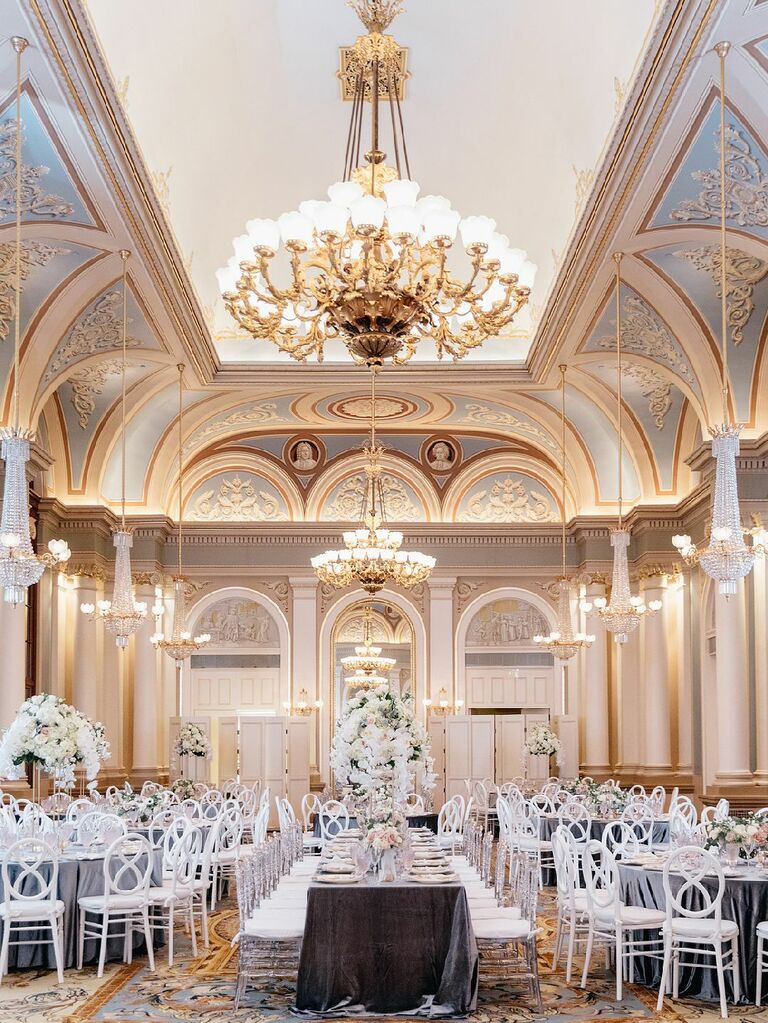 The setting of your Great Gatsby wedding will have the biggest influence over the perception of your theme. While you can emulate any wedding theme through intentional decoration and event design, some settings will better lend themselves to certain themes—and this is especially true of a Great Gatsby wedding. "The Great Gatsby theme is incredibly glamorous and speaks to an era that loved to celebrate, and it's perfect for any time of year, not just New Year's Eve," explains celebrity event planner David Tutera. "A glamorous ballroom or outdoor tent would work well for a Great Gatsby wedding theme, though keep in mind there's no hard and fast rule here. You can achieve a glamorous Great Gatsby-themed wedding in most venues; it's all about how you design a space, showcase the elegance of the era, and make it your own." We recommend using The Knot Marketplace to discover local venues that are full of historical charm and vintage accents that'll take guests back in time for your Gatsby nuptials.
Champagne Tower
Consider this the most important decorative element of any Great Gatsby wedding theme. "A champagne tower is spot on for this style of wedding," Tutera explains. Nothing embodies the maximal vibe of a Gatsby party quite like a tower of champagne flutes filled the brim with bubbly. Work with your venue staff or bar service team to create an optical display that'll leave guests speechless.
Beaded Cape and Birdcage Veil
Channel Daisy Buchanan's fashion sense by opting for a vintage wedding dress. This outfit perfectly fits the bill thanks to the bride's glittering embellished cape and antique birdcage veil. Your wedding attire sets the tone for your big day from the moment you make your appearance, so choosing a thematic outfit will help you seamlessly fit the theme. For something that screams "Great Gatsby wedding dress," consider a beaded sheath, a V-neck fit-and-flare dress with lots of pearls and embellishments, or a midi dress with fringe or a glittering cape. (Psst: Find more 1920s wedding dress inspiration right here.)
Glam Art Deco Invitations
Formal invitations serve as the introduction to your wedding day. And, if you're planning to go all out with your Great Gatsby-inspired wedding, give a glimpse of what's to come with thematic invitations. Look for designs that have Art Deco-inspired angular lines, gold metallic accents, and elegant script font. This is also the place to introduce your color scheme, which should feel sleek and elevated. "Consider using shades of white and cream, soft blush tones and gold and pearl accents," Tutera suggests. Begin your search for Great Gatsby-themed wedding invitations by using The Knot Invitations—we recommend using filters like "Art Deco," "elegant" and "faux foil" to find appropriate stationery.
Champagne Bathtub
Nothing says "prohibition era" quite like booze in a bathtub. If you're looking for memorable Great Gatsby wedding theme ideas, this one fits the bill. Trade a traditional drink cooler for a vintage bathtub filled with beverages like champagne, beer and other canned drinks. Not only is this a super Instagram-worthy installation, it'll be a hotspot destination for guests all night.
Lavish Centerpieces
One area not to skimp on when it comes to a Great Gatsby wedding theme is floral decor. "The Great Gatsby is all about excess," Tutera explains. "To bring this theme to life, it's crucial to thread this through multiple design elements, including over-the-top florals like gardenias, calla lilies, roses and Casablanca lilies." Lush, towering centerpieces will pop on your tablescapes and transform your venue to look like it was pulled from F. Scott Fitzgerald's wildest imaginations.
Velvet Tuxedo
In keeping with the maximal style, consider swapping a traditional black tux for a colorful suit in a luxe fabric, like velvet. This green velvet tuxedo looks like it would definitely have a spot in Jay Gatsby's closet. Complete your look with a sleek bowtie and classy loafers and you'll be perfectly dressed to the nines for your nuptials.
Live Jazz Band
The roaring twenties were known as the Jazz Age, so it's only fitting to hire a live jazz band to bring the entertainment to your wedding reception. "You can recreate the vibe of this era with a big band dressed in white dinner jackets, along with a fabulous singer that commands the stage," Tutera explains. Not only will this encourage guests to dance the night away, it'll make them feel like they've been transported right back to the '20s.
Black-Tie Dress Code
Part of the fun that goes with planning a themed wedding is asking guests to participate too. To really make your Great Gatsby wedding theme come to life, set an appropriate dress code to help guests look the part. "I recommend making the dress code strictly black-tie since this will have a big impact in the wedding photos," Tutera explains.
Art Deco Wedding Cake Topper
Of all our favorite Great Gatsby wedding theme ideas, this one takes the cake. Complete your sweet treat with a cake topper that features prominent Art Deco elements, like bold geometric shapes, glittering metallic gold accents and strong colors. We love this custom creation that features mini models of the bride and groom in classic 1920s attire in front of a sparkly gold backdrop with a pearl detail.
Jeweled Headpiece
It's completely possible to wear a flapper-inspired wedding outfit without it looking like a costume. We love how this bride wore a glam headband around her forehead, creating a tastefully modern 1920's vibe.
Gold Art Deco Chairs
Believe it or not, chairs are actually one of the most important design elements that can enhance your wedding theme. Because chairs take up a lot of visual space in your venue, look for rentals that have geometric back shapes and a classic gold hue, like this luxe seating arrangement.
Long Sleeve Beaded Wedding Dress
If a slinky sheath isn't your style, consider a long sleeve beaded number like this one. Intricate embellishment sequin patterns covering the sleeves and bodice make this modest dress a total knockout.
Glitzy Hair Pin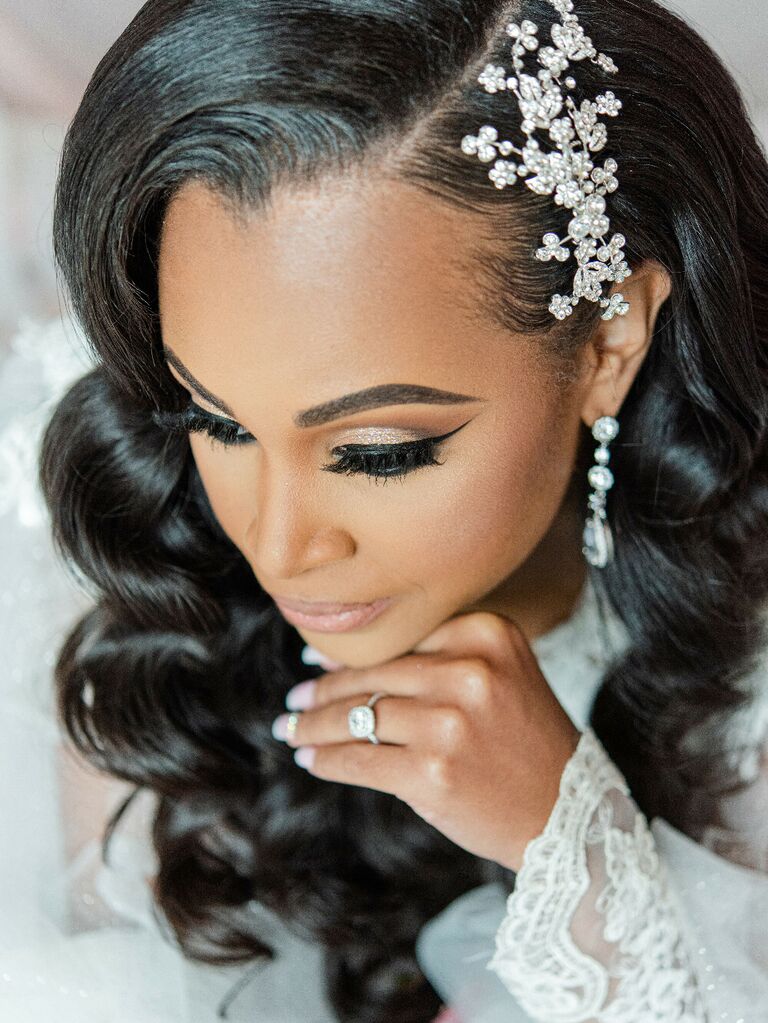 If you're looking for vintage wedding inspiration to accompany your Gatsby nuptials, you can't go wrong with a rhinestone headpiece. A glam hair accessory will give your wedding day look that je ne sais quoi—with a hint of vintage old Hollywood glam, a clip will effortlessly elevate your hairstyle.
Peacock Plumes
Tutera notes that ostrich feathers are a traditional element of the Great Gatsby wedding theme—so for something a little less predictable, consider adding texture to your bouquets or venue decorations with colorful peacock plumes instead.
Vintage Glassware
Even your tableware can serve as decoration. To make your wedding day look like you thought of absolutely everything, decorate right down to the glassware. We love these antique champagne glasses that boast a rich emerald green ombré color pattern.
Tweed Suit
While a velvet suit might be fit for a winter wedding, a heavy fabric likely isn't your top choice if you're exchanging vows in spring or summer. Instead, you might be more drawn to a lightweight tweed suit—this vintage pattern is a seasonally appropriate interpretation of Great Gatsby wedding attire.
Vintage Decor Vignettes
Wedding decor doesn't have to be flashy to make an impact. Instead, focus on creating a few intentional decor vignettes to bring your Great Gatsby wedding theme to life. We love how this couple created an eye-catching vignette with vintage cameras, a brass peacock knick-knack and signage in a gold frame complete with antique font.
Mirrored Accents
Reflective surfaces make any space feel effortlessly larger—so if you're decorating a smaller venue, try creating a gallery wall of mirrors to open up your space with Art Deco flair.
Sparkler Display
As Tutera previously noted, The Great Gatsby is all about maximalism and extravagance—and nothing embodies that quite like an over-the-top fireworks display. Treat your guests to fireworks or sparklers during your first dance or as you exit the reception.
Velvet and Gold Sweetheart Table
This glam sweetheart table setup is about as Gatsby as it gets. With a vintage velvet green couch, angular gold arches and a sleek gold table, you'll have all eyes on you in a spot like this—and rightfully so.
Metallic Bridesmaids Dresses
Make sure your wedding party fits the part by styling them in glam outfits too. Silver metallic bridesmaid dresses, like the ones pictured here, will add just the right amount of shine to the altar as they stand next to you while you say your vows.
Flapper Performers
The Great Gatsby wedding theme definitely lends itself to live entertainment. For something totally unique, consider hiring flapper performers to make guests feel like they're celebrating in a top-secret speakeasy.
Confetti Shower
How about a surprise confetti shower to surprise and delight your guests? Finish off your evening with an extravagant confetti moment—it's what Jay Gatsby would do.
Chandelier and String Lights
Lighting plays a huge role in the ambiance for your wedding day, so look for venues that have antique chandeliers to give your nuptials a true Great Gatsby feel. For added effect, weave simple string lights across the ceiling to cast a cozy glow over your event space.
Antique Getaway Car
What's a Great Gatsby wedding theme without an antique getaway car? Coordinate a vintage ride to whisk you away from the wedding in style, just like these grooms did. A throwback ride will serve as the perfect finishing touch to your vintage wedding.