4 Meaningful Ceremony Readings From African-American Authors
"Invitation to Love" By Paul Laurence Dunbar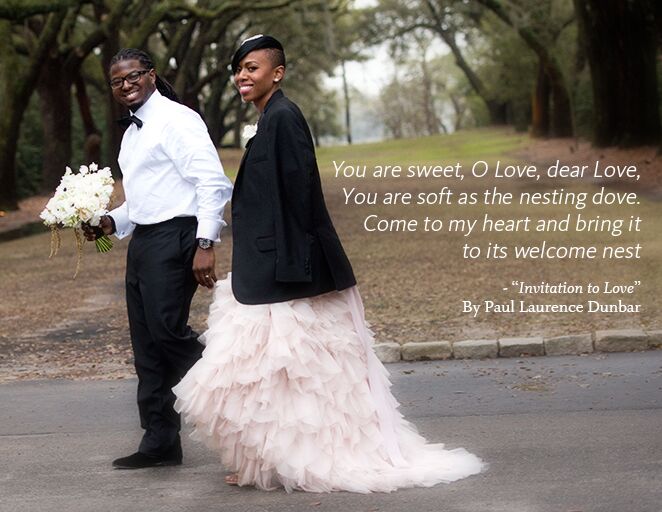 Come when the nights are bright with stars,
Or when the moon is mellow;
Come when the sun his golden bars
Drops on the hay-field yellow.
Come in the twilight soft and gray,
Come in the night or come in the day,
Come, O love, whene'er you may,
An you are welcome, welcome.
You are sweet, O Love, dear Love,
You are soft as the nesting dove.
Come to my heart and bring it to its welcome nest.
Come when my heart is full of grief
Or when my heart is merry;
Come with the falling of the leaf
Or with the redd'ning cherry.
Come when the year's first blossom blows,
Come when the summer gleams and glows,
Come with the winter's drifting snows,
And you are welcome, welcome.
"And I Have You" By Nikki Giovanni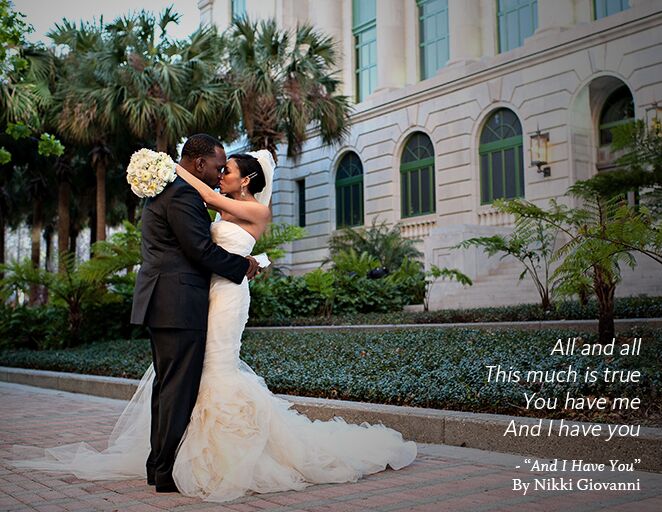 Rain has drops
Sun has shine
Moon has beams
That makes you mine
Rivers have banksSands for shoresHearts have heartbeats
That make me yours
Needles have eyes
Though pins may prick
Elmer has glue
To make things stick
Winter has Spring
Stockings feet
Pepper has mint
To make it sweet
Teachers have lessons
Soup du jour
Lawyers sue bad folks
Doctors cure
All and all
This much is true
You have me
And I have you
"Beauty That Is Never Old" By James Weldon Johnson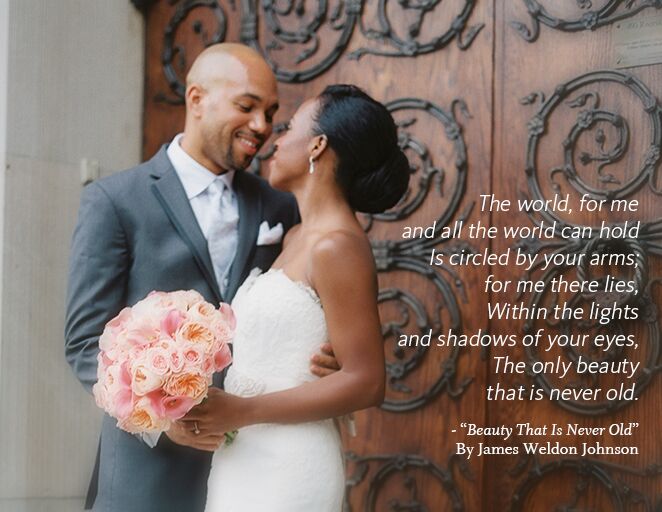 When buffeted and beaten by life's storms,
When by the bitter cares of life oppressed,
I want no surer haven than your arms,
I want no sweeter heaven than your breast.
When over my life's way there falls the blight
Of sunless days, and nights of starless skies;
Enough for me, the calm and steadfast light
That softly shines within your loving eyes.
The world, for me, and all the world can hold
Is circled by your arms;
for me there lies,
Within the lights and shadows of your eyes,
The only beauty that is never old.
"You Came Too" By Nikki Giovanni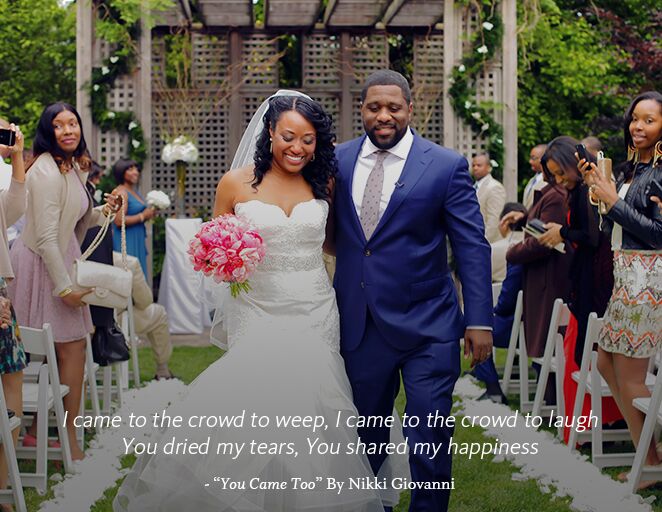 I came to the crowd seeking friends
I came to the crowd seeking love
I came to the crowd for understanding
I found you
I came to the crowd to weep
I came to the crowd to laugh
You dried my tears
You shared my happiness
I went from the crowd seeking you
I went from the crowd seeking me
I went from the crowd forever