A Costa Rica Bachelorette Party Guide to Plan Your Trip
Celebrate Pura Vida on a bachelorette escape full of sun and fun.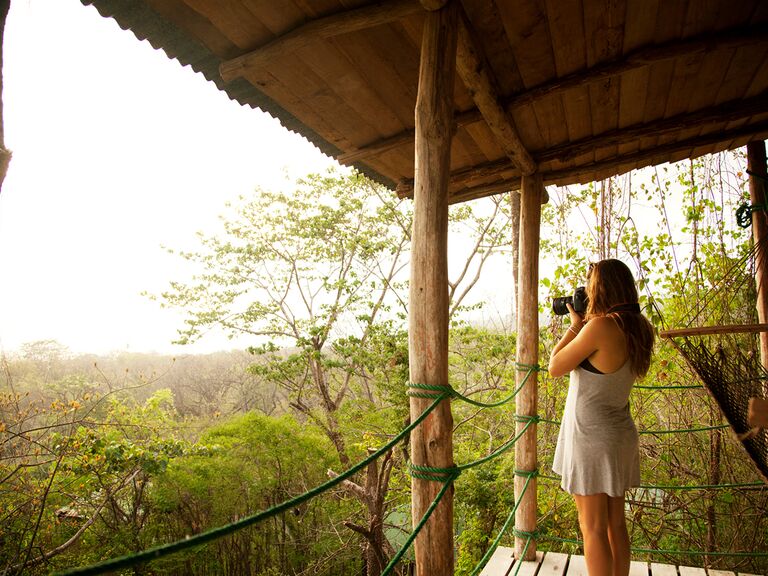 Cavan Images
We have included third party products to help you navigate and enjoy life's biggest moments. Purchases made through links on this page may earn us a commission.
Costa Rica's motto is "pura vida"—translation: simple or pure life. And on a Costa Rica bachelorette party, you'll truly live that lifestyle in the most wonderful way. From surfing and splashing in ocean waves, taking in sun on the sand, and exploring rainforest and volcanic landscapes, there is so much to see and do in this tropical paradise, you may not want to head home.
What Are Some Costa Rica Bachelorette Party Ideas?
Make Tamarindo, on the Pacific coast, your home base for the long weekend in Costa Rica and you'll be able to fit in all the best of what the country has to offer: Adventure (think ATVing, surfing, and ziplining); R&R (whether that's tanning on the beach or treatments at a spa); and sightseeing (including a volcano national park). Don't forget to outfit your bride tribe in swag from The Knot Shop and consider booking a beachfront photoshoot through Flytographer.
For the Adventurer
Costa Rica is the land of pura vida, and that means plenty of adrenaline-pumping adventures to be had. Consider ziplining through the rainforest, riding ATVs exploring the jungles and beaches, booking private surfing lessons, or paddleboarding on ocean waves.
For R&R
Not only does Tamarindo offer its own great beaches where you can sprawl out and enjoy the sun, nearby you also have the sandy shores of Playa Langosta and Play Avellana. If your R&R involves massages and facials, you'll also have plenty of options of spas to choose from, including the spa at the Wyndham Tamarindo and the Occidental Tamarindo.
For the Nature Lovers
Natural landscapes are what Costa Rica does best, and you won't want to miss out on opportunities to take it all in. Take a tour of Arenal Volcano National Park where you'll find an inactive volcano as well as rain forested hiking trails; in Tamarindo you'll find Marino Las Baulas National Park, where forests meet the beach and nesting turtles are protected; or visit Diria National Park, where you'll see plenty of wildlife in the forested acres.
What Do You Do at a Costa Rica Bachelorette Party?
Spend three days in Costa Rica enjoying sun, sand, surf, and plenty of adventure. With our fun-packed Costa Rica bachelorette party itinerary, you can't go wrong—and won't miss out on any of the tropical highlights.
Day 1
Morning: Tamarindo is just over an hour from the Daniel Oduber Quirós International Airport, and you'll have a scenic view on your drive to your stay. On arrival, head to breakfast at the Waffle Monkey where you can fill up on, you guessed it, waffles. Flavors include churro, apple pie, and cinnabun, along with others topped with eggs and bacon, ham and cheese, and bananas with local honey and coconut.
Afternoon: Spend today on the beach as your group arrives. You can soak up the sun and take a dip, or consider renting surfboards from Iguana Surf downtown. If you have newbies in the group, can also book private lessons with your rentals. You can also rent kayaks and stand up paddleboards from Kelly's Surf Shop if you're not ready to ride the swells just yet. If you need a bite or something to drink, head to El Chiringuito Tamarindo for happy hour-style tapas and drinks right on a quiet slice of the beach.
Evening: For dinner, make your way to the Pangas Beach Club for gorgeous ocean views. Book your reservation for before sunset so you can watch the beautiful colors sink over the horizon while you dine. Fresh blended fruit drinks and cocktails are served to tables right on the sand, and menu items include fresh seafood, including yellowfin tuna, lobster, and jumbo shrimp. Don't miss the ceviche to share. Tamarindo has a great bar scene, that's low-key and beachy, as you would expect. For your first night, check out Wild Panda's cocktail bar, where you'll find frozen mojitos, among other icy fresh cocktails; and El Be, an on-the-beach spot where you can find late night drinks and snacks.
Day 2
Morning and Afternoon: Today is the day for exploring the best that Costa Rica has to offer. You'll need to get an early start so don't plan on a large brunch. Instead, head to Café Tico for coffee (try the Michelado Coffee with spiced chocolate coffee), smoothies and juices, as well as breakfast sandwiches. Then hit the road to explore. For a truly memorable day, consider an ATV and Canopy Tour in Arenal National Park. You'll take on ziplining cables, hot springs, and waterfalls, and then move to solid ground where you'll ride ATVs through the forest. A traditional Costa Rican lunch is available after the tour. Arenal is a bit beyond three hours from Tamarindo, so if you'd rather stay close to your home base, plenty of options abound. Through Action Tours, right in Tamarindo, you can book a tour in Rincon De La Vieja Volcano, just an hour away, that includes options for a zipline canopy tour, horseback ride, river tubing, lunch buffet, hot springs, mud baths, and waterfalls. Talk about packing a lot into one day!
Evening: Once you've safely made it back home and have showered and rested up, head to Barefoot Restaurant Lounge for dinner. With an emphasis on plant-forward and seafood dishes, and inspiration from global cuisines, you'll enjoy sharing plates of tosty tostones (flattened plantains topped with pico de gallo and shrimp), fresh salads topped with seared tuna and fresh avocado, and the Costa Rican take on poke. From dinner, make your way to El Garito, a great nightclub-style bar with live DJs and house music just steps from the beach. If you'd rather a chiller vibe, make your way to Kinky for drinks and more low-key dancing.
Day 3
Morning: The spot for brunch today is Nogui's where you'll find an extensive breakfast menu including a fresh tropical fruit plate, omelets, waffles, and more local fare like the Super Tico (gallo pinto, tortillas, eggs, ham, and cheese) and the Rotonda Tica, made with tortilla, cheese, gallo pinto, avocado, and fresh salsa.
Afternoon: Enjoy your time on the beach today, and make it extra special by adding a bit of pampering. Palapa Tamarindo Massage By the Sea offers ocean front massages, so you and the girls can take shifts relaxing on the massage tables while others swim and sunbathe.
Evening: For your last day, take advantage of all the fresh seafood in Costa Rica at Wabi-Sabi Sushi. Share apps like gyozas, spring rolls, and tropical tuna tartar, before sharing a bunch of fresh rolls. Don't skip on the Ebi-fresa roll made with tempura shrimp, manga, asparagus, and covered with strawberry, avocado, and unagi sauce, or the callejones roll, made with marinated octopus, mango, cucumber, and avocado. After dinner, relax by the beach with drinks and hand a last night for girl talk at Pacifico Bar, an open-air oasis that hosts live music, including reggae nights.  
Where Should I Stay in Costa Rica for a Bachelorette Party?
Since you are staying in Tamarindo, much of what you'll do around the beach area will be easily walkable. You'll need cabs or shuttles to get to and from the airport, but otherwise, most of your tours will provide the transportation you need to get to your adventures.
Best Costa Rica Bachelorette Hotels
The Wyndham Tamarindo is great for those looking for luxury without spending too much. The hotel offers chic rooms as well as an infinity pool, spa, and restaurant, and is a quick walk to the beach.
A little farther from downtown Tamarindo, the JW Marriott Guanacaste Resort & Spa offers all the luxury amenities you can want, including a spa, pool, and private beach. The hotel can book transportation into town for you.  
The Occidental Tamarindo offers hacienda-style digs with a gorgeous pool and access to the beach for and is great for mid-range budgets. The hotel also offers an all-inclusive package if you're looking to make dining options easier.
Best Costa Rica Bachelorette Home Rentals
A Spacious Condo is a great spot for groups of 8 who are looking to be just steps from the beach, and features a shared pool to enjoy as well.
For larger groups, a Luxurious House with Private Pool offers plenty of space (sleeps up to 13) and access to gorgeous walking trails, as well as the beach.
Right on the beach, a Villa at the Coast Hotel is great for groups of 8, with four bedrooms and four baths, access to the pool, and continental breakfast included.