The Complete Nashville Bachelorette Party Guide
There's no place like Music City to host a one-of-a-kind bachelorette party.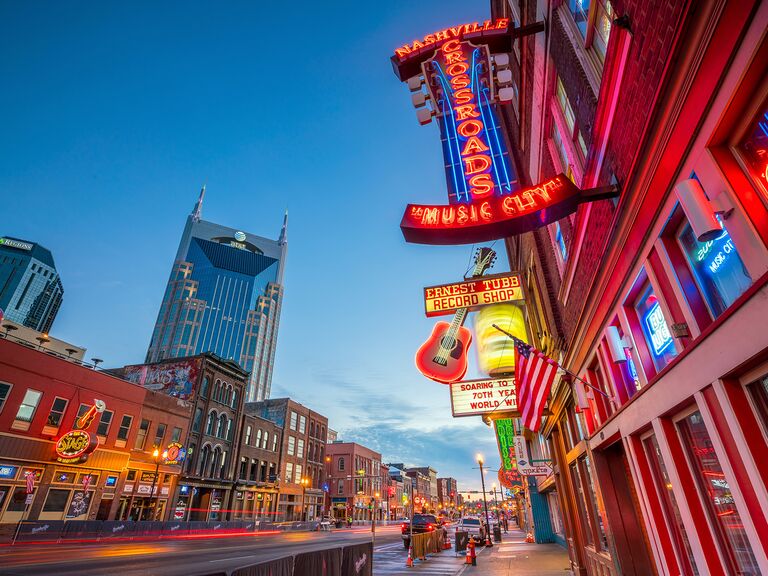 Shutterstock
We have included third party products to help you navigate and enjoy life's biggest moments. Purchases made through links on this page may earn us a commission.
Nashville is a city that has it all. The mecca of country music isn't just a place for live performances, you'll also find plenty of good food, Southern charm, and a great downtown to keep yourselves busy on a Nashville bachelorette party. Of course, Nashville consistently ranks in the top 10 cities for bachelorettes, so you and your bride squad won't be alone in celebrating. However, you can make your Nashville bachelorette itinerary one-of-a-kind with top notch Honky Tonk experiences, excellent swag (check out these cute Nashville bachelorette outfits), and plenty of good eating and drinking.
Nashville Bachelorette Party Planning in this Article:
Nashville Bachelorette Party Ideas & Themes
There are unlimited options for a weekend bachelorette in Nashville. Find your fun be it diving into the country music scene, shopping the city's unique boutiques, or digging into tasty Southern treats and craft cocktails.
For Music Lovers
Country fan or not, Nashville earned its "Music City" nickname for good reason. Take advantage of it all, from a tour (or show) at the historic Grand Ol' Opry or Ryman Auditorium, or at the cozier Bluebird Cafe made extra-famous by its frequent appearance on Nashville. There are also the live shows every night at the bars downtown and tours of the houses of country stars around town.
For the Foodies
Along with being the mecca of country music, Nashville is home to some of the country's top Southern restaurants. Make a weekend touring them all, and taking advantage of other gourmet experiences, from walking food tour to chocolate making to a lunch and tour of the Jack Daniel's distillery just outside of town.
For the Partiers
Nashville has another nickname: NashVegas. Thanks to a hopping downtown bar scene—there are more than 32 bars on the main drag of Broadway alone—that has no shortage of live music, line dancing, and everything in between you won't be wanting for bar or nightclub experiences. Plus other options abound, from pub crawls to distillery tours and craft cocktail spots.
Nashville Bachelorette Party Itinerary & Activities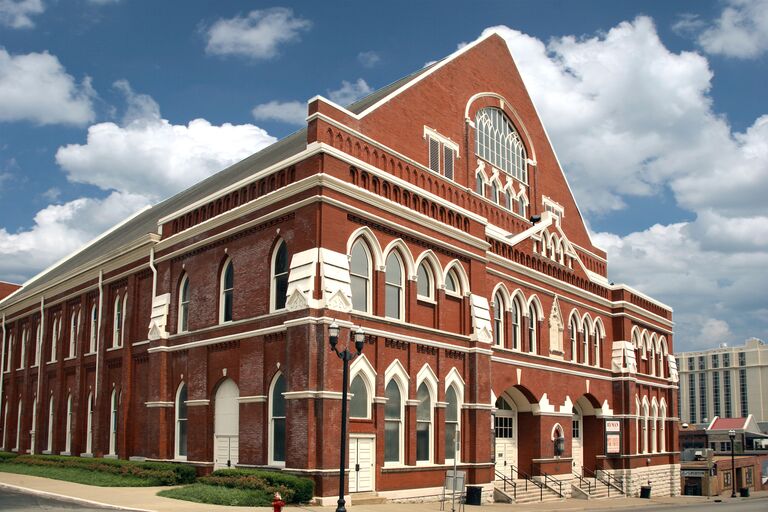 So how do you narrow down your options in Nashville to what you can do in just a few days? It may not be easy, but our three-day Nashville bachelorette itinerary helps you fit it all in.
Day 1
Morning: Check into your hotel or rental house and then immediately get things started with breakfast at Biscuit Love, where you can bite into menu items like Bonuts (fried biscuit donuts), the Gertie (a buttermilk biscuit with chocolate gravy), or the Southern Benny (shaved ham and sunny side-up eggs on a biscuit). From there, explore 12th Street South. This is a good way to start your exploration of the city, and get in some shopping at the vintage clothing stores and unique boutiques.
Afternoon: Take on more of downtown Nashville with a pedal tour of the city. On a BYOB bike (that comes with a power engine to help you tackle the city's hills), you can bring a cooler of wine, beer, or whatever your bride prefers, plus your own playlist to blast as you ride. You'll stop at one central location downtown to hit a few bars, but the drinking on this tour is mostly while you ride.
Evening: Clean up for your first night on the town. Dinner is back on 12 Street South at Josephine, a higher-end spot serving new American fare from duck fat hash browns to lamb bolognese. Save room for dessert at Jeni's ice cream. Then it's time to bar hop. Head to The Big Bang on Lower Broadway for a dueling piano show that will have you laughing just as much as you are dancing.
Day 2
Morning: Grab brunch at the Butcher & Bee, a great spot for seasonal treats and delicious baked goods. If your bride is a true country music fan, head on over to the Grand Ol' Opry for a tour of the historic theater and Country Music Hall of Fame.
Afternoon: Spend the afternoon at City Winery, where you can sip from a selection of wines from all over the country, and enjoy live music while you're at it. There are outdoor patios for warm weather days, and if you plan in advance you can schedule a private tasting for your crew.
Evening: Kick the night off with a downtown trolley tour, complete with stops for professional photo ops. Then it's on to dinner at The Farmhouse, located on the river. Everything at this restaurant is made from scratch and sourced locally, so you're in for a fresh and delicious treat. Then it's back to the bars on Broadway. Tonight, try Honky Tonk Central where each of the bar's three stories have a different style of music and live shows, or The Stage on Broadway where you can listen to live music and try your hand at line dancing.
Day 3
Afternoon: Spend the morning relaxing, then head to Milk & Honey for a brunch of sourdough French toast, farmhouse biscuits, homemade cinnamon rolls, and more. Then head over to Miss Fit Academy for a special treat to get the bride ready for her wedding night: A fun, yet challenging, pole dancing class. Trust us, it's a workout!
Evening: Have your last dinner at Merchants, a three-level restaurant in the heart of downtown based in a building from 1892. The menu is more steakhouse-fare, but you can share smaller plates if you feel like eating light—the ambiance is 100% worth it. Then start the night at The Fox, a speakeasy-like cocktail bar where you can order craft cocktails to your liking. Next it's on to another Nashville institution: Tootsies. And if you still have energy and are looking for a more club-like vibe, make your way to The Valentine.
Nashville Bachelorette Scavenger Hunt
Looking to make your activities even more fun? Turn your itinerary into a game with a Nashville scavenger hunt. Distribute a list of activities with points awarded for each completed task and ask participants to provide proof with pictures. Download an editable template to customize the list and include local attractions and sights. Don't forget to give the winner a prize such as a souvenir or t-shirt.
Places to Stay in Nashville for a Bachelorette Party
There are plenty of hotel options in Nashville, so check out TripAdvisor in advance for reviews and special rates for your crew). If you'd rather stay together, consider booking a house rental for the weekend.
Best Hotels in Nashville for a BacheloretteParty
Pro tip: The Knot has partnerd with Hotel Planner to help you secure the best group hotel rate and get free hotel advice from an expert travel planner.
Nashville Bachelorette House Rentals
There are plenty of housing options for a Scottsdale bachelorette party, so check out TripAdvisor, Vrbo , Airbnb and Hopper Homes. Here are a couple of home rentals worth checking out for medium-sized groups: consider a townhouse for 10 with a rooftop deck or an East Nashville home close to hipster bars and short Uber ride into downtown. For more rentals options, check out our round up of the Best Nashville Bachelorette Airbnbs and VRBOs.
Pro tip: If you're looking to supplement your vacation rental stay with some hotel amenities such as a swimming pool or a fitness facility, you can secure Nashville hotel day passes on ResortPass.
Nashville Bachelorette Party Nightlife
Many country music loving brides bring their bachelorette party to Nashville. There are incredible bars, live music from up and coming stars, plenty of tasty food, and lots to do with your bridal party while in town.
Best Nashville Bachelorette Restaurants
Etch: Etch is the perfect spot for an upscale meal with a sizable wine list and craft cocktails. In downtown Nashville, the open kitchen restaurant encourages guests to meet and chat with the award-winning chef, Deb Paquette, inquiring about her creative dishes. Read Reviews
The Catbird Seat: If you're looking for an experience, make reservations at Catbird. They have a tasting menu that's constantly evolving, perfect for the foodie bride. Try a variety of delicious courses created by Chef Brian Baxter and his amazing team in the kitchen. Read Reviews
Rolf and Daughters: This industrial restaurant serves creative dishes and cocktails for their guests to savor. You can find fresh, healthy dishes like fresh bluefin tuna with flowering basil and paprika chili. Read Reviews
Best Nashville Bachelorette Party Bars
AJ's Good Time Bar: It says it right in the name, Alan Jackson's bar is a good time. You can listen to live country music and enjoy the rooftop bar on a warm Nashville night within this three-story club. Read Reviews
Nudie's Honky Tonk: Many of the bars in Nashville are just a party all the time, throughout multiple stories. Nudies is no different. Set within a century old 3 story historical building are bars filled with comfort food, good music, and an amazing rooftop bar. Read Reviews
Bar Sovereign: There are so many country bars with live music on Broadway, so if you're looking for something slightly different, check out Bar Sovereign. The gastro pub is filled with fun art, good drinks, and a laid-back vibe with plenty of comfort food. Read Reviews
Expert Nashville Travel Tips
Getting to Nashville from New York is fairly inexpensive and quick with nonstop flights available with certain airlines like Spirit, United, JetBlue, and American to name a few. Same goes with the west coast. There are a few airlines that have connections and some that are nonstop flights, but regardless of what you prefer, there are plenty of airlines to choose from like Spirit, United, American Airlines, Delta, Alaskan, and more coming from LA. Getting around the city, the best way is to use the electric scooters, just be very careful because they don't usually come with helmets. There are also bikes, trolleys, plenty of ridesharing programs and taxis available. You can also get around by foot, especially if you choose a hotel near the downtown area. When planning your trip to Nashville, May, June, and October are perfect months to plan a visit.
Nashville Bachelorette Party FAQs
Is Nashville a Good Place for a Bachelorette Party?
There's no place quite like Music City. If your group loves live shows, there's no better spot to celebrate impending nuptials. Plan a night out at a concert, sing karaoke at a dive bar or ride around town blasting your favorite tunes from a party bus. The opportunities for fun are truly never ending.
Of course, if you're hoping for a more relaxing Nashville bachelorette party, there are also plenty of ways to unwind. Nashville is home to several world-renowned spas – just be sure to book your group's services well in advance.
What is There to Do in Nashville for a Bachelorette Party?
Nashville bachelorette party ideas are as bountiful and varied as brides themselves. Hit the town in a limousine and cruise Lower Broadway if you're hoping to see and be seen. Want something a bit less showy? Hop aboard a pedal bar tour, where you and your friends can cycle as you sip. It's the best way to see the town while celebrating.
If bar-hopping isn't your speed, head to one of Nashville's premiere vineyards instead. Toast to the bride-to-be with a glass of boozy frosé, or learn about wine-making with a tour of the vineyard. Stunning scenery fit for a country song makes for the perfect group photo backdrop.
What Should I Avoid in Nashville?
When planning a Nashville bachelorette, you might want to keep an eye on the city's event calendar. When the annual Country Music Awards festival comes to town, hotels, bars and restaurants become overcrowded. While the event itself might be a blast, the traffic that frequently accompanies the country stars is legendary. For a less crowded experience, plan on a weekend without any major award ceremonies or festivals.