Our City Guide to 24 Hot Bachelorette Destinations
Nantucket or Iceland? Cape May or Savannah? Choose the best bachelorette spot for you based on our city guides.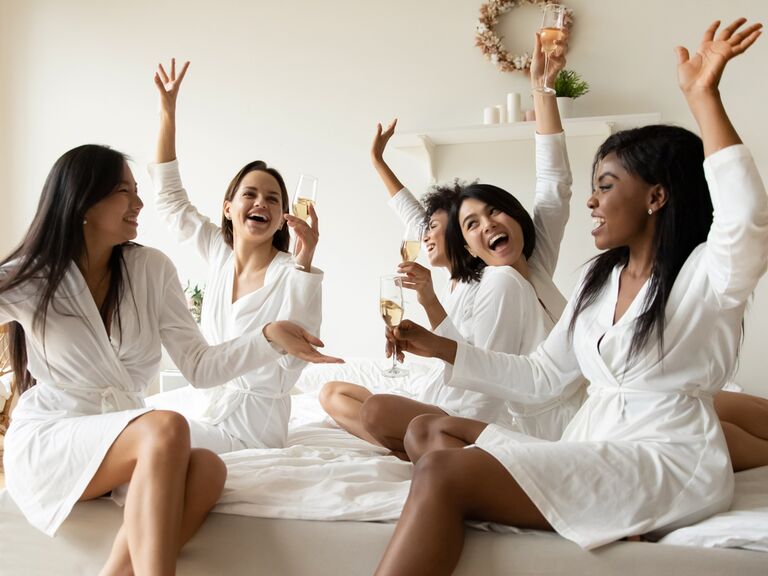 Fizkes/Shutterstock.com
We have included third party products to help you navigate and enjoy life's biggest moments. Purchases made through links on this page may earn us a commission.
It's no secret that The Knot editors love weddings—but we also happen to be bachelorette party aficionados as well. Since we've done our fair share of traveling as bridesmaids and maids of honor, we put together our own city guide of the absolute best bachelorette party destinations, plus where to stay and eat, and what to do while you're there. 
1. Austin, Texas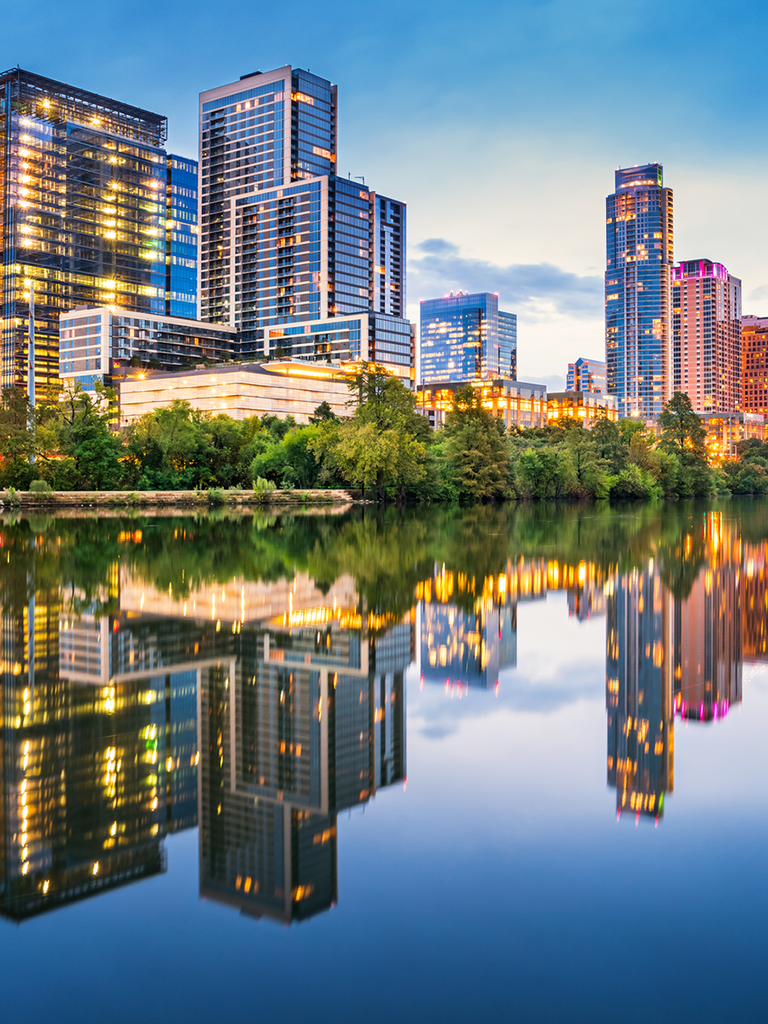 Where to stay: There's more than one reason the capital of the Lone Star State tops our list of bachelorette party destinations. Austin is the perfect city to find a fun Airbnb to really bond with your girls — making it an ideal bachelorette party destination. Get a house complete with its own pool or stay in a loft apartment downtown, right on Sixth Street (where you'll find lots of bars and restaurants). 

Where to eat: This Texas city is known for two kinds of fare: Mexican and barbecue. For the best tacos you'll ever have, head over to Torchy's Tacos. It has several locations throughout Austin. Make sure you get the Trailer Park—and make it "trashy" (which translates to: no lettuce, add queso—yes please). For barbecue, you can try your luck at Salt Lick, but this could turn into an all-day affair, as the line for this joint gets pretty long. Equally as delicious—and with much shorter lines—Terry Black will get you your barbecue fix. Order the chopped beef sandwich and mac and cheese. And for a delicious barbecue experience via food truck, try LeRoy and Lewis Barbecue. 
What to do: Go tubing on the Guadalupe River. Alcohol and music is permitted as you leisurely float down the river for a maximum time of about six hours. At night, head to Rainey Street for an abundance of different bars and restaurants—most converted from old homes. Don't miss Container Bar, made up of shipping containers. If you're looking for a fun photo op with your best gals, check out Graffiti Park at Castle Hill. 
—Maria Bouselli, Managing Editor
2. Boston

Where to stay: Hotel Commonwealth is located just steps away from Fenway Park, and Kimpton's Nine Zero Hotel is a centrally located hot spot near Boston Common.
What to eat: Stephanie's on Newbury boasts an impressive Bloody Mary menu, and Trade on Atlantic Avenue is your best option for brunch. Union Oyster House is a historic spot renowned for its seafood—stop there for freshly shucked oysters—or head to Toro in Boston's South End to nosh on Spanish tapas. Thirsty? Ward 8 shakes up some seriously strong craft cocktails, and Legal Harborside serves sangria by the pitcher on their rooftop.
What to do: Bar hop around Boston's picturesque Beacon Hill neighborhood, where you'll find Acorn Street: a quaint cobblestone path that's easily one of the most photographed streets in the city. From there, check out Boston Public Market for local treats, or board an Old Town Trolley to take in the sights. 
—Rachel Sylvester, Real Weddings Editor
3. Cape May, New Jersey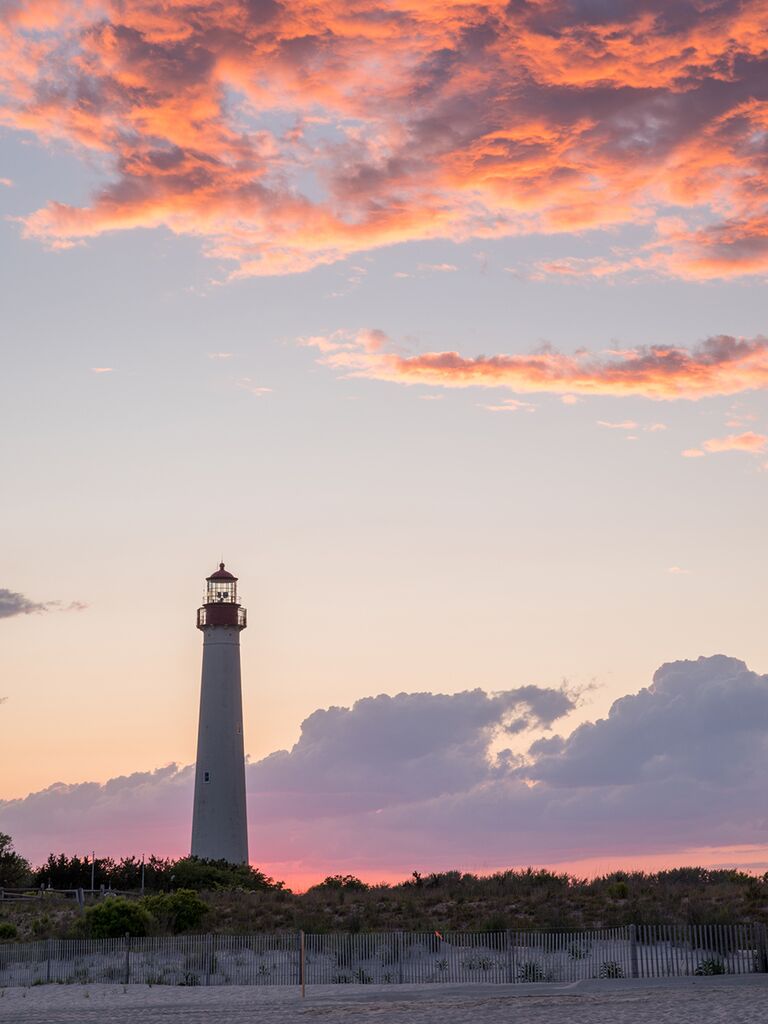 Where to stay: There's plenty to do at the grand and historic Congress Hall. Feeling a little adventurous? Rent one of its bikes and ride through the Victorian neighborhoods of this bachelorette party destination, or tour the hotel's 62-acre farm. If you've really been looking forward to relaxing with your girls, there are plenty of options at Congress Hall too. Hit the Sea Spa, lounge by the pool or hang out at your private beach tent.
Where to eat: You can't go wrong starting your day off at Saltwater Café, especially if you order the Crabby Benedict: a seaside combo of lump crab and fried green tomato over an English muffin. And hit up The Mad Batter Restaurant & Bar for happy hour—I'm a fan of the Bayberry Cocktail, featuring house-infused jalapeño-pineapple tequila.
What to do: Of course there's always the beach, but if you've had enough of the sun and sand (is this even possible?), visit one of the many nearby wineries for some literal local flavor. Sip through your choice of five wines at Cape May Winery and take your favorite bottles home for dinner, or bike to Willow Creek Winery for one of its weekly events, like Fire Pit Fridays or Wine and Paint. Take advantage of your location and enjoy some ocean activities like parasailing and whale watching, then cap off the night with a sunset cruise or a stroll along the boardwalk. 
—Katie Kortebein, Assistant Editor, Research
4. Charleston, South Carolina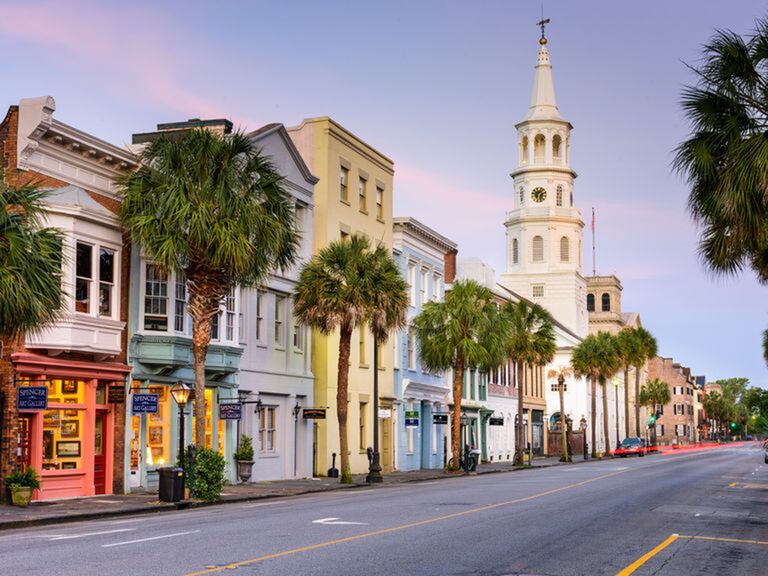 Where to stay: Located right in the heart of King Street, Belmond Charleston Place is the ideal place to stay with your squad (and the people who work there will show you the real definition of Southern hospitality). Accommodations include a stunning lobby, tons of in-hotel restaurants and shops, and a rooftop pool and spa (perfect for unwinding after a night on the town). 

Where to eat: Husk is one of Charleston's most well-renowned restaurants for a reason—you'll find classic Southern fare with a modern twist. (Pro tip: The fried chicken is out of this world.) Tradd's is a recently opened restaurant located downtown with lots of fresh seafood options, and Le Farfalle is perfect for large groups—with lots of family-sized dishes meant for sharing. And Charleston Grill (located inside the Belmond) serves up famously good crab cakes and lamb.
What to do: You have plenty of options in addition to hitting the beach. You can trek to Kiawah Island (located about a 40-minute drive outside of Charleston) for scenic bike rides and fun group activities—including wine-tasting at FortyEight and candle-making at Palmetto Scent Studio. Got some history buffs on your hands? Definitely check out the Fall Tours of Home, History and Architecture, a scenic guided walking tour through historically significant houses and buildings preserved through the years (most of them are currently inhabited by regular people, and the homes are absolutely gorgeous). And if you and your squad are feeling spooky, consider a Bulldog ghost tour so you can explore Charleston by night (and maybe learn a thing or two about the city in the process). 
—Sophie Ross, Assistant Editor, Digital
5. Chicago

Where to stay: Book a room at The Blackstone Hotel or look into staying at The Robey—a posh 69-room hotel that boasts a rooftop pool and lounge. The Kimpton Gray Hotel is another standout stay, with its library-themed bar and Argentinean-inspired rooftop lounge.
What to eat: Head over to The Hampton Social in River North for seafood and frosé (their recipe calls for Tito's vodka and peach pureé, so you've been warned). Summer House is an airy, Instagrammable spot perfect for brunch (grab one of its custom Rice Krispie treats on your way out the door), and Top Chef winner Stephanie Izard's Little Goat Diner is necessary for staving off that frosé-induced hangover.
What to do: If the Cubbies are at home, an afternoon game at Wrigley Field is an absolute must. Can't get tickets? Snag some seats at Stretch in Wrigleyville down the road. And you can't go wrong with spending the day in Chicago's Playpen—a breakwall-protected area on Lake Michigan that boasts impressive views of the surrounding skyline. Just charter a private boat (it's more affordable than it sounds, I promise) and spend the afternoon sipping cocktails on the water. 
—Rachel Sylvester, Real Weddings Editor
6. Dewey Beach, Delaware

Where to stay: While Dewey Beach has plenty of beachfront hotels, check out VRBO or Airbnb to book a beautiful beach house for your bachelorette weekend. 
Where to eat: Start off the day right by getting a few dozen hot, delicious doughnuts (it's your bachelorette weekend, after all!) at The Fractured Prune. But if you'd rather have the Dewey Beach breakfast of champions (that may turn into lunch and dinner too), head to The Starboard for gigantic portions and its famous make-your-own Bloody Mary bar with over 1,000 ingredients (don't forget to rim yours with Old Bay). If you're looking for a more low-key atmosphere, go to the Big Chill Beach Club for seriously gorgeous views of the Atlantic and Indian River Bay to take in while snacking on tacos and sipping margaritas. Dewey and the area's surrounding beaches have a great variety of chill, waterfront restaurants that seamlessly become lively bar scenes after the sun sets—try Northbeach, The Lighthouse, Ivy, Fins, Harpoon Hanna's, Dewey Beer Co., Papa Grande's and Bethany Boathouse—just don't forget to sample Orange Crushes wherever you go. For an upscale dinner with your ladies, make reservations at Bluecoast or Lupo Italian Kitchen.  
PS: Snacking on various beach boardwalks? Don't pass up frozen custard in a cone from Kohr Bros, freshly made fries in a bucket from Thrasher's and flavored popcorn from Fisher's. PPS: Having a lazy afternoon on the deck? Get Grotto's Pizza, an area favorite, delivered.  
What to do: Your group will likely want to spend a good amount of time lying out on the beach, but if anyone wants a break, head to Beach Pilates & Wellness in South Bethany for a private group class. You can also rent bikes, explore the Bethany Beach and Rehoboth Beach boardwalks and rent paddleboards and kayaks. Nassau Valley Vineyards is only a 20-minute drive if you're in the mood for a wine tasting. And at night, Bottle & Cork and Rusty Rudder are where it's at for party-loving groups who want drinks and live music. But if you're feeling up for an adventure (during the day or night), call a cab or Uber and make your way to Ocean City, Maryland, to experience Seacrets, which will earn you your bachelorette party stripes in no time. 
—Ivy Jacobson, Senior Digital Editor
7. The Hamptons, New York
Where to stay: Gurney's Montauk is one of the best options for bachelorette parties solely for prime restaurant, beach and spa access. As of late, the property has emerged as a popular day-drinking spot for those who want their coffee, their rosé and their tan time too. An equally comfortable and bachelorette-friendly option that's less pricey is the nearby Atlantic Terrace Motel. There are plenty of adorable places to stay on the South Fork of Long Island, but true-to-MTK spots like Haven Montauk and Hero Beach Club are also worth checking out for those who simply want to lounge by the pool and read. 
Where to eat: Lobster rolls are abundant at the red-white-and-blue-hued Lunch, made famous by Showtime's The Affair. Right across the street is the equally adorable Clam Bar. Seafood lovers will want to check out Gosman's on the harbor and Duryea's Lobster Deck for truly delicious lobster rolls and buttered corn on the cob. Dinner is equally incredible on the South Fork. To catch the sunset over a mouthwatering meal, stop by Navy Beach for the buttermilk fried chicken or Bay Kitchen Bar. Swallow East and Grey Lady are great for dinner-to-dancing transitions on weekends. If all else fails, there's the ever-so-reliable Serafina and, now, a Scarpetta. 
What to do: Bachelorette parties will want to stop by a few wineries, beginning with the famed Wölffer Estate Vineyard (you'll need reservations, so call ahead). Share a cheese plate and wine while capturing envy-inducing Insta moments as you overlook the neatly-lined trees. Book a private "yoga in the vines" session with a staffer, followed by a few additional stops by Channing Daughters Winery and Duck Walk Vineyards nearby. When in Montauk, Surf Lodge Sundays have slowly emerged as the place to be seen—and to hang, especially with its concert series. The rowdier, party-hopping bachelorette parties will want to swing by The Sloppy Tuna for some festive fun and people-watching (or, on the receiving end, being people-watched). Twinkly lights and watermelon cocktails are aplenty at Ruschmeyer's, but anticipate a winding line after 10 p.m. 
—Esther Lee, Senior News Editor
8. Iceland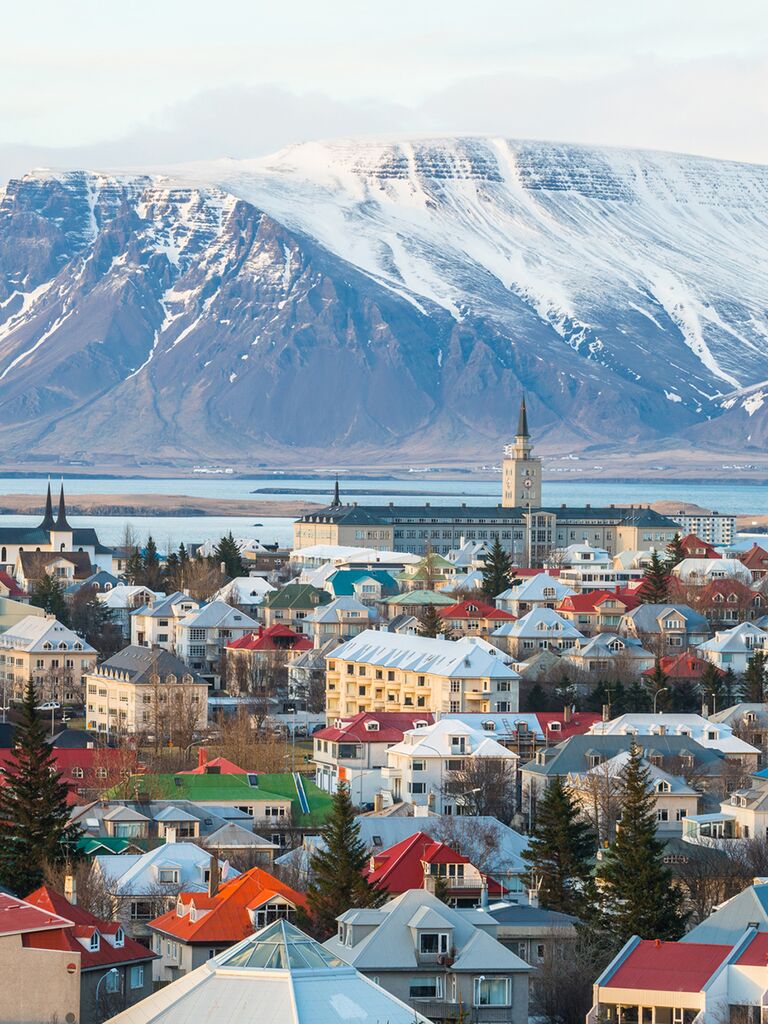 Where to stay: Iceland's capital, Reykjavik, offers plenty of places to stay. The historic Hotel Borg's art deco architecture and premier service is perfect for those who want to splurge on luxury. For a more design-forward spot, try the 101 Hotel—it's the type of boutique, Icelandic experience you think of when you imagine Scandinavian chic.  
Where to eat: Book a table at Fish Market, one of the country's best restaurants. It features Icelandic cuisine, like freshly caught Arctic Char and local lamb, with stunning presentation, excellent flavors and wow-worthy cocktails to complement. After a night of bar-hopping (Icelanders party til dawn) hit local hot dog stand Baejarins Beztu Pylsur, which has been open since 1937. Made from a blend of Icelandic lamb, pork and beef, these dogs come with a series of toppings, including bacon mayonnaise and crispy fried onions. It's worth the wait in line.
What to do: Book a tour through Extreme Iceland, which has guides for short half-day tours as well as multiday excursions to other parts of the island, including the Golden Triangle, Blue Lagoon, the black-sand beaches in Vik and views of the glaciers and icebergs at Jökulsárlón. In the colder winter months, the Northern Lights are the thing to see post-midnight. 
—Stephanie Cain, Real Weddings Editor
9. Las Vegas

Where to stay: Get settled at The Cosmopolitan (ask for the secret cocktail at The Chandelier bar for a real "buzz") or check out the famed fountain show at Bellagio. Caesars Palace is a standard, or if you're looking for an extra-chic option, check in at The Palazzo.
Where to eat: The dining options are truly endless—and you'll be able to score a res at the Las Vegas outpost of many of the country's hottest restaurants. Have an Italian feast at Rao's, or load up on sushi at Nobu. If you love fun cocktails, try Velveteen Rabbit, Commonwealth and Frankie's Tiki Room—or if you're more of a coffee lover, head to Sambalatte for a rainbow latte that's totally Instagram worthy. And, of course, you can't miss out on mixing your own (boozy) soft drinks and grabbing tacos at the luxe—yes, luxe—Taco Bell Cantina. 
What to do: Just walking down the strip in Vegas is one big party, but if you're looking to dance the night away with your crew, join the poolside fun at the Wynn, or check out the Omnia nightclub once the sun goes down. Thrill seekers, get your adrenaline pumping as you take the plunge off the Stratosphere hotel with Skyjump (you'll jump 829 feet above the Strip!). Or if you're a more low-key acrophile, splurge for a Happy Half Hour ticket on the High Roller Ferris wheel for open bar access (so you can sip as you take in the Las Vegas lights). 
—Maria Bouselli, Managing Editor

10. London

Where to stay: For a classic British experience, and a luxe, refined stay in a ritzy part of town, book The Connaught in Mayfair. Its famed martini bar is ranked one of the best in the world. If you're looking for trendy, the Ace Hotel in Shoreditch has a hipster vibe in an up-and-coming area with lots of nightlife.

Where to eat: Try the Pret-a-Portea at The Berkeley—it's not your standard tea service. All the confections, sandwiches and petit-fours are inspired by the latest runway trends from designers like Prada, Manolo Blahnik and Stella McCartney. Hats recommended.

What to do: See the sights from the top of a double-decker bus, shop at Selfridges and Topshop, and take in culture at the Victoria & Albert Museum. For a more authentic locals experience, head to the Marylebone neighborhood. You can sip coffee from The Monocle Café, window shop at Matches, stop in the charming Daunt Books and end the day with cocktails in the courtyard at Chiltern Firehouse. 
—Stephanie Cain, Real Weddings Editor
11. Los Angeles/Santa Monica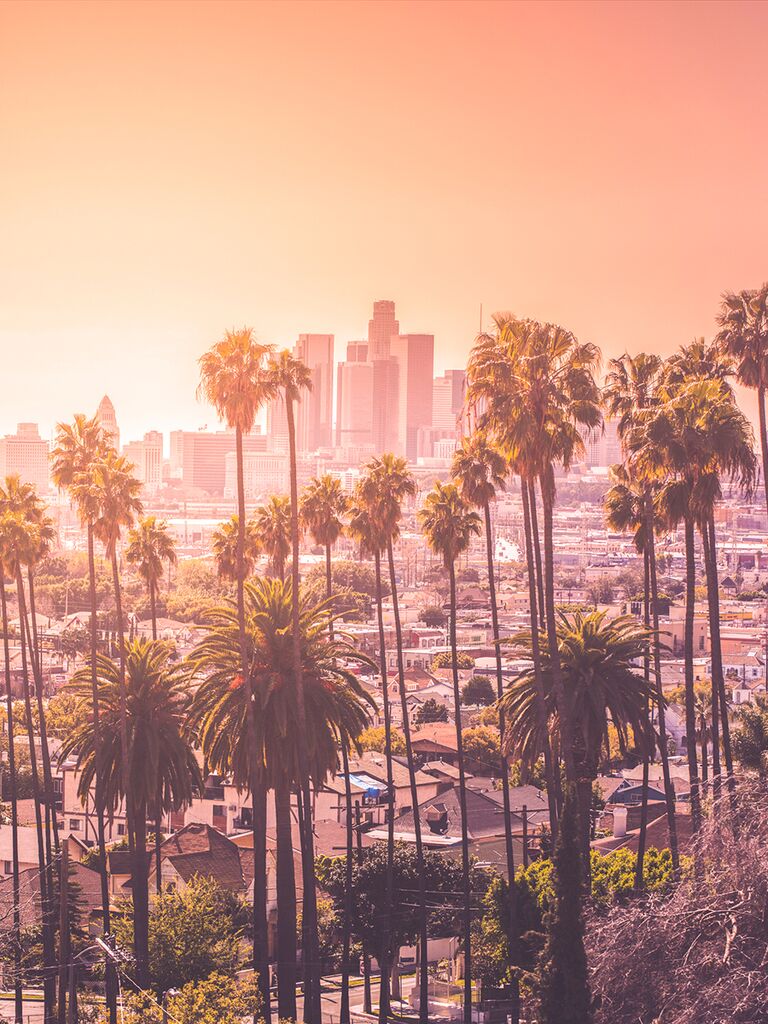 Where to stay: The Viceroy Santa Monica is the perfect transition from poolside to party scene for your bachelorette destination getaway. You can enjoy light bites at their restaurant Cast then lounge by the pool inside their chic black-and-white striped cabanas sipping cocktails with girlfriends. Dance the night away later on in the evening at its silent discos or monthly concerts. At the Viceroy, you're a close walk to the Santa Monica pier, which has dozens of other local attractions—all at your fingertips.
Where to eat: Pick up a quick morning coffee at Zinque or enjoy a leisurely brunch at Republique. If there are any Real Housewives fans in your group, grab a quick drink at Lisa Vanderpump's restaurant Pump. The snazzy décor and hot-pink cocktails are the perfect way to get you excited for a night out on the town. Embrace the Southwest food traditions by eating at Gracias Madre. This delicious Mexican food restaurant offers local organic dishes with a fun twist—it's all vegan! The creative tequila cocktails (my favorite was the So Fresca So Clean) are a perfect addition to your entrees. 
What to do: Take a stroll down the Ocean Front Walk on foot, bike or Beach Barcycle. Don't forget to check out the Santa Monica farmers markets and the mile-long strip on Abbot Kinney Boulevard for incredible shopping in Venice. And whether you're in the mood to relax and sip wine at Malibu Wines (an easy trip from the city) or get crafty with your bridesmaids with a floral arrangement class at Rolling Greens, there's something for everyone. 
—Sarah Love, Associate Photo Editor
12. Miami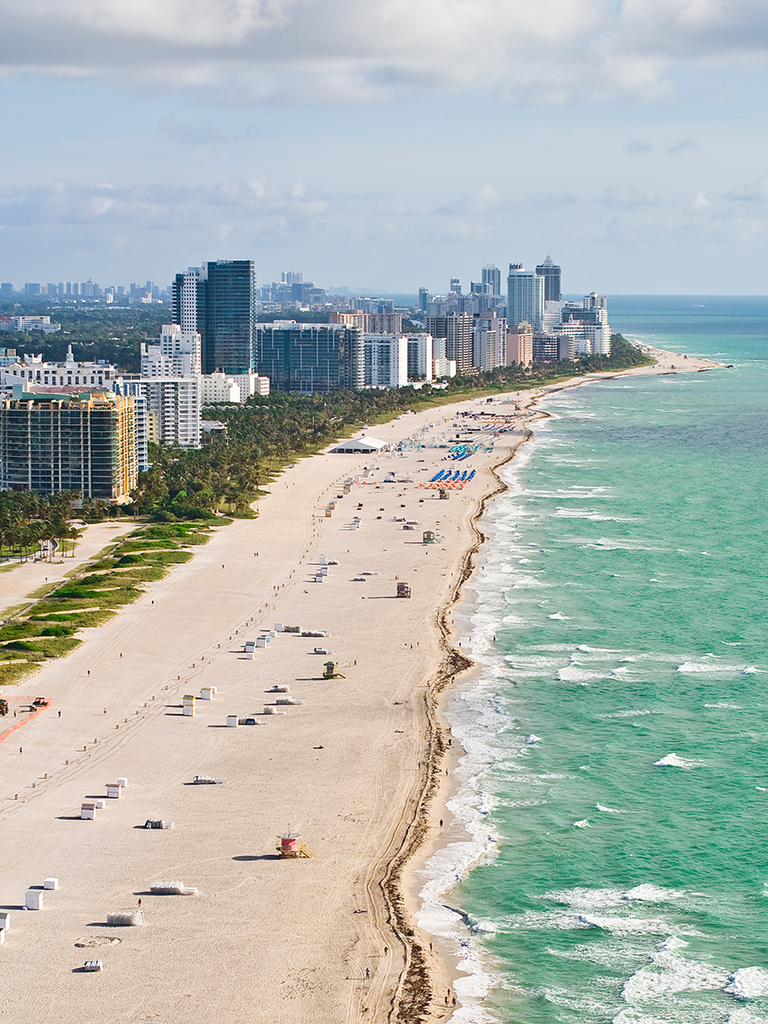 Where to stay: Stay at the luxe Eden Roc Miami Beach and reserve an oceanfront suite for you and your ladies. You can lounge poolside (there are three gorgeous pools to choose from) in a cabana with plenty of cocktails, or sunbathe in private lounge chairs on the hotel's beach overlooking the ocean. 
Where to eat: Have brunch at the Eden Roc's poolside restaurant, Splash, for organic, locally-sourced dishes. For dinner, make reservations at Nobu within the hotel for sophisticated Japanese cuisine, like Black Cod Miso and Yellowtail with Jalapeño. Venture to South Beach for an imtimate Italian dinner at Forte dei Marmi, or Joe's Stone Crab, a famous old-school restaurant with a great atmosphere (prepare to wait if you're not there when they open, though). If you're craving Cuban food, head to Versailles in the Little Havana area for an authentic meal. 
What to do: There are so many great, walkable areas in Miami, like Miami Beach, Wynwood, Bal Harbour and South Beach—or rent bikes and pedal the city instead. And if you'd rather chill out for the afternoon, take a daylong boat ride to relax on the water, or get pampered at the Esencia Wellness spa at the Eden Roc. Miami's also known for their nightclubs and performers, so if you want to paint the town red, there's no shortage of entertainment in the 305. 
—Ivy Jacobson, Senior Digital Editor
13. Nantucket

Where to stay: Stay right in town at Greydon House for easy access to shopping, food and ferries, or sneak away to the iconic, waterfront Wauwinet, the ultimate blend of luxury and charm. No matter where you stay, you can count on taxis or Uber rides to get you from A to B.
Where to eat: You can't not watch the sunset while double fisting Millie's tacos and margaritas in Madaket. For a no-frills brunch and life-changing doughnuts, head to the Downy Flake, otherwise try Island Kitchen for something slightly more elevated. For dinner in town, enjoy fabulous cocktails, a raw bar and a view of the harbor at Cru. Finally, if you don't wait in line at The Juice Bar for at least 20 minutes for homemade ice cream in a homemade waffle cone, did you even go to Nantucket?
What to do: Hit the beach on the south shore (that's where the swimming is best), ride your bikes out to 'Sconset, and stroll and shop in charming downtown. Don't miss an afternoon at Cisco Brewery for live music, awesome beer, the best blueberry vodka around and an award-winning food truck (lobster rolls for days). Come Saturday night, it's all about The Chicken Box—a lively, local gem of a bar that's always a good time and walking distance from more chill spots like Grey Lady. 
—Maggie Seaver, Editorial Assistant, Digital
14. Napa Valley, California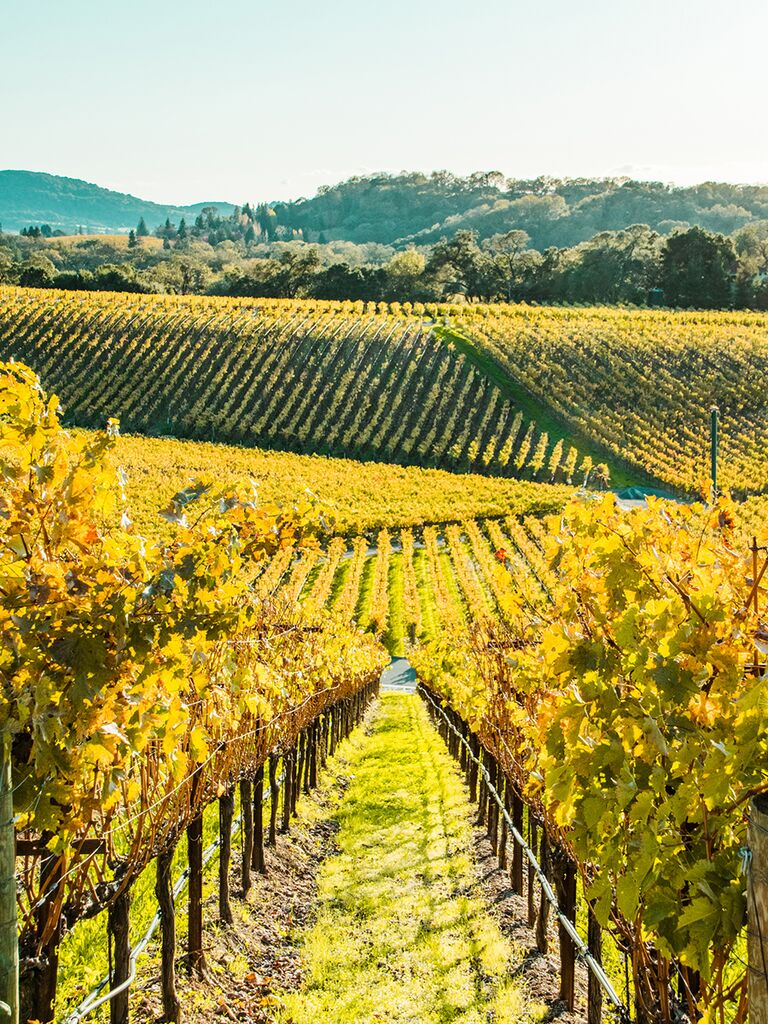 Where to stay: Stay in the quaint spa town of Calistoga in the northern part of the valley at the brand new Calistoga Motor Lodge. Its rooms were inspired by retro camping vans, and include throwback entertainment like Etch-a-Sketches and Polaroid cameras. Plus, the spa features three geothermal pools fed by water from the area's natural springs.

Where to eat: Chef Thomas Keller is the darling of the valley, so make a reservation at The French Laundry for an over-the-top dining experience. If you're looking for something more laid-back, try the recently opened Compline in downtown Napa. It's a wine bar and restaurant serving up favorites from local wine pros, including French Laundry alum Ryan Stetins—perfect for a girls night out.

What to do: Wine tasting, of course! Hire a driver from California Wine Tours to transport you and your friends around in a chic black SUV. Make your first stop at Maisonry, an art gallery and design studio that doubles as a collective tasting room for many of the area's small producers. Each person can pick a flight catered to their individual tastes. For a memorable (non-drinking) experience, start the evening with a sunset hot air balloon tour above the valley. 
—Stephanie Cain, Real Weddings Editor
15. Nashville, Tennessee

Where to stay: The historic Union Station Hotel is not only beautiful, but centrally located—Music Row, The Gulch and Midtown are either a short walk or quick Uber ride away.
Where to eat: For brunch, don't miss Biscuit Love in The Gulch for the Southern classic, biscuits and gravy. The restaurant doesn't take reservations, so get there early or be prepared to wait. For dinner, enjoy some guac and margaritas at Saint Anejo.
What to do: You'll definitely want to reserve a pedal pub for you and your girls during the day. The 15-person bike-slash-pub is BYOB and a fun way to enjoy some drinks while touring the city. At night, hit Honky Tonk on Broadway for three levels of live music and dancing. It's bachelorette/bachelor party central in there, so don't be surprised to see other groups with matching T-shirts. 
—Kristen Maxwell Cooper, Editor in Chief
16. New Orleans

Where to stay: Hilton New Orleans in the French Quarter is the perfect location, and its king suite is perfect for bachelorette groups.
Where to eat: Cafe du Monde is probably the most famous NOLA restaurant—go for beignets and coffee in the morning. 801 Royal (in the French Quarter) is casual and inexpensive. Cochon is super famous and one of the best meals you'll ever have. Carousel Bar and Lounge has fancy, authentic NOLA drinks. Coquette is a great brunch place in the Garden District, which is a really beautiful area to walk around in. Blue Oak BBQ and Joint BBQ are fun for groups and inexpensive. 
What to do: Go out on Bourbon Street! (Fun bars include Pat O'Briens and Cat's Meow—they're NOLA staples.) Do a walking tour of the Garden District and Arts District, go to jazz bars on Frenchmen Street and walk around Jackson Square.
—Sophie Ross, Assistant Editor, Digital
17. Newport, Rhode Island

Where to stay: You'll want to stay right near the water in this famously nautical town. Situated on Goat Island and surrounded by Narragansett Bay, Gurney's Newport Resort & Marina offers the seclusion of a private island feel, yet it's only a short walk or car ride to explore Newport (but Gurney's offers a shuttle to downtown Newport every half hour too). Rooms showcase gorgeous views of the famed Newport Bridge. You'll love the modern, minimalist and fresh feel of the property, and the outdoor lounge with a wraparound deck is perfect for group yoga classes in the summer. Dive into the sleek saltwater pool, or get pampered at the Seawater Spa. 
What to eat: Have a group dinner at the iconic Italian restaurant Scarpetta, located within Gurney's. The chic atmosphere combined with the delicious food is the perfect way to kick off your bachelorette weekend. The fresh seafood is sourced locally, and the pasta is to die for—short rib and bone marrow agnolotti, anyone? If you're looking for authentic clam chowder, head to The Black Pearl, and for no-frills New England seafood experience, try Flo's Clam Shack. The Wharf Pub also has a section on their menu entirely devoted to tater tots, if you and your squad had a few too many the night before.
What to do: There's so much to do in Newport—it just depends how active you want to be and the time of year. Note that the Newport Folk Festival, Newport Jazz Festival, Newport Regatta and the Newport Mansions Wine & Food Festival happen every year, so you may want to be there for it or avoid those weekends (and the crowds) entirely. If you want to be active, try Cliff Walk—talk about perfect Insta photo backgrounds. See the grand history of Newport by taking tours of the famed summer mansions of the Vanderbilts and other notable families of the time. Charter a sailboat for the afternoon. And for drinks, One Pelham East, The Pineapple Club and the Boom Boom Room at Clarke Cooke House won't disappoint.
—Ivy Jacobson, Senior Digital Editor
18. New York City

Where to stay: Channel your inner Gossip Girl and stay in one of the swankiest hotels in Manhattan: The Lotte Palace Hotel. Splurge and check in to an executive suite in The Towers. You'll be treated to views of St. Patrick's Cathedral and Rockefeller Center, as well as in-room amenities like Molton Brown toiletries, a plush bathrobe, double-sink bathroom (so you'll have lots of room to get ready for your night out) and a tub you just have to take a morning soak in. Or if you really want to go all out, look into reserving the Jewel or Champagne suite. Each have three floors and features décor to match its name, as well as a spacious patio looking out onto the Empire State Building (you even have your very own Jacuzzi!). While you may not want to ever leave your suite (and you won't have to, with a full kitchen plus 24-hour in-room dining), you should make time for photo ops in its famous lobby and drinks at Trouble's Trust. 
Where to eat: Anything goes in New York. You can find any kind of food here: dim sum, pasta, sushi, burgers, steak—the possibilities are endless. Treat yourself to a delicious dinner and views of Central Park at the French/Italian fusion restaurant Landmarc in Columbus Circle. Or book a more intimate meal at the newly opened Mr White Restaurant. Its Southern mansion feel paired with traditional Southern dishes (the cornbread and fried chicken are musts), fun cocktails ("lemon merengue" and "hot sauce" shots included) and ideal location in the East Village on St. Marks Place make it the perfect spot to begin your ladies' night out. If you want to experience the charm of the West Village, Left Bank is chic, cozy and serves up a delicious and budget-friendly "happy hour" dinner until 7pm—an appetizer and pasta for just $30. Looking for a refined afternoon tea? Enjoy finger sandwiches and pastries at the iconic Plaza Hotel's Palm Court, or on the seventh floor at Bergdorf Goodman (where, once again, you'll be treated to outstanding views of Central Park). But let's face it, New York is known for its brunches. Looking to have a few drinks with your eggs? Head to Maya in the Upper East Side. For $49 per person, you get unlimited drinks and food for two hours. There's no beating that. 
What to do: There's so much to do in the Big Apple. If you like theater, take in a Broadway show (for discounted tickets, check out Today Tix or TKTS). More into stand-up comedy? Make reservations at the Comedy Cellar in the West Village—you never know what big name comedian may drop in. If you're on the hunt for views, head to the One World Observatory or set sail on a craft beer cruise on the Hudson. And don't forget all of the shopping and bars! For amazing cocktails, check out one of the city's many speakeasies (Please Don't Tell and Mr. Cannon are two fun spots). And if you want a fun beauty experience with your ladies, download the Prête app (a great blowout booking service) and book a blowout party with your ladies in a salon close to where you're staying. 
—Maria Bouselli, Managing Editor
19. Park City, Utah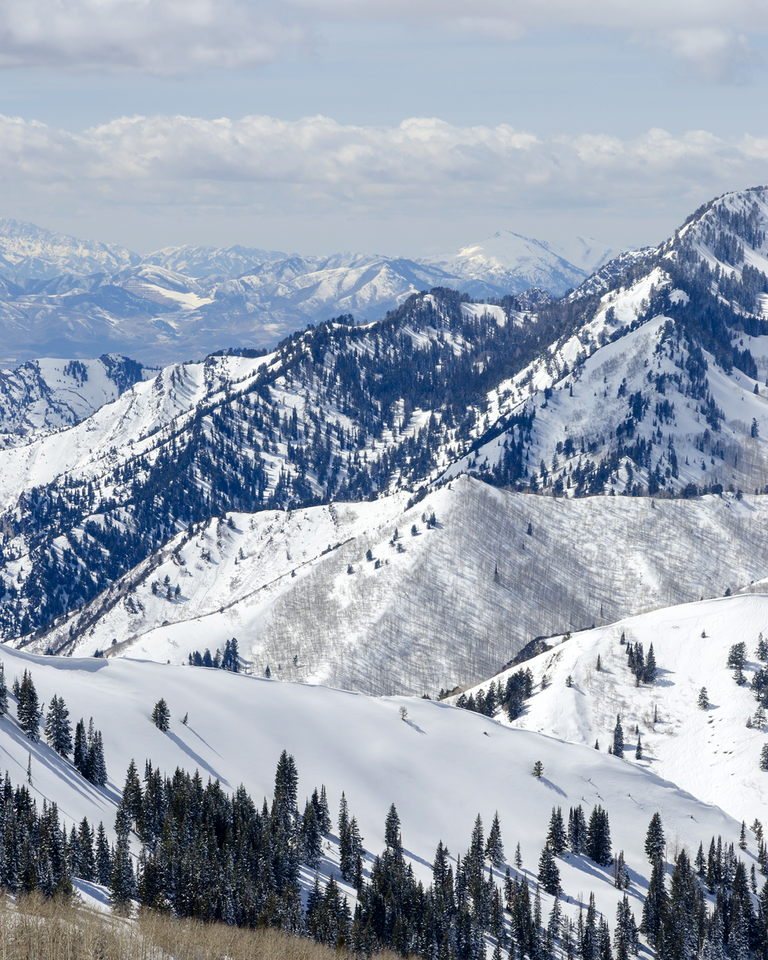 Where to stay: Hotel Park City is located in the center of the large ski town. Here, you're within walking distance of the ski lifts and a short drive to Main Street for restaurants and nightlife.
Where to eat: Join in on après-ski festivities at the famed High West Distillery and Saloon for some of the best food and drinks in town. Or, grab a quick bite before hitting the slopes at crowd-favorite Davanza's (get the pizza!).
What to do: Winter skiing and the Sundance Film Festival are what make Park City famous, but if you're planning the trip during the off-season, don't worry. Mountain activities are in no short supply—try out mountain biking, outdoor yoga and luxury spas amid the serenity of the Rocky Mountains.
—Alex Ramey, Social Media Coordinator
20. Philadelphia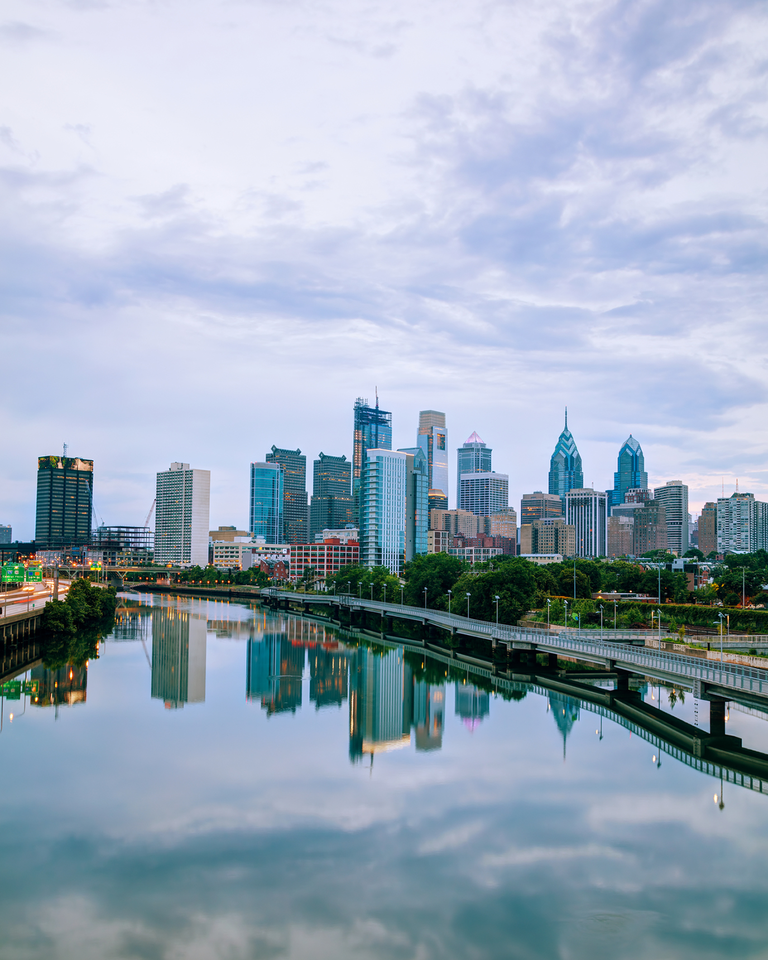 Where to stay: Boutique hotel-adoring bridesmaids will want to stay at the cute Kimpton Hotel Palomar in Rittenhouse Square or the Hotel Sofitel right across the street. The centrally located spots are within walking distance to many of the city's finest restaurants and bars. There's also the Ritz Carlton nearby for the truly luxe-loving bachelorette crew. 
Where to eat: For brunch, stop by The Dandelion, Stephen Starr's centrally located gastropub for mouthwatering plates and tasty beers on tap. The more upscale bachelorette party will enjoy the City of Lights-meets-City of Brotherly Love vibe offered by French bistro Parc on Rittenhouse Square. Dinner is served at Sampan, a Pan-Asian hot spot in Philly's midtown area, or head over to El Vez across the street for a guaranteed good time. Did anyone say blood orange margaritas and quesadillas? Make reservations at Audrey Claire (my personal favorite) if you want to go the unassumingly chic BYOB route. And call it the pursuit of deliciousness—South Philly is the spot for late-night snackers who want a taste of the city's most-iconic indulgence: the cheesesteak. Tourists will want to try Geno's Steaks located right across the street from the equally famous Pat's King of Steaks on Passyunk Avenue. A few tips: The correct way to order is "Whiz Wit" (which means with Cheez Whiz), and don't even think about bringing a Geno's green wrapper over to Pat's. 
What to do: Philly is manageable, full of culture and packed with vibrant personalities and activities. Fitness-adoring bachelorettes can start their days with a run up and down the Ben Franklin Parkway over to Kelly Drive, which offers up views of the historic Philadelphia Museum of Art. (Rocky, anyone?) The city itself has a great bar scene, ranging from the low-key quality cocktails offered inside the Library Bar in The Rittenhouse Hotel, where black-tie wedding sightings are guaranteed on weekends. Local favorite Frankford Hall, a gem of a beer garden right in Fishtown, is a quick Uber ride away. 
—Esther Lee, Senior News Editor
21. Santa Barbara, California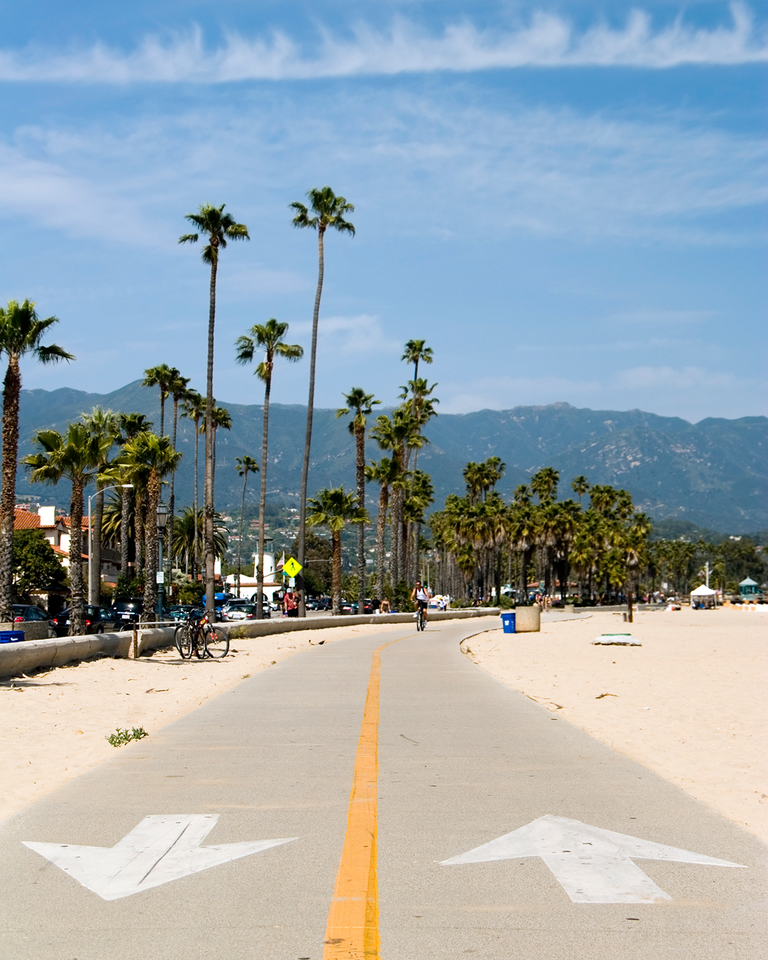 Where to stay: With its Mediterranean vibe and stellar location, the new Hotel Californian makes a great home base for a stay along the American Riviera. You can walk to the beach, pier and main drag, State Street, while also wandering to local wine tasting rooms and restaurants. For a hip experience, book a room at The Goodland, a Kimpton property fashioned to look like a 1950s surfer motel. There's even an Instagram-ready airstream trailer parked out front for photo ops.

Where to eat: Santa Barbara has no shortage of amazing restaurants, but a few must-hits include: La Super Rica, a takeout taco joint beloved by Julia Child; Lark, a vegetarian-friendly, seasonal hot spot in the trendy Funk Zone; and Lucky's Steakhouse, an old-Hollywood hangout that mixes a mean Vesper.

What to do: After a morning hike in the mountains for a panoramic view of the ocean, head to the Funk Zone. It's a former industrial area turned into wineries, breweries, boutiques and restaurants. Potek Winery, which producers stellar Pinot Noir from the county, has set up shop in a multiuse space which includes a local florist, barbecue joint and outdoor area for imbibing. For a taste of oceanside living, drive over to Coast Village Road in Montecito, a wealthy enclave where Oprah owns a house (among many other celebs). Peruse the boutiques for breezy outfits and home décor before heading to the lounge in the Four Seasons Biltmore for live Spanish guitar and sunset views over the water.

—Stephanie Cain, Real Weddings Editor
22. Savannah, Georgia

Where to stay: Since Savannah is known for its gorgeous architecture and history, staying in a bed-and-breakfast can only add to the charm of your weekend. Check out the Catherine Ward House Inn, or Kehoe House. Prefer a hotel? The luxe Bohemian Hotel Savannah Riverfront is located right on the picturesque Savannah River. And you can't go wrong with an Airbnb in this area—there are so many gorgeous options that are centrally located. But if you chose Savannah as your bachelorette party destination because you love that it's one of the most haunted cities in the US, you may be game to stay at the 17hundred90 Inn & Restaurant. Legend has it that a young woman named Anna died at the hotel when she plummeted out of the window of room 204. Some say she leaped because of a broken heart, and others say she was pushed by her jealous husband. Either way, lots of ghosts reportedly roam the hallways—especially Anna, who has a penchant for scaring guests who dare to stay in room 204. (Even better for you and your squad, she can't stand female guests and will allegedly make them feel rather unwelcome.)
What to eat: I dare you not to pull out your phone to Instagram the picture-perfect avocado toast and espresso at The Collins Quarter. Clary's Café also serves up the huge diner-style Southern breakfast you've been holding out for—there's no shortage of butter, grits and biscuits here. The Olde Pink House is a perfect dinner choice to set the mood for the weekend—dine by candlelight at this spacious 18th-century mansion that serves delicious Southern comfort food and a mean Pink Lady cocktail. Cotton & Rye, Alligator Soul, Jazz'd Tapas Bar and Restaurant and Mrs. Wilke's Dining Room (which you should line up early for—the fried chicken and mac and cheese are so worth it) are all popular spots. Also, nobody will be mad if you just have to stop off at Leopold's Ice Cream, open since 1919, for a scoop of butter pecan. 
What to do: There's so much to do in Savannah for every type of personality. Definitely take a ghost tour around town or in a graveyard (if you get too scared, just keep sipping your wine—the city's open container), walk around Forsyth Park, pedal on a Savannah Slow Ride and tour tons of historic homes—the Mercer Williams House is the most well-known from Midnight in the Garden of Good and Evil. Come nighttime, head to Rocks on the Roof, Top Deck, The Rail Pub, McDonough's for karaoke, Savannah Smiles Dueling Pianos, Tree House and The Bar Bar.
—Ivy Jacobson, Senior Digital Editor
23. Scottsdale, Arizona

Where to stay: The hippest and chicest hotels that are minutes away from the best nightlife are The Saguaro, Hotel Valley Ho and the W Scottsdale. If you want a more relaxing experience and a day filled with spa services, head over to the Sanctuary Camelback Mountain and the Omni Scottsdale Resort & Spa at Montelucia. These resorts have incredible rooms overlooking Camelback Mountain and make it easy for a hike with the girls in the morning.
Where to eat: My all-time favorite breakfast and lunch spot is La Grande Orange. It's easy for a coffee run and quick bite. The food is delicious, fresh and healthy, and it's filled with perfect party favors, fresh flowers, wine and cards for your bridesmaids. If you want a more leisurely brunch, stop by The Henry. For the best spaghetti and meatballs in the city and a low-key neighborhood joint, Tarbell's is a must. If you're ready for a night on the town with the girls, dress up, put on those heels and head to The Mission for yummy modern Latin cuisine. Stop by for an ice cream and Instagram-worthy photo after dinner at The Sugar Bowl, a diner that's been open since 1958.
What to do: Explore the beautiful southwest desert with some outdoor activities like hiking Camelback Mountain (take the Quartz Ridge trail for something a little less daunting—it doesn't take more than an hour!) and the Desert Botanical Garden. For some culture, check out the Musical Instrument Museum, which is filled with incredible instruments and history from around the world. Then, dance the night away at Dierks Bentley's Whiskey Row or The Beverly on Main in Old Town Scottsdale.

—Sarah Love, Associate Photo Editor
24. San Francisco, California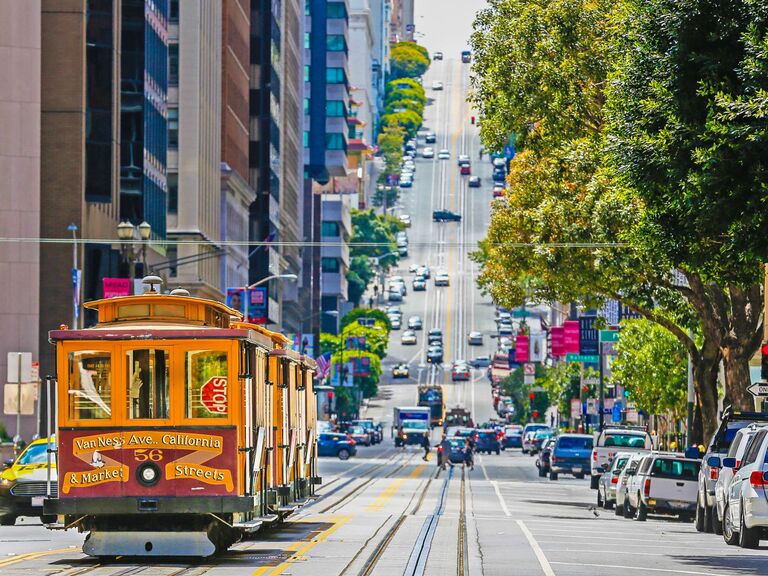 Where to stay: Centrally located and close to the bay, the Galleria Park Hotel in Union Square is the perfect spot to stay with your crew. The hotel is fresh off a mutlimillion dollar renovation, and its cozy lobby is the perfect place to round up your crew for a day of activies. It even offers an evening "sipping hour"—sure to start your night off right.  
Where to eat: San Francisco's districts each have their own flavor, whether it's Italian, Chinese or Mexican eats you're looking for. Dine on dim sum in Chinatown (Delicious Dim Sum lives up to its name), check out the Mission for amazing Mexican bites (grab a burrito at La Taqueria or nosh on traditional dishes like chicken tinga tostadas and empanadas at the Instagram-worthy Loló) or have a full-on Italian feast at Roma Antica. On Sundays, pack up a blanket and some vino and head to The Presidio park for Picnic at the Presidio.  Here, you'll be able to have your choice of San Francisco fare with its many food trucks, ranging from refreshing poke to tasty tacos.
What to do: If you and your besties are history buffs, take a ferry to Alcatraz and tour "the rock" (psst, you'll get some great views of the Bay and city skyline here). But for the ultimate photo op, journey with your crew to Battery Spencer for an amazing view of Golden Gate Bridge. And don't miss the cable cars! Sign up for a tour and see San Francisco in style (without having to trudge up its many hills). And if you're Full House fans, head to Alamo Square Park to see the Painted Ladies for yourself. We can't promise the theme song won't get stuck in your head.  
—Maria Bouselli, Managing Editor