4 Attainable Ways to Host an Opulent Regencycore Wedding
We're obsessed with this Bridgerton-inspired TikTok aesthetic.
If you, like most people, developed a serious obsession with Netflix's hit show Bridgerton, you're not alone. In fact, the period drama was so influential that it popularized a buzzy new internet aesthetic: regencycore. Inspired by Great Britain's regency era in the early 1800s, the regencycore aesthetic is all about opulence, extravagance and high society. The aesthetic has soared in popularity online, especially on Tiktok, alongside additional style trends like cottagecore and dark academia. And, if you feel particularly drawn to the elegance of the regencycore style, there are plenty of ways to bring it to your wedding day.
While you don't necessarily need to pick a wedding theme or style, having a defined aesthetic will help you make important decisions on things like your venue, the color scheme, decor, fashion and even food. So if you can't help but swoon over the historical glamour that inspires this trend, we're here to help you make your wedding look like it was pulled from an episode of Bridgerton. Read on to learn more about the regencycore aesthetic, along with four attainable ways you can bring this regal look to your big day. We promise it'll be the talk of the ton.
In this article:
What is Regencycore?
Even if you're a die-hard Bridgerton fan (or you prefer earlier Regency-inspired works like Pride and Prejudice or Sense and Sensibility), you might wonder: What is regencycore, really? This aesthetic is inspired by the United Kingdom's regency era, which spanned loosely from 1795 to 1837. The term "regent" is derived from the then prince-regent, King George IV, who stepped in to rule when his father (King George III) was deemed unfit to rule. This time period is distinctly categorized by a mini-Renaissance of culture, especially for the upper class. In simple terms, it was a time of lavish parties, gossip newspaper columns, opulent achievements in art, literature and design, and cultural refinement. In other words, the regency era reshaped the entire social structure of Britain.
Today, those who feel drawn to regencycore have no shortage of style inspiration. The regencycore aesthetic can be seen in beauty, fashion and interior trends, which all place an emphasis on light pastel color coordination, regal patterns and luxe accents.
When it comes to weddings, the regencycore style is a modern take on luxury and glamorous aesthetics. You probably associate glam weddings with white hues, metallic accents, flourishing blooms and lots of sparkle. The regencycore theme takes this a step farther—with a focus on vintage accents, monochrome pastels and structured fashion, regencycore feels more 18th-century London as opposed to Old Hollywood glam.
If this sounds like your dream wedding, we're here to help. Read on to discover four attainable ways you can bring your regencycore wedding vision to life.
Regencycore Wedding Venues
The first step of planning a regencycore wedding is sourcing an elegant venue. While you might not be able to secure a legitimate royal regency wedding venue, like Kensington Gardens or the Royal Opera House for your nuptials, there are plenty of ways to find a thematic setting that'll transport guests back in time.
Use a resource like The Knot Marketplace to find local venues in your area. While a castle is an obvious choice, you can emulate the regencycore aesthetic with a historical home or museum, a lush garden, a palatial estate, a lavish ballroom or a flowering courtyard.
Look for unique venues that have natural vintage charm; lush flowers and crawling vines that adorn the property will serve as great decor that you don't have to supply yourself. Additional details like gold or brass accents, vintage art, statement staircases, hanging chandeliers or even antique mirrors or statues will make your venue feel on-theme with little-to-no work on your end.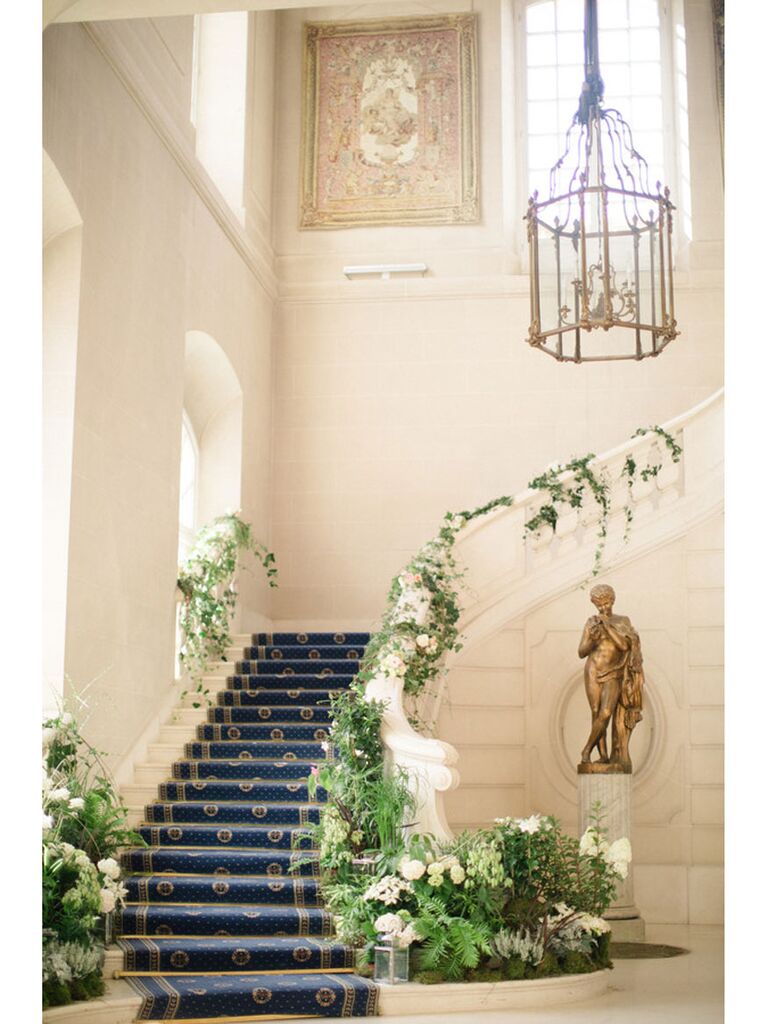 You can also choose a blank-slate venue, especially if your tastes skew more minimalistic. A loft or a rooftop can be designed to fit the regencycore aesthetic with intentional decorations, flowers and signage.
Regencycore Wedding Decor
Decorating your regencycore wedding is crucial for nailing the theme. In addition to relying on your venue's natural antique charm, work with your team of vendors to decorate your space so that it's dripping in opulence. The first, and arguably most important, piece of decor to focus on are fresh flowers. Any episode of Bridgerton features plenty of lush blooms like garden roses, dripping wisteria, lavender, peonies and sprawling vines. Work with your florist to source in-season blooms that replicate this aesthetic.
When it comes to your color palette, consider opting for monochrome shades of white or pastel pinks, purples or blues. While color is an important element of the regencycore aesthetic, it should include soft hues as to not compete with additional grandiose elements like crystal chandeliers, gold candlesticks or ornate art frames. Having too many extravagant details may create an overwhelming look, but you can avoid this by using a soft, monochrome palette.
Venues that have built-in chandeliers or antique sconces will cover the space in a romantic, moody glow, but we recommend decorating further with candlesticks. After all, what palace is complete without a few candelabras? To make your wedding feel particularly personalized, head to your local thrift store to search for vintage candlesticks or holders to weave into reception table centerpieces. Consider getting candlesticks at various heights and sizes to create an interesting visual experience for guests.
And, of course, a regencycore wedding needs gold accents. This era was a time to flaunt wealth and extravagance, so decorate your wedding with as much gold as possible. Look for gold-rimmed glassware and plates, set tables with gold silverware, rent gold-brushed chairs, or invest in signage that features sophisticated gold calligraphy. When it comes to the regencycore aesthetic, you simply can't go wrong with a shimmering metallic. We even recommend decorating your regency wedding cake with gold flecks and monochrome flowers.
Regencycore Wedding Fashion
Styling your wedding outfit is one of the most exciting aspects of planning a regencyore wedding. While you don't need to exactly replicate Daphne and Simon's outfits, they can serve as inspiration when it's time to choose what to wear.
Regency wedding dresses are defined by empire waistlines, loose skirts, airy fabrics and glittering embellishments. To give it a modern twist, consider opting for long sleeve ball gowns with full skirts or gowns with intricate lace or beading patterns. You might even consider accessorizing with long satin gloves or a glittering hair clip to add that je ne sais quoi to your regencycore fashion look. To start shopping, check out our roundup of Bridgerton wedding dresses that perfectly fit the regencycore aesthetic.
When it comes to suiting, you can't go wrong with a sleek black tuxedo. In fact, full tuxes are recommended to fit the regencycore fashion aesthetic. Pull out all the stops with a double-breasted jacket, a wing top collar, elegant cufflinks and sharp Oxfords or loafers.
As for guests, encourage them to come dressed to the nines. A black-tie or formal dress code is encouraged for a regencycore wedding. Given the elegant venue and overall vibe of your event, all should be dressed accordingly.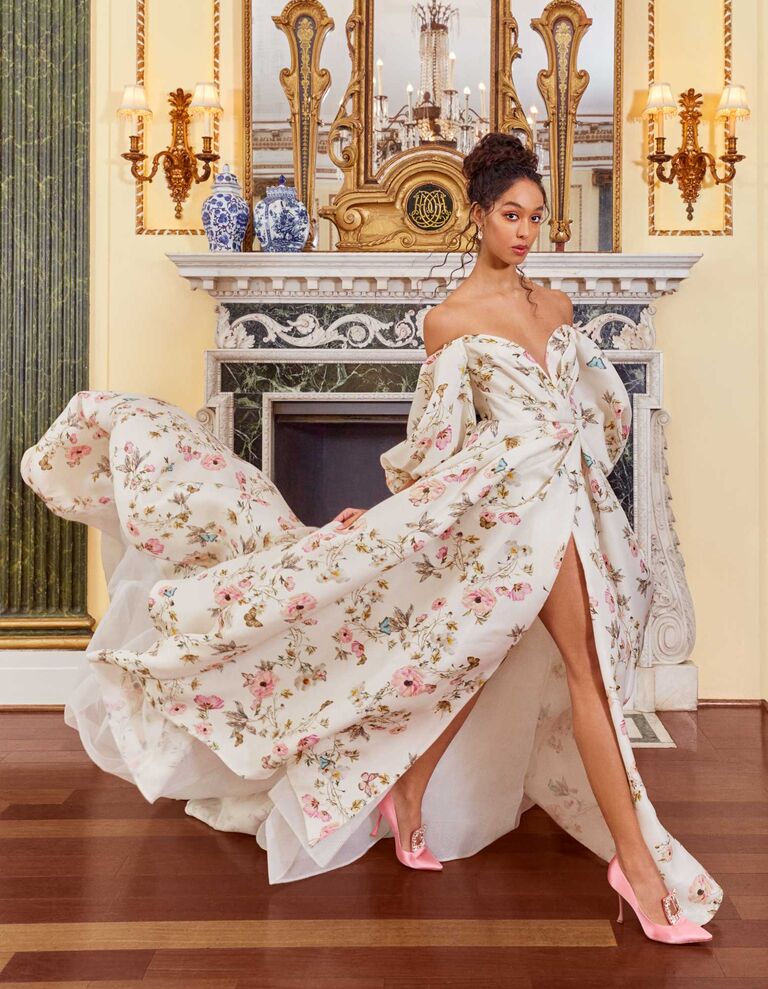 Dress in sizes up to 18, $8,900, MoniqueLhuillier.com; earrings, $10,640, CathyWaterman.com; shoes, $1,875, RogerVivier.com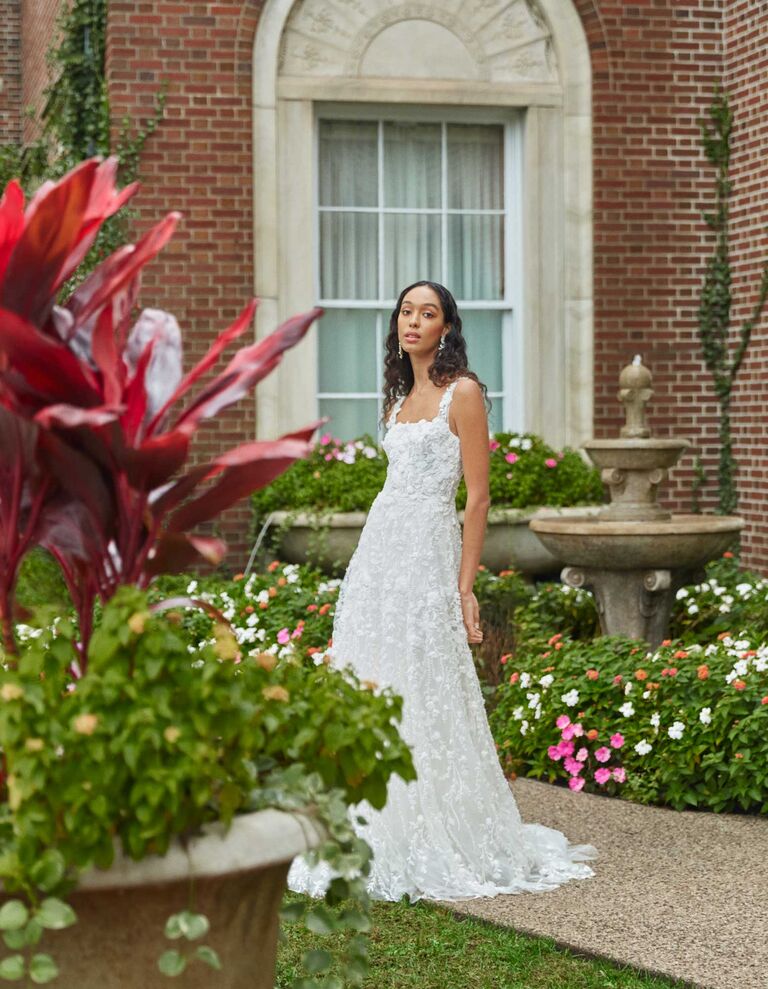 Dress in sizes up to 22, $5,495, Amsale.com; earrings, $250, NicolaBathie.com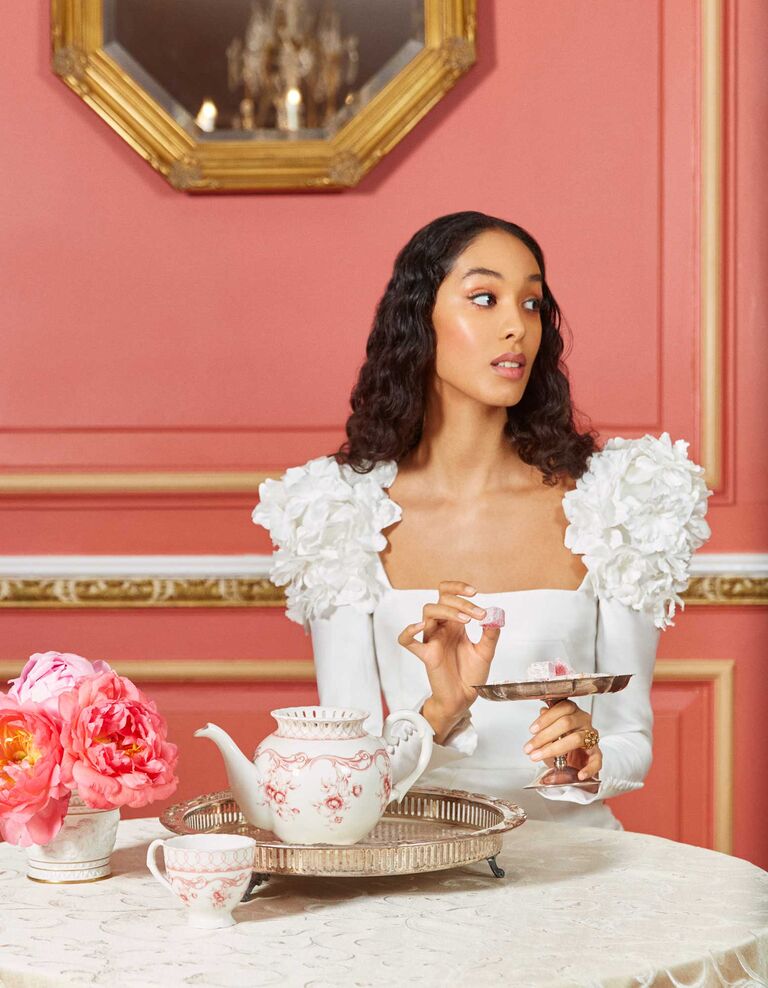 Dress in sizes up to 18, $5,500, ReemAcra.com; ring, price upon request, GreenwichJewelers.com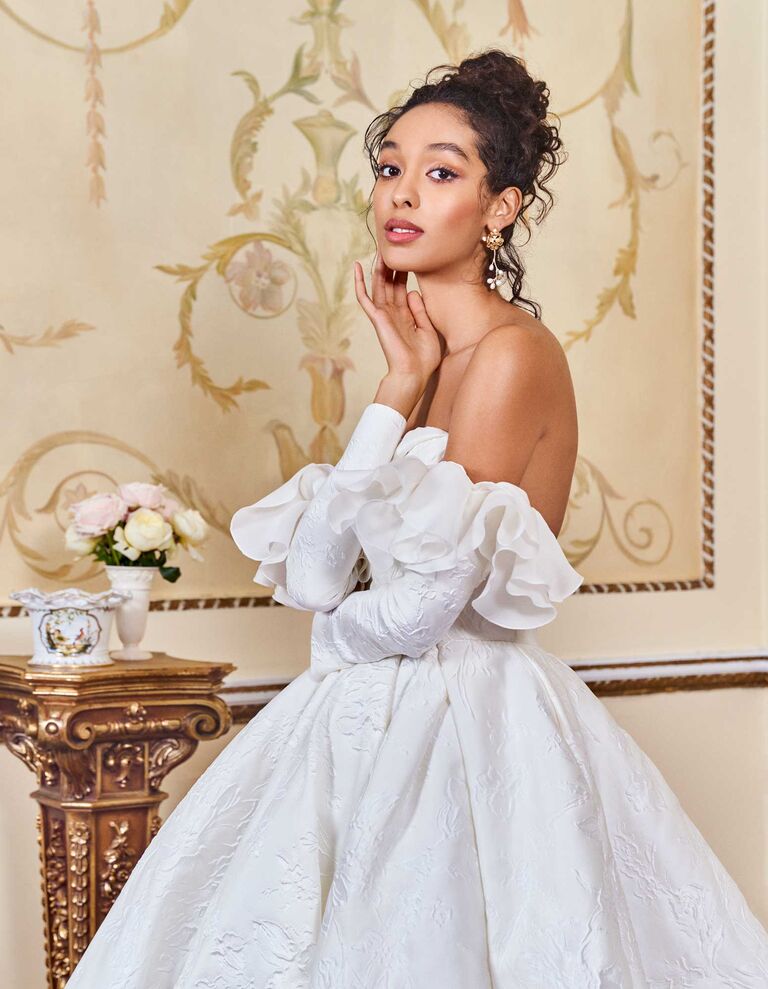 Dress in sizes up to 22, $7,260, RitaVinieris.com; earrings, $69, MadebyMaddieDesigns.com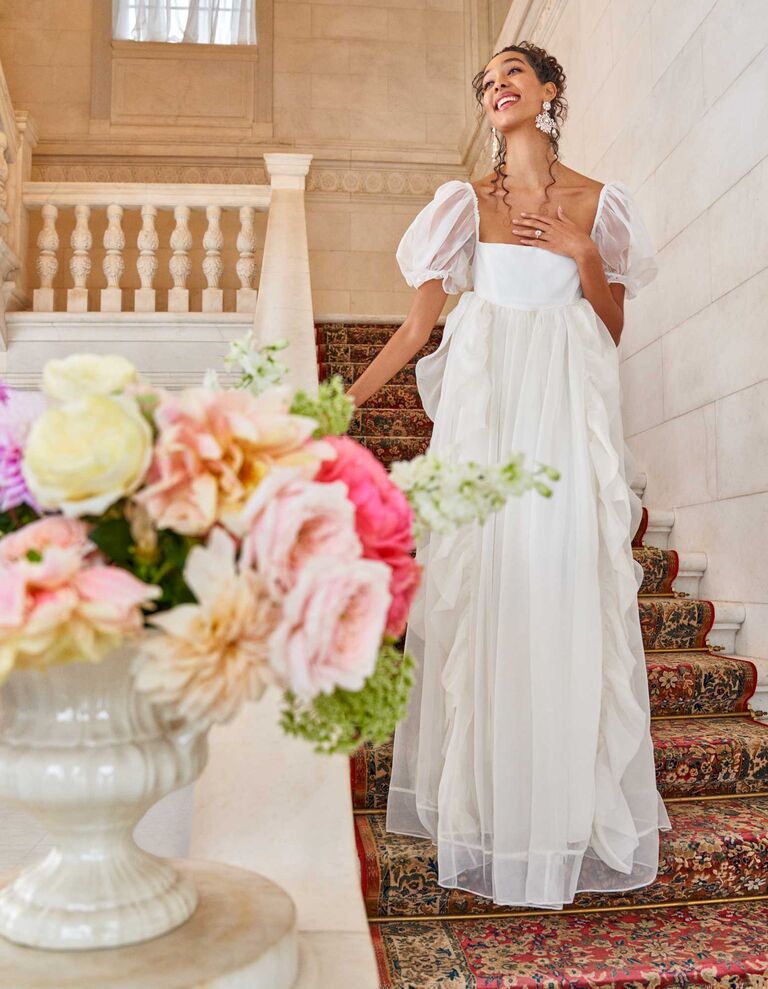 Dress in sizes up to 24, $3,650, OdylynetheCeremony.com; engagement ring, $49,000, ErstwhileJewelry.com; earrings, $300, NicolaBathie.com
Dress in sizes up to 14, $8,360, HermioneDePaula.com; earrings, $85, MadebyMaddieDesigns.com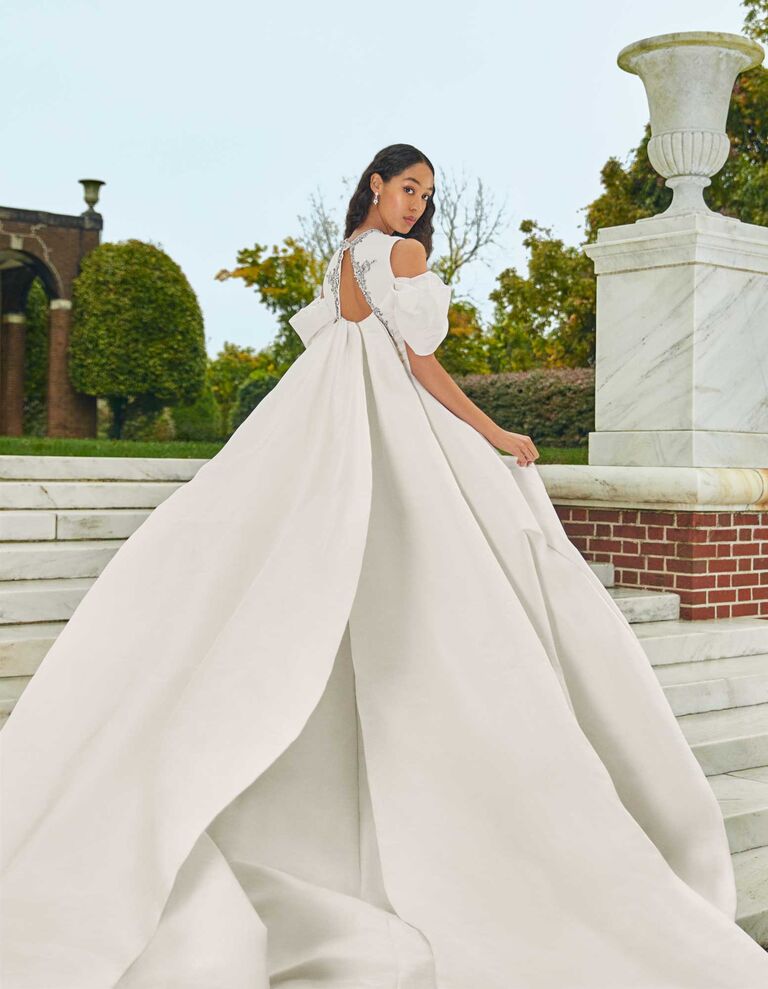 Dress in sizes up to 18, $10,500, ReemAcra.com; earrings, $4,400, SimonGJewelry.com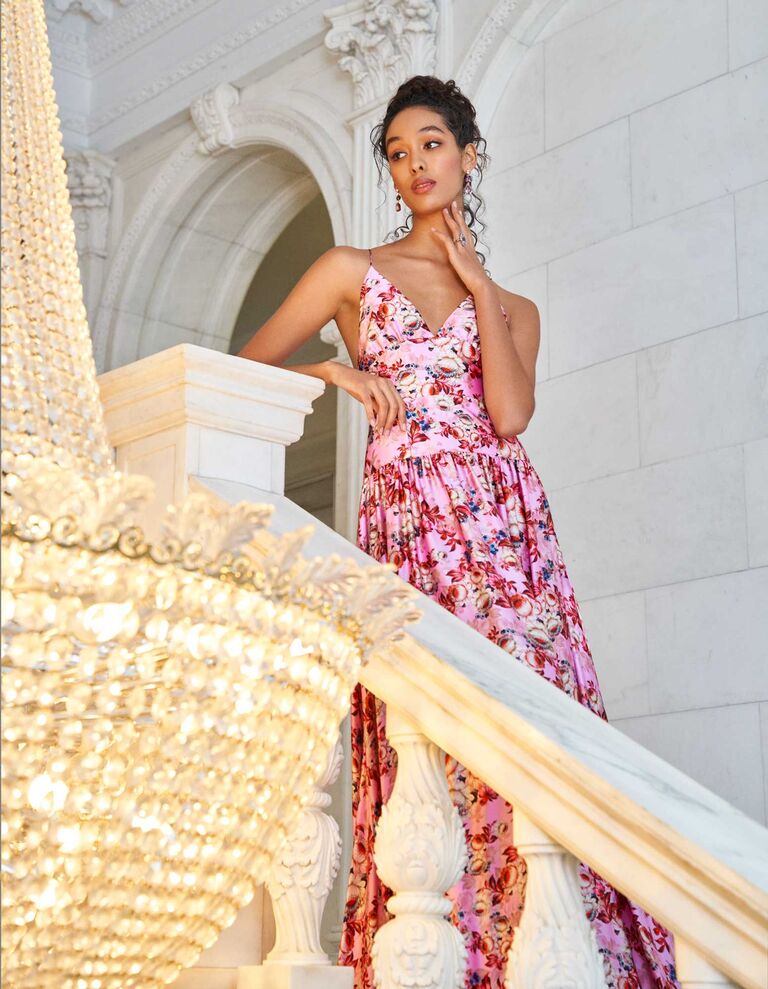 Dress in sizes up to 16, $2,995, Markarian-NYC.com; engagement ring, $15,000, ErstwhileJewelry.com; earrings, $295, JenniferBehr.com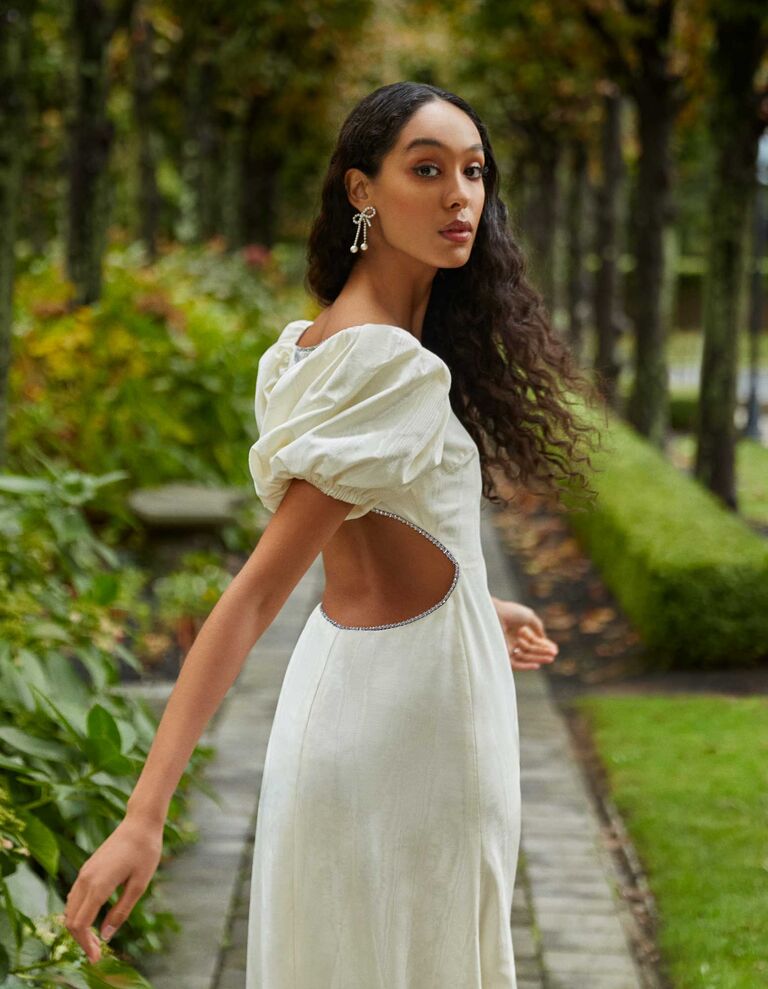 Dress in sizes up to 30, $3,150, HoughtonNYC.com; earrings, $295, JenniferBehr.com
PHOTOGRAPHER Tayo Kuku
FASHION STYLING Shelley Brown
PROP STYLING Ed Gallagher at Big Leo
HAIR + MAKEUP Mika Shimoda for Chanel Beauty at Art Department
VENUE NYIT de Seversky Mansion
SPECIAL THANKS
Planning your own Bridgerton-inspired affair? Consider the historic NYIT de Seversky Mansion in Brookville, New York. Built in 1918 in Georgian Revival style, the grand estate offers opulent architecture, landscaped grounds and elegantly decorated rooms with distinctive Old-World charm. Learn more here.

Regencycore Wedding Invitations
Perhaps one of the most attainable ways to host a regencycore wedding is to start with your invitations. When guests receive their invite, the design and color scheme both offer a preview of what they can expect to see on the big day. Your invites are the place to introduce your theme—and if you're envisioning a regencycore wedding, it's important to weave stylistic motifs into every element possible, from your paper goods to your menu and the favors.
You can find plenty of regencycore-inspired wedding invites on The Knot Invitations. Use search terms like "elegant," "whimsical" and "vintage" to find designs that correspond with this theme. Look for invites that feature swooping calligraphy, light colors and metallic accents. When in doubt, put yourself in Lady Whistledown's shoes: designs that are simple and elegant will make your guests feel like they've been invited to the event of the century—and, let's be real, that's what your regencycore wedding will be.