I Don't Want an Engagement Ring—Is That Crazy?
Why some women aren't buying into the timeless tradition of the engagement ring.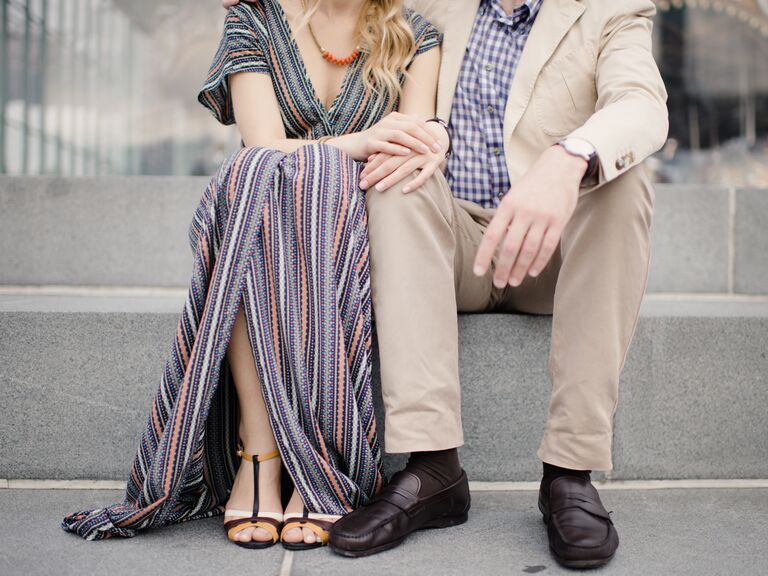 Rebecca Yale Photography
Engagement rings seem like a straightforward way to show that you've entered into the next step of your relationship, but some newly engaged couples aren't into the symbol of the ring or the stone that's usually at the center of it all—the diamond. There are lots of valid reasons why someone would choose to forego an engagement ring and they typically fall into two categories: someone who is skeptical of the jewelry process, and someone who simply isn't showy when it comes to sparkles.
Is it crazy not to want an engagement ring? Absolutely not! There's no reason to get one if you're opposed to the idea. Want to be fully informed on the issue? See the arguments below and decide for yourself.
Why You're Skeptical
Environmental issues about diamonds worry you.
"I don't wear diamonds for ethical reasons (both the human rights ones, the environmental impact of the diamond industry and the artificial scarcity issue jacking up prices), so there was no way I was changing my stance for an engagement ring," says one Knottie, Amelisha, on our community boards. Diamond mining is done in many different ways, some of which leave an impact on the earth. Miners have been known to divert and dam up rivers in their digging process and take over land once used by wildlife, causing the reduction of water and the displacement of animals and plant life.
Just so you know: Canada in particular is a leader in environmentally friendly(-er) diamonds, as well as having a reputation for being conflict free. You can opt to shop at a retailer like Brilliant Earth, which specializes in conflict-free jewelry (it sources its diamonds exclusively from Canada) and gives 5 percent of profits to a fund that benefits African communities harmed by the diamond industry. Another trusted store? Tiffany & Co. It deals solely with suppliers who use environmentally sound, conflict-free mining.
The thought of a "Blood Diamond" is horrible.
We've all seen the Leonardo DiCaprio movie about diamond cartels during the Sierra Leone Civil War, or at least heard of it, and diamond runners are still a serious issue and one that's worth taking a stand against. If you want to be 100 percent sure that your diamond is conflict free, it truly is best to not have a diamond at all. "I didn't want anything that even looked like a diamond but wasn't traditionally mined for the same reasons—I don't want to appear to support the industry," Amelisha says.
Just so you know: In 2002, the UN adopted a system to end the practice of sinister diamond trading. The Kimberley Process Certification Scheme outlines the regulations and requirements countries must follow to make sure a diamond is mined and shipped in a humane, legitimate way. Diamonds that meet these regulations are shipped with a Kimerley Process certificate. When you buy a diamond, the jeweler should be able to provide this certificate. If they can't, you should be wary of the stone's origin.
You've heard about artificial high pricing.
There's a lot of information out there about the history of diamond pricing, a consolidation of mines creating a monopoly on the industry and making false claims of rarity to increase cost in 1888. Even baring that in mind, diamonds today cost a pretty penny and are set to increase in price due to more "scarcity" in the future and rising demand. Knot note: There are many different factors that can make a diamond pricier, but being conflict-free certified should never be one of them. If you work with a jeweler you trust and research before you buy, you've done your part in being a responsible diamond shopper.
Just so you know: You don't have to get a diamond—there are lots of other unique stones out there. Consider something like pink morganite, aquamarine, shiny hazeline, onyx, moonstone, quartz, tourmaline or even lab-created stones as alternatives. "I would have been perfectly happy not to wear an engagement ring at all," Amelisha says. "But, I got a small, very inexpensive, ethically-mined aquamarine-and-silver ring. My fiance feels better because no one is giving him a hard time for me not wearing a ring, and I don't have to feel guilty about it."
You're Just Not the Showy Jewelry Type
You're just not a jewelry person.
You're not the type to wear any jewelry, let alone a flashy solitaire, so an engagement ring has never really been on your radar. Plus, the price tag has never appealed to you and you'd rather save up for something else.
Just so you know: There are plenty of other (less expensive) ways you can announce your engagement: You can get a cool tattoo, or a more demure ring to denote your new status, or just wait until the ceremony to exchange a simple band with your new spouse.
You don't want to wear a ring if your fiance doesn't have to.
We hear you, sister! Why do women have to wear something denoting that they're taken when traditionally men don't? "It's not fair for the woman to be the only one who looks obviously taken while the man roams around sans ring," says bride Kailin of the double-standard engagement rings create. Your spoken commitments are enough, and you can both wear bands once the wedding day comes.
Just so you know: Man-gagement rings are totally a thing (even Johnny Depp wore one last year when he got engaged to Amber Heard), and you and your fiance can shop together for engagement rings for the both of you—if you want! "We're both feminists," says Kailin of her relationship with her now-husband, Chuck. "But I have an extensive background advocating for girls and young women, so it was especially important that Chuck have an engagement ring as well." Now, Kailin and Chuck sport one ring on each hand. Worth the thought, right?
You're on your second marriage, and you don't want to call attention to it.
It's understandable to play things down a little bit for wedding number two. As long as that's what you want, go for it! Discuss your thoughts with your partner and make sure you're on the same page. "This is my second marriage," says Knottie ClassicalandEdgy on the community boards. "Quite frankly, I was just happy to be getting it right the second time around and didn't care if I got a ring. What was important to me was just being with the man I love and want to spend the rest of my life with."
Just so you know: Just because it's the second time around doesn't mean it isn't cause for celebration. If it's your second marriage and you feel like shouting it from the rooftops, you should feel free to do it. "My fiance wanted me to have a ring and all that it symbolizes. It was important to him, so I wear my ring proudly," ClassicalandEdgy says.
Even though these concerns are legitimate, there are plenty of women (in fact most engaged women) and men who love sporting their amazing engagement rings. So ultimately, the answer is to do whatever you are comfortable doing, and to be excited about it.
After all, the real celebration here is the fact that you've found a great person who gets you and wants to hang out with you forever, and that's pretty awesome in itself.
What do you think? Do you feel like you have to have an engagement ring? Are you absolutely opposed? Let us know on the community boards!