Engagement Watches Are the Latest Proposal Trend—See 24 Heirloom-Quality Options That Wow
Like a ring, this alternative proposal piece will stand the test of time.
We have included third party products to help you navigate and enjoy life's biggest moments. Purchases made through links on this page may earn us a commission.
You want to propose, but your partner doesn't want a ring. If you're looking for an engagement gift to surprise your fiance with, cue the engagement watch. It's a truly timeless token of your love that can last as long—and make as big of a statement—as a diamond. (Heck, some even come with diamonds.) Here, learn all about the trending engagement ring alternative, from how to give one to where to buy one. And yes, we're sharing shoppable inspiration too.
In this article:
What Is an Engagement Watch?
Typically, an engagement watch is given to a man 1) to reciprocate an engagement ring or 2) in lieu of an engagement ring. That said, the gesture definitely doesn't have to be gendered. Anybody can give or receive an engagement watch, so long as it's something the recipient would appreciate as a gift or prefer as a different kind of proposal piece. Really, the key here is that the intended wearer actually likes—or better yet, really loves—watches. The piece is usually a bit of an investment, and maybe even something to pass down to future generations.
The Proposal Engagement Watch
Don't want to wait for your partner to propose? If time's a tickin' (we had to), take matters into your own hands. Nowadays, more and more women are popping the question to their boyfriends. And they do so with a piece of jewelry they know their guy will love: a fancy timepiece. Again though, engagement watches aren't off-limits to anyone. If you were always planning to propose but your partner isn't into rings, an elegant watch might be the perfect alternative. Like a ring, it's something they can wear every day if they so choose. Nice watches have a certain air of sophistication that makes them ideal proposal pieces.
The Post-Proposal Engagement Watch
Maybe you're the one who said "yes" but you want to return the favor. Some choose to present their significant other with an engagement watch in exchange for whatever they received during the proposal. It's a nice way to give them the same feeling you had when they dropped to one knee—it can also symbolize equality in your relationship. This may seem like a new trend, but in other cultures, dual engagement gifts are actually pretty common.
How to Shop for an Engagement Watch
If you've decided to buy an engagement watch, you may be wondering where to start. We're here to help.
What Kind of Watch Should You Buy?
First thing's first: come up with a reasonable budget. If you want this timepiece to feel like the equivalent of an engagement ring, look within that price range. Just don't break the bank. Yes, watches tend to be expensive—which is part of the reason why they're gifted for this major milestone—but at the end of the day, it's the thought that counts.
As for the make and model? Etiquette suggests an engagement watch should be a dress watch—aka a watch that can be worn with formalwear. That's partially because it's sweet to wear the engagement watch on the wedding day, plus other special occasions (like anniversary dates) for years to come. It's also because dress watches just seem special—much like a diamond engagement ring does. What makes a watch a "dress" watch? There's no super-formal definition, especially since modern fashion rules imply you choose your own adventure. But minimalist timepieces (with smaller, simpler faces) on leather bands typically qualify. The idea is that they're, well, timeless—and can fit comfortably with long sleeves (dress shirts, basically).
That said, there's nothing wrong with buying your S.O. a sport watch. Many people wear their engagement rings every day, so why not do the same with an engagement watch? If they're really into gadgetry, get them something more high-tech. If they need something durable, a metal band is perfectly fine. All in all, it comes down to your partner's (life)style and taste. Get them the engagement watch they'll adore—not the one you think you should get.
Where Should You Buy It?
Luxury watches are popular engagement watches, but "luxury" obviously means "pricey." Consider buying from a site like Jomashop, which sells authenticated watches for under market price in exchange for no manufacturer's warranty. If you're comfortable with that (you'll still get a Jomashop warranty, just not one from the watch's brand) it's a way to save.
You can also buy a used watch to try and cut costs—or just to find a rarer model. Retailers like Tourneau sell pre-owned watches that undergo extensive quality assurance and restoration. In fact, many watch enthusiasts actually prefer vintage timepieces.
Otherwise, go straight to the source and shop from brand boutiques. Note that department stores, like Nordstrom and Saks, also sell good watches. If you're looking for a little personalization, search for brands that offer engraving. Or, browse through Etsy's bespoke, handmade offerings.
24 Impressive Engagement Watch Options
Here, we present a range of engagement-worthy watches from a mix of famous and modern brands. While many of these engagement watch options are technically designed "for him," most of the labels featured make unisex and women's styles too. (We've also thrown some specifically "for her" designs into the mix.) If you're searching for an heirloom-quality timepiece, this list is a great place to start.
1. Cartier Tank Louis 18kt Yellow Gold Men's Watch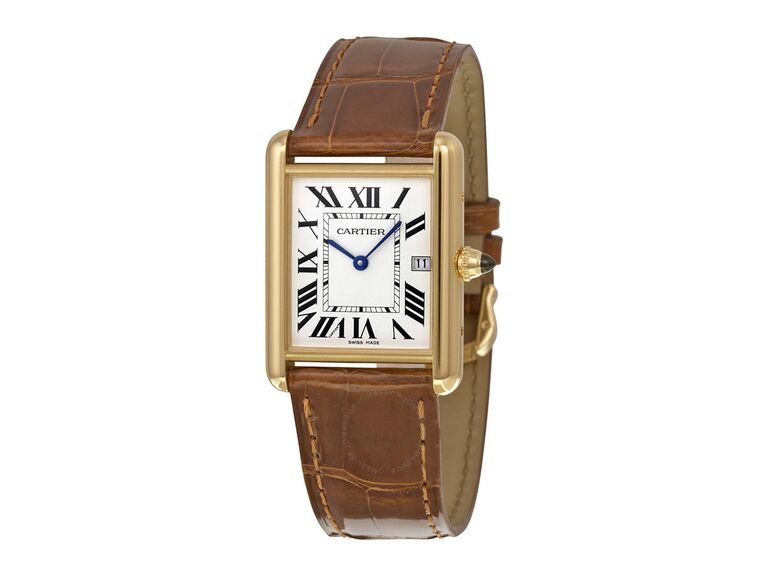 Watch enthusiasts love the Cartier Tank for a reason: It's undeniably sophisticated and utterly timeless with its rectangular, roman numeral face. Yes, it costs a pretty penny, but you can save over $1,000 buying from Jomashop.
$8,886, Jomashop.com
2. A. Lange and Sohne Saxonia Silver Dial 18K White Gold Men's Watch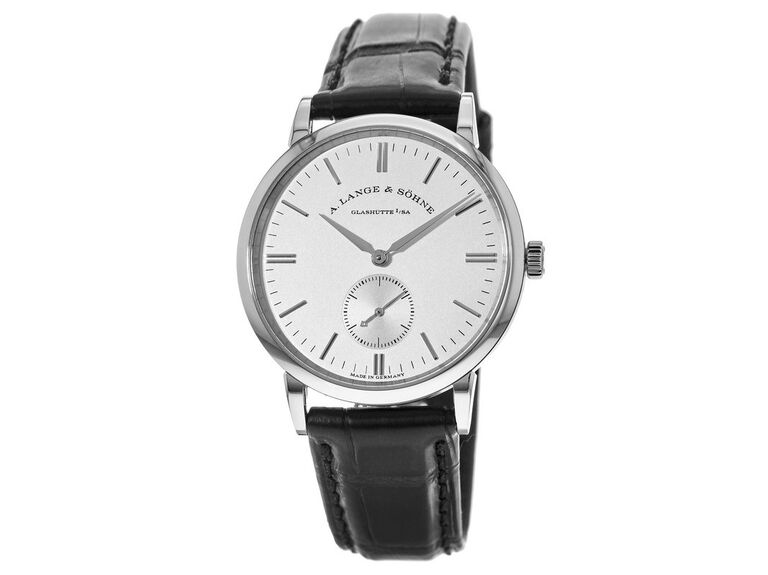 Talk about a talking piece. The beloved A. Lange and Sohne Saxonia is an investment your partner will be so thankful you made.
$14,947, Jomashop.com
3. Tissot Savonnette Quartz 48.5mm Pocket Watch
An engagement watch doesn't have to be worn on the wrist. This gold and silver-striped pocket watch is as classy as they come. Your SO will feel like a million bucks whenever they carry it—and especially when they use it as a wedding watch.
$330, Bloomingdales.com
4. MVMT Arc Automatic Leather Strap Watch
This up-and-coming brand makes sleek timepieces designed for everyday style. This metallic-accented accessory is one of the most affordable dress watches on the market.
$300, Nordstrom.com
5. Tucker Timepieces Wood Watch with Engraving Included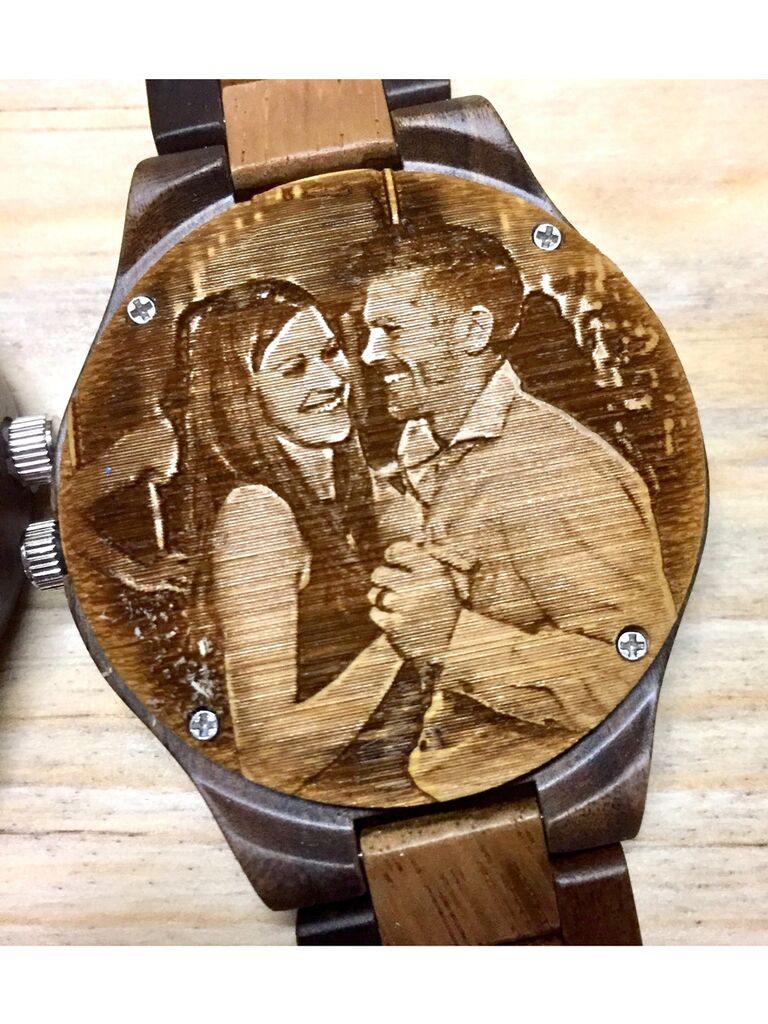 If it's all about the sentiment, opt for this ultra-unique Etsy bestseller. You can get the handmade wooden watch engraved with a quote, your actual handwriting or a photo of you and your SO. How cool is that?
From $55, Etsy.com
6. Carpenter Watches G1 Brooklyn Gent in Champagne 38mm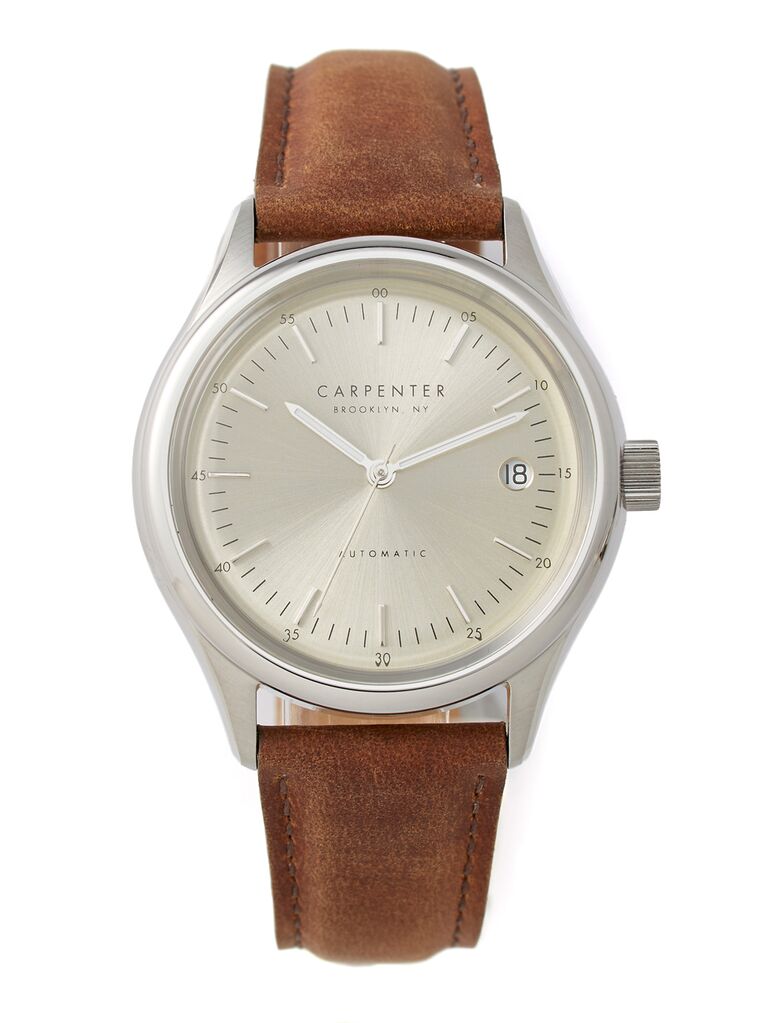 A limited-edition piece makes an extra-special engagement watch. This cool brown leather watch with a fresh champagne-hued face is perfect for the modern, dapper gent with a confident sense of understated style.
$825, Huckberry.com
7. Vacheron Constantin Patrimony Grey Dial 18k Pink Gold Manual Men's Watch 81180000R-9162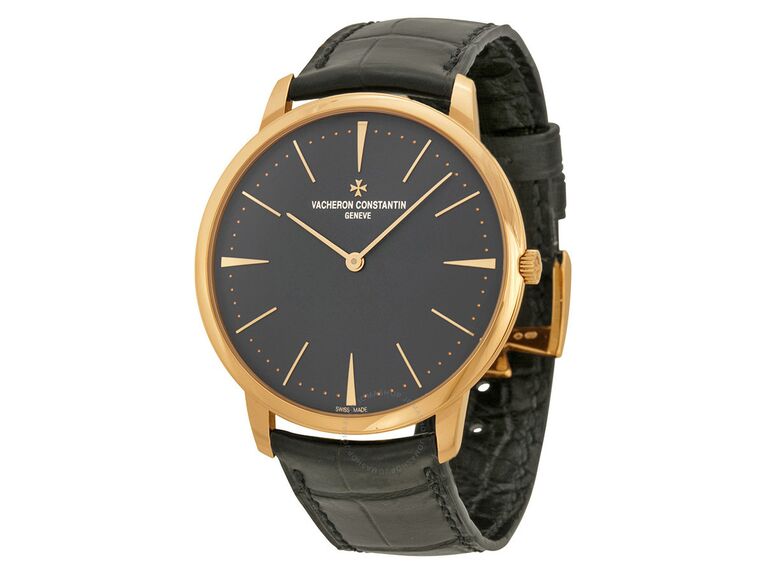 If you're looking for a watch brand with some serious clout, try Vacheron Constantin. It's been around since the 1700s but still appeals to the modern taste. We like the dark face and rose gold details on this Patrimony—which is perfect to celebrate your matrimony (not sorry).
$16,843, Jomashop.com
8. Movado BOLD Stainless Steel & Leather-Strap Watch in Grey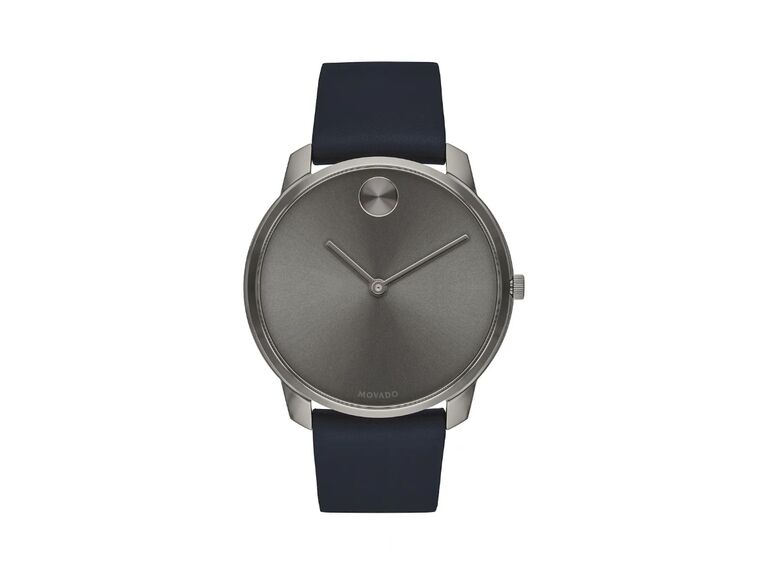 Movado is all about ultra-minimalism—we also love the unique colorways. Take this contemporary gray style made of stainless steel with a leather strap.
$450, SaksFifthAvenue.com
9. Longines La Grande Classique de Longines Diamond Bracelet 24mm Watch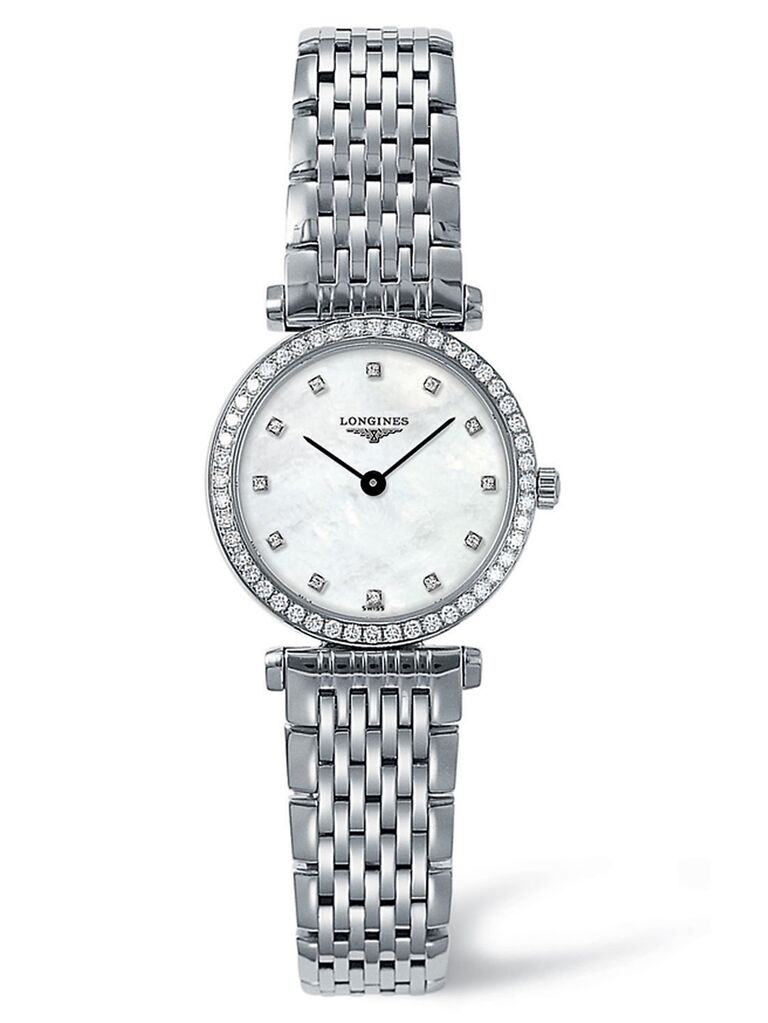 Diamonds stud this uber-elegant watch's gorgeous mother-of-pearl dial. How's that for a proposal piece for her?
$3,750, Nordstrom.com
10. Rolex Cellini Moonphase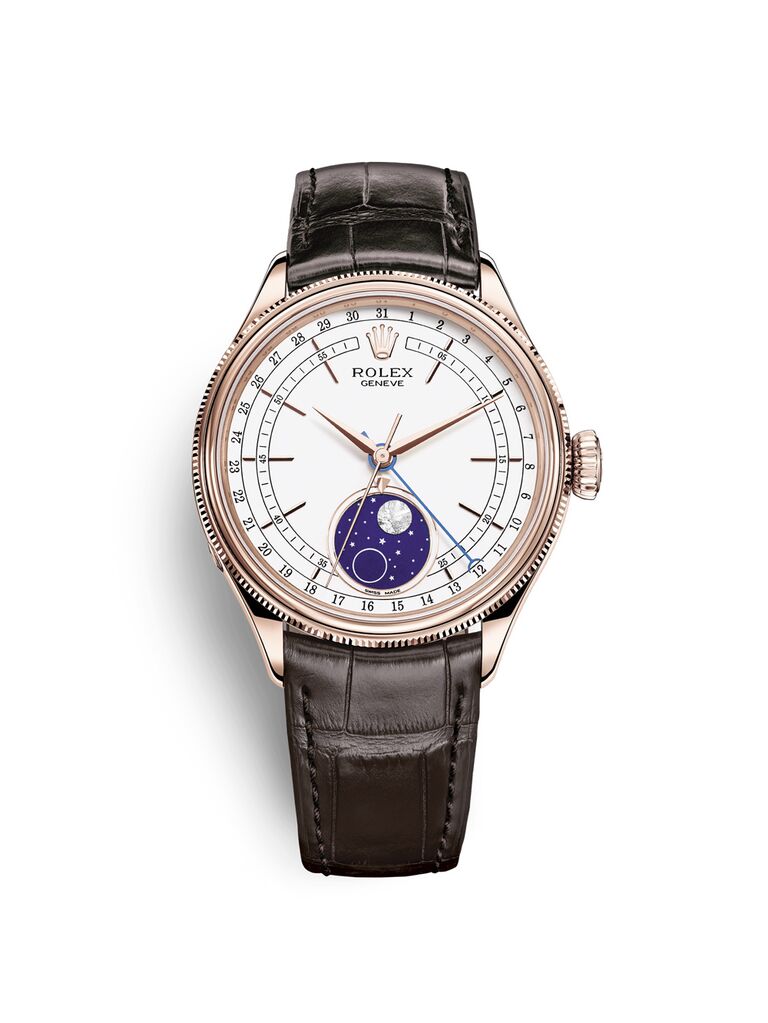 We'd be remiss not to include a Rolex in our roundup—you can't have a conversation about watches without mentioning the iconic brand. Rolex prices range quite a bit, but if you're ready to really splurge, this might just be the timepiece to take the plunge with. It features 18ct pink gold (psst: "dress" watches are often characterized by fine metal accents), a brown alligator leather strap and a disc that displays the moon's rotating phases. Um, awesome. Did we mention the dial is also embellished with a real piece of meteorite?
$26,750, Rolex.com
11. TAG Heuer Carrera Calibre 5 Stainless Steel and Alligator Strap 41mm Watch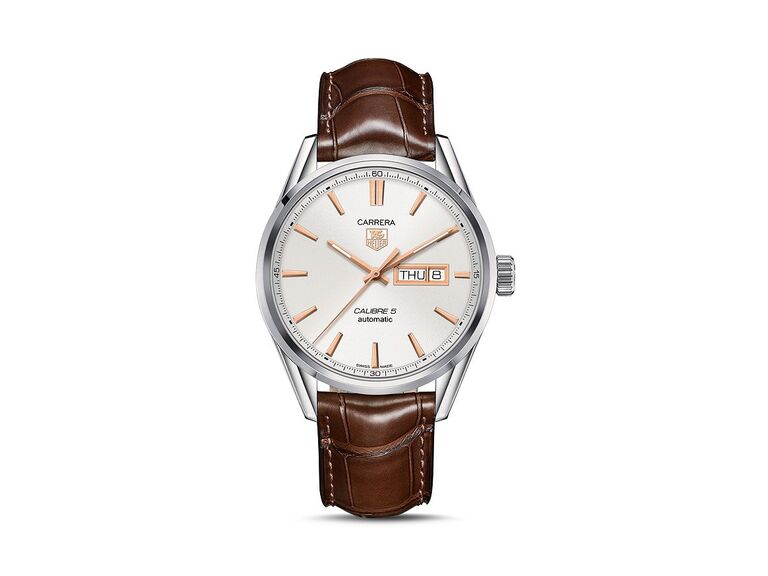 Connect your partner's interests to their engagement watch. The TAG Heuer Carrera was inspired by motor racing, so if they're into autos and a little dose of danger, it should be right up their alley. This design is also water-resistant—score.
$3,000, Bloomingdales.com
12. Original Grain Alterra Chrono 44mm Brewmaster Chrono Leather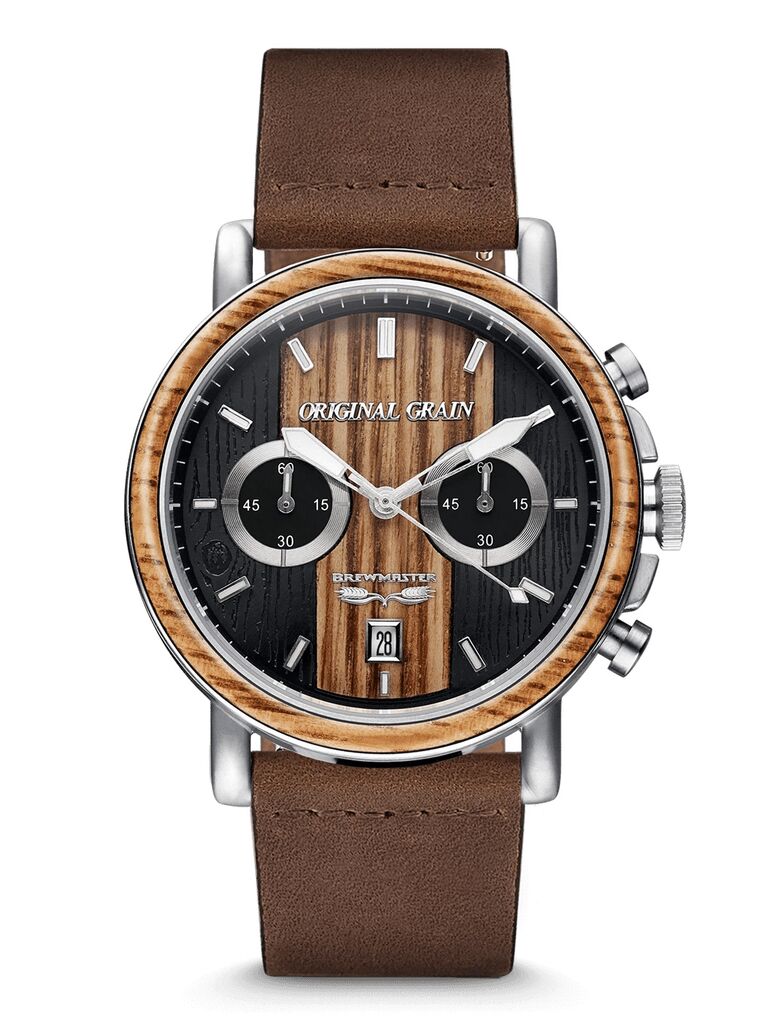 Our all-time favorite out-of-the-box watch brand? Original Grain, which makes statement timepieces from reclaimed wood. This model is crafted from old beer barrels, which makes it ideal for the brew lover. Get it engraved for a watch that has history and sentimentality.
$349, OriginalGrain.com
13. Piaget Polo S Automatic Blue Dial Men's Watch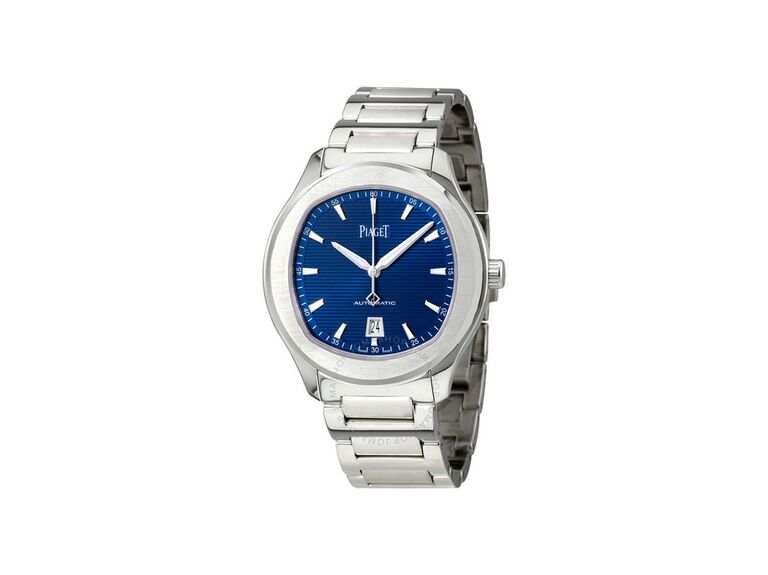 You can't go wrong with a simple, enduring style from a tried-and-true Swiss watchmaker. This sport watch will get him through nice dinners and golf games alike.
$7,920, Jomashop.com
14. Frederique Constant Horological Stainless Steel & Leather Strap Smartwatch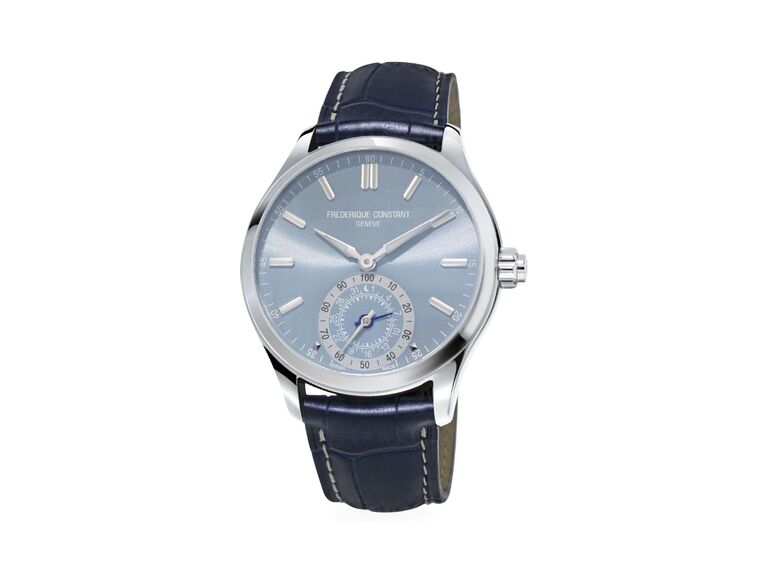 Did you think a smart watch could ever look this elegant? This engagement gift makes the perfect "something blue" wedding watch for your future groom. It'll also track his sleep and activity patterns.
$995, SaksFifthAvenue.com
15. Baume & Mercier White/Green 40mm Watch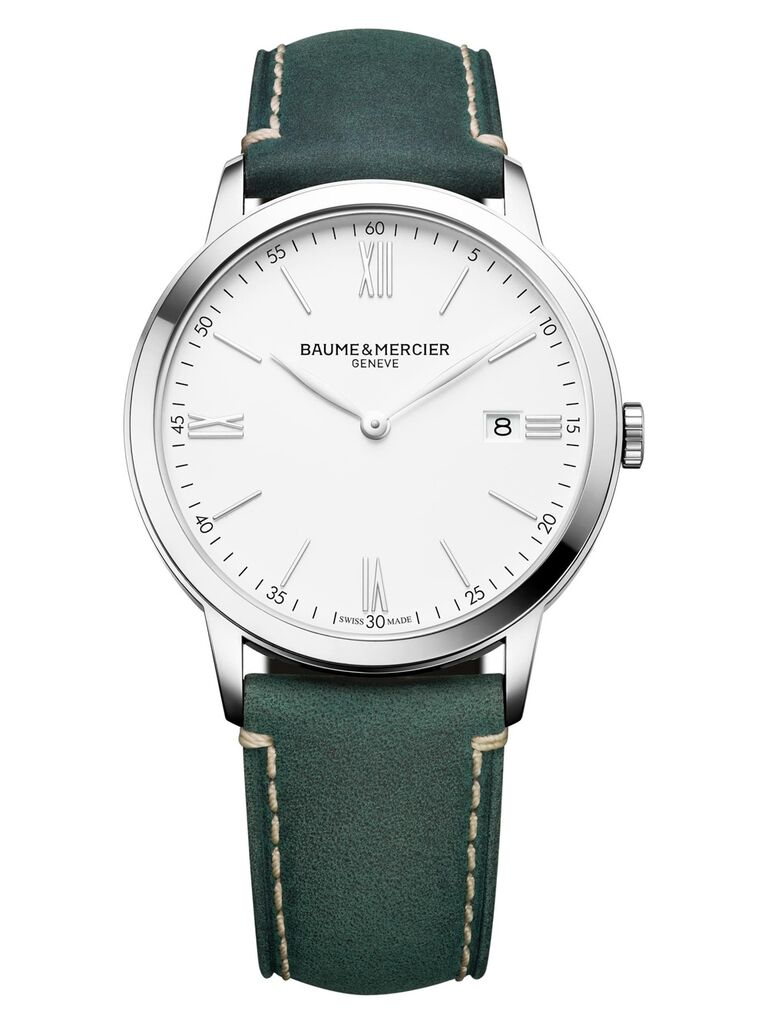 There's something so captivating about this deep shade of green, which is often associated with wealth. If your partner wants to stand out from the crowd, try this preppy Baume & Mercier timepiece.
$990, Nordstrom.com
16. Rado Diamaster Thinline Men's Watch R14068026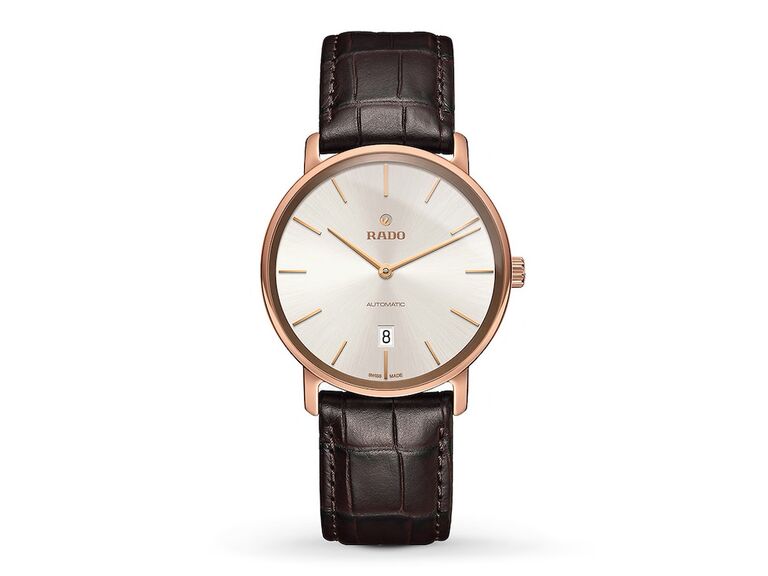 Jared doesn't just sell engagement rings—the retailer sells engagement watches too. Rado timepieces are made from a unique material, part-metal-part-ceramic Ceramos. It's been lauded for its long-lasting sheen, which complements the simple-but-sophisticated band well.
$2,250, Jared.com
17. Patek Phlippe Calatrava Ivory Dial 18kt Yellow Gold Brown Leather Men's Watch 5227J-001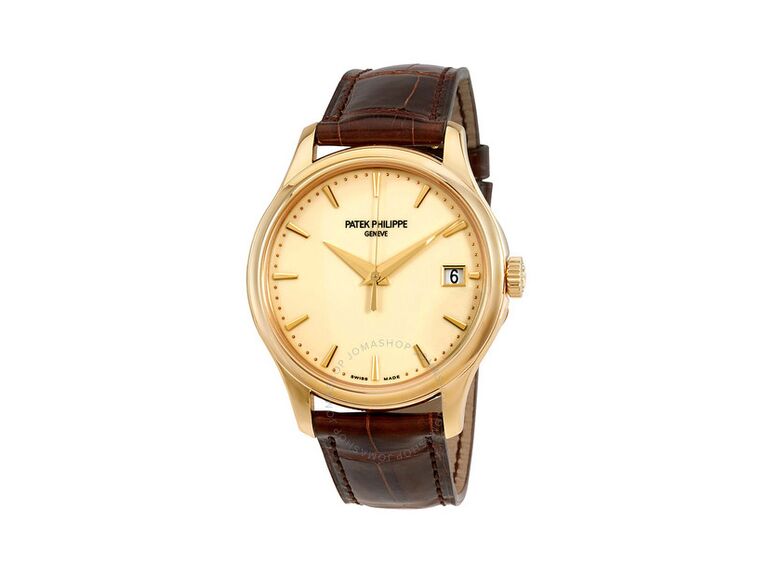 Some call Patek Philippe the watch brand of all watch brands—we'll let you be the judge. The Swiss-made timepieces are incomparably intricate and coveted heirlooms (admittedly, with price tags to match). This dress watch is an excellent pick for the proposal, engagement and/or the wedding day.
$32,259, Jomashop.com
18. OMEGA Speedmaster Moonwatch Anniversary Limited Series Apollo 11 50th Anniversary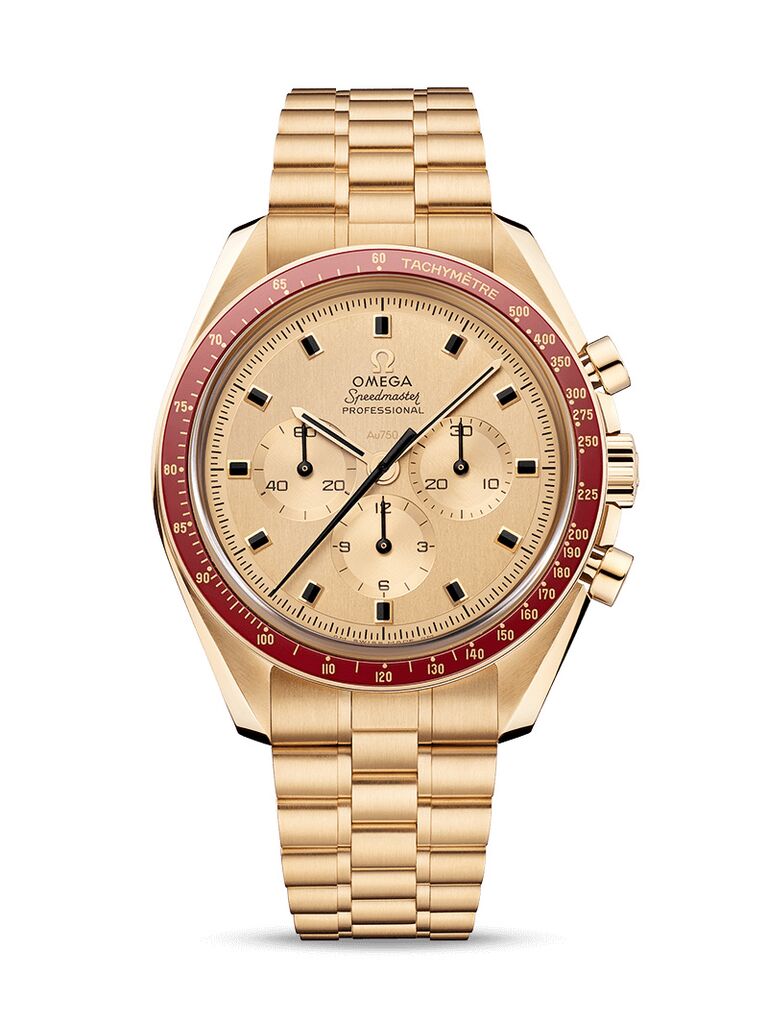 If First Man is his favorite movie, this is the engagement watch for him. The OMEGA Speedmaster was the first watch worn on the moon, and the trusted luxury watch brand has released a special edition of the timepiece to celebrate the 50th anniversary of the Apollo 11 mission. It's based off the commemorative watch given to astronauts after the landing. And now he can have his own little slice of history. (FYI: You can also opt for the classic Speedmaster Moonwatch—it's still really impressive, but costs $6,350.)
$34,600, OMEGA.com
19. Timex Marlin Manual in Silver Sunray Dial 34mm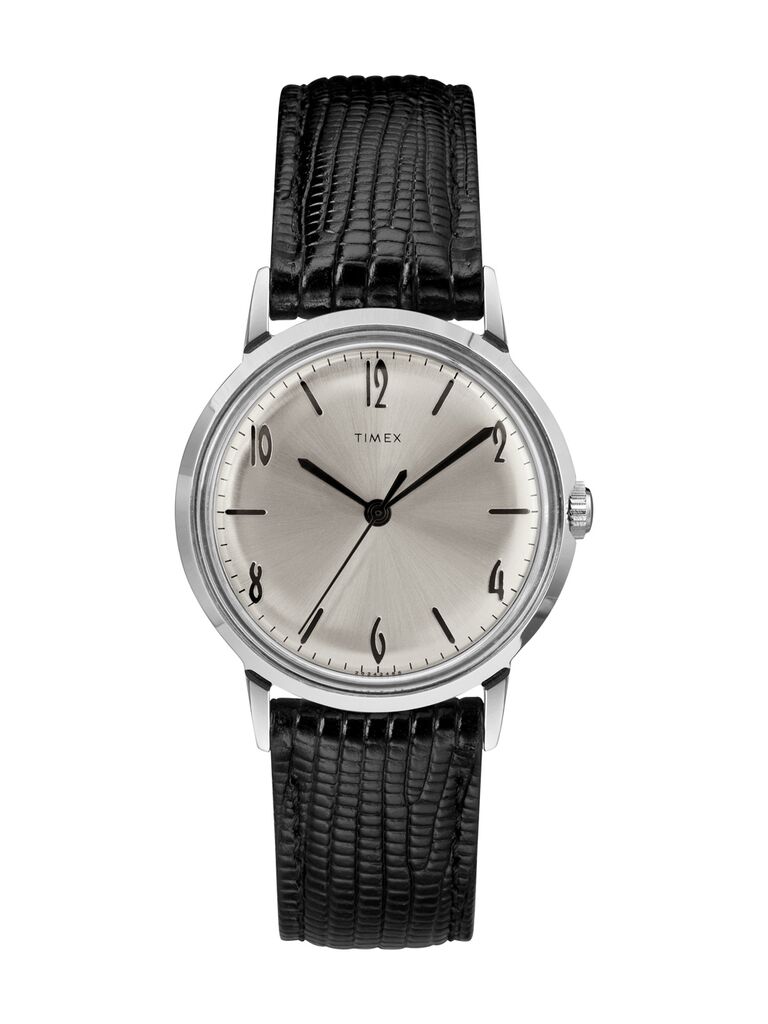 Here's an affordable, vintage-inspired dress watch from a reliable American brand. The lizard-grain leather strap sets it apart.
$199, Huckberry.com
20. Shinola Runwell Automatic Stainless Steel & Leather Strap Watch in Black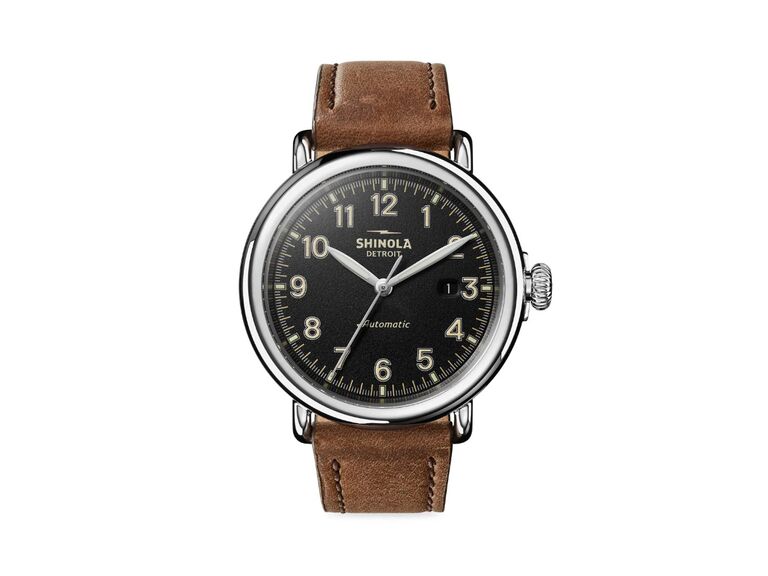 This is our top-pick engagement watch for the rugged type. The USA-made timepiece boasts a cool black face and a brown leather band that'll only look better broken in with age. They can comfortably sport it at your rustic wedding—and every day before and after.
$1,095, SaksFifthAvenue.com
21. Nixon 51-30 Chrono 51mm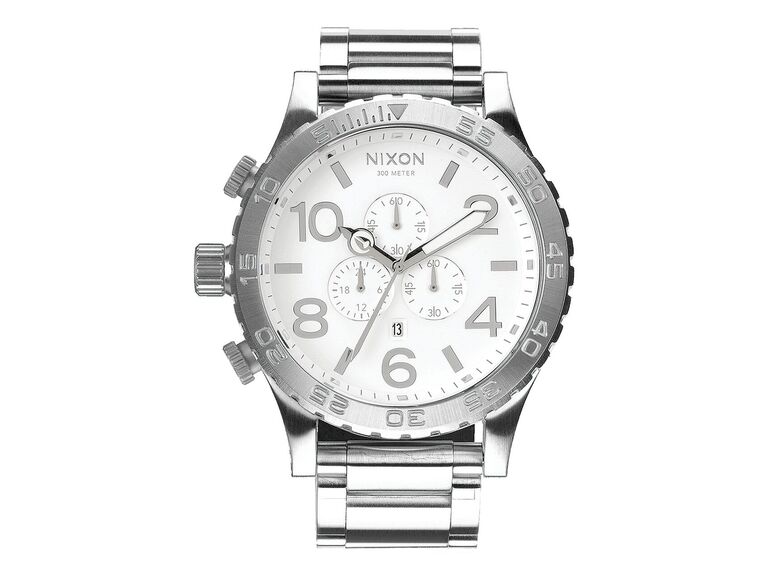 Get this effortless, durable, wear-everywhere sport watch personalized with an engagement-themed message engraved on the back of the face.
From $425, Nixon.com
22. Jaeger-LeCoultre Stainless Steel Manual-Winding Reverso Classic Medium Small Seconds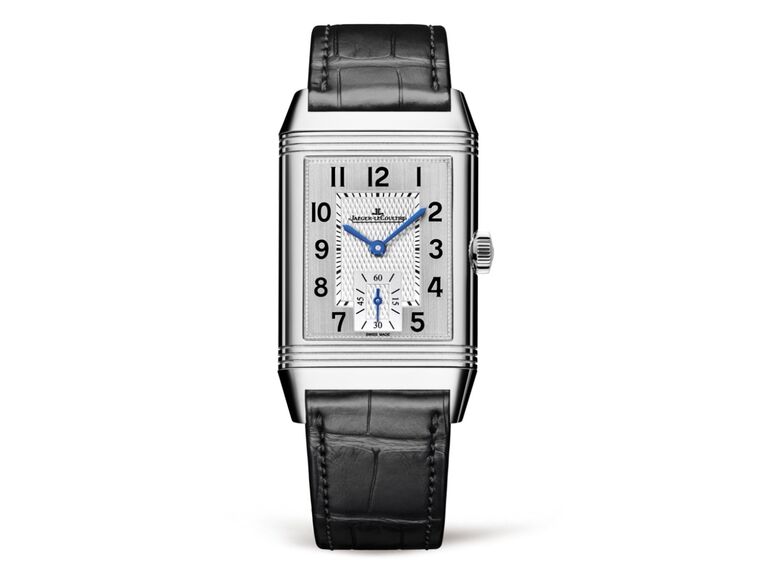 Here's yet another timeless and engravable option. It has vintage flare, a dressy rectangular face and subtly statement-making blue hands.
$5,900, Jaeger-LeCoultre.com
23. Tiffany & Co. Tiffany Cocktail 2-Hand 21 x 34mm Watch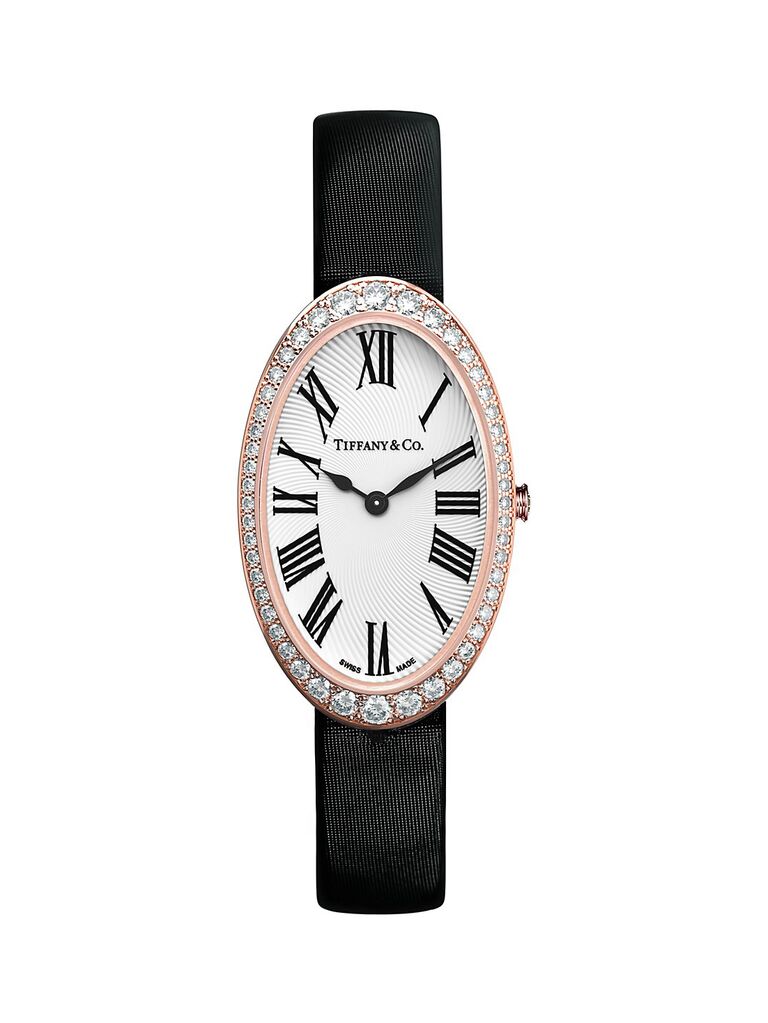 Have you thought about forgoing the little blue box for a slightly bigger blue box? If she'd rather have a watch, this splurge-worthy "cocktail" watch—complete with a satin band and no shortage of diamonds—exudes movie star glamour.
$14,000, Tiffany.com
24. Nacre Build a Watch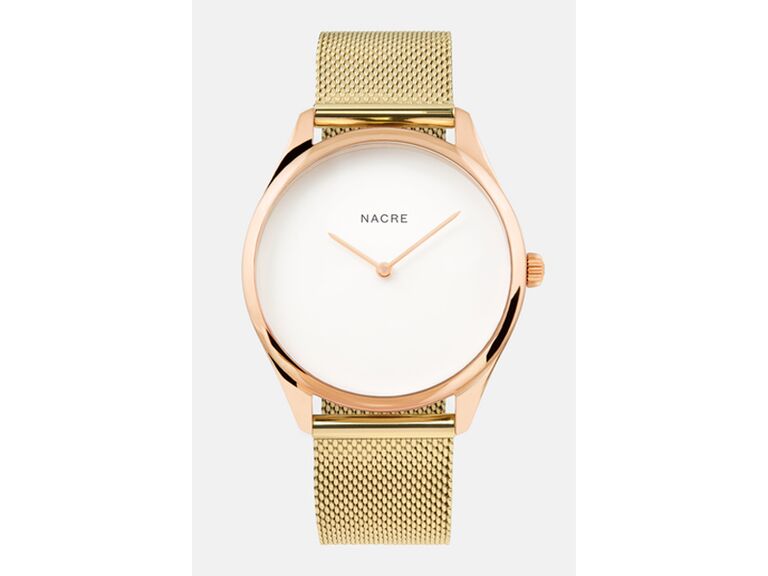 Use this modern and affordable brand's "build a watch" tool to design your SO the perfect minimalist fiance gift. Pick from different colors and details for her or him—the originally women's-only label just launched men's watches.
From $170, NacreWatches.com