What to Say When Proposing to Your Partner Before Popping the Big Question
You can't go wrong with a heartfelt speech.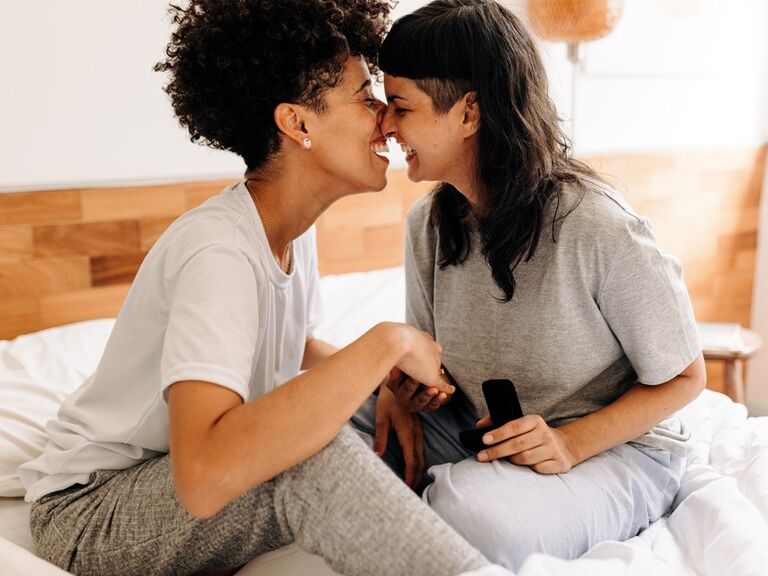 Photo: JLco Julia Amaral / Shutterstock
Sure, getting down on one knee while holding an engagement ring box sort of says it all. But the moment you get engaged should be an unforgettable one, and planning what to say when proposing can make all the difference. It's worth your time to have some eloquent words prepared for your proposal speech, especially if you're anticipating butterflies when the moment finally arrives. But how do you wrap up all of your feelings and vocalize them to the love of your life? We've outlined exactly what to say when you propose, along with ways that you can personalize your proposal script so that it's a sweet reflection of your relationship so far. Follow these tips to figure out how to express yourself leading up to the all-important question.
In this article:
How to Decide What to Say When You're Proposing
It's obvious that you need to ask the question, "Will you marry me?" at some point, but your proposal speech should also include plenty of personalization and memories from your relationship so far. Here are a few examples of what to say in a proposal to make your partner swoon.
Speak from the heart.
First and foremost, let yourself be emotional and authentic when you deliver your proposal speech. Sure, you may be a bit nervous, but exposing that vulnerable side will make this a very special (and real) moment for both of you. It's important to run through a few sentences in your head, but you don't want to sound like you're delivering a rehearsed speech when you're asking the love of your life to marry you. Write down a rough draft—stick to bullet points or brief sentences—so you can easily remember what you want to say when proposing. You could open with something heartfelt and direct, such as "[insert name], I love you," or "[insert name], you are my soulmate. I love so many things about you."
Don't worry about memorizing your proposal speech word for word. If you speak from the heart and let your emotions guide you, it's sure to be perfect no matter what.
Reflect on the past.
When you're thinking about what to say when proposing, you can also reflect on the start of your relationship and all of the milestones that led you to this special moment. Answer these two questions and you're sure to find a few meaningful nuggets to really personalize your prose.
What did you think when you first met?
Reminisce about the first time you laid eyes on them or the first conversation you had. Talk about how you were awestruck by their eyes, or amazed to find someone who shared your passion for the same sports team, or how you just knew that someone seriously special had entered your life. Say something like, "When I first talked to you at [blank], I thought [blank]."
Of course, if your first meeting was less than romantic (you were hitting on their best friend while they spilled pinot noir on you, for example), you won't want to bring it up—unless the two of you already joke about it. But if you're still deciding what to say when you propose, reflecting on something about the early stages of your relationship is a sentimental way to bring things full circle.
When did you realize that you might want to spend the rest of your life with them?
Try to identify one specific moment when it hit you that you'd found the one. Was it when the four-star restaurant lost your reservation and they cheerfully suggested you head across the street for pizza and beer instead? The time they came over when you were sick in bed with the flu and watched a kung fu movie marathon with you? In your proposal speech, say something like: "The time you [blank], I knew we were meant to be." Touching on some of the little moments you've shared is a cute reminder of all the ways your relationship has evolved.
Describe how they make you feel.
Focus on how much better your life is now that they're in it. What do you have now that you didn't before you met? Have they helped you laugh off little things that used to stress you out? Taught you the value of having more in the fridge than take-out cartons? Show how much you appreciate and want your partner in your life by including those details in your proposal speech. Start by saying: "Before I met you, I was [blank]. Now I am [blank]" to show them just how wonderfully they've impacted your life.
Explain why you love them.
What is it about your significant other that inspires you and makes you want to be more like them? Their patience and kindness to others? Their sense of adventure? The value they place on making the world a better place? The reasons you love and admire your partner are thoughtful things to say when proposing, so be sure to highlight those details in your speech to make it known that you can't wait to get married. Say something like, "I love and respect your [blank], and it makes me want to try harder to be that way myself."
Talk about your shared values and future together.
Talk about the things that are important to both of you. Sharing the same values and goals will emphasize why you're a perfect match and why you should spend your futures side by side. It's these shared values that will help get you through the ups, downs and middle grounds of married life (not to mention planning a wedding, which takes a lot of teamwork).
Touch on some of the plans you've discussed about your future to drive home the point that you make a great pair. Say something like, "We both love [blank] and dream of [blank], so together we can [blank]." It's the perfect lead-in to the words they've been waiting to hear (drumroll, please): "And those are just a few of the reasons I'm hoping you'll spend the rest of your life with me. Will you marry me?"
Remember to actually ask the question, "Will you marry me?"
Don't put too much pressure on yourself trying to figure out what to say when proposing. If at any point you feel overwhelmed or forget a few of the things you'd planned to say, fear not. Pause to enjoy the moment, take a deep breath and say the four most important words of all: "Will you marry me?" After all, you don't want to try to say so much that you get lost in the moment and forget to officially ask your partner to marry you. If you're proposing with an engagement ring, be ready to place it on their left ring finger (cue the happy tears).
Here's Your Marriage Proposal Script
Now that we've outlined what to say when you propose, let's string everything together to give you an idea of how it all flows. Here's a proposal speech example to follow.
(P.S.: If you're thinking about capturing the moment on camera, hire a professional proposal photographer to make sure you don't miss a beat.)
"[insert name], I love you.
When I first met you, I thought [blank].
The time you [blank], I knew we were meant to be.
You make me feel [blank] and I'm so grateful for [blank].
I love and respect [blank] about you, and [blank] makes me so excited for our future.
Together we [blank] and I'm ready for [blank].
And those are just a few of the reasons I'm hoping you'll spend the rest of your life with me. Will you marry me?"