How to Plan a Wedding When You're Doing Long Distance
Use your LDR to your advantage.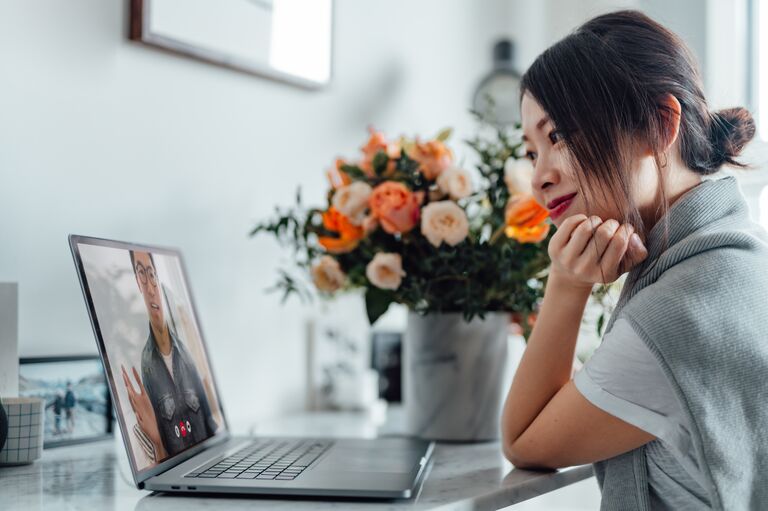 Oscar Wong | Getty Images
Wedding planning can be a stressful time for newly engaged couples. And if the couple is doing a long-distance engagement, meaning they live apart, that can make the wedding planning process more challenging. Not to mention the couple is simultaneously merging their lives together, which also comes with its set of tasks and challenges. Thankfully, planning a wedding during a long-distance engagement is not an impossible feat. It just requires some intentional planning. To help with this, we chatted with wedding planning experts on their top tips for navigating the logistics of planning a wedding when a newly engaged couple lives miles apart.
What to Expect From A Long Distance Engagement
So what is it like being engaged long distance? For starters, that usually means you won't have as much in-person one-on-time together. According to Kawania Wooten, owner and principal consultant of Howerton+Wooten Events, the trickiest aspect of being apart is communication. Whether that's communication between you and your future spouse, with wedding vendors, or with other people involved in the wedding, especially if it's all done electronically. To remedy this, Wooten recommends calling the person to get clarification when needed and never assume things. "Weddings are emotional, so don't get in the habit of filling in the gaps when you don't have all of the information," she says. In other words, be extra careful and thorough with communication throughout the planning process.
How to Plan A Wedding Long Distance
Now, let's get into actually planning a wedding long distance. Here are the tips experts recommend implementing to ensure a seamless process.
Schedule long-distance wedding planning sessions.
The first step in planning a wedding while long distance is setting aside phone calls or Facetimes a few times per week to focus on wedding planning. Wooten says doing this prevents the couples from using all their time together on planning, which can lead to burnout and it also makes things more efficient. "When couples know that they only have a certain amount of time to discuss wedding planning, they are typically more organized," she says.
During these virtual wedding planning sessions, you can discuss the initial planning steps, such as taking engagement photos or having an engagement party, and nailing down the key details of your wedding, including where the wedding will take place and your budget.
In addition, Wooten also recommends setting aside virtual dates to chat about merging your lives together. "A lot of major life decisions occur while you are engaged, so you want to schedule some time to keep the romance flame burning and the lines of communication open," she says.
Hire a wedding planner.
To make a long-distance engagement easier, experts highly recommend hiring a wedding planner to facilitate all the planning. A wedding planner will be a huge help throughout the process reducing the stress on the couple. (Pro tip: The Knot Marketplace is an excellent resource for finding the best wedding planners.)
Ideally, Andrea Smith, wedding and event planner of SoiréeSmith, advises couples to hire a wedding vendor that is either based close to where one of the partners currently lives or in your wedding destination. "This allows for ease of meetings as you're not coordinating multiple locations/time zones," she says. Wooten adds that a wedding planner will help you navigate the nuances of planning a wedding in your selected destination, such as hiring reputable vendors, and help map out your wedding planning countdown to ensure you stay on track.
Create a wedding planning hub.
Organization is very important when it comes to wedding planning. While a physical wedding planning book is helpful if the couple is doing most of their planning together in-person, for a long-distance engagement it's much easier to create a digital wedding planning hub. For instance, The Knot is an excellent resource, as it allows both partners to easily view the planning process, from checklists to budget trackers and much more.
Alternatively, couples can create a Google folder. "Save your wedding planning documents, such as your budget, your guest list, and your seating plan, on a shared drive, such as Google Docs," Wooten says. "It's easy to lose track of the most current document when you are emailing them back and forth. So, if you keep them in a shared drive, your wedding planning documents that are constantly changing will always be live and the most current version."
Plan wedding planning "power trips".
You can do lots of wedding planning virtually if a couple is long-distance, but some aspects may require traveling to the wedding location. For this reason, Wooten recommends planning "power trips" rather than traveling back and forth to the wedding location to maximize your time. "Power trips are trips that the two of you take to your wedding destination where you will perform site visits of venues and meet with your vendors," she explains. "The key to making power trips successful is the pre-work. Do your research far in advance and make appointments to meet with everyone during your power trips. You will be amazed at the amount of work you complete during these trips."
Schedule personal time.
Lastly, don't forget to schedule some trips to spend quality time together outside of wedding planning. "Block a visit or two that is just for fun/personal time together," Smith says. "It's easy with distance to let wedding planning become the main focus of your time together. It's important to protect yourselves and this engagement time to not make the wedding your only reason for meeting."