24 Engagement Party Games to Literally Get the Party Started
They're actually fun, we promise.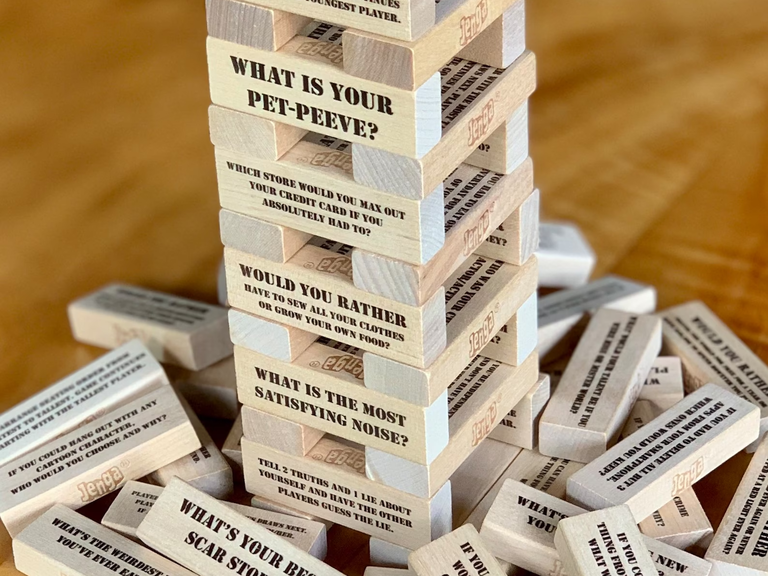 Photo: CustomBlockParty
We have included third party products to help you navigate and enjoy life's biggest moments. Purchases made through links on this page may earn us a commission.
Hosting an engagement party doesn't mean just celebrating the couple at a nice location—it also means having plenty of enjoyable (and sometimes hilarious) engagement party games on hand too. Why? Well, traditionally speaking, an engagement party is a celebration that's hosted early on in a couple's engagement by the bride's parents to announce and celebrate their impending nuptials, and to introduce family members and friends to one another. But now, either or both sets of parents, or other family members and friends, can host an engagement party. One of the best ways to have guests (who may not know each other) mingle and get acquainted is to play a few engagement party games and icebreakers. Of course, playing engagement party games definitely isn't mandatory engagement party etiquette, but it can only add to the fun—and (bonus!) most of these games will work at a wedding, too. Below, 24 of our favorite engagement party games, from the classic to the hilarious.
In this article:
Fun Engagement Party Games
The best engagement party games are ones that will entertain guests of all ages—and perhaps help get to know the soonlyweds a little better. Check out some of the most fun engagement party games to play at your celebration.
Sophia Marie Paperie Where Were They? Game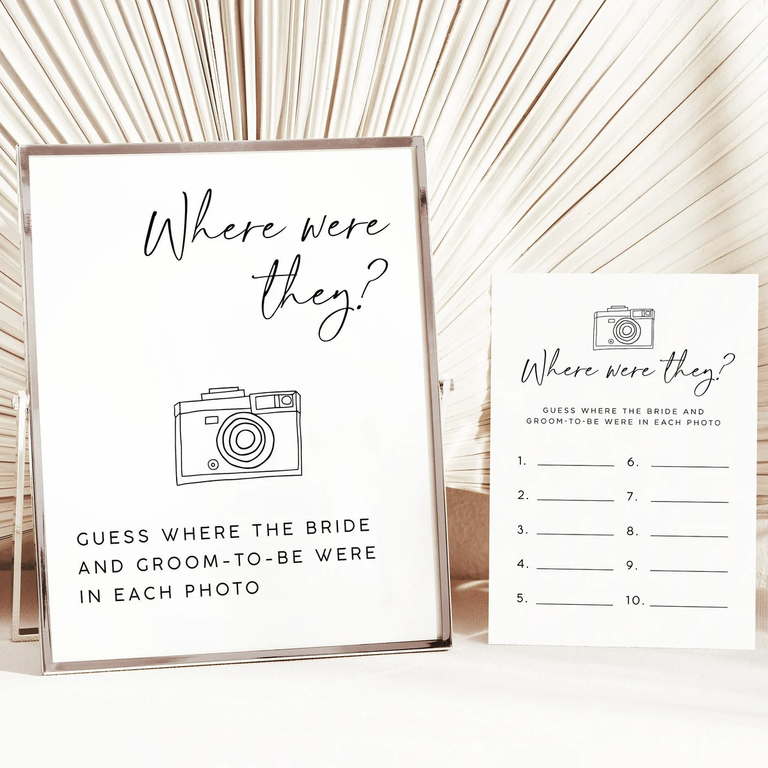 This is the perfect engagement party game for the couple who loves to travel. Just display some vacation photos of the happy pair (also a great engagement party decor idea!), and have guests guess the setting of each photo. Whoever gets the most answers correct, wins!
Little Bos Printables Scattergories Game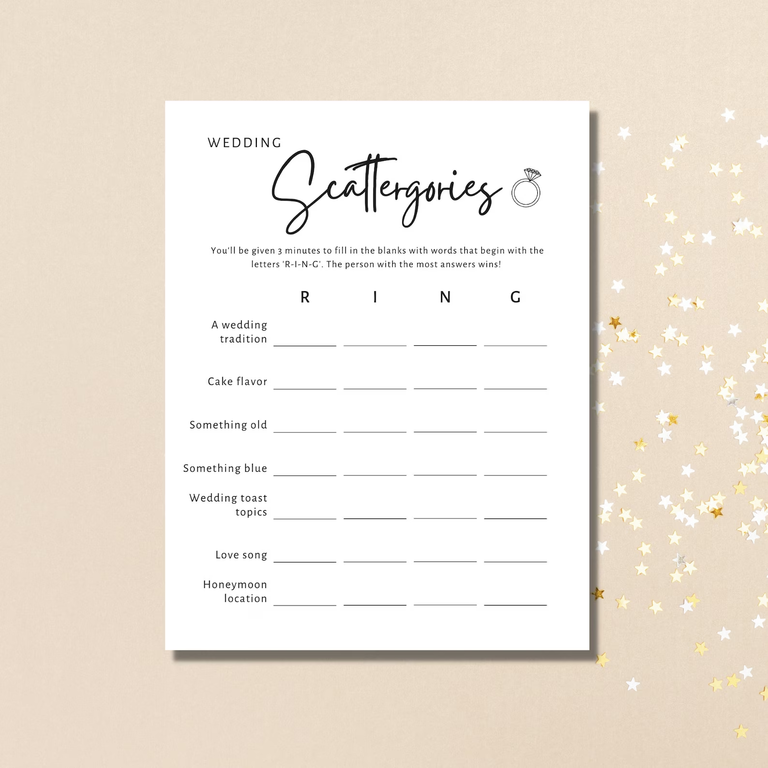 We love this engagement party game to keep everyone busy during a lull in the festivities. All they need to do is come up with words that begin with the letters R, I, N and G in certain categories. Easy, quick and fun!
Little Bos Printables Bling Hunt Game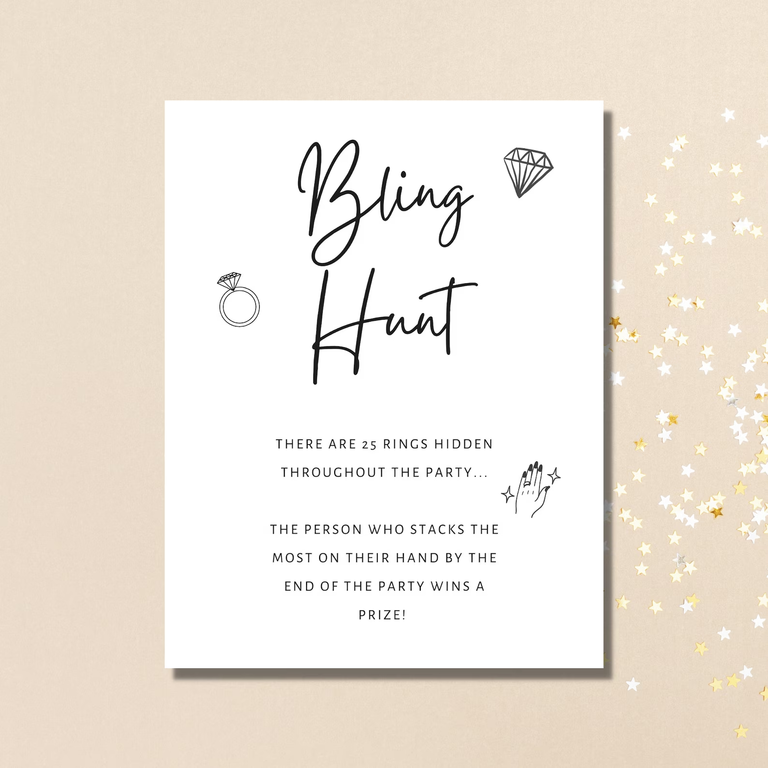 Looking for a game that will get your engagement party guests up and moving? Hide some faux rings around the venue, and see who can find (and wear!) the most.
Creative Bridal Shower Don't Say Wedding Game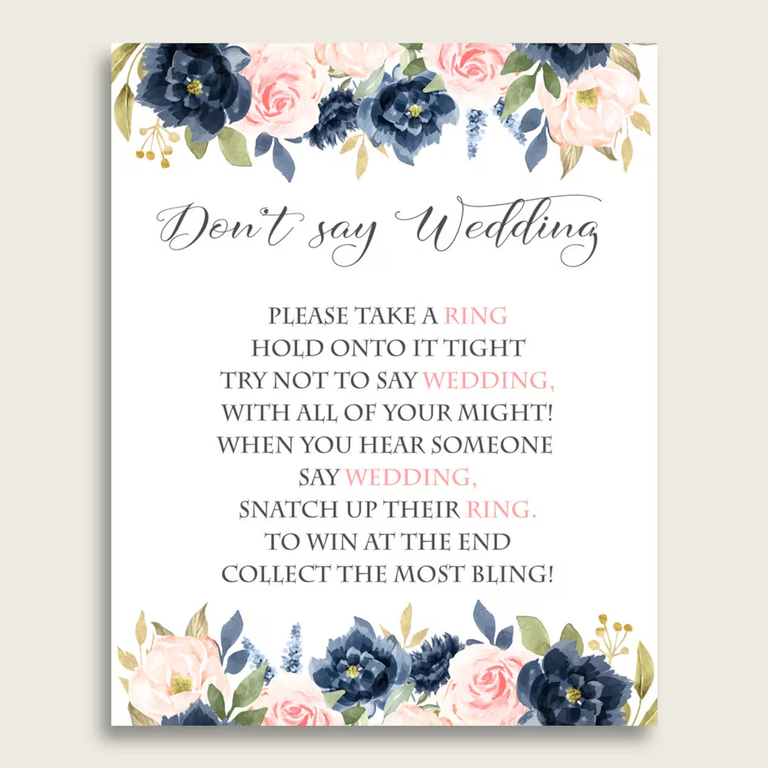 You've been engaged, what, a couple of weeks, and already everyone is asking about the wedding! Not only is this engagement party game fun, it also deters guests from the obsessive wedding talk! Everyone receives a plastic ring, and if you hear someone say the word "wedding," you can take their ring away. Whoever ends up wearing the most rings wins!
Celebrate More Co. Animated Movie Love Songs Game
If you're hosting a Disney-themed engagement party, this may be the perfect game for your celebration. All guests have to do is match the love song title with the movie it's from. As an added bonus, you can include these songs on your engagement party playlist so guests can hear them while they play the game.
Creativity Clicks Bingo Game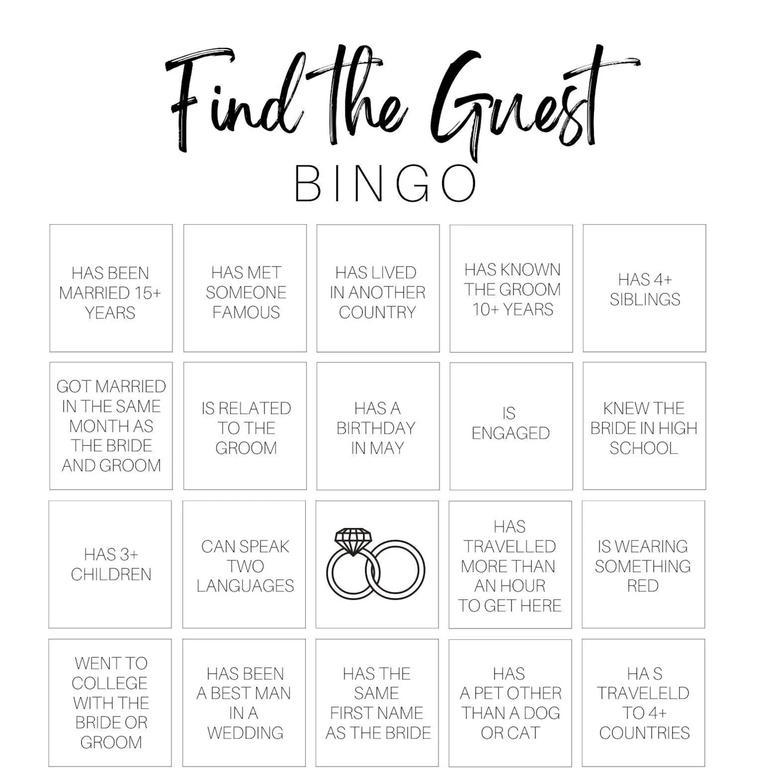 One of the best parts of any engagement party is the opportunity for the couple's loved ones to get to know each other. This engagement party game helps foster that guest interaction. Each guest receives a bingo board and has to find other guests that fit the descriptions in the squares. The first person to get five in a row wins!
Willow Lane Paperie Over or Under Game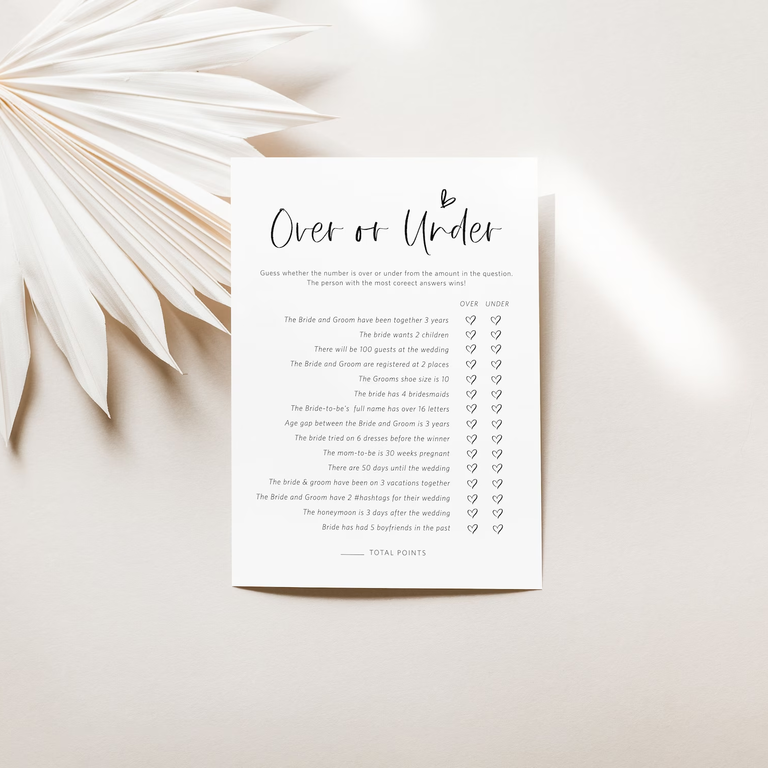 This is a fun twist on the traditional "how well do you know the couple" game—and easy for guests to play solo or in groups. This engagement party game is fully editable so you can add personal details.
Belle Hanah Paperie What's on Your Phone Game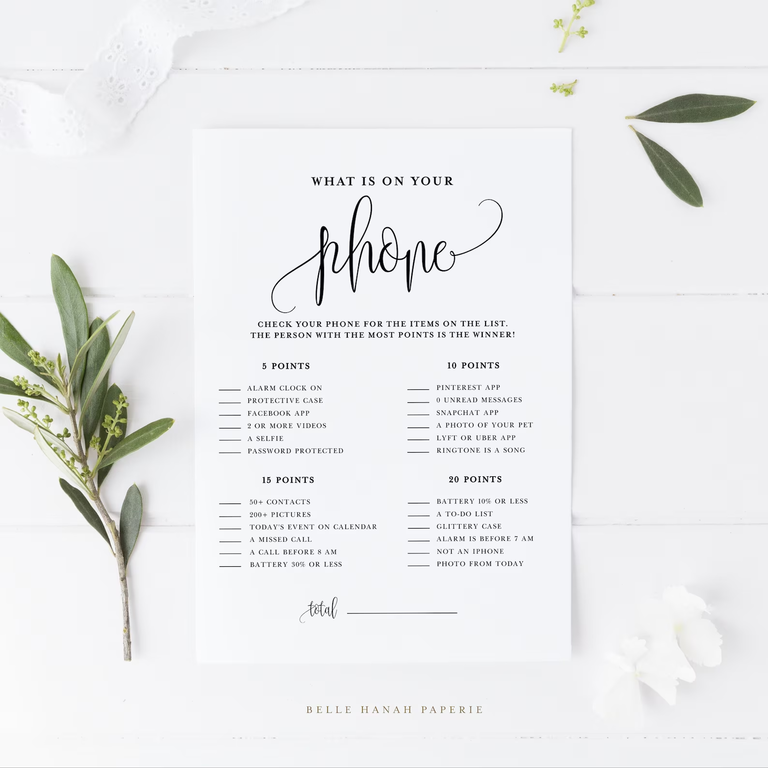 While scavenger hunts can be exciting, they don't always work well logistically at an engagement party venue. With this game, all guests have to do is check their phone for the listed items. Whoever finds the most items on their phone is declared the winner.
Fun Express Emoji Guess the Phrase Game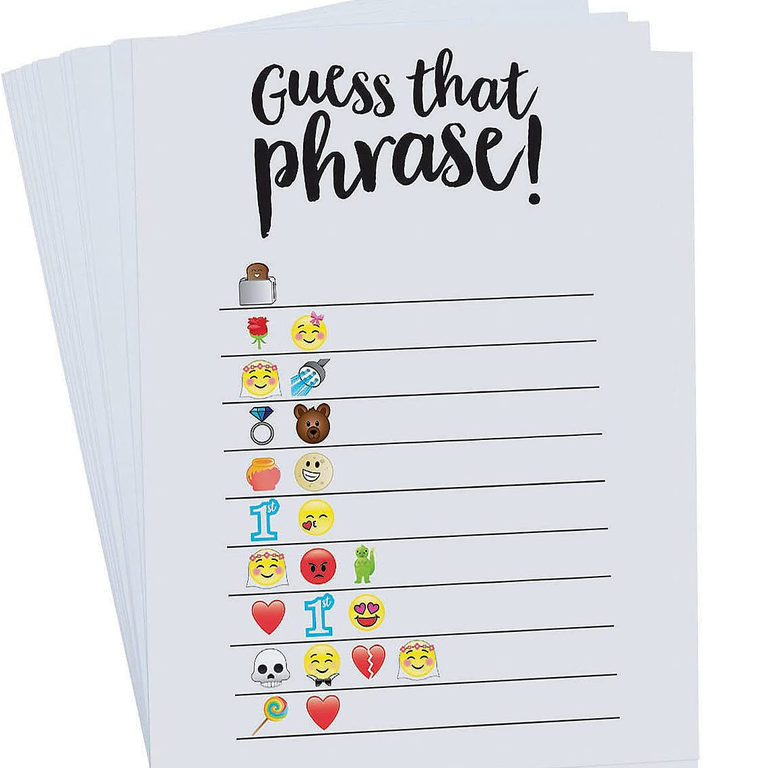 Guests of all ages will love this cute play on Pictionary, where they'll try to guess a wedding-related phrase that the pictured emojis represent. Guests can play this game solo or divide into teams to help foster bonding.
Little Bos Printables How Old Were They Game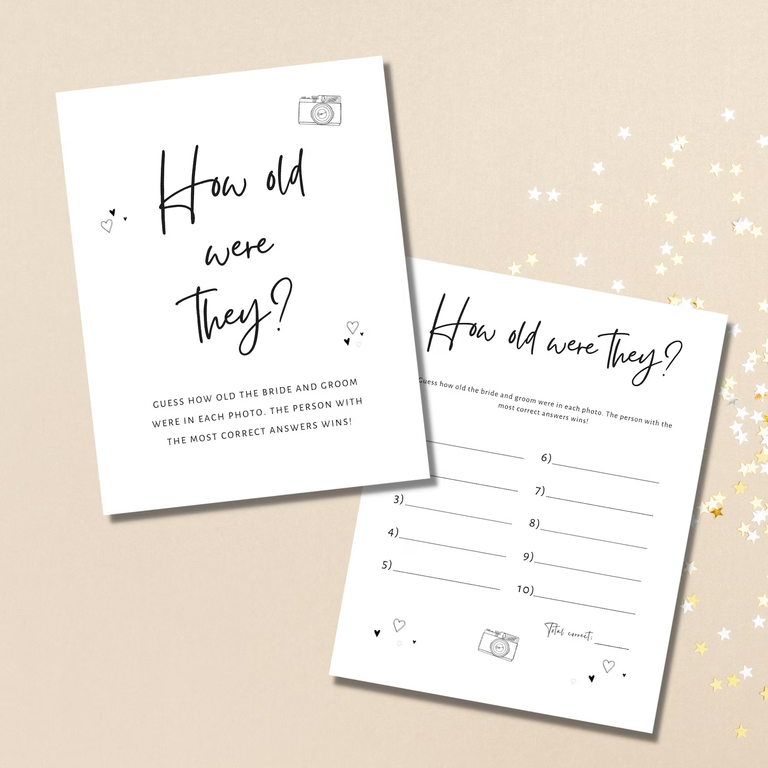 An easy—and affordable—way to decorate an engagement party venue is to display photos of the soonlyweds as kids. With this game, guests guess the ages of the couple in the photos. The winner can be announced at the end of the event, and receive a prize.
Hilarious Engagement Party Games
If you're inviting a lot of guests who don't know each other, some hilarious games might be just the thing to break the ice. Check out a few of our favorite funny engagement party games.
Happy Designs by Nisha Never Have I Ever Game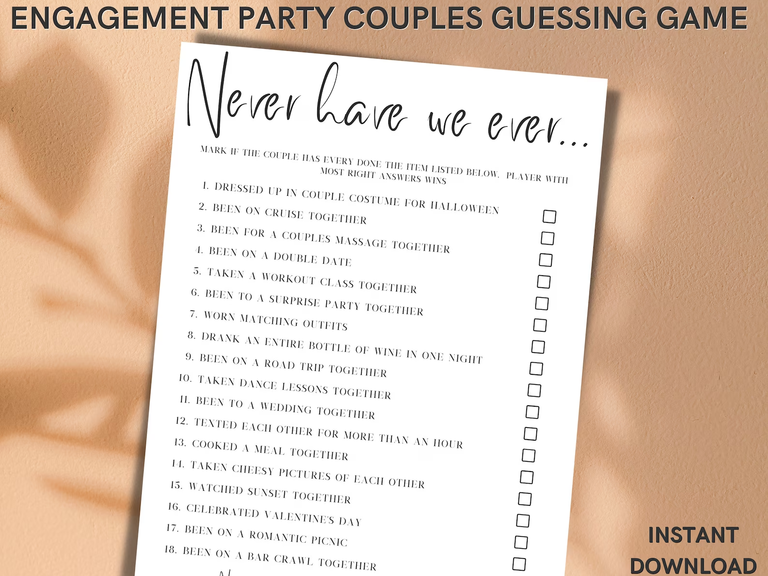 You've probably played "Never Have I Ever" at a few high school parties, but this twist on the classic is ideal for an engagement party. And—bonus!—it'll help family and friends get to know the couple even better.
Himeneo Mad Libs Game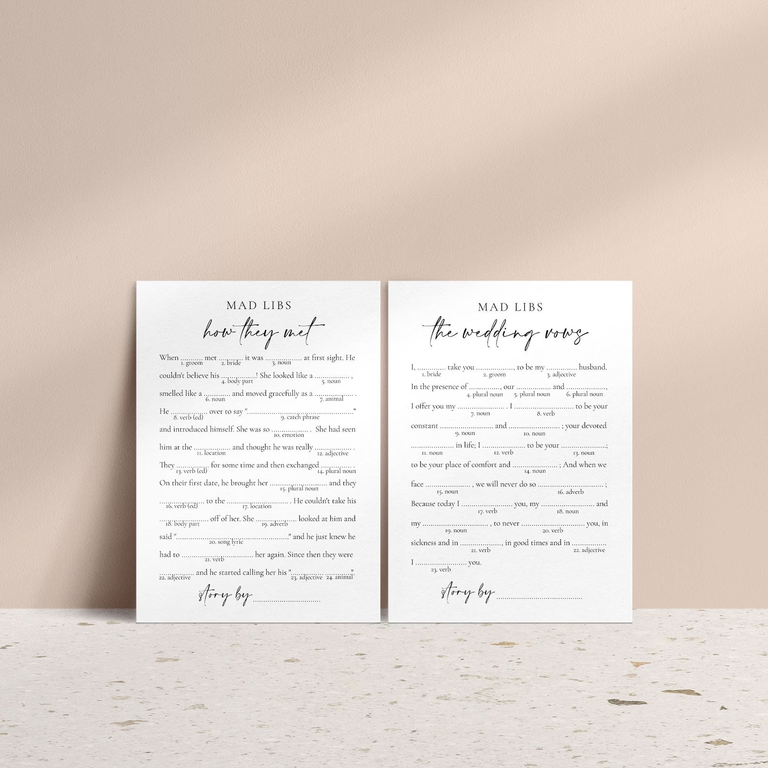 There's nothing that gets people ROFL quite like Mad Libs, and these two are perfect for engagement parties, showers and other wedding-related events. For an added layer of fun, pair guests who don't know each other well to complete the Mad Libs together.
Hank and Louise Paper Co Family Feud Game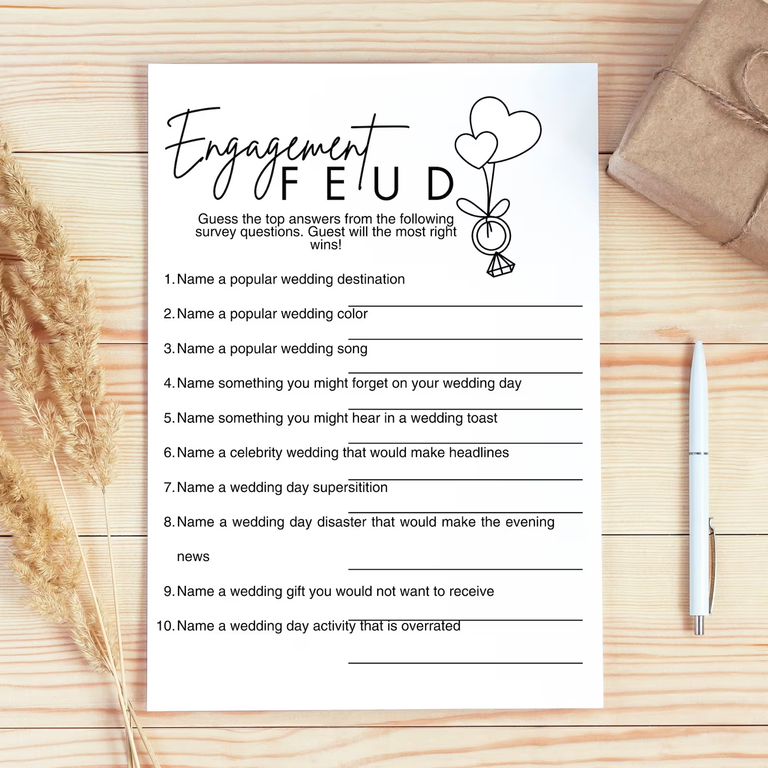 Move over, Steve Harvey—you're creating your very own version of Family Feud. Before the engagement party, survey your guests and tally up the responses. Then, guests can guess the most popular responses on these forms. Or you can play Family Feud game show style, dividing your guests into teams.
Ukebobo Who Has the Groom Game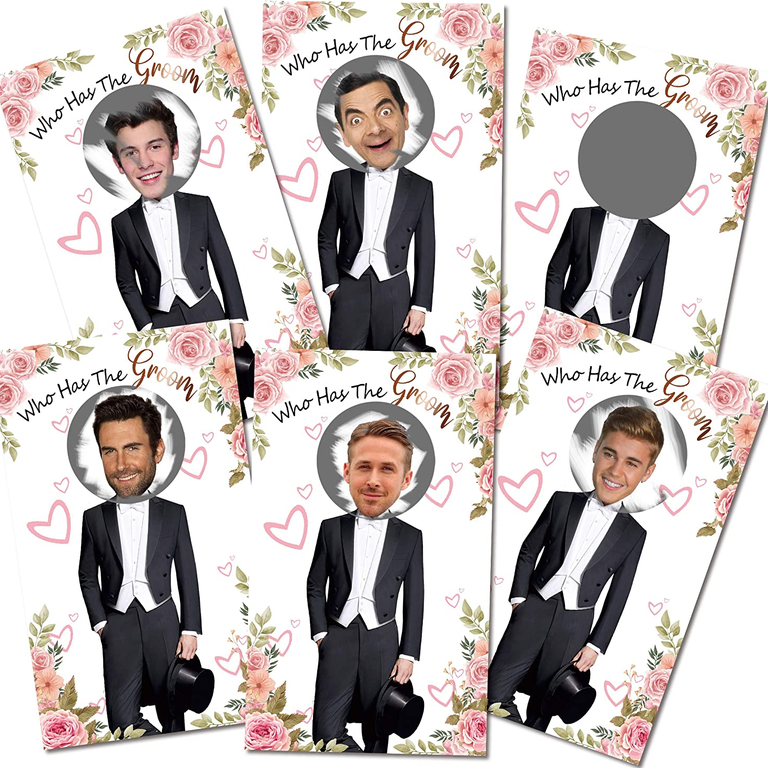 Everyone loves a scratch-off game, and this one will definitely crack up your guests. The scratch off cards feature photos of celebrities, except for a few that feature a photo of the groom (or bride, in this version). Each guest receives a card at their place setting, and whoever gets the ones with the photos of the bride or groom, wins a prize.
Vallaway Prints Wedding Table Charades
If you're okay with your engagement party getting a little loud and rowdy, then charades is a great icebreaker. These cards provide lots of wedding-related items to act out, or you can make your own. Guests can play this game with their tables, or if you're having a smaller event, the whole gang can play together.
Custom Block Party Icebreaker Jenga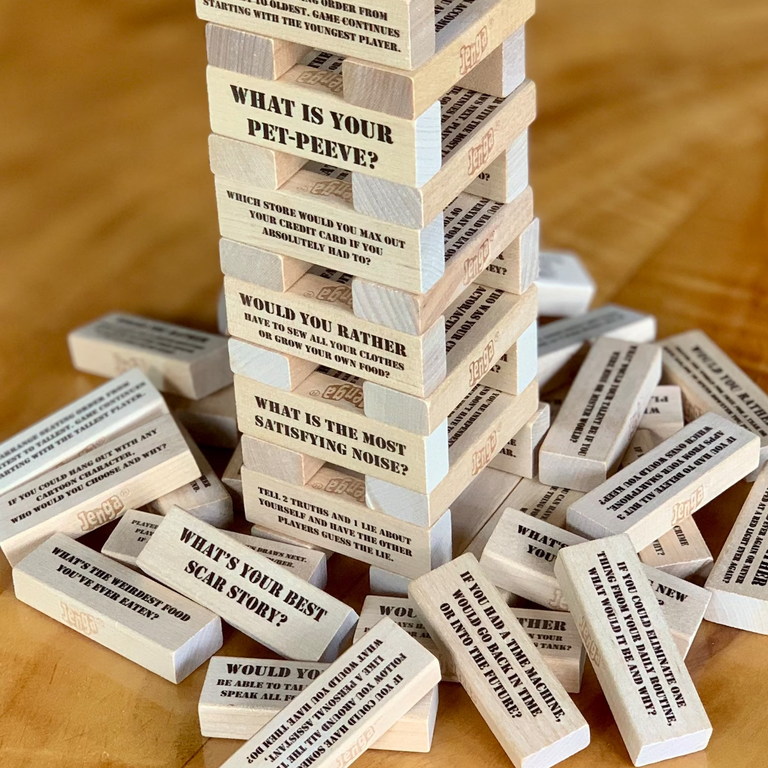 Everyone loves Jenga, and this hilarious twist on the classic game is the perfect icebreaker for your guests. As guests take their turn, they have to answer get-to-know-you questions from the basic to the ridiculous. Just imagine your Great Aunt Enid playing with your college bestie—good times.
Classic Engagement Party Games
Certain engagement party games are classics—ones that most of your guests have experienced at other events. The rules are familiar and your loved ones are sure to have a great time playing these.
White Desire Digital Guess Who Game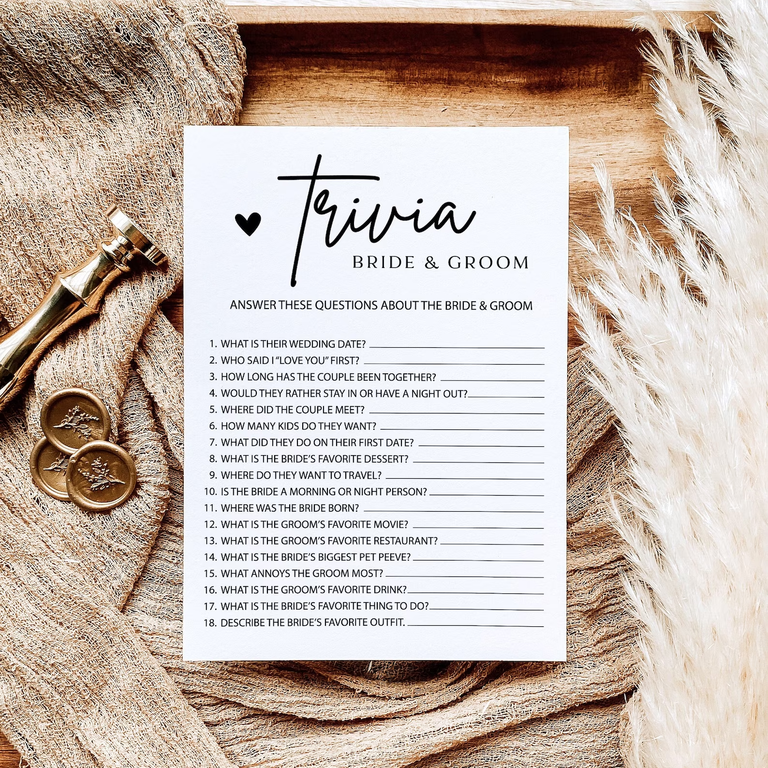 A "who knows the couple best" game is perfect for guests to play during downtime in the event, whether it's waiting for their turn at the buffet or taking a quiet moment in the festivities. It's also a great way to get guests chatting as they try to figure out the answers.
Pampadoo Designs Celebrity Couple Game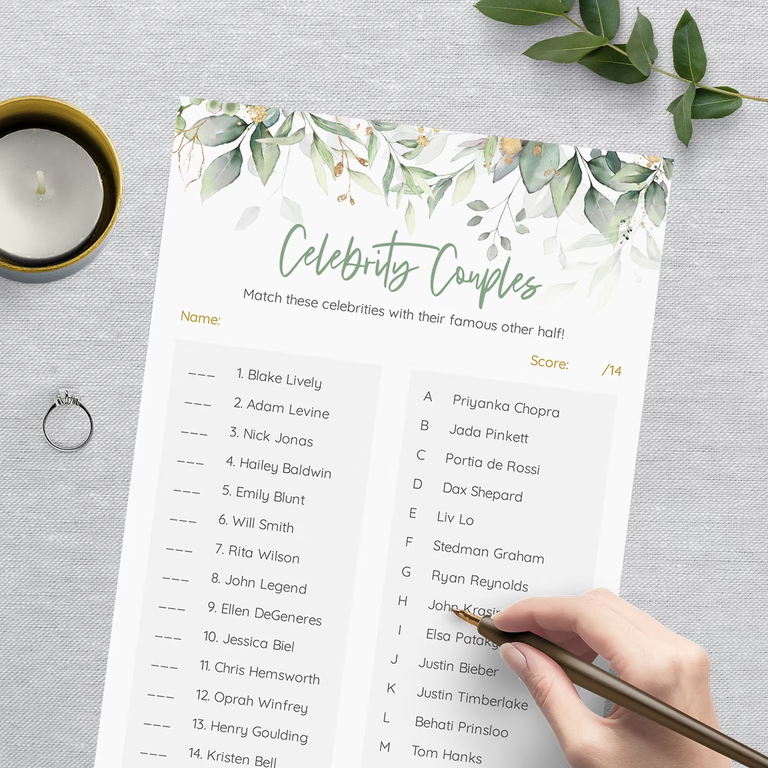 If your crew includes some pop culture aficionados, this game is bound to get competitive. Guests have to match up famous celeb couples, which may be easy for some and near impossible for others.
Little Bos Printables Shoe Game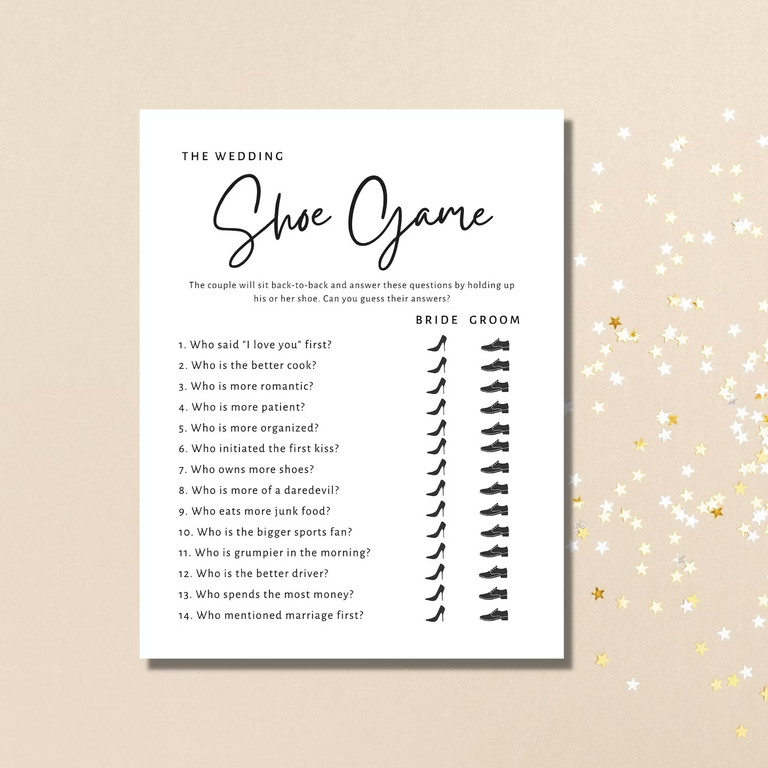 The shoe game is a popular game at pre-wedding events and weddings themselves. The couple sits back to back in the middle of the room, with each partner holding one of their own shoes, and one of their partner's. As questions are asked, the couple will raise the shoe of the person who represents the correct answer. These printables allow guests to play along too!
Paper Clever Party Scratch Off Game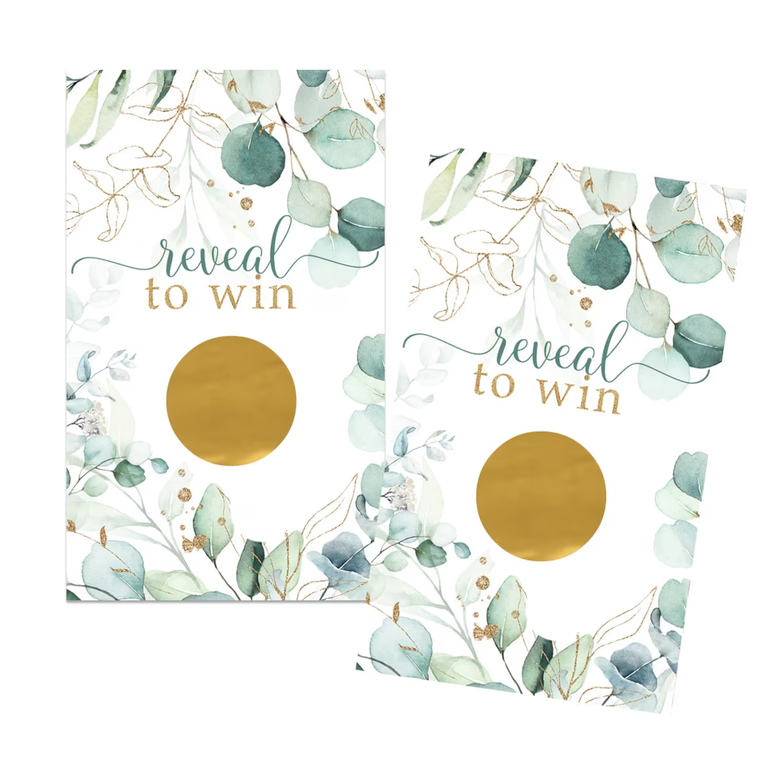 If you're looking for a classic engagement party game that's super straightforward, these scratch-off tickets are a winner. Each guest receives a scratch off ticket on their place setting, and out of the 30 tickets, 5 are winners. Just make sure you have some prizes at the ready to present to the winners!
The Love Fern Co Jeopardy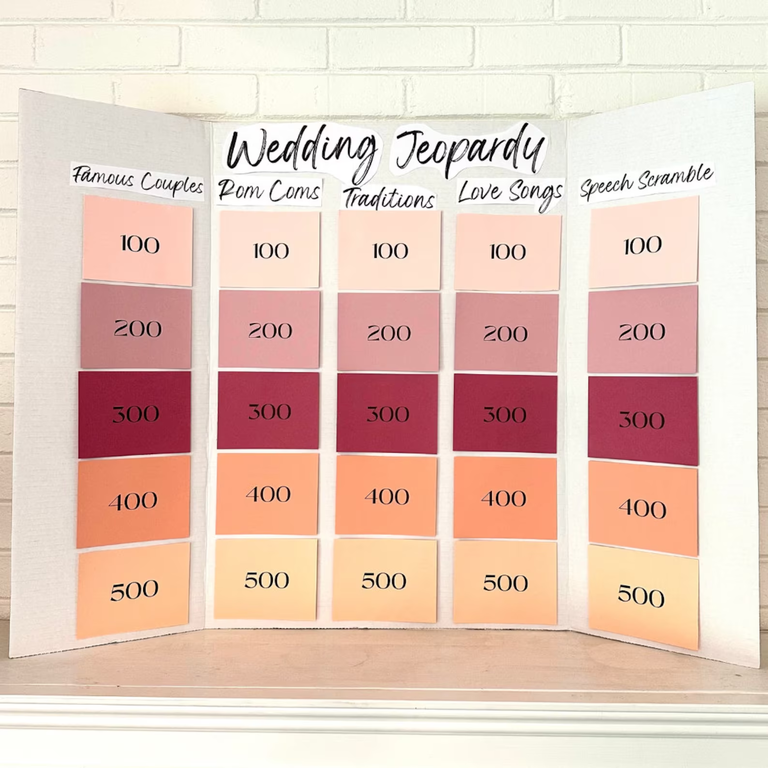 If you're crafty, this DIY jeopardy game is a great project that will entertain guests at the engagement party. You can use the answers provided or create your own with facts about the newly-engaged couple to customize your game.
Deco Cards Guess How Many Cards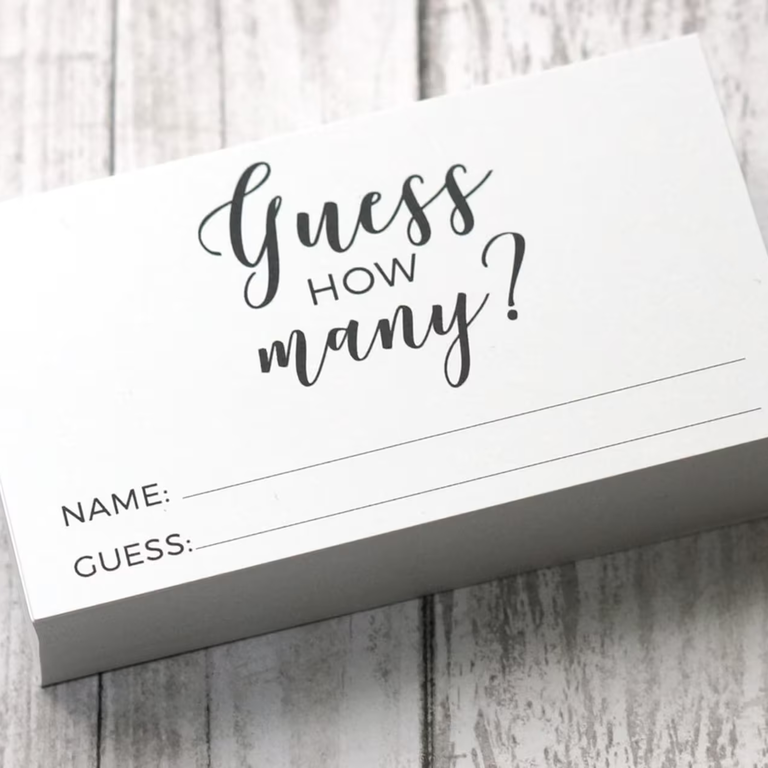 One of the most classic—and easiest!—engagement party games is "guess how many". Fill a jar with candy kisses, plastic rings or other small items and have guests guess how many objects are in the jar. The person who comes the closest without going over wins (make sure you have a good prize at the ready)!
Thin Line Cornhole Boards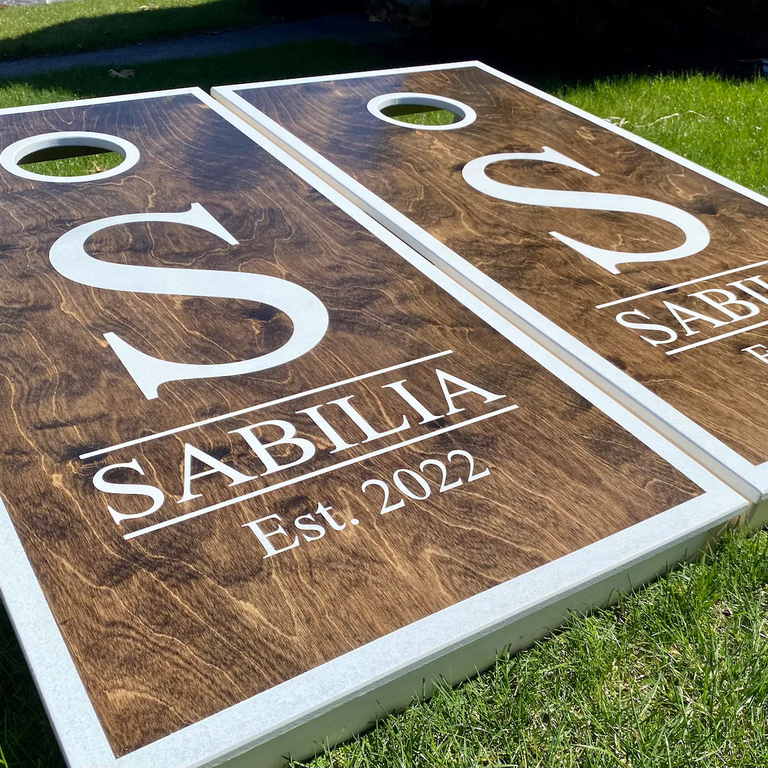 If your engagement party venue has outdoor space, providing a few lawn games for guests to enjoy is a nice idea. Custom cornhole boards make a great engagement gift, and can be used for years to come. Want to kick it up a notch? Add these custom bean bags.
Ginger Ray Wedding Activity Books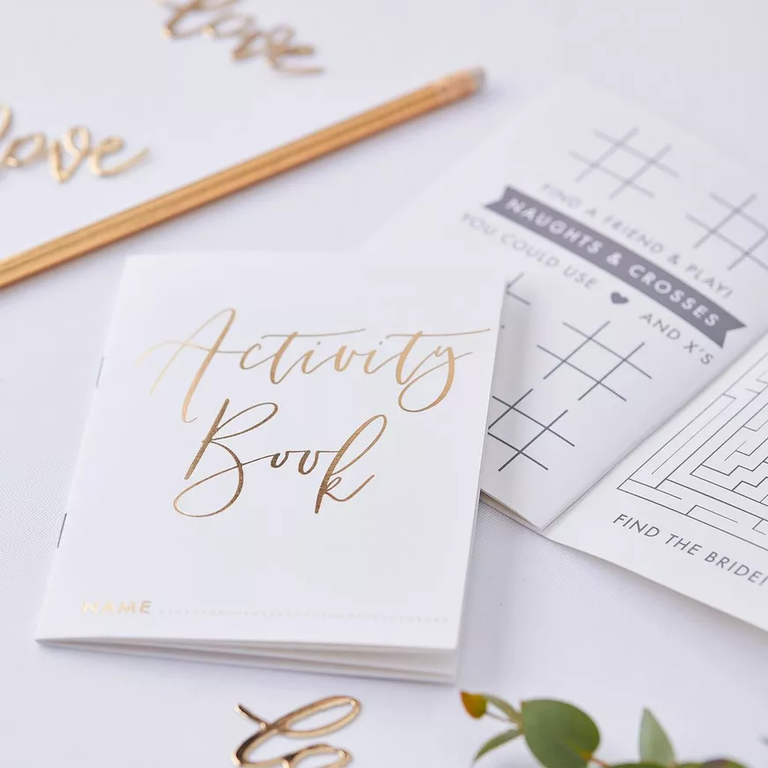 Kiddos on the guest list? It's a good idea to provide some activities to keep them busy. These wedding-themed activity books will be a hit with the young ones.