54 Great Engagement Gifts for the Happy Couple
What makes a good engagement present? Any one of these cute, unique and personalized ideas.
We have included third party products to help you navigate and enjoy life's biggest moments. Purchases made through links on this page may earn us a commission.
You've just heard the exciting news: Someone you love is engaged! A celebration is sure to follow, so you might be asking yourself the question, do you have to bring a gift to an engagement party? Technically no, but the etiquette really depends on the specific situation. If you don't want to show up empty handed, the question becomes, "What the heck do I get?" We've got you covered there too. 
When it comes to engagement gifts, you have more options than you think. Sure, you can stick with something traditional (like celebratory stemware) or buy something they've already registered for. But you can also think outside the box—or let us do the creative thinking for you. Here, shop all our favorite engagement gift ideas. Because if you do bring a gift to the engagement party, it should be one of these. And even if there's no event planned, it never hurts to surprise a loved one with a congratulatory gift. (Psst… for all newly engaged couples: These presents make excellent wedding registry additions too.)
In this article:

Best Engagement Gifts for Couples
Maybe you know the future groom well, but you're meeting his partner for the first time at the engagement party. Or perhaps you're shopping for the couple who already has everything. Finding the perfect gift for a duo can be tricky no matter what. Our expert tip: Choose something they can enjoy together. Here are a few of the all-time best engagement gift ideas for couples.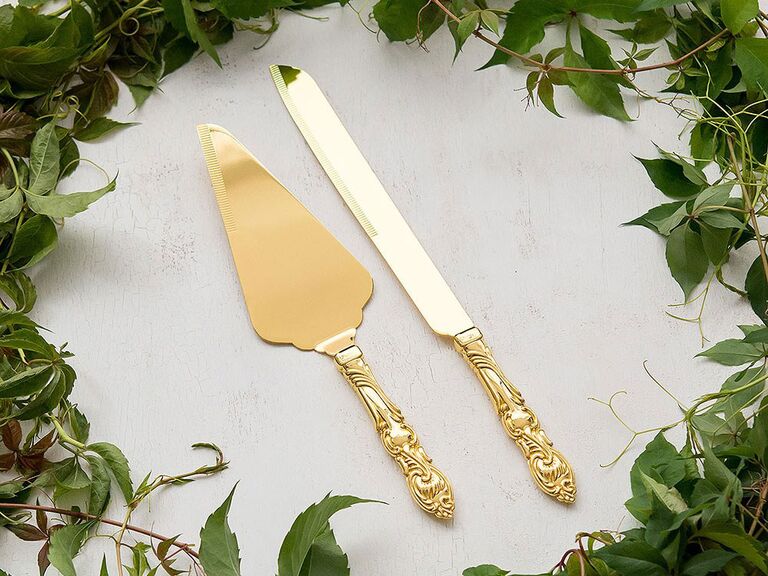 A cake is probably in this couple's very near future, so present them with these tried-and-true, traditional engagement gifts: a cake knife and server. Opt for a simple and timeless design the pair can use to cut their first official slice, then well beyond their wedding day.
The Knot Shop Classic Gold Romance cake serving set, $43, TheKnotShop.com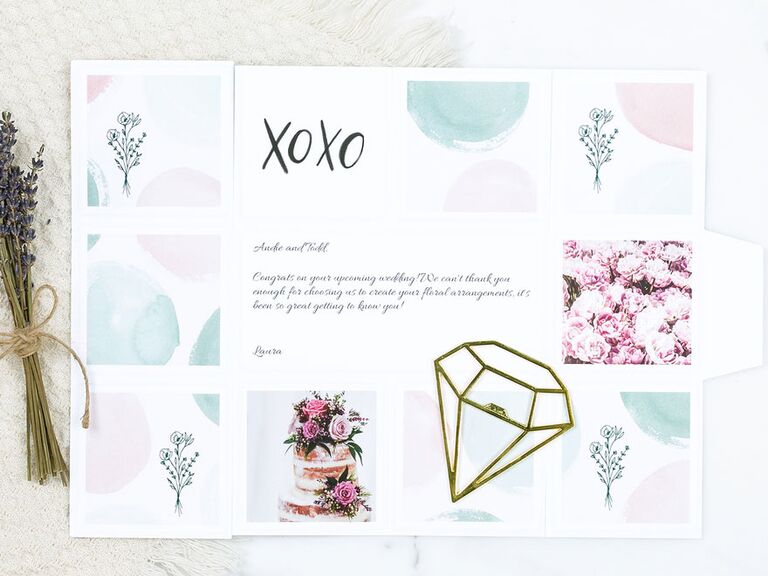 If you're looking to send something small but seriously thoughtful as an engagement gift for the couple, Greetabl is a fantastic option. First, choose a design for the box, which you customize with photos and a sweet message. Then, browse all sorts of gifts, from a diamond bottle opener to a scented aromatherapy candle. The couple will be thrilled to get such a cute surprise in the mail!
Greetabl gift with customized box, from $13, Greetabl.com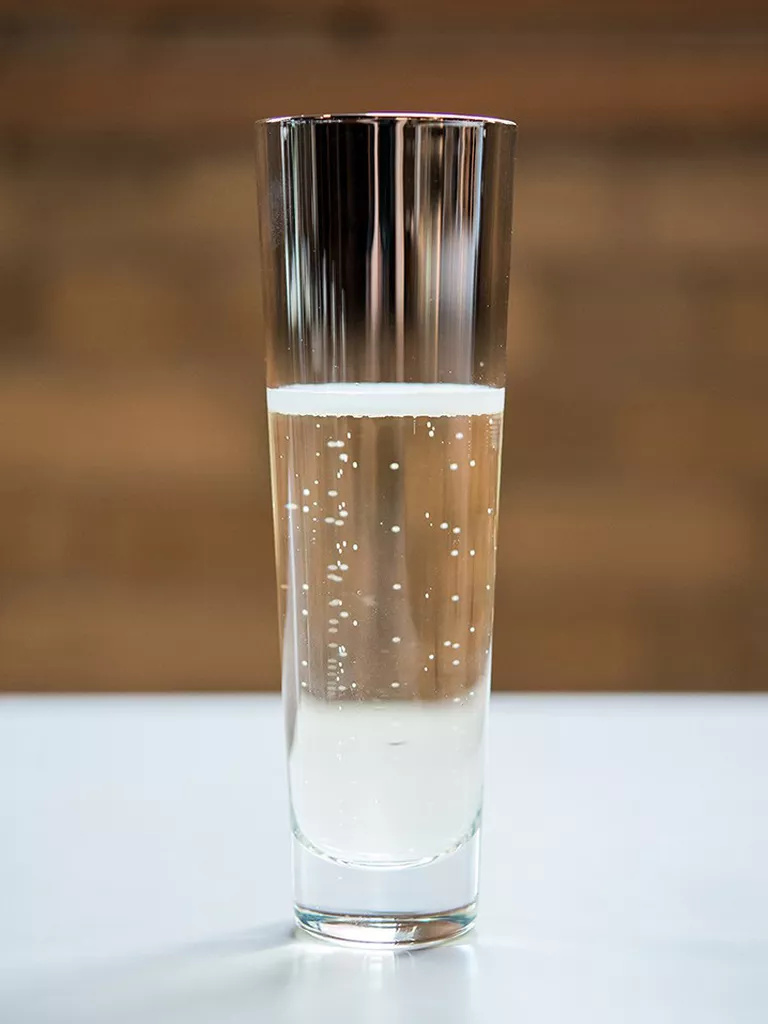 It's time to pop bottles for the to-be-weds! Bring some elegance to their first toasts as a newly engaged couple with a set of champagne flutes. This design has a contemporary ombre finish they haven't seen before.
The Knot Shop modern stemless champagne flute with silver ombre fade, $10 each, TheKnotShop.com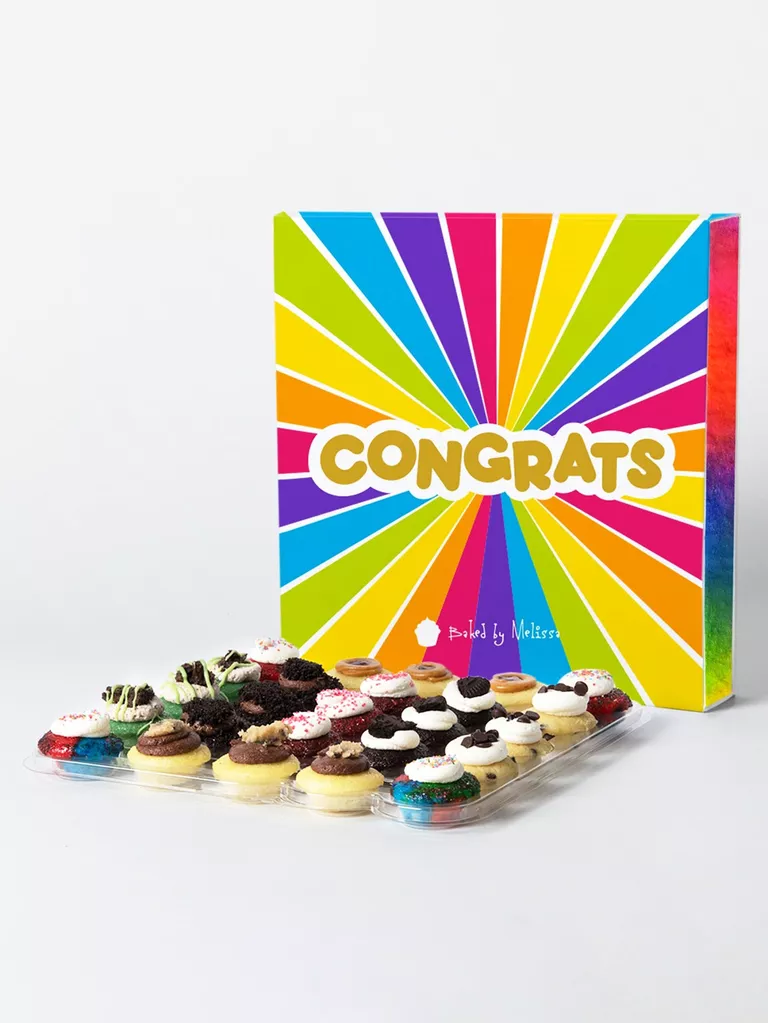 The sweetest way to say "congrats?" With a box of 25 mini (and uber-delicious) cupcakes. Some of the best engagement gifts are edible ones.
Baked by Melissa Congratulations gift box, from $37, BakedbyMelissa.com  
When in doubt, opt for wedding planning gifts. Chock-full of incredible tips and fresh inspiration, this book has everything the couple needs to plan a bespoke wedding that perfectly reflects their love. Whether they're eclectic or classic, rustic or glam, a brilliant blend of them all or totally undecided, every page is dedicated to helping them bring their ideal celebration to life.
Carley Roney The Knot Yours Truly: Inspiration and Ideas to Personalize Your Wedding, $25 for the paperback, Amazon.com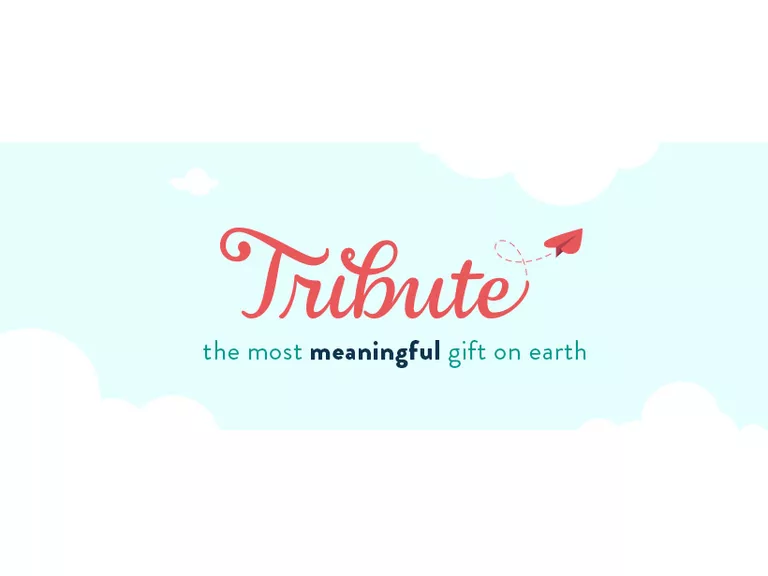 Team up with the couple's family and friends for a beautiful gift they'll cherish forever. Tribute gives you the opportunity to make a compilation video filled with well-wishes from people the couple loves. 
Tribute video message montage, from $25, Tribute.co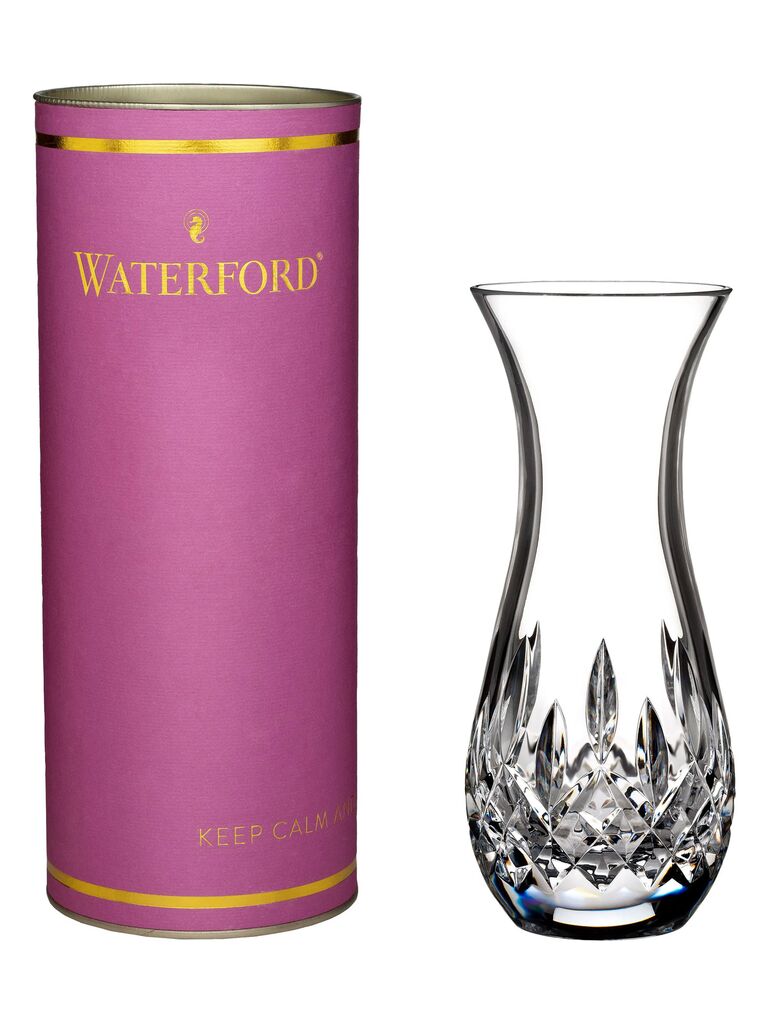 You can't go wrong with this traditional engagement gift—every couple could use a nice vase (especially for any congratulatory flowers they recieve). It's also something most couples wouldn't buy for themselves, which makes it one of the best engagement gifts. We love the look of this one, but check to see if the couple has already registered for a vessel they love.
Waterford Giftology Lismore sugar lead crystal bud vase, $75, Nordstrom.com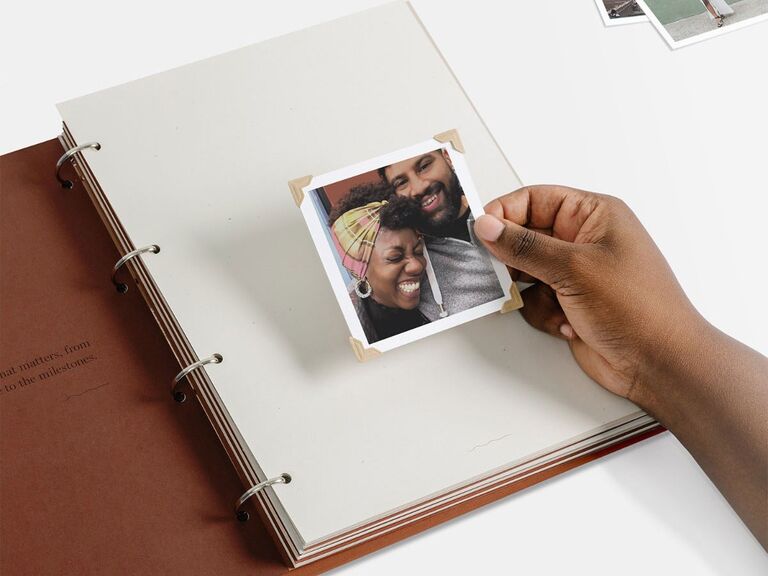 The best engagement gifts are those that help the couple fully embrace this special milestone. That's why we love the idea of gifting a scrapbook, which they can personalize with memories from this specific period in their relationship. This one is carefully bound, has everything from handy prompts to storage pockets, and is adorably titled The Stories We Tell. 
Artifact Uprising The Stories We Tell scrapbook album, from $89, ArtifactUprising.com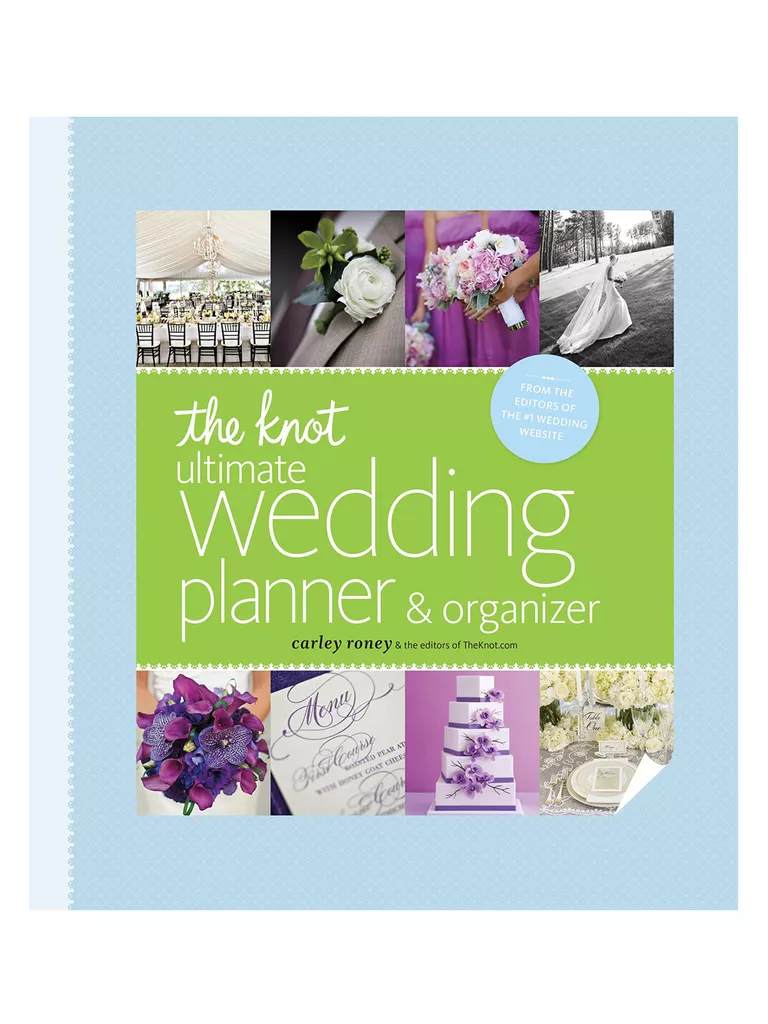 Things are about to heat up as wedding plans get underway, so the best engagement gift they could ask for is the ultimate planning book (from yours truly!). It's full of checklists, etiquette tips, calendars, budget worksheets and answers to the most frequently asked wedding questions. There's no doubt the couple will appreciate you alleviating some of their stress.
Carly Roney The Knot Ultimate Wedding Planner & Organizer, $30 for the hardcover, Amazon.com
Best Engagement Gifts for Her
Your best friend just called you with the exciting news—she's engaged. Or, you've just learned you're getting a sister-in-law. Either way, you want to give her something special to share your well-wishes and we've got just the thing. We've rounded up our favorite engagement gifts perfect for the soonlywed.
What gal doesn't love some sugar? Gift your bestie a box of candy from Sugarfina. This assortment comes in a box that says "congrats" to celebrate the occasion. In it, she'll find colorful gummy candies and chocolates to unwind with.
Sugarfina Congrats 3-piece candy bento box, $28, Nordstrom.com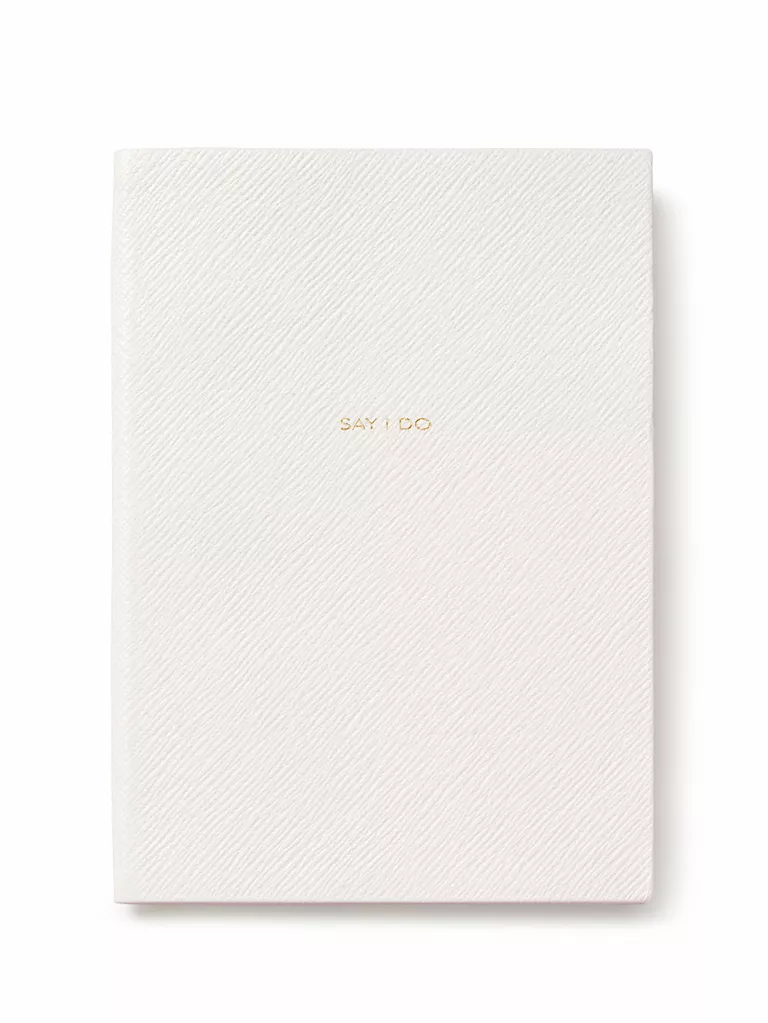 The bride-to-be is about to get super busy, so give her this luxe wedding planning notebook as an engagement gift to help her stay organized. Bound in beautiful white leather, it may just become her closest companion—besides her spouse-to-be, of course.
Smythson The Panama Collection Say I Do wedding planner, from $255, Smythson.com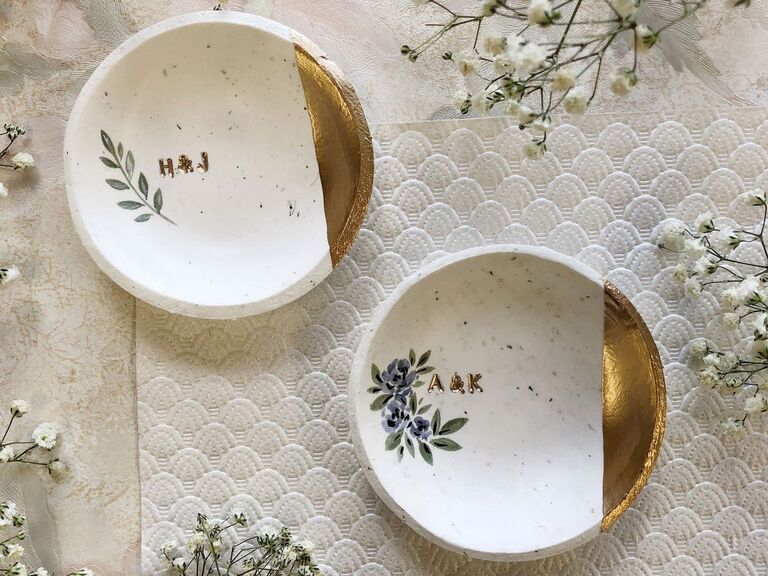 She just scored a ring—now give her someplace to put it. This sweet engagement gift comes personalized with her and her S.O.'s initials bound by an ampersand.
The Painted Press speckled minimalist ring dish personalized engagement gift for her, from $17, Etsy.com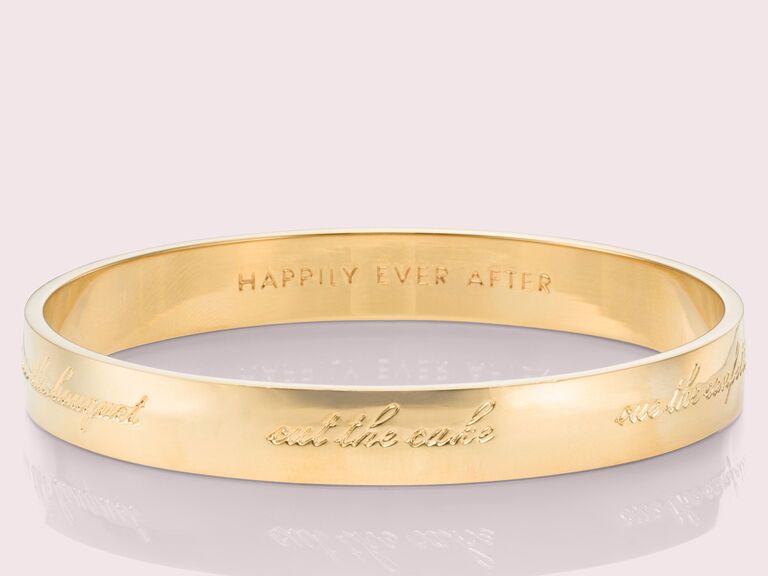 Cue the confetti—she's engaged! We love this delicate gold bangle, dipped in 12-karat gold and engraved with party sentiments like "cheers," "kiss the bride," "tie the knot," and "cut the cake." She can stack the bangle with her other baubles and wear it through the honeymoon.
Kate Spade New York Bride Idiom bangle, $58, KateSpade.com
A lingerie shower may be in her future, but why not kick off the party a little early with your engagement gift? This pretty feathered robe will help her luxuriate and relax after wedding planning. She's sure to have sweet dreams while wearing it.
Rya Collection swan charmeuse and ostrich feather wrap, $198, Nordstrom.com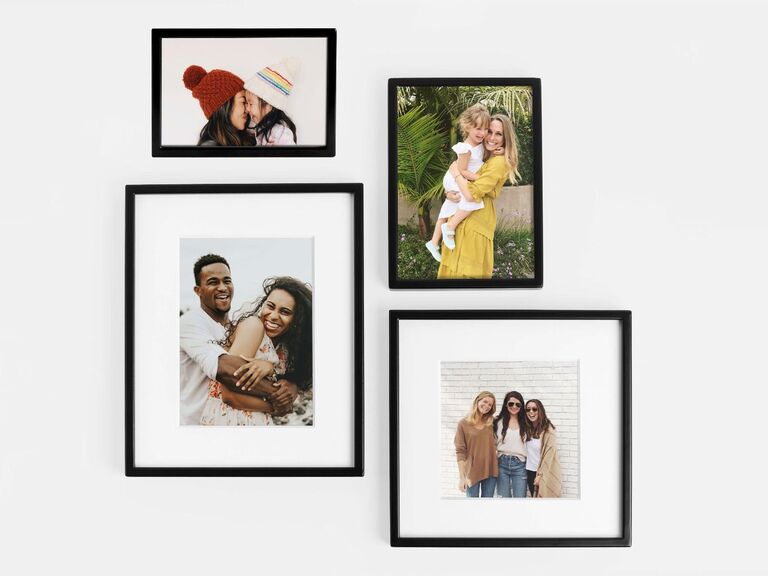 A frame is one of the most iconic engagement gift ideas. There's going to be a lot of frame-worthy moments over the next year, so gift her a cute photo display. It's elegant and handy for displaying engagement portraits or snapshots of her and her future bridesmaids. This particular design comes in a trendy brass shade, as well as classic black.
Artifact Uprising metal tabletop and wall frame, from $49, ArtifactUprising.com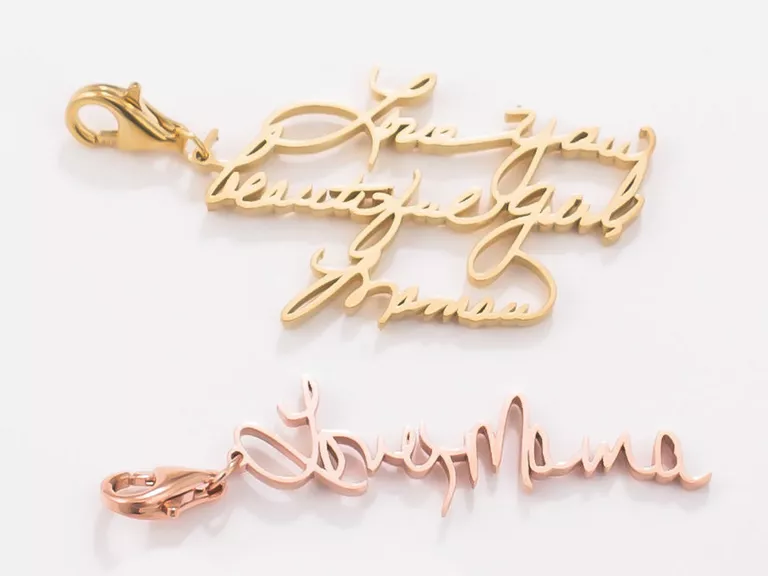 Searching for extra-sentimental engagement gifts for her? Look no further than this tear-jerkingly sweet charm, which features a message in your handwriting. Get it with the jump ring and clasp so she can secure it to her bouquet. It's a wonderful present for a parent or sibling to bestow. 
Caitlyn Minimalist actual handwriting charm, from $29, Etsy.com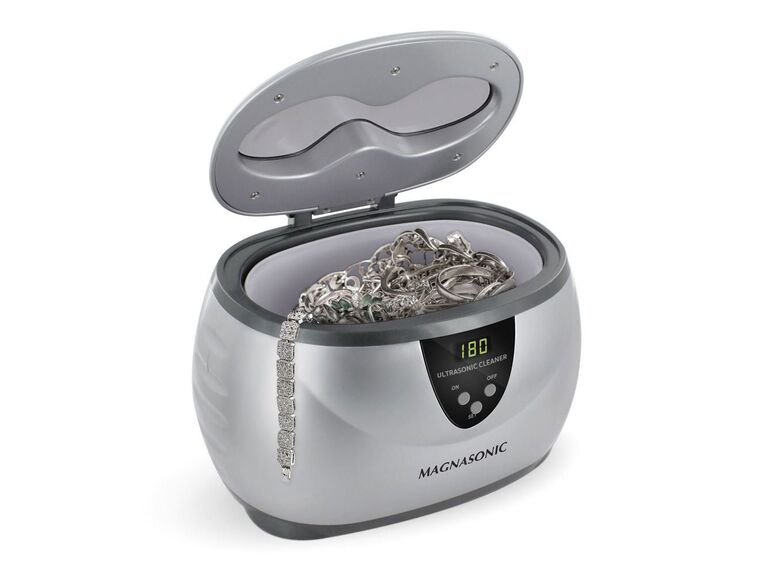 This super-useful gadget will help her keep her new bling in tip-top shape, because she'll soon realize that a ring you wear every day gets dirty fast. She can use it for her watches and even eyeglasses too. 
Magnasonic professional ultrasonic jewelry cleaner with digital timer, $40, Amazon.com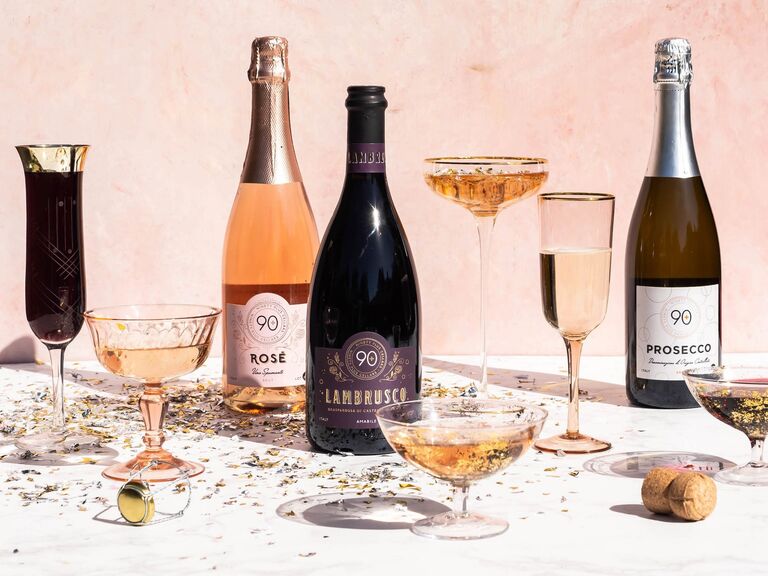 What if you can't be there with your bestie to celebrate the news? Send a bottle of bubbly to her door with Drizly! Go for classic champagne or prosecco, or her favorite liquor.

Drizly alcohol delivery service, price varies, Drizly.com 
Best Engagement Gifts for Him
Did your nephew just pop the question to his longtime love, and now you're frantically searching for a congratulatory gift? Or maybe your first single guy friend is taking the plunge? Either way, the occasion is an awesome reason to celebrate. Here are a few of our favorite engagement gift ideas, just for him.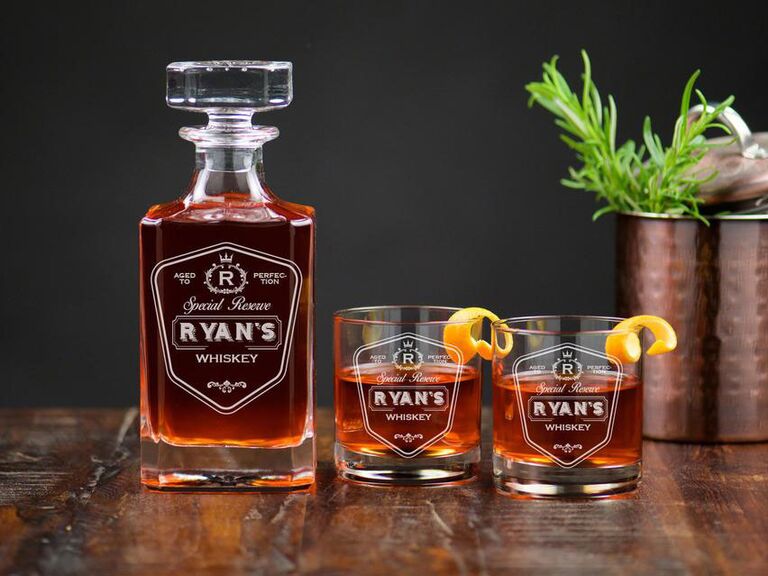 There'll be plenty of toasts and celebratory sips in this guy's honor, so why not give him a sophisticated decanter? Personalize the glass spirit holder with his initials and fill it with his favorite whiskey for the ultimate engagement gift.
Flowertown Weddings engraved decanter set with glasses, from $35, Etsy.com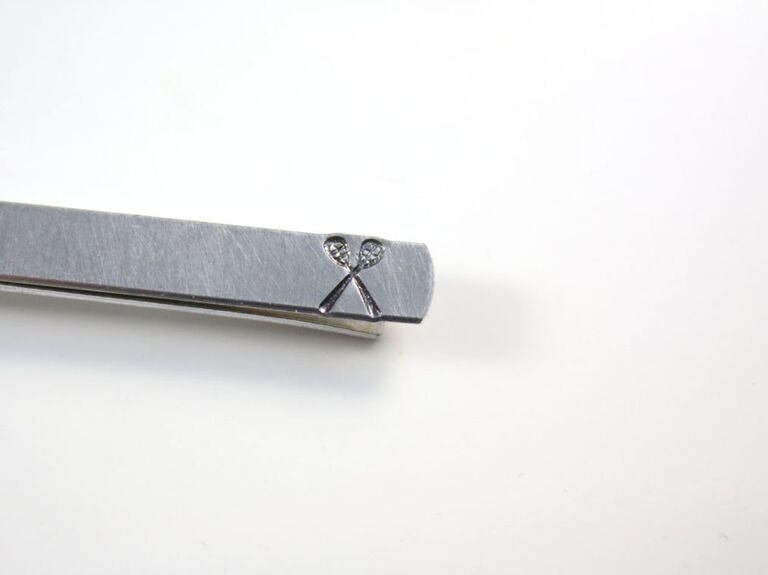 Help him keep his tie in place at the wedding with a clever clip. These tie bars come stamped with all sorts of graphics, from US states to lacrosse sticks. Choose the one that best reflects his roots to remind him where he came from (and who his friends are) on the big day. You can even get it stamped on the back with a hidden message, like a nod to an inside joke you share. 
Celebrate Today tie clip with hidden message, from $20, Etsy.com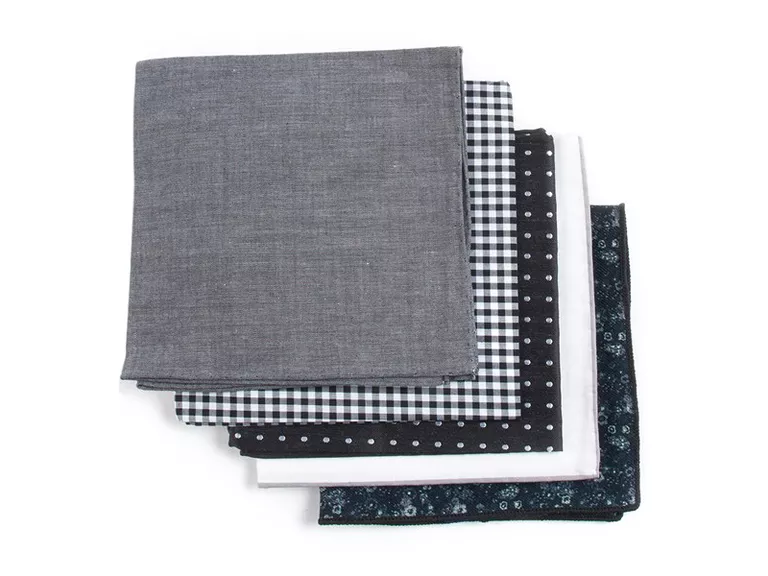 His newly engaged status means there will be a fair share of parties in his honor. Help him look extra polished with a classic pocket square—or this whole versatile set.
The Tie Bar basic black pocket square pack, $45, TheTieBar.com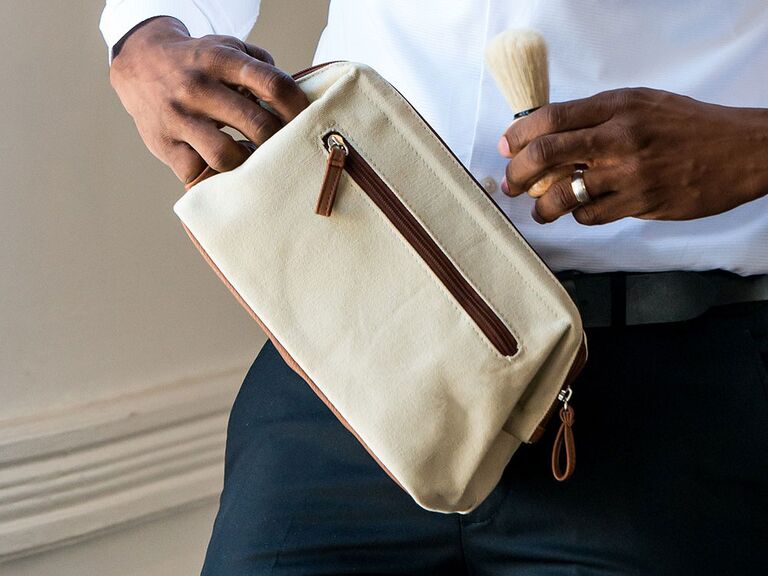 There's nothing wrong with useful engagement gifts. He can bring this toiletry bag on his bachelor party trip, to his getting-ready suite on the wedding day, and on the honeymoon.
The Knot Shop personalized wire framed men's travel toiletry bag, $16, TheKnotShop.com
If you already know you'll be planning his bachelor party, get him prepared for a weekend of fun. This durable bag comes in cool color combos, will fit everything he needs for a two-day getaway and can be used as a gym bag once the festivities are over. 
Everlane The Twill Weekender carry-on bag, $98, Everlane.com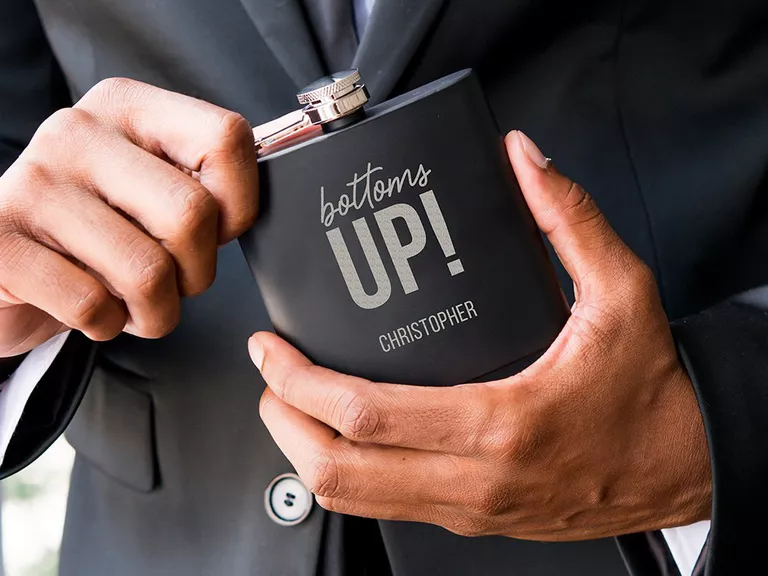 Let's face it, flasks and festivities go hand in hand. Get this "bottoms up" one personalized with his name for a foolproof engagement gift for him.
The Knot Shop personalized engraved black hip flask, $16, TheKnotShop.com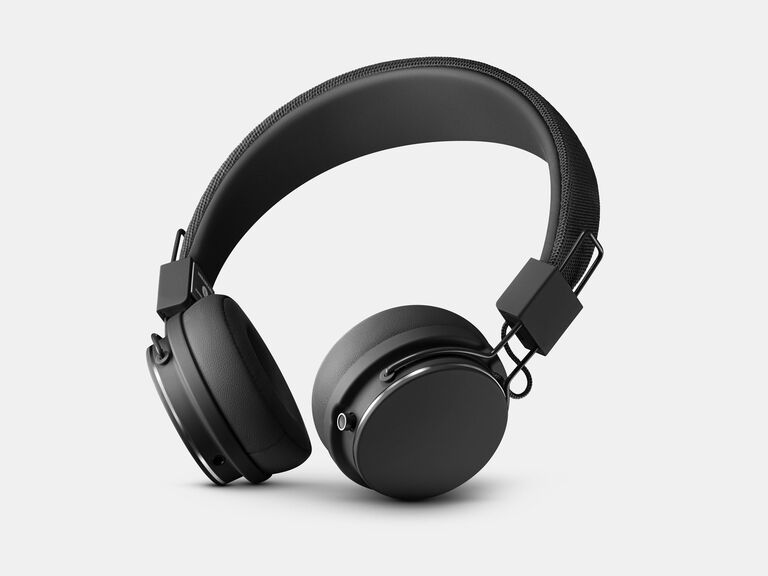 If the groom-to-be takes music very seriously, these professional-level headphones deliver amazing sound so he can kick back and relax with his favorite tunes in the midst of hectic wedding planning.
Urbanears Plattan II Bluetooth on ear headphones, $70, Verishop.com 
Best Personalized Engagement Gifts
The best engagement gifts are always personalized gifts—gifts that honor their hobbies, their relationship, or are literally personalized with their names. Shop our top engagement gift ideas in this category below.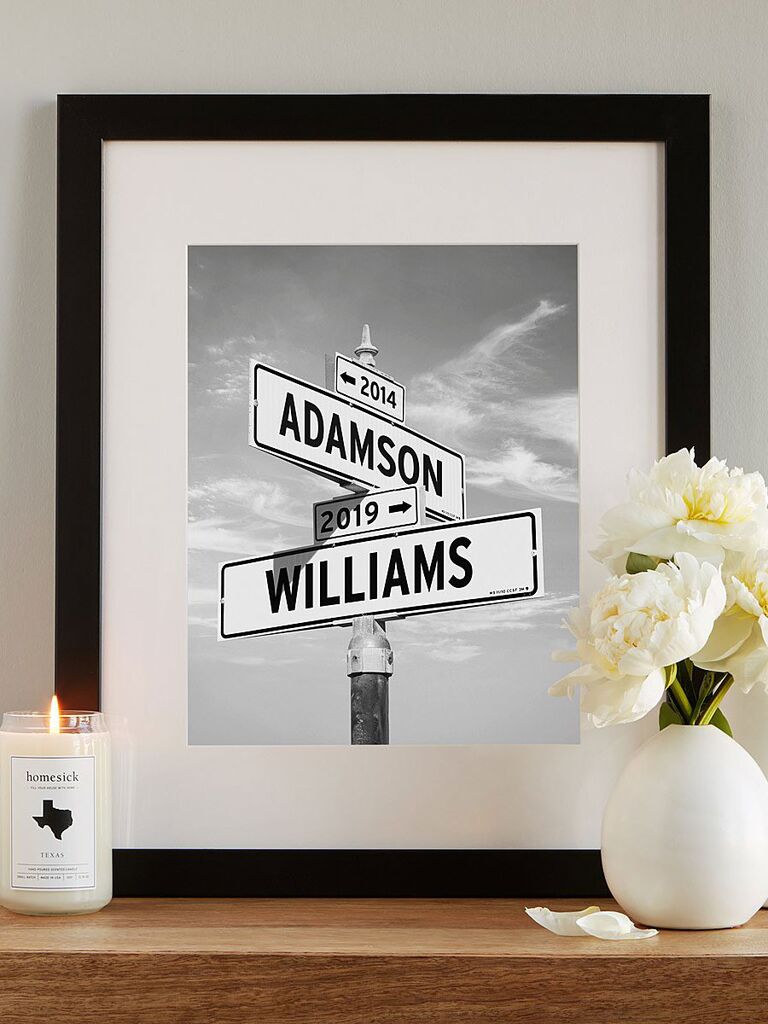 What about some custom wall art? This print can be personalized with their surnames and special dates from their relationship. Think: the year they met and the year they got engaged.
Patricia Carlin Intersection of Love photo print, from $75, UncommonGoods.com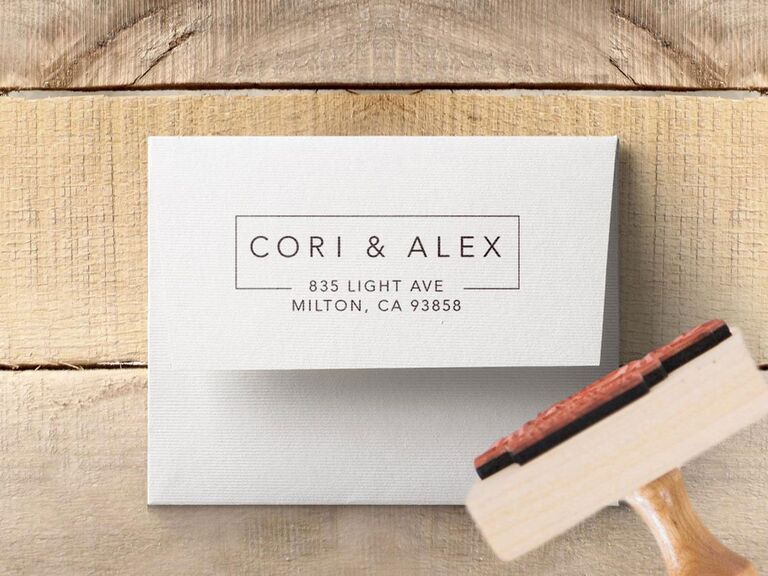 This couple is sure to be sending lots of mail, with save-the-dates and thank-you notes on the horizon. A custom stamp is the perfect engagement gift they can use for all their correspondences.
Gulf Road custom names stamp with return address, from $22, Etsy.com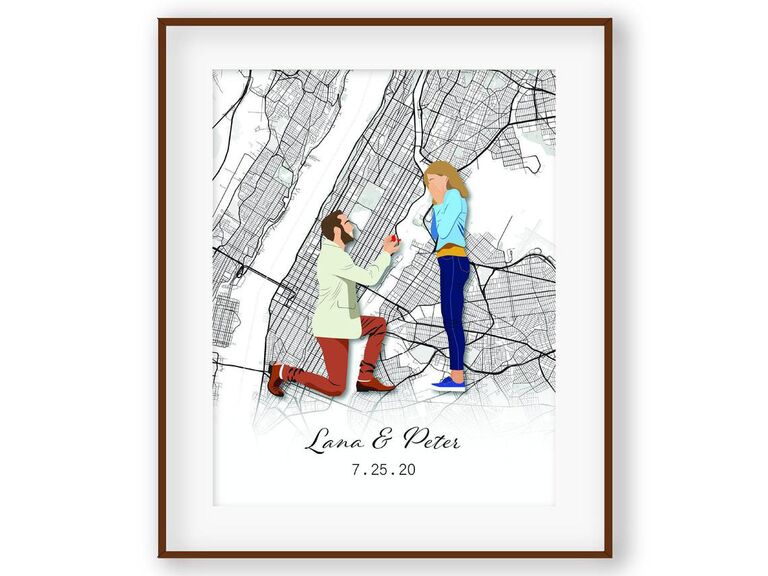 One of the more unique engagement gifts? A custom couple portrait. Send the artist a photo of the couple (and a special setting of theirs!) and they'll create a bespoke work of art.
AO Map Creations personalized engagement portrait with map, from $25, Etsy.com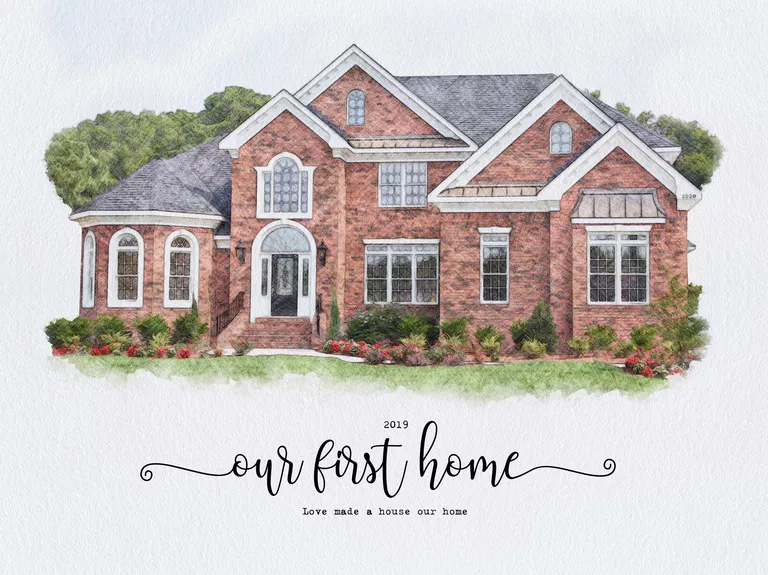 Did their engagement correspond with another big milestone, like moving in together? Commemorate the couple's first shared home with a custom illustration of their apartment or house. 
Mono Art and Design custom watercolor house portrait, from $54, Etsy.com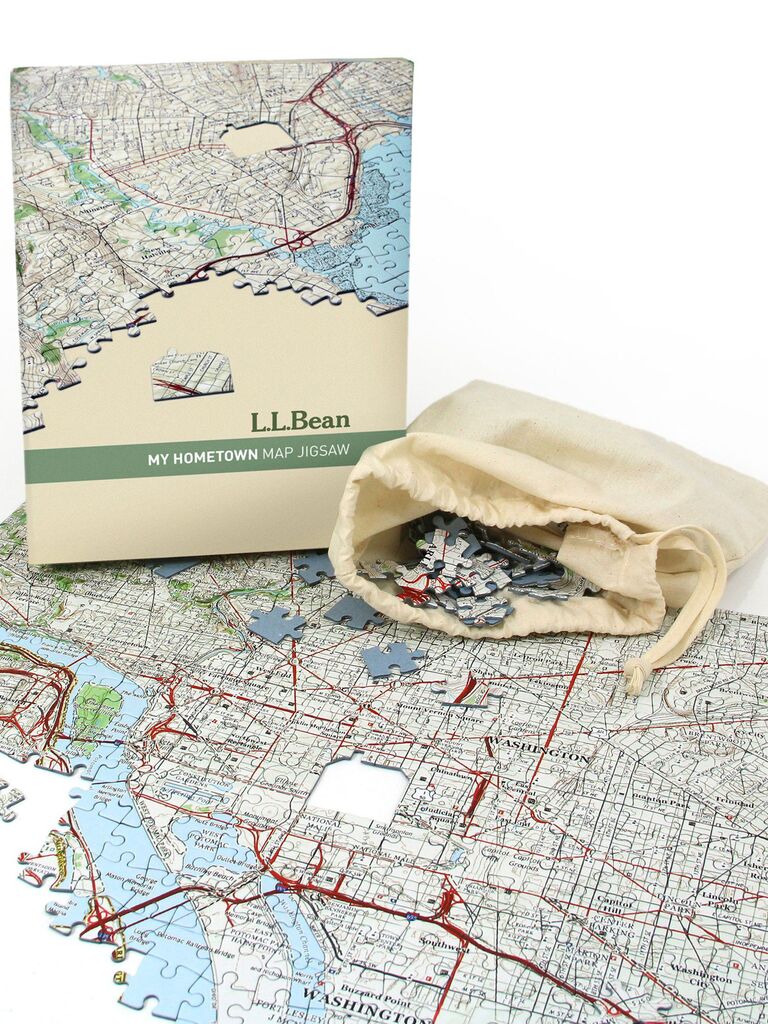 Gift the couple a jigsaw puzzle of a map of a meaningful location, like the spot where they first hit it off. Whatever place you choose will be marked by a unique puzzle piece.
L.L.Bean My Hometown Map Puzzle II, $50, LLBean.com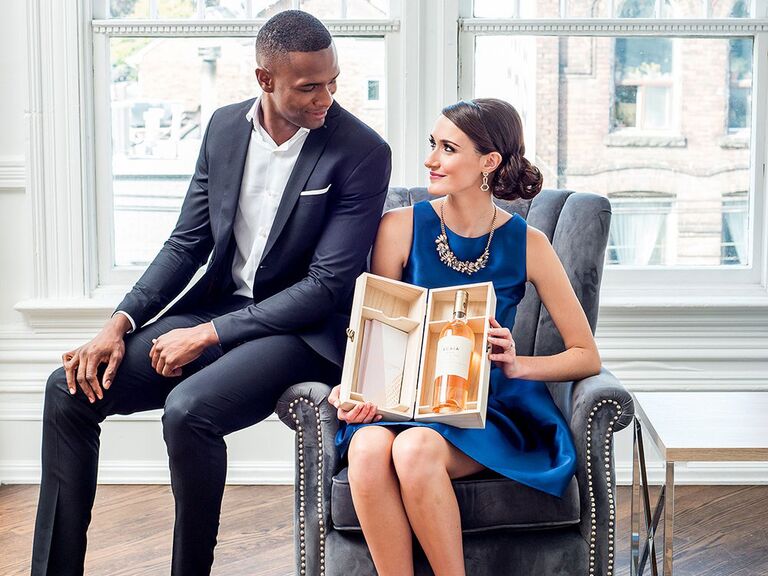 If you've been invited to a casual fete, a bottle of wine is the perfect engagement party gift idea. Upgrade your present with fancy packaging—a personalized wine crate to be exact. This wooden box can be customized with their names and engagement date. 
The Knot Shop personalized wooden wine gift box with lid, $20, TheKnotShop.com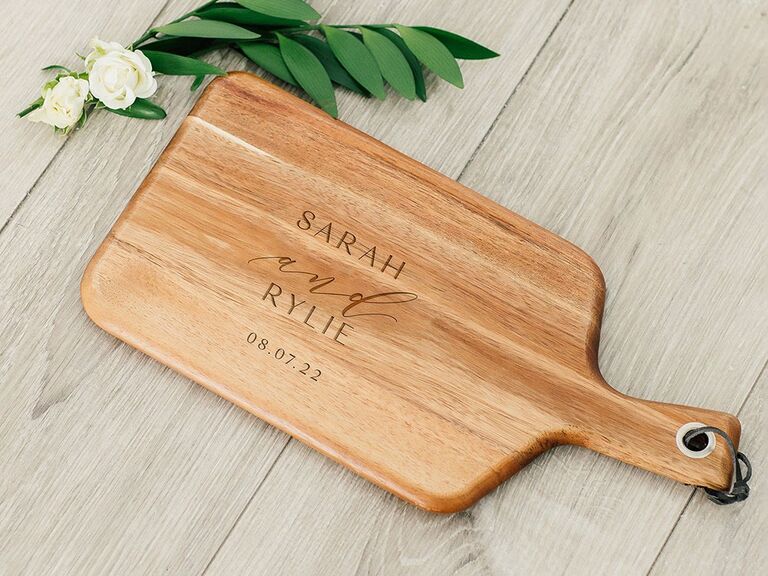 If the couple loves to host, consider this cutting and serving board for a personalized engagement gift. You can customize it with their names and the date of their engagement.  
The Knot Shop personalized wooden paddle cutting and serving board with handle, $20, TheKnotShop.com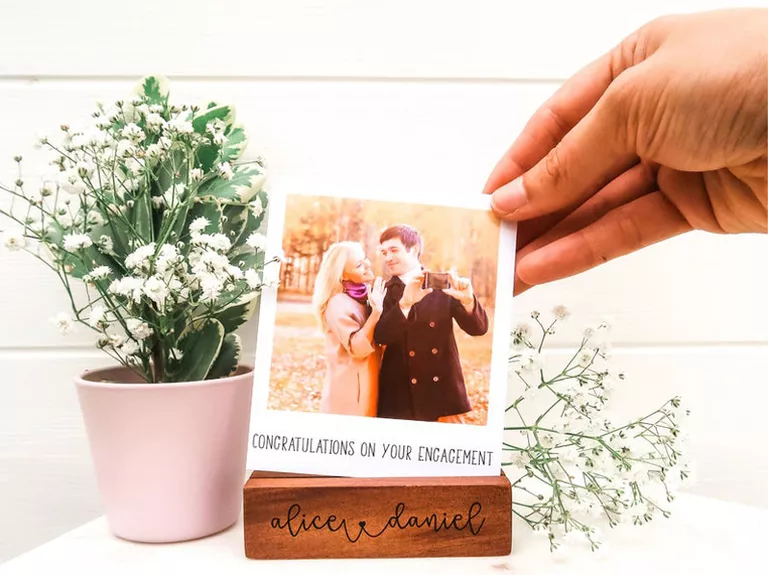 This personalized photo display comes with a Polaroid snapshot of the couple. On the bottom of the picture, there's a hidden message: "Congratulations on your engagement." When they lift the image out of the block, they'll find it for an extra dose of delight.
The Gift Studio Company personalized engagement gift hidden message Polaroid photo block, $18, Etsy.com
Best Unique Engagement Gifts
What do you get the pair who has everything? Go for something unique. These creative engagement gifts are perfect for the hard-to-shop-for couple.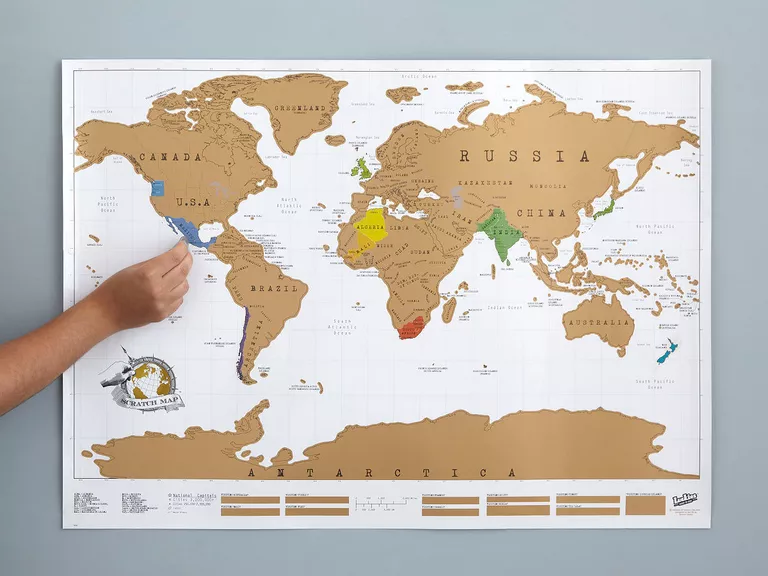 Avid travelers? Give your globe-trotting friends a map of the world. Once they've visited a destination, they can scratch off the area with a coin to reveal pops of color. They can track all their trips—it might even inspire their honeymoon.
Uncommon Goods scratch map, from $26, UncommonGoods.com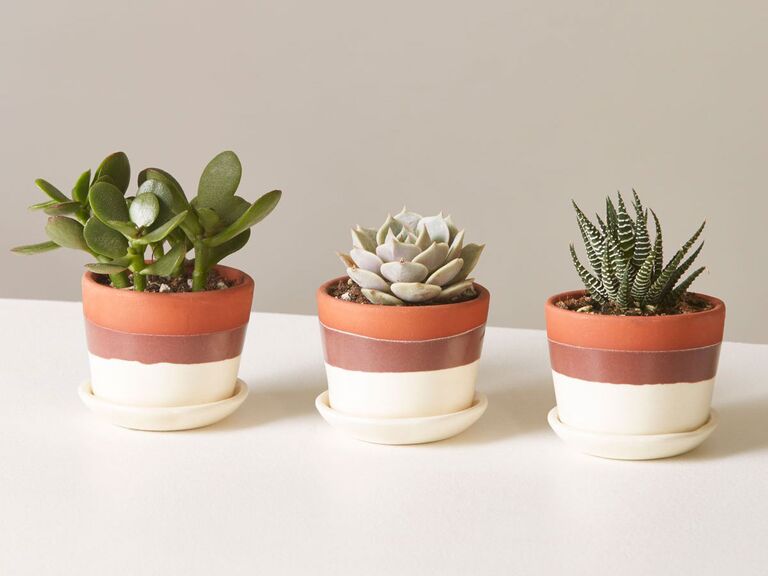 This cute trio of succulents will fit pretty much anywhere: a windowsill, the kitchen counter, the coffee table, you name it. They're a fun alternative to the traditional congratulatory bouquet.
The Sill succulent trio, $50, TheSill.com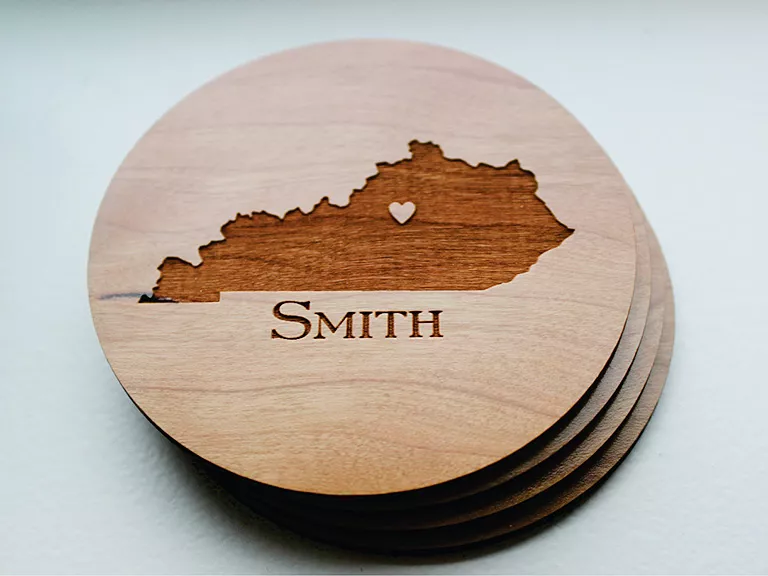 Give a nod to the couple's hometown (or future wedding location!) with these cherry wood coasters sporting a laser-engraved state of your choice. This would be the perfect engagement gift idea for the couple with tons of home-state pride.
Sugar Tree Gallery state and city coaster set, $27 for a set of 4, Etsy.com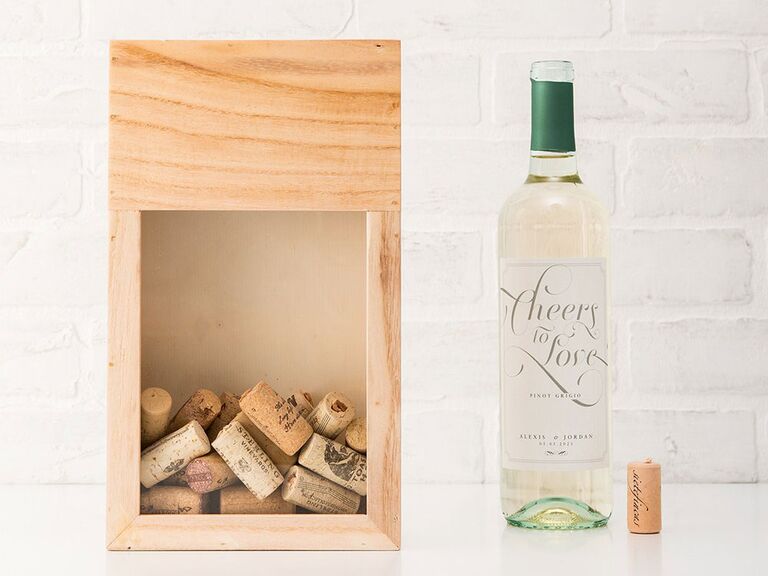 Instead of giving them yet another bottle of wine, help them keep track of all that celebratory vino with this fun wine cork shadow box.
The Knot Shop wooden wine cork holder shadow box, $19, TheKnotShop.com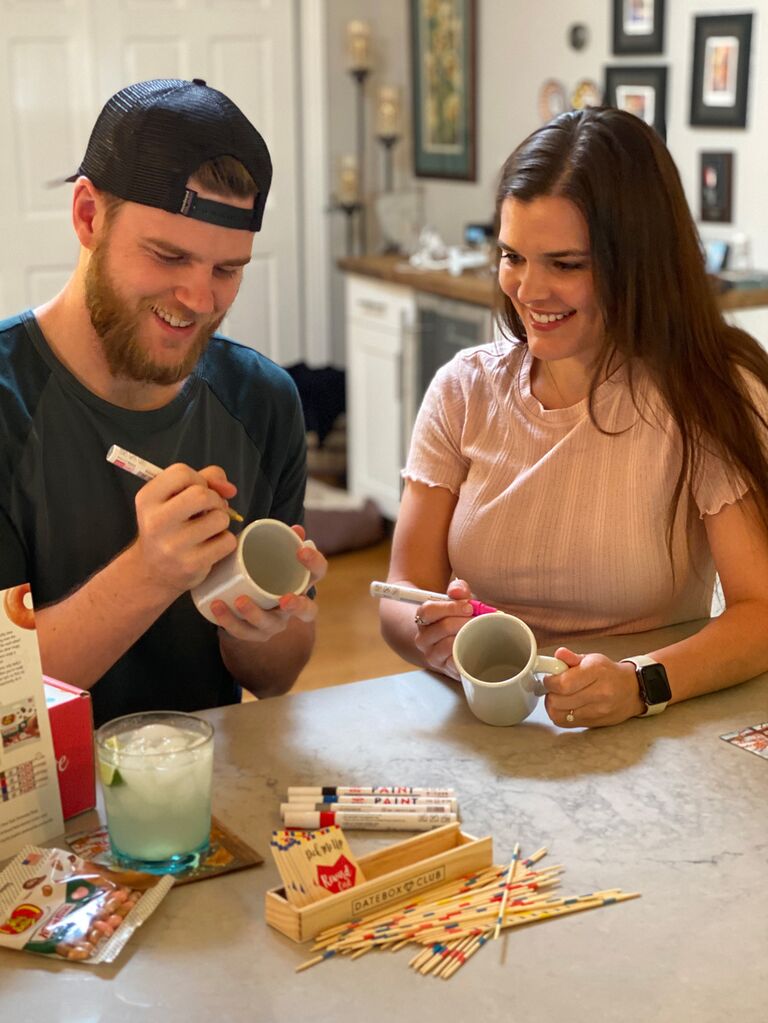 Make sure the couple still takes time to relax together by helping them organize a date night. DateBox Club sends out a monthly subscription box filled with everything they need for an enjoyable evening together. You can choose to gift them one month's box, or an entire year's worth of dates.
DateBox Club monthly date night subscription box, from $33 per month, DateBoxClub.com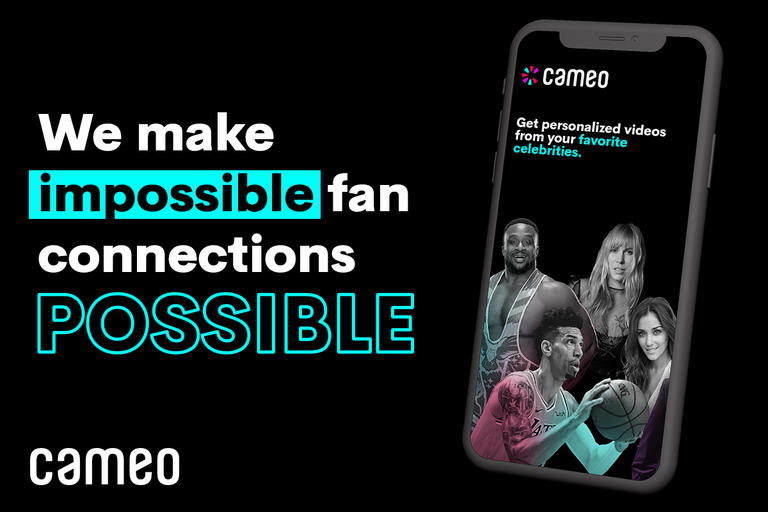 A message from one of their favorite celebrities is a completely unexpected and unique engagement gift. From Mandy Moore to Snoop Dogg, you never know who'll be able to send warm wishes to the happy couple. Our favorite? Jay Jackson, aka Perd Hapley from Parks and Recreation!
Cameo personalized message from celebrity, price varies, Cameo.com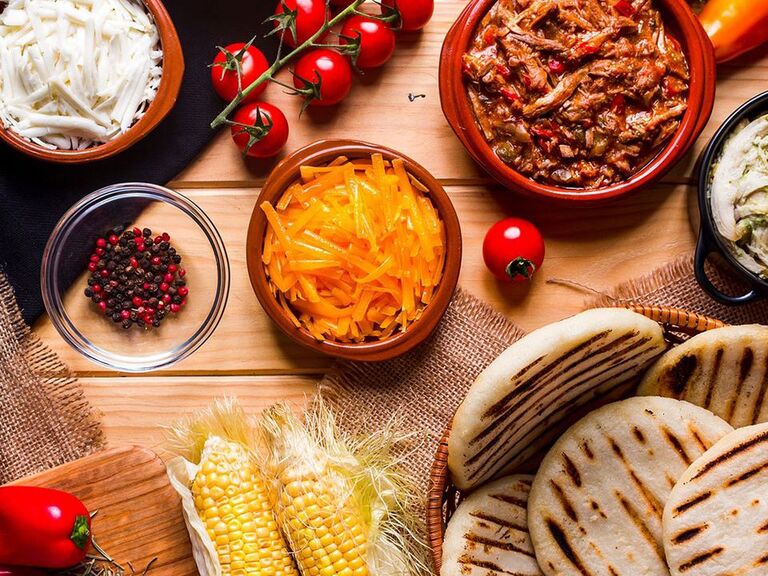 Take some tasks off their to-do list with this ultra-convenient service. Gift a year-long membership to Shipt and they won't have to worry about running to the grocery store for basically the entirety of their engagement period—their orders will get delivered straight to their door.

Shipt 12-month membership gift, $99, Shipt.com  
Best Funny Engagement Gifts
Looking for a funny gift for a loved one or a newly engaged couple? If you know they'd love a playful present, we've got you covered. From silly gags to amusing token gifts, we've rounded up a few of our favorite engagement gift ideas that are sure to result in a chuckle.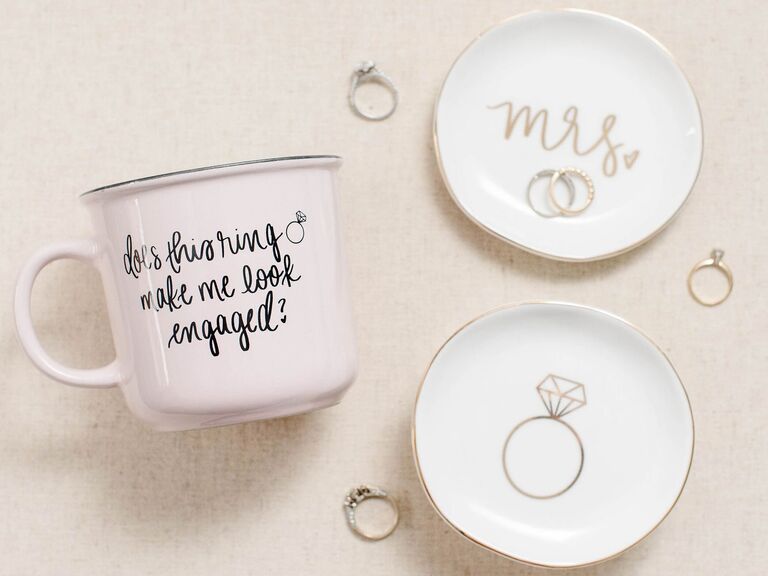 She's got a new sparkler, so help her show it off and announce her happy news with this Instagram-worthy engagement mug. If her coworkers haven't already offered their well-wishes, they will when they see this.

Sweetwater Decor Does This Ring Make Me Look Engaged campfire mug, $20, Etsy.com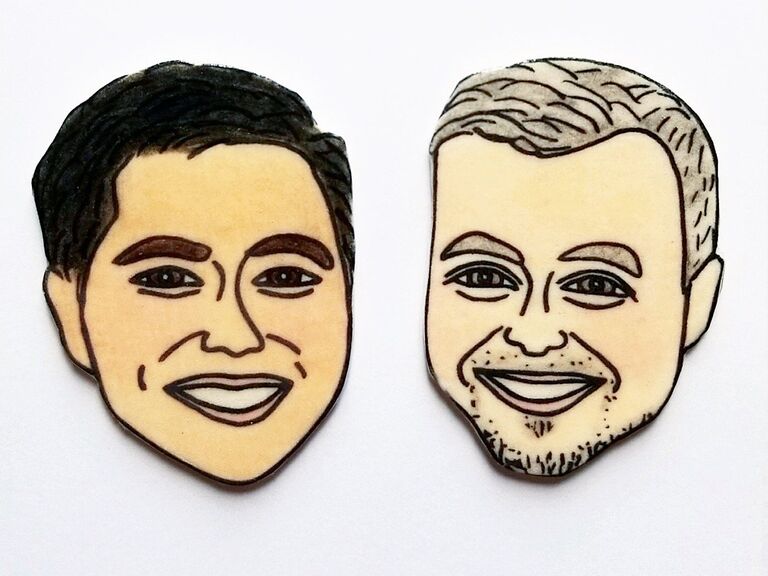 Now that they're stuck together, get them this silly set of floating head magnets (in their likeness) to stick to their fridge. How's that for a funny engagement party gift for couples?

Kit Atlas personalized magnets custom funny engagement gift, from $32, Etsy.com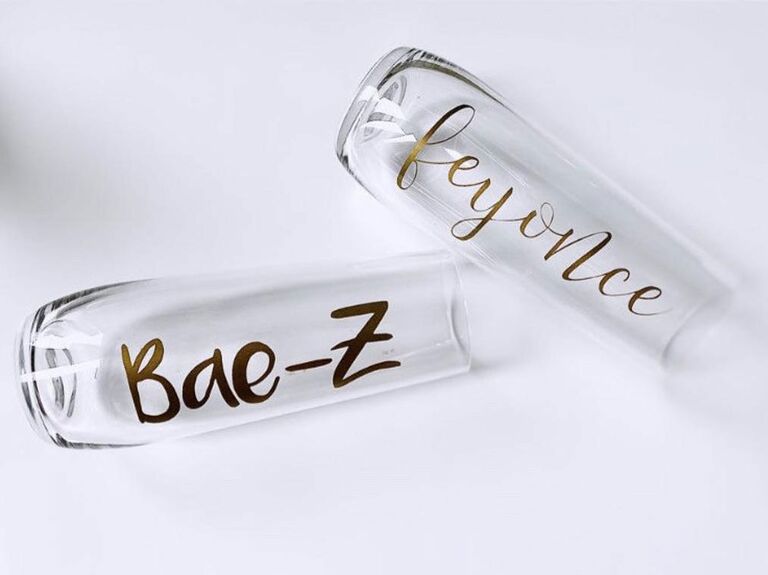 If they're into pop culture, they'll get a kick out of these "Bae-Z" and "Feyonce" champagne flutes.
She Said Yasa Feyonce and Bae-Z stemless champagne flutes, from $16, Etsy.com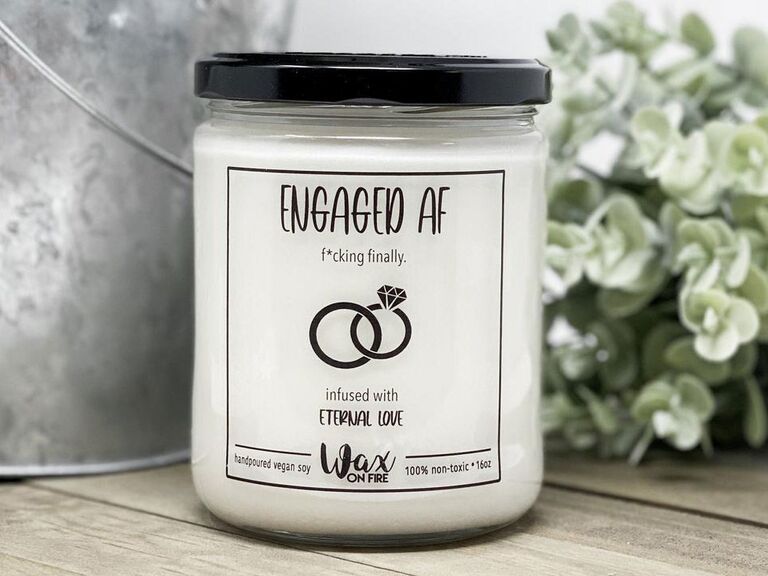 Candles are always a great gift, but the humor of this one is something different. Even when the candle has burnt out (it can burn for up to 100 hours!) they'll want to hang onto the fun jar. Bonus: There are lots of different unique scents to choose from.
Wax on Fire Engaged AF candle, from $6, Etsy.com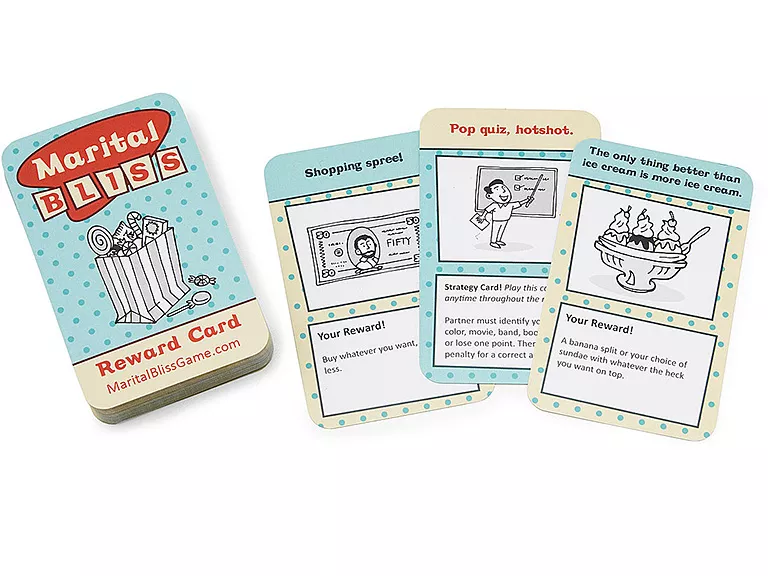 Gift the couple a carefree card game that will have the lovebirds competing against each other with good deeds, like cooking dinner and carrying groceries. The winner can cash in for breakfast in bed—how great is that? It's great training for marriage.
Uncommon Goods Marital Bliss game, $15, UncommonGoods.com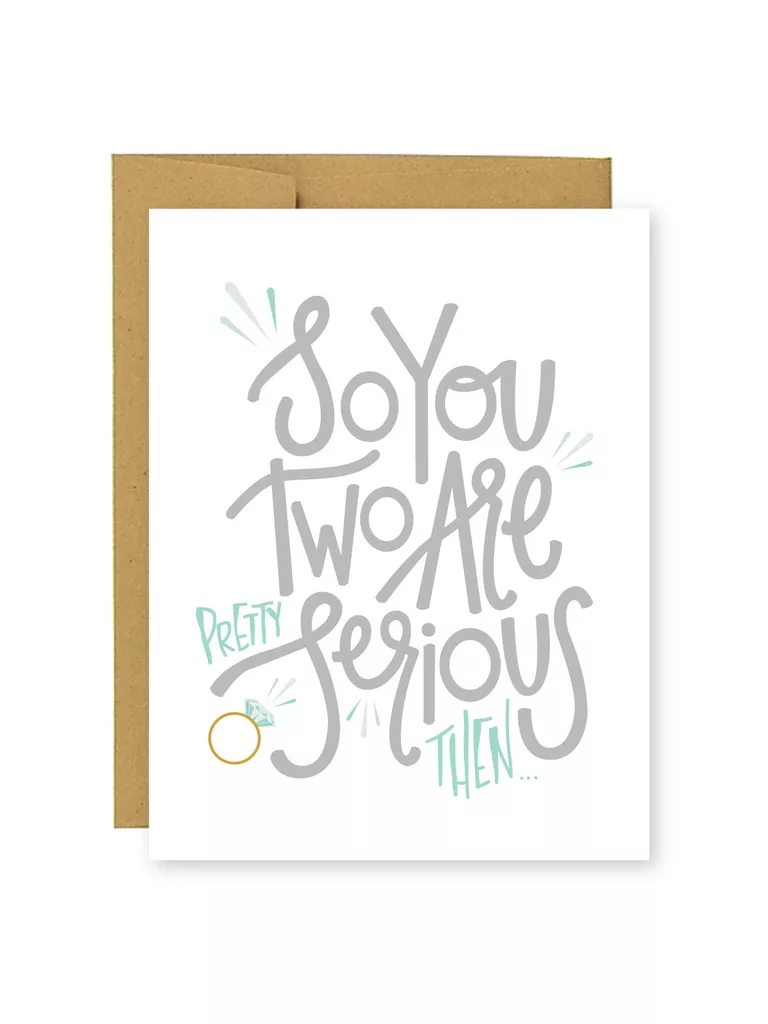 Share your sentiments with the soon-to-be newlyweds in a cheeky engagement card—Etsy has a ton to choose from.
Grain and Dot So You Two Are Pretty Serious Then engagement card, $5, Etsy.com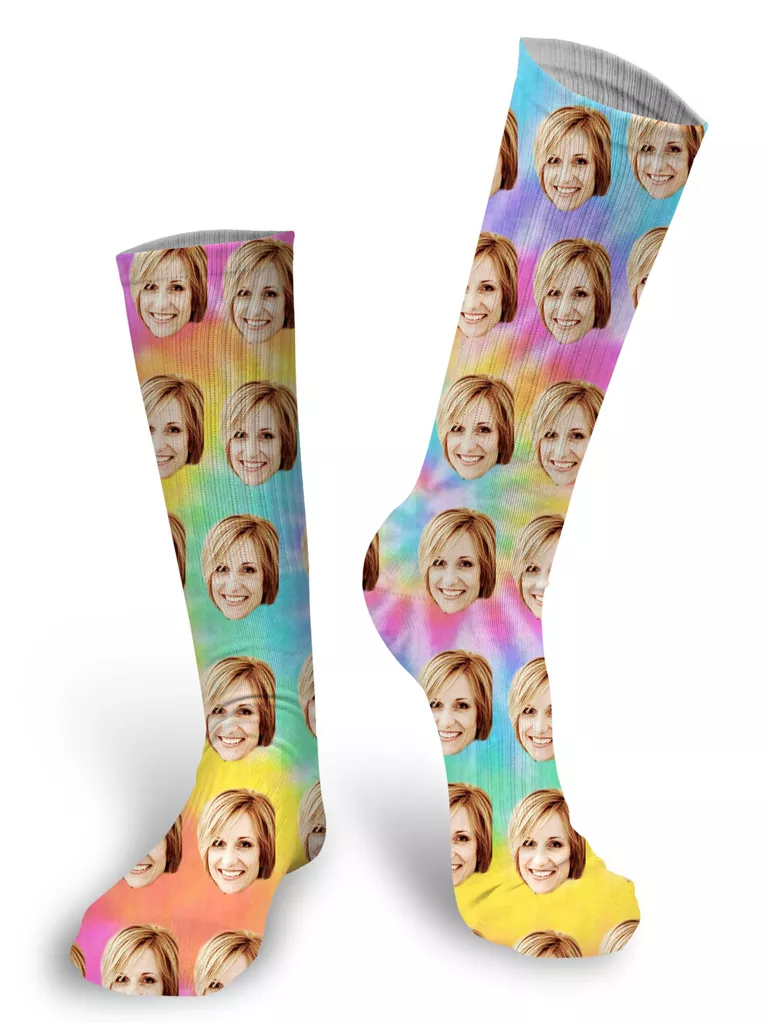 This seller makes hilarious socks printed with actual faces. Customize a pair for each half of the couple with the face of their other half. They can wear them to bed to prevent "cold feet" (ha-ha) or, if they're feeling adventurous, on the actual wedding day.
Custom Face Designs custom photo socks, $16 per pair, Etsy.com
Best Cute Engagement Gifts
Looking for an engagement gift that will garner some "oohs" and "awws" from the recipients? We've scouted some super-cute engagement present ideas that will delight every moon-eyed pair (or secret romantics).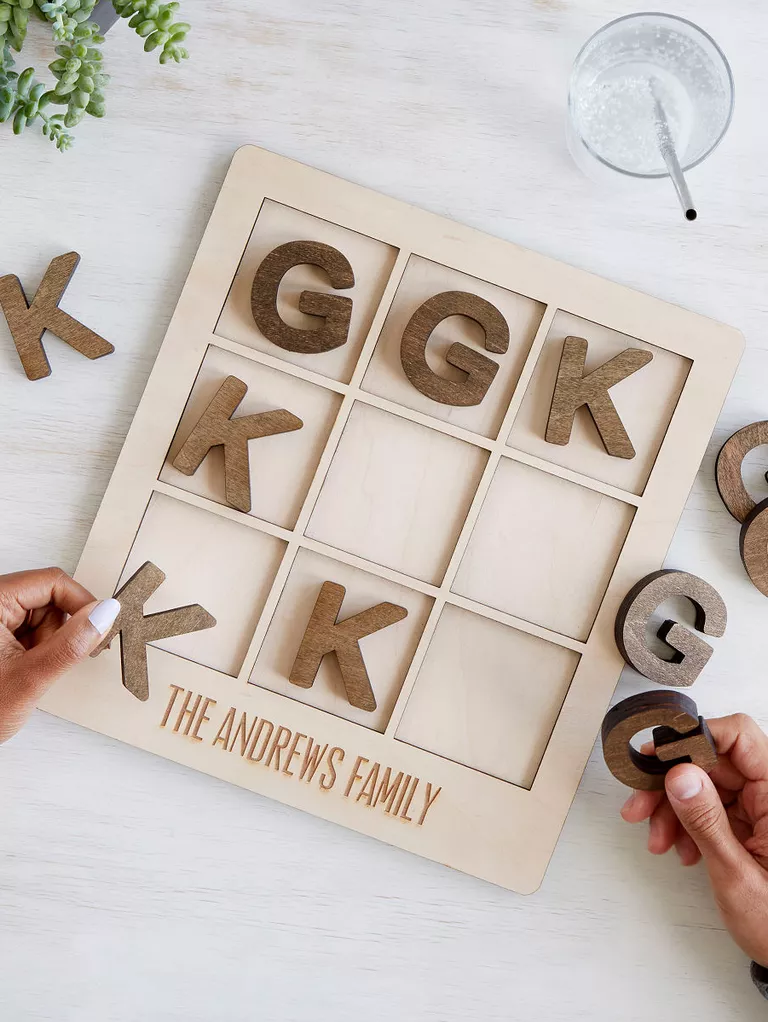 Remind them that their engagement period is supposed to be fun, not stressful (ahem, wedding planning). This cute couple's tic-tac-toe game will help them kick back and relax.
Kasey and Justin Pearson personalized tic tac toe, $50, UncommonGoods.com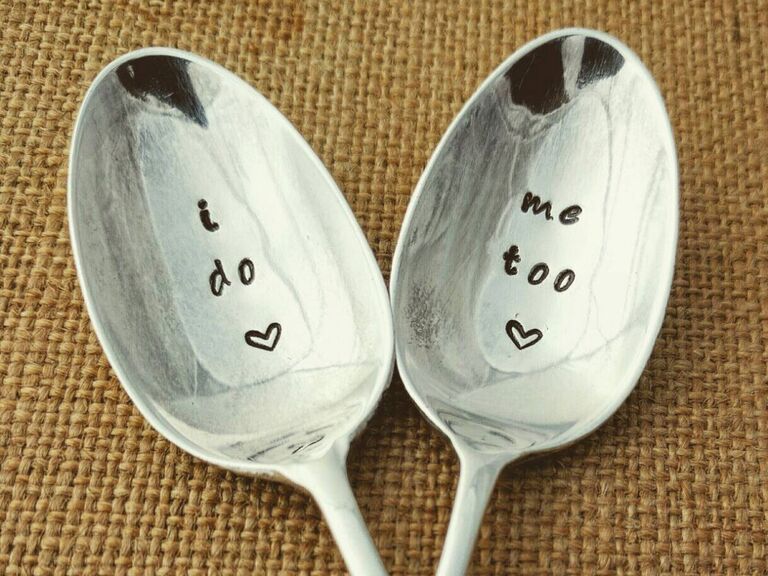 These whimsical, hand-stamped vintage spoons are the perfect engagement party gift for a lovey-dovey duo. Pair them with a delivery of ice cream for the ultimate sweet gift, making them one of the best engagement party gift ideas for the sweet couple in your life.
One Man One Shed personalized wedding spoons, $29, Etsy.com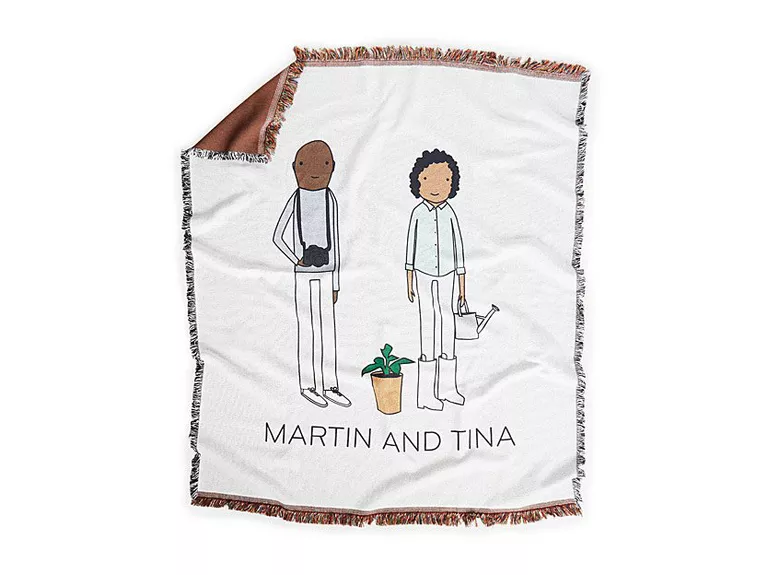 This artist creates absolutely adorable illustrations of couples doing something they love, then prints the portrait on a cuddly throw blanket. This engagement gift will become their new favorite decor piece because it's 1) unique and 2) honors their shared hobby.
Shelly Klein personalized couple hobby blanket, $145, UncommonGoods.com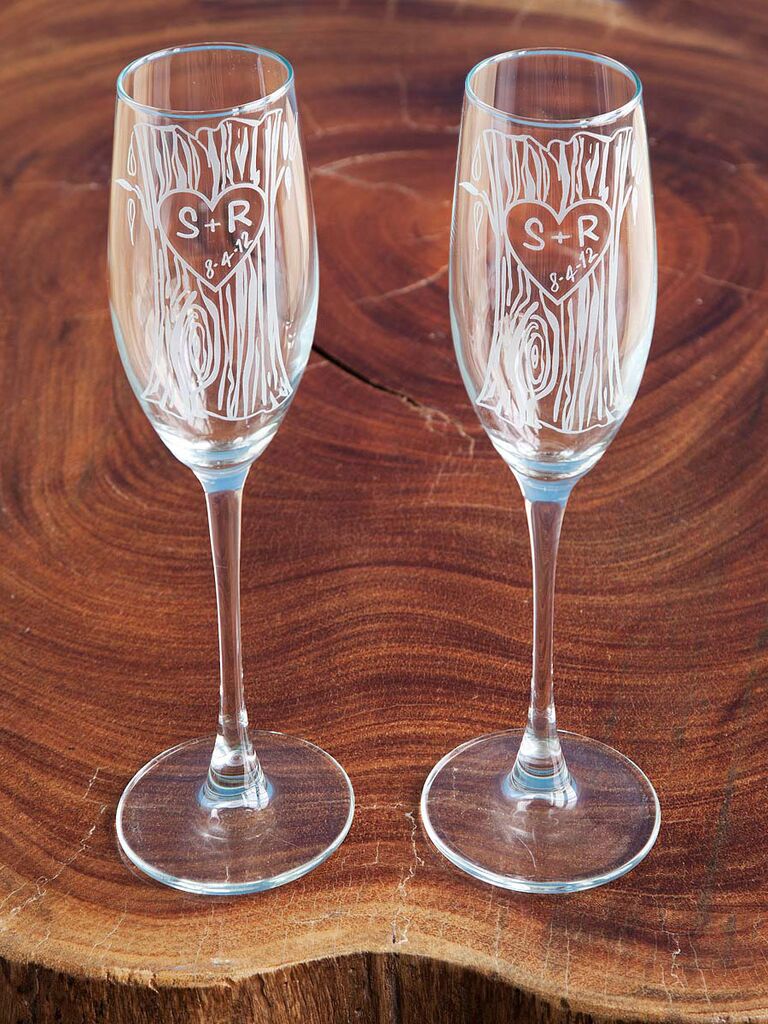 They won't need to carve their initials into any trees with this thoughtful engagement gift idea. Their initials are hand-etched into the champagne flutes, along with the date of their engagement. How's that for a cute and unique engagement gift?
Jennifer Francis Fillinger etched champagne flutes, $85 for a set of 2, UncommonGoods.com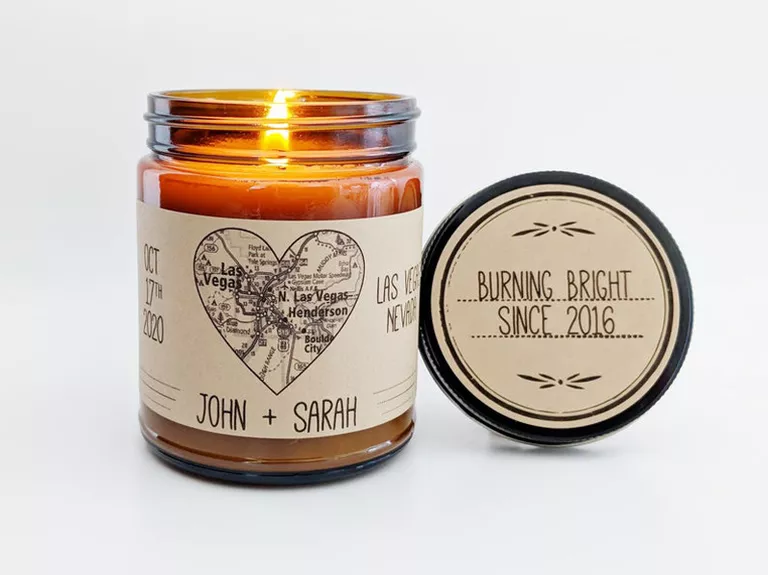 This darling candle comes printed with their names, a heart-shaped map of a meaningful location, and meaningful dates. The icing on the cake? The candle's lid, which reads: "burning bright since [insert the start of their relationship here]."
Define Design Etc. custom candle heart map art, from $23, Etsy.com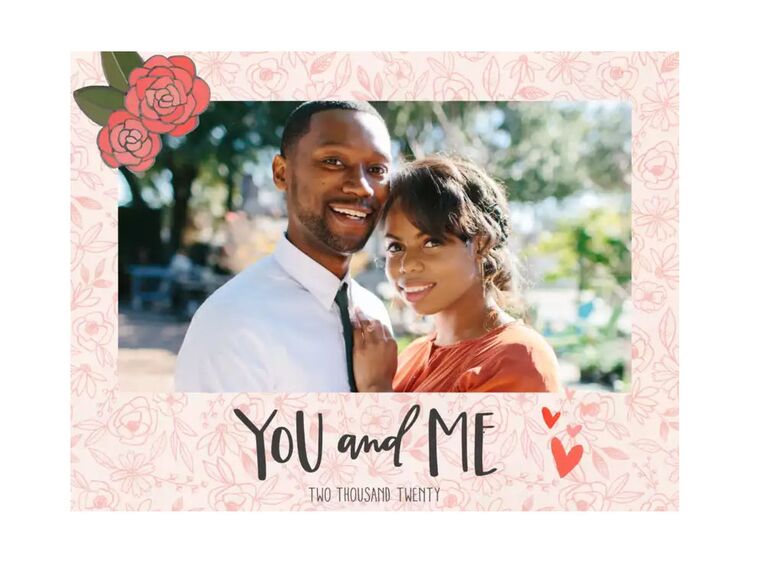 Surprise the couple with a romantic album filled with photos of them you've sneakily sourced. (We recommend reaching out to their loved ones or scouring social media for options.)
1canoe2 My Sweet Love photo book, from $16, Mixbook.com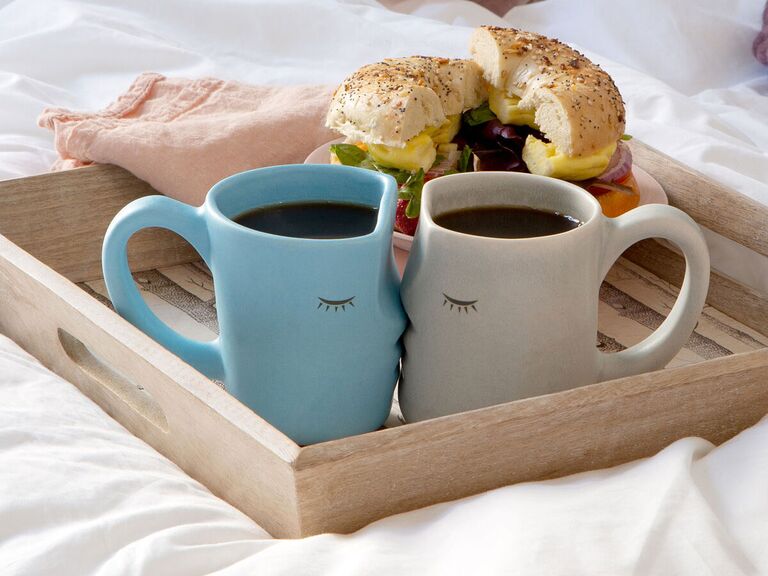 Mugs are an engagement gift the couple will be able to use every day. These adorable matching mugs are an easy way to elevate their morning cups of coffee. Plus, they make breakfast in bed even more special. 
Uncommon Goods The Kissing Mugs, $65, UncommonGoods.com