These 36 Engagement Gifts Shine Bright Like Diamonds
Ahh! They're getting married!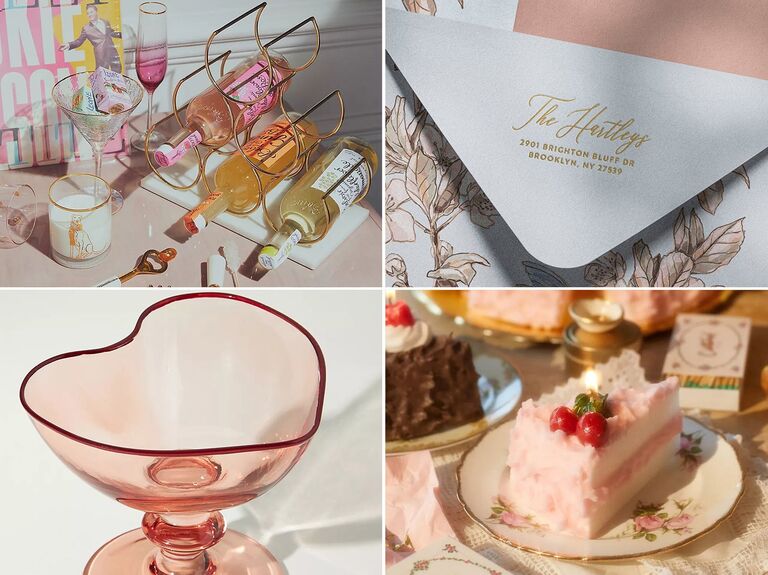 Photos, clockwise: Anthropologie, Stampmyworld, Catbird, Anthropologie
We have included third party products to help you navigate and enjoy life's biggest moments. Purchases made through links on this page may earn us a commission.
Cue the confetti and break out the bubbly: One of your favorite couples just put a ring on it! Now it's time to get into celebration mode. And while your screaming/crying FaceTime or in-person bear hug definitely gets the point across, giving an engagement gift to mark the occasion feels extra special. It's good engagement party etiquette to bring one (actually, it's going above and beyond) and, even if they're not the partying types, buying a present is a sweet way of letting them know just how pumped you are that they're together forever. Next up, you need some engagement gift ideas, right? It's your lucky day, because we've got a slew of engagement presents sure to get the vibe right—from cute, to traditional, to unique, to last-minute (because being a procrasti-shopper doesn't mean you love them any less). Keep scrolling for our reccs and get ready to check "buying the best engagement gift" off your list.
In this article:
Unique Engagement Gifts
Personalized Street Sign Wall Art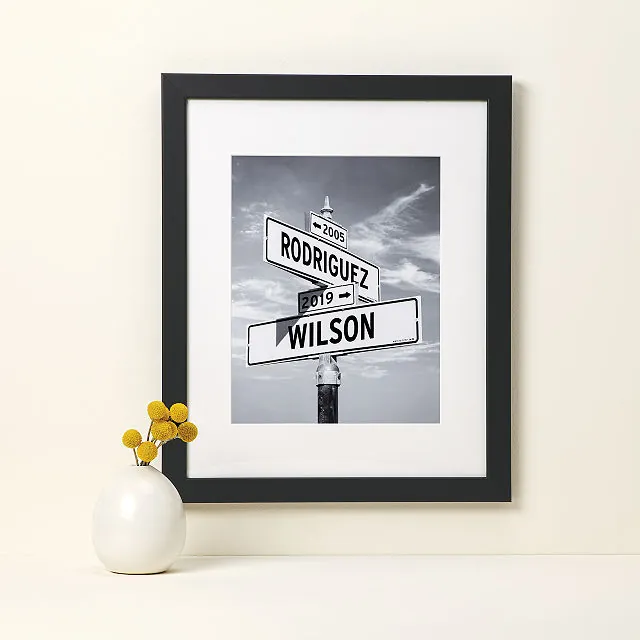 How sweet is this custom wall art? This print gets personalized with their first names or surnames and special dates from their relationship. Customize it with the year they met and the year they got engaged for a gift that's right on the money.
The Knot Magazine Subscription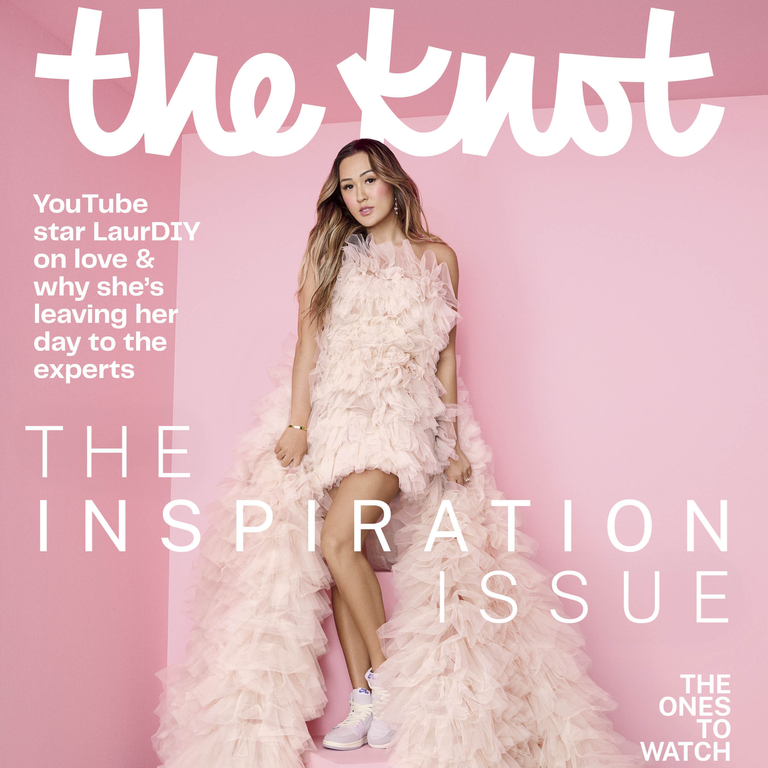 Our mag is like a savvy wedding planning best friend in paper form, so it's one of our favorite gifts for engaged couples, since it'll help them start the planning process off right. A subscription includes four issues over the course of one year, each highlighting a different part of the wedding process, celebrating all the magic and mayhem you'll find along the way. They'll def want to keep these babies on their coffee table all year for reference.
Scratch-Off World Map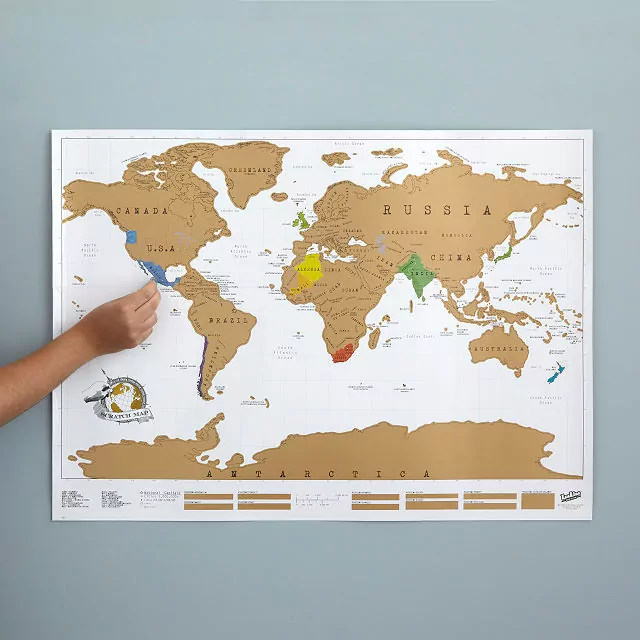 Cool engagement gifts are easy to find once you know what to look for. Shopping for avid travelers? Give your globe-trotting friends a map of the world. Once they've visited a destination, they can scratch off the area with a coin to reveal pops of color. The couple can track all their trips—it might even inspire their honeymoon.
Realistic Cake Candle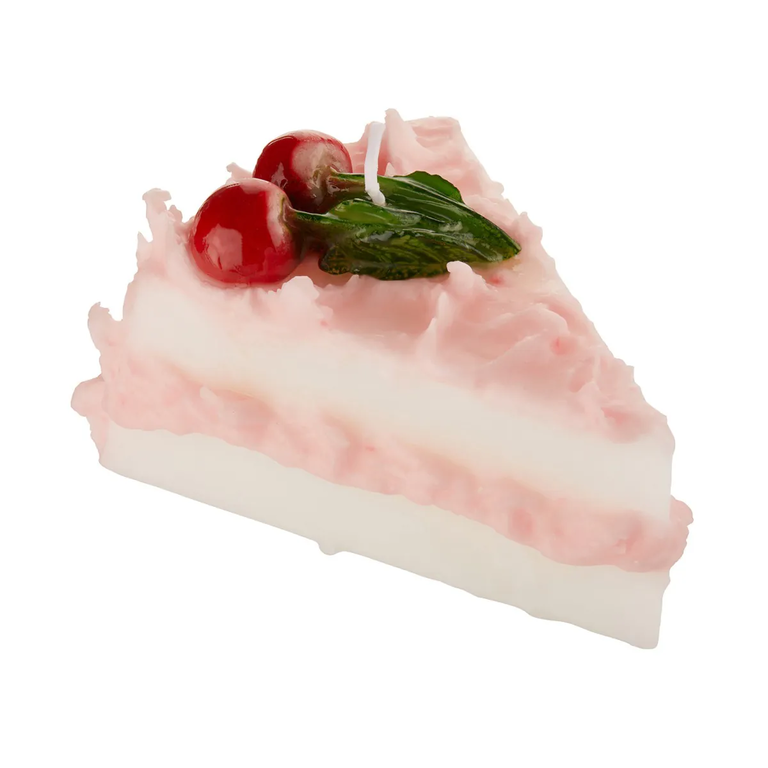 Sure, you can celebrate an engagement with real cake, but this hyperrealistic cake slice candle might just be even better. It's one of the most perfect engagement gifts for friends, with a fun and funky design aesthetic that brings just the right amount of whimsy and joy. They'll probably never want to light it, but it looks so cute sitting on a coffee table. Pair it with a funny engagement card and you're golden.
Custom Night Sky Glassware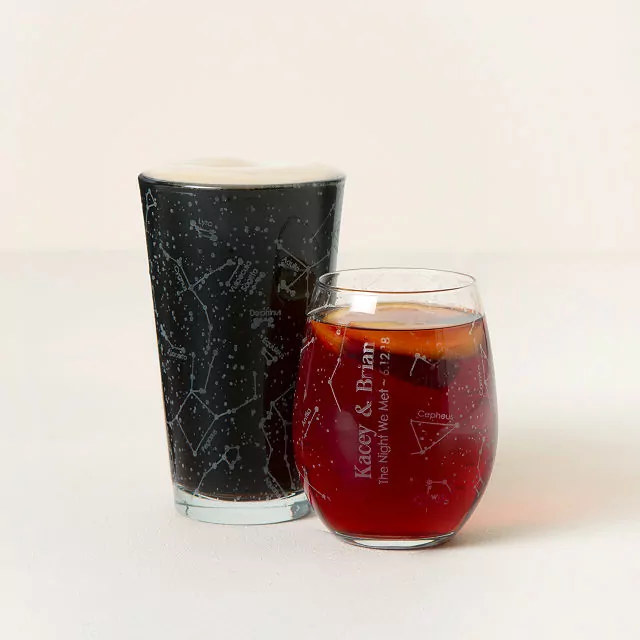 If the duo you're toasting likes to say "cheers" with beer or wine over bubbly, gift them a set of these custom night sky glasses. Choose between a pair of 16-ounce pint glasses or stemless wine glasses (or one of each)—both come engraved with the constellations that were sparkling in the sky the night they got engaged. Just input the date and location where they said "yes."
Polished Rose Quartz Crystal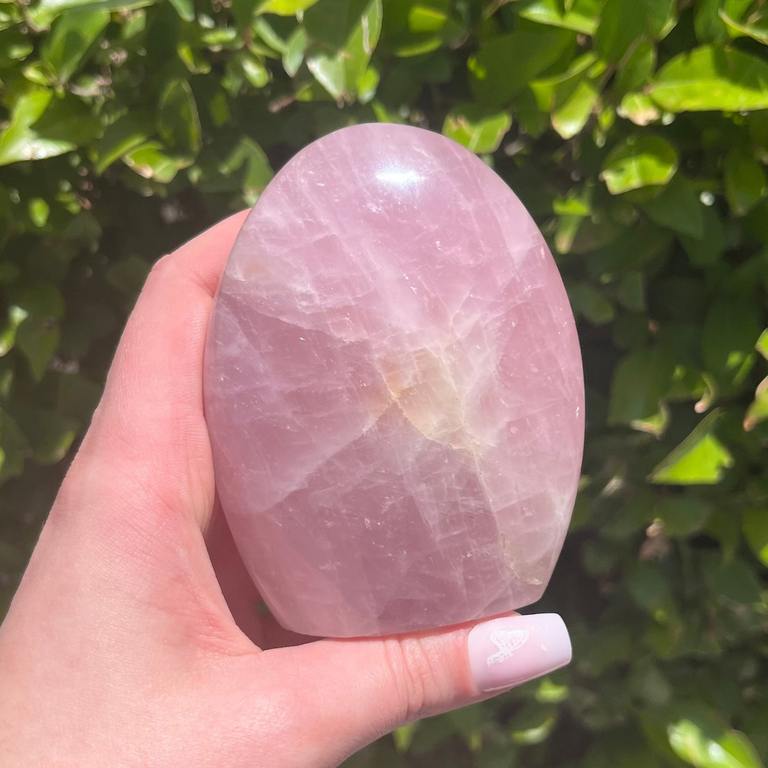 Even if the lovebirds you're shopping for aren't the chakra-balancing, Gwenyth Paltrow-worshipping types, presenting them with this pretty piece of rose quartz as an engagement "congratulations" gift is a super thoughtful gesture. Rose quartz symbolizes unconditional love and a caring bond. We love the polished shine and gentle arched shape of this crystal, which can easily stand on a mantle or side table. And all of the size options are just a few inches tall, so it'll be a sweet little reminder of the great love they share.
Traditional Engagement Gifts
Custom-Etched Wine Bottle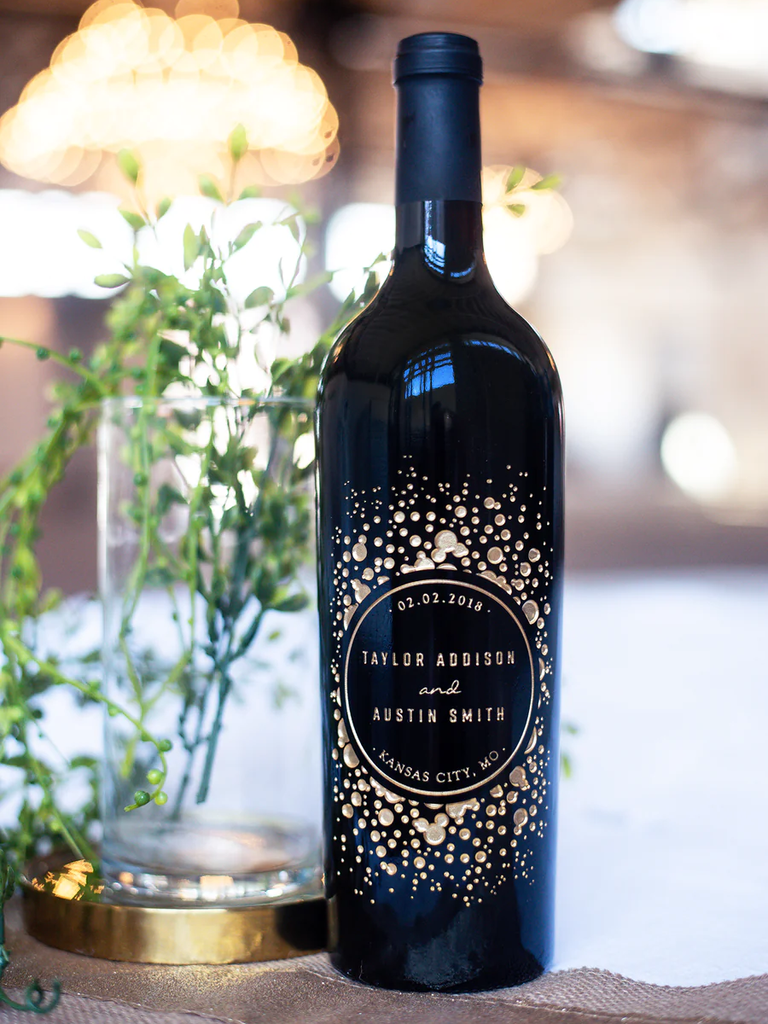 The pair will keep this pretty engraved wine bottle long after they've sipped it dry. It's engraved with the couple's names, engagement date and engagement spot with a glimmering gold circle frame. And the California cabernet sauvignon inside is full-bodied, with a smooth finish on the palate.
Crystal Champagne Flutes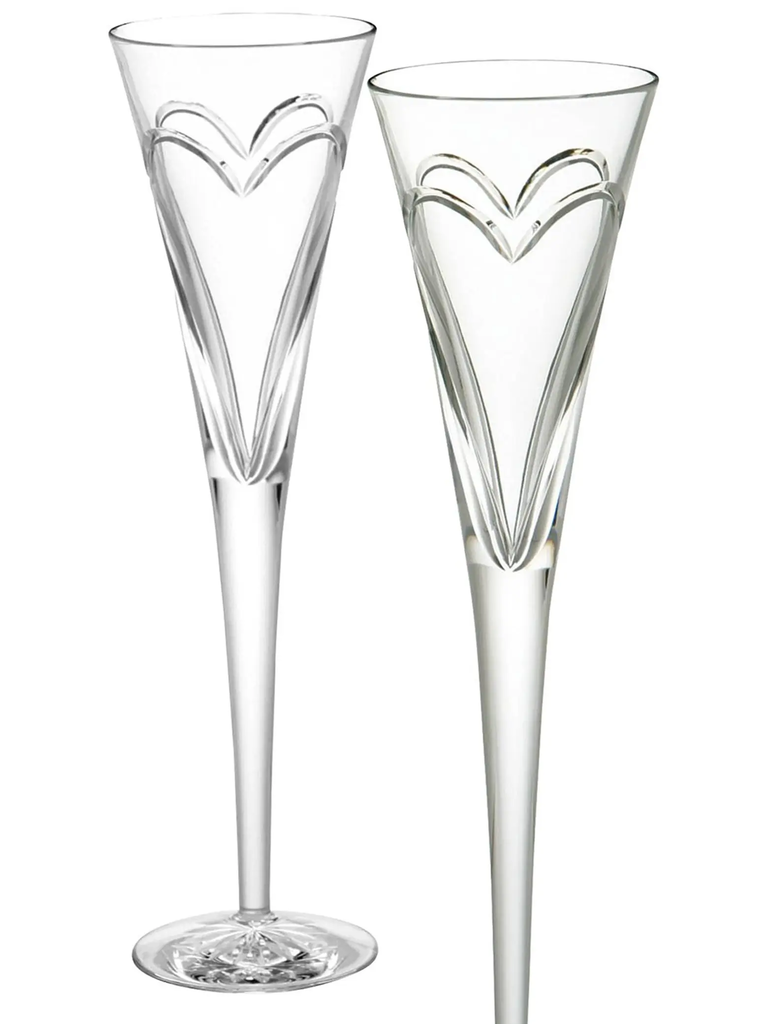 How nice are these Waterford crystal champagne glasses? This splurge-worthy drinkware will come in handy over the next few months, as the couple has plenty to celebrate. They may even choose to use them as wedding champagne flutes on the big day. And who could blame them? That engraved heart design is oh-so romantic.
Wedding Vow Books Set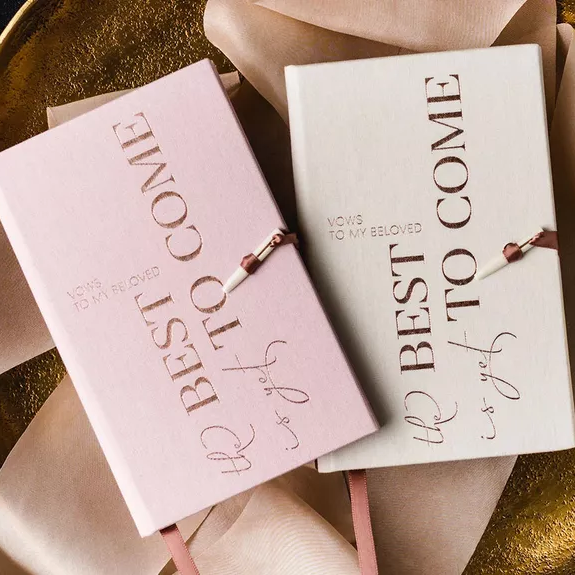 How's this for a nice engagement gift idea? Get the soonlyweds excited for the big day and beyond with this set of two gorgeous vow books. Each one has an elegant cover stamped with: "The best is yet to come," in metallic foil. It's a testament to the journey they're on as a soon-to-be-married couple. Besides, it's never too early to start thinking about those all-important wedding vows.
Marble Wine Rack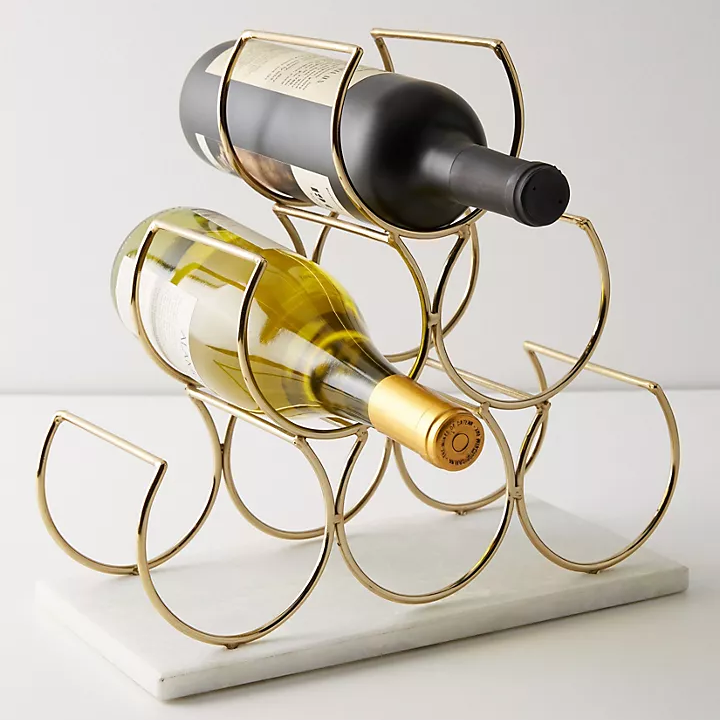 Chances are, the soonlyweds will be getting a whole lot of bottles and bubbly after they announce their engagement, so this goes-with-everything marble and gold wine rack will be a hit. It holds six bottles and can easily sit on their kitchen counter or bar cart. Bottoms up!
Brass Recipe Box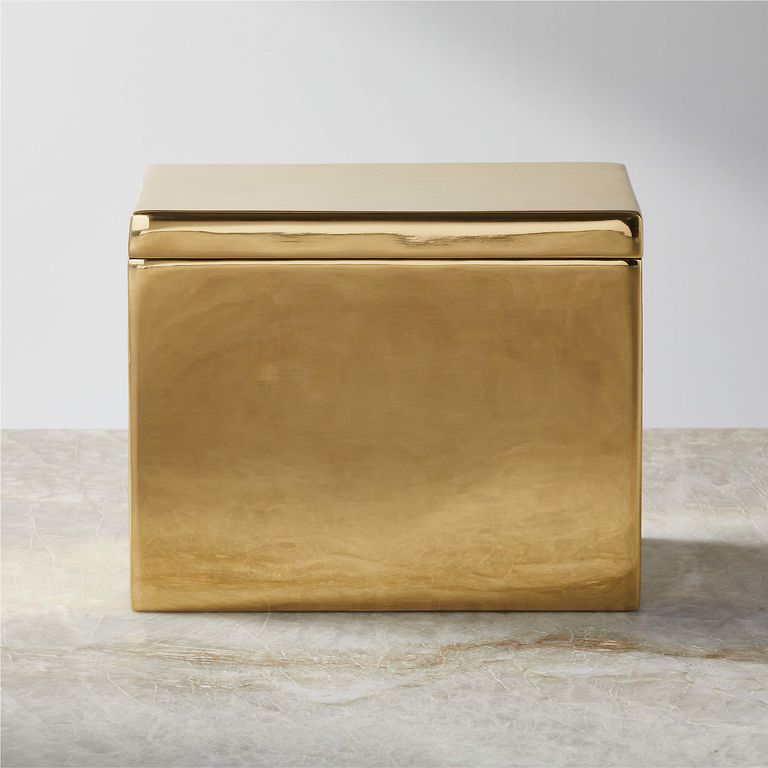 Now that they're officially going to be hitched, there's going to be so much family recipe swapping. Whether you're in the market for engagement gifts from parents or not, feel free to scribble the how-to of one of your favorite heirloom dishes on one of the recipe cards beforehand to gift with the box. Plus, the shiny brass exterior on this thoughtful engagement gift will make their kitchen look super chic.
Return Address Stamp
Whether they use it to stamp their save-the-dates and wedding invites or for future holiday cards, this custom return address stamp will add some class to the couple's correspondence. Choose between wood stamps or self-inking stamps and six different design styles. Each one spells their name out in script and prints their address in a pretty serif or sans serif font.
Cute Engagement Gifts
Tasty Mini Cupcakes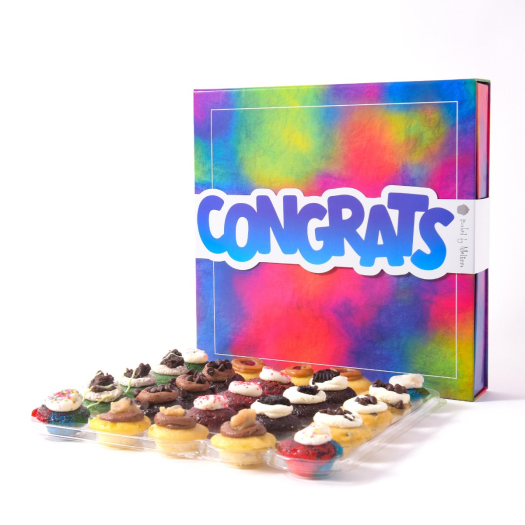 The sweetest way to say "congrats?" With a box of 25 mini (and über-delicious) cupcakes. These tasty bites beat traditional engagement gift baskets any day. There are vegan, gluten-free and nut-free options to suit any special dietary requirements the couple might have. And their tiny size makes them one of the absolute cutest engagement gifts around.
Heart-Shaped Coupe Glasses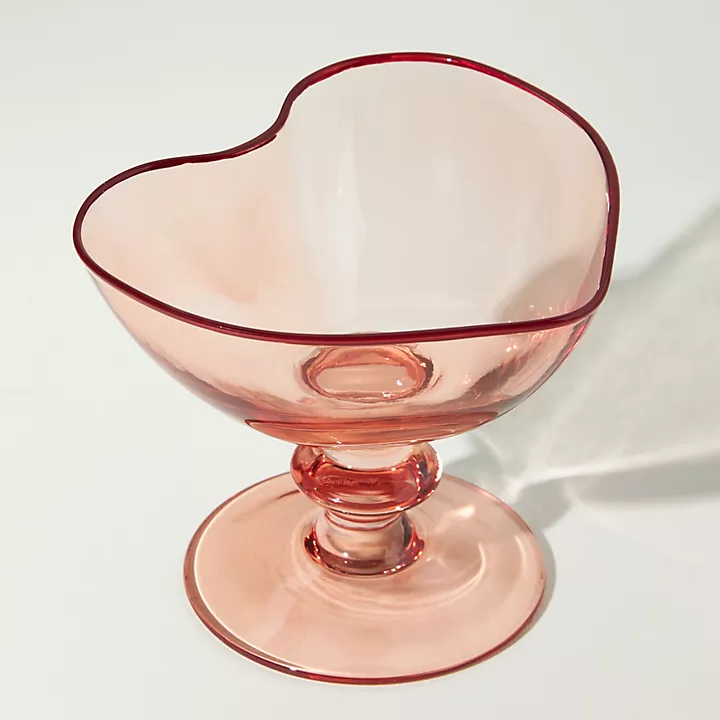 AHH! Are these not the most darling little glasses you've ever seen? This editor actually squealed out loud when she discovered them. These creative little coupes feature a heart-shaped rim and rosy-pink glass body. They're a very-vintage, very-maximalist idea for an engagement gift.
Cookbook for Two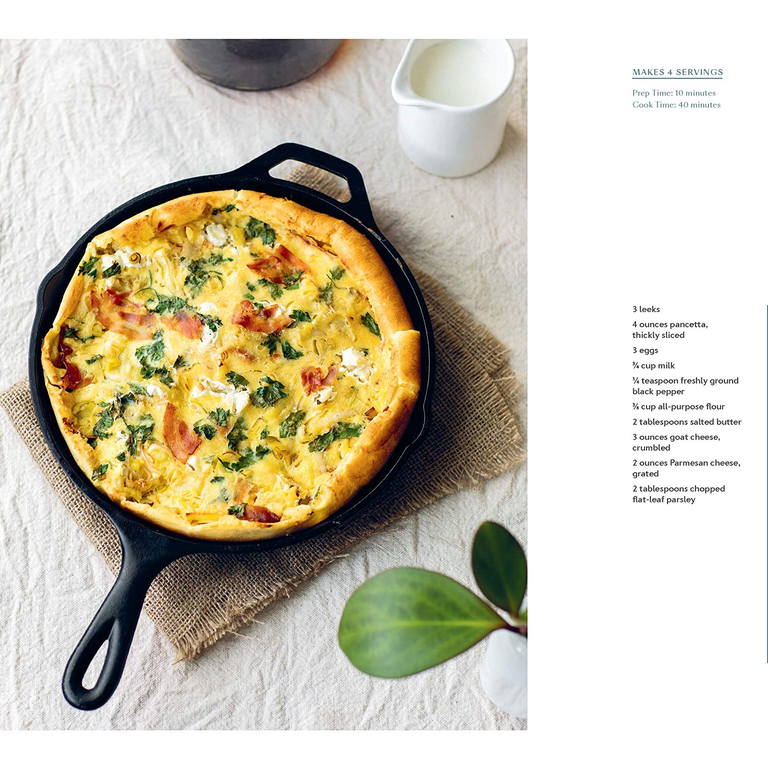 We're convinced half of any relationship is deciding what to eat. Help the soonlyweds take that questions off the table (lol) with this cookbook made for couples as a gift for their engagement party. The recipes are simple and weeknight friendly, and there's also a special section with tips for throwing a dinner party as a duo.
New York Pizza
Love is sweet, but it's also cheesy. Celebrate the duo with this pair of pizzas from iconic NYC institution John's of Bleecker Street. It includes one coal-fired cheese and one pepperoni pie. I don't know about you, but this editor would much rather get some 'za to enjoy while basking in engagement bliss than a traditional "happy engagement" gift.
Wooden Tic-Tac-Toe Set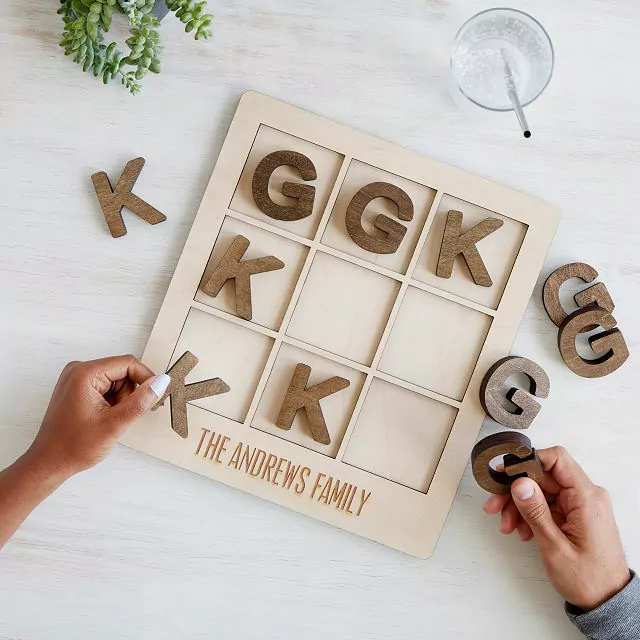 If you're shopping for a couple that's into personalized home decor (or the Joanna Gaines farmhouse aesthetic), surprise them with this custom coffee table game. The wooden tic-tac-toe board can be personalized with their new family name (if they plan to share one, that is) and the pieces are shaped into each of their first initials instead of traditional Xs and Os. It's a great way to encourage the couple to take time out to have fun together—especially once wedding planning gets underway.
A Note and a Nosh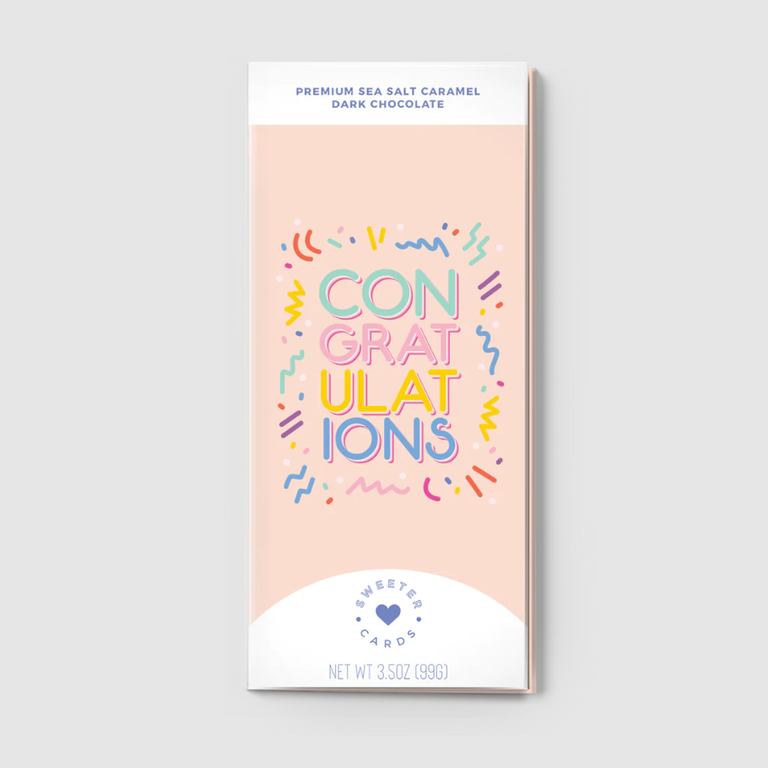 This might just be one of the most adorable engagement present ideas on our list. Wish them a big congratulations on their new relationship status with this clever present that does double duty as a heartfelt message and a tasty treat. The front features a bright illustration of the word "congratulations." Inside, there's space to write your very own heartfelt note (not to mention delicious sea-salt caramel dark chocolate).
Small Engagement Gifts
Jewelry Cleaning Kit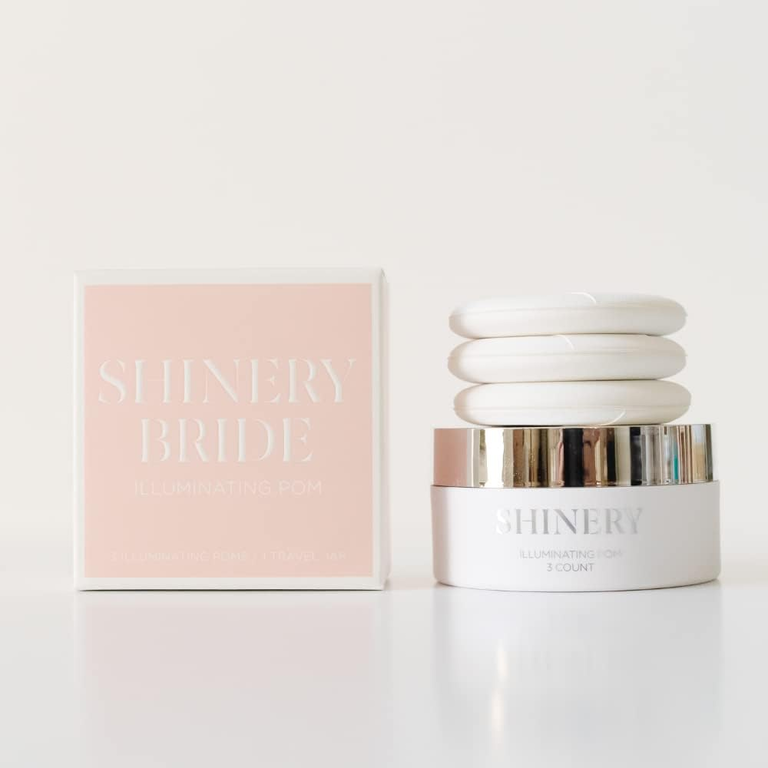 Help the couple keep their engagement jewelry and any future wedding baubles sparkling with these gentle cleaning pads. They work on all kinds of stones and metals, and each pad is reusable, so no waste! Plus, the packaging is cute enough to keep on the bathroom counter.
Custom Ring Dish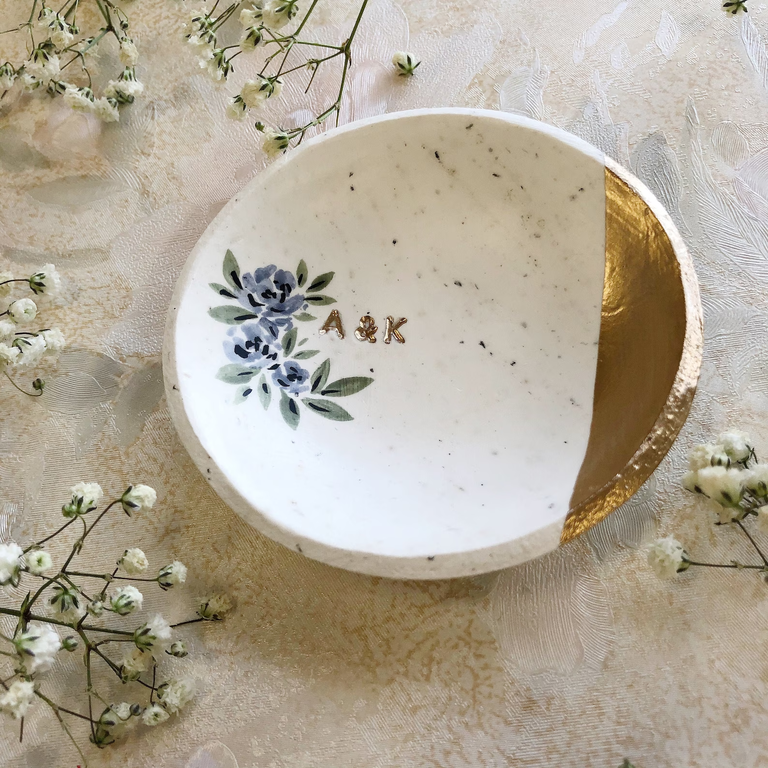 Still not sure what to give as an engagement gift? If they just scored a ring, give them someplace safe to put it. This sweet trinket dish comes personalized with both of the couple's initials bound by an ampersand. They can use it to store their wedding rings too once the time comes.
Champagne-Scented Candle
Looking for a no-fuss, on-theme gift for an engagement? Try this stunning champagne-scented candle from Voluspa. Hand it over solo or include a real bottle of bubbles to toast with.
Couples Card Game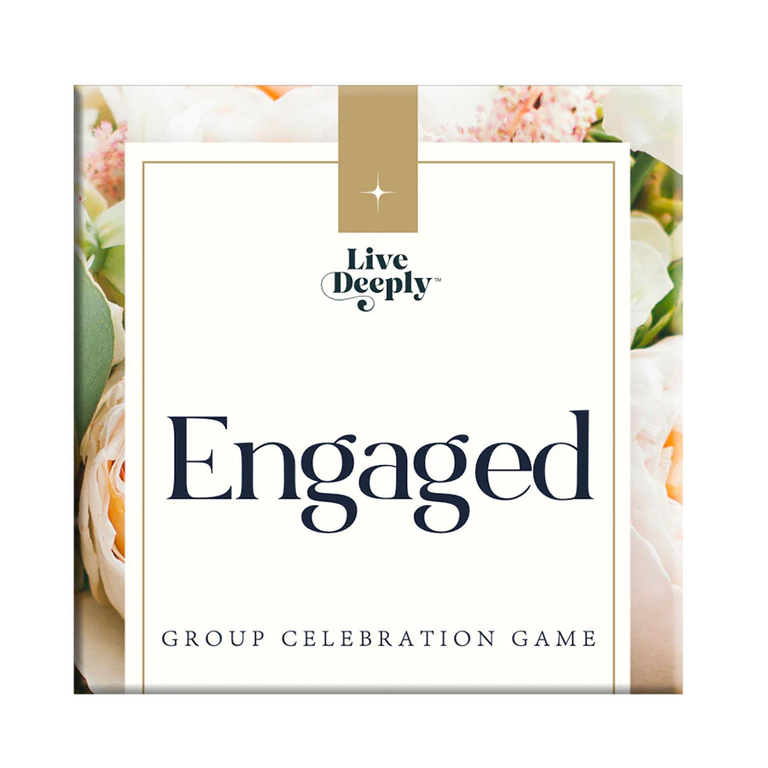 Here's a creative engagement party gift idea: A game designed for you and the couple to play together. This clever deck of cards includes six categories of questions to ask the lovebirds about their relationship and each other. They'll enjoy the challenge and you'll get the opportunity to get to know the couple on a deeper level.
Thoughtful Couples Journal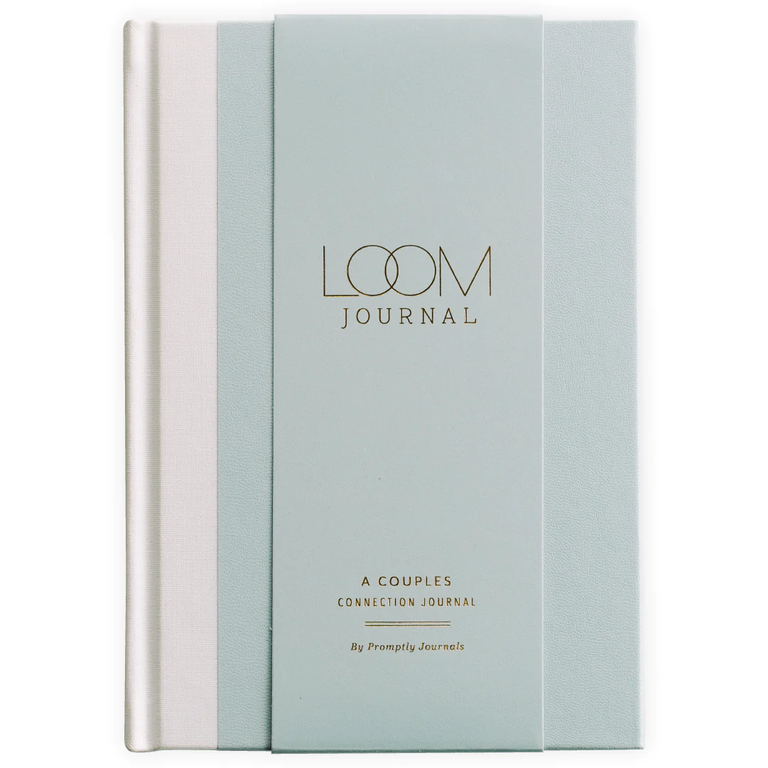 The best engagement gifts are those that help the couple fully embrace this special milestone. That's why we love the idea of gifting a journal, which they can fill with memories from this specific period in their relationship. But the Loom Couples journal isn't just a space to jot down significant moments, it's filled with meaningful prompts to help the soonlyweds continue to strengthen their connection. That's a win-win in our book.
Custom Message Cookies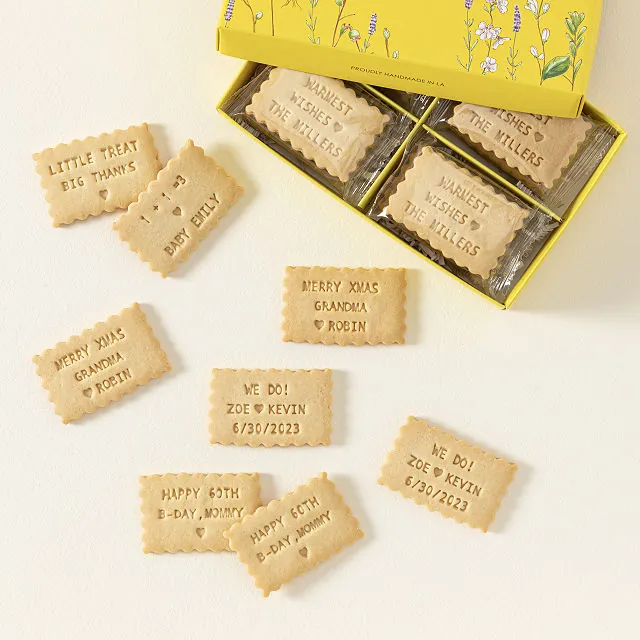 As far as gifts for a newly engaged couple go, these shortbreads take the cake (or the cookie, for that matter). Each comes custom stamped with a special message of your choosing, like "OMG you're engaged!" Because nothing says love like butter and sugar.
Luxury Engagement Gifts
Dom Pérignon
If you can afford it, why not ball out with your bubbly engagement gift? This is the Rolls-Royce of champagnes and the newly engaged couple in your life deserves it. They'll def save the bottle, too.
Diptyque Candle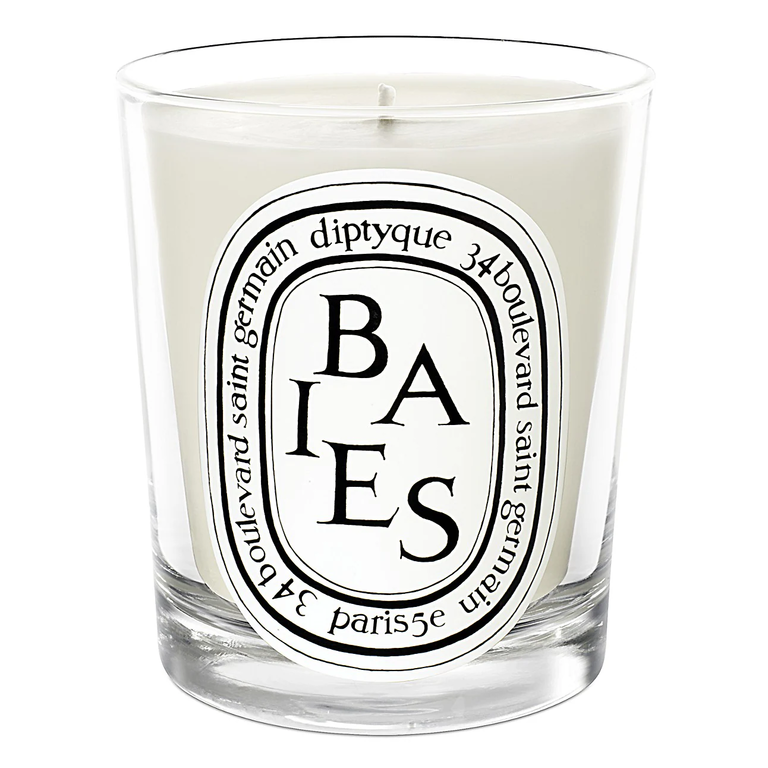 I own the smaller size of this candle and every time I light it my studio apartment smells like a penthouse. That's luxury. Anything from "it brand" Diptyque is a wonderful engagement gift idea for the couple who loves getting a little fancy, but this best-selling scent is elite—the fragrance is like berries by the sea.
Caviar Gift Set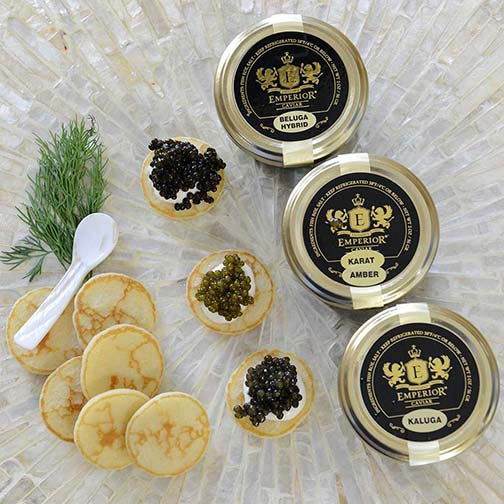 Caviar is a great engagement party gift idea, thanks to its shareability and the "ooh"s and "ahh"s it'll bring, but the happy couple will likely want to keep this present all for themselves. Featuring beluga caviar, ostera caviar and keluga caviar, this trio covers all the classics. It's even equipped with mini blinis, crème fraîche and a mother-of-pearl serving spoon.
Crystal Vase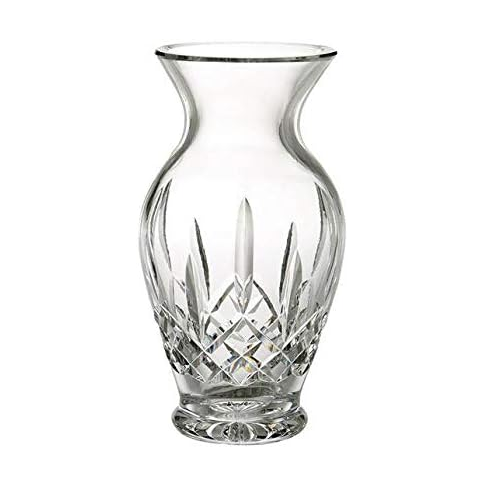 This Waterford crystal vase is so classic. Every couple could use a nice vase (especially for any congratulatory flowers they receive). It's also something most couples wouldn't buy for themselves, which automatically makes it one of the best presents. We love the look of this one, but check first to see if the couple has already registered for a vessel they love.
Baccarat Rocks Glass Set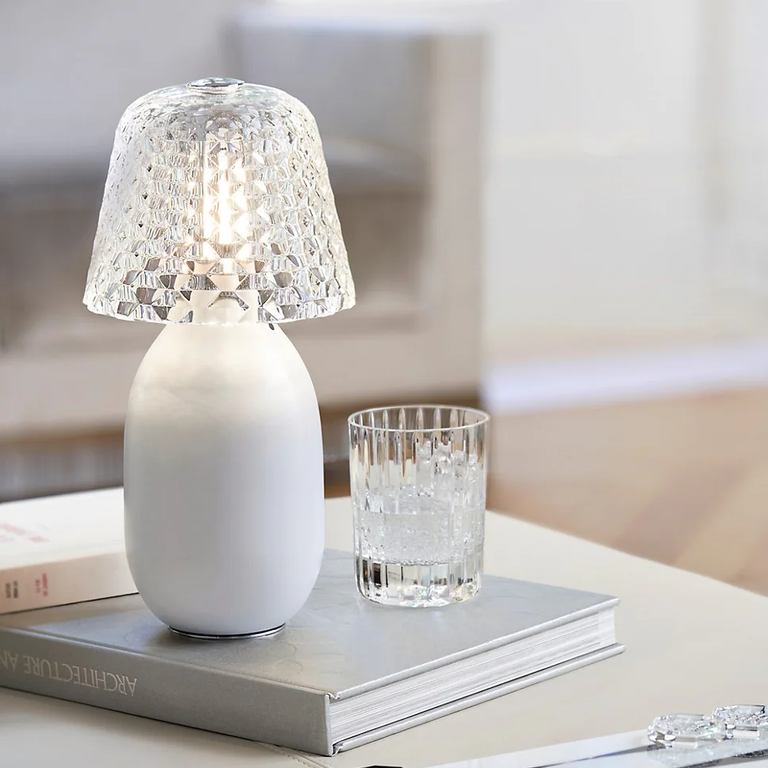 Keeping with the high-end crystal theme, Baccarat is the crème de la crème. Gift this pair of rocks glasses to the couple who loves to sip an after-work cocktail together. The vertical fluting design is slick and modern, too.
Fancy Bar Soap Set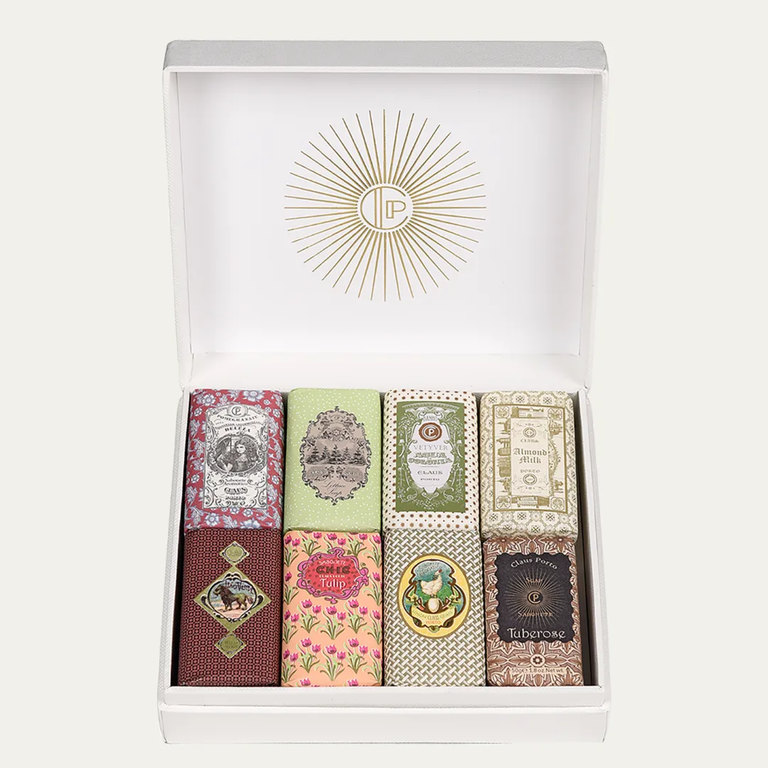 If I learned anything from my parents, it's that part of being a full-fledged married couple is having fancy bar soaps displayed in every bathroom that may or may not ever get used. Get your engaged lovebirds started early with this set of eight soaps that are crafted in Porto, Portugal using old-world techniques. The packaging is so stunning and Belle Époque-inspired.
Last-Minute Engagement Gifts
UrbanStems Flower Bouquet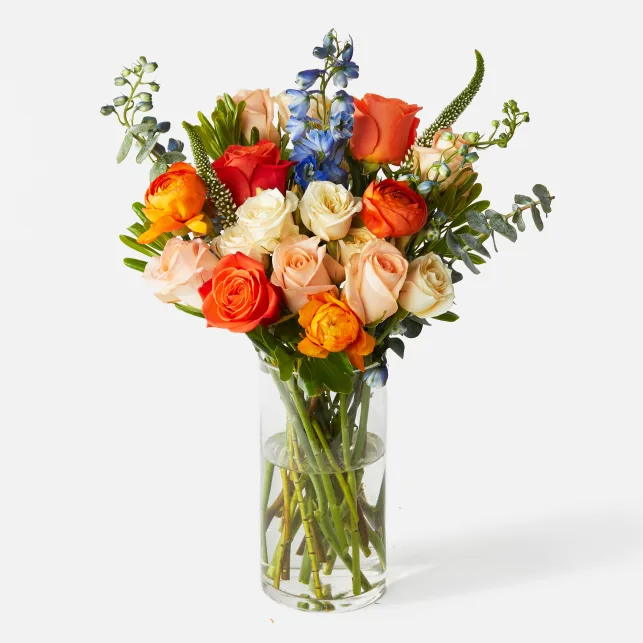 UrbanStems offers same-day and next-day delivery in most major cities, so it's a MUST if you need an engagement gift on the fly. (They've saved our butts on so many occasions.) Choose from a slew of unique designs arranged from farm-sourced blooms or go with this juicy-hued bouquet inspired by summer in Sicily.
Painting Date Night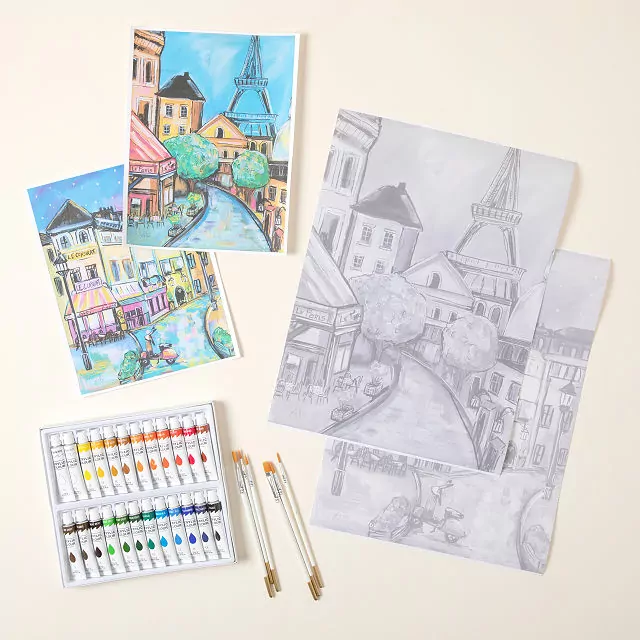 Getting engaged is a big next step in their relationship. Encourage the couple to keep strengthening their bond with this sweet little paint kit that'll instantly upgrade their date nights with a how-to for painting scenes from Paris, Santorini and more far-flung locales. The best part? Since you wouldn't be handing them a physical present anyway with this by-mail gift, you can let them know they have a fun surprise in store right away, so it's last-minute friendly.
Framed Engagement Photo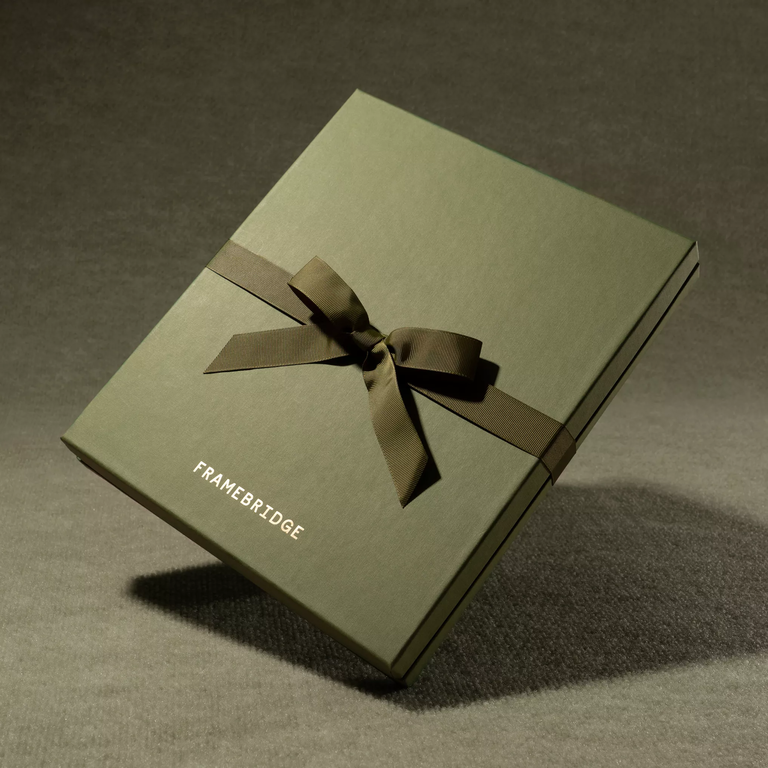 We know what you're thinking—how can a custom-framed photo be a last-minute gift? Framebridge will ship out your gift in a day, no extra charge. Just select your favorite shot of the couple, choose your frame and you've got an heirloom in the making out in the mail in 24 hours.
Wine Club Subscription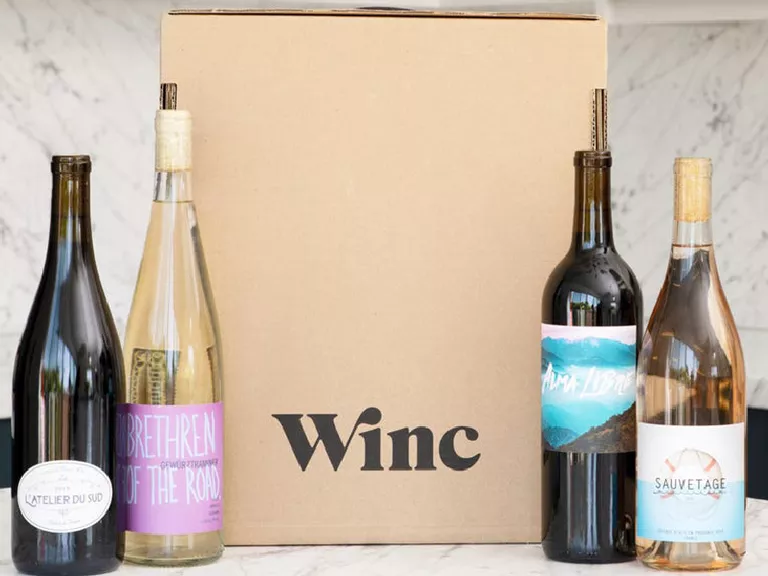 Let them toast to their engagement again and again with a Winc wine club subscription. You select the subscription length you'd like to gift (from one to three months or a custom option) and the couple will fill out a survey on their taste preferences, so you can rest easy knowing they'll dig the bottles they get. It takes the pressure off you browsing the wine shop under duress AND they'll get notified of the gift in their inbox ASAP.
Fishwife Gift Card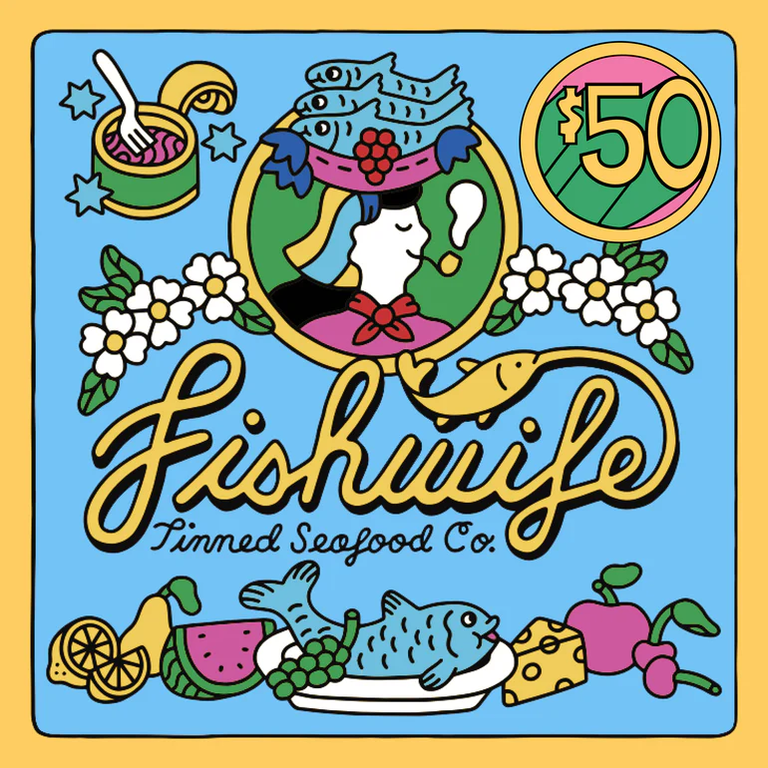 Shopping for engaged foodie friends? They'll know better than anyone that tinned seafood (read: not canned) is all the rage these days, whether it's swapped out for meat on a charcuterie board or used in quick and easy weeknight dinners. Show them you're on trend by surprising them with a gift card to one of the most popular brands—it'll get delivered digitally instantly.
Airbnb Gift Card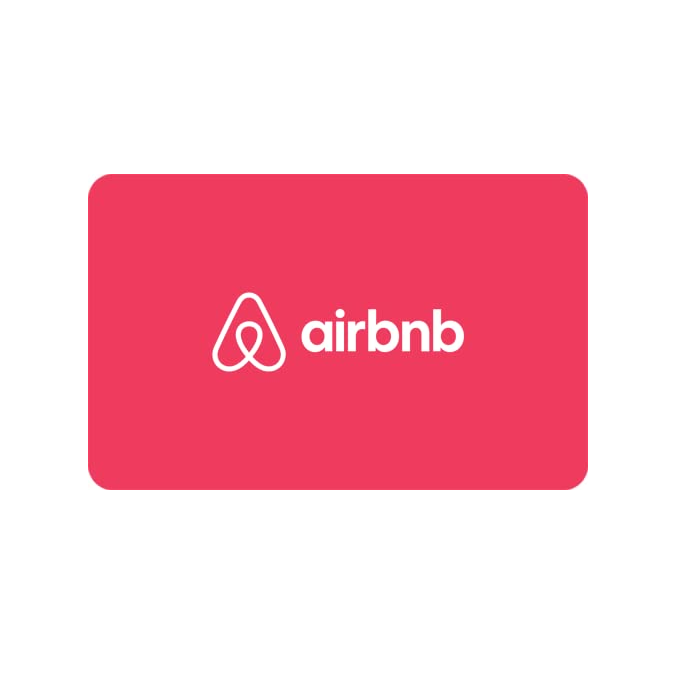 Gift cards are always great last-minute engagement gifts because there's often an option to deliver them right away via email. Luckily for your travel-fanatic soonlyweds, Airbnb offers this service. Encourage them to take a weekend away to celebrate saying "yes" or suggest they put it towards their honeymoon.
Engagement Gift FAQ
What's the real deal with engagement gifts for couples, anyway? We're breaking down what you should look for while you're shopping, things to avoid and all kinds of helpful tips and tricks below.
What makes a good engagement gift?
There are a few things to think about when it comes to what makes a good (or great) engagement gift. The most important: make sure it feels celebratory, isn't too specific and is for both members of the couple. Hunting for engagement party gifts for a duo that has everything? Our expert tip: Items like champagne flutes or coffee mugs (perhaps personalized) that champion their new relationship status are always a hit. They can toast to their future and to their thoughtful friends (like you). A quality picture frame paired with a sweet note about putting a shot from their upcoming engagement photo shoot inside is another classic winner.
Another creative engagement gift route to go down? Practical items that'll come in clutch right after the engagement to their wedding day and beyond. We're talking ring cleaners, planners, cake-cutting sets and more. Trust us, the couple will be thankful to receive these necessities as a gift so they can put their hard-earned cash toward other aspects of the big day, the honeymoon or even their home.
Finally, small tokens like celebratory cupcakes, a fun houseplant, a bottle of wine or a heartfelt greeting card are all equally thoughtful options (and can be budget-friendly). Small engagement gifts are just as meaningful as big-ticket items—it really is the thought that counts. They're also a little more appropriate if you're not overly close with the soonlyweds (work colleagues and neighbors, we're thinking of you).
What is an appropriate gift for an engagement party?
Appropriate gifts for engagement parties can be a little more flexible, meaning you can bring a classic type of engagement gift (something for the home and such) or something to contribute to the party, like a bottle of champagne. If you've received an invitation to come and celebrate with the couple in person, yay!
A good starting point is to think small. Anything big or bulky may be tricky for the couple to take home with them. Next, pay attention to the price. There's really no need to go over the top, especially if you expect to buy the couple a wedding gift further down the line. A bottle of bubbly or bouquet of flowers is more than enough for an engagement party gift. It's also perfectly acceptable to give the lovebirds a gift card instead. A certificate for their favorite local restaurant will help them celebrate the good news, too. Also, the couple might have a registry for the engagement party, so be sure to ask before you hit the stores.
What kinds of engagement gifts can you send in the mail?
Nowadays, you can send pretty much anything as an engagement gift in the mail. Tons of companies offer gift-wrapping services with online purchases, so your present will arrive beautifully presented and ready for the soonlyweds to excitedly tear open. Some particularly easy-to-mail options include online flower delivery services, a congratulatory champagne delivery or a sweet greeting card.