6 Subtle Ways to Upgrade Your Engagement Ring
You don't need to buy an entirely new ring—here's how to work with the one you already have (and love).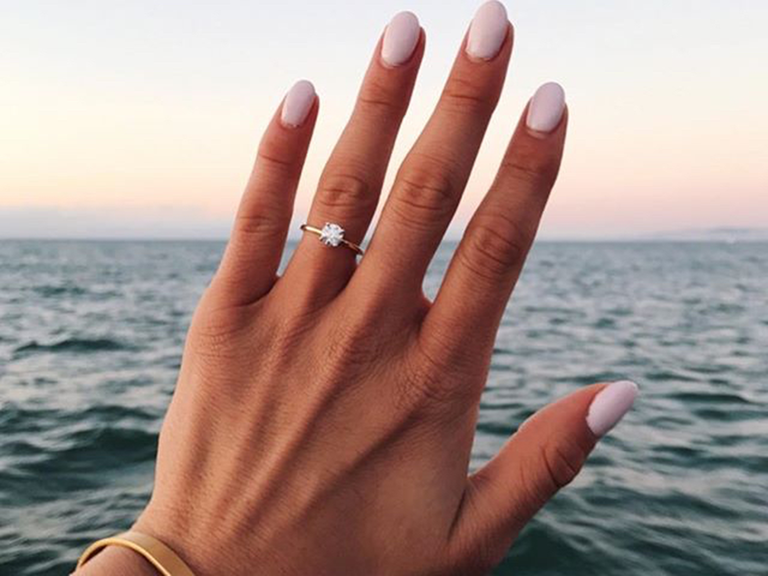 @theknotrings/Instagram
It's definitely not necessary, but at some point down the road you might decide you want to upgrade your engagement ring. You and your partner may have saved to afford your dream ring, want to resuscitate a family heirloom or simply make a style swap (trends come and go, after all)—whatever your reasons, it's a personal choice that's different for everyone.
But even if you're ready for an engagement ring refresh, it might be hard to trade out such a sentimental piece of jewelry for something new. If you decide an engagement ring upgrade is the right move for you, here are a few subtle ways to reset set your sparkler without completely replacing your first ring.
1. Introduce a Little Color
Ready for something different? Start thinking in color—there are two ways do this. Consider having colored gemstones added to enhance your original centerstone. Rubies, emeralds, sapphires or colored diamonds are all fair game.
You can also keep your center stone and swap your old band for a new one. Replacing a 2-millimeter yellow gold band with a platinum split shank or modern rose-gold band will transform the look of your ring without removing your center stone.
2. Try a Halo (or Another Halo)
Instantly increase the size and pizzazz of your engagement ring with a gorgeous halo setting. You'd be surprised what a delicate border of smaller diamonds can do.
3. Add Side Stones
Give that sparkler a little something-something with the help of side stones. These could be colored gemstones or smaller diamonds (choose from a variety of shapes like emerald baguettes, trapezoids or east-west pear stones). Voila—instant upgrade.
4. Go for a Pavé Band
Another way to add sparkle and a wow factor to your current engagement ring is to change your setting from a plain band to a pavé band. Already have a pavé band? If you want, upgrade to a two-row pavé setting—seriously! This will bring your band to life without distracting from or compromising the shape of your center stone.
5. Change the Center Stone
Wanting to upgrade your engagement ring doesn't always mean your style has changed. You may adore your round-cut solitaire on an elegant gold band while still craving an update. Maintain the style and look of your engagement ring by simply upgrading to a larger center stone. You could also mix things up and try a different cut
6. Get Stacking Bands, Diamond Wraps or Ring Enhancers
These ring additions are an ideal compromise for anyone who can't part with their original ring or whose style is always evolving (or both). Instead of changing the rock you've got, opt for a trendy ring jacket, a simple eternity band or a curved pavé band to give it some company on your left hand. That way you can add a bit of bling or keep it simple depending on your mood.
Read everything you need to know how trending engagement ring styles and couples' spending habits right here.