Engagement Ring Settings 101: Your Expert Guide to Ring Settings
Indispensable advice and resources for finding your perfect ring.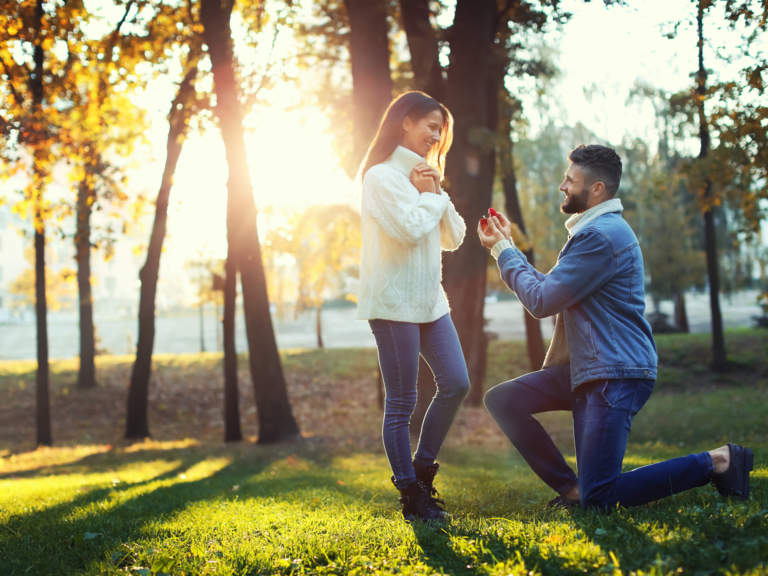 Photo: Pixel-Shot / Shutterstock
Now that we've gotten you up to speed on the variety of ring metals on the market, it's time to dive into the fun part: engagement ring settings. Aside from the primary function of securing the stones, choosing a setting is the time for your personal style to really shine whether you're married to tradition and looking to keep things classic with a timeless Tiffany setting or intending to (quite literally) break the mold with an ultra modern tension setting.
With invaluable advice from some of the industry's most esteemed jewelry experts, we're here to help you hone in on the perfect engagement ring setting for yourself or your significant other. We know how overwhelming the search process can be, but armed with an understanding of the right terminology—and your own good taste—you can feel confident about making this most significant of purchases, no matter your style or budget.
Meet the Experts
We took your questions and concerns straight to some of the industry's most knowledgeable sources, from California-based independent jewelry designer Heidi Gibson to TACORI COO and design director Nadine Tacorian Arzerounian and Blue Nile CMO Katie Zimmerman. With such sage advice on both form and function, your dream ring could be just a click away so be sure to peruse the standout brands in each category we've spotlighted below and the always stellar Knot Vendor Marketplace.
In this article:
What is an Engagement Ring Setting?
Before we break down various types of engagement ring settings, it's helpful to know exactly what a setting is. As with the diamond shape and metal type, the setting is a crucial element of an engagement ring. "An engagement ring setting refers to the way a diamond is secured onto a metal band," explains Nadine Tacorian Arzerounian, COO and design director of TACORI. "The setting is important in both form and function. It protects and holds your center diamond, but also contributes to the look and feel of your engagement ring."
Simply put, every single engagement ring has a setting, but the style you opt for will directly impact what it looks like on the finger. What matters most, though, is that your setting is designed to keep your center stone secure.
How To Choose The Right Engagement Ring Setting
Picking the "correct" diamond ring setting depends on your center stone, as well as your personal style. While it's common for most traditional diamond engagement ring settings to have at least four prongs holding the stone in place, you might consider opting for more if the diamond is larger or a fancy cut shape. Alternative settings like a bezel or a halo can offer more security too.
Your daily habits also play a role in choosing the right diamond ring setting. If you lead an active lifestyle or frequently work with your hands, a high-set diamond (read: one that sits higher on your hand) can make your stone prone to chipping—or worse, falling out. A lower setting can also be safer for rings that include larger stones.
Of course, you don't have to make this decision by yourself. Any experienced gemologist or jeweler will help you choose a setting that's fit for your needs. Or, for a more personalized touch, you can even opt for a setting that's completely custom-made for you. "Commissioning a design that's fashioned to order has many benefits," explains jeweler Heidi Gibson. "Most large box stores have cataloged, ready-made settings that are merely resized with a center stone added. When ordering a custom setting, plenty of elements can be adjusted for your personal preferences, from the design to the metal choice and center stones options, as well as your finger size. Plus, knowing that your ring was made specifically to order for your finger is very special."
Which Engagement Ring Setting Makes a Stone Look Bigger?
If you're going for a look that's big and bold, there are engagement ring settings that can make a diamond look bigger. Since going up in carat sizes may lead to a higher price tag, you can opt for a smaller center stone with a strategic setting that'll make it look bigger than it actually is. To amplify the center stone, consider any sort of halo setting with smaller stones surrounding the diamond, as this will make it look larger to the naked eye.
Alternatively, a cluster setting or a style with multiple side stones (like a three-stone ring, à la Meghan Markle) will take up more surface area on the hand, thus making the ring look bigger.
There are some diamond ring settings that can give your ring extra sparkle too. If you want your ring to appear extra shiny, consider a pavé band or a solitaire stone with a hidden halo. The addition of smaller diamonds will illuminate your ring from all angles, giving the illusion of a brighter ring.
The Most Common Engagement Ring Settings
With so many diamond ring settings styles out there, it can feel daunting to pick the perfect one. Not to worry—below, we share what you need to know about the most common diamond ring settings, along with expert advice on how to narrow down your choices.
Prong Engagement Ring Setting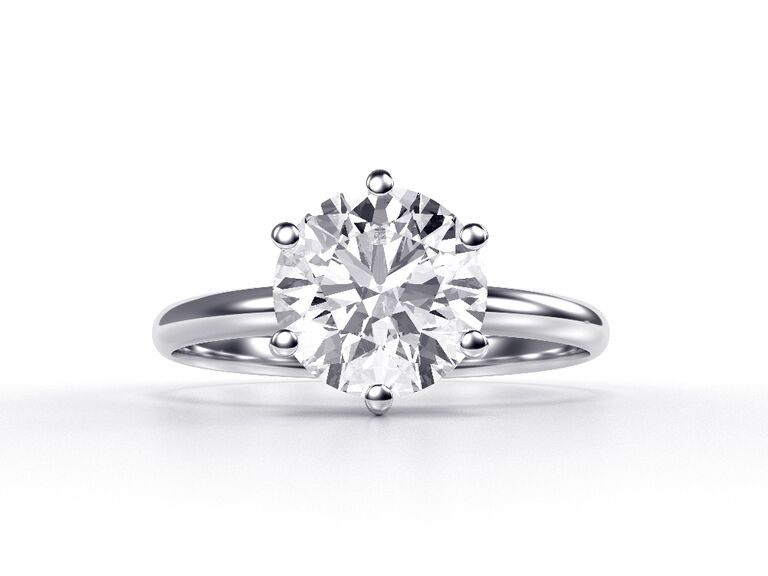 Designed for single-stone rings—otherwise known as solitaire rings—a prong setting features four to six prongs that hold a diamond in place. Because a solitaire engagement ring is one of the simplest settings, it puts the focus directly on the diamond. "This is often one of the most timeless settings because all eyes are on the brilliance of a single center stone and subtle supporting detail in the foundation and the wedding band," says Arzerounian, noting that it's one of the most popular choices among shoppers. In fact, it is the most popular design according to The Knot's 2021 Jewelry and Engagement Study, which surveyed over 5,000 couples who got engaged in 2021, and found that 35% of engagement rings have a prong setting.
"Engagement ring trends ebb and flow with time, but the simple elegance of a solitaire setting remains consistently popular," adds Arzerounian. "Today's shoppers are gravitating towards a solitaire setting with a delicate foundation that allows the center diamond to really shine."
When deciding between four and six prongs, note that four prongs will show more of the diamond, while six prongs will keep it more secure—though this could possibly overwhelm a smaller stone. If you have a heart-, marquise- or pear-shaped stone, its points should be cradled in a V-shaped prong for protection, while flat prongs are recommended for emerald-cut stones. A prong setting also permits the most light exposure from all angles, which maximizes a diamond's brilliance. And since they use less metal, they can be one of the more affordable diamond ring settings.
Shop Prong Set Engagement Rings
Halo Engagement Ring Setting
A halo setting is also one of the most popular styles when it comes to engagement rings, particularly because it makes the center stone appear larger than its carat weight. According to our data, halos are the second-most popular engagement ring setting, making up 19% of all designs. Halo engagement ring settings typically include a larger center stone encircled by pavé or micropavé accent stones, which draws attention back to the center stone and creates a larger appearance. "A halo setting is a perfect option for someone looking for a diamond-intense look," Arzerounian explains. "The supporting smaller diamonds add a touch more sparkle and give the illusion of a larger center diamond."
Keep in mind that halo diamonds come in many shapes and sizes, from glam double halos to large, vintage-inspired sunbursts. "Halo settings can be as simple as a small row of stones that encircle and enhance the scale of a center stone," adds Gibson. "Or, more complex settings can change the overall profile of the ring design in creative and flattering combinations."
A halo setting can also feature diamonds in different shapes from the center stone. For example, you could opt for a marquise ring with a halo of circular small diamonds, or you could have an emerald-cut center stone set in a halo of smaller emerald-cut diamonds. Some modern designs even include a halo beneath the ring, rather than around it, offering a more subtle effect. "More contemporary halo styles feature a 'hidden' halo which is when the halo sits just underneath the center stone," explains Katie Zimmerman, Chief Merchandising Officer of Blue Nile. Ultimately, opting for a halo of any style may actually help you save money in the long run, as you can choose a smaller center stone without sacrificing a big look. This diamond engagement ring setting can also make your ring look antique, creating a special heirloom feel.
Shop Halo Engagement Rings
Pavé Engagement Ring Setting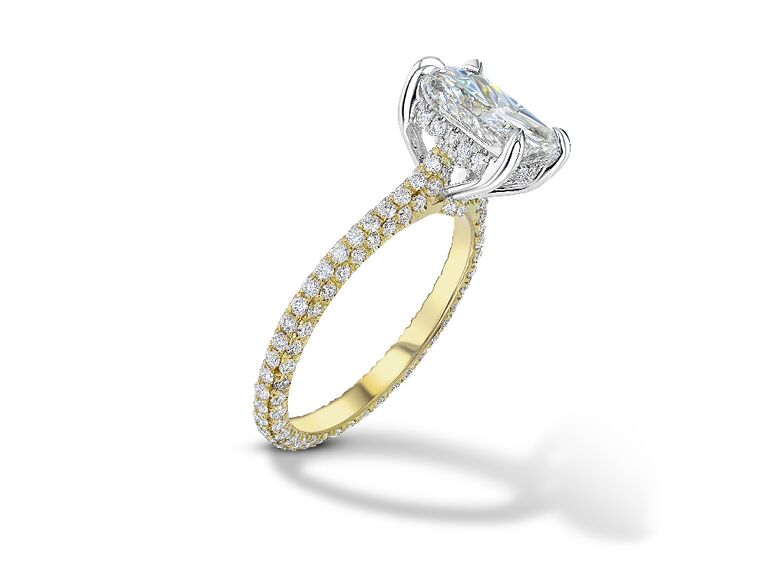 Coming in as the third most popular engagement ring setting style is a pavé setting, which our study found makes up 16% of engagement ring designs. From the French word for "paved", a pavé diamond setting involves rows of several tiny stones fit into holes that set them level with the surface of the ring. The surrounding metal—white gold or platinum for white stones so as to be unnoticeable—is then raised to form beads that secure the gems. The result is a super-sparkly setting that looks like a road paved with gemstones. So, if you're on the fence about a halo, a pavé setting can offer an elegant pop of shine without making too big of a statement. "Together, the multitude of pavé diamonds creates an eye-popping engagement ring with lots of sparkle," says Zimmerman.
And, as Arzerounian notes, these add-ons are small enough to make an impact without drawing the attention away from the main focus. "These settings offer extra shine without distracting from the center diamond," she says. But, because this type of engagement ring setting is so intricate, you'll want to work with a jeweler that has plenty of experience. "Pavé settings are delicate and require expert craftsmanship and meticulous attention to detail," Arzerounian adds.
Shop Pavé Engagement Rings
Cathedral Engagement Ring Setting
As one of the more sophisticated diamond ring settings, a cathedral style uses sweeping arcs that extend from the shank to frame the center stone, turning it into the focal point of the ring. Our study found that 7% of respondents have an engagement ring with a cathedral setting. "Cathedral style settings have a certain elegance to them," Arzerounian says. "They have a more architectural look and allow for extra hidden details in the crown of the ring."
This particular diamond engagement ring setting is ideal if you want to accentuate your center stone. Because it allows the diamond to sit higher on your finger, you'll want to take extra care to protect it from snagging on clothes or knocking on surfaces. But, of course, a higher setting also makes it easier to add additional bands for a clean, stacked look.
Shop Cathedral Engagement Rings
Basket Engagement Ring Setting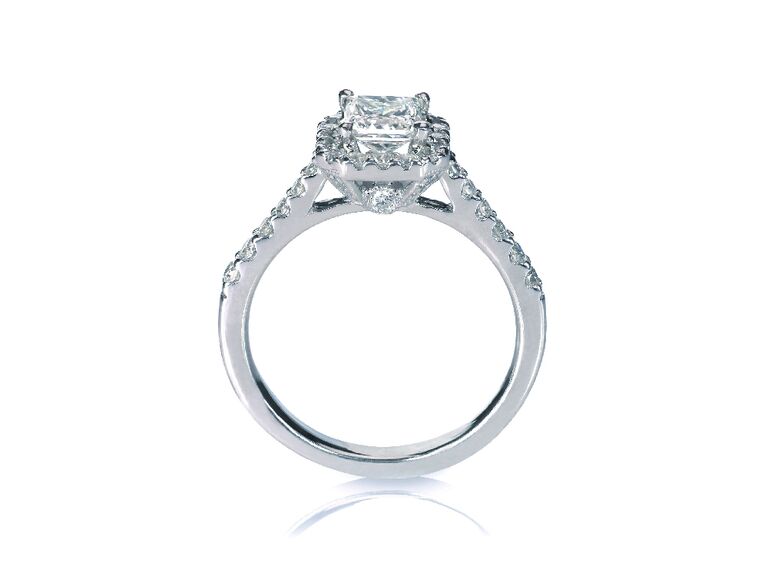 An engagement ring with a basket setting is very similar to a ring with a prong setting. While it does have traditional prongs that rise up from the base to secure the diamond, it also has horizontal bands that connect to the vertical prongs, thus creating a "basket" for the diamond to sit in. A ring with a basket setting typically sits lower than it does in a traditional prong setting, which offers more security. Since it's not held as high, a basket setting minimizes the risk of chipping or nicking the stone.
Shop Basket Set Engagement Rings
Bezel Engagement Ring Setting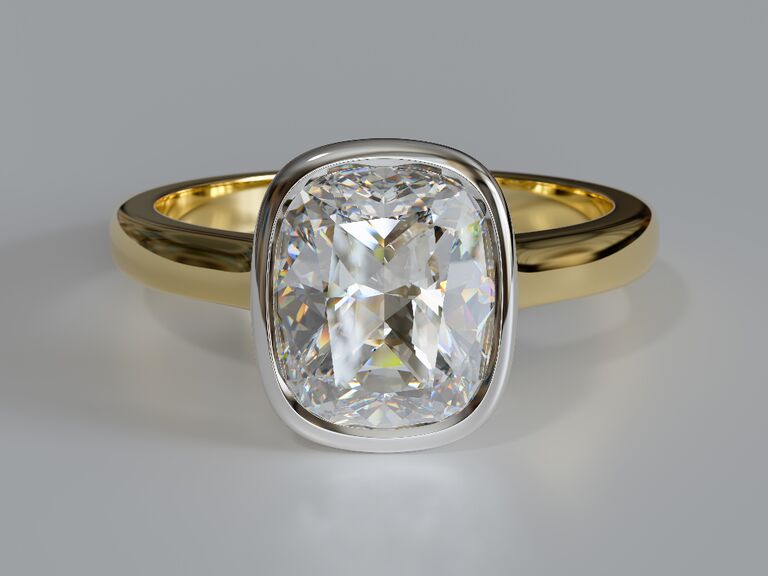 A bezel setting is a metal rim with edges fully or partially surrounding the perimeter of the stone. This sleek setting protects a diamond from snags or chips because of how secure it is. "Unlike solitaire settings, which hold the diamond in place with delicate prongs, a bezel setting is a style in which the diamond is secured and surrounded by a thin frame of metal," says Arzerounian. "If crafted well, bezel settings offer maximum security for your center diamond and can even make it appear larger. Bezel settings are not as common as traditional prong settings; however, we do see this style gaining popularity in those who are looking for a more unique or modern aesthetic."
If you feel like you've seen bezel-set rings on the rise, you're right—in addition to providing unparalleled protection, they have a sleek finish unlike any other setting on this list. "We have seen this grow in popularity recently as it proves to be a durable option," Zimmerman adds.
Shop Bezel Engagement Rings
Tension Engagement Ring Setting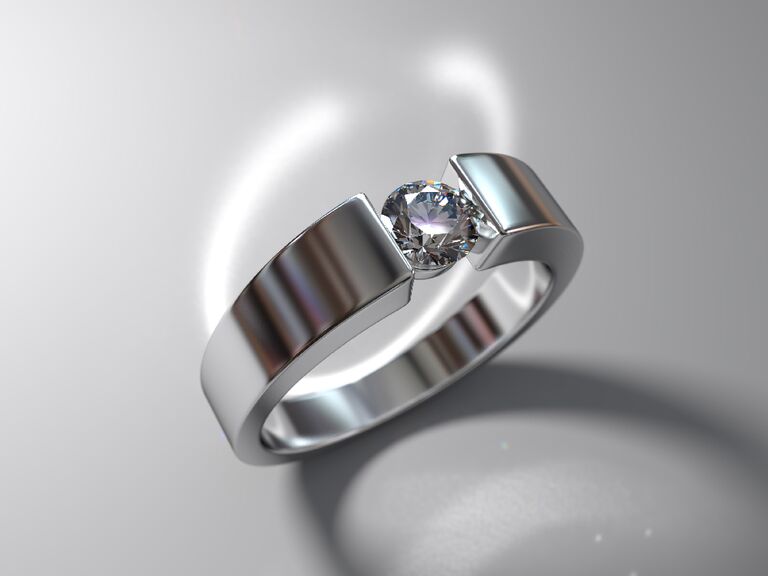 A tension setting is a design in which the compression-spring pressure of the shank holds the stone firmly in place. The minimal interference of metal can give the impression the stone is floating. Only extremely hard stones like diamonds, sapphires and rubies are recommended for this diamond ring setting, as they can withstand the required pressure to keep them snugly in place. One point to note is that since this design is customized to fit the center stone, it can be difficult to resize at a later date. Despite this, it's one of the most unique types of settings, making it ideal for the wearer who wants something totally different.
Shop Tension Set Engagement Rings
Bar Engagement Ring Setting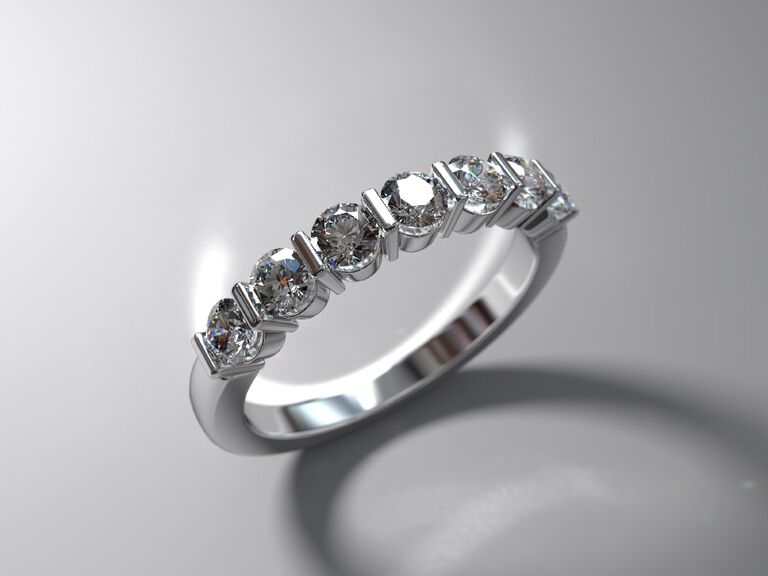 A bar setting is a series of two or more thin vertical bars of metal that sit between each stone and hold them firmly in place. Bar settings can also be applied around some or all of the ring. The surface of the ring will be relatively smooth and unobtrusive—perfect for the active wearer. It also gives a classic engagement ring style a contemporary feel.
Shop Bar Set Engagement Rings
Gypsy Engagement Ring Setting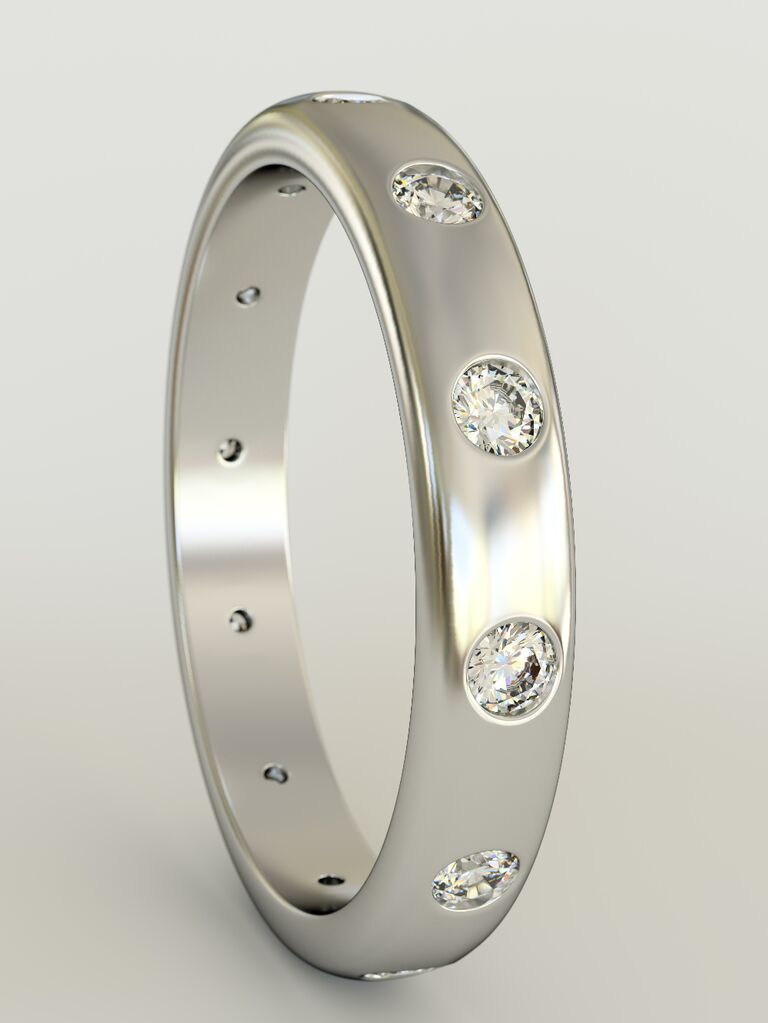 Gypsy settings make beautiful, simplistic engagement rings and wedding bands, and they can be a popular choice for men's rings too. This setting sets the stone "flush" into a hole in the ring so it doesn't protrude at all. The ring's metal is then pressed and hammered around the stone's perimeter to secure it. This diamond ring settings style protects a stone from being nicked because it secures the diamond extremely well. And, because it has a completely smooth surface, it's less prone to snagging on clothes or getting scratched during daily wear. One of the least commonly found settings, the gypsy has a distinct boho vibe, making it a great option for those who have an affinity for vintage or antique rings and a free-spirited aesthetic.
Shop Gypsy Set Engagement Rings
Tiffany Engagement Ring Setting
As its name implies, the Tiffany setting was designed by Tiffany & Co. in 1886. This diamond ring setting features six prongs that are positioned to showcase a diamond's sparkle as much as possible. It's typically paired with a plain band to draw all eyes to the diamond. Since Tiffany trademarked this setting, there's only one store where you can get it. And, although it certainly amplifies a ring's beauty, it features higher-set prongs, so you'll want to get it checked yearly to make sure the diamond doesn't come loose.
Shop Tiffany Set Engagement Rings
Channel Engagement Ring Setting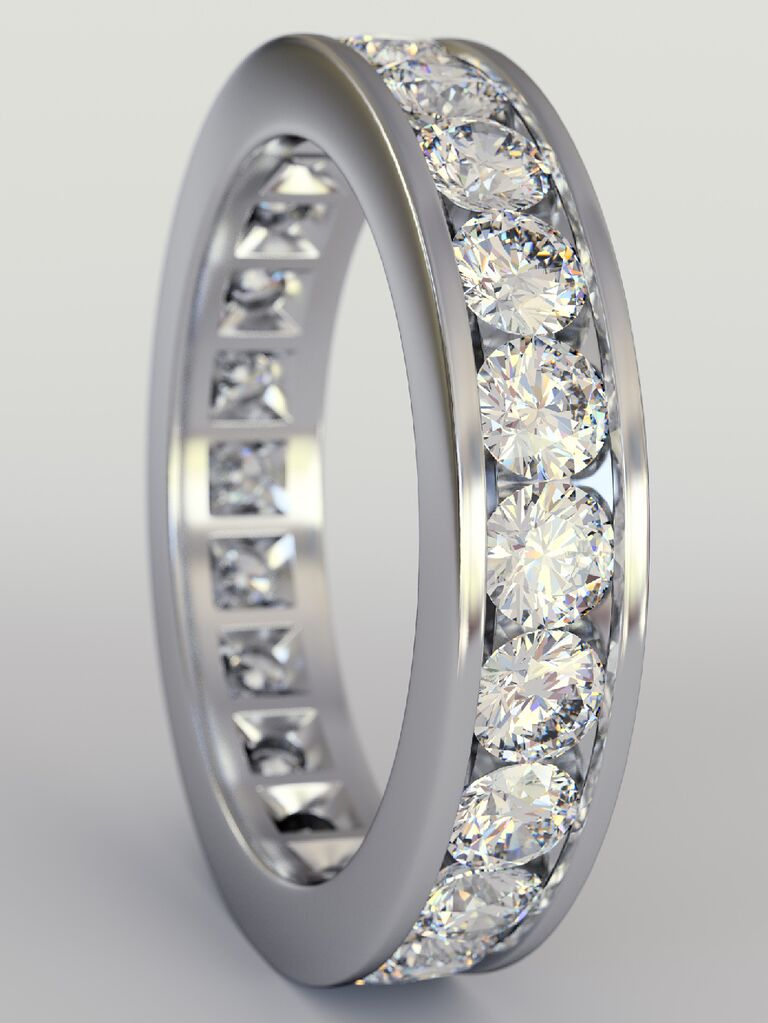 Popular for both engagement and wedding rings, a channel setting sandwiches a row of stones—with no metal separating them—between two horizontal parallel channels for part or all of the ring. A channel set ring, which makes up 5% of designs based on our data, protects the girdle of the stones while providing better security for small stones than a prong or pavé setting. Its surface is also completely smooth and unobtrusive.
Shop Channel Set Engagement Rings