Your Ultimate Guide to Diamond Ring Settings
Your engagement ring setting should get the same attention as that sparkly center stone. Here's your official guide to 10 types of ring settings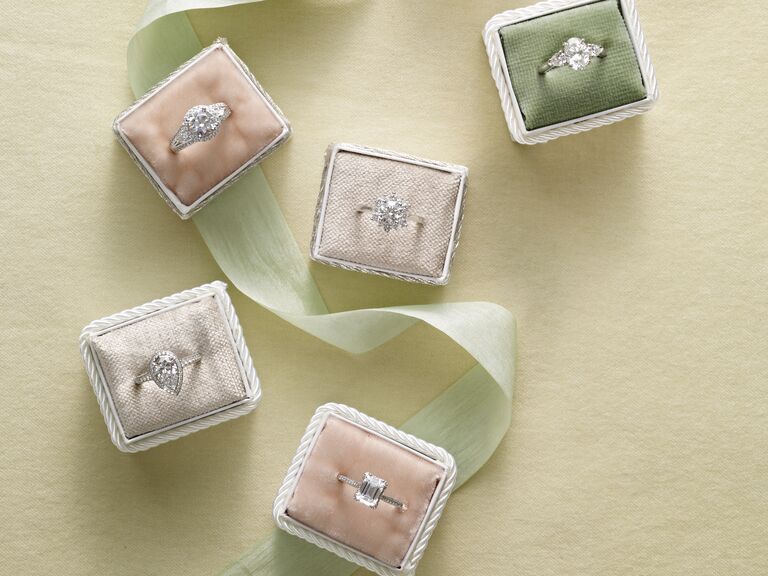 Antonis Achilleos
Once you've chosen a stone for your engagement ring, you get to choose the perfect setting to complement it. Although the stone can account for up to 90 percent of the cost of the ring, the setting really defines your engagement ring style and showcases the stone's best facets assets. When shopping for an engagement ring, keep an open mind when it comes to diamond ring settings. Ask lots of questions and look at a variety of different ring settings. 
When deciding on an engagement ring setting, think about your budget, lifestyle and design preferences to make sure you and your sparkler are a perfect match. Before you go ring shopping, take a look at the 10 most popular types of ring settings.
Popular Types of Engagement Ring Settings and Styles
1. Prong Setting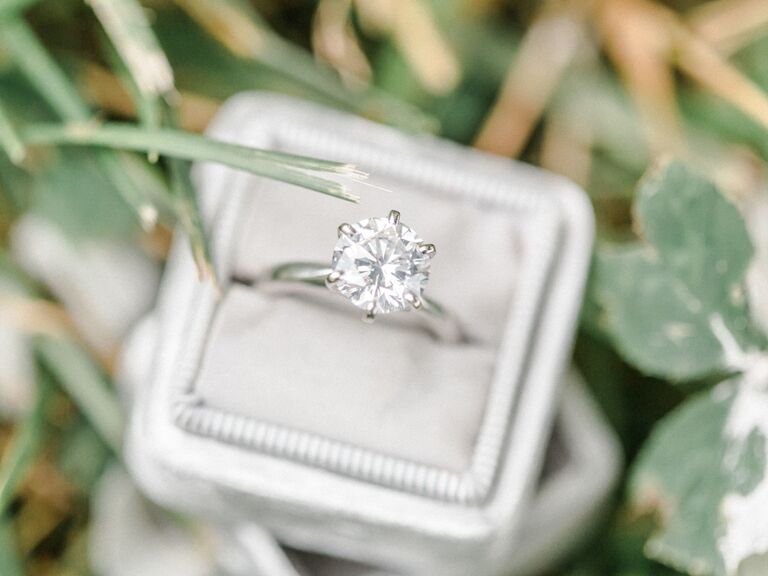 A prong setting is the most common type of engagement ring setting and involves three to six "claws" that hold a stone firmly in a metal "head" or "basket." Prongs can be pointed, rounded, flat or V-shaped, and act as "pockets" for a square stone's corners. When deciding between four and six prongs, note that four prongs will show more of the diamond, while six prongs will keep it more secure, but possibly overwhelm a smaller stone. If you have a heart-, marquise- or pear-shaped stone, its points should be cradled in a V-shaped prong for protection, while flat prongs are recommended for emerald-cut stones.

You'll Love It Because...
A prong setting permits the most light exposure from all angles and therefore maximizes a diamond's brilliance and "lightens up" richly colored gems.
They use less metal, which often means less time and money is required than other setting styles.
It allows for easy cleaning of the stone.
It holds even the most fragile (or soft) gems securely in place.
You Might Not Like It Because…
It offers less protection to the stone than other setting styles, since most of the girdle (the outer perimeter of the stone) is exposed.
It can get caught in hair or snag clothing more easily.
High-set prong settings can scratch and hurt other people if brushed against, and are hard to fit in gloves. (Lower prong settings are available and more practical for those on the go.)
2. Pavé Setting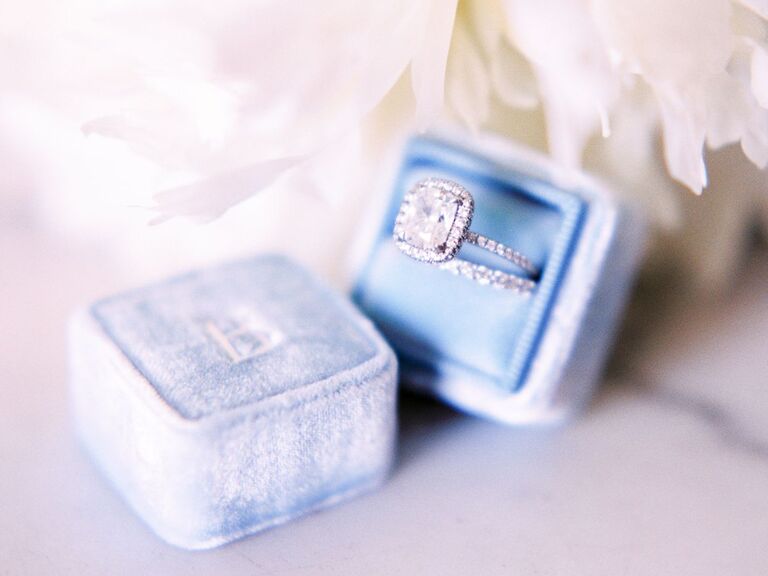 From the French word for "paved", a pavé setting (pronounced "paw-vay") involves rows of several tiny stones fitted into holes that set them level with the surface of the ring. The surrounding metal—white gold or platinum for white stones so as to be unnoticeable—is then raised to form beads that secure the gems. The result? A super-sparkly shank that looks like a road paved with gemstones.

You'll Love It Because...
Pavé gives your ring extra sparkle, giving the illusion of more and bigger diamonds than they really are.
It allows an uninterrupted design flow of varying width.
You Might Not Like It Because…
Pavé is not recommended for fragile gems, although the proximity of the stones offers good protection for the girdle of each stone.
The surface is level but not as smooth as a bezel, channel or gypsy setting.
Beads are not as reliable as other settings for securing stones and a pavé setting may be less secure than a bezel setting if you have an active lifestyle.
3. Halo Setting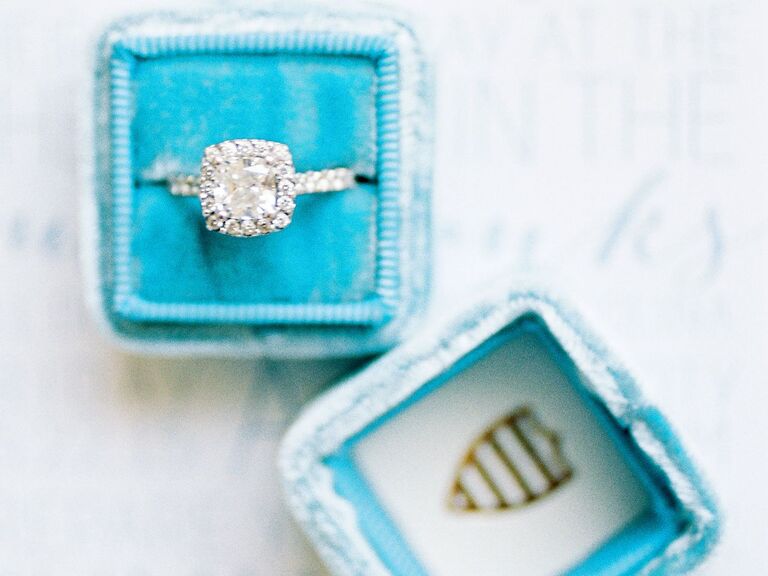 Halo engagement ring settings typically include a larger center stone encircled by a pavé or micropavé of smaller, accent stones. The surrounding stones draw attention back to the center stone and create the appearance of a larger center stone. Your ring could have a subtle single halo, two or more halos or a more intricately designed halo (think: latticework, twisted bezels or floral motifs).

You'll Love It Because…
A halo setting can make a ring look larger and more sparkly.
You could save money: Buy a smaller, less expensive center stone with a diamond pavé (which is what halos are made of, and less expensive to add on).
It's a beautiful way to customize your engagement ring style—try a colorful, geometric or mixed metal halo.
Love vintage engagement ring styles? Halos can make your ring look antique, adding that special heirloom feel.
You Might Not Like It Because…
It could take away from a particularly striking center stone.
Depending on how elaborate your halo is, it could make your ring feel clunkier and look more like a cocktail ring than an everyday engagement ring.
If your center diamond has a good color grade and you choose a colorful halo, the halo stones can change the appearance of the color of your diamond.
4. Bezel Setting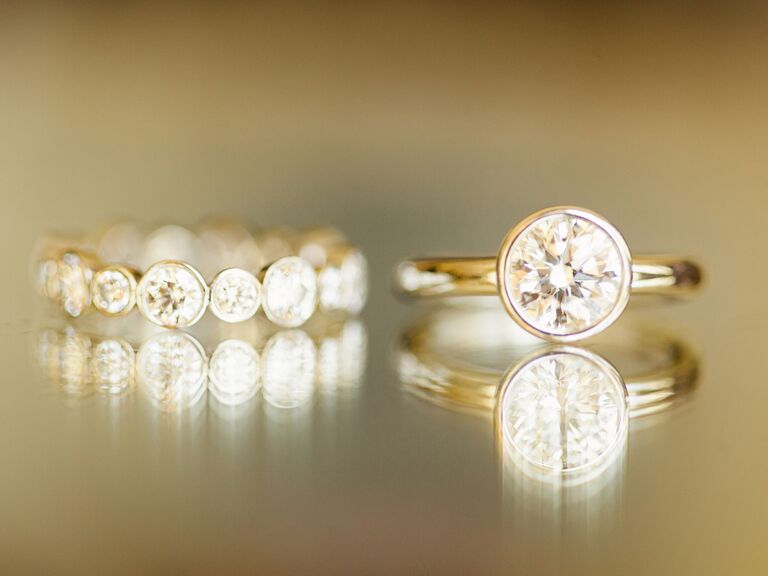 A bezel setting is a metal rim with edges fully or partially surrounding the perimeter of the stone.

You'll Love It Because…

This particular setting protects a stone's girdle from being nicked or chipped.
It conceals existing nicks or chips on a stone's girdle.
It secures a stone really well.
The ring surface will be completely smooth.
It allows metal to be molded to fit any stone shape snugly.
A white metal encircling a white stone can make the stone appear larger.
A yellow gold bezel setting can enhance the color of red or green gemstones.
You Might Not Like It Because…
A yellow gold bezel setting can make a "white" stone such as a diamond appear less white because its yellow tint can be reflected in the stone.
You won't get quite the same sparkly effect you'd get with a more raised prong setting.
5. Channel Setting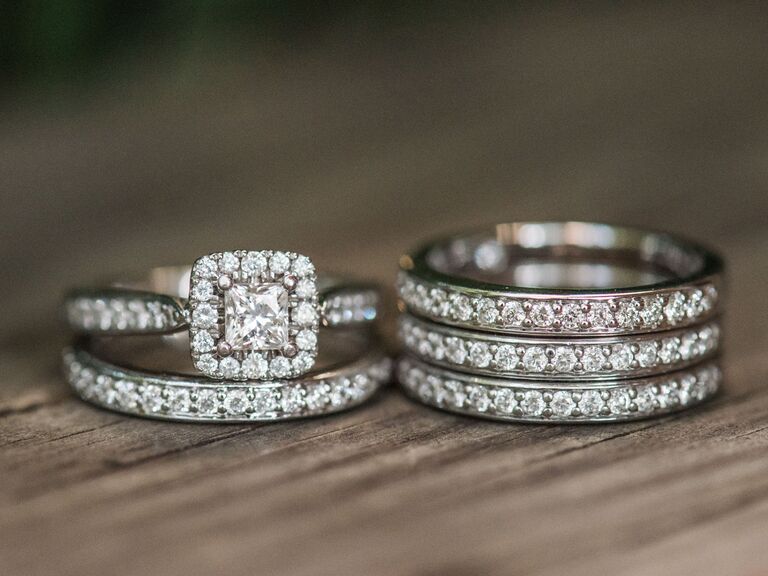 Popular for both engagement rings and wedding bands, a channel setting sandwiches a row of stones—with no metal separating them—between two horizontal parallel channels for part or all of the ring. Round stones cost less to set than square or rectangular ones.
You'll Love It Because…
It protects the girdle of the stones.
It provides better security for small stones than a prong or pave setting.
The surface is completely smooth and unobtrusive.
You Might Not Like It Because…
A ring set with stones all the way around can be difficult to resize (leave at least one third of the shank unset for greatest flexibility—this saves money, too).
Not recommended for fragile gems such as emeralds, opals or tourmalines.
6. Bar Setting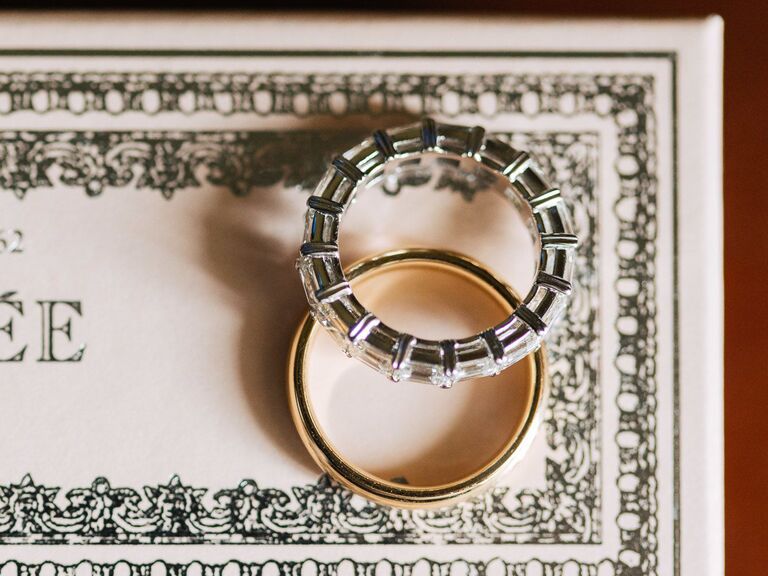 A bar setting is a series of two or more (depending on how many stones there are) thin vertical bars of metal that sit between each stone and holds them firmly in place. Bar settings can also be applied around some or all of the ring.

You'll Love It Because…
A bar setting protects the sides of each stone's girdle.
The surface of the ring will be relatively smooth and unobtrusive—perfect for the active wearer.
It gives a classic engagement ring style a contemporary feel.
You Might Not Like It Because…
A bar setting leaves the top and bottom of the stone exposed.
The uneven edges of some designs may cause discomfort.
7. Tension Setting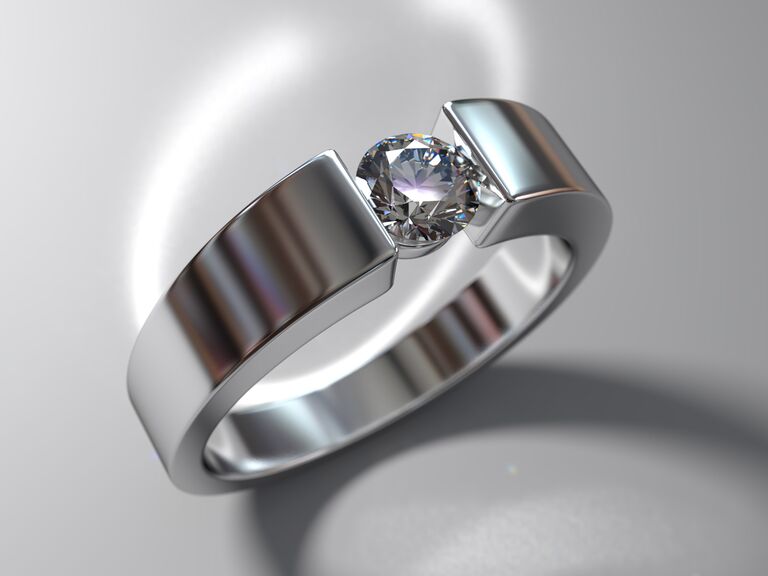 A tension setting is a design in which the compression-spring pressure of the shank (the band) holds the stone firmly in place. The minimal interference of metal can give the impression the stone is "floating." Only extremely hard stones such as diamonds, sapphires and rubies can withstand the required pressure to keep them snugly in place.

You'll Love It Because…
Allows a lot of light into the stone and looks very modern and impressive.
You Might Not Like It Because…
The design is customized to fit, and therefore difficult to resize at a later date.
Its repair options are more limited—only the manufacturer can fix your ring.
Less metal means less protection to the girdle (side) of the stone, so it's recommended for less active people or for special occasions only (aka not for everyday wear).
Its recommended for gems other than diamonds, sapphires or rubies.
8. Gypsy Setting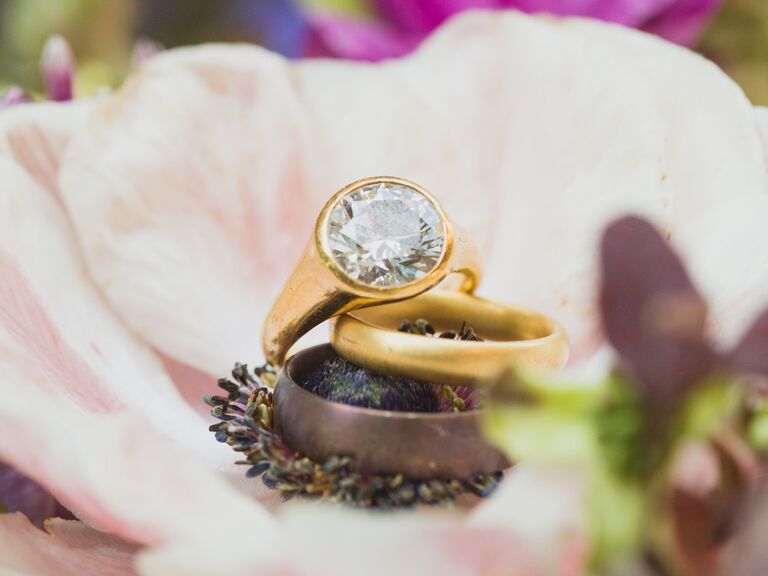 Gypsy settings make beautiful engagement rings and wedding bands, and are a popular choice for men's rings. This setting sets the stone "flush" into a hole in the ring so it doesn't protrude at all. The ring's metal is then pressed and hammered around the stone's perimeter to secure it.

You'll Love It Because...
A gypsy setting protects a stone's girdle from being nicked or chipped.
It conceals existing nicks or chips on a stone's girdle.
It secures a stone extremely well.
The ring surface is completely smooth with no stones or edges protruding.
You Might Not Like It Because…
It's more time-intensive for jewelers to set and more expensive than a prong setting.
It's not recommended for fragile gems such as emeralds, opals or tourmalines.
9. Tiffany Setting
If you (or the love of your life) is obsessed with Tiffany & Co, possibly the most popular jewelry store on the planet, then there's only one diamond ring setting for you. As the name implies, the Tiffany setting was designed by Tiffany & Co. all the way back in 1886. This setting features six prongs that are positioned to showcase a diamond's sparkle as much as possible. It is usually paired with a plain band to draw all eyes to the diamond. 
You'll Love It Because…
This setting raises the diamond, amplifying the stone's beauty in a unique way.
The diamond is easy to clean.
The classic look of this setting makes it a timeless piece and wonderful family heirloom.
You Might Not Like It Because…
Tiffany has actually trademarked this setting, so there's only one store where you can get it.
This setting is not the most secure option. Make sure you check every year the diamond isn't loose. 
Higher set prongs will make this diamond easy to catch on clothes.
10. Infinity Setting
Infinity means forever. It makes complete sense that the infinity setting is such a popular choice for couples who are ready to be together until "death do us part." The infinity setting is defined by two interlinking bands that, together, create the infinity symbol. The curve and swoop of the bands give the ring a graceful and unique design. Couples can choose to personalize an infinity setting in a variety of ways. An unadorned band will highlight the center stone, while other versions can feature a pavè-like design of stones framing the diamond or even swooping down one or both of the bands. The "twist" version of the infinity setting includes one unadorned band and a band with pavè-set diamonds. 
You'll Love It Because…

The infinity setting is a unique look that will help your ring stand out from the crowd.
The delicate twist of the bands makes this an enchanting design.
The infinity setting is a powerful promise of love forever. 
You Might Not Like It Because…
This ring requires more effort and consideration to clean.
The greater surface area of the infinity ring setting makes it less practical for someone with an active lifestyle. 
How to Choose an Engagement Ring Setting
Think About Your Potential Wedding Ring
When shopping for a mounting (the industry term for a ring setting before it's actually set with a stone), consider the addition of a wedding band—even if you don't know exactly what it'll be yet. Think about whether you would rather stack the two (you can always customize a wedding band to fit the shape and style of your engagement ring) or wear your engagement ring on the right hand and/or for special occasions only.
Buy Your Engagement Ring and Wedding Rings in a Set
One foolproof way to solve this dilemma—and save time and money to boot—is to buy a wedding ring set. This will include an engagement ring and wedding band for one person (called a duo), or an engagement ring and one wedding band per person (called a trio). The advantage of buying a sets is so that the engagement ring and wedding band fit together perfectly on your finger—plus, most also look good separately—and share cohesive design elements. Sets can also save you money over buying each ring separately.
Consider Your Budget, Lifestyle and Design Preferences
Whether you're buying a set or having an engagement ring designed and made from scratch, every aspect of the ring—the stone, metal and setting—should be chosen with your lifestyle and budget in mind. Your choices for the right diamond ring setting are endless, from a simple solitaire to a number of stones and combination of settings on the same ring. Luckily, it's relatively easy to reset your stone—and add stones—as your bank account and lifestyle permit. Something to keep in mind for future birthdays, anniversaries and other milestones to come (wink, wink).
Now that you've learned more about the many available types of ring settings make sure to visit our ring gallery to see real-world examples of the different ring settings. Happy shopping.