Pearl Engagement Rings Are Having a Moment, Plus 35 Rings to Shop Now
Can't get enough of pearlcore? These rings are right on trend.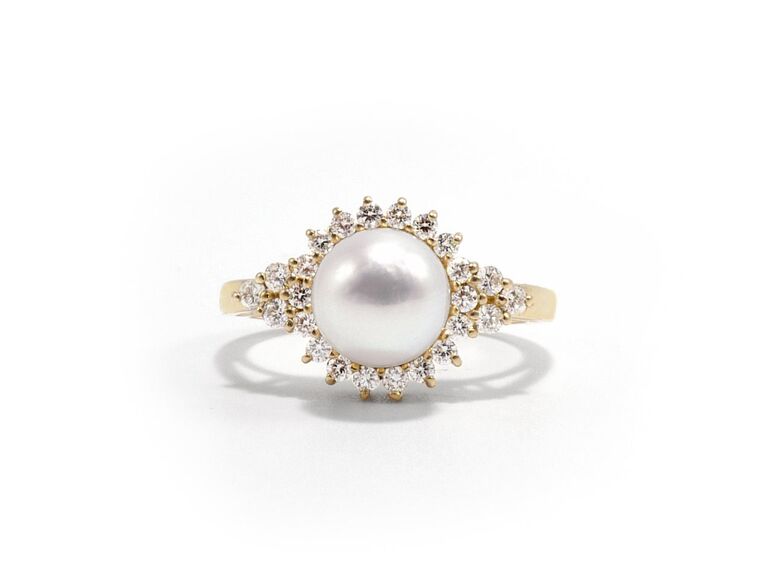 Courtesy of Ashley Zhang
We have included third party products to help you navigate and enjoy life's biggest moments. Purchases made through links on this page may earn us a commission.
Think pearls are old fashioned? Think again. Pealcore, the internet aesthetic that's about all pearl everything, is one of the hottest fashion trends of 2022. And while you probably know that diamonds are the most popular stone for engagement rings, if you're looking for something different, you might consider a sparkler that comes from water instead of earth. Technically considered a gem but not a stone, pearls are formed inside of a shelled mollusk like an oyster or a mussel. These rare treasures of the sea have an iridescent glow and are associated with wealth, wisdom and purity—what's not to love? Below, everything you should know if you're considering a pearl engagement ring, plus editor-approved designs you can add to your cart right now.
Are Pearls Good for Engagement Rings?
Pearls offer a classic look that suits weddings and engagements well, but you should really think twice before choosing a pearl engagement ring. That's because pearls aren't exactly hardy compared to diamonds and other precious gemstones.
According to jewelry designer Ritani, pearls only have a hardness of 2.5 to 3 on the Moh's scale. Diamonds rate at a whopping 10 out 10. Pearls are more likely to get scratched, chipped, cracked or otherwise damaged and won't hold up as well to everyday wear as diamonds and some other precious gemstones will.
That said, if you're willing to take good care of your engagement ring—take it off when doing activities where it could get bumped or scraped and keep it away from chemicals and acids—then go ahead with a pearl engagement ring. Just know that you may need to replace the pearl (or pearls) in the future. Thankfully, pearls tend to be much less expensive than diamonds, so replacing a pearl engagement ring probably won't break the bank.
What Does a Pearl Engagement Ring Mean?
Pearls symbolize grace and luxury, according to the International Gem Society. They're often associated with weddings, though not necessarily engagement rings. When people think of pearls, they often think of beauty, purity and grace. Pearls are thought of as rare and valuable, and they're a June birthstone, so they're often meaningful to people born in June.
What are the Different Colors of Pearl Engagement Rings?
Pearls come in a variety of different colors depending on the type of pearl. There are four major types of cultured pearls:
Akoya pearls are probably what you picture when you think of a classic pearl—they're usually white or cream colored but sometimes can be found in pink, blue, silver or gold.
South Sea pearls are available in various white and off-white tones, including cream, silver and gold. They also tend to be larger than other types.
Tahitian pearls are dark in color—usually black, gray or brown and can sometimes have tinges of blue, green, pink or purple to them.
Freshwater pearls are available in a wide range of pastel hues, including white, pink, lavender, blue, green, orange and yellow. They can vary widely in size and shape and are available at lower price points than the other varieties.
Are Pearl Rings Expensive?
The short answer: It depends. Pearls are available at a variety of price points. Freshwater pearls, for example, tend to be the most affordable since they're more abundant than the other varieties. South Sea pearls are priced higher because they're much rarer. Pearls are also graded on their luster, shape, surface regularity, size and color. The grading can greatly affect a pearl's cost. When you purchase a pearl, ask to see how it's been graded and valued.
Which Celebrities Have Pearl Engagement Rings?
While diamonds tend to be the most popular engagement ring stone of choice among celebrities and regular folks alike, there are a few celebs who sport pearl engagement rings. Michelle Williams sports a silver-tone band with a large pearl to signify her engagement to director Thomas Kail. Emma Stone received a pearl surrounded by diamonds in a snowflake motif from her then-fiancé, SNL cast member Dave McCary. Ariana Grande also rocks a pearl toi et moi ring from her husband Dalton Gomez, featuring a pearl she inherited from her grandmother.
The Best Pearl Engagement Rings to Buy Right Now
The best pearl engagement ring is the one you fall in love with! That said, we've got a few favorites we think you should consider.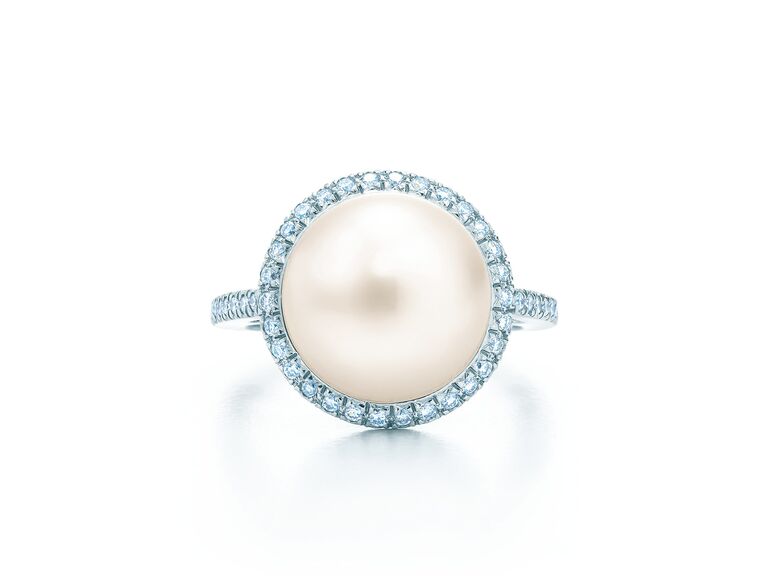 A stunning South Sea cultured pearl is made engagement ring-worthy with halo of diamonds.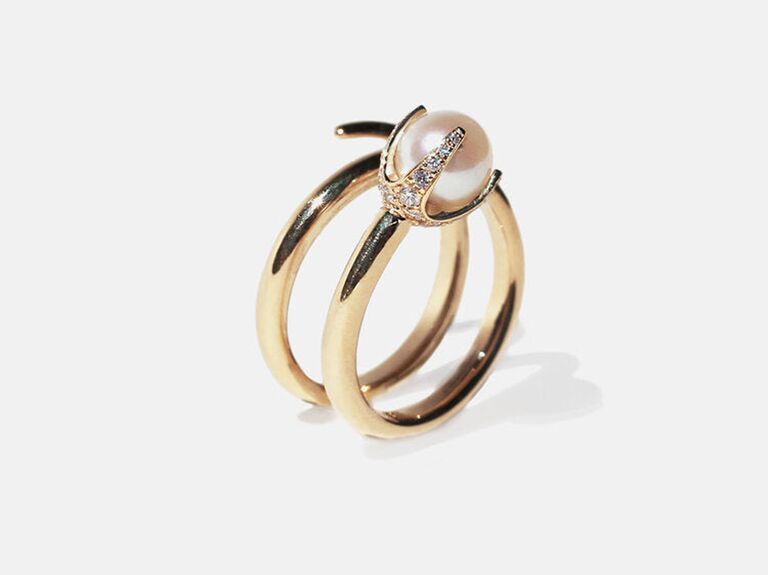 This edgy, coiled pearl engagement ring is dainty and modern—and can even be stacked with other rings if that's your style.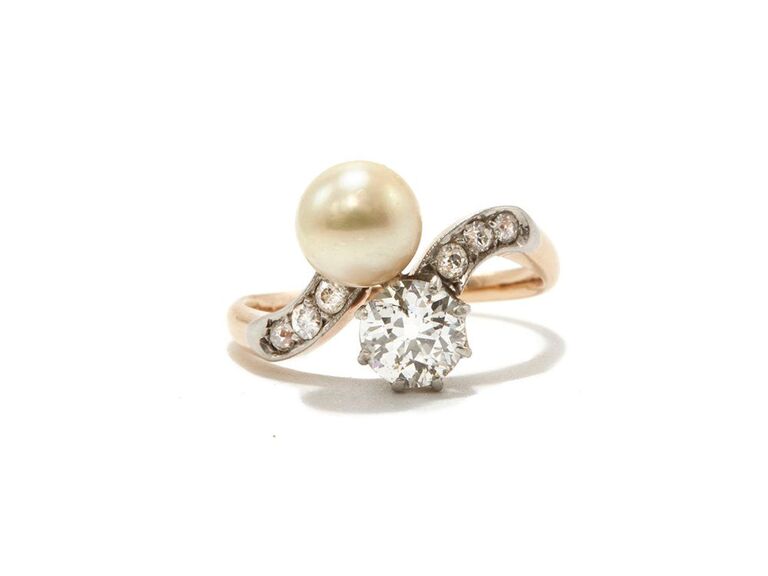 What's better than one center stone? Two. This elegant Edwardian toi et moi ring gives you both the unique glow of a pearl and the brilliance of a diamond.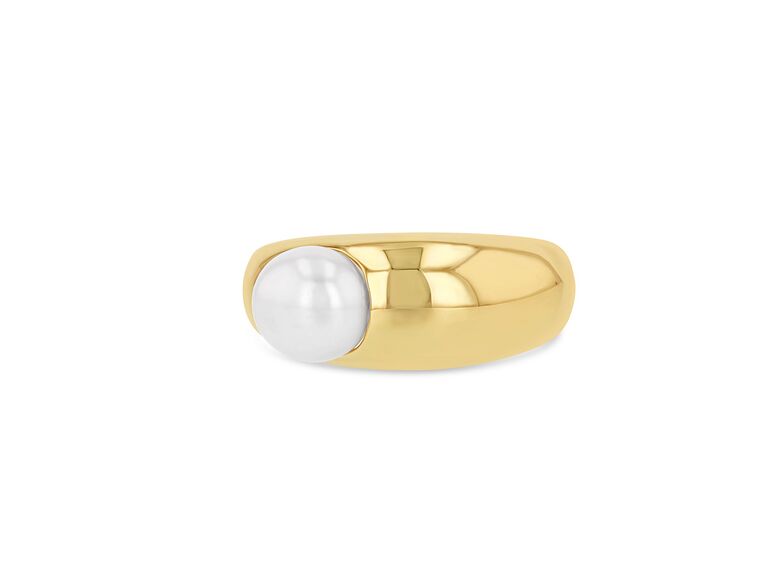 In addition to pearlcore, maximalism is another one of the biggest trends in fashion. This ring, with its extra-wide band and large pearl center stone, is just that.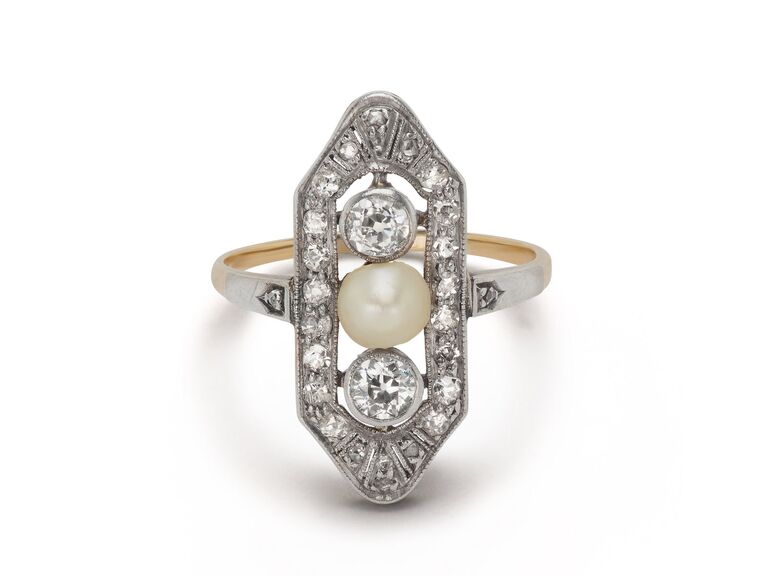 Old souls, this one's for you. This three-stone pearl engagement ring dates back to the Edwardian Era and offers all of the detail and character a vintage-lover could possibly want.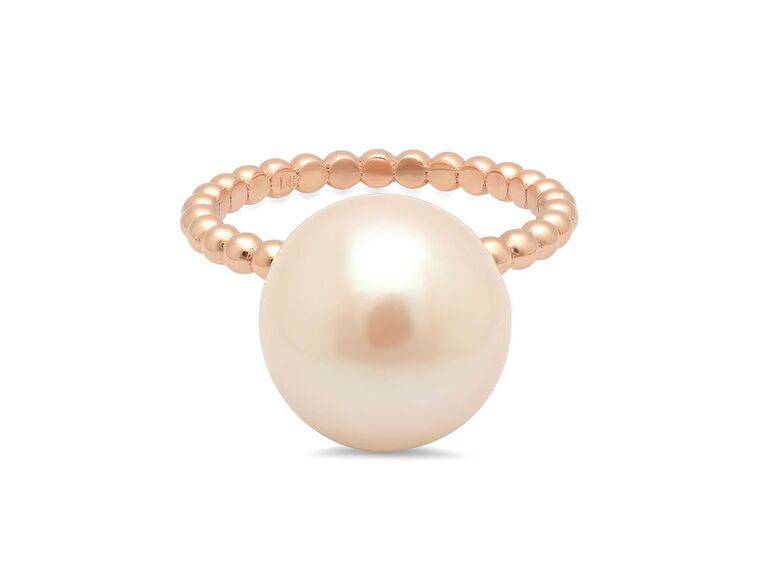 A unique bead pattern creates a textured look on the rose gold band of this freshwater pearl engagement ring.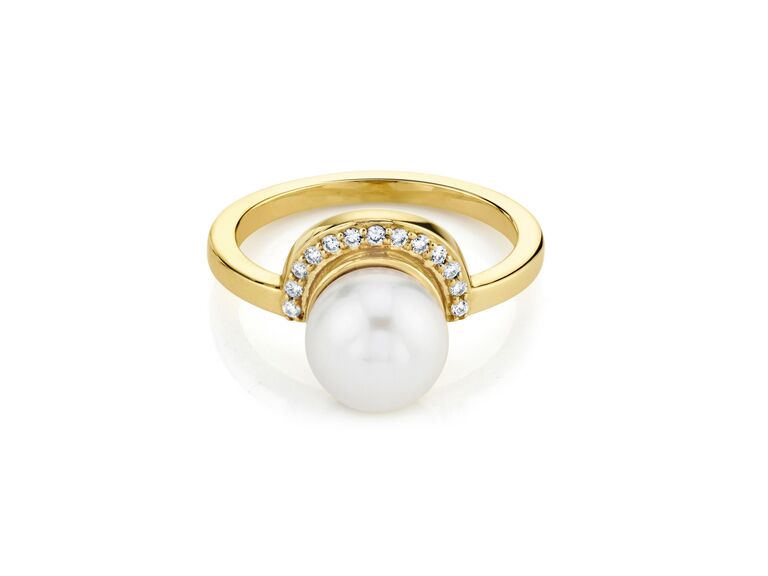 Looking to turn some heads? A half diamond halo gives this pearl engagement ring vintage-inspired flair.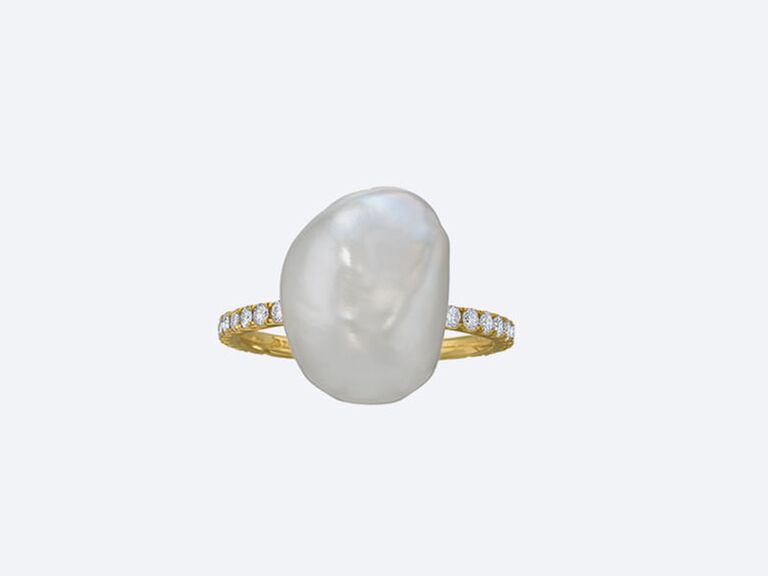 The irregular shape of a large baroque pearl center stone is what makes this pearl engagement ring feel so special.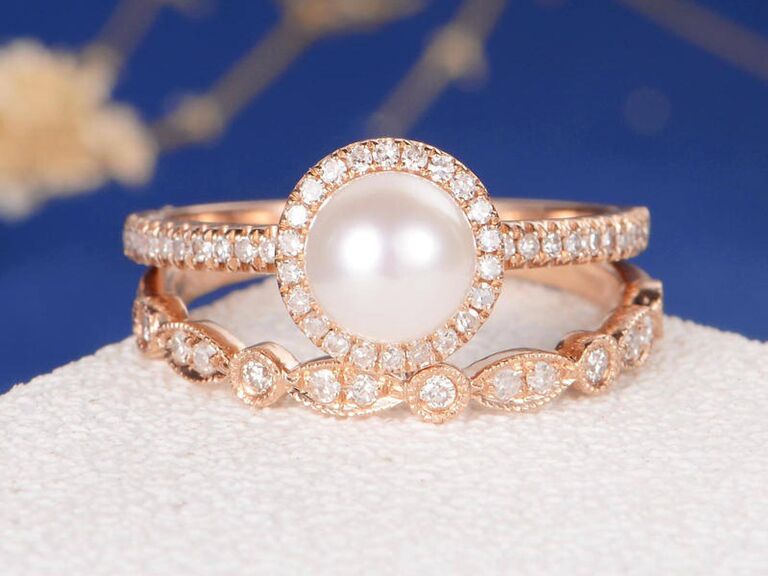 For a classic choice, go for an Akoya pearl surrounded by a diamond halo. This one comes with a delicate, coordinating wedding band.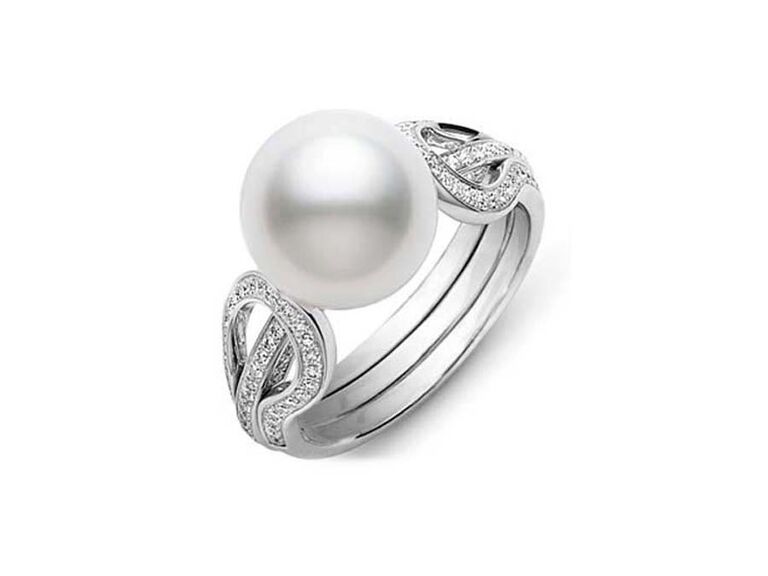 Mikimoto is known for its ultra-luxe pearls. Here, a striking South Sea pearl takes center stage, flanked by diamonds and white gold filigree.
Simply stunning, this freshwater pearl ring is paired with a diamond band that fits it perfectly.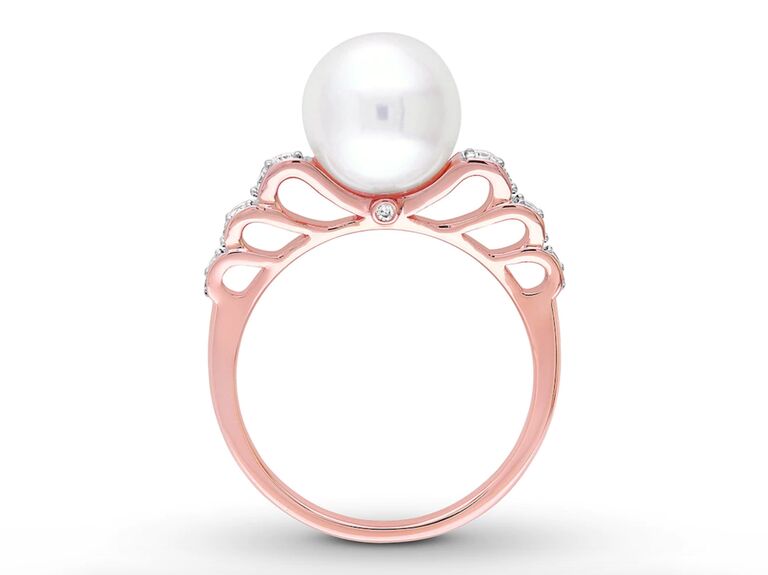 This freshwater pearl engagement ring features round diamonds for added sparkle on its rose gold band.
Twice as nice. This toi et moi pearl engagement ring is equal parts timeless and trendy.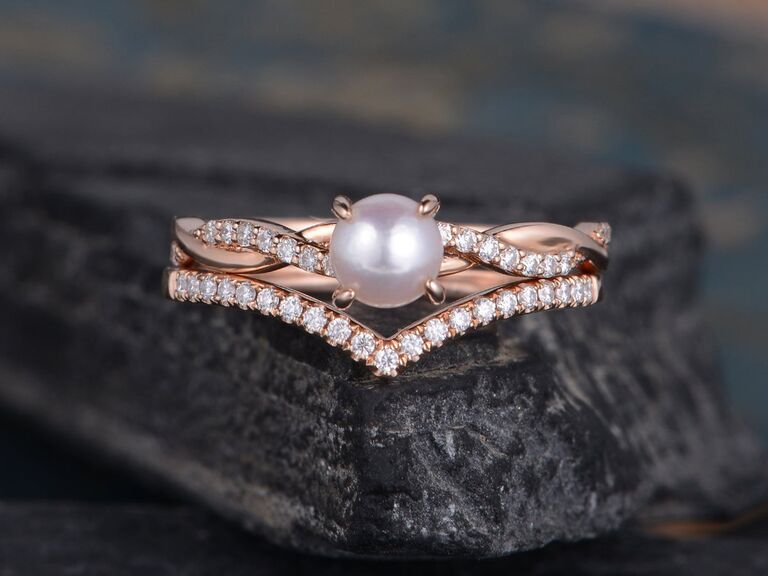 Here's a bridal look with a modern twist! Even with the updated shape, this pair stays elegant.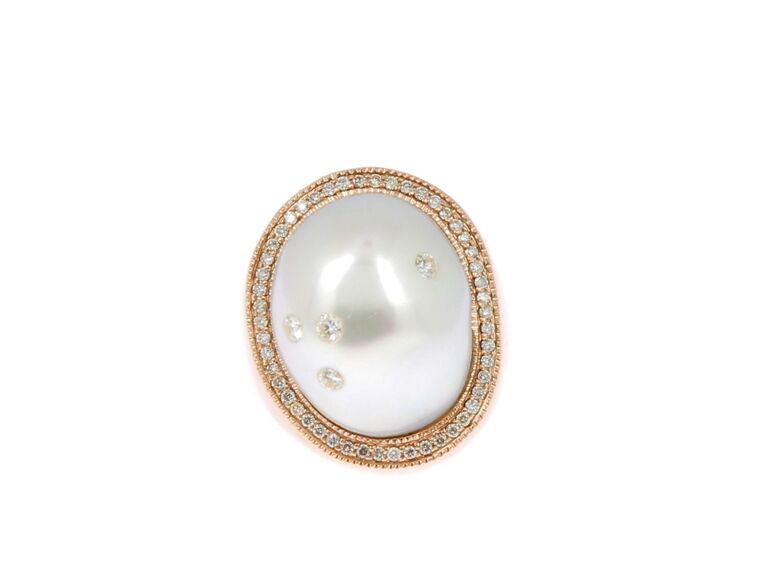 Eschew tradition and set your own trend with this contemporary domed design by Jacquie Aiche.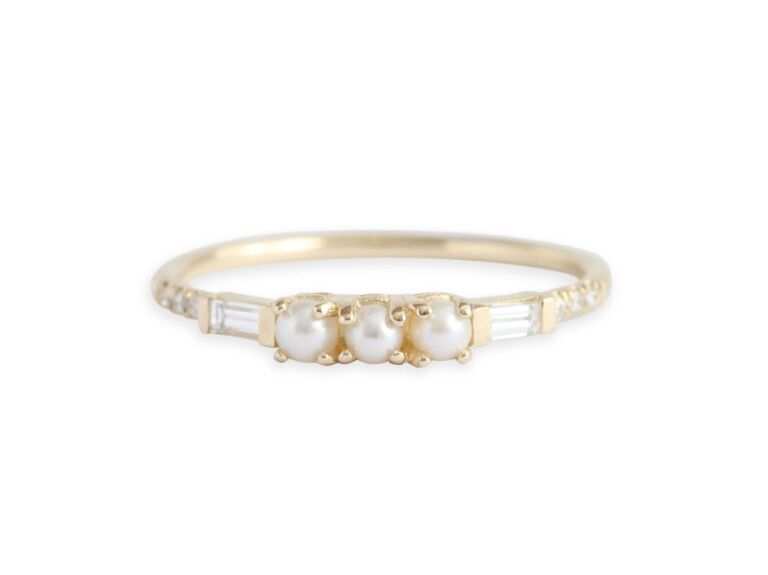 We're just a teensy bit obsessed with this unconventional look by Jennie Kwon: three pearls flanked by diamond baguettes and round diamonds.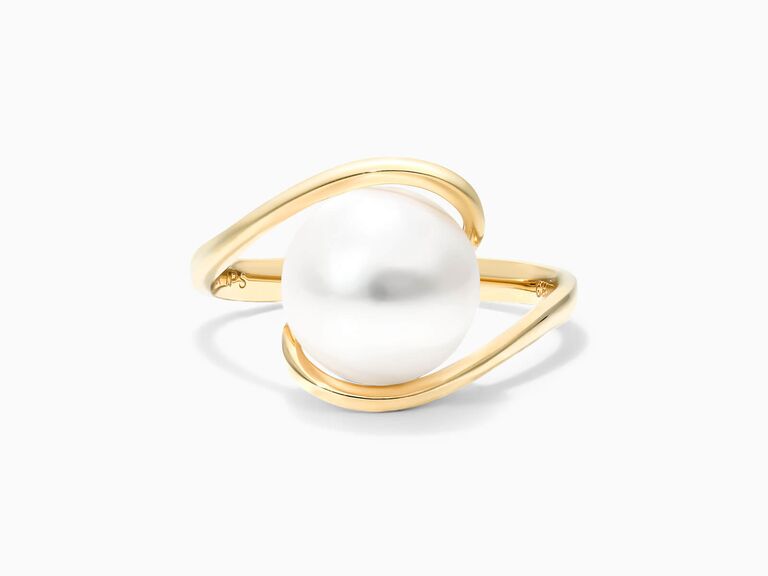 A freshwater pearl with a twisted setting is an unconventional choice for an engagement ring, but oh so gorgeous.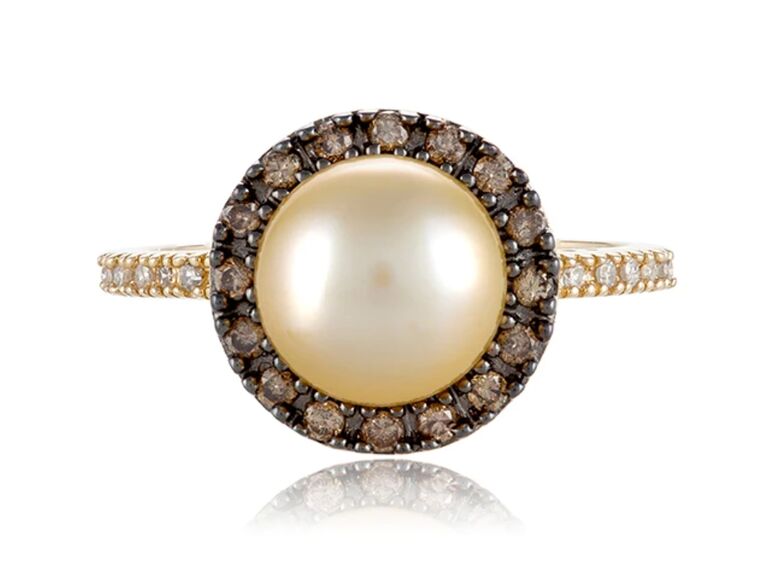 For an extra flattering look, opt for the warm glow of a pearl in yellow gold.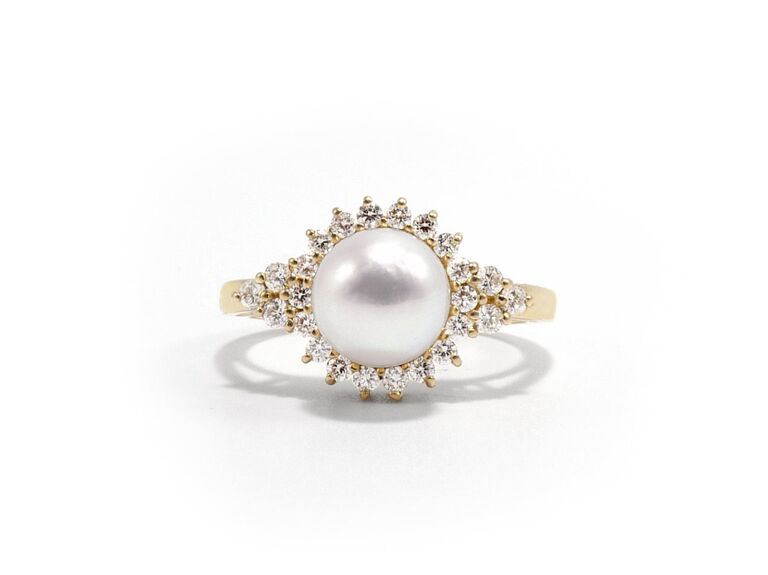 Isn't it romantic? This Akoya pearl engagement ring is accented with a cluster of diamonds for added interest.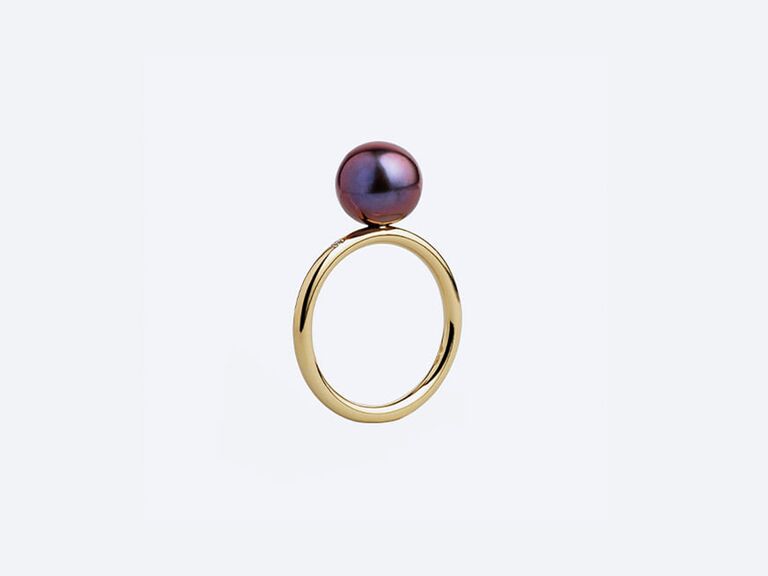 Looking for a pearl engagement ring that stands out even more? The gorgeous dark luster of this black pearl will set your bling apart.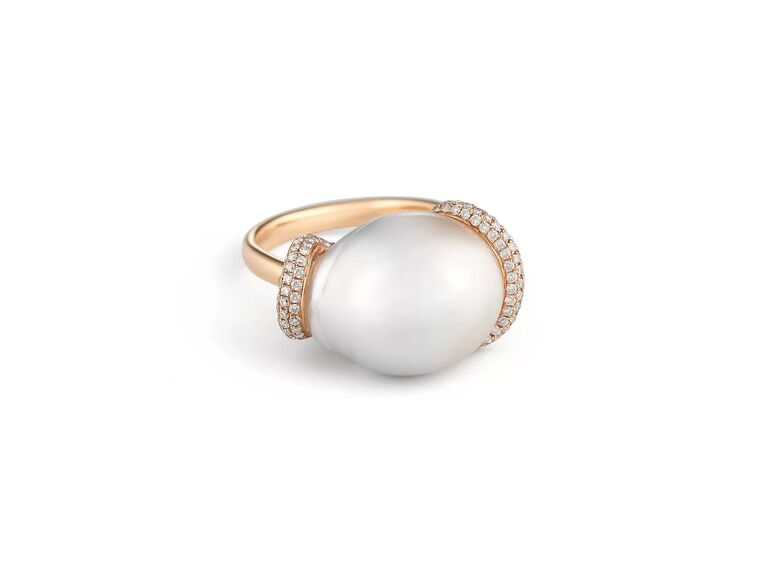 Thanks to glittering diamonds accenting a gray South Sea pearl, this yellow gold ring offers the best of both worlds.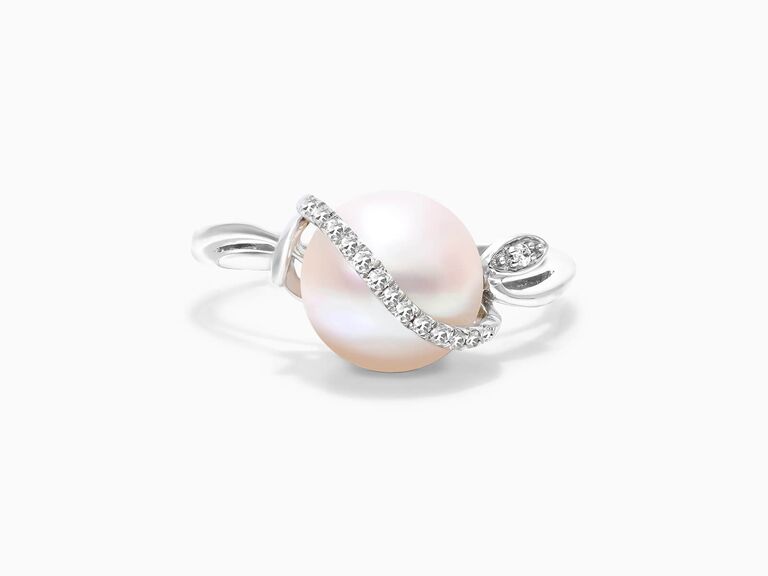 How eye-catching is this freshwater pearl ring, with its swoop of diamonds?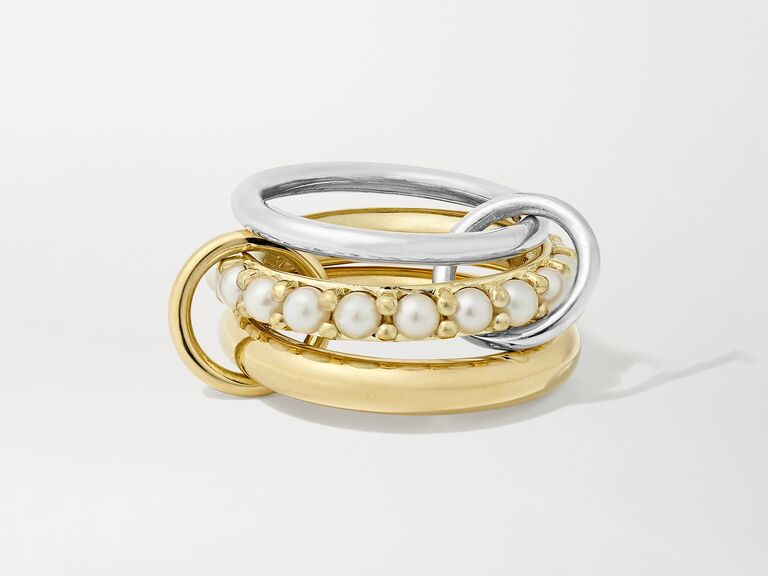 Okay, so this technically isn't an engagement ring, but we say wear what you like. And if this edgy mixed metal and pearl stack is your style, it's straight perfection.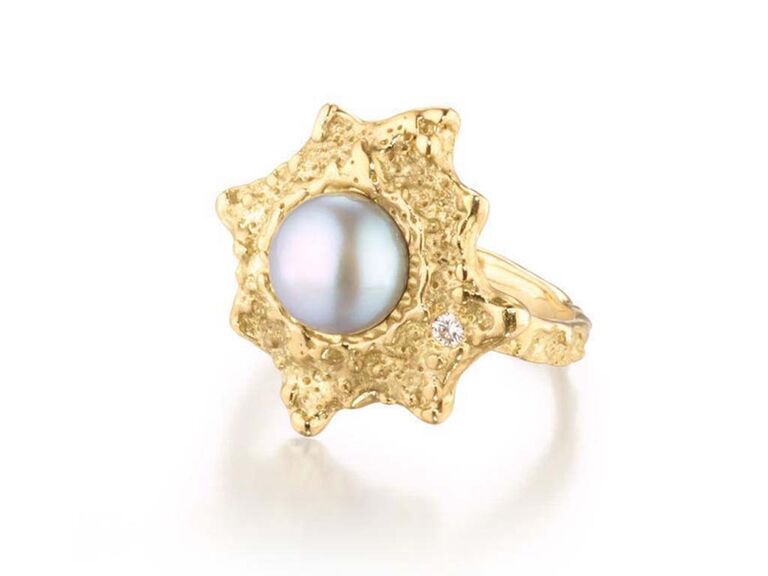 One word: Mermazing. Worthy of an engagement or a cocktail party alike, this silver pearl ring with a seashell-inspired setting makes a nautical statement.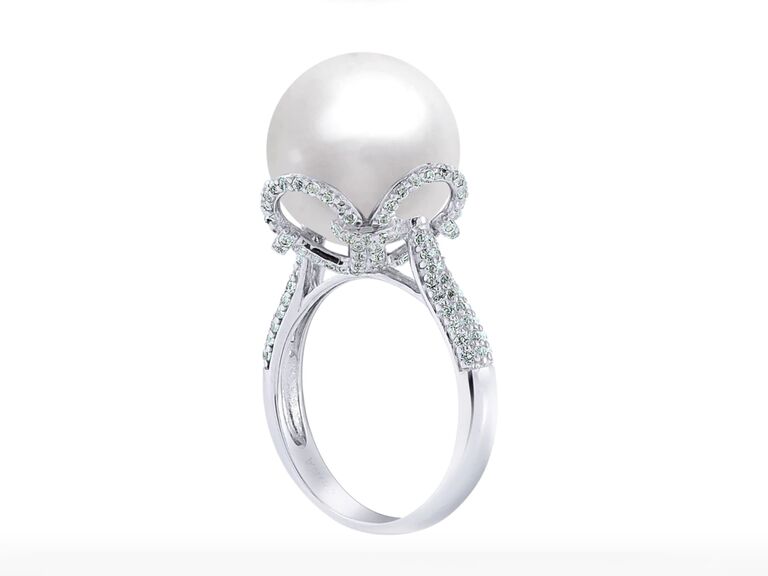 Want a regal style that's also affordable? Check out this freshwater pearl and sterling ring. Its delicate swoops of white topaz remind us of a crown.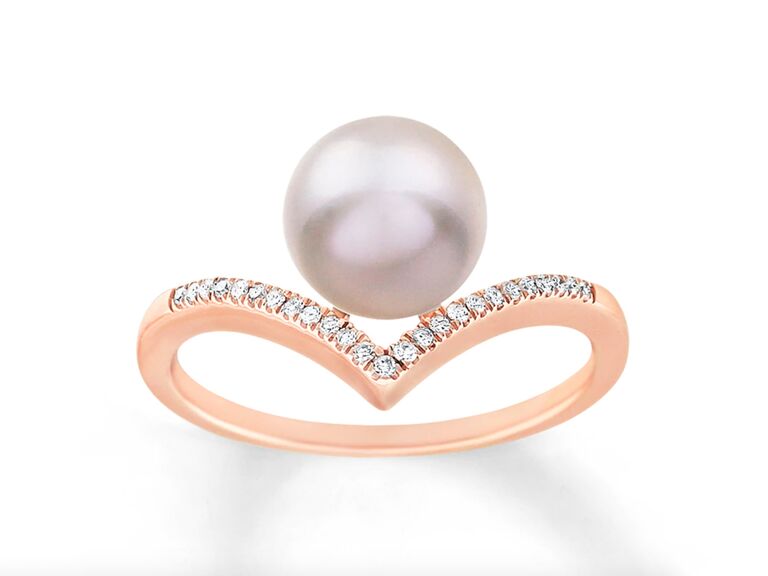 Looking pretty in pink, this pearl is perched on an elegant chevron of diamonds.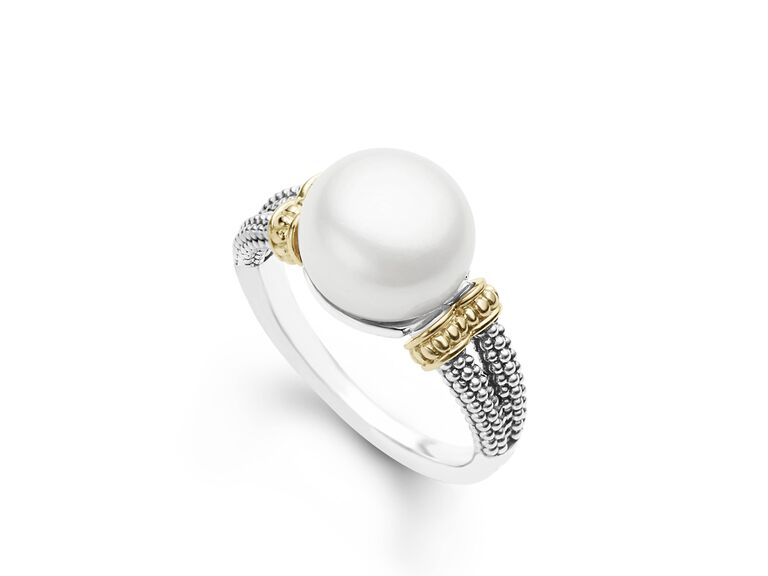 If you love both silver and gold, this two-tone pearl ring with an elaborate setting is an apt choice.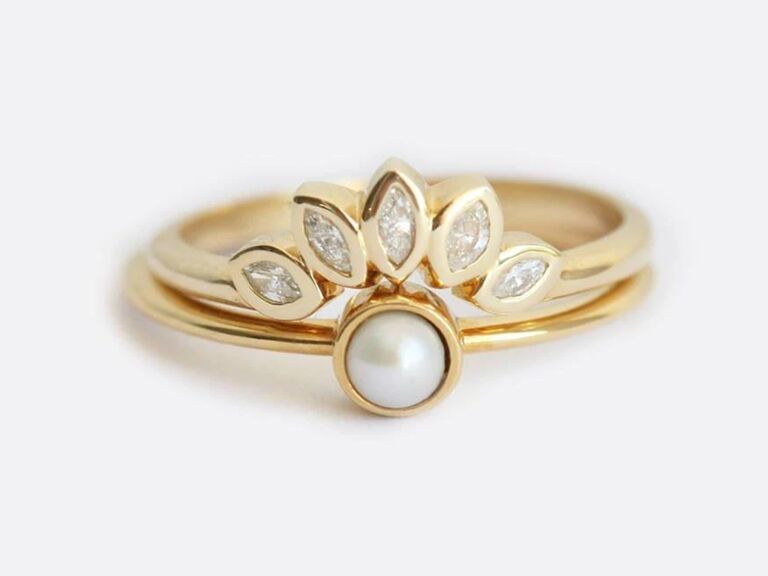 Marquise diamonds on the coordinating wedding band provide a chic accent to this pearl engagement ring.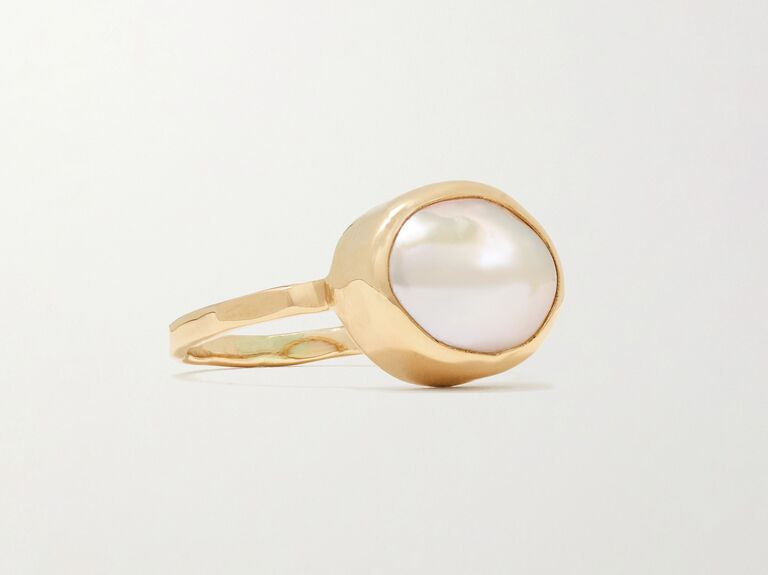 Made of 100% recycled gold, this pearl engagement ring is both gorgeous and green. Count us in.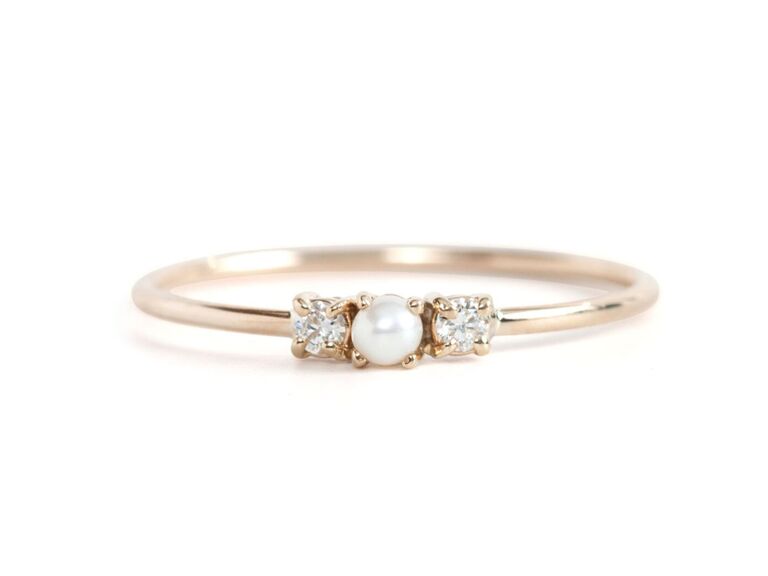 This subtle pearl and diamond ring by Jennie Kwon is so lovely and timeless, you'll want to wear it in 20 years as much as you do right now.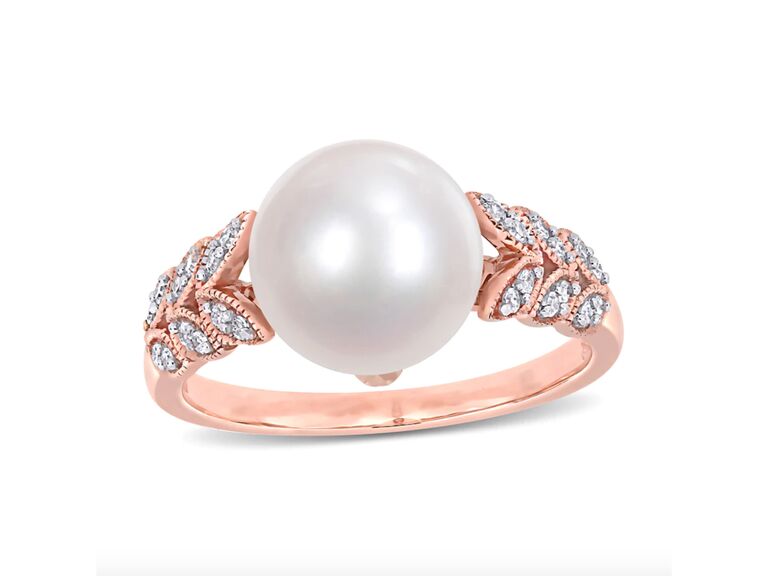 Pretty diamond laurel leaves add detail to this freshwater pearl stunner.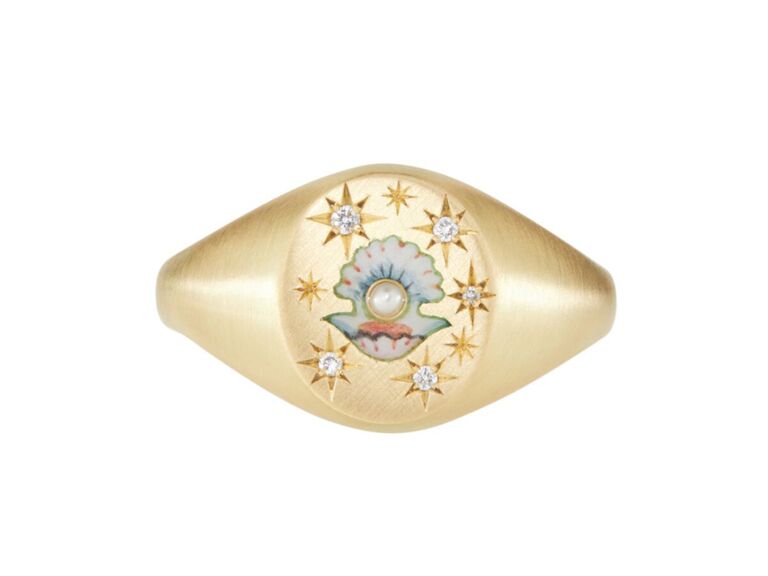 A fresh take on a classic signet ring, this nontraditional pearl engagement ring will appeal to any ocean-lover.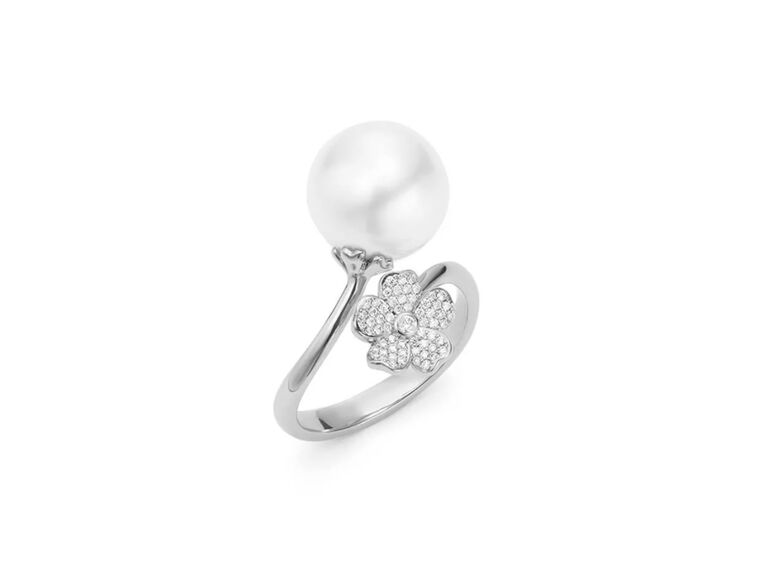 A huge South Sea pearl and a cherry blossom flower made of diamonds by Mikimoto? It's a match made in jewelry heaven.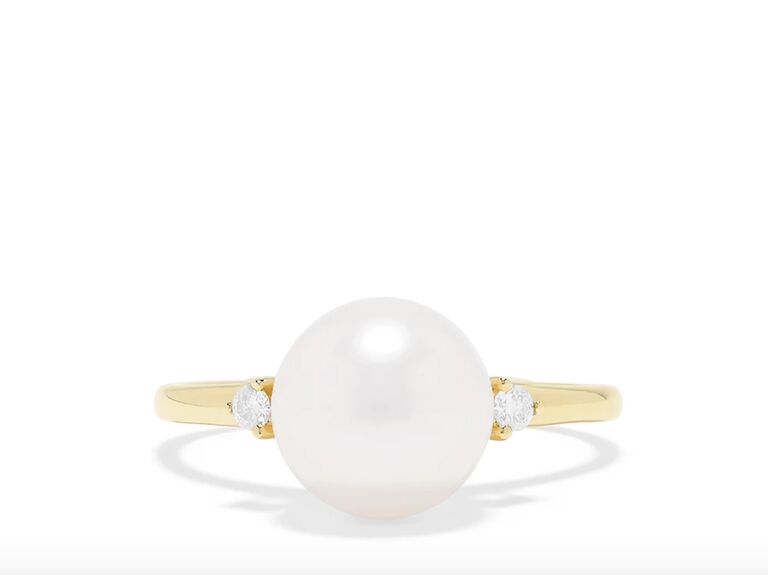 One word: Classic. Sleek lines and a simple design mean this pearl-and-diamond ring will go with every outfit.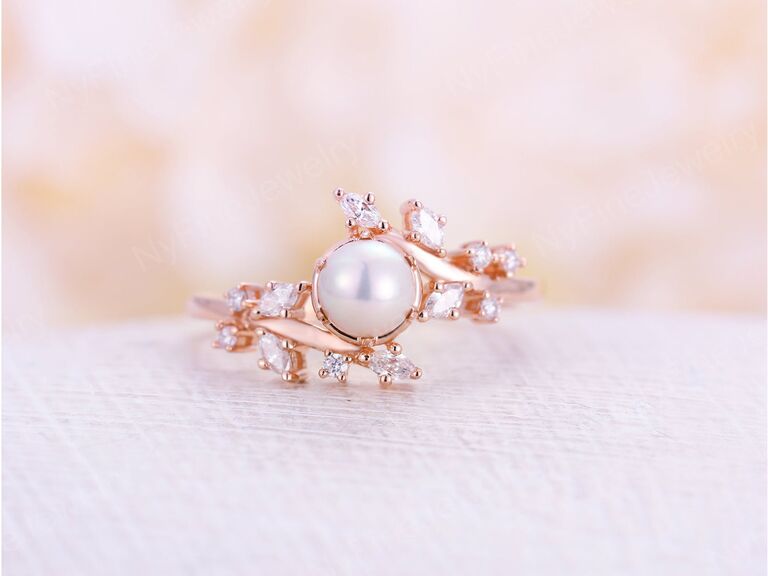 This pearl engagement ring brings the whimsy. Pretty marquis diamonds form a vine that wraps around a lovely Akoya pearl.