How to Clean a Diamond Ring at Home
A diamond is forever, but only if you know how to clean it first.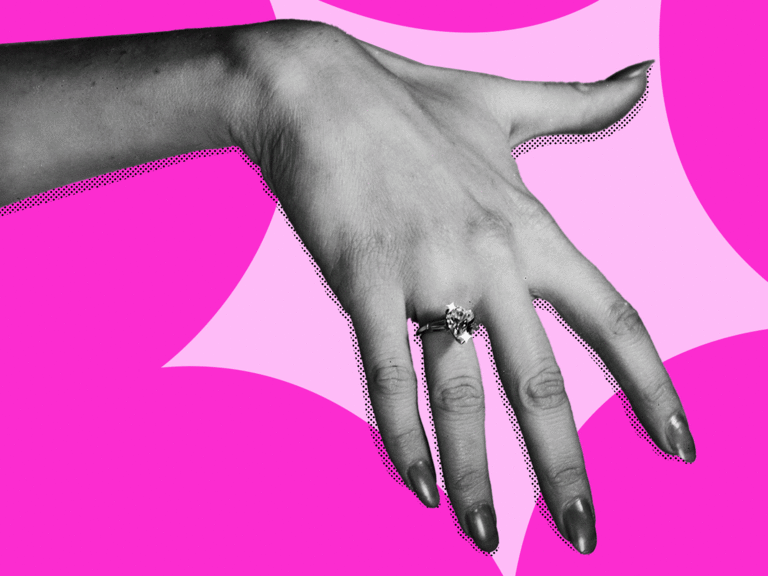 Photo: Getty Images,Design: Tiana Crispino
We have included third party products to help you navigate and enjoy life's biggest moments. Purchases made through links on this page may earn us a commission.
Diamonds are considered the hardest material on earth, but that doesn't mean they're not prone to wear, so knowing how to clean a diamond ring is essential if you want to keep it in tip-top shape. Daily wear often leads to an unwanted build-up of oil and debris that can affect the shine and sparkle of your new bling, along with unwanted discoloration and scratches. (Spoiler alert: Most fine jewelry is easy to maintain as long as you follow the proper steps.) And let me just say that, as an editor and bride-to-be, I can confirm that there is nothing more satisfying than seeing the brilliance and luster of my freshly cleaned oval engagement ring.
Your new bling is likely going to be one of the most expensive pieces of jewelry you'll ever own, so of course you'll want to know how to clean a ring at home. That's why I tapped Christina Gandia Gambale, an expert gemologist and owner of Greenwich St. Jewelers in New York. With over 18 years of experience in the industry, her store received the 2023 Gem Award for Retail Excellence and was recently inducted into the National Jeweler Retailer Hall of Fame. Gambale also sits on the board of directors at The Diamonds Do Good Council, a nonprofit organization whose mission is to support programs that develop and empower people in natural diamond-producing communities and share these stories of positive impact. Needless to say, she knows a thing or two about how to clean a diamond ring at home. And we are not going to let a little dirt dull your sparkle, which is where this guide comes in—to take the guesswork out of how to clean your rings at home.
Can You Clean a Diamond Ring at Home?
Yes, you can absolutely clean your diamond ring at home. "Besides keeping your ring sparkly and bright, regular cleaning is also important to help maintain its integrity," says Gambale. "When you take the time to care for your ring, you will have more opportunities to notice if something is amiss, such as a loose stone, the ring being bent out of shape, or damage to the prongs."
Believe it or not, ring cleaning is not as complicated as it seems. You just need to make sure that you're gentle and patient during the cleaning process—if you're not careful, you could loosen the diamond or scratch the metal.
Mistakes to Avoid When Cleaning Your Ring
Diamonds are famous for their strength, but that doesn't mean you should use harsh cleaning chemicals on your precious stones. Here are a few mistakes to avoid so you can best clean your rings:
Avoid chemicals like bleach, chlorine and acetone that can break down the metal in your band and abrasive cleaners like powdered cleaners and toothpaste that also erode the metals and discolor your ring, and should never be used for cleanings your band.
Only use soft brushes on your diamond. Hard-bristled toothbrushes and scrub pads can scratch your diamond or setting (especially gold settings), marring its beautiful sparkle and lowering its value.
Thick lotions and creams can result in residue build-up on your ring. This can make your ring look and feel dirty, and cause it to become discolored—especially if your band is made of white gold or platinum.
Take care when choosing specialized jewelry cleaners. Be sure to choose a cleaner without chemicals or abrasive components. Even certain chemicals that won't harm your ring could discolor your diamond.
How to Clean a Diamond Ring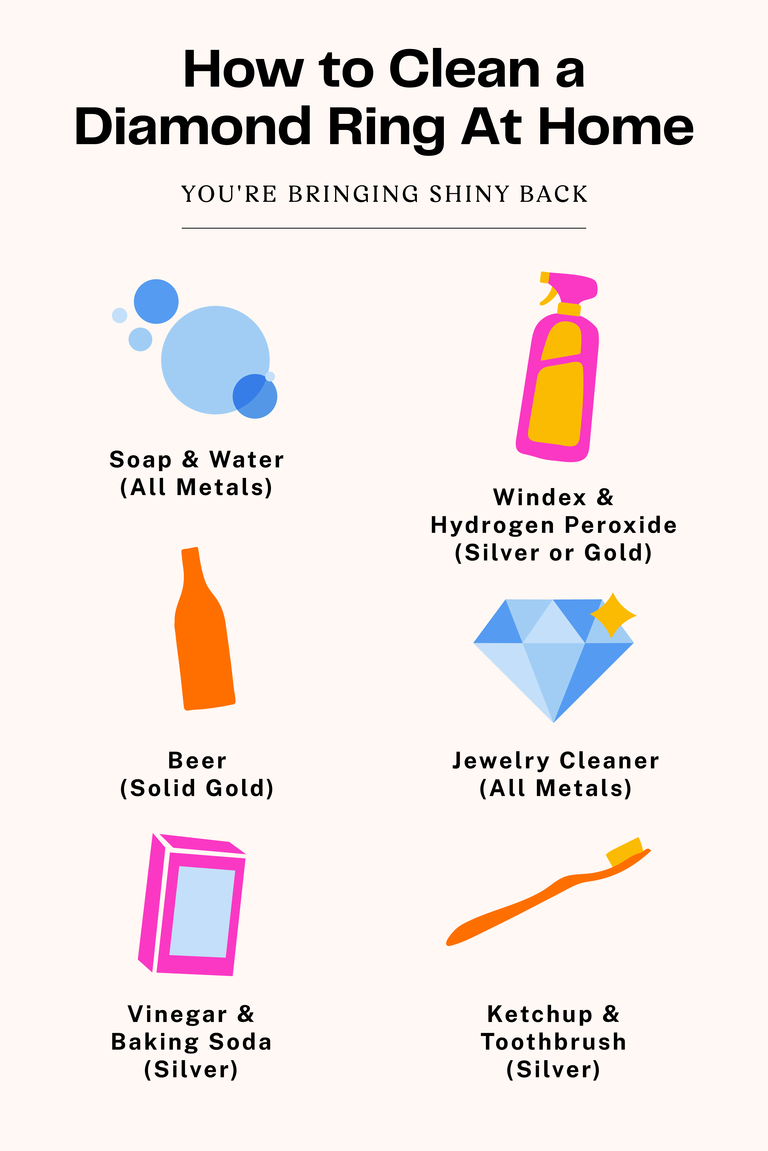 The best way to clean a diamond ring is with plain soap and water, no matter the type of metal. Simply, fill a bowl with equal parts warm water and gentle dishwashing soap and soak your ring for 20 to 40 minutes. Use a soft brush to remove buildup from any hairspray, lotion, makeup, perfume, etc. Then, rinse your ring thoroughly under warm running water and repeat if necessary.
Approved Diamond Ring Cleaner Products
Want to take it a step further than the traditional soap and water method? There are plenty of fantastic ring cleaners on the market to help you achieve your desired result at home. It is, however, important to note that the best way to clean a diamond ring at home varies based on your unique stones, metals and setting. "It is important to speak with your jeweler on how best to care for your ring if you are using home tools such as these to ensure you're using them properly," says Gambale.
Liquids: Connoisseurs precious jewelry cleaner is a tried-and-true jewelry cleaner. It costs only $6 and comes in two different formulas, one for gold and platinum settings and one for sterling silver. Both have advanced polymer formulas that are meant to reproduce scratches and improve brilliance. It's also ammonia-free so it won't irritate sensitive skin.
Cloths: Avoid using paper towels, napkins, etc. Instead, opt for a microfiber cloth or soft fabrics made of cotton. Connoisseurs makes two different all-purpose jewelry polishing cloths, one for sterling silver and gold and platinum jewelry, and lucky for you, they cost less than $8 each.
Gift Sets: For shoppers looking for the best way to clean a diamond ring at home without toxic ingredients, meet this bridal ring cleaning gift set from Shinery. The set comes with both the iconic Radiance Wash for deep cleaning and Radiance Towelettes for a travel-friendly rinse-free clean.
Ultrasonic: For those wanting an advanced cleaning solution for rings at home, opt for the Magasonic Professional Ultrasonic Jewelry Cleaner. While effective and gentle, Gambale advises that it should be used with caution. "An ultrasonic relies on heat and vibration, so if you have a ring with a lot of pave set gemstones, prolonged exposure to the vibration can actually loosen those stones," she says. "Putting a diamond too close to the nozzle of the steamer may also loosen your stone if the pressure is too strong."
Gemologist Tip: "When getting a quick steam clean, you or the jeweler assisting you should always tap the ring next to their ear and listen to hear if there's a jingle-like noise," she tells The Knot. "If so, it's an indication that a stone is loose. That needs to be addressed and tightened before exposure to any steam or pressure that could further loosen the stone to the point of falling out."
TK Editor Favorite: Connoisseurs Diamond Dazzle Stik
TikTok definitely put The Knot editors on the Connoisseurs Diamond Dazzle Stik. It's quick and easy to use thanks to the polymer formula with micro-fine cleaners and polishing agents that quickly remove dirt and oils. Just twist open the stick to release the solution and gently brush your diamonds for sparkling results. Plus, it can easily be tossed in a clutch or bag for on-the-go cleaning.
Why Editors Love It: "I first received Dazzle Stik from a coworker who gifted our team a basket of her favorite things. The pen-sized ring cleaner immediately became our favorite thing. I've since made it part of my Sunday self-care ritual, using it to gently cleanse my ring of oil and lotion build-up from the week while I do my skincare, leaving both my ring and my face shiny and refreshed." - Nicole Taliaferro, Fashion Content Strategist
"I adore my emerald-cut engagement ring, but even the slightest bit of dirt can easily cloud this classic cut. I try to do a deep cleaning every few weeks, but the Dazzle Stik allows me to do a quick 30 seconds or less touch-up cleaning when I'm in a rush. The before and after you'll see with the Dazzle Stik with just a quick brush is amazing. Admittedly, I keep a stick in every bag I have for cleaning on the go!" - Samantha Quisgard Langabeer, Associate Director, Editorial Operations
How to Clean Rings At Home By Metal Type
Did you know you can also clean a diamond ring at home using household items? The products you should use to keep your engagement ring looking beautiful are often dependent on your ring's metal type. Don't worry; we took the guesswork out and broke it down for you. All it takes is a trip to your kitchen, and maybe even your refrigerator.
For Cleaning Silver or Gold Rings
Windex & Hydrogen Peroxide Solution
Windex will remove the day-to-day dirt build-up and the hydrogen peroxide will kill any bacteria on the ring. To do this, fill a bowl with a 50/50 solution of Windex and hydrogen peroxide and soak your diamond ring for about 10 to 15 minutes. After soaking your engagement ring, gently scrub it with a soft brush to remove residue. Finally, rinse thoroughly with lukewarm water and pat dry.
For Cleaning Solid Gold Rings
Beer
Is your solid gold ring losing its luster? Try pouring a little bit of beer (yes, beer) onto a soft cloth and rubbing it gently over the band. Do not rub the beer on your gemstones or diamonds, and be sure to avoid dark ales. After you've rubbed the beer onto the band, use a second cloth or towel and pat it dry.
For Cleaning Silver Rings
Vinegar & Baking Soda
Vinegar isn't just for cleaning your grandma's antique silverware. It's an age-old solution if you're looking for an at-home ring cleaner for tarnished silver. Start by pouring 1/2 cup white vinegar and 2 tablespoons baking soda into a shallow bowl. Mix the solution until the baking soda is completely dissolved. Then, soak your diamond ring in the solution for two to three hours. Rinse your ring under cold water and dry thoroughly with a soft cloth.
Ketchup & Toothbrush
Yes, you read that correctly. If you have a tarnished silver ring, then this classic kitchen condiment makes an excellent engagement ring cleaner. It's as simple as submerging your wedding band in a small bowl of ketchup for five to seven minutes. Use a soft brush to scrub the ketchup into the crevices. (This may sound silly, but trust us.) Then, rinse the ring thoroughly with lukewarm water and pat dry. (Important: Do not leave the ketchup on your band for more than a few minutes.)
How Often to Clean Your Ring
You should clean your ring every week to help keep its brilliance and sparkle. And Gambale agrees. You may not realize it, but many of your daily habits can quickly dull your diamond ring's brilliant sparkle. For example, shampoo, hairspray, lotions, soaps and cooking oils can leave a cloudy sheen across your diamond and your band. "If you are cleaning a ring carefully, then you will not damage it," says Gambale. "You can and should feel confident about helping it look its best at all times."
Consider bringing your ring to a jeweler for a professional deep cleaning twice a year. If you lead an active lifestyle or like to get your hands dirty with activities like gardening, you may want to get your ring professionally cleaned more often, especially for a big event like an anniversary party.
Caring for Your Diamond Engagement or Wedding Ring
Your ring is a fragile object; therefore, it's extremely important that you handle it with care. The last thing you want to do is damage your ring or cause it to age prematurely. Here are a few final tips to keep your diamond ring in tip-top shape:
Remove your ring while cooking. While cooking with your partner is romantic, damaging your ring is not. Food and other oils can get stuck in or cause discoloration. Depending on the setting of your stone, food can be near impossible to remove.
If you know that you're going to do something labor-intensive, take off your ring and put it in a safe place. Why? Well, if you bang your ring onto something hard enough, you could chip the band, loosen the setting, or completely lose the diamond or stone.
If you have a warranty, it's important to be proactive and stay up-to-date on your maintenance appointments with a reputable jeweler.