E! Host Erin Lim Reveals Her Pregnancy Six Months After Her Minimony
The future mom previously shared her wedding photos with The Knot.
Erin Lim is going to be a mom. The host of E!'s The Rundown revealed her pregnancy news via Instagram on July 30. "Hey B-Rho," she wrote in reference to "Baby Rhodes."
Lim's pregnancy reveal comes just six months after the Snapchat personality and her husband, Joshua Rhodes, married in an intimate backyard minimony, which they shared with The Knot. Read on for more details from Erin Lim and Joshua Rhodes' minimony wedding and insight into their marriage.
The couple memorably first met at Sunday service. "We both remember the first time we laid eyes on each other," Lim told us this winter. "And we kept doing that for weeks—never meeting each other or being introduced through friends."
The routine continued for months until they ended up at a dinner party. "It was in a mutual friend's backyard and we met at the water cooler," she recalled. "I went up to get my water, of course, and we finally started chatting. We had a really good conversation." Sometime later, the theme of water rippled over when Lim got baptized. The volunteer tasked with dunking her was none other than her future husband: Joshua. "It's funny to see photos of ourselves in this crazy, special moment of baptism and now we're married," she reflected. "He baptized me and we barely knew each other. We didn't even start dating until months after that."
Two years into dating, Rhodes proposed to Lim in the middle of COVID just as the holidays kicked off. The engagement was much like them: sweet and subtle, a testament to how they've grown together despite the circumstances of the world. "Four months later we got married," said Lim, age 30. "Our date was 1-21-21."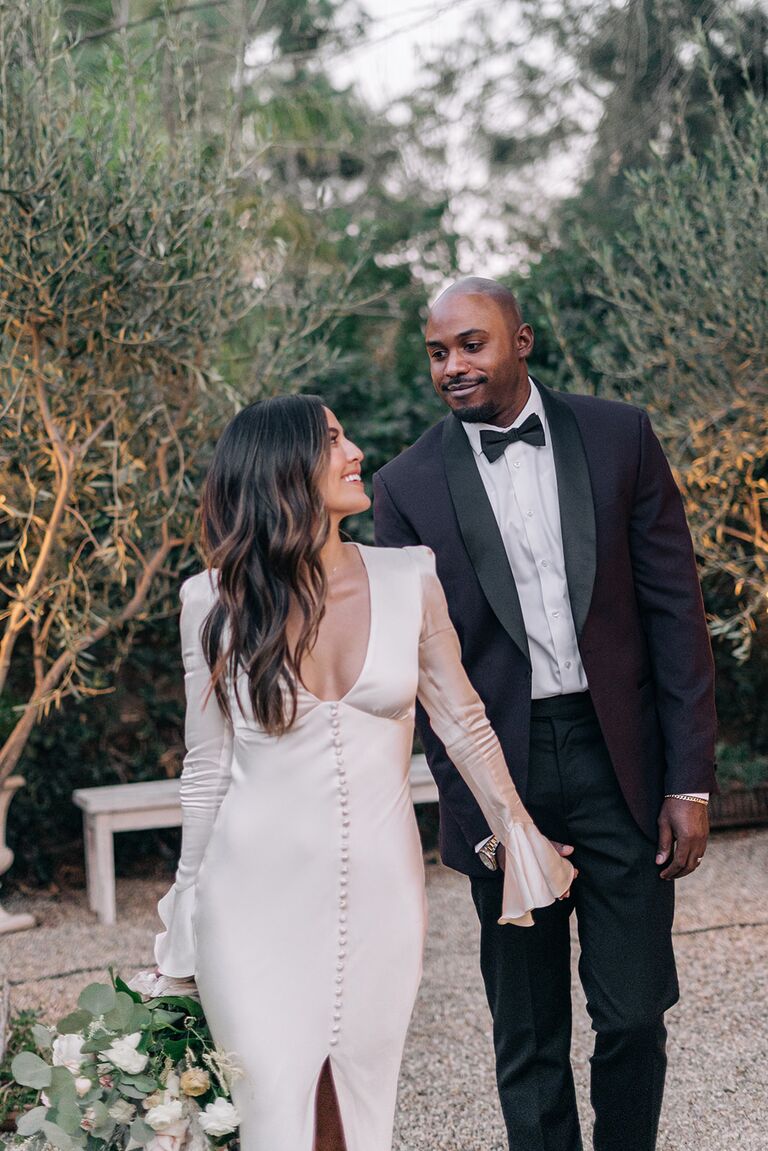 When this story was first published, anti-Asian sentiment around the world was crystallized when a gunman murdered six Asian women and two others across three spas in the Atlanta area. For Lim, the issue hit close to home as she's half-Asian, while her husband is Black. "Race relates back to our relationship in that we are an interracial couple. Me being biracial, Filipino and Mexican, and Joshua being Black," Lim said at the time. "It's nothing outside of the norm that you'd see in this country. We are proud of our backgrounds and love that our worlds get to collide. Yet society has oppressed our communities for centuries and even in 2021, we are fighting for the same basic rights our ancestors fought for."
Together, the spouses are well aware that change starts with their voices and activism. "We've just been vocal about spreading the awareness on our own platforms, having uncomfortable conversations with people who didn't know the history or understand what our upbringings looked like," she added. "We've protested. We've put our money towards important organizations that support oppressed communities. We do what we can. But seeing others step up around us has been really meaningful as well."
For Lim, her husband is a reflection of the goodness and hope that exists in the world. "I love his heart. I see the way he loves people and the way he serves people. He has no cap on the amount of generosity he will extend to any single person," she mused. "That's what I've loved about him before. To be his wife and the receiver of his love, his generosity and his thoughtfulness, I'm so blessed and grateful every day. I was thinking before this interview, we are really living our best lives and sharing that with each other. He is not my other half. He is my other whole."
A Minimony Made the Most Sense
There was a moment in time when Lim once imagined a 200-person wedding. "We originally wanted a big, traditional, fun wedding with all our friends and family at a cool location," she said. "With COVID, I knew we weren't going to have that wedding for a long time. We wanted to start our lives together, we got engaged with the intent of getting married."
The couple decided a private ceremony with just their direct family members would be the ideal scenario. "We were going to the courthouse [but] we didn't want to Zoom either," she added. "So Joshua's dad got ordained in California and he married us. He did such a good job." The original intent was to follow up with a grand wedding down the line. "We thought we'd do this private wedding and maybe later, we'd have the traditional normal wedding," she adds. "But after we got the pictures, we were like, 'Screw the other wedding. This was our wedding.'"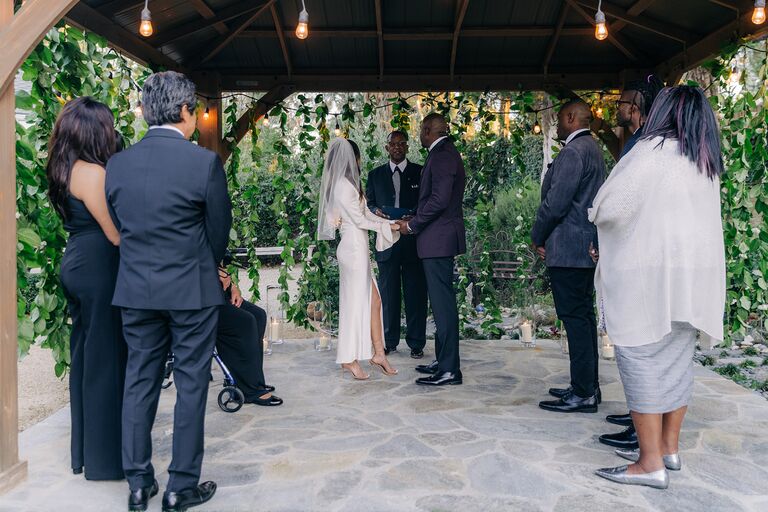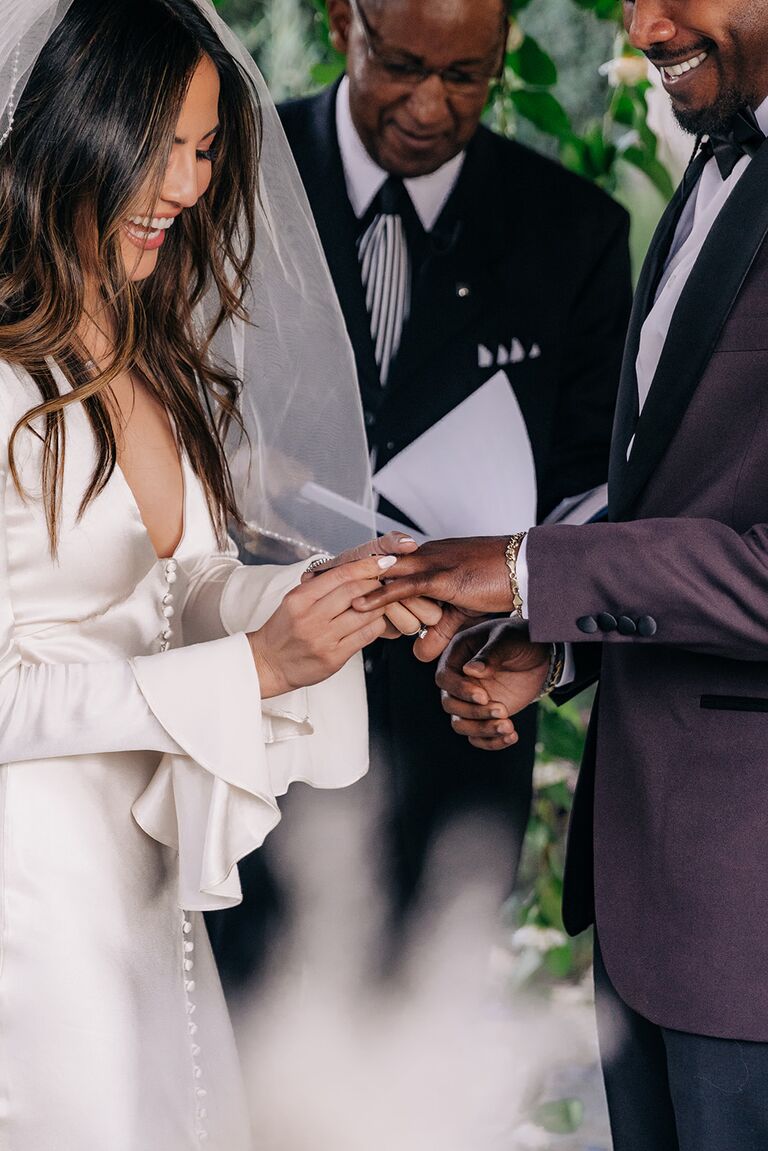 Nothing Was Traditional About the Wedding Timeline
Bucking traditions were a natural progression for the couple's wedding day. Their timeline was especially outside of the norm. "We literally didn't do any normal traditions," laughed Lim. "We were with each other the night before. I worked the day of my wedding. I don't know anyone who works the day of their wedding."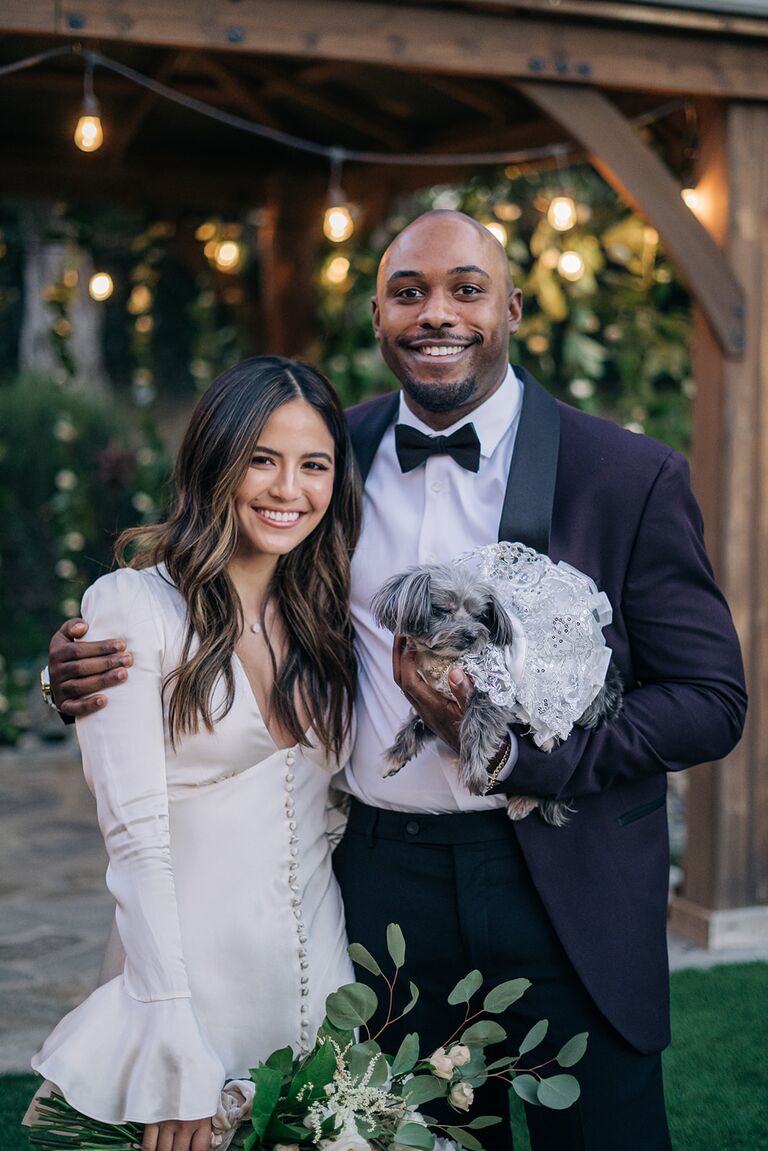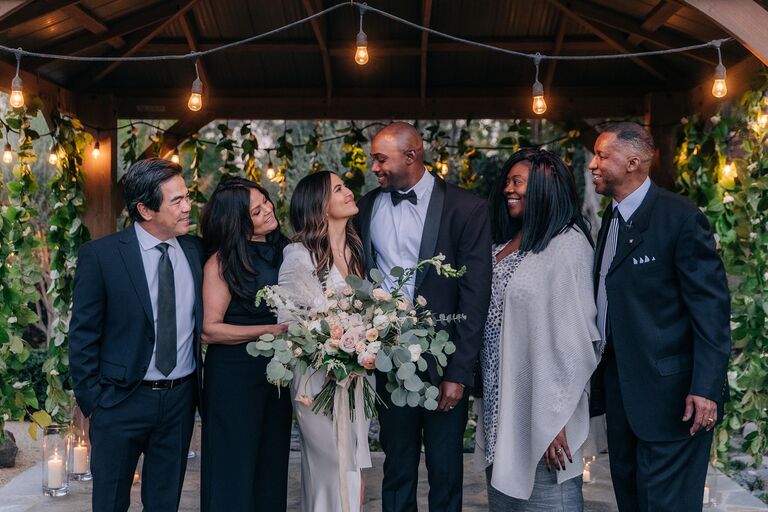 In fact, Lim transitioned her makeup from work to her wedding day look. The one upside from working all day before the wedding was having the ability to naturally avoid the groom.
The Decor Was 'Bridgerton' Inspired
Wisteria hysteria took over Lim's social feeds after she binged the Netflix show with the rest of the country. "One of my girlfriends from the Rundown has a side hustle as a florist for Pretty Pure Petals… she is so talented," explained Lim. "Basically, I had just finished watching Bridgerton and I was like, 'I want Bridgerton vibes. I saw the scene and was like, see the waterfall of flowers?"
The florist created a waterfall garland surrounding the backyard gazebo. "It was surrounded by lemon leaves and carnations," she said. "She absolutely killed it after setting it up that morning." Additional decor included hanging string lights, Pampas grass and mismatched glass candles lining the gazebo floor.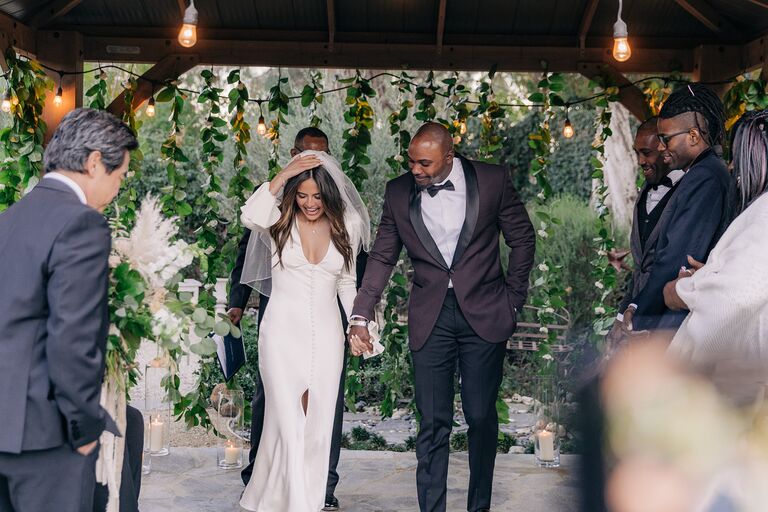 She Purchased Her Dress Off Instagram
The last place where Lim expected to purchase a dress was off social media. However, it was quite fitting for Lim. "You know when you're scrolling on Instagram, ads are catered to you? I randomly saw this ad for this dress, and it wasn't even set up as a wedding dress," recalled Lim. "It was a girl in a beautiful dress going to dinner. And I thought, 'This is cool. It could be a dress for our casual, mini-microwedding.'"
The piece was by Australian designer Shona Joy. "It was a little loose so I got it tailored and… that was that," said Lim. "I wasn't going to wear white because I was thinking about the big traditional wedding down the line, and how I'd wear white on that day. I thought I'd wear a cream, off-white tone instead. I was apprehensive about it, and a friend who's a party planner said cream is gorgeous in photos because it was silky and liquidity."
The Menu Was Everything They Love
For the minimony, the couple wanted it to be about them: no frills, just good food. "A lot of planners told me, 'Your wedding day is about your guests.' And we didn't want that. We were like, 'Well this is about us so what would we want and what would we do?'" she continued.
The menu was simple: the couple tasked Bludso's Barbecue with a menu of ribs, tips, mac and cheese and more. "It's our favorite barbecue in L.A.," she noted. "If we were gonna have this wedding our way, we wanted our favorite food."
Custom cocktails were concocted by Bespoke Bar LA. "They pretty much give you everything you need to make your own cocktails. They have mixers, the alcohol, the little shakers and measuring equipment. They put it in a cute little crate and drop it off," she added. For the bride, a margarita remixed as the "Erin-ita" was named in her honor, while a Moscow mule described as the "Josh-wow Mule" was concocted for Rhodes. She laughs, "It's because my grandmother calls him 'Josh-Wow' since she can't pronounce his name. We had cute little details like that, specific to our family and what we loved."
The Bride Had an Impromptu Bach Party
Weeks before the wedding, Lim went to her best friend's house for a Bachelor viewing party. "Four of my girlfriends, my sister included, were there for a Bachelor watch night-turned Bachelorette party. They had the veil and tiara and fun games and we had a sushi dinner," said Lim. "They had cupcakes and bachelorette decorations. It was a really casual, cute thing that they did for me at my best friend's house. It was cute and unexpected—not all of my girlfriends were there, but I think with the way the world is right now, I'll take what I can get."
With an eventual second wedding reception in mind, the couple reserved several traditions for the future. "We didn't do the first dance and we didn't have the father-daughter dance or the mother-son dance," she said. "We didn't do those because, in the back of our minds, we were thinking we'd save a couple of traditions for the wedding with our friends and family in the future with our 200 guests."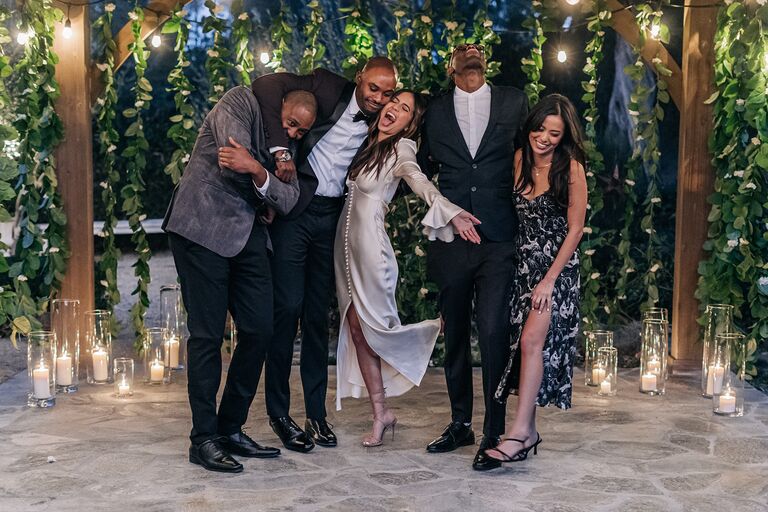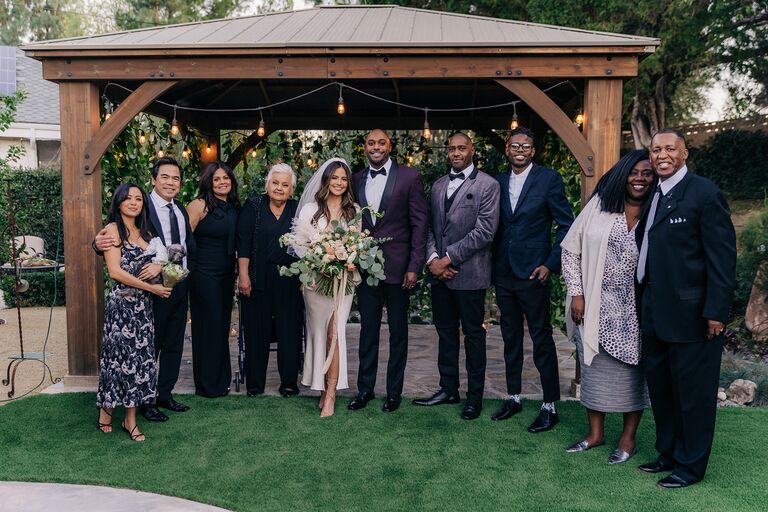 While their minimony looked different from the standard wedding, "we're still okay with that," said Lim. "What we plan to do is our one-year vow renewal when we get to actually say our vows to each other. In a year, we'll have a proper party safely with our friends and family in our new home. We'll have a DJ, we'll get to say our vows. We'll have the father-daughter dance and the mother-son dance. I'll probably wear white again. It [just] won't be a traditional wedding."
They Would Do the Same Thing All Over Again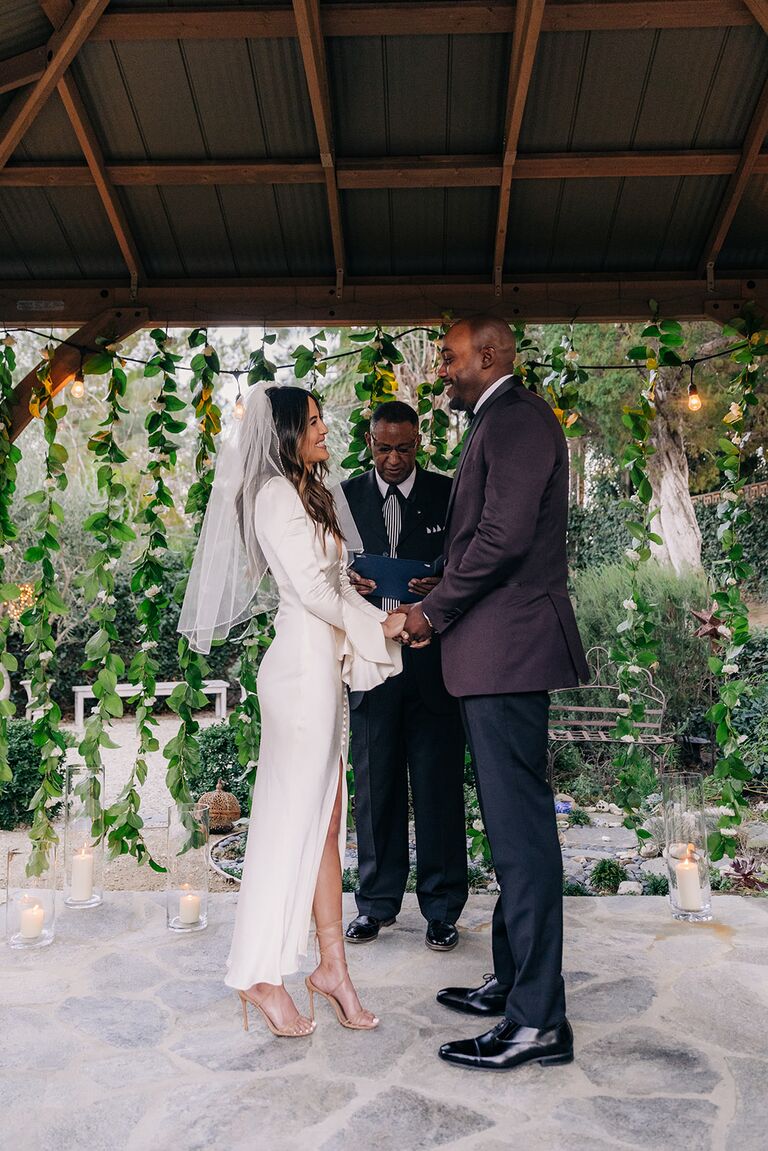 Months after her minimony wedding, Lim says she wouldn't change a thing. "If it stresses you out, literally do not do it. If you are crying over it, it's causing you anxiety, if you don't have enough money for it, do not do it," she concl. "With my wedding, seeing how perfect it was and what I wouldn't change. You can do the least and have the best day. It's about you and him, each other, and not the rest."