Morgan Stewart Is Expecting Her Second Baby
Dr. Phil's family is growing. See exclusive photos from her wedding.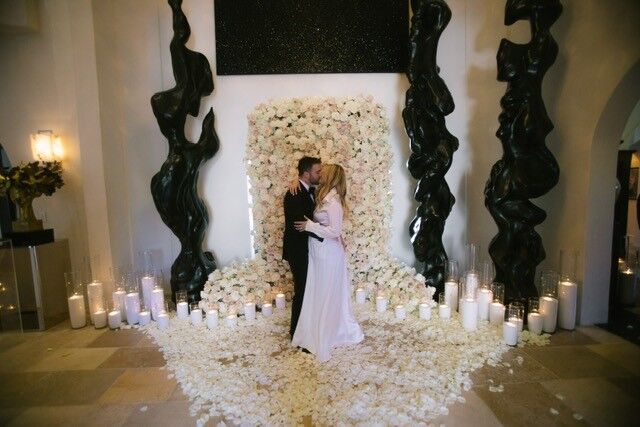 Isné Bobo Nuyent
We have included third party products to help you navigate and enjoy life's biggest moments. Purchases made through links on this page may earn us a commission.
Morgan Stewart, the co-host of E! Daily Pop, is ready for round two of motherhood. The reality star revealed on September 8, that she's expecting her second child with her husband Jordan McGraw.
"Maybe this baby will look like me??" Stewart declared on Instagram. The couple's surprising announcement comes just seven months after they welcomed their daughter in February. "Row Renggli McGraw just wanted me to quickly update you guys that after 30 hours, 27 apple juices, & 16 pushes later she decided to join our party!" the reality star shared at the time. "And she's definitely the coolest girl I've ever met."
Morgan Stewart and Jordan McGraw's Wedding Details
Stewart and McGraw, the son of Dr. Phil McGraw, quietly married in an at-home ceremony in December 2020 amid COVID-19. Stewart first debuted her newlywed status on Instagram and shared additional images from her at-home nuptials with E! News and The Knot. The pair chose to keep this life moment private until the big reveal. "The last time I told people about when I wanted to surprise you about the baby, everybody knew everything before I even got the chance," the bride recalled. "So I just wanted this to be a real surprise for the first time."
Since the couple married amid COVID-19, they had to pivot their wedding plans to something more intimate. However, the pair certainly leaned into the concept of utilizing their vendors for their minimony, including the decor, hair and makeup, their cake, and more. They even opted for a virtual component to the occasion, much like hundreds of thousands of other couples whose weddings have been impacted by COVID-19. Here are other unknown facts from Morgan Stewart and Jordan McGraw's wedding.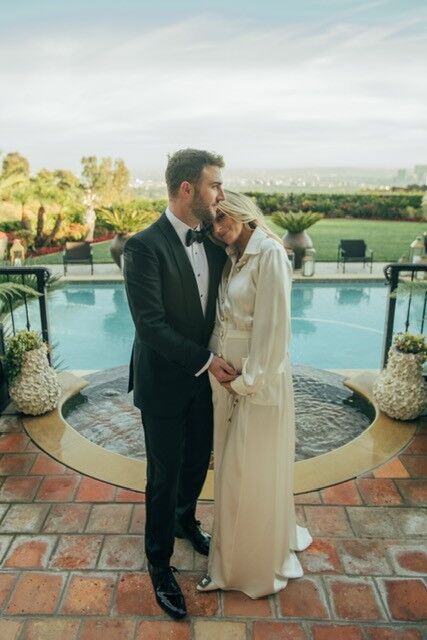 The Wedding Took Place at Home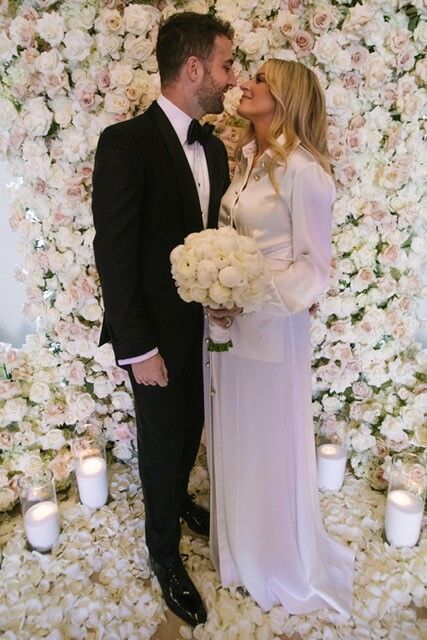 The ceremony, a prime example of a minimony, was held at home with a lavish display of decor to mark the pivotal life moment. A floor-to-ceiling floral installation, erected by celebrity florist Jeff Leatham, was positioned against windows, while the floor was covered entirely in white petals and lined with candles. The backdrop was comprised entirely of white and muted pink roses and supported by hydrangea.

"If anybody at home is thinking about planning a massive wedding, or you're bummed out about what's been going on and you want to postpone, don't do it," the bride said on her show Friday, December 10. "The only way to get married is the way we did it. It's so lovely."
The Guest List Was Family Only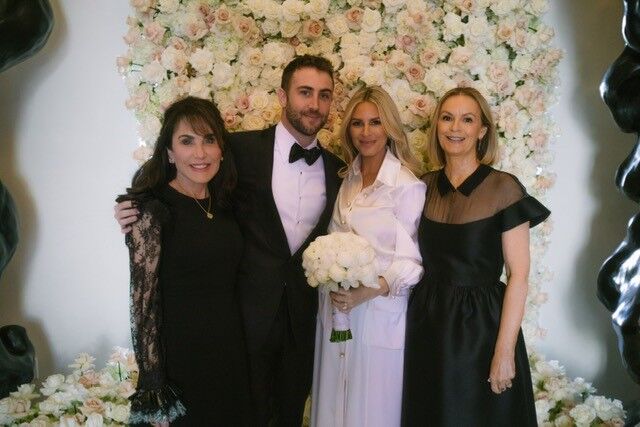 Stewart and McGraw's guest list was direct family only, starting with both sets of parents, as well as the groom's brother, sister-in-law and their kids. "The people that really matter are there. It is so intimate," the E! personality continued. "You actually get to take in the day. There is no other way to do it. No other way."

Having only those faces in the room served as a highlight to the bride. "When you're in a big group, that's obviously amazing too, but I felt like we really could take everything in," said Stewart. "And we weren't overwhelmed by everything."
Dr. Phil Was Very Moved
The groom revealed that his father, Dr. Phil McGraw, was emotional throughout the occasion. "Father and sons! Finishing touches," Dr. Phil wrote on Instagram. "So proud, Jordan! Congratulations to you and wonderful Morgan!"
"He was weeping from the lowermost hairs of his mustache the whole time," Jordan said Friday. Prior to the minimony, in fact, Dr. Phil apparently gave his son several pieces of advice. "'Do whatever she wants,'" the groom said as he recalled his father's words. "And, 'I got to tell you what, you want this thing to be easy, just do whatever she wants. She's always right.'"
Morgan Stewart's Wedding Dress Was Off-the-Rack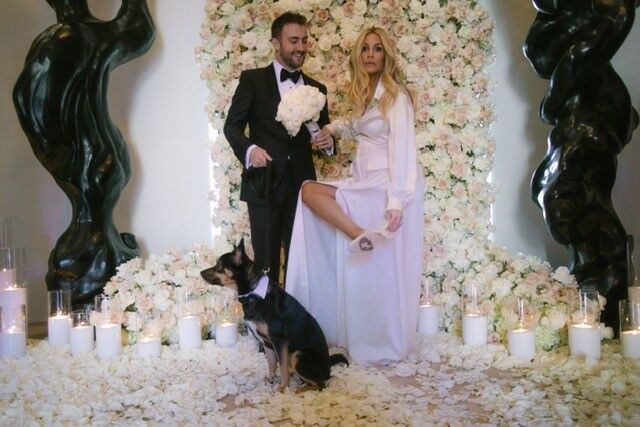 The bride went the high-fashion route, but made it off-the-rack. She chose to marry in a long-sleeve, floor-length gown by Chanel. "When you type in 'white dress' on any sort of fashion website, it's like a bunch of summer dresses," she shared. "And I was like, 'Oh great. Well, this is a mess.' And I literally saw this dress hanging on a rack and I'm like, 'This is a nightgown.' But then I put it on and I was like, 'This is the dress. It was comfortable, it was so easy."

Stewart carried a simple-but-elegant bouquet comprised of white ranunculus flowers tied together by a satin bow.
The Couple Had a Virtual Officiant
Like many 2020 couples, the pair had a virtual component to their wedding, but separately: it was their officiant, not a live-streamed ceremony that made the digital difference. "It was really quick," she recalled of the wedding. "They're like, 'OK, we got a noon, we got a 1:00, we got a 2:00.' So we were like, Let's do Wednesday the ninth."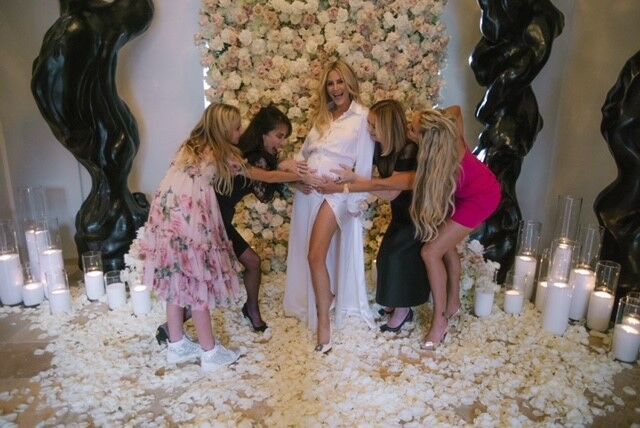 As mentioned, Stewart and Morgan are expecting their first child together. In light of all these many new changes, their love story, though, has been a long time coming. The spouses first started dating a decade ago only to go their separate ways throughout their twenties. In that time, the reality star and her Rich Kids of Beverly Hills counterpart Brendan Fitzpatrick married in a lavish wedding, followed by a divorce in 2019.

Morgan Stewart and Jordan McGraw's Engagement
Stewart revealed her engagement in the summer, posting a photo of herself sporting a cushion-cut diamond ring from McGraw. "Plenty to smile about...," Jordan added on his end.
The TV personality is a welcome addition to the McGraw family, as Dr. Phil made evident in her comments. "Robin and I are so thrilled for you and Jordan," he wrote. "So proud to add you to the family! Love you both!!!" On his son's page, Dr. Phil affectionately noted: "Jordan so happy and proud for you and so thrilled that Morgan is going to be part of the family! Good job on that ring!!"
Stewart's engagement ring from McGraw is a four-to-five-carat, elongated diamond beautifully set on a thin, yellow gold band. According to Kathryn Money, SVP of Brilliant Earth, the ring is valued between $60,000 to $100,000, especially given its size and shape. "The elegant simplicity of the ring's design allows the gorgeous center diamond to be the focal point," she notes.
Elongated cushion-cut diamond shapes have steadily gained peak popularity in the last five years alone. The bauble falls into the category of "fancy cut" diamonds, which is also one of our 2020 engagement ring trends as various shapes and lesser-known cuts continue to foster attention. (For example, oval diamonds have seen a surge of interest as influenced by Hailey Baldwin and Blake Lively, while emerald-cut diamonds experienced a wave of popularity with the engagement of Jennifer Lopez and Alex Rodriguez in 2019.)
In Stewart's case, the former star of Rich Kids of Beverly Hills joins the likes of Meghan Markle, whose center stone on her ring from Prince Harry features the same shape of an elongated cushion, though flanked by two round brilliant diamonds.