Exclusive: Melanie Fiona and Jared Cotter on Why They Eloped Amid COVID
"It was still a wedding. And that meant so much."
We have included third party products to help you navigate and enjoy life's biggest moments. Purchases made through links on this page may earn us a commission.
Three dates in 2020 were supposed to be significant for music industry duo Melanie Fiona and Jared Cotter. Much like hundreds of thousands of couples set to wed in 2020, Fiona and Cotter's anticipated change-the-name was instead replaced by multiple change-the-dates with the onset of COVID-19. After their third postponement, the couple decided to move forward with one aspect of planning: making their marriage official.
"We decided on the second week of December," Fiona tells The Knot in an exclusive interview. "We called our parents and said, 'They have an appointment on 12/12/2020.' The numbers equal a 'perfect 10.' And I'm big on numbers." While still planning for their sequel wedding, the couple felt that the elopement, however, was theirs. "The whole day was extremely special," Cotter says.
"One moment meant a lot and gave the day gravity," he adds. "Neither of us was expecting to feel [a big change], but when we sat there and signed on the dotted line, looking at each other and around witnesses, it was a moment where we realized it was real. It wasn't the big Amalfi Coast wedding we had envisioned, but it was still a wedding. And that meant so much. After signing that document, I felt different. I kissed her immediately… It was the realness of the moment that was even better in some ways. Just the two of us sitting across from each other at Same Day Marriage. It meant a lot more for us as a couple doing it this way."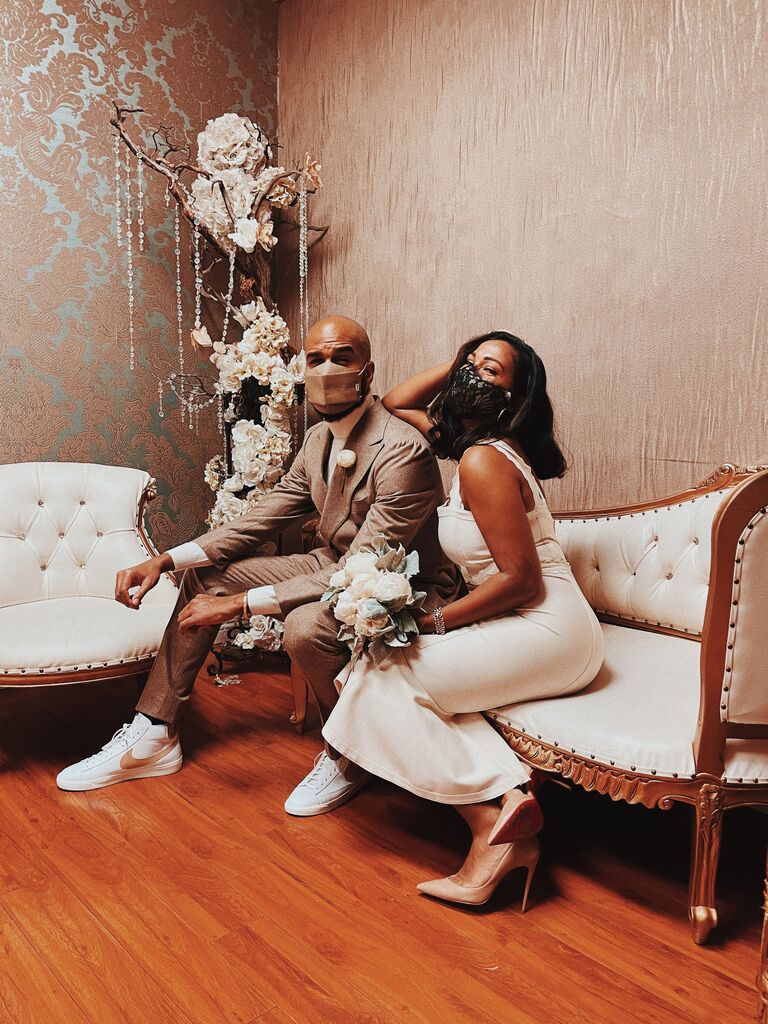 "We made a specific decision not to do vows or rings that day because we want to do that with our families," adds Fiona. "The ceremony, the rings and vows are still to be celebrated… It feels like a part two. It's cool. To any couples out there: you can remix this thing however you want to and however it works for you. Now, we get to celebrate twice in different ways with outfit changes, food, family and friends when it's appropriate in time. It's something else to look forward to. Another step in the process."
She pauses, "After the year that everyone has had, it will feel so good to be in a room together again."
Melanie & Jared's Elopement Details
Before the wedding, the couple decided to style themselves for the elopement, along with enlisting the help of a few vendors. "Even though we decided to strip it back completely, there were still details we wanted to capture. For example, I found my [elopement] dress on ASOS. I decided to Google 'casual wedding dresses' and 'cocktail dresses in cream' on a Sunday night. It cost $56… and it was perfect." The groom went to Suit Supply and found an attire choice that would fit nicely against Fiona's vanilla-hued dress. Both are saving their original wedding attire for their sequel wedding.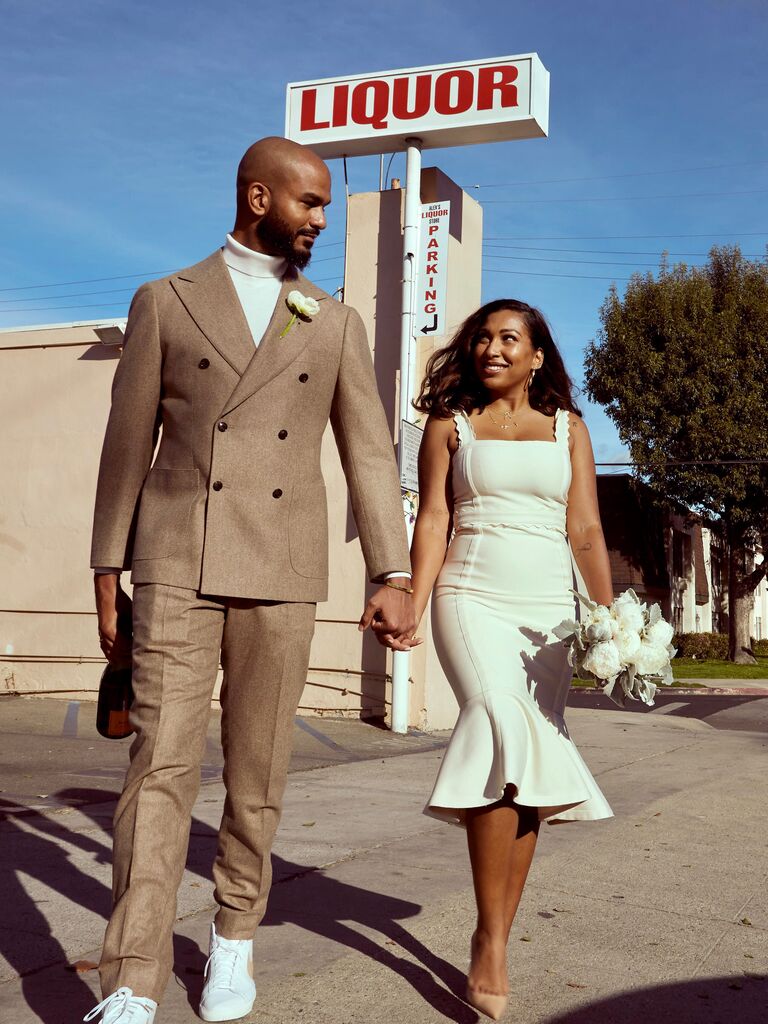 However, it was the kindness of vendors that made the day even more memorable. "There were two other amazing details that came about beautifully. The bouquet I have was a gift," says Fiona. "It was the night before our elopement, and I called a florist in Beverly Hills. They couldn't make it, so I thought I'd go to the grocery store. But I called [Z from My Beverly Hills Florist] and he was like, 'What do you need? We got a new shipment of flowers.'"
Fiona was invited to swing by the studio. "So I went into the back with a mask on and I'm feeling overwhelmed," she says. "Then the guy says to me, 'Just pick out whatever you want and we'll figure it out for you.' I was considering not having flowers for the ceremony by that point, and he came over and said to me: 'This energy came over me. I have to do this.'"
When Fiona first arrived, she showed the florist a picture of a simple wedding bouquet for the elopement. "He comes over, grabs a bunch of peonies, and recreated a picture I showed him on the spot in five minutes. Then, he gave me a boutonniere for Jared," the bride reflects. "He said, 'You owe me nothing. The energy just called to me and it told me to do this for you. It's a gift, you have to do this.' I felt like it was a gift from God."
The pair asked their friend Johanna ("my second miracle," says Fiona) to capture photography. "After the ceremony was done, Jared and I went up to Santa Barbara to relax," she adds. "By the time we got there, Johanna sent us our photos. But she also casually created a video for us. It was the ultimate video: the song in it by John Legend is exactly what we were listening to on the way to our elopement. That song has been instrumental to us at the end of the year, given all the things that happened in 2020."
"We kept asking, 'Who do we think we are?'" she laughs. "We felt so happy and so blessed. So we put that song on in the car and we used that as our soundtrack and that's how it all came together."
In the build-up to the elopement, Fiona and Cotter previously opened up about their decision-making process and the challenges of having to let go of their original wedding expectations. "As soon as we decided we were [marrying] in 2020, we planned—fast and furious," Fiona said. "We locked in our wedding planner in January and we started moving full steam ahead… and then COVID happened." The parents of one, who are based on the West Coast, postponed their wedding while navigating life and work at home. "Just because you chose a date and just because you started making plans, doesn't change that fact, that you've decided to make that commitment," Cotter says, as he advises couples across the board: "Be kind to each other. It's going to be alright."
Melanie and Jared's Original Wedding Plans
Initially, the couple had scheduled a destination wedding in Italy. "That was our first choice," says Fiona. "We had made the plans to do it in Italy, that was our absolute ideal dream wedding and finding our amazing wedding planner, Nicole, from Dreams In Detail, that's her company. And she was so confident in allowing us to really believe that it was possible. So we moved forward in that direction and then COVID happened."
"It was immediate and we made the quick decision to postpone," adds the singer. A week after securing their original wedding venue in Italy, the couple reached out to loved ones about a change-in-plans with the objective to bring their nuptials back stateside. "Shortly after, we found an amazing place in Malibu, and it gave us the same aesthetic and vibe we had wanted."
Melanie and Jared's Initial Postponement Plans
By then, COVID had trickled into the coasts of the country, and the couple had to bear another situation where their venue had shut down. "We had to hold back on all the plans," says Fiona. "We started our website and started talking about invitations, getting our list together. We just had to hit the pause button on that, and so that's kind of what it's been in this odd, uncertain time with everything just constantly changing. There's no definitive answer as to when life can kind of resume the way that we intended it to be."
The uncertainty prompted a holding pattern for Fiona and Cotter, a two-time Grammy-winning artist and a music industry executive, respectively, and they held off from sending out invitations until further notice. "It's definitely affected our ability to move forward as far as really making the big announcement about our wedding to our friends and family, and even the people who've been following our journey as a couple," says Fiona. "It also felt insensitive to send out an invitation in April saying, 'Hey, we don't know what's happening in life, but can you come to our wedding in August?' So we've really been trying to operate from a level of sensitivity and flexibility and being socially sound with our tone as far as what feels like the right thing to do. It's been putting the wellness and the safety of ourselves and our guests as priority, which is how we're navigating this time."
"What I've seen in even just a few friends that I know who have shifted their perspective and pivoted in recognizing that in so many things that have been canceled, love doesn't have to be one of them. So, our commitment to each other doesn't have to be one of them," adds Fiona. "Our commitment will remain however we choose to do it. I think our ultimate goal would be to try to still have a ceremony this year, even if, like I said, it's not the big grand wedding we had envisioned… We haven't seen our family since November [2019]. To be able to get into a room with them again this year would be such a blessing and such a reason to celebrate all that we can while we are together."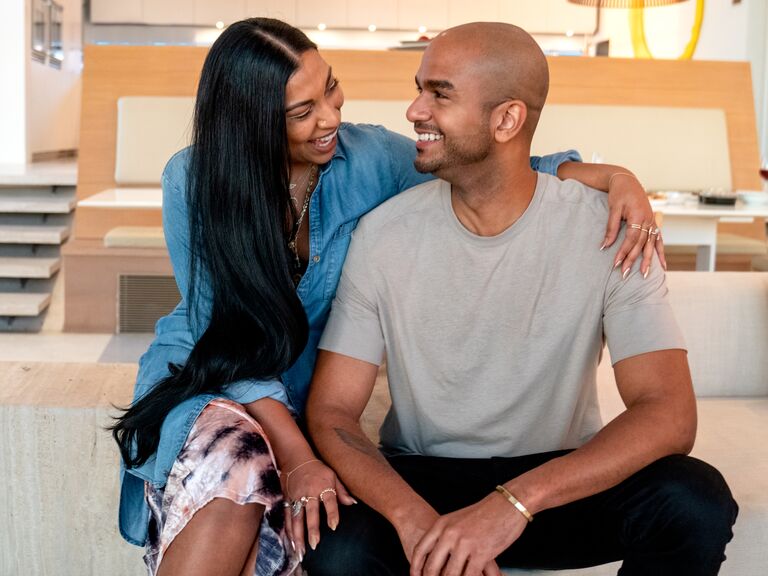 Melanie and Jared's Double Postponement Plans
When this interview was conducted, the couple planned this spring to host a minimony, which The Knot has coined as a first foray into marriage with a hyper intimate ceremony, eventually followed by a larger group celebration in the future.
"A small room, a small ceremony with the people that we missed for the last eight months, these are things that we're considering now as we have to shift our perspective," says Melanie. "Being grateful for the life that we still are able to have, that our family is well, healthy and safe in this time, it's shifted what's become super important to us. It's really the sentimental and the valuable things in life and relationships that have become our priority. That's what we're trying to achieve, that's what we're trying to hold onto… Our business [in entertainment] and everything that we go through, you have to learn not to allow failed expectations to dictate how you feel about your life in general."
Instead, now, the couple has placed an emphasis on the people who will attend the wedding, whenever it happens. "The goal is to absolutely have the gift of having our parents there. If we can have that happen, the minimony with just our families, on this side of the year that's ultimately the goal," she says. Adds her future husband, "Reiterating what Melanie already said, we want our parents there. That's what is really important."
Their Relationship Amid COVID (And How the Registry Relates)
Fiona and Cotter are parents to their son Cameron, who's "four and very active," according to his father. "I'm lucky enough to be still working, so during the day, I go into my office and Melanie's been homeschooling and taking care of him more. I know it's a little taxing to be a mom, and a school teacher and a caretaker, and the list goes on and on and on… Moms are the best. Moms are the best."
Adds Fiona, "It's really a blessing that we found, in this time, that we really do like each other… especially as friends and partners. We've been going to the grocery store, going for runs together. Being able to carve out that time, I'll honestly say the demands of us doing what we do for a living has given some real incubation time even though we are working on things from home. It's nice that we're able to, throughout the day, have a quick conversation, kiss each other, just spend time together. I think that that's been a real blessing for us."
"Our favorite thing to do together is eating amazing food," the couple says. Specifically, they point out their love of Italian food, (Hence, their original destination wedding plans in Italy.) "Our ideal date night is sharing a great dinner," they say, "and then going to a really great party where people actually dance instead of stare at each other."
Among the must-haves on their registry list: the pasta-adoring couple has added multiple savory options to their wishlist to enhance nights of dining in. Inspiration includes a state-of-the-art wine chiller and a unique pierced wine decanter for the Nebbiolo-based libations they would enjoy while cooking. Naturally, nights in would be enhanced by the addition of a pasta maker(imagine the linguine and pappardelle quality), along with chicken cooked in their "must-have" request of an air fryer.
For weekends in, the couple prefers cozy at-home activities--with a side of efficiency. "We enjoy completely relaxing in pajamas on the couch, while watching shows and movies. [On the other hand, we're also into] tackling some house project… cleaning the garage, decluttering, organizing closets, and so forth."
For couples who find themselves struggling with the ever-present nature of their partner at home, communication is a must, according to the to-be-weds; therapy is also a suggested option. "If you can do virtual sessions with a therapist or a relationship counselor, I recommend it," Fiona says. "I feel that it's so imperative. Relationship counseling and therapy are amazing for maintenance in relationships and healthy relationships. But in this time where people are forced to kind of face a lot of uncertainties and questions, these things all have an effect on us personally. When you're locked in the house together, now everything is combined and compressed… And the pressure cooker can just get a little high sometimes. So you need an outlet. You need to be able to respect each other's space even when there's no space, and do your best and be okay with just saying 'Yeah, I'm not really feeling that today', you're not. It takes so much more work and communication and sometimes the challenges of taking on that capacity can be stressful even just that thought of it. So it's communication, lots of communication."
Their Advice for Fellow COVID Couples
For the couple, guests and life stages are important as it relates back to moving forward with their wedding. "I actually have an example," notes Fiona. "One of my closest, lifelong girlfriends, one of my best friends, she just had a baby. The week before she had her son, she checked in and asked, 'Hey, so how are you guys feeling about the wedding?' I replied, 'It's still in August and we're still planning.' And finally the week before she said, 'So any thoughts about the wedding?' And I just took it upon myself to say, 'We're still planning on doing this thing in August, but I want you to know that if you have to choose between your comfort level of having a baby and having another child and a husband and a family and traveling in this time of a pandemic, and that is not something that you feel comfortable doing, I want you to know that it is okay. There will be no offense taken. There will be no hard feelings. We don't need to have a conversation about it after. There will be no grudges. Whatever you have to do to feel good about proceeding in this time, you have my full support. And I will not take it personally if you cannot attend my wedding.'"
Fiona pauses. "She just broke down crying," the bride-to-be recalls. "She said, 'This means so much. I didn't know how to approach this with you.' I would say the best way for people to approach this with their guests, with sensitivity, is to be proactive about it. It's best to be compassionate and to understand that people are just doing their best and people don't know what their tomorrow looks like. You can't take it personally if your friend decides, 'I don't really feel safe traveling in this time, even though they say we can.' Each person's preferences have to be respected. Every person's level of safety, comfort and security has to be respected."
In the end, celebrate with those who are comfortable with the wedding you have planned. "I feel that when you're planning a gathering from a place of love and celebration, of course you want all your people there. But more importantly, you want them well and you want them happy, and you want them to feel good about it," she notes. "I think that's the best thing anyone can do for their guests is take the pressure off the expectation that if people choose their wellness or their safety over your wedding, that it means that they care less about you… Everyone's just really trying to do their best right now. So we have to be sensitive to that."
Visit the couple's complete collection on The Knot Registry Store here.